AVG

Review 2022: Can You Still Trust This Free Antivirus?
AVG Overview May 2022
While it's a popular antivirus with millions of global users, I can no longer recommend AVG after its parent company was caught in a serious privacy violation. It was recently discovered that AVG's parent company Avast had been secretly selling the personal data of its users for years. Worse still, Avast only responded to accusations after significant backlash from the public and media.
Avast claims to have rectified the situation, but I don't trust the company and can't continue to endorse AVG's free or paid plans. It's disappointing as AVG offers great antivirus software with near-perfect malware detection rates.
I ultimately believe you're better off with a trustworthy antivirus service that won't put your privacy at risk, like Norton or TotalAV. Both Norton and TotalAV offer powerful online protection and have strict data protection policies, all for an affordable price.
In a Rush? Here's a 1-Minute Summary
Security - 1
Warning! AVG's parent company Avast has sold millions of its users' browsing data to marketers and other third parties.
This was done through Jumpshot, a data-harvesting subsidiary that has since ceased operations. Jumpshot recorded every user click and documented which websites they visited, when, and from where. The sold data included people's Google searches, YouTube viewing history, and even visits to adult websites.
While Avast claimed the data it collected was fully anonymized, a media investigation revealed the opposite. It would be quite easy for companies that purchased the data to combine this data with their own activity logs in order to reveal your identity. The fact remains the company earned revenue by invading its users' privacy for years and only stopped due to public pressure.
Avast has since shut down Jumpshot and updated its privacy policy to allow users to opt-out of future data collection. While it might be enough to regain some people's trust, I no longer trust Avast or AVG to safeguard my online privacy and other sensitive data. It's unfortunate because AVG offers a decent antivirus on both the free and paid plans. I recommend you seek out a more ethical antivirus provider like Norton or TotalAV. Both companies are backed by strict privacy policies and do not sell their users' data.
Virus Scan — Protect Your Devices With a Wide Variety of Scans
AVG detected 99.7% of the most prevalent malware found in the 2 months before testing. To conduct the tests, my team and I rigged a machine running Microsoft Windows 10 Pro 64 bit with malicious software. While I was impressed with AVG's detection rate, it didn't quite catch everything. If you want antivirus software with stronger virus scan capability, Norton antivirus achieved a 100% detection rate in the same test.
AVG gives you access to 6 different scan types:
Smart Scan: Quickly scans your system for viruses and malware
Deep Scan: Thoroughly scans your entire system for malware (including storage drives and memory)
File or Folder Scan: Scans specific folders for viruses
Boot-Time Scan: Runs during your next system startup to detect and remove malware before launch
USB/DVD Scan: Scans removable media attached to your device, such as USB flash drives and external hard drives
Performance Scan: Searches your system for issues that may affect your device's speed and security, such as useless data. To resolve issues, you must have AVG TuneUp installed (available separately or bundled with Ultimate plan)
While the variety of different scans is valuable, you'll likely only need to use Smart Scan and Deep Scan on a regular basis. I ran Smart Scan in under 2 minutes on my Windows PC, while the Deep Scan took 50 minutes and scanned 740,000 files.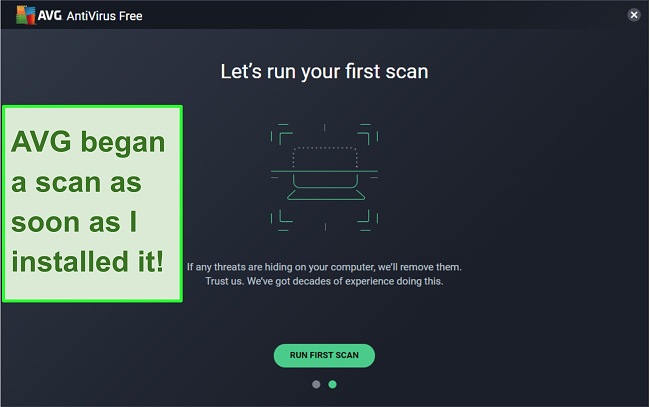 Real-Time Protection — Excellent Malware Detection Rates
Real-time protection is a crucial feature as it catches malware immediately and prevents it from damaging your system. AVG uses AI detection to identify and protect against malware that hasn't yet been catalogued by the company's ThreatLabs team (also known as zero-day threats).
During tests, AVG achieved a 99.85% real-time detection rate against zero-day threats — this is higher than the industry average rate of 98%. To conduct the test, my team and I set up a machine with over 1,300 malware items. AVG only recorded 2 misses, which thankfully turned out to be misidentified files. While this is a great rate, Norton achieved 100% in the same tests.
Ransomware detection is another service offered by AVG and it's an important one. Ransomware is a sophisticated type of malware that encrypts your device's data and forces you to pay a ransom before access is restored. With attacks on the rise, antivirus providers must constantly update their software to ensure their customers are protected. I'm pleased to find AVG offers ransomware detection in the free and paid plans.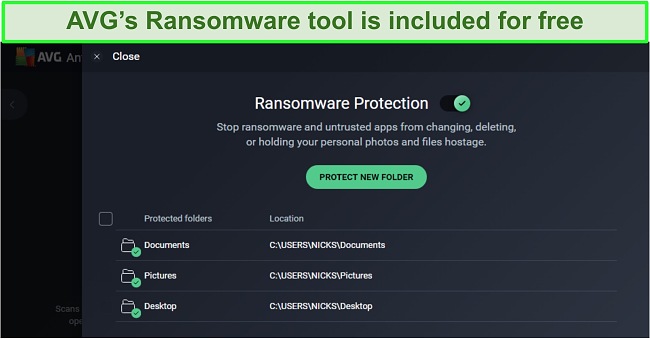 AVG has always-on detection that automatically detects and blocks ransomware before it has a chance to take over your files. By default, AVG protected my desktop, documents, and pictures folders. but you can easily add new folders to the list. You can do this by locating the "Ransomware Protection" feature under the "Computer" tab from the app home screen.
Phishing Protection — Disappointing Detection Rates
AVG offers phishing protection on both its free and paid plans. This is important as cybercriminals are increasingly relying on phishing attacks to trick you into sharing personal information, like login credentials and banking details.
I wanted to see how well AVG's phishing protection worked for myself, so my team and I extracted phishing URLs from spam emails and the internet. Unfortunately, AVG only identified 86% of phishing attacks when running 500+ URLs on a test machine. This result falls short of many competitors, like Norton, which achieved a much higher rate in the same tests.
Enhanced Firewall — Only Available on Paid Plans
AVG's Enhanced Firewall not only blocks malicious websites, emails, and downloads, but has data protection and data shredding capabilities. These features help secure your folders and data from malicious online attacks. Unfortunately, you can only use AVG's firewall on the paid Internet Security and Ultimate packages.
Features - 4
Antivirus protection is AVG's core product but it does offer a few additional features. This includes a VPN, enhanced privacy software, and more — but the extra features are only available on the paid plans. If you're using the free version, you'll only have access to the antivirus software.
SecureVPN — Unblocks Netflix but Logs Your Data
AVG's SecureVPN is a decent option if you enjoy streaming (I easily accessed US Netflix and BBC iPlayer). However, I wouldn't recommend it for anything else — especially since you need to pay extra to use it.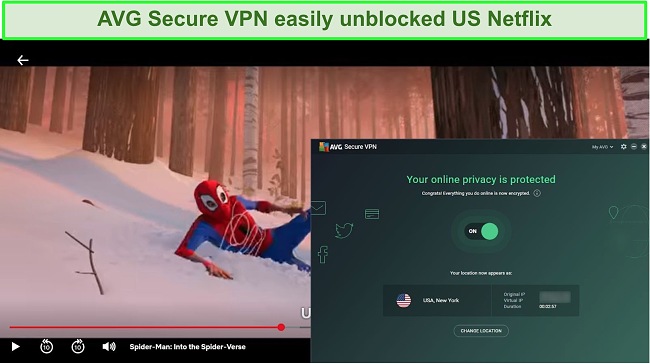 The bottom line is that I wouldn't trust SecureVPN to keep your private data safe. I carefully read AVG's VPN policy and your personal information is logged and stored for 30 days. This includes your email address, usernames, IP address, time stamps, and more. The privacy policy also states that AVG will disclose your personal data to "unrelated third parties" in certain situations, like government requests.
If you want a truly secure VPN, I recommend you check out the best standalone VPNs in 2022. All of these are cheaper or better value than AVG. When it comes to the best antivirus and VPN package, Norton 360 is a top provider with a free VPN on every plan. While it's not as powerful as a standalone VPN, Norton only keeps non-identifying logs and won't share your information with anyone.
AntiTrack — Secures Your Browsers for Maximum Online Privacy
Adware tracking is a serious concern as companies are easily able to use your "digital footprint" to follow your online activities. AVG's AntiTrack software specifically addresses this issue by sending advertisers fake information about you.
AntiTrack has 4 features that help protect your privacy:
Anti-tracking: Blocks website tracking
Browser protection: Enable or disable AntiTrack on individual browsers (Chrome, Firefox, and more)
Browser cleanup schedule: Periodically clears tracking cookies from your browsers
Whitelister: Allows specific websites to bypass AntiTrack (so you don't have to keep logging in)
I found AntiTrack easy to use and understand. The app displays a real-time privacy score to let you know how well your identity is being hidden. When I first logged in, I had a privacy score of 70%. After using the app's cleanup tool to clear my browsing data, my score went up to 85% (a high score according to AVG). However, I was disappointed that AntiTrack didn't provide any tips for improving my score to 100%.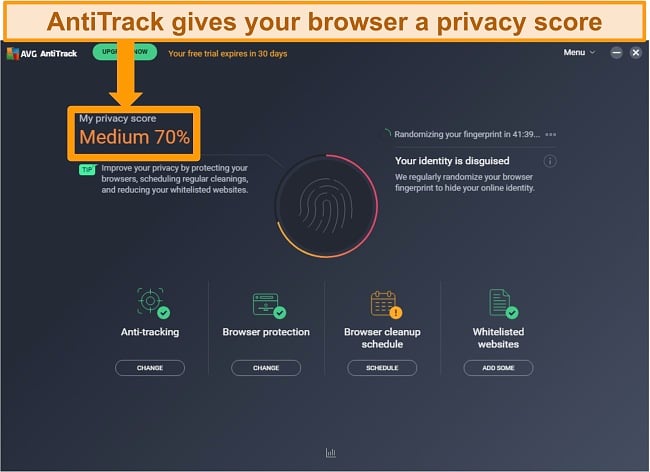 Unfortunately, I discovered that AntiTrack has a history of vulnerabilities which can be easily exploited by cybercriminals. If you're concerned about being tracked online, I recommend Norton 360 instead. It includes a subscription to Norton's own Secure VPN, which has a built-in Ad Tracking feature that blocks targeted advertisements online.
Driver Updater — Extra Tool That's Not Worth the Money
AVG Driver Updater is a Windows-exclusive tool that automatically updates all your computer's drivers — but it comes at an additional cost. You can still run scans to check which drivers need an update, but AVG won't perform any action afterward.
I find Driver Updater is a largely unnecessary product. While AVG would like you to think having outdated drivers will result in all sorts of system performance problems, this simply isn't true. As long as you regularly install Windows Updates, your drivers should be fine.
TuneUp — Overpriced Tool for Improving System Performance
AVG TuneUp is designed to speed up, clean up, and optimize your PC performance. It's available in both free and premium versions. Unfortunately, the free version is really just a teaser that alerts you to problems. In order to fix any of your PC's issues, you'll need to purchase the premium version (it's also bundled into AVG's $79.99-per-year Ultimate plan).
After testing TuneUp on my Windows PC, I saw a noticeable difference in system performance. However, there are better options available that do virtually the same thing. Norton 360 includes a PC Tuneup feature that provides a number of fixes, including removing unnecessary files and cleaning up your hard drive. If you want to use these features for yourself, you can try Norton 360 free for 60 days using its money-back guarantee.
Secure Browser — Pointless Feature That Installs Automatically
When you install AVG Antivirus, you'll get immediate access to AVG's free Secure Browser. It behaves like Google Chrome, only with AVG's built-in security and privacy features. Secure Browser accomplishes this by forcing HTTPS encryption, hiding your digital fingerprints, and blocking tracking scripts.
This is a largely unnecessary feature, as your regular browser should already be secure if you're using quality antivirus software. I also didn't like that Secure Browser installs automatically alongside AVG Antivirus, as it didn't ask for my permission first. Secure Browser pinned itself to my task bar and prompted me to make it my default browser, which I found a bit invasive.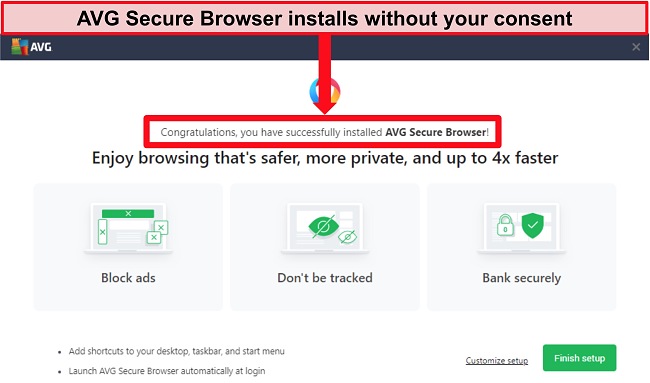 Cleaner (Mac Only) — Free but Inessential Optimization Tool
AVG Cleaner is a Mac-exclusive app that is designed to optimize your system by performing the following functions:
Cleaning internet browser caches
Finding and deleting junk files
Removing system and temporary files
Cleaning the trash bin
Seeking out and removing unnecessary duplicate files
As AVG Cleaner is available for free, there's really no reason not to give it a try. However, as with any AVG product, it's best to exercise caution given the company's history of selling user data.
Ease Of Use - 4
AVG is available on Windows (10, 8, 7), Mac (OS X 10.10 Yosemite or above), Android (5.0 or above), and iOS (10.3 or later).
I easily installed AVG's desktop and mobile apps in a few minutes. AVG lets you choose between the free and paid versions upon installation, so you don't need to enter any payment information to download the software. Upgrading from the free plan to the premium version was seamless, as I could do it all within the app. After entering my payment information, AVG automatically updated and unlocked new features (no need to download additional software).
Desktop Apps for Windows and Mac — Tricky to Locate Key Features on Dashboard
I was impressed with the desktop app's onboarding, as the first thing it did was ask me if I wanted to run a virus scan. After completing the initial scan, I was greeted by the main dashboard. From here, you can run scans and access other features as needed.
The Mac version is nearly identical to the Windows app, with the only noteworthy difference being the elimination of the "Privacy" button on the main dashboard. However, it wasn't always simple to locate every feature. For example, programs like TuneUp and Secure VPN are hidden at the bottom of the dropdown menu. I would've preferred easy access to all the features on the dashboard.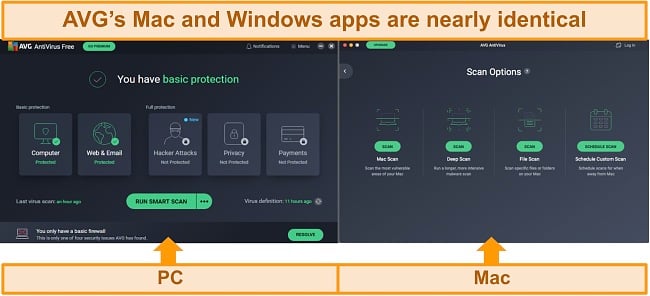 Although running a virus scan with AVG is very easy, I was disappointed that it didn't provide me with more detailed information once the scan was finished. At the end of a scan, AVG will alert you to potential threats but that's about it. If you want more detailed statistics, you have to dig around in the menus and find the "Scan History" feature. Here, you'll find additional information such as how many files were scanned and how long the scan took to complete. While I appreciate that this information is accessible, I would have preferred if AVG listed it all at the end of each scan instead of making me go look for it in a separate tab.
AVG gives you access to useful security tools free of charge, but doesn't really do anything useful unless you pay to upgrade. After checking my device for viruses and malware, AVG alerted me to a number of "advanced issues". However, when I clicked the "Resolve All" button, the app informed me it could only fix these threats if I upgraded to a paid plan. Upsell attempts can be found throughout the app — one example is a "welcome gift" that turns out to just be a discount on the Internet Security plan.
While I can appreciate the fact that AVG needs some of its users to pay for its service, I think there's a better way of doing it. After just a couple days of using AVG, the upsell attempts started to feel like spam. Many users will be content with the features included in the free version and don't need constant reminders to upgrade.
Mobile Apps for Android and iOS — Includes Tailored Features for Each Device
AVG offers well-rounded protection for Android and iOS devices. The experience is similar to desktop, but includes a number of features that are tailored for Android and iOS devices. This includes:
Boost Ram: Automatically closes background apps to increase system performance.
Clean Junk: Analyzes your device storage to eliminate unused and redundant files.
Scan Wi-Fi: Checks your Wi-Fi connection for issues and threats.
I was impressed with how quickly AVG performs scans on mobile. On my Android phone, it took less than a minute for AVG to scan my device.
Unfortunately, I found the layout was slightly difficult to navigate. I couldn't even sign in to my account. AVG's mobile app will download as the free version by default, so you'll need to input your username and password if you've subscribed to a premium plan. It took me longer than expected to find the login button, but I eventually located it in a drop-down menu after AVG prompted me to upgrade my account.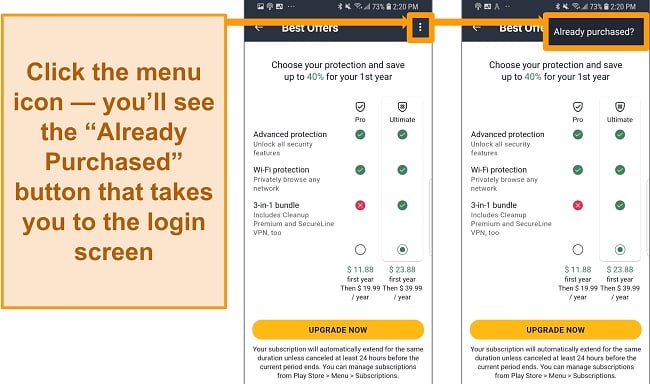 Support - 4
24/7 Live Chat — Fast Response Time but Pushy Support Staff
AVG's live chat is the best way to contact customer support — but it's not easy to access this feature. You have to search for your question through FAQs and forums before you'll be presented with the option to speak to a live agent. However, I'm more than satisfied with the live chat service. It only took seconds to connect to a friendly and helpful representative.
Unfortunately, I was a little annoyed by the constant upselling into a paid plan. AVG is definitely one of the pushiest live chat services I've encountered.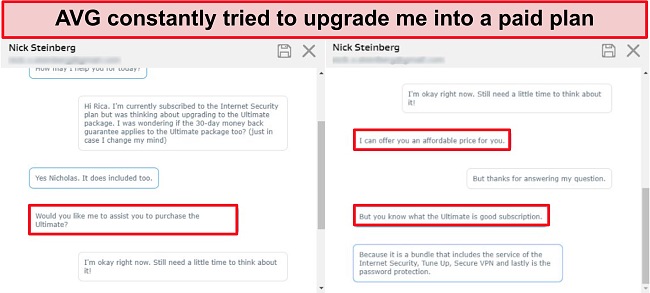 Online Forums — Valuable Resource Wrapped in an Ugly Interface
AVG has a great online forum covering nearly every topic. I appreciated that the forum is well organized and easily accessible from the app's sidebar. It's a useful option if you don't have time (or patience!) to commit to a live chat.
Price - 3
AVG is regularly cited as one of the best free premium antivirus programs on the market. However, that reputation took a serious hit when it was discovered that its parent company Avast sold millions of users' private data. While AVG is still a very capable antivirus, I wouldn't trust it to keep your data secure.
Norton 360 offers similar features and even better performance at a similar price point as AVG's Internet Security and Ultimate suites. Not only can you try Norton for free for 60 days with its money-back guarantee, but the company won't sell your data to companies like Google and Microsoft.
AVG Antivirus Free — Basic Protection at No Cost
AVG's free tier is an effective antivirus package that scans for performance issues and automatically applies real-time security updates. In addition to virus scans, AVG AntiVirus Free includes:
File Shield: Scans any file added to or opened on your PC
Behavior Shield: Alerts you to malicious application behavior
Ransomware Protection: Secures folders against ransomware attacks
Network Inspector: Scans for vulnerabilities on your network.
Web Shield: Protects you against web attacks and unsafe downloads
Email Shield: Blocks suspicious email attachments
AVG Internet Security — Premium Plan Lacks Key Features
Internet Security gives you access to all the features in AntiVirus Free, plus an enhanced firewall, password protection, and webcam protection. You'll also be protected from unwanted remote access, DNS hijacking, and unauthorized access to any sensitive files.
An Internet Security subscription also gives you access to AVG AntiVirus Pro on Android (the iOS version is similar, but has less features on account of AVG's claims that iOS devices don't get viruses). The mobile apps offer similar features as the desktop version, but with some notable anti-theft features to protect your device in the event it's stolen.
While AVG Internet Security provides good value for its price, there are better AV options out there. In my tests, I found Norton includes many of the same features and a complimentary VPN service for a similar price.
AVG Ultimate — Many Features but Not Worth the Added Cost
As the name suggests, AVG Ultimate packs in a staggering number of features — and has the price point to prove it. You'll get all the features from the previous tiers, plus AVG TuneUp and AVG Secure VPN. While both products are useful, I don't think they justify paying nearly twice as much as the Internet Security bundle.
30-Day Money-Back Guarantee — Live Chat Processes Refunds Quickly
AVG offers a 30-day money-back guarantee with its Internet Security and Ultimate plans. This allows you to try out premium features risk-free to see if AVG is worth paying for. While you can get a refund for any reason within the 30-day timeframe, I found the process of getting my money back a bit frustrating.
I submitted a refund request through a form on AVG's website and waited for 3 days — but I didn't receive a response. I didn't want to wait any longer, so I asked for a refund over 24/7 live chat instead. I was very impressed with the quality of service I received, as the representative processed my refund right away. It only took 2 days for the money to return to my bank account.
Unfortunately, the refund request form is practically useless as you might not get a response in time if you're close to the 30-day cutoff. I suggest speaking directly to customer support over live chat, as this will guarantee you get your refund on time.
Final Verdict
I can confidently say that AVG delivers a well-rounded security package. The free version especially delivers an impressive level of virus and malware security. However, I can't recommend AVG due to its recent data scandal — it's simply not worth risking your private data for its antivirus software.
I recommend putting your trust in a proven antivirus company, like Norton. The company's privacy policy explicitly states that it does not sell, rent, or lease your personal data to third parties. Better still, Norton outperformed AVG in malware and real-time protection tests. It even includes premium features like a cloud backup, VPN, and password manager across all of its pricing plans.
Try Norton 360 for free for 60 days!
FAQ: AVG Antivirus
Is AVG safe?
It depends — the antivirus software itself is safe but your privacy could be at risk. While AVG's antivirus software had strong security and performance results in my tests, I can no longer recommend it due to the company's data-selling scandal. Both TotalAV and Norton 360 are trustworthy alternatives with ethical privacy practices and outperformed AVG in tests. I recommend you try either product over AVG if you're looking for dependable virus and malware protection.
Will AVG antivirus slow down my computer?
In my tests, I experienced minimal slowdown with AVG running on Windows and Mac. It took less than 2 minutes to run a Smart Scan and 50 minutes for a Deep Scan, neither of which had a noticeable impact on my desktop's system performance or speed. I launched and used multiple programs with no disruption.
Are AVG and Avast the same?
AVG is owned by Avast, which is a multinational cybersecurity software company based in the Czech Republic. Avast offers its own antivirus software and it's nearly identical to AVG in terms of performance and security. That said, my team and I don't recommend Avast due to its privacy violations. The company was found selling its users' browsing data to third parties without permission for years.