Best 100% FREE Antivirus Software for Mac
Last Updated by Sayb Saad on September 19, 2022
Finding a trustworthy and free antivirus for your Mac can be difficult. Most treat macOS as an afterthought, providing little protection beyond Apple's built-in security. Some are effective but can significantly affect your system performance. Others can collect your data and sell it to third parties, putting you at serious risk.
I tested loads of antiviruses and shortlisted the best 4 for Mac that are 100% free to use. I've also picked one paid option if you're looking for a premium antivirus with a free trial.
No free antivirus is perfect, but my picks offer excellent defense against malware and won't slow down your Mac. Avira, for example, offers exceptional real-time and ransomware protection and an array of optimization tools for macOS.
Quick Guide: Best Free Antivirus Software for Mac
Try Intego risk-free for 30-days
How I Tested & Rated the 5 Best Free Antivirus Software for Mac
I tested several antiviruses on my M1 Macbook Air running macOS Monterey 12.3.1. Throughout my testing, I evaluated each antivirus on the following criteria:
Malware detection — I pitted each antivirus against 900 Mac-specific malware I downloaded from the web to see which ones gave me a perfect or near-perfect detection rate.
System performance — I monitored each antivirus's impact on my system performance. The ones that didn't slow down my Mac noticeably made it to my list.
Extra features — Mac-specific antiviruses don't often pack many additional security features, but I chose those that provide several useful features.
Ease of use — I considered how easy to use the antiviruses are and whether their Mac apps are intuitive enough to be used by someone who isn't tech-savvy.
Customer support — Lastly, I considered each antivirus's customer support options and tested their response times.
4 Best Antivirus Software for Mac (Tested December 2022)
Key Features:
Excellent malware detection rates in real-time and scanning tests
Protects against ransomware, trojans, worms, adware, and phishing scams
Works on macOS 10.15 (Catalina) and higher
Includes VPN (500MB free data per month), password manager, and browser extension
Free and paid plans are available
Avira is the #1 free antivirus software for Mac. It packs real-time and ransomware protection and a range of extra features. I've rarely seen such comprehensive security in free antiviruses.
Avira offers a cloud-based malware-scanning engine that has little to no impact on system performance, and it detected 95% of the malware I put it up against, thanks to its Protection Cloud. In addition, I exposed Avira to several EICAR virus samples and live malware files, and it blocked all of them. However, it took some time to detect them.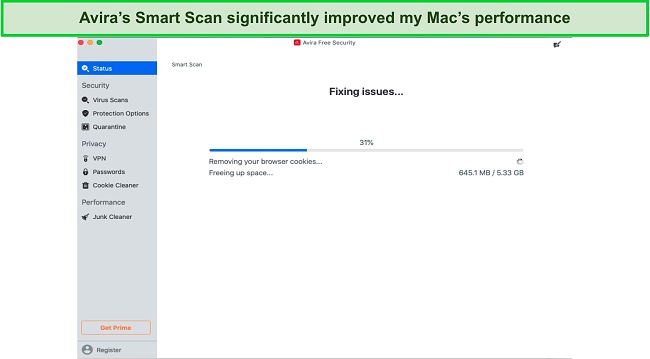 Avira's Smart Scan not only checks your system for malware but also looks for ways to improve your Mac's overall performance. It took about 23 minutes to run a Smart Scan on my Mac.
Unfortunately, Avira's free version doesn't allow you to fix every privacy and performance issue that it finds. While the Smart Scan cleaned up over 2GB of disk space for me, I would have had to upgrade to delete the remaining files and track cookies on my Mac.
Many antivirus brands put useless extra features in their free plans (or don't bother to include them at all), so I was pleased to find that nearly all of Avira's extras add plenty of value.
I especially like the Safe Shopping browser, which protects your online transactions and other activities. I was easily able to install the extension on Google Chrome (it's also available on Opera and Microsoft Edge) and have it block ads, trackers, and other malicious activities across a wide range of URLs.
I was also impressed by Avira's free password manager and optimization tools. Avira password tool uses 2-factor authentication and lets you store an unlimited number of passwords. You can even use it to generate secure passwords for your accounts.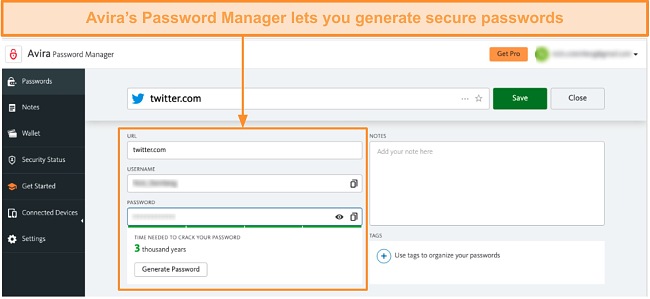 I used Avira's optimization tools, including Junk Cleaner and Duplicate Finder, to improve my overall Mac performance. They scanned my Mac for redundant files and other clutter that was slowing my system down. While it's disappointing that Avira makes you download a separate app to use these features, I didn't mind it since the optimization benefits are worth it.
Unfortunately, I wasn't impressed with Avira's Phantom VPN. While it offers decent speeds and no-logs security, you only have access to 1 server and are restricted to 500MB of monthly data. So, it's only good enough for occasional web browsing. There are other antiviruses with much better built-in VPNs if having one is your top priority.
Overall, Avira offers exceptional threat protection for your Mac and a wide array of extras that add another layer of security. You won't find another free antivirus that provides the same level of security and value as Avira.
Key Features:
Advanced virus scanner with an excellent malware protection rate
Protects against spyware, trojans, worms, adware, and phishing scams
Compatible with macOS 10.9 (Mavericks) and higher
Includes free firewall and limited access to optimization features
Free and paid plans are available
TotalAV is an excellent choice for your Mac, as long as you don't mind dealing with annoying upsell requests. It offers some extra features but lacks Avira's premium extras, such as real-time protection and password management.
I was happy that TotalAV gave me 100% malware detection and registered just 8 false positives, which is well below the industry average. Therefore, it's one of the most secure antiviruses on the market and an excellent tool for keeping your Mac safe from online threats.
However, TotalAV's free plan does not include real-time protection, which is something that Avira offers for free. So you won't have automatic security unless you decide to upgrade to one of TotalAV's paid plans.
TotalAV offers 2 scan options on its free version — Quick scan and Full scan. The Quick Scan provided me with a detailed summary of malware, tracking cookies, and PUPs (potentially unwanted programs) on my Mac.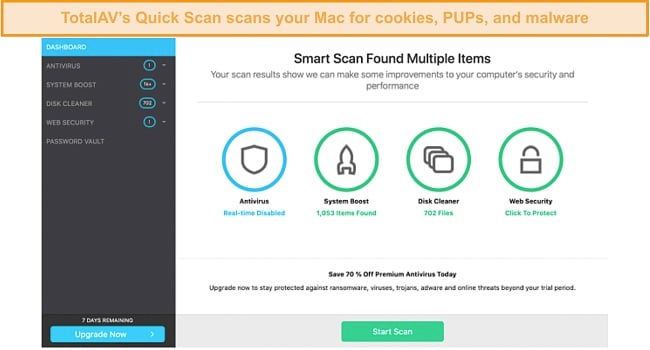 Apart from that, TotalAV's free plan offers optimization tools for removing cookies, duplicate files, and junk files from your Mac. I also liked its Boot Organizer, which lets you manage apps that open by default when you launch your Mac, improving your Mac's boot time.
TotalAV doesn't clarify which features are free and which ones are paid, so I had to work that out myself. I found that TotalAV's free plan only comes with a firewall. As for its optimization tools (Startup Programs Optimizer, Browser Manager Optimizer, and Disk Cleaner tools), you'll only be able to access these for 2 days before being prompted to pay for them.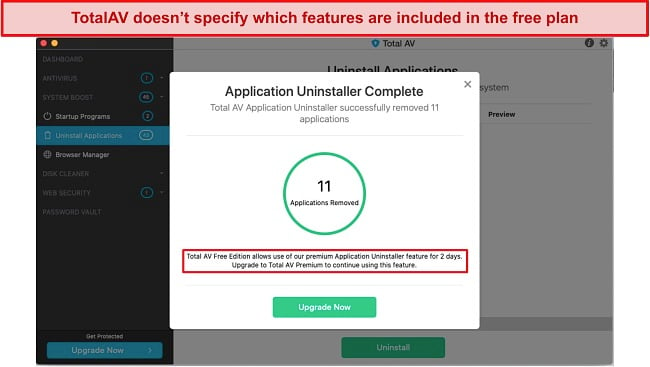 Overall, TotalAV has excellent malware protection and a very easy-to-use Mac app, but the lack of real-time protection leaves your Mac vulnerable. Despite this, TotalAV is a decent free antivirus, and I highly recommend it to novice users looking for no-hassle Mac security.
Key Features:
Near-perfect malware protection rate through advanced scanning engine
Protects against spyware, trojans, worms, keyloggers, adware, and phishing scams
Compatible with macOS 10.10 (Yosemite) and higher
Includes 3 virus scan options
Free and paid plans are available
Bitdefender Virus Scanner has no extra features in its free plan, but its core antivirus protection is so strong that it's still one of the best free options available for protecting your Mac.
Bitdefender's antivirus engine achieved a 99.99% malware protection rate, almost at par with a top competitor like Norton which has a perfect malware-detection score. It automatically uploads any new malware signatures to its online testing lab for analysis. It issues new signature updates every hour, keeping your security automatically up-to-date.
Bitdefender's free Mac app is user-friendly and intuitive, but it's a barebones app lacking many essential features. However, I was relieved that it covers 3 devices and offers online banking protection, web protection, and multi-layer ransomware defenses.
Bitdefender has 3 types of virus scan options — a quick critical locations scan, a deep system scan, and custom scans.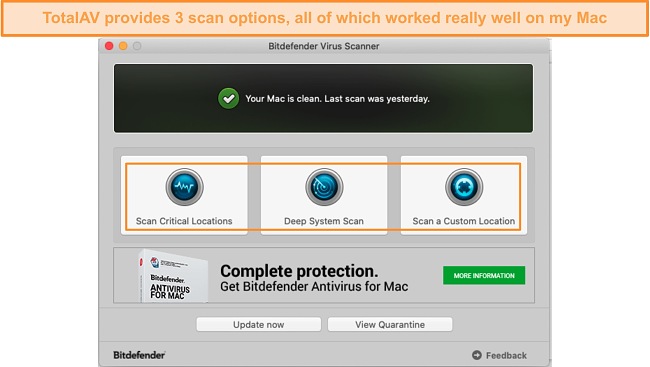 The quick scan checks locations vulnerable to malware attacks, such as your temporary files and downloads folder. The quick scan took less than 8 minutes, and it's a good option if you don't have time to run a full system scan.
Bitdefender's scans provided me with the time, date, action, and threat history. Although I would have liked to see more information after each scan, I appreciate that the scan worked in the background without slowing down my Mac. Also, Bitdefender didn't bombard me with annoying upsell attempts, enhancing my overall user experience. Despite the lack of features, Bitdefender's decent detection abilities make it a potent free antivirus for Mac.
Try Bitdefender on Mac for free!
Key Features:
Compatible with macOS 10.14 (Mojave) and higher
Excellent defense against Mac-specific malware
Includes real-time and ransomware protection
Extra features include parental controls and web protection
Free and paid plans are available
Sophos is an excellent security option. It's one of the few free Mac antiviruses that offers real-time and ransomware protection. This makes it a must-try, in my opinion, especially considering it's a cloud-based app that will barely impact your system performance.
Sophos offers just a single malware scanner, but this wasn't a big issue as you can choose between "fast" and "deep" scans. However, if you're an advanced user, you may dislike this streamlined approach and lack of customization options.
In my tests, Sophos detected 100% of mac-specific malware and 98% of overall malware threats — an excellent score that falls just short of Avira. Sophos uses Artificial Intelligence Threat Detection to continually update its online threat database, ensuring that you're always protected against the latest malware.
On my Mac, scans took about 6 minutes to complete. While running scans manually just takes a few clicks, you can schedule them to run weekly or even daily. Combined with its real-time detection capabilities, I appreciated how automated Sophos' security functions are.
Sophos Home Free also includes a few extra features, including
Parental controls
Web protection
Remote management for up to 3 devices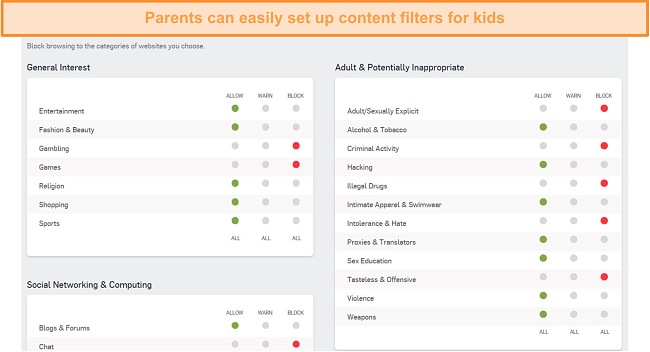 Located under the "Web Filtering" tab, Sophos' parental controls allow you to easily set up content censoring based on various criteria, such as gambling or adult websites. I tested web filtering out by checking off the "block" column for the gambling and weapons categories. I was pleased to find that when I tried to access websites with gambling or weapons content, Sophos blocked them all!
Web Protection is another helpful feature that blocks access to malicious sites. I visited websites known to host malware during my tests, and Sophos prevented me from accessing them every time. Additionally, this tool includes something called Download Reputation, which warns you if you try to download a file with a low reputation. This is accomplished by checking the file against data collected by SophosLabs.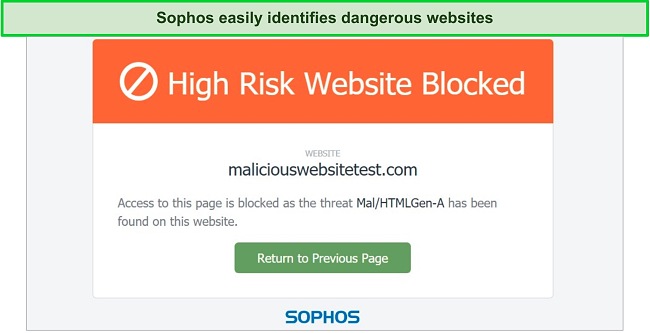 Overall, I was pleasantly surprised that Sophos includes Web Protection in its free plan, as it's the kind of feature that antivirus companies typically charge you for. Although I wish the software were more customizable, I was very impressed with the overall security Sophos provides for your Mac.
Our Top Premium Mac Antivirus that You Can Try for Free
While a free antivirus does the job, it doesn't compare to a premium one. The main benefit of a premium antivirus is that it leaves no leeway for viruses to creep into your system.
Meanwhile, a free antivirus lacks features like a firewall, password manager, and parental controls, which provide an extra layer of security to your computer. With such features missing, free antiviruses often leave loopholes in the security they offer.
If you're looking for a premium Mac antivirus that you can try out for free, I recommend Intego. It's one of the best well-rounded antiviruses for Mac that offers perfect detection rates, airtight spyware protection, online protection, and features a robust firewall.
Key Features:
100% malware detection with 2 scan options
Smart firewall that monitors incoming and outgoing traffic
Safe browsing extension provides complete web security
Extra features include parental controls, and disk cleanup
Month-long free trial with a 30-day money-back guarantee
I was thoroughly impressed by Intego's virus scanning abilities. It successfully detected 100% of the 300+ malware I had planted on my Mac without giving me any false positives. I've rarely ever seen an antivirus that doesn't flag legitimate files, apart from Norton 360.
I was also happy to find that Intego could detect Windows malware on my Mac. While Windows-specific viruses can't harm your Mac, they can spread to other PCs through your Mac, so I consider having this feature a bonus.
Intego provides 2 scan options — Quick Scan and Full Scan. I performed a full scan, and it scanned over 1.7 million files and took 30 minutes to complete, which is a lot faster than some of the other antiviruses I've used. On the downside, however, I noticed my Mac got a bit slow when I tried installing resource-heavy apps during the full scan.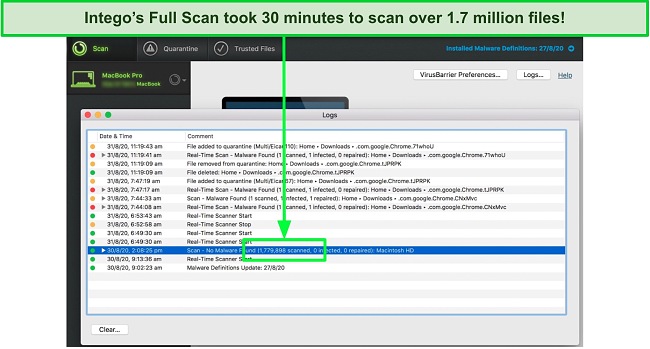 Intego's real-time protection is one of the best I've seen. You can set 3 levels of security — minimum, standard, and maximum. At "Minimum," you'll only get protection from Mac-specific malware. At "Standard," you'll be protected from Windows and Linux-based viruses, and at "Maximum," you can protect multiple Apple devices simultaneously. If you're looking for iOS-specific antiviruses, there are some great options worth checking out.
I set my security level to "standard" because "maximum" is a bit more resource-intensive for my liking. Then, I tried downloading an infected file on my Mac, and Intego's real-time scanner immediately blocked the threat.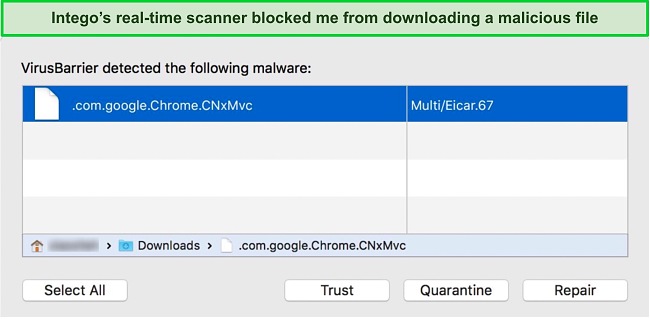 Intego also hosts a 2-way network intelligent firewall that gives you total control over your incoming and outgoing traffic. I used it and found that it automatically changes modes depending on which network you're connected to. For example, when I was using public WiFi, it automatically blocked all incoming local connections.
In addition, I liked Intego's ContentBarrier parental controls function. If you're a parent and want to monitor what your child is doing on their device remotely, Intego has you covered. It lets you block apps, limit screen time, and monitor your child's online activity in real-time. I was especially impressed by its Anti-Predator function, which alerts you if your child is having any suspicious online chats.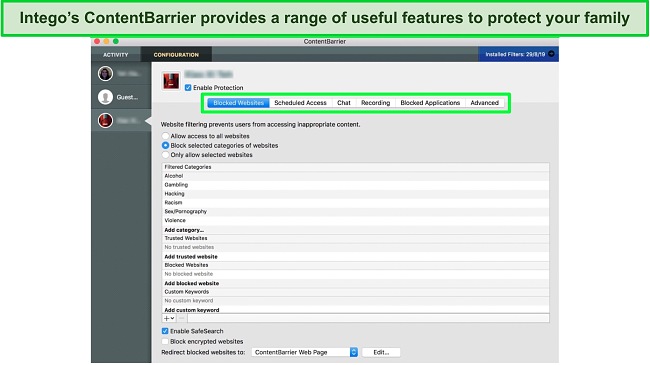 Lastly, I found Intego's Mac Washing Machine extremely useful as a system optimization toolkit. I used it to clear up 2.6GB of space on my Mac, and it worked like a charm. This feature has 3 modes — Reclaim, Duplicate, and Organize.
With "Reclaim" and "Duplicate," I detected and removed all junk and duplicate files on my computer, respectively. With "Organize," I cleared my Mac's desktop of clutter to make the interface much cleaner.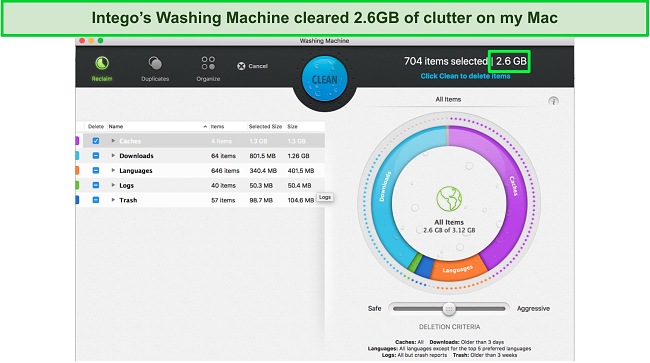 Overall, I was highly impressed by Intego's performance and airtight security features. It covers up to 5 devices on a single subscription. The only catch is it's not technically free, although you can still try it for free. You can use its 30-day free trial or if you want to try Intego's full set of features, you can sign up for a subscription plan and use its 30-day money-back guarantee to get a refund.
Try Intego on Mac for risk-free
Comparison Table: 2022's Best Free Antivirus Software for Mac
Popular Antivirus Brands That Didn't Make the List
1. Norton 360
Norton 360 is my go-to antivirus for my Windows PC and Mac, but, unfortunately, it doesn't offer a free plan or trial for Mac users. That's why I couldn't include it on my list. If money isn't a problem, I strongly recommend you get Norton because it has one of the most potent malware-detection engines and is light on your system. It also features various extras like a password manager, VPN, optimization tools, cloud backup, parental controls, and more.
2. MacKeeper
MacKeeper is another decent antivirus for Mac users, but, again, it doesn't have a free plan. However, it does offer a 30-day money-back guarantee for its semi-annual and annual plans and a 14-day guarantee on its monthly plans, which you can use to try out the service for free.
3. McAfee
McAfee is another Mac-focused antivirus that provides exceptional security from threats, but it didn't make it to my list because it doesn't offer a free plan. You can, however, try it out risk-free with its 30-day free trial. Remember, you'll need to disable auto-renewal 7 days before your trial expires; otherwise, you'll be charged for the subscription.
FAQ: Free Antivirus Software for Mac
Which is the best free antivirus for Mac?
There are several great free antiviruses for Mac, with Avira standing out as the best available. It provides excellent malware protection and valuable extra features. However, no free antivirus solution is perfect. Companies use them to entice you to purchase their paid plans, which often come with more advanced security tools, customer support, multi-device coverage, and additional features.
If you don't store a ton of sensitive data on your Mac, a free antivirus can boost your overall security without committing to a paid plan. But if you're like me and use your Mac to store important financial documents, credit card information, and other personal data you don't want falling into the wrong hands, I recommend considering a premium antivirus like Intego.
My team and I thoroughly tested Intego and can safely say that it's the #1 antivirus for Mac, thanks to its solid Mac-specific malware protection. If you can't commit right away, you can try Intego free for 30 days using its money-back guarantee.
Do I really need an antivirus for my Mac?
Yes! Contrary to what you may have heard, Macs are vulnerable to malware and other security threats. While it's true that macOS is generally safer than Windows, it's not immune to cyber threats. Pairing an antivirus with your Mac's built-in security is an excellent way to secure yourself against online and offline threats. I've put together a list of the best free Mac antiviruses.
The number of Mac-specific viruses has increased as more and more people join the Apple ecosystem. Therefore, it's crucial to have a reliable antivirus on your Mac that protects you from existing and unknown malware. Intego is a low-cost premium antivirus exclusively developed for Mac. You can use it for free for 30 days using its money-back guarantee. I was easily able to request a refund and got my money back in 10 days.
Doesn't Mac already have in-built virus protection?
Yes, Mac has excellent built-in security against viruses, but it's far from foolproof. If you don't want to take the risk, it's worth looking into what a trusted antivirus package like Avira can do for macOS.
macOS is based on Unix, a sandboxed architecture that allows applications to restrict access to OS resources. Even if your Mac is infected, the malware most likely won't spread to other areas of your system.
The latest versions of macOS also have built-in antivirus software like XD (execute disable) and SIP (system integrity protection) to prevent malware from changing critical system files. There are still gaps in the macOS security, and installing an antivirus can make up for these shortcomings.
Are free antiviruses safe for Mac?
Yes, but it depends on which antivirus you choose. All the antiviruses on my list have been thoroughly tested and verified as safe products. Unfortunately, many free antiviruses can put you at risk. For example, Avast is a popular free service that was found to have harvested millions of its users' private browsing data and sold it to third-party companies. I urge you always to do your research to ensure you're installing a product that security experts and regular users trust.
Don't Put Your Mac at Risk — Protect It With a High-Quality Free Antivirus
Many Mac users overlook antivirus software in the mistaken belief that Macs don't get viruses. However, even though Macs are generally more secure than Windows-based PCs, they are still vulnerable to cybercriminals. Pairing an antivirus with Apple's built-in security can help cover gaps in your protection and there are some great free products that can do the job.
Unfortunately, even the best free antivirus is a poor alternative to premium software. You won't get a full suite of security tools, extra features like performance optimization, and full access to customer support unless you use a paid service.
If you want a full security package developed with Mac-specific malware in mind, I recommend Intego. It offers powerful real-time protection, excellent optimization tools, and support through live chat, email, or phone. You can try Intego for free for 30 days using its money-back guarantee to see if it's worth paying for.
That said, if you're currently not running any antivirus software on your Mac, you can download a free service like Avira for an additional layer of protection against basic threats.
---
Best Antiviruses in 2022 Overall