Best Internet Security Software With Built-in Antivirus (2023)
New threats emerge on the internet every day, but not all of them are viruses. That's why most antiviruses offer comprehensive internet security with features like anti-phishing, anti-spyware, a firewall, a VPN, parental controls, and more.
I tested over 30 antiviruses to shortlist the top internet security suites. Norton 360 is my #1 pick because of its perfect detection scores and top-shelf features like a firewall, password manager, cloud storage, and parental controls that keep you safe in real-time.
You can try Norton risk-free with its 60-day money-back guarantee. If for any reason you aren't satisfied, you can claim a full refund. In order to test if this was true, I submitted my refund request and got my money back in just 5 days.
Try Norton for 60 days risk-free
Quick Guide: Best Internet Security Suites in 2023
Protect your device with Norton for 60 days
The Best Internet Security Software — Full Test Results in 2023
Key Features:
Detects 100% of cyber threats in real-time with its AI malware scanner
Smart firewall provides complete control over your incoming and outgoing traffic
Offers useful extras, including safe browsing extension, password manager, dark web monitoring, a VPN, and cloud backup
Has native apps on Windows, macOS, iOS, and Android
60-day money-back guarantee
Norton 360 is the best antivirus for online protection because it detects 100% of viruses and blocks phishing attacks in real-time. I exposed it to novel zero-day threats, phishing links, and 100+ EICAR virus samples, and it caught all of them. It uses SONAR analysis to identify zero-day threats based on known malware behavior. On top of that, it didn't give me any false positives, unlike the competition.
I tested Norton's firewall, which gave me complete control of incoming and outgoing traffic. It includes several state-of-the-art functions like stealth-blocked ports and SSL strip detection for advanced users. It also monitors every app installed on your computer for any suspicious activity. For instance, it informed me when one of my apps tried connecting to the internet without my consent.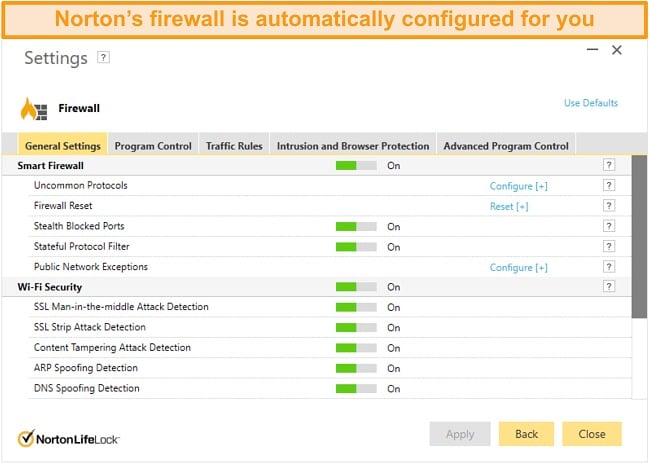 Besides a powerful firewall, Norton includes many other internet security features to keep you safe online. These include:
Safe Web Browser Extension — Scans every website and link you click and blocks if they're malicious. You can get it on Chrome, Safari, Firefox, and Edge
Password manager — Store unlimited passwords securely and use the Auto-change feature to change your passwords in a click
Parental controls — Add screentime and block inappropriate websites and apps on your child's devices remotely
Cloud storage — Store all your essential files on Norton's cloud in case your computer is breached and compromised
VPN — Access geo-blocked websites and bypass ISP throttles with Norton's in-built Secure VPN. However, it's not as good as a top standalone VPN like ExpressVPN
Despite being feature-rich, Norton 360 had little to no impact on my PC's performance. I ran the full scan and launched 8 programs at once, including Skype, OneDrive, and Adobe Photoshop. My PC slowed down 5 to 9% compared to my baseline speeds. I also measured the time it took to transfer a 10GB folder to an external hard drive — the transfer speeds were only 4% slower with the full scan than without. Other antiviruses gave me slowdowns of over 10%.
After using Norton's desktop and mobile apps, I found them incredibly easy to use. Both the Windows and Mac apps have a similar user interface, and all features are labeled clearly. I particularly liked that I could configure Norton to conduct scans automatically and your preferred schedule. However, I had trouble locating the firewall — strangely, it's in the "Settings" menu on the dashboard.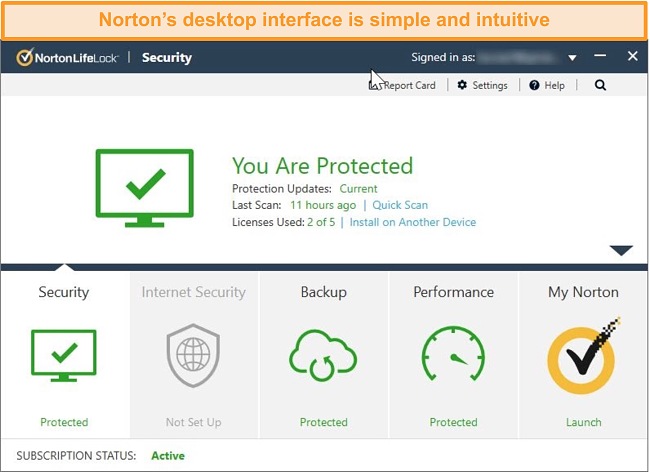 Of its Plus, Standard, Deluxe, and Premium plans, the Deluxe offers the best value for money. It protects up to 5 devices and offers 50GB of cloud storage, which is enough for any individual user. It also includes parental controls, a VPN that works on 5 devices, a privacy monitor, and dark web monitoring to inform you of any data leaks. The below chart outlines the features on each plan:
| | | | | |
| --- | --- | --- | --- | --- |
| | Plus | Standard | Deluxe | Premium |
| # of devices | 1 | 3 | 5 | 10 |
| Cloud storage | 2GB | 2GB | 50GB | 250GB |
| Password Manager | ✔ | ✔ | ✔ | ✔ |
| Parental controls | ✘ | ✘ | ✔ | ✔ |
| VPN | ✘ | 3 devices | 5 devices | 10 devices |
| Dark Web Monitoring | ✘ | ✔ | ✔ | ✔ |
Although it's slightly more expensive than the competition, Norton 360 is worth the cost because of its exceptional detection capabilities. It also packs a range of internet security features that keep you completely safe online. Even its basic plan includes a password manager, whereas most other antiviruses don't offer that on their basic plans. You can try Norton 360 risk-free for as low as $14.99 with its 60-day money-back guarantee.
Install Norton 360 for 60 days risk-free
Key Features:
Perfect real-time detection score against novel threats, including zero-day malware
Advanced firewall that alerts you to potential hackers and flags suspicious networks
WebAdvisor browser and ransomware protection, vulnerability scanner, and password manager provide excellent online security
Beginner-friendly apps compatible with Windows, macOS, Android, and iOS
30-day free trial and 30-day money-back guarantee
McAfee provides outstanding online security with its highly customizable and powerful firewall. It lets you monitor your incoming and outgoing traffic, which means McAfee will notify you any time an unknown inbound connection or your app requests access. To enhance your online security further, you can use the Intrusion Detection feature to get alerted to potential hackers and the Net Guard feature, which flags any suspicious network connections.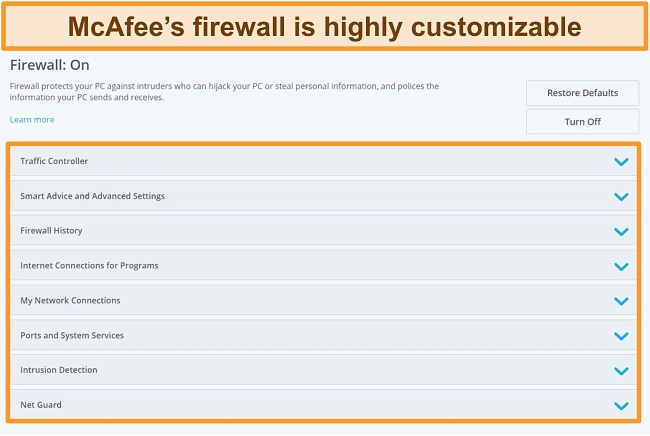 During my tests, I found McAfee's performance on par with Norton's. It detected 100% of the 120+ virus samples I exposed it to and blocked all 50 phishing links in real time. Its virus scans are slightly slower than Norton's — McAfee's full scan took about 43 minutes compared to Norton's 10 minutes and gave me 8 false positives. You can attribute McAfee's excellent detection capabilities to its following online security features:
WebAdvisor — A browser extension that blocks phishing scams and cryptojackers. Websites on Google's SERPs are marked with a green tick or a red cross
Ransom Guard — Provides excellent ransomware protection by using advanced AI to monitor your device for any suspicious changes to files
Vulnerability scanner — Automatically updates all your apps to prevent hackers from exploiting OS-related vulnerabilities
Password manager — Keeps all your passwords encrypted in its secure vault. But you can only store 15 passwords for free
You can protect your Windows, Mac, iPhone, and Android phone with McAfee. The desktop apps share a similar easy-to-navigate interface, but the Windows app has more features than the macOS one. Similarly, the Android app has more features like optimization tools and tracking, which the iOS app lacks.
There are 3 reasons why McAfee ranks second to Norton despite its perfect detection scores. First, its full scan is quite resource-intensive. I had slight frame drops playing The Witcher 3 while the full scan was running in the background. Second, McAfee doesn't offer cloud storage like Norton. Lastly, McAfee's dark web monitoring is only available for US users.
After checking McAfee's products, I recommend getting McAfee Total Protection. It has all the essential security features to keep you safe online. You can get Total Protection at a bargain for $39.99. It offers the following 4 plans, of which the mid-tier "Plus" plan provides the best value in my opinion.
| | | | | |
| --- | --- | --- | --- | --- |
| | Basic | Plus | Premium | Advanced |
| Devices covered | 1 | 5 | Unlimited | Unlimited |
| Web protection extension | ✔ | ✔ | ✔ | ✔ |
| Advanced firewall | ✔ | ✔ | ✔ | ✔ |
| Password manager | ✔ | ✔ | ✔ | ✔ |
| Personal Cleanup | ✘ | ✘ | ✔ | ✔ |
| ID Theft Protection | ✘ | ✘ | ✘ | ✔ |
The best thing about McAfee is that it offers a 30-day free trial, so you can try it out without paying first. You'll get unfettered access to all its features without limitations. Most antiviruses limit the features you can use in the trial. If a month of testing isn't enough, you can take advantage of McAfee's 30-day money-back guarantee to test it for another month risk-free.
Get online protection with McAfee
Key Features:
Near-perfect real-time detection score to keep you safe from almost all online threats
Blocks tracking cookies and optimizes PC performance for smoother web surfing
Web and dark web protection, password manager, and a VPN, for online protection
24/7 live chat, email, phone, and 1-on-1 support
30-day money-back guarantee
TotalAV's optimization toolset is one of the best I've ever seen. It includes a browser cleaner, app uninstaller, and junk and duplicate file cleaner. I used the browser cleaner to erase my browser history and cookies on all browsers. This protected me from advertisers using trackers to monitor my online activities and give me related ads. You can also disable auto-run programs and uninstall apps with a single click.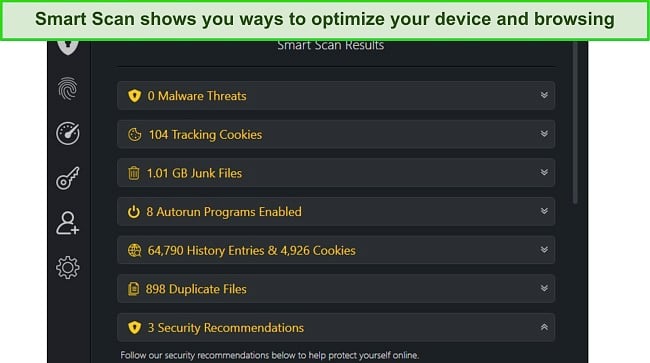 I ran thorough detection tests and got a 99% real-time score. I exposed TotalAV to 60 malicious links in scam emails and 35 malicious sites, and it blocked all of them. It detected all of the 200 EICAR virus samples except 2 zero-day viruses hidden inside zip files. TotalAV's SAVAPI anti-malware engine uses cloud technology, endpoint scanning, and AI to predict the behavior of new threats and ensure complete online protection.
It further improves your online security by providing:
WebShield browser extension — Install WebShield on Chrome, Firefox, Edge, or Opera to block ransomware attacks, phishing sites, and cryptojackers
Password manager — Keeps your passwords and sensitive data safe with 2-factor authentication and 256-bit encryption
VPN — Browse the web anonymously, access geo-blocked platforms, and bypass ISP throttles
Data breach test — Use this tool to see which of your emails have been compromised in the past
All TotalAV's apps are pretty straightforward to use, even for beginner users. However, the Mac user interface is noticeably different than the Windows app. With both desktop apps, you'll get all the essential online security features like Web Shield and password manager, though. Like McAfee, TotalAV's Android app additionally has virus scan, real-time protection, and App Lock, which aren't available on the iOS app. Check out these iOS-based antiviruses if you want to protect your iPhone.
While TotalAV wasn't as resource-intensive as McAfee, it wasn't as lightweight as Norton. I could play CS:GO online with no frame drops with the full scan running in the background. However, playing a graphic-heavy game like Forza Horizon 5 wasn't ultra smooth. The only reason it's in third place on my list is that it doesn't have a perfect detection score, yet still outstandingly good compared to the industry average.
After checking TotalAV's product catalog, I was happy to see all 3 plans include real-time, phishing, and ransomware protection and all optimization tools. I recommend the top-tier Total Protection plan because it additionally offers an ad blocker and a password vault. You can buy TotalAV risk-free at the best price of $19.00 using its 30-day money-back guarantee.
Key Features:
Detects 98.7% of all viruses in real-time to immediately block malicious downloads
Spyware protection blocks spyware, adware, and other intrusive malware
PC Cleanup removes unnecessary files and cookies from your internet browser
Live chat, phone support, and knowledge base
30-day money-back guarantee
iolo's spyware protection provides airtight online security. Spyware is difficult to detect; it sits on your computer for weeks and months, silently stealing your data without you noticing. It can even get past Windows Defender, so I was curious to see if iolo would detect it. I exposed iolo to over 20 spyware and test adware files, and iolo blocked them all.
Still uncertain about its real-time protection capabilities, I planted 150 EICAR virus samples containing trojans, worms, rootkits, and more and iolo detected 147. It didn't detect a rootkit and 2 zero-day viruses hidden inside zip files. I can let that slide since malware hidden inside zip files is difficult to detect. However, I can't ignore iolo's heavy impact on my system performance. Its full scan spiked my RAM and CPU utilization by 61% and 77%, respectively.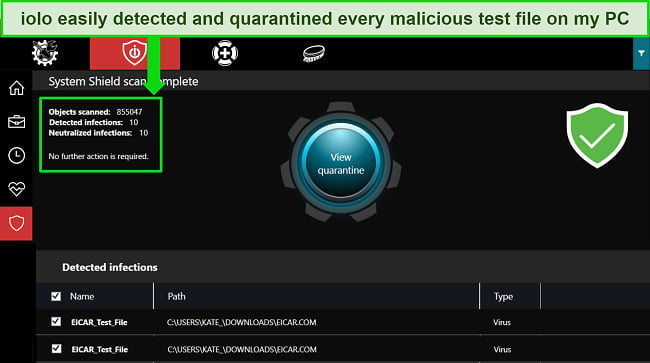 Besides providing near-perfect real-time protection, iolo provides other features to solidify your online security. These include:
PC Cleanup — Lets you clean your computer of junk files. It also removes cookies and trackers from all your browsers
Privacy Guardian — Prevents websites from profiling you through your browsing activity, preventing "fingerprinting"
Password manager — Install the extension on Chrome, Safari, Firefox, and Edge to auto-fill passwords and save data in iolo's secure vault
I reached out to iolo's live chat agent to ask about the encryption used on the password manager. I got fast replies, but the agent constantly tried to upsell. It would be best if you only used live chat for simple issues that are easy to resolve. You can find the answers to most of your technical issues on iolo's comprehensive knowledge base.
I found the System Mechanic Pro the best value for money, and you can get it for as low as $23.99 per month. It doesn't include a password manager but offers real-time and spyware protection and optimization tools. In comparison, you can get Norton's Deluxe plan for a lower price and many other features iolo doesn't offer, such as cloud storage and dark web monitoring. If you want to try out iolo risk-free, you can use its 30-day money-back guarantee.
Secure yourself online with iolo
Key Features:
99.2% real-time detection rate for near-perfect online protection
Behavior Monitoring offers advanced ransomware protection
Webcam and audio protection for complete online security
Feature-rich apps on Windows, macOS, iOS, and Android
30-day free trial and 30-day money-back guarantee
Bitdefender's most unique feature is its webcam and audio protection. Your computer's webcam and microphone are easy targets for hackers since they don't have any advanced protection. But you don't need to tape your webcam or mute your microphone in paranoia. Bitdefender lets you block your webcam and microphone and control which apps can access them, keeping you safe online and offline.
I'm constantly concerned about advertisers tracking my data via cookies while surfing the web. I was relieved with Bitdefender's Anti-Tracking browser extension as it blocks all ad trackers on Chrome, Firefox, and Edge. I would've liked to see it work on Safari, but Mac's native browser blocks trackers in and of itself.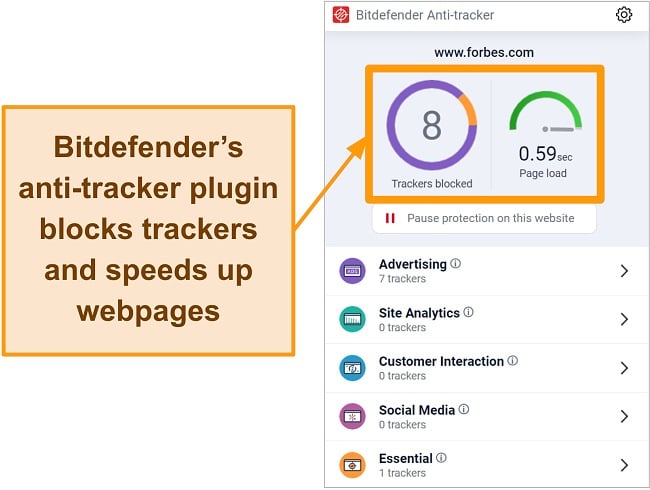 I was impressed by Bitdefender's virus-detection ability as it detected 168 out of 170 EICAR virus samples I had planted on my testing machine. Like TotalAV and iolo, it can struggle with zero-day novel threats, especially those inside zipped files. However, its full scan was lighter than all contenders on the list except Norton's.
Even though Bitdefender gave me a better real-time protection rate than iolo, it didn't block all scam emails, links, and websites. Even so, I was content that its phishing protection score of 94% was above the industry average. To further protect your privacy on the web, Bitdefender offers:
SafePay — Protects your online banking experience by blocking hackers from screenshotting, intercepting your data, or using keyloggers to extract your data
VPN — Become anonymous and access the web freely in restrictive countries. However, there's a data cap of 200MB unless you subscribe to the premium plan
Parental controls — Lets you remotely protect your children from accessing inappropriate and harmful sites
Unfortunately, Bitdefender is better for Windows than Mac users. Its basic and mid-tier plans are Windows-only, so I suggest getting the high-tier Total Security plan if you want to protect other OS devices online. Total Security is slightly cheaper than Norton's Deluxe plan, but I suggest going for Norton as it packs more features and provides better online security.
| | | | | | |
| --- | --- | --- | --- | --- | --- |
| | Bitdefender Free | Antivirus Plus | Internet Security | Total Security | Premium Security |
| Platform Availability | Windows | Windows | Windows | Windows, macOS, Android, and iOS | Windows, macOS, Android, and iOS |
| Devices | 1 | 1, 3, 5, or 10 | 1, 3, 5, or 10 | 5 or 10 | 10 |
| VPN | ✘ | 200MB | 200MB | 200MB | Unlimited |
| Anti-tracker & SafePay | ✘ | ✔ | ✔ | ✔ | ✔ |
| Webcam Protection & firewall | ✘ | ✘ | ✔ | ✔ | ✔ |
| Firewall | ✘ | ✘ | ✔ | ✔ | ✔ |
All of Bitdefender's apps are user-friendly with clearly labeled functions. However, the Mac app lacks some essential features, which is the core reason it's last on my list despite its excellent detection scores. I recommend Bitdefender to Windows users only — if you are one, try out Bitdefender risk-free with its 30-day money-back guarantee and the lowest monthly price of $29.99. However, Mac users should consider getting Mac-specific internet security software.
Protect your PC with Bitdefender
Warning! Avoid These 3 Internet Security Apps
1. AVG and Avast
AVG and its parent company, Avast, may seem compelling antiviruses since they have feature-packed free plans. However, they were caught selling their users' data to third parties without consent. Although Avast claims to have rectified its data-usage policies, I still don't trust the brand, given its sketchy track record.
2. Lookout Mobile Security
Unlike AVG and Avast, Lookout doesn't have privacy concerns but has a basic virus scanner. It missed a lot of malware on my detection tests, providing inadequate real-time and online protection. Moreover, its web protection plugin doesn't work with a VPN.
3. Super Cleaner Studio's Virus Cleaner
This antivirus has a top rating on Google Play Store, but it doesn't remove malware or protect you online. When I tried it, Virus Cleaner detected several issues on my Android tablet and prompted me to fix them, akin to the "fake virus alert from Microsoft." I fixed these issues, closed the antivirus, and restarted it, only to find the same fixes pop up again.
Quick Comparison Table: 2023's Best Internet Security Apps
| | | | | | |
| --- | --- | --- | --- | --- | --- |
| | Real-Time Protection | Advanced Firewall | VPN | Password Manager | Money-Back Guarantee |
| Norton 360 | ✔ | ✔ | ✔ | ✔ | 60 days |
| McAfee | ✔ | ✔ | ✔ | ✔ | 30 days |
| TotalAV | ✔ | ✔ | ✔ | ✔ | 30 days |
| iolo | ✔ | ✔ | ✘ | ✔ | 30 days |
| Bitdefender | ✔ | ✔ | 200MB/day | ✔ | 30 days |
3 Easy Steps: How to Use Internet Security Software
Scan your computer — Run a full scan using your antivirus. I recommend Norton 360 because it detects 100% of viruses without fail


Remove infections — Scroll through the list of detected viruses and uncheck any false positives before removing legitimate viruses


Restart your computer — Restart your device after removing viruses to erase any remnants or background processes associated with the viruses
How I Tested & Ranked the Top Internet Security Suites
I considered the following aspects when picking the best internet security suites:
Real-time protection — I ran repeated tests to ensure all my picks gave real-time protection more than the industry average of 97%
Firewall — All antiviruses on my list have advanced firewalls, capable of blocking online threats like spyware, phishing attacks, cryptojackers, and more
Bonus online security features — I picked antiviruses that offer a password manager, parental controls, dark web monitoring, among others
Ease of use — I tested each contender's desktop and mobile apps and ensured they were user-friendly even for beginner users
Customer support — I have several antivirus options on my list, and each one offers various support alternatives such as live chat, email, phone support, and a knowledge base.
Money-back guarantee — I chose antiviruses that offer a refund guarantee, a free trial or both, so you can try them out without risk
FAQs on Internet Security Software
Protect Yourself Online With Internet Security Software
As online threats become increasingly complex and commonplace, internet security software is a must-have. A reliable internet security app provides excellent real-time protection. I provide a wide range of protective measures designed to keep you safe from various online threats. These include a firewall, a password manager, a web browser extension, and several other security features.
After testing dozens of popular internet security software, I picked the 5 best ones that gave me exceptional performance. Norton 360 topped my list because of its perfect real-time protection against spyware, ransomware, adware, and all malicious links I exposed it to. It has a powerful firewall that blocks suspicious incoming and outgoing traffic. It packs several online security features and comes at an affordable price tag. You can try Norton 360 risk-free with its 60-day money-back guarantee.
---
In Summary — Best Internet Security Software in 2023