5 Best Internet Security Software on PC, Mac + Phone (2022)
Last Updated by Lucca RF on September 01, 2022
New threats are released onto the internet every day, and not all of them are viruses or malware. That's why most antivirus brands now include comprehensive internet security features, like a firewall, VPN, parental controls, password manager, phishing protection, and anti-spyware tools.
To save you time and money, I ran rigorous tests in order to shortlist the top internet security packages across all devices. I was particularly impressed with Norton 360, which successfully detected every strain of malware in tests. Better yet, every plan comes with a VPN, password manager, parental controls, firewall, and cloud storage to maintain an effective defense online threats.
You can even try Norton with its 60-day money-back guarantee at no risk to you. I tested this myself and the money returned to my account in just 5 days.
Try Norton risk-free for 60 days!
Quick Guide: Best All-Round Internet Security Suites in 2022
The Best Internet Security Software (Tested September 2022)
Key Features:
Excellent detection rates against known and new malware
Includes firewall, VPN, cloud storage, parental controls, password manager, and more
Compatible with Windows, Mac, Android, and iOS
Customer support through email, chat, and phone
60-day money-back guarantee
Norton 360 is the top choice as it offers a comprehensive internet security package at an affordable price. In my tests, Norton scored the best results with a 100% detection rate against real-time malware threats. Additional security is provided by a wide range of high-performing features, including a firewall, VPN, cloud backup, and browser extension against phishing attacks.
I especially like Norton's firewall as it's well-configured by default, although it offers plenty of customization for more advanced users. The firewall uses an integrated whitelist of safe programs from the start, but keeps analyzing other programs to detect whether they're performing safe or suspicious actions. This keeps you safer on a network level without you having to do anything at all.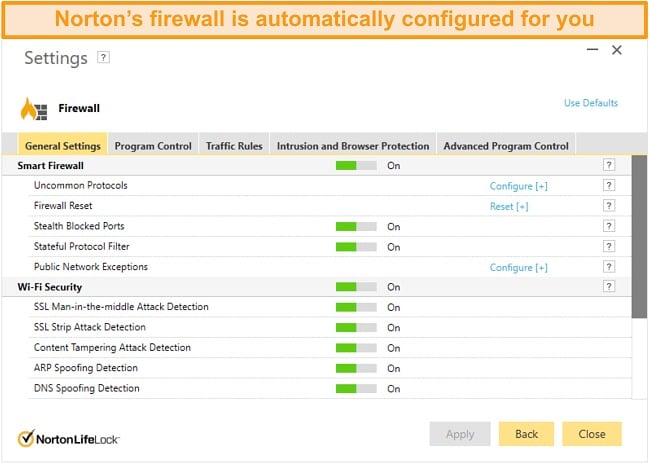 Norton's Secure Line VPN is another standout feature due to its unlimited data allowance on every plan. This is rarely offered by competing antivirus brands. You can use Secure Line VPN to encrypt your traffic and hide from your Internet Service Provider and web trackers. You can even replace your IP address to torrent anonymously and access geo-restricted content like foreign Netflix libraries. While I experienced mixed speeds during my tests (high speeds of 98Mbps with my local European servers and 11Mbps from Los Angeles), both are fast enough for HD streaming.
An additional area where Norton offers a more generous deal than competitors is its cloud storage. The Standard plan provides 10GB storage, while the Premium plan offers an enormous 75GB. Norton's cloud storage is a safeguard against ransomware attacks, as well as a convenient place to backup data. If your device is ever compromised, you won't have to stress about losing all your important files. You can also save your login credentials with Norton's password manager. It can even create new passwords and update them for you, which I found quite unique.
Parents will be happy to know that Norton offers parental controls as part of its internet security packages. You can use it to set screen time restrictions, block inappropriate content and apps, filter search engine results, and monitor streaming history.
Norton also comes with an excellent Safe Web browser extension for Chrome, Firefox, Safari, or Microsoft Edge. Safe Web notifies you if any of the links on the screen or pages you're visiting are dangerous. This is done partly by the Norton community flagging dangerous sites when they encounter them and Norton's AI recognizing dangerous signs by itself. In tests, I found Safe Web to be more powerful than the browser's default protections. It's a simple way to add additional security to your web browsing — after all, the fewer threats you encounter in the first place, the lower the chance of infection.

Don't take my word for it — you can try Norton 360 for free for 60 days with its money-back guarantee. I checked how well this works by signing up for the 360 Deluxe plan and tested the suite for a few weeks. When I was done, I contacted an agent through the 24/7 live chat and requested a refund. The agent approved the refund within 5 minutes, and I received the money back in 5 days.
Try Norton for free for 60 days!
Key Features:
Easily detects and blocks malware in real-time and scans
Includes a VPN, password manager, data breach tool, and more
Compatible with Windows, Mac, Android, and iOS
24/7 customer support available
30-day money-back guarantee
TotalAV has a good malware scanner with useful internet security features, such as a VPN, password manager, anti-phishing protection, and an ad blocker. In terms of its virus scanner, TotalAV achieved 100% malware detection rates in scans and identified 99% of real-time threats. This ensures you're protected from all the latest cyberthreats.
TotalAV doesn't offer as many internet security features as Norton and McAfee (like encrypted cloud backup or parental controls), but every feature performs very well. TotalAV licenses its VPN from Windscribe, which is a well-known and reliable name in the VPN industry. You'll get a stripped-down but very competent alternative to Windscribe's own product. I successfully unblocked streaming services like Netflix US, Hulu, HBO Max, and Disney+. Aside from access to entertainment, I recommend connecting to the VPN at all times to keep your online traffic anonymized. This is particularly useful if you're a fan of torrenting.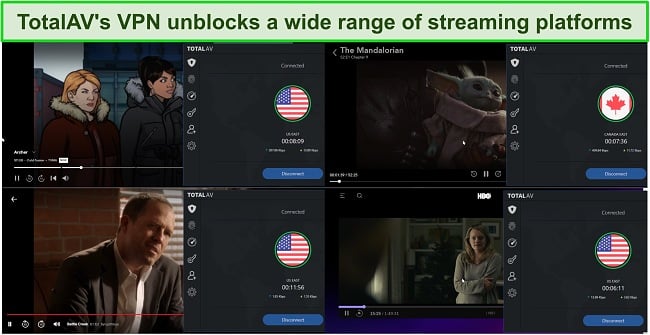 The password vault is another useful feature. It auto-fills your login details on sites you've saved, which is essential for storing many credentials with unique passwords. Password reuse is one of the primary factors behind compromised accounts, so having a quality password manager can be a lifesaver.
I also like TotalAV's Web Shield browser extension (Chrome only), which notifies you whenever there's a suspicious link on the page or when you've clicked through to a dangerous site. It includes an ad blocker, which is also essential for online safety as it protects you from trackers mining your private data.
You can try TotalAV's well-rounded security suite for free for 30 days with its money-back guarantee. I've tested it myself by signing up for an annual plan and then submitted a refund request by email. Email support wasn't particularly fast, taking 2 days to reply and requiring a follow-up message. However, I successfully received an approval only 3 hours later once I did.
Try TotalAV for free for 30 days!
Key Features:
Virus scanner defends against malware in real-time
Include password manager, parental controls, ransomware recovery, and more
Works on Windows, Mac, Android, and iOS
24/7 customer support available
30-day money-back guarantee
Bitdefender's offers powerful protection against internet threats. It comes with a ransomware recovery tool, password manager, file shredder, VPN, parental controls, Safe Pay feature, and more.
Central to Bitdefender's internet security offering are its high malware detection rates. In recent tests, it discovered 100% of malware during scans and 99.7% of the latest threats in real-time. I'm particularly impressed by Bitdefender's ability to detect phishing attacks — Bitdefender does this by using several AI techniques, including analyzing emails or websites for similarities with existing attacks. With the amount of well-crafted scams on the web, it's important that your antivirus can stay a step ahead of them.

I also liked Bitdefender's Ransomware Remediation tool. It analyzes your hard drive in real-time to monitor if any of your files are at risk. If it notices a threat, it securely backs up the relevant files, before taking out the ransomware threat and restoring your data. There's also a decryptor tool in case your hard drive is already compromised. If you're a parent with young kids or teens, you'll appreciate the fact that Bitdefender comes with in-built parental controls (so you don't need to buy separate software!). Other useful features include Bitdefender's password manager, webcam and microphone protection, and File Shredder and Safe File features.
The only downside is Bitdefender's VPN as it has a daily data cap. All plans apart from the Premium plan restrict you to only 200MB per day. This isn't enough for torrenting, streaming, gaming, or other data-intensive activities. For example, 1 hour of Netflix in SD quality uses 1GB of data. Unless you opt for the Premium plan, you'll only have enough data for a couple of hours of basic browsing.
You can check out Bitdefender for free for 30 days with its money-back guarantee. I confirmed that this works by sending Bitdefender a refund request by email. I was a little disappointed that it took 5 days to get a reply, but they didn't require any follow-up information and I got the money back 5 days later.
Try Bitdefender for free for 30 days!
Key Features:
Excellent malware detection rates in real-time and during scans
Comes with a VPN, password manager, file shredder, and more
Supports Windows, Mac, Android, and iOS
24/7 customer support available
30-day money-back guarantee
McAfee is a top antivirus with perfect malware detection rates and effective tools to maintain a strong online defense. I especially liked the VPN, although the Ransom Guard tool, password manager, parental controls, file shredder and encryptor, My Home Network feature are equally effective.
However, McAfee's VPN stands out because it's powerful in its own right. In comparison, many competitors simply tack on the VPN and don't invest in its quality. During tests, the VPN reached average speeds of 125Mbps between servers in the US, UK, Australia, and Germany. I downloaded a 34GB torrent file in just 43 minutes with a 115Mbps average download speed — quite an impressive time. I also successfully unblocked Netflix US, UK, and Germany with McAfee's VPN, even though several review sites claimed it wasn't possible. I watched multiple episode of the show Modern Family in high quality and without buffering.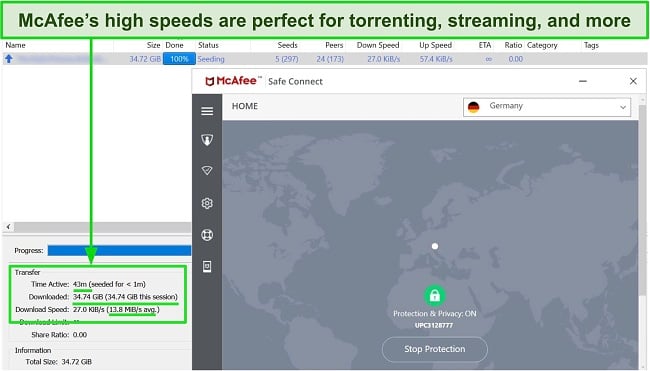 I also liked McAfee's Ransom Guard tool, which was exclusively developed to protect you against ransomware. Ransom Guard scans your device for programs attempting to make unauthorized changes to files or folders. It does this by analyzing existing ransomware threats to predict what future ones may look like. If anything malicious is detected, you're immediately notified and can take action.
If your household owns a large number of devices, McAfee's My Home Network feature gives you a quick overview of all devices connected to your local network, making it easy to detect if there are any intruders on your network or if any devices look suspicious. When I tested this feature, I was happy to see that it even detects any security flaws in smart devices (like open ports in smart light bulbs).
Other standout features are file encryption and the file shredder. The former allows you to secure sensitive data so it can't be deciphered without a password, while you can use the latter to completely erase a file in a way that no one can recover it. Both of these protect you from intruders or malware that are after personal data.
If you'd like to test the features for yourself, you can try McAfee for free for 30 days with its money-back guarantee. When I tested this myself, I was disappointed that the only support option was contacting McAfee support by phone. Fortunately, the wait times were fast at just 5 minutes, and the phone call was over in under 10 minutes. While the service was good, I'd prefer if McAfee offered a live chat or ticket-based system.
Try McAfee for free for 30 days!
Key Features:
Easily quarantines malware and prevents zero-day exploits
Bonus features like a Web Shield and whitelister
Compatible with Windows and Mac, with a VirusBarrier app to scan on iOS
24/7 customer support available
30-day money-back guarantee and 7-day free trial
Intego's Prevention Engine protects you from threats that can't be caught with typical malware definitions, giving you advanced security for macOS and PC. This system is turned on by default, and caught all the latest strains of malware (also known as zero-day attacks) I simulated during my tests.
For extra safety within your web browser, Intego includes a Web Shield that automatically blocks malicious URLs and files. While it did cause a few safe websites (like Amazon) to malfunction, it worked perfectly when I clicked a phishing link on my testing PC. Instead of opening the link, I just got an error message — Intego Web Shield successfully blocked it.
A whitelister makes it really easy to exempt programs or URLs from antivirus protection that you expect will show up as false positives. I tested it by adding Amazon.com to the exceptions list, since I couldn't get the website to load while the Web Shield was turned on. The whitelist worked perfectly, letting me log into my Amazon account without seeing error messages saying Web Shield would have to be deactivated.
These bonus features don't mean a thing if an antivirus doesn't have solid basic protection. I ran a full system scan for conventional malware, and Intego detected and quarantined all the offending files on my remote system. I was really pleased with the success rate, as the scan didn't miss any malware or find false positives during the test.
If you're like me, you prefer to try software before you spend any money. That's why I appreciate that you can try Intego for yourself without risk with the 7-day free trial or 30-day money-back guarantee. If you don't like it, you can just get a refund on your purchase even if you've already used the free trial.
Try Intego for free for 30 days
Comparison Table: 2022's Best Internet Security Software
Malware Scanner
Firewall
Ransomware Protection
VPN
Money-Back Guarantee
1. Norton

✔

✔

✔

✔

60 days
2. TotalAV

✔

✔

✔

✔

30 days
3. Bitdefender

✔

✔

✔

✔

30 days
4. McAfee

✔

✔

✔

✔

30 days
5. Intego

✔

✗

✔

✔

Add-on

30 days
Top Brands That Didn't Meet the Criteria
How I Rated the Top Internet Security Packages for 2022
The top antivirus come with a lot of added features that may not protect your data while browsing the internet. That's why I tested and rated each of the antiviruses on this list for this criteria:
Powerful malware scanner — With each antivirus I tested and first ranked each one based on how well they could protect against viruses. Internet security is always needed, but you should always look for the highest rate of virus protection from an antivirus.
Internet security features — Your antivirus has to be kept up-to-date with all of the most recent and complex online threats. This includes viruses and all other types of malware, including phishing, ransomware, and more. Only perfect or near-perfect detection rates are acceptable here.
Apps for Windows, Mac, Android, and iOS — Internet security doesn't just apply to 1 device — your antivirus should support both your desktop and mobile devices for protection from a range of threats.
Value for money — Do the overall protection and additional features add up to a package worth paying for? The more expensive a package is, the more it has to offer.
Easy to use — Even if you're a complete beginner, using your antivirus should be intuitive and simple. I noted how well-laid-out menus are and if the more complex options are well-explained.
Download the best internet security package in 2022
FAQ: Antivirus With Internet Security
Why do you need internet security features?
Every day, around 350,000 new pieces of malware are released onto the internet. Combined with hackers who probe devices for weakness, and phishing attacks designed to scam your hard-earned money, it's crucial to protect yours. Any one of these could be the threat that exposes your personal information to the wrong people — so it's important to find an antivirus with strong internet security features.
Why should I use an antivirus with security features?
An antivirus with added security features protects you against a wide range of cyberthreats with increased reliability. For instance, a regular antivirus that doesn't focus some of its resources specifically on ransomware protection is far more likely to succumb to the latest ransomware threats. You may also want a VPN but not want to buy a separate subscription — several of my choices have powerful integrated VPNs. Essentially, these antivirus suites with added security features offer broad-ranging protection while providing an extremely cost-effective choice over separate software purchases.
Can I download an internet security program for free?
Yes, there are some quality free internet security programs — though they have some shortcomings compared to their paid alternatives. Bitdefender is a great antivirus with a free version. It focuses on using its advanced malware engine to protect against real-time malware threats as well as scanning for those already on your device. However, Bitdefender's free version is missing the advanced ransomware protection of its paid plans, as well as its webcam and microphone monitor, safe banking, password manager, and much more.
---
Summary — Best Internet Security Suites in 2022