Best Parental Control Apps for Android – Tested in January 2021

Last Updated by Shauli Zacks on January 12, 2021
With 4 kids who spend way too much time on their phones, I needed to find an app that, despite Android's new regulations, could still be effective in filtering, limiting, and monitoring my kids' Android devices.
I've tested over 50 parental control apps to find which ones still worked and which features worked the way they were supposed to or not. Most of the apps I tested weren't any good (including the popular Google Family Link) for a combination of the following reasons:
The time management tools didn't actually block the phone
The web filters either didn't work or were easy for the kids to bypass
The app failed to send alerts to the parent account
The app kept crashing after installing it
I did find 5 apps that stood out to me and that I felt comfortable using with my family and recommending for yours. The best one I used is Norton Family which has the most customizable features and is extremely easy to use.
Monitor Your Kids With Norton Family!
Quick Guide: Rundown of the Best Parental Control Apps for Android in 2021
5 Best Parental Control Apps for Android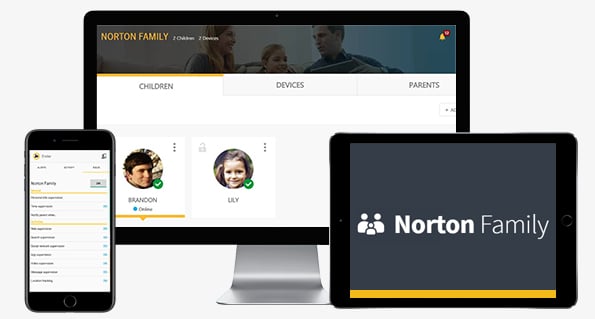 Key Features
Comprehensive web filter
Set screen time limits for all Android devices
Sends detailed alerts to the parent dashboard
Block apps you don't want your kids using
Unlimited child profiles
I am very happy with how Norton Family performed while I tested it on my kids. I was able to set limits for how much time they could spend on their phones per day, block inappropriate websites, and track their location in real-time so I know exactly where they are (only works in the US, UK, Canada, Australia,and New Zealand).
The installation process was simple. First, I installed the app on my phone, created the profiles, and set up the filters and screen time limits. Then, I had each kid download the app on their devices, login, and connect it with my parent account. It immediately started reporting the data to my dashboard and sending push-notifications when necessary. Best of all, the kids can't uninstall the app without my permission.
The dashboard is the control center of the app. I can log in from any device and view all the data regarding my kids' online activities. I can also make adjustments to the web filters and screen time limits, check out the kids' real-time location, and see what they are searching for on most major search engines.
There are two parts to the screen time limitation tools:
Total time per day.
Schedule of when the phone can be used.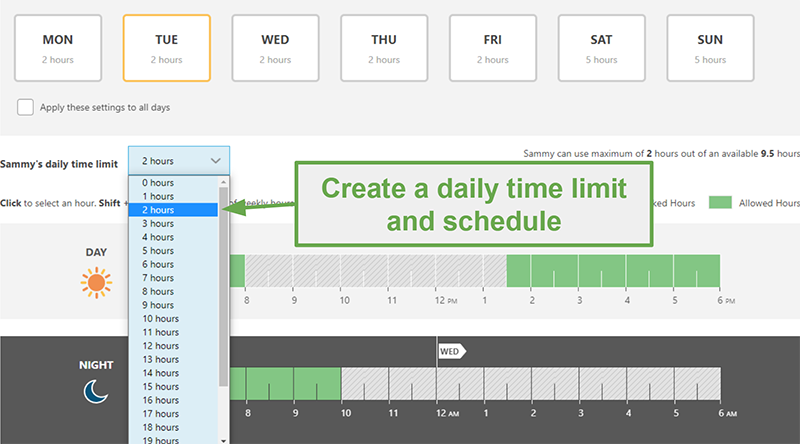 This teaches the kids an important lesson in budgeting their time. For example, If you give your kids two hours of daily time, but the phone is available to use for four hours throughout the day, they will have to decide if they want to use their time now or wait till later. I love that there is an Instant Lock option in the dashboard, so I'm able to lock all devices if it's dinner time, or I need the kids off their phones and tablets.
The Norton Family app compiles a list of all the apps installed on kids' phones and tablets, and I can block the ones that I don't think are appropriate for each kid. The one feature that I would like to see Norton Family implement in a feature update is the ability to set time limits for specific apps.
One feature that stands out is the School Time option. It's perfect for remote learning or even homework time. You can create a list of websites that your child needs for school or doing homework, and block everything else. This ensures that kids won't be watching YouTube or hanging out on TikTok instead of doing their work.
You can try Norton Family for yourself, it's 100% risk-free. Go to this hidden official page and Norton Family will give you a fully-featured free trial, without having to enter any payment information. At the end of the 30 days, if you don't want to continue using Norton Family, just stop using it. There's no stress of talking to a customer service rep, explaining why you're not happy, and hoping for a refund. Your account will automatically be changed to a limited free account with no access to the advanced features.
Try Norton Family for free for 30 days!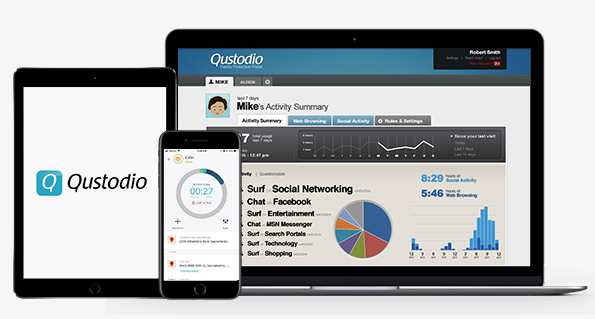 Key Features
Advanced time management tools
GPS Tracking and Geofence
Web filter has 30 categories
Access parent dashboard from any device
No root required on Android devices
One of the things that really impressed me while testing Qustodio was how they handled the change in Google policy regarding monitoring phones.

Instead of just removing its Call and SMS monitoring feature as Google wanted, it made a full version of the app available through the Qustodio website. This showed me that they are dedicated to creating the best possible parental control program.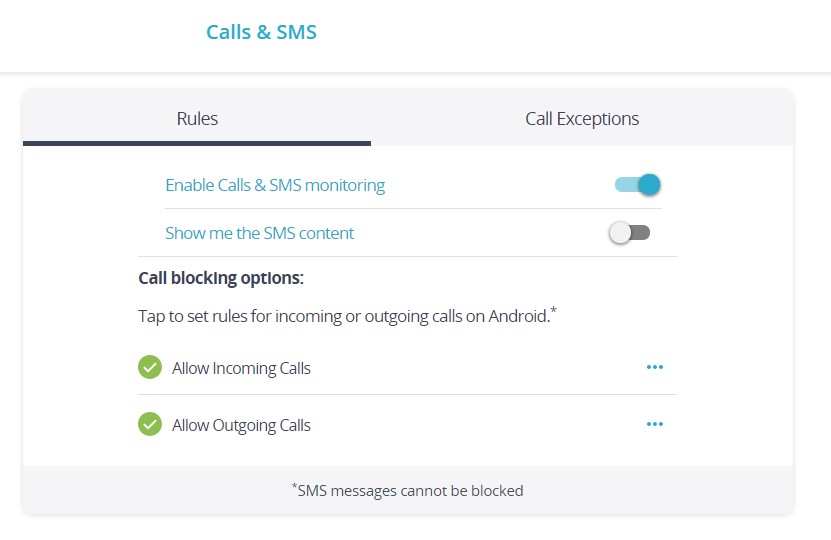 There were many standout features where Qustodio was better than the competition, and it was all about customization. Qustodio gives me the flexibility to adjust the settings for each kid, which allows my 16-year-old more freedom than my 7-year-old. The web filter has 30 categories, and I can choose whether each category should be allowed, restricted, or send me an alert when the kids visit a page in the specified category.
The time management features helped me put an end to one of the biggest issues in my house, which was the never-ending battle over screen time. I was able to set a daily schedule, a total daily limit, and a daily limit per app on all my kids' devices. Not only that but since I can assign one child a tablet and a phone, they couldn't use up their screen time on the phone and then go on the tablet. The one issue I have with this feature is that when setting up a schedule, it only works in hour-long segments that begin at the beginning of the hour, which doesn't match my family's daily schedule.
The parent dashboard was my control center, and it's very easy to use. It allows me to see where my kids are, what websites they are visiting, how much time they have been on their phones, and how much time they have left. Plus I can lock their phone when I need them to do chores or if they lose the privilege of being on their phones.
There are 3 different subscription plans, all of them come with the same features but differ in the number of devices you can use. It also includes a 30-day money-back guarantee, which I personally tested by canceling my account on day 27. I sent an email to customer support and received a response on the same day confirming the cancellation and refund.
Key Features
Separate Android apps for parents and kids
Set Screen time limits
GPS tracking
YouTube Monitoring
Enforce Google SafeSearch
When it comes to monitoring an Android device, Net Nanny was easily one of the best programs I tested. In addition to having a web filter with 15 categories, I was able to create my own filters by adding keywords or phrases that I wanted Net Nanny to detect and alert me when used. There is also the option to allow or block specific websites or Android apps, which can be helpful if you want to prevent your kids from using them, even if they wouldn't be blocked by the general filter.
The time management feature worked perfectly on Android, for both the daily limit and schedule, which broke up the day into 15 minute segments. The kids can check how much time they have remaining before the device locks, and when it locks, all they get is a screen saying "Oh No! The internet is blocked." However, they can still use the phone to make and receive phone calls
My biggest complaint with Net Nanny is that the YouTube Monitoring feature doesn't monitor the YouTube app. However, I was able to block the app on my kids' phone so they had to go to YouTube through the browser. This was a little annoying for them, but it gave me the peace of mind I needed.
The Net Nanny dashboard keeps me up-to-date on all the kids with a timeline-style feed of what's going on in real-time. It shows me where they are, based on the phone's GPS, and I can control the filter and time management tools as well.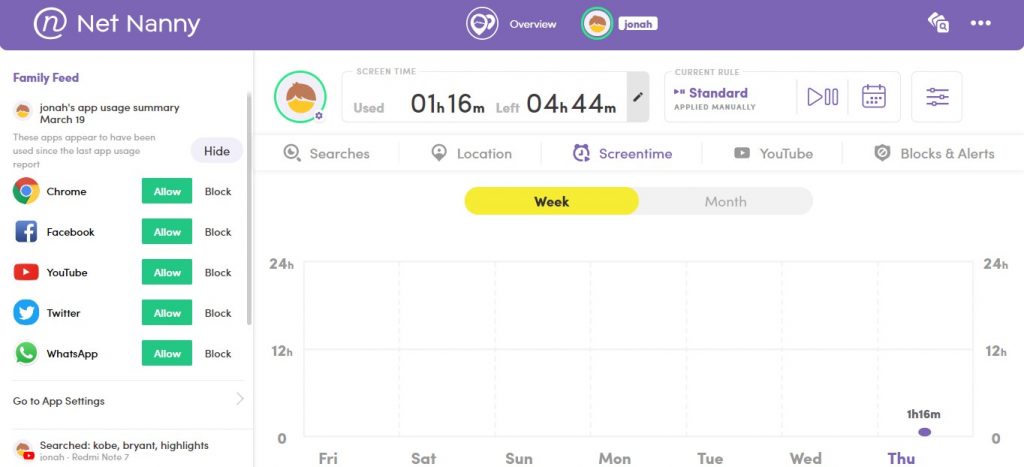 Net Nanny has a great offer right now that includes a 14-day money-back guarantee so you can test it out for yourself risk-free.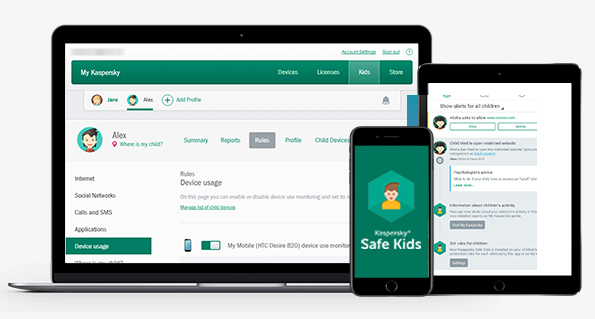 Key Features
Strong web filter
Enforces SafeSearch
GPS Tracking and Geofencing
I found that Kaspersky Safe Kids was really good at giving me control of what my kids were able to do on their Android devices. Through the parent dashboard, I can choose what apps to allow, block, or set a time up a time limit for each app. I found this to be extremely helpful, as my kids can easily lose track of time while watching YouTube or playing games.
I can also give apps (like phone and contacts) permission to work when the phone is locked. This is a big deal for me, since I've tested too many programs that lock the phone completely, and then my kids were unable to call me or answer my phone calls.
In addition to a strong web filter, Safe Kids enforces SafeSearch on Google and YouTube. This removes all inappropriate search results and works on both the apps and the browser.
The screen time limit is a disappointing feature. Instead of allowing me to create a schedule where I can allow or block the screen time several times a day, it's restricted to once per day. Not only that, but I wasn't able to run both a daily schedule and a daily time limit at the same time.
With prices that are much lower than average, especially if you get this special deal, Kaspersky Safe Kids is a good choice for monitoring what your kids are doing. To make things even better, you can try it free for 7-days without using a credit card to register.
Get Kaspersky Safe Kids – With No Credit Card!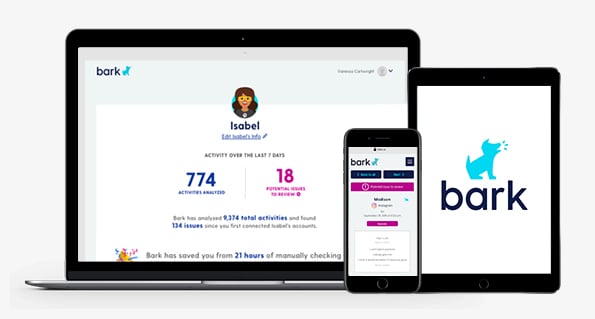 Key Features
Monitors 25+ Social Media networks
Sends detailed alerts to the parent dashboard
Recognizes slang, emojis, and triggering keywords
Unlimited devices
I found Bark to be a little different from most of the parental control programs I tested. It specializes in monitoring social media networks and can access messages, posts and recognize certain trigger words, including slang terms related to bullying, profanity, alcohol, drugs, and weapons, in over 25 popular social media apps.

Bark takes screenshots of anything that triggers an alert and sends an email or SMS (based on your preferences) to the parent account. The alerts can also be seen in the parent dashboard.
Bark recently updated its Android app to include a web filter and time management tools. While I was happy to see these updates, the time limit is still very limited. It only has the option to turn off the phone's internet once per day and doesn't have an option to limit the number of hours my kids use their devices.
The Bark for Kids app isn't available through the Play store, due to Google's restrictions. But you can download the latest version directly from the Bark website and install it on your kids' phones and tablets.
If you want to stay updated on what's going on with your kids' social media, but don't want to scroll through hundreds of messages, comments, and pictures than Bark is a great option for you.
I was able to get a great deal when I tested Bark by accessing its hidden deals page. While I wish that it included a screen limit feature, I was very happy with how the app monitored my kids while on their Android phones.
Monitor Your Kids Online with Bark!
Where is Google Family Link?
To put it bluntly, despite its popularity, Family Link wasn't very good and so I didn't include it. It didn't take very long for my 12-year son to find a way to use his phone when it was supposed to be locked. My other major issue with Family Link is the lack of a web filter or any real monitoring features.
I initially liked that it not only showed me how much time my kids spent on their phones, but it also breaks it up per app. However, I saw that it wasn't always accurate (or even close in some cases) and while it told me that one of my kids spent 3 hours on YouTube, there was no indication of what she was watching or searching for. I would think that since both YouTube and Family Link are Google products, having this information would be included.
It's for these reasons that I won't recommend it to you.
How I Tested and Ranked the Best Parental Control Apps for Android
This was a long process where I bought over 50 parental control apps and tested them out on my children's Android smartphones and tablets.
Can my kids bypass these filters: I challenged the kids to try and find hacks or workarounds to avoid the filters. If they were successful, I tried blocking their hack, for example, many programs can't monitor Android apps but have a feature that lets me block the apps. The programs that didn't have a way for me to block the kids hack, I left off the list.
Time management tools: Screen time addiction is a very real problem, and therefore finding a solution was a priority. Once again, I challenged the kids to use the phone or apps when it was supposed to be blocked, and if they could — I didn't include the app on my list.
Ease of use: Monitoring the kids' Android devices shouldn't be that difficult to manage. From downloading to setting up the limits, I wanted to make sure that you don't have to be a tech or Android genius to get started. Therefore, any program that required an Android root was immediately eliminated.
Customer Support: I put the customer service teams to the test. I used the Live Chat feature (when available) and checked if they were using real people or bots. I opened tickets and sent emails to test the response time, and I always tested the money-back policy to see if they would honor it and return my money.
FAQ
💰Are there free parental control apps for Android?
While there are a lot of free apps that claim to monitor or limit your child's Android device, I wouldn't recommend them for several reasons. Most of the apps that were promoted as "Free" was just a marketing tool that was used to create an account. It included some limited features, but if you really wanted to monitor the Android device, you'd have to purchase a subscription to get access to all the features.
Any app that was completely free, and didn't have a "pro plan" or "premium features" made me wonder "What's the catch?" How does that company make money, and what are they doing with the data they collect from my kid's phone?
🖥Can I monitor my child's Android from my iPhone?
All of the recommended apps on this list work with both Android and iPhones. This means that you can download the iPhone app for yourself and see the parent dashboard, adjust the settings, and receive all the alerts.
🔎Can I monitor my child's Android device without them knowing?
Some parental control apps have a Stealth Mode feature that allows you to install it on an Android device remotely.
❓Can I see SMS and text messages on my child's phone?
Google made a policy change and restricts parental control apps from the Play Store if they can read text messages.
However, there are some apps, such as Qustodio, that have the option to download the app from its website and record incoming and outgoing text messages.
Bottom Line
With so much going on, it's hard for us parents to continually stay on top of our kids, especially when they are on their phones and tablets. Parental Control apps should be an essential part of your parenting toolkit. Throughout my extensive testing, Norton Family was consistently the best of the bunch.
Get it from this link to take advantage of the 30-day money-back guarantee.
Try Norton Family for Free Today!
Here Are The Best Parental Control Apps for 2021:
Rank
Provider name
Our score
Price