Get Adobe Photoshop Free – With This Simple Trick
Photoshop is the best and most powerful image editor on the market. In fact, it's become a synonym for editing images. People just ask if a photo has been photoshopped, regardless of which program is actually being used.
As you might expect, a program with as many tools and features as Photoshop is not cheap, although Adobe does offer discounted rates for students and teachers.
I'll do even better, I'll show you how to get a free version of Adobe Photoshop for 7 days – without using a credit card.
How to Get a Free Trial of Photoshop (No Credit Card Required)
Click on the DOWNLOAD button on the sidebar. This will bring you to the Adobe Creative Cloud download page.
Click on the FREE TRIAL button.

If you don't have an Adobe account you will need to create one. The only required information is an email address, birthday, and country.
After you create your account, the download will begin, this can take around 10 minutes.
Once the Creative Cloud is finished downloading, log in to your new account and scroll through the apps until you find Photoshop.

Click the TRY button and Photoshop will download and install on your computer.
Once the installation is complete you can open Photoshop and start editing your images.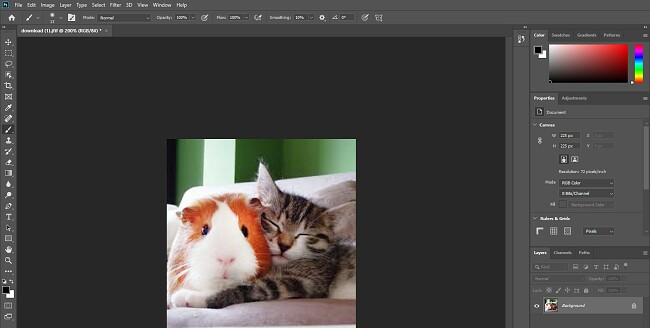 How to Remove Photoshop From Your Computer
There are 2 easy ways to completely delete Photoshop. The first way is through the Creative Cloud app.
Go back to the Creative Cloud app and find the Photoshop logo.
Click on the three dots and then UNINSTALL.

The second method is to delete Photoshop directly through Windows.
Start typing Add or Remove Programs in the Windows search bar.

Scroll down to Adobe Photoshop and click uninstall.

Photoshop Overview
Photoshop is a layer-based editing program. What this means is that for each action you take, a new layer is created. This makes it easier to edit the image and ensure that even if you make a mistake, it won't ruin the entire project.
The program comes packed with tools that can adjust color tones, add texture, filters, text, hundreds of fonts, magic wands — the list just goes on and on.
There is no point in getting into a "how to use Photoshop" tutorial in this post, as there are entire books written on the subject. I will say that, for most questions you might have, YouTube will have some helpful videos that will help with basic editing and photo touch-ups.
Photoshop Added Video Editing
It's by no means the best video editing software, but it's a pretty good feature. It uses the standard video timeline layout and integrates all the editing tools.
Free Alternatives to Photoshop
GIMP: This stands for GNU Image Manipulation Program. It's a free open-source program that features a similar design to Photoshop. They go beyond the design though — GIMP features a large collection of editing tools, nearly matching Photoshop. It's available for Windows, Mac, and Linux.
Pixlr: You can download Pixlr on both desktop and mobile devices. The video editor has a similar look and feel as Photoshop, although not quite as many tools. If you're looking for a basic image editor with some real nice editing tools, Pixlr comes at the perfect cost; free. However, if you're going to need more advanced tools, you'll be better off going with GIMP or Photoshop.
Photopea: This browser-based image editor looks like a copy of Photoshop. It also works in layers and has the same basic tools as Photoshop. The only reason it's ranked below GIMP and Pixlr is that it comes with ads, which can be removed with a monthly subscription.
FAQ
🤑 Is there an unlimited free version of Photoshop?
No, Adobe doesn't have a totally free version of Photoshop, but you can download it and take advantage of the free 7-day trial.
🤩 Is there a Photoshop for beginners?
Photoshop is generally considered a high-level program. While some of Photoshop's editing features can be learned quickly, to truly master the software takes a lot of time and practice.
😁 Can I buy Photoshop or do I need to make monthly payments?
While it used to be possible to purchase a copy of Photoshop that is no longer the case. You will need an account with Creative Cloud, and through that, you can make either monthly or annual payments.
😎 If Photoshop is in the cloud now, do I have to be online to use it?
No, you download Creative Cloud (as well as Photoshop) and this allows you to use it when you're not connected to the internet.
🤓 Can Photoshop open RAW images?
There is a Camera Raw plugin that comes bundled in the Photoshop installer. You'll need to activate this to convert RAW images to a proper photoshop friendly format. To make sure the settings are correct, go to Edit > Preferences > File Handling > Prefer Adobe Camera Raw for Supported Raw Files. Make sure to check this box, and it will open the file directly in Camera RAW.
Visit Adobe Photoshop Website