Adobe XD (Adobe Experience Design) is an intuitive and superior User Interface and User Experience design application created by Adobe to enable creatives like you to design, prototype, and share user experience and interaction designs for websites, apps, and social media.
This means that you can quickly go from conceptualization to prototyping and sharing when designing websites, mobile apps, game interfaces, email templates, and voice interfaces. The application comes fully packed with features that let you achieve these with ease. And the best of all – you can have it for free.
Follow the download instructions below to get the starter plan of Adobe XD for free. Note that you'll need to enter your card details to get the 7-day free trial version (no commitments and you can cancel 24 hrs after installation to avoid any charge). The free trial offers unlimited access for 7 days, but once it is over, you can use the starter plan with limited access (only one active shared document, one shared link, and two editors), or pay to upgrade to the full version.
How to Download and Install Adobe XD on Your PC for Free
Click here to open the official Adobe XD product page in a new tab.
Scroll all the way to the bottom of the page, and click the Free Trial button.
Adobe will give you two options:

Download Adobe XD, which includes unlimited shared prototypes and design specs, Adobe Portfolio, Adobe Fonts, and 100 GB of storage.
Download the entire Creative Cloud app collection, which includes over 20 programs, such as Photoshop, InDesign, Premiere Pro, and more. Choose your preferred package and click the Start Free Trial button. I'm only downloading Illustrator for this example, but the instructions are the same in both cases.


Enter a valid email address. and the payment method page will open. While this is a free trial, you will still need to enter your payment information to activate the trial. You will not be charged until the end of the free trial.

If you already have an Adobe account, you can log in now. Otherwise, create a secure password and press the Continue button.
Adobe will confirm that your payment method is valid, and then the Creative Cloud app will download to your computer.
When the file download is complete, open the file and enter your password.
Creative Cloud will install on your computer.
Once the Creative Cloud is complete, the Adobe XD installation will start automatically. If you choose to download the entire collection of Creative Cloud apps, they will begin installing one at a time.
Adobe XD Overview
In addition to video and graphic editing tools, Adobe has a tool built for designers and developers to streamline the UI and UX experience. Adobe XD fills a much needed void, giving its users a powerful toolset for creating graphics that are better suited for modern websites, web apps, and mobile apps. Adobe XD brings the same intuitive style that Adobe users have gotten used to over the past several decades.
As a part of the Creative Cloud, it's easy to share your work, import files from other Adobe software, like Photoshop, Premiere Pro, and Illustrator.
Adobe XD is the perfect software if you're looking for graphic tools that enable you to seamlessly create the best user interfaces for websites, apps, games, and more. Aside from developing concepts and designs, the app allows you to prototype and share your ideas with others on the go.
While XD is typically a premium software, you can subscribe to a free starter plan. This plan does have its limitations, such as the number of documents you can share or how many prototypes and outputs you can produce.
The best thing to do is start with the free 7 day trial that gives you full access, with no limitations. Then, you can decide if you want to continue with the Starter Plan or subscribe to the full version at the end of the week.
Adobe XD Features
XD provides a significant benefit in that it allows you to effortlessly import specific tools from any other Creative Cloud application. Additionally, XD offers the capability to import a variety of image file formats, including jpg, svg, png, and gif. However, it does not have the functionality to upload video files or animated gifs.
Content Aware Layout
The smart Content Aware layout allows you to work without having to worry about perfectly aligning all the different components. Adobe XD will automatically move them to create even spaces when you add, remove, or resize objects. To activate the Content Aware layout, use the selection tool to select two or more layers and then click Make Component. Then, enable Content Aware Layout, and the padding size will adjust based on the surrounding layers without distorting images or text boxes.
3D Transforms
Take your UX designs to the next level with the 3D transform feature. It allows you to rotate the objects, add depth, and change the perspective of your design. The intuitive 3D tools are fairly easy to use, and give you the opportunity to display your design with a realness not available in other Adobe software. The 3D transform is extremely useful for AR/VR designs.
Create and Share Prototypes
A notable advantage of Adobe XD is its capability to create design prototypes. This feature not only allows for thorough testing and ensuring the functionality and aesthetics are impeccable but also enables effortless sharing with clients, colleagues, or professors.
Prototyping is a key feature for creating interactive designs, such as forms or buttons, and testing how different artboards connect and react to each other.
In Adobe XD, there are a variety of tools created specifically for XD, including Auto Animate. This tool allows you to create animations and transitions, as well as design elements that adapt to different screen sizes or devices. You can scale different objects and even choose to keep certain objects fixed in place while scrolling.
Create Tracking for Different Kinds of User Engagement
Aside from the design, understanding how a user interacts with your design is one of the most important aspects of the project. Adobe XD has the tools that can help you see exactly how users are responding thanks to several different triggers and inputs. Depending on the finished project, you can use anything from basic triggers, such as Tap or Drag, to more advanced options like voice, usage of a Bluetooth game controller, to different keystrokes.
Design Voice Prototypes
As technology improves, so does the reliance on voice-activated software. This is true whether you're creating a new project or voice assistant or developing skills or games for Alexa, Google Assistant, Siri, and more. Adobe XD has the necessary tools for creating a powerful voice prototype, using audio-only capabilities that can understand commands and have speech and audio playback.
Extend the Power of XD with Plugins
Adobe XD has a pretty powerful range of capabilities, but even Adobe couldn't include everything in one package. That's why it is compatible with third-party plugins. You can extend the capabilities from a technical standpoint or add different color combinations that aren't available through the built-in color schemes. There are hundreds of free and subscription-based plugins that can easily be uploaded to XD without having any technical background or expertise.
Ease of Use
For the best experience, you do need some development or design experience. Now, for designers and developers, the program is pretty easy to use, especially if they have previous experience with other Adobe products.
If you want to learn how to use XD properly, you can access an extensive "Learn" section through the app or the Adobe website.

These step-by-step guides will walk you through the developer and design process. You will learn how to set up your workstation, what the different tools do, how to create 3D items, design voice-activated prototypes, regular prototypes, how to collaborate with others, and more.
Once you begin utilizing XD, you'll quickly realize how user-friendly and straightforward it is, thanks to its singular focus. The latest update of XD introduces exciting features like Auto Animate and enhanced Content Aware Layout, which now handle many smaller adjustments on the artboard automatically, further enhancing the ease of use.
Interface
When you start a new project in XD, you can choose whether you want your workspace size to be sized like an iPhone, desktop, Instagram story, or custom size.

After choosing your preferred project size, a workstation will open with tools on the left and style elements on the right.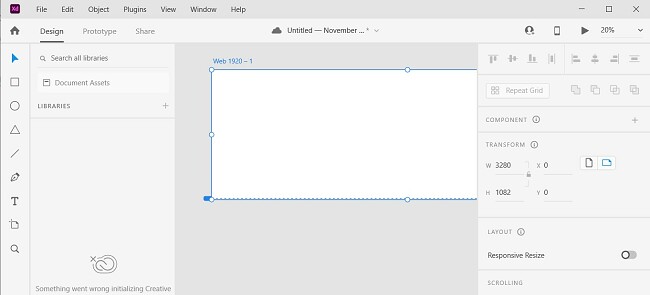 With the elements on the right, you can adjust:
Style: Add CSS and other styling options to create the perfect design
Design: Select from different layouts, grids, and modes supported by the user interface APIs
With these settings, you can adjust everything about how the objects appear in your workstation. You can round corners, change colors, set different font types, view how the page would look with a responsive design, and much more.
The toolbar on the left is where you'll find all the main tools, like adding shapes, lines, texts, and zoom. Each tool has a keyboard shortcut, and once you familiarize yourself with them, you'll see just how much faster you can work.
Compatibility
The full version of Adobe XD is only available for PC and Mac, provided they meet the minimum system requirements detailed below.
There are XD apps for Android and iOS, but these only allow for previewing the design and testing the prototype. You'll always have access to the latest version of the project through your Creative Cloud library. However, there are no editing tools, and all changes must be done on the desktop.
There are two ways to preview your XD projects:
Real-time preview with a USB connection: Connect your mobile devices to the computer running Adobe XD. You'll get a real-time look at the prototypes and designs, and all changes can be viewed on the mobile device in real-time.
Loading cloud documents: Get instant access to all XD documents saved as a cloud document to your Creative Cloud account.
System Requirements
In addition to having the required specs on your computer, XD only works with the latest versions of the following browsers.
Chrome: Windows 7+ and macOS 10.13+
Firefox: Windows 7+ and macOS 10.13+
Edge: Windows 10+
Safari: macOS 10.13+
XD doesn't support viewing shared design specs on mobile browsers.
Windows
| | |
| --- | --- |
| OS | Windows 10 )64-bit) and higher |
| Display | 1280x 800 resolution and at least a 13-inch display |
| RAM | 4 GB |
| Pen and touch input | Works with Windows native pen and touch features |
| Storage | Best to use cloud documents from the Creative Cloud and not synced files from Creative Cloud or other storage servers. |
Mac
| | |
| --- | --- |
| OS | 10.15 (Catalina) or later |
| Display | 1400x 900 resolution and at least a 13-inch display. It is recommended to have a Retina display, but it's not required. |
| RAM | 4 GB |
| Storage | Best to use cloud documents from the Creative Cloud and not synced files from Creative Cloud or other storage servers. |
Internet access is required for both Windows and Mac during installation and registration and to access certain libraries and features. You can only view prototypes with voice capabilities when connected to the internet.
iOS: Compatible with all 64-bit iPads and iPhones running iOS 14.0 and later.
Android: Adobe tested XD on Samsung Galaxy S10 & S20 and Google Pixel 2 & 4. Based on those tests, it should be compatible with any Android device 9.0 and later with Open GL ES 2,0.
Additional Editing Tools From Adobe
Adobe Photoshop: Photoshop is the best editing software for digital images and photos. It includes an excellent collection of tools that make it easy to change a person's facial features, remove unwanted items from an image, creative typography options, and much more.
Adobe Illustrator: Adobe Illustrator works on both Windows and Mac computers. I use a well-known design program, a leading vector graphics editor, to craft various web and mobile graphics, logos, icons, clip arts, and more.
How to Uninstall Adobe XD
If your free trial is complete and you don't want to continue using Adobe XD or switch to the starter plan, you can remove it from your computer by following these easy steps:
The uninstallation wizard will open. Confirm that you want to remove the software, and it will be deleted from your computer.
Alternatively, you can go to your Creative Cloud Desktop account, click on the three horizontal dots on the top-right corner beside Adobe XD, and then click Uninstall.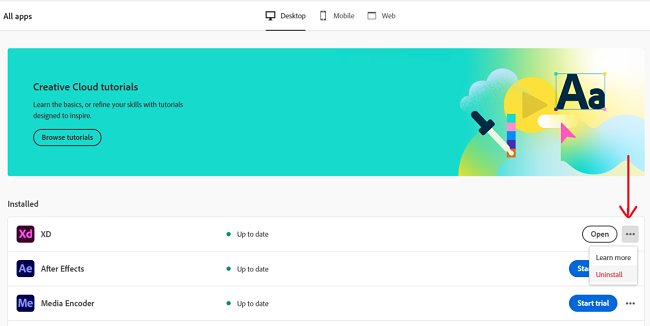 That will remove the software from your PC.
FAQs
Can I share a private link with other designers?
Yes. You need to
log in with the same Adobe ID
used in sending the private link, as it cannot be accessed unless the recipient has your Adobe ID and password.
Download Adobe XD now!