Adobe Illustrator proves to be an excellent application for crafting, modifying, and generating scalable vector graphics. Initially, Illustrator might appear daunting due to its abundance of tools. To ease into it, you can leverage video tutorials to acquaint yourself with the various features. Moreover, you have the option to tailor your toolbars, displaying only those tools that you find essential.
You can download a free trial of Illustrator through the Adobe Creative Cloud, which will also give you the option for free trial access to other Adobe products, like InDesign, Photoshop, and Premiere Pro.
Follow the instructions below and I'll show you how to download it free for 7 days.
Download Adobe Illustrator for Free!
How to Download and Install Adobe Illustrator for Free
Click here to go directly to the official Adobe Illustrator download page.
Adobe will give you two options:

Download Illustrator, which includes 100 GB of storage, a portfolio website, and premium fonts.
Download the entire Creative Cloud app collection, which includes over 20 programs, such as Photoshop, InDesign, Premiere Pro, and more. Choose your preferred package and click the Start Free Trial button. I'm only downloading Illustrator for this example, but the instructions are the same in both cases.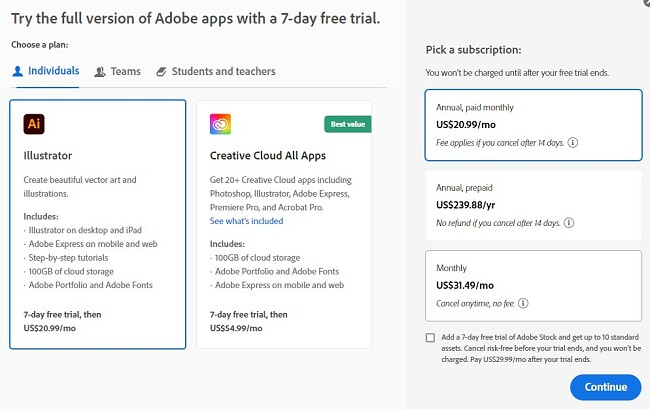 Enter your email address. and the payment method page will open. Even though Adobe won't charge you until the end of your 7-day free trial, you need to either enter your credit card number or PayPal account to continue.
If you have an account, you can log in now. Otherwise, create a secure password and press the Continue button.
Adobe will confirm that your credit card or PayPal information is correct, and then the setup wizard file will automatically download to your computer.
When the file download is complete, open the file and enter your password in the proper field.
Creative Cloud will install on your computer.
Once the Creative Cloud is complete, it will begin installing Illustrator on your computer. If you chose to download all 20+ apps, they would begin installing one at a time.
Download Adobe Illustrator for Free!
Adobe Illustrator Overview
Illustrator is the leading vector-based graphic design software. The advantage of working with vectors, as opposed to pixels, is that you can increase the size of the graphic without distorting it or harming the quality.
It has become the industry standard for logo design, icons, and styling different types of text.
These days, Illustrator can be used on PC, Windows, and iPads, and has many more features and functions, although the drawing tool is still there.
Illustrator is part of the Adobe Creative Cloud. As mentioned in the tutorial above, you can download it as a standalone app or together with the entire bundle of Adobe apps. It is compatible with other Adobe programs, like InDesign, Premiere Pro, Lightroom, and Acrobat Pro DC.
Adobe Illustrator Features
Adobe frequently updates the Illustrator features to keep up with the demand and needs of graphic designers. Some of the most recent updates include:
Automatic spell check when adding copy to your design.
A more intuitive Properties section
Reducing the number of anchor points to make it easier to create a path
Adding custom sizing for anchor points
Addition of the Puppet Warp tool
Improved compatibility with the iPad
These updates, combined with the excellent selection of precision drawing tools, continue to make Adobe Illustrator the leader among graphic designers working with vector-based images.
Use Layers When Working on Your Design
If you've never worked with layers, you can imagine each layer is a separate card, and you're stacking one on top of another to create a final picture.
There are many benefits to working with layers when creating a design in Illustrator. For starters, it allows you to add colors, shadows, and other visual effects to a specific object without it affecting or altering the other layers. You can also rearrange the order of the layers so nothing is hidden behind a different layer.
Six Types of Tools
If you've ever used other Adobe design software, like Photoshop or InDesign, it shouldn't come as a surprise that Illustrator also has a wide variety of professional-grade tools. These are broken up into six categories:
Select: There are six selection tools that allow you to grab onto a layer or object and move it, change its position, resize, cut, or group objects into a single layer.
Draw: Use these tools when you want to create freehand shapes or lines on your work design. There are different shapes, such as circle, square, polygon, and rectangle, or take a pen and draw. The more advanced tools make it easy to create charts, graphs, and different kinds of symbols.
Type: Use these tools when you want to add text to your design.
Paint: Add a gradient design, or perhaps the design will look better with the Mesh 3D gradient tool. These are just some of the options available through the Paint tools.
Modify: Making modifications to your design without damaging the original is one of the coolest features in Illustrator. Take a layer and rotate it, mirror it, twirl it, resize it, or change the dimensions are just some of the creative changes you can make. If you don't like the modifications, just delete them, and go back to the original object
Navigate: You can use the hand tool to rotate or move the view of an object without moving the object itself. There is also a magnifying glass so you can zoom in and out to get a different perspective on the work.
There is the option to customize your workspace to display the tools you're using most often to save yourself from searching for them all the time. You can also set up shortcuts or hotkeys on your keyboard to launch specific tools.
There are hundreds of tools within these six categories, and it can take some time to learn to use them all properly. To their credit, Adobe has video and text-based tutorials to help users learn how to use each tool.
Creating Shapes
If you're going to be creating logos, icons, and even posters or flyers, creating shapes is a necessary skill. There are several ways to create a shape with the Draw tools. The first option is to click on one of the pen or marker tools and create your shapes freehand.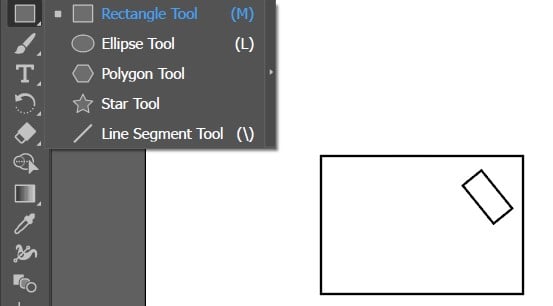 Another option is to use the shape tools. Click on the shape you want to start with and then move your mouse to the workspace and click your mouse and that will be the center of the object. You can also hold down the mouse button and drag out the shape, allowing you more freedom in deciding the size and dimensions. If you're using the star or polygon shapes, a pop-up window will appear, and you can input the number of sides or points you want in the shape. Once a shape is on your screen, you can adjust the size, move it, color it, and add shadows and styles to give it the perfect design.
Creating Pathways with the Pen Tool
As I mentioned at the beginning of the review, the Pen tool was one of the first tools in Illustrator and was completely groundbreaking in 1987. The good news is as technology advanced so did the pen tool. Don't confuse it with a paintbrush or pencil tool, which draws wherever you drag them.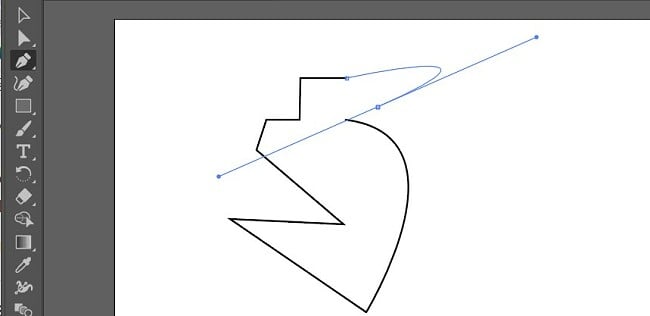 The pen can draw a straight line or an arc-shaped curve, known as segments. At the beginning and end of the segment is a dot, which is called an anchor point. These are like push pins holding the segments in place. You can adjust the shape of the segment without moving the anchor point by dragging the segment. For more advanced shapes, you add additional anchor points along a segment, giving you more flexibility in how you move the segments.
Multiple Ways to Add Color to the Design
Adding color to your design is an essential part of creating eye-catching designs. Illustrator allows you to use both RGB and CMYK models. You can set your preference by clicking on the Image button on the menu bar and selecting Mode. Once you have your preferred mode, you can use the color picker to choose a color. Other options are:
Swatches: Open the swatch panel and save your favorite colors or create groups of colors, which is helpful for creating branded designs that consistently use the same color schemes.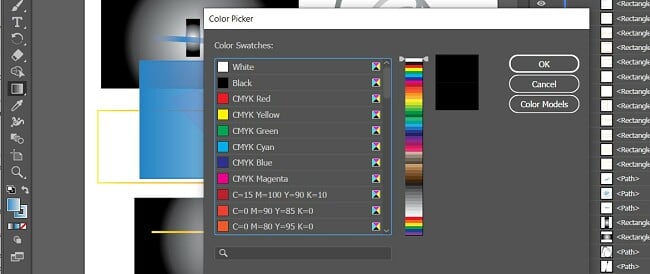 Gradients: Combine multiple colors to create a natural change from light to dark or dark to light. There are different gradient modes to choose from, including right to left, left to right, swirls, and diamonds.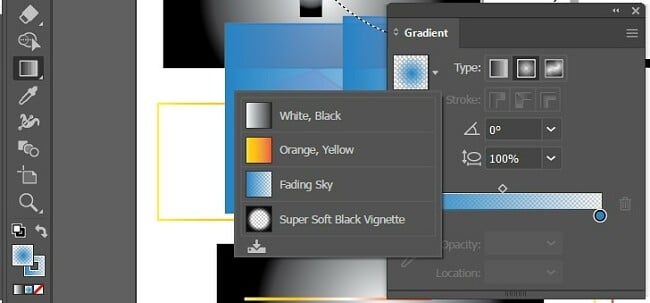 Download the Illustrator Free Trial Today!
Creating Artboards
I found the artboards to be a very helpful tool for taking my creative ideas and organizing them.
Designers can utilize the artboard to visualize their designs across various platforms, taking into account different screen or display areas. The artboard offers preset options tailored for specific devices such as iPhone, iPad, or a 15-inch laptop screen. Alternatively, designers also have the flexibility to manually define the display size according to their preferences.
Each project can have up to 1,000 artboards, and you can crop images or add different elements to each one. Some of the most common uses for the artboard is creating video storyboards, items, or objects that you'll animate, multi-page PDF files, and printing flyers in different sizes.
Automate the Graphic Styles
By utilizing the Graphic Styles feature, you have the ability to enhance any object effortlessly with a single click. These effects encompass a wide range, starting from a basic drop shadow to a sophisticated multi-layer stroke that imparts an inner glow, outer glow, reduced opacity, and gentle lines to the object.
You have the option to use the preset styles or customize it by moving the slider to strengthen or weaken each attribute.
Creating keyboard shortcuts
I like that Illustrator has keyboard shortcuts that make it easier to load my preferred tools. The most popular tools like Lasso Tool (Shift + Q), Pen Tool (Shift + P), Type Tool (Shift + T), and actions (Add Anchor Point (Shift + +) and Remove Anchor point (Shift + -) have default shortcuts. Illustrator also lets you customize the shortcuts, so you can make them something you'll remember or add a tool or action that doesn't currently have a shortcut.
Interface
As an illustrator, I can tell you that our software shares a familiar interface with Photoshop and InDesign. When you open Illustrator, you'll notice a dark grey background, and the selection tools are conveniently placed on the left-hand side. On the right side, you'll have access to various workspace tools, including color palettes, layers, and properties panels. This layout makes it easy to navigate and work efficiently.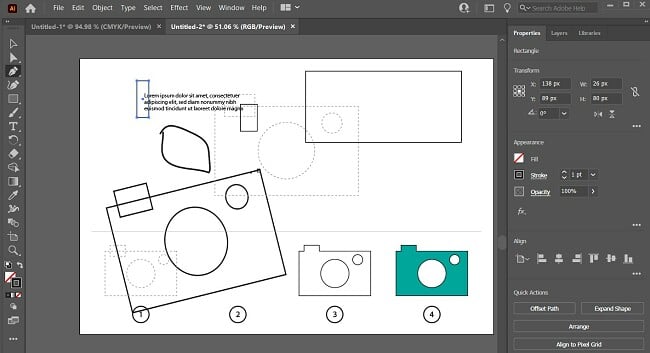 Illustrator has several different preset workstations you can choose from. It uses smart technology and will automatically adjust to the type of work you're doing, so you can quickly and easily find the tools you need.
Illustrator allows you to customize the workspace if you don't like the preset options, so the tools or items you use most often are easy to locate. You can either snap these workspace windows in place or pull them out and let them hover wherever you find the most convenient.
Ease of Use
Thanks to plenty of advanced tools and sophisticated techniques, Illustrator isn't a program anyone can just open and start using. There is a steep learning curve, although having a background in graphic design will help you quickly master the tools you need.
To its credit, Illustrator has plenty of tutorials, both video and text, that show exactly how to use each of the tools. These guides even have downloadable content, so you can follow the step-by-step instructions and make sure that you're doing everything correctly since the guide uses the same image.
Once you've learned how to use each tool, or at least the ones you'll need for your project, you'll see that Illustrator is very intuitive, and you'll be able to master the more advanced techniques quickly.
Get Adobe Illustrator for Free Today!
Export Your Work
When you're done with artboards, you can export them using a range of vector-based formats. The most common ones include, VML, EPS, WMF, SVG, PDF
In addition to vector images, you can export files as DWG, TGA, PNG, TIFF, DXF, BMP, SWF, PSD, JPEG, EMF, GIF, PCT, TXT
Compatibility
Illustrator is available for Windows, macOS, and iPad. While there are no Illustrator apps for Android or iPhone, Adobe has mobile apps that are compatible with vector images.
Fresco replaced Adobe Draw for iPhone in January 2022. The free app works with a stylus or with a touchscreen and includes a nice selection of realistic brushes, easy-to-use shape tools, and high-quality paint tools. It's compatible with iPhone 6SE and later, as long as it's running iOS version 14+.
Android users can use Adobe Capture, and while it doesn't have nearly the same capabilities as Illustrator or Fresco, it can convert images to a vector . It's a good tool for creating patterns, types, brushes, and shapes. Once you save your vector image, it can be uploaded to your Creative Cloud account and opened in Illustrator.
Mobile (iPad)
Illustrator released an iPad app that is far and away the best vector graphic app for any tablet. You don't need a separate account to use the iPad app; just log in to your Illustrator or Creative Cloud account, and you'll have instant access to all your projects
The workspace layout is set up a little differently than the desktop version, so it can take you some time to familiarize yourself with the changes.
System Requirements
To guarantee a smooth experience, it's essential to meet specific minimum requirements. Not meeting these criteria could lead to your computer experiencing crashes or running sluggishly.
Windows
| | |
| --- | --- |
| Processor | Multicore Intel processor with SSE 4.2+ or AMD Athlon 64 processor with SSE 4.2+ |
| OS | Windows (64-bit) 10, 11. V21H1 and V20H2 |
| Ram | 8 GB |
| Hard Disk | 2 GB of space plus additional space for the installation |
| Monitor Resolution | 1024 x 768 |
| GPU | Support for OpenGL 4.0+ and at least 1 GB of VRAM |
Mac
| | |
| --- | --- |
| Processor | Multicore Intel processor (with 64-bit support) with SSE 4.2 or later |
| OS | 10.15 (Cataline) and higher |
| Ram | 8 GB |
| Hard Disk | 3 GB of space plus additional memory for installation |
| Monitor Resolution | 1024 x 768 |
| GPU | Must support Metal and have at least 1024 MB of VRAM |
Get Adobe Illustrator for Free Today!
How to Uninstall Adobe Illustrator
After you're finished with Illustrator, you can completely remove it from your computer in a few easy steps.
Type Add or Remove Programs in your Windows search bar and press the Enter key.
Adobe Creative Cloud will open and ask if you want to save your settings. If you don't plan on downloading it again in the future, you can remove them.
Illustrator will be uninstalled through the Creative Cloud app.
How to Cancel Your Adobe Illustrator Account
When you cancel your account, you will instantly lose access to Adobe Illustrator. This means that you should only cancel your account when you don't need to use it anymore. You can easily cancel your account by following these simple steps:
Log in to your Adobe account.
Click the Plans option on the menu bar.
Adobe will ask several questions about why you are canceling and if you want to change plans. Press the Confirm button on the bottom of the page to finish the cancellation process.
Additional Adobe Creative Cloud Apps
Adobe Photoshop: With the advanced tools on Photoshop you can enhance or adjust photos, digital graphics, RAW Camera files and more. The intuitive editing software has everything from basic tools such as cropping, resizing, and rotating to advanced tools that you can use to adjust how a person looks, remove unwanted background objects, and a wide selection of fun text styles.
Adobe Premiere Pro: You can edit most digital video files with Adobe Premiere Pro. It works on a multi-track video editing board that is compatible with most video and audio formats and makes it easy to install special effects, voiceovers and add text overlays to your video.
Adobe InDesign : It's easy to create a beautiful layout for digital and print media with Adobe InDesign. There is a master page function, which is helpful for multi-page projects, an integrated word processor to make sure the copy looks great, and built-in tools to help you publish your work when it's complete.
Download Adobe Illustrator for Free!
FAQ
Is Adobe Illustrator free?
Follow the instructions above, and I'll show you how to
get a free 7 day trial of Adobe Illustrator
. However, If you're going to need it for longer, you will need to purchase a subscription. Thankfully, Adobe has several different packages, making this an affordable program and well worth the subscription cost.
Is Adobe Illustrator secure?
What's the difference between Adobe Illustrator and Photoshop?
The biggest difference is that
Photoshop uses pixels to edit and create images
, while Illustrator is a vector-based tool. This means that as you enlarge a photoshop image, the pixels can get distorted, while a vector image can be enlarged without damaging the quality of the work.
What happens at the end of the 7-day Adobe Illustrator trial?
You can use Adobe Illustrator as long as you keep your subscription. To prevent unwanted charges, make sure to cancel before the free trial ends.
Download Adobe Illustrator now!