ExpressVPN Coupon 2021: Get 49% Off + 3 Months Free in 3 Steps
Last Updated by Dan Hook on September 01, 2021
I got fed up sorting through expired deals and fake coupons for ExpressVPN on other tech blogs. There's nothing more frustrating than going through the trouble of applying a discount code at checkout only to find out it doesn't work!
To save you the hassle of finding a real deal, I put together this guide so you can get the best possible price for ExpressVPN in less than 5 minutes. Don't worry — I test this page daily to make sure it includes the best available deals. This coupon lets you save almost half off a 15-month plan and get 3 extra months totally free. I was also happy to find you can apply the money-back guarantee to this discount, so you can try it risk-free for 30 days. When I tested it, customer service returned my money in 3 days.
Get 3 months free of ExpressVPN
September 2021 Update! ExpressVPN has dropped prices for a limited time to a crazy $6.67 per month for the 1-year plan (you can save up to 49%) + 3 months free! This is a limited offer so be sure to grab it now before it's gone. See more information on this offer here.
Quick Guide: Get 49% Off of ExpressVPN + 3 Months Free in Under 5 Minutes
Claim ExpressVPN's 49% discount and get 3 months for free. Try ExpressVPN risk-free with its 30-day money-back guarantee.
Select the red "Claim Exclusive Deal" button. Ensure the deal is highlighted green on the next page.
Finish checking out. That's it! Now you can activate ExpressVPN and stay secure online!
Try ExpressVPN Risk-Free for 30 Days
When you sign up for ExpressVPN with the 49% off + 3 months free deal, you're still eligible for its 30-day money-back guarantee. That means you can test every feature without the risk of being locked into a contract.
To make sure this policy isn't just a marketing scheme, I put it to the test and found the entire refund process was quick and easy. After I used ExpressVPN for 20 days, I contacted its customer support team on live chat and requested my money back. I was relieved that the agent didn't waste my time trying to make me reconsider and immediately processed my request. The whole conversation (including the wait time to connect) took less than 3 minutes and I had my refund back in my account in only 3 days.
I've tested many providers that restrict these policies to pricier subscriptions, but that wasn't the case with ExpressVPN. I was pleasantly surprised that ExpressVPN applies this money-back guarantee to all of its plans. That means you can subscribe to any length subscription and try all of its top-tier features without any risk.
Try ExpressVPN risk-free today
Step-By-Step Guide: How to Get the Best ExpressVPN Discount
Click ExpressVPN's 49% coupon to access the deals page. Then, choose the red "Claim Exclusive Deal" button.

Choose a subscription plan. To get the best deal, pick the 15-month plan. Note that all plans include the same features and a 30-day money-back guarantee regardless of the subscription length.
Select your payment method and click the "Join Now" button. ExpressVPN accepts diverse payment methods. You can use a credit card or PayPal to set up recurring payments. You can also choose one-time anonymous methods like Mint, Bitcoin, or PaymentWall. All methods qualify you for the discount.

Start using ExpressVPN! To take advantage of the money-back guarantee, don't forget to contact customer support before the end of the month.
How to Tell the Difference Between Real and Fake ExpressVPN Coupons
Over my 6+ years in cybersecurity, I've seen online scam artists become surprisingly sophisticated in replicating authentic-looking coupons for ExpressVPN. It's logical they would target it since tests prove that ExpressVPN outperforms most providers on the market in terms of speed, security, server network, and most other metrics. But don't worry — I've boiled down my years of experience so that you can use this simple set of red flags to help you look out for dangerous coupons:
Poor language like odd spelling and bad grammar.
Clickbait that makes the deal sound too good to be true.
Regular prices are often advertised on fake coupons as if they were a special deal, attempting to trick you into signing up for the full cost!
Dodgy-looking websites host fake deals that may contain dangerous malware.
Check out this example of a fake coupon I found online:

Although there are plenty of phony deals online, there are a couple of clues that show you the deal offered in this article is genuine. To begin with, the coupons look well-made and don't have any grammatical errors. The link also takes you directly to the real ExpressVPN website. Finally, the 49% off deal advertised is the same automatically applied at checkout.
Why Choose ExpressVPN?
Key Features:
Over 3000 servers in 94 countries to let you bypass geo-blocks and censorship
Lightning-fast speeds for lag-free streaming, browsing, and gaming
5 simultaneous device connections
30-day money-back guarantee so you can try it risk-free
Allows you to torrent 100% anonymously
Fast and helpful 24/7 live chat and email support
Unblocks Netflix, Amazon Prime Video, Disney+, and More
After comparing it with 35 other premium providers, I found ExpressVPN is still one of the best streaming VPNs in September 2021. Thanks to its network of 3000+ advanced servers in 94 countries, it can unblock 100+ streaming platforms and media players. This means you'll be able to access top services no matter where you are in the world.
I was impressed that it can even bypass the dreaded Netflix proxy error that stops most other VPN services from unblocking the platform. This error often appears because the streaming service detects that you're using a VPN. But I've never experienced that issue with ExpressVPN — its security is so strong that Netflix never detected my true location. When I tested it, I was able to access more than 15 Netflix libraries, including the US and Japan.
I was particularly impressed that ExpressVPN even provides a list of the streaming services it can help you access. Since platforms like Netflix actively try to detect and block VPNs and proxies, this advertisement shows just how confident ExpressVPN is in its technology!

To make certain this list isn't just an empty marketing promise, I put ExpressVPN to the test with some of the most popular streaming services. I was impressed that it let me unblock every site I tried, including Disney+ (all countries), Amazon Prime Video (US and UK), Hulu, HBO Now, BBC iPlayer, ITV Player, and ESPN. It even worked with exclusive geo-locked Kodi add-ons and notoriously difficult-to-unblock platforms like DAZN!
In addition to unblocking my favorite streaming services, I was thrilled that ExpressVPN let me stream in high quality with no interruptions. No matter what service or server I tested, it let me watch in UltraHD with only 2-3 seconds of buffering at the beginning of each program. Even when I connected to the Netflix library in Japan or the Disney+ library in New Zealand from the other side of the world, it still let me load content fast and stream in top quality.
Unblock streaming with ExpressVPN
Blazing Speeds for Uninterrupted Torrenting, Browsing, and More
ExpressVPN is one of the fastest VPNs available on the market — I've even occasionally found that my speeds improve when I connect to an ExpressVPN server. During testing, it always provided me with lightning-fast speeds even when I connected to Australian servers while in the UK. Although I was thousands of kilometers away, I only experienced a slight dip in my speed and could still download, browse, and stream without interruptions.
I tested multiple servers in the US, UK, Canada, and Australia. For each location, I also ran numerous tests at different times of the day. All the servers provided me with ultra-fast speeds. This means you can use ExpressVPN to maintain a fast, secure connection while completing data-intensive activities like torrenting and using the Tor browser. It also doesn't throttle your speeds or restrict your bandwidth — when I downloaded larger files on BitTorrent, my connection remained consistently fast.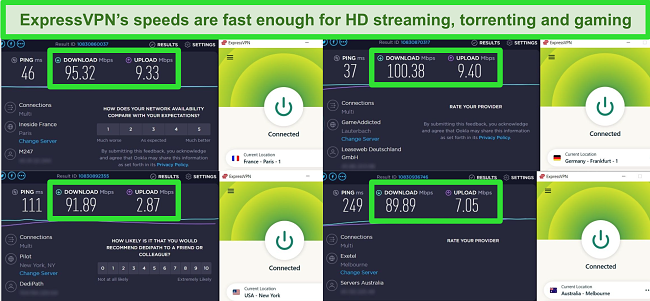 Similarly, I found that ExpressVPN always gave me lag-free streaming with any platform. Since it has such a large server network, you'll always be able to find an option nearby. This means you get less server delay, resulting in bufferless streaming. When I connected to US Netflix from thousands of kilometers away, I only had to wait 3 seconds for the stream to start and watched an entire episode of Stranger Things in UltraHD without any interruptions.
Try ExpressVPN's high speeds today
Low Latency and Secure Gaming
When it comes to gaming with a VPN, basic speed isn't the only important metric. To test the real impact of ExpressVPN, I monitored the game latency (the time it takes for your connection to reach the game server). I was impressed that it gave me lower latency scores than any other VPN I've tested! When I played Counter-Strike, I didn't notice any decrease in gaming responsiveness or increase in lag when I connected to ExpressVPN vs. when I was without a VPN.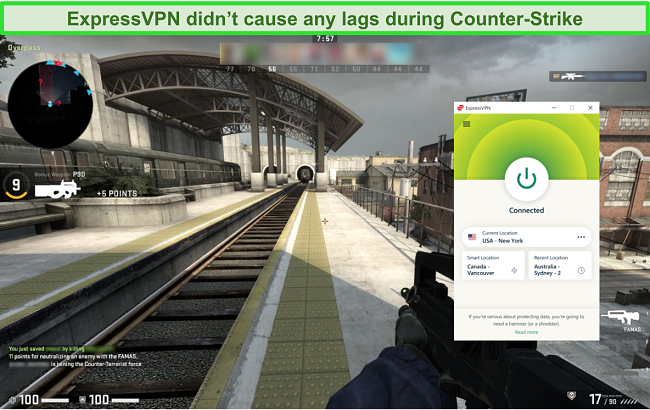 I was also relieved that ExpressVPN improves your gaming security. I've been frustrated that DDoS attacks (when rival gamers find your IP address and overload your server) are becoming more frequent in online games. If you don't have a VPN, your IP address can be easily accessed by rivals. Even though I'm not a competitive gamer I've been attacked this way. The good news is that you can use ExpressVPN to hide your IP address and protect your connection from attacks.
Military-Grade Security Features Keep You Safe Online
ExpressVPN uses the toughest security standards in the industry and unique safety features that other providers don't offer. It combines military-grade encryption, secure VPN protocols, data leak protection, and other tools to protect you from cybercriminals and other third parties. ExpressVPN also keeps you safe with these additional features:
TrustedServer Technology configures servers to run on RAM in order to eliminate permanent records of your data.
Kill switch disconnects your Internet if your VPN connection gets interrupted to prevent your ISP, government surveillance, and others from seeing your data.
No-logging policy keeps your online activity, private information, or other data that could connect you to your Internet use from being recorded.
Headquarters in the British Virgin Islands means it's free from the 5, 9, and 14 Eyes intelligence alliances, data retention laws, and mass surveillance programs.
I was impressed that ExpressVPN showed its security really works in real-life situations. In 2017, Turkish authorities seized one of ExpressVPN's servers to try to get user data as part of a criminal investigation. But they never found any trace of their suspects because the server's security had prevented any records from being created in the first place! Similarly, ExpressVPN has also invited cybersecurity experts PwC and Cure53 to publish audits about its security features and policies. In both cases, independent experts found that ExpressVPN actually delivers the top-notch security it advertises.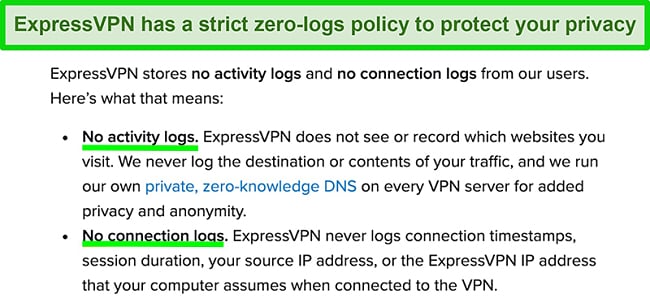 The only potential drawback I discovered with ExpressVPN's security is that it doesn't include a built-in ad blocker like some other top-tier services. This isn't a big deal to me because it allows me to use the best ad blockers available. Personally, I prefer this flexibility since I've been using other ad blockers for years and ExpressVPN works well with them all.
Huge Network of Servers to Bypass Geoblocks and Censorship
ExpressVPN has over 3000 servers in 94 countries, so you can always connect to a server in your desired location. I was impressed that it even offers virtual server locations in countries like Laos, Egypt, and Venezuela — these options allow ExpressVPN to help users beat geoblocks while maintaining its top-notch security for every server.
I was also pleased that you don't have to manually search for the best available server. I used its built-in feature to automatically find the quickest servers near me. This makes connecting to a server fast and easy — ExpressVPN connected securely with one simple click. I tested this feature on my Windows desktop and Android phone and consistently had such fast speeds that I sometimes forgot that I was even connected to a VPN.
If you want to connect to a specific country's server, you can easily review every location on a list. The servers are sorted by continent, so it's fast to scroll to your chosen country. Alternatively, you can type a specific city or country in the search bar.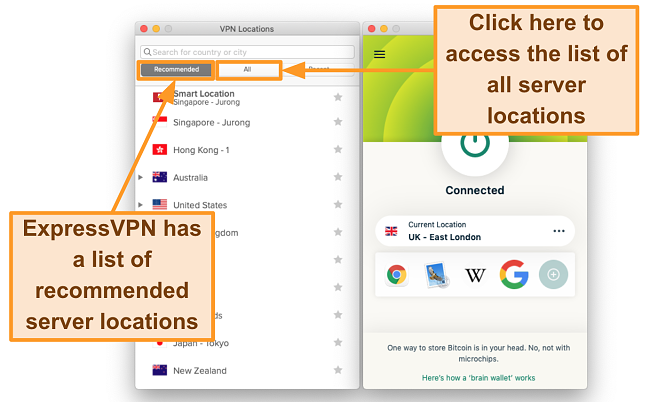 I was particularly impressed that ExpressVPN even works in China, which few VPN services can offer. This is because the Chinese government heavily censors what you can access from within the country. These restrictions work so well that even other top providers (like NordVPN) don't work there. But ExpressVPN not only bypasses these restrictions — it's even available for download from within the country via the Tor browser on its .onion website (http://expressobutiolem.onion/).
Try ExpressVPN anywhere risk-free
Easy to Use and Broad Device Compatibility
ExpressVPN offers easy-to-use native apps for tons of operating systems and devices like Mac, Windows, iOS, Android, Linux, Nvidia Shield, Amazon Fire TV, Android TV, Amazon Fire Stick (2nd generation and above), routers, and more. If you happen to have a device for which ExpressVPN doesn't have a native app (like Xbox, which isn't directly compatible with any VPN), you can easily install it on your router to protect every connection on your network.
Since I use several different operating systems between work and home, I especially like that ExpressVPN's apps are similar and intuitive no matter what device you use. The large "power" button makes it easy to secure your connection in seconds and the server selection tools are helpful in finding servers in your country of choice. Plus, ExpressVPN protects 5 connections at once so you don't have to worry about constantly logging in and out of your account to add a new device.
Many VPNs don't offer the same quality of service across all operating systems. That's why I was pleased that there are only a few minor differences between ExpressVPN's apps.
For example, iOS doesn't offer split-tunneling to enable certain apps to bypass the VPN connection. I wish I could use this feature on my iPhone, but I didn't think it was that big of a deal as other top VPNs (like NordVPN and Surfshark) don't offer it for iOS either. I also found that not all security protocols are available on every app. However, at least two of the safest options (OpenVPN, Lightway, and IKEv2) are available on all operating systems. That means you'll always find the right protocol to balance safety and speed on any device.
Are There Any Other Discounts or Sales for ExpressVPN?
Having tested VPNs for years, I've noticed that ExpressVPN doesn't typically offer flash sales, Black Friday deals, seasonal discounts, or lifetime subscriptions like other vendors. I don't advise waiting around for the next big holiday to see if prices might drop more, as it's unlikely. But don't worry — if ExpressVPN were to offer a better price, I'd add it here. Be very cautious if you see a flash sale elsewhere as there's a good chance it might not be real!
Claim ExpressVPN's 49% discount
Stay Updated on ExpressVPN Coupons
Since ExpressVPN occasionally changes its discounts, my team and I update this article daily to ensure it always includes the best coupons available. You can bookmark this page (press Ctrl+D on Windows or Command+D on Mac) to check it periodically. Before committing to a subscription, you can also try ExpressVPN risk-free for 30 days.
If you're still not ready to commit to a long-term subscription, I recommend you compare the price list for other top-tier vendors. That said, this deal from ExpressVPN is hard to beat as it offers unbeatable speeds, robust security features, and a huge server network.
Just don't wait too long to make your decision — there's no guarantee how long ExpressVPN will run this discount.
Try ExpressVPN risk-free today
---
Summary: Other Top VPNs With Coupons in 2021
Top Choice