8 Best FREE & Paid Ad Blockers in 2022 for Chrome + More
Last Updated by Mackenzie Pringle on August 01, 2022
Be careful when you pick software to block annoying and dangerous ads — some put your security at risk. Many ad blockers (especially free ones) actually sell your data to advertisers or implant malware, ad trackers, and viruses on your device.
Given these serious safety risks, trying different programs on your own can be nerve-racking. But don't worry, I've tested 19 ad blockers to bring you this list of the top 8 paid and free services available on the market. These providers remove distracting ads, improve your loading speeds, and are completely safe.
If you need a quick answer, the best ad blocker is AdBlock as it removes a variety of advertisements, blocks malware, and works on all major browsers (like Chrome, Firefox, and more). You can even use it for free.
Quick Guide: 8 Best Ad Blockers That Really Work in 2022
AdBlock — Best blocker for removing ads and providing comprehensive online security. It also comes for free!
Private Internet Access (PIA) — Stops ads, trackers, and malicious websites, but doesn't consistently block self-promotional ads from the web page itself.
Opera Browser — A good ad blocker that's built into the Opera browser, but doesn't work on other browsers.
R.O.B.E.R.T. by Windscribe — Blocks most ads and categories of websites, but some aggressive ads may remain visible.
AdLock — A capable ad blocker without an "acceptable ads" policy, but requires a paid subscription for the stand-alone app.
AdBlocker Ultimate — Compatible with a wide variety of web browsers, but doesn't work on Safari.
uBlock Origin — Blocks ads well, but support is limited without its own website.
Stands Fair AdBlocker — Keeps your ad-blocking data anonymous, but only available on Chrome.
8 Best Free & Paid Ad Blockers in August 2022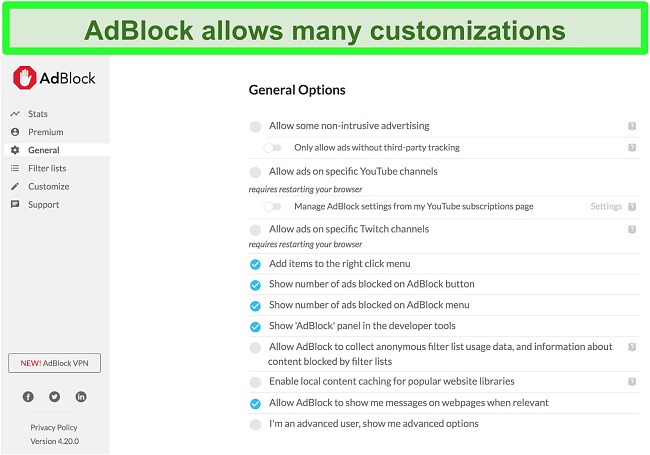 Key Features:
Blocks most annoying banner, pop-up, and video ads (except those in the "acceptable ads" program)
Stops online advertising trackers so your data is kept safe and private
Makes websites load faster by removing ads
Easy-to-use browser extension that can be downloaded in less than 1 minute
Totally free (with the option to donate)
AdBlock offers ad blocking as a web browser extension for desktops and as an app for Android and iOS. It performed well during my testing as it consistently removed wallpaper, banner, and pop-up ads on news websites like Daily Mail and Orlando Sentinel. I was especially impressed that it also blocks video streaming ads on YouTube (since many ad blockers don't work at all on this platform). With AdBlock, I was able to watch hours of content without seeing a single ad. It even worked on other popular streaming sites like Twitch and Crunchyroll.
My favorite AdBlock feature is its customizability to give you control over the ads you see. You can pause ads on all websites or only the current page you're viewing. I was surprised it even lets you specify if you want to allow ads on selected YouTube and Twitch channels.
As a bonus, AdBlock has additional security to protect you from malicious software. To begin with, it blocks websites with malware to prevent your device from getting infected. It also stops advertisers from following your online movements by blocking trackers. This prevents advertisers from spying on the websites you visit. With these functions, I felt reassured that my browsing would stay private.
My only issue with AdBlock is that it participates in an "acceptable ads" program. This means it allows some ads to be displayed if it deems them to be non-intrusive. From my experience, I found that it still blocked all ads that were displayed on the websites I visited. While the acceptable ads program means that a few advertisements might be allowed, Adblock's criteria for non-intrusive ads are quite strict so it won't impact your browsing experience.
AdBlock doesn't charge users for its service or require any credit card information at sign up. That means you can test it for free! When I tried it myself, I found that there were no hidden fees or tricks. You will be asked to give a small donation if you wish, but it's not mandatory.
AdBlock has stand-alone apps for: Android and iOS.
AdBlock extension available for: Chrome, Safari, Firefox, and Microsoft Edge.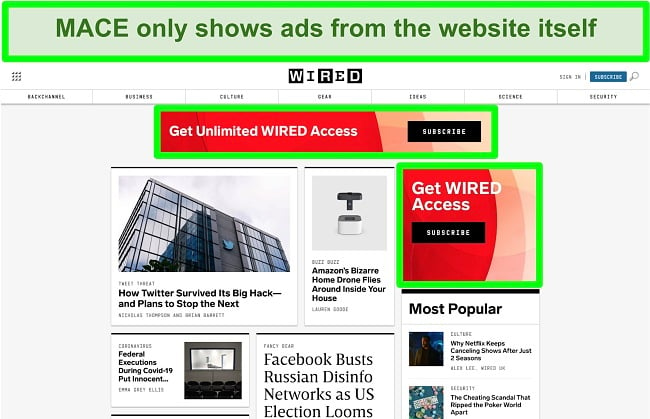 Key Features:
Stops ads and trackers that affect your privacy and online experience
Makes your browser load pages faster
Blocks websites with malware that can harm your device
User-friendly interface that's easy for beginners
Included at no extra cost with a PIA subscription (try it risk-free with the 30-day money-back guarantee)
When I tested it with 4 different websites, MACE by PIA removed almost all pop-up, banner, and video ads. However, it was unable to block sites' self-promotional ads. When I visited the Wired website, the only ad that managed to bypass MACE's filter was the one promoting Wired itself. This wasn't too much of an issue for me because it integrated well with the rest of the website and I didn't find it visually distracting like the usual ads.
I felt safe using MACE as it also has additional security features to protect you from other threats online. For example, it stops advertisers from tracking your activities. This reassured me that my private data couldn't be monitored and sold to unverified third-parties. This also meant that I didn't have to keep seeing repeated ads about a product that I viewed recently on other unrelated websites.
Additionally, MACE constantly updates its list of websites suspected of containing malware. It checks if the webpage you've entered matches any of those on the list and will block malicious ones so you can't be exposed. This feature let me browse in peace, as I knew that MACE would protect me from viruses that try to sneak onto my computer through dangerous sites.
Mace by PIA requires a subscription, but you get it for free once you've signed up. This was a good deal as you get the function of both a VPN and ad blocker for complete security. If you're still unsure about Mace by PIA, you can always test it for free for 30 days by using its money-back guarantee. When I contacted its customer service, I got my refund in only 8 days.
MACE by PIA works on: Windows, Android, macOS, iOS, and Linux.
MACE by PIA web browser compatibility: Works with any web browser as a stand-alone program and also has extensions for Chrome, Firefox, and Opera.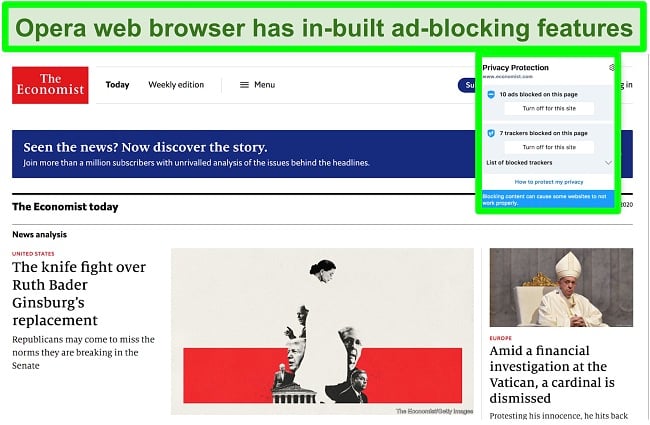 Key Features:
Stops majority of ads with the option to block trackers
Blocks websites with malware
Faster web page loading
Easy set up with no extension required
Totally free
If you're searching for a hassle-free option, the Opera browser has a built-in ad blocker to improve your browsing experience. This means you don't need to download any additional extensions or programs. Plus, you can easily activate it with the shield icon on the search bar to make ads automatically disappear.
Unfortunately, it didn't block 100% of ads when I tested it on several websites. Mainly video pop-up ads managed to bypass its filter. However, I was impressed that it blocked YouTube ads from streaming — even though it presented a blank screen for the duration of the ad. For a free built-in service, I thought these limitations were acceptable as 90% of the most distracting advertisements were removed.
It also has some basic security and privacy features like blocking websites with malware. You can also activate a tracker-blocking function to ensure that your online movements go undetected by spying advertisers.
You can try Opera for free and decide for yourself if the small number of ads is too much. If you prefer complete freedom from annoying pop-ups, I recommend that you try a more reliable service like AdBlock.
Opera browser ad blocker has stand-alone apps for: None yet.
Opera browser ad blocker works on: Opera.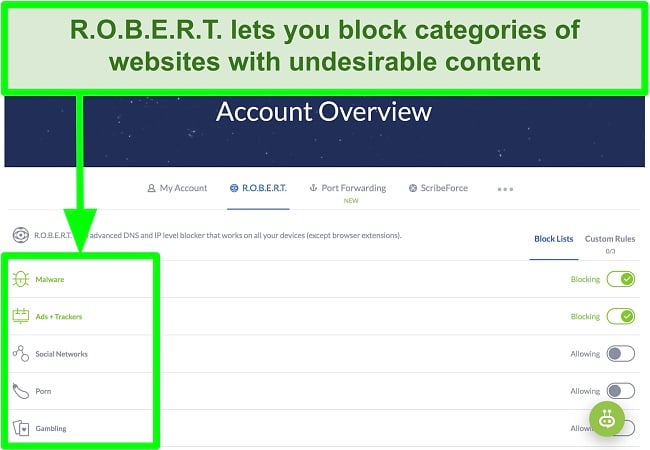 Key Features:
Stops the majority of ads from appearing on most websites
Block groups of websites by content (e.g. gambling, social, fake news)
Loads websites faster
Simple interface
R.O.B.E.R.T. by Windscribe offered in the free version (with limited functions)
R.O.B.E.R.T. by Windscribe is a customizable security tool that blocks ads and many other threats. During testing, it hid 90% of ads on most websites. A few video ads snuck through the filter, but I thought this limitation was tolerable as they were from the website itself. With fewer ads using up my data, I also noticed that web pages loaded 2-5 seconds faster.
I was impressed that R.O.B.E.R.T. lets you block categories of web pages along with ads. This feature puts my mind at ease because I don't want my kids to accidentally stumble on websites with gambling or porn.
In addition to stopping ads, R.O.B.E.R.T. protects you from other serious security threats. For example, it blocks websites with malware, phishing links, and trackers. With protection like this, I didn't worry about dangerous viruses sneaking onto my computer if I accidentally clicked on a bad link.
Another benefit of Windscribe (the creator of R.O.B.E.R.T) is that it's one of the few safe free VPNs so you can try it at no cost. Although R.O.B.E.R.T. still blocks ads and malware, this version has limitations. For example, you can't customize it to block website categories and it limits your monthly data to just 10 GB. You can get more security options with the premium version's 3-day money-back guarantee. When I went through the refund process, it returned my money in 5 business days.
R.O.B.E.R.T. by Windscribe works on: Windows, Android, macOS, iOS, and Linux.
R.O.B.E.R.T. by Windscribe web browser compatibility: Works with any web browser as a stand-alone program and also has extensions for Chrome and Firefox.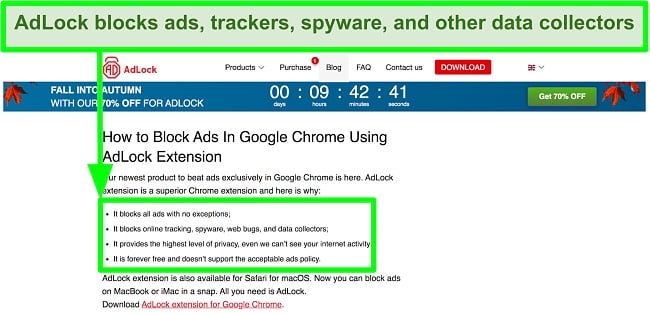 Key Features:
Stops most ads on web browsers and other apps
Protects your computer by blocking harmful links and trackers
Speeds up website loading
Easy-to-navigate interface on different operating systems and browsers
Free browser extensions for Chrome and Safari
AdLock gives you the option of using it as a browser extension or a separate app on your desktop. I preferred downloading it as an app because it allowed me to block ads on different programs like Skype (and not only my web browser).
The browser extension had no issues blocking pop-up, banner, and video advertisements. I was also impressed that it successfully stopped YouTube ads from playing because not many services can do this reliably. I could immediately see the actual videos I was searching for instead of waiting for long ads to finish.
Best of all, AdLock doesn't have a sneaky list of "acceptable ads" that it allows. That means advertisers can't pay it to unblock their ads — which is the case with many other programs.
You'll be safer online since AdLock blocks harmful websites and links that could infect your device with malware or steal your personal information. If it detects any of these dangers, it sends you a warning message. I was pleasantly surprised that these features could be easily activated from a simple app interface.
Be aware that you can use AdLock's web browser extensions for free, but it only blocks advertisements on the specific web browser it's installed on. If you want to remove ads on other apps (like Skype), you need to download a stand-alone program for Windows or macOS. The macOS program is free, but you'll have to pay a subscription fee if you want to use it on PC. Fortunately, you can try it for free for 14 days before you sign up.
AdLock has stand-alone apps for: Windows, Android, macOS, and iOS.
AdLock extension available for: Chrome and Safari.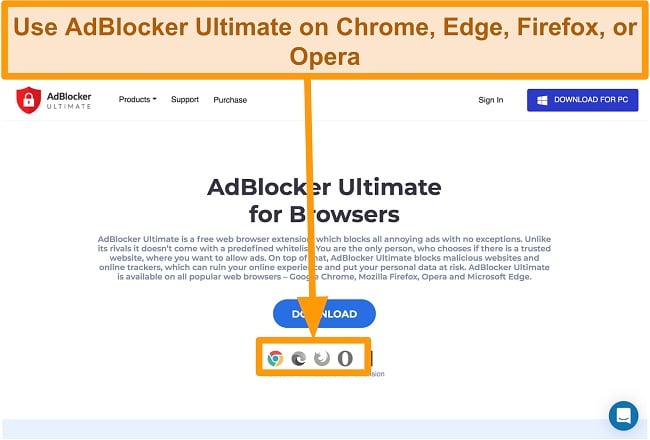 Key Features:
Stops irritating ads on multiple browsers and Windows app
Protects your computer from harmful malware and phishing links
Optimizes website load times
Simple user interface
Free web browser extensions, Android browser, and iOS app
AdBlocker Ultimate stands out from other services because it has extensions for a variety of web browsers. You can use it on Chrome, Firefox, Microsoft Edge, and Opera. During my tests, it consistently stopped pop-up, banner, and video ads on each of these browsers. I was impressed that it even stopped streaming ads on YouTube.
While the web browser extensions have reliable ad-blocking capabilities, they only work on the browser itself. If you want more freedom from ads, AdBlocker Ultimate has a stand-alone program for Windows that stops ads from appearing even in apps. Similarly, it offers a unique browser on Android that automatically filters out ads.
As a Mac user, I was disappointed that AdBlocker Ultimate doesn't have a Safari extension. Since I use it with Chrome, it would have been nice if it worked on both. If Safari is your preference, I recommend that you try AdBlock as it can block ads on any bowser.
The great thing about AdBlocker Ultimate is that you can use its browser extensions and smartphone apps on iOS and Android for free. Although its Windows program is a paid service, it offers a 14-day free trial and a 60-day money-back guarantee after you subscribe. When I tested the policy, I got my money back after a long process — I had to wait 2 weeks for AdBlocker Ultimate to complete the refund process.
AdBlocker Ultimate has stand-alone apps for: Windows, Android, and iOS.
AdBlocker Ultimate extension available for: Chrome, Firefox, Microsoft Edge, and Opera.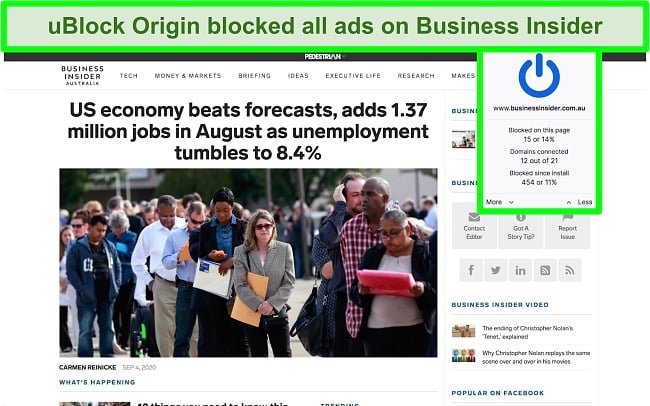 Key Features:
Effectively stops ads on websites
Protects your computer from trackers and websites with malware
Reduces web page loading times
Simple to set up
Free browser extensions for Chrome, Microsoft Edge, Firefox, and Opera
uBlock Origin is a basic, no-frills ad blocker program. It wasn't originally created with ad blocking as its main feature, but it still performs the task well. During testing, it effectively stopped ads on a variety of news websites and even YouTube.
Since uBlock Origin was designed to optimize computer resources, you'll find your device runs more efficiently with uBlock Origin enabled. I personally didn't see a significant improvement in my system's overall performance, but I noticed that web pages loaded 2-3 seconds faster without ads.
The best part about uBlock Origin is its customization options. You can create your own filter lists and set it to block ad placeholder images. Unfortunately, the more complex features can be tricky to understand and utilize correctly if you're not an expert. However, the default settings work well and are easy to use.
One disadvantage of uBlock Origin is that it doesn't have its own website, which makes it inconvenient to find the extension you need. This means if you want to download extensions for different browsers, you'll have to find them individually on a search engine. I was also disappointed to find that it doesn't have customer support.
Despite these limitations, I still think this is a decent ad-blocking extension. You can use these links to download it and try it for free on Chrome, Microsoft Edge, Firefox, and Opera.
uBlock Origin has stand-alone apps for: None yet.
uBlock Origin extension available for: Chrome, Microsoft Edge, Firefox, and Opera.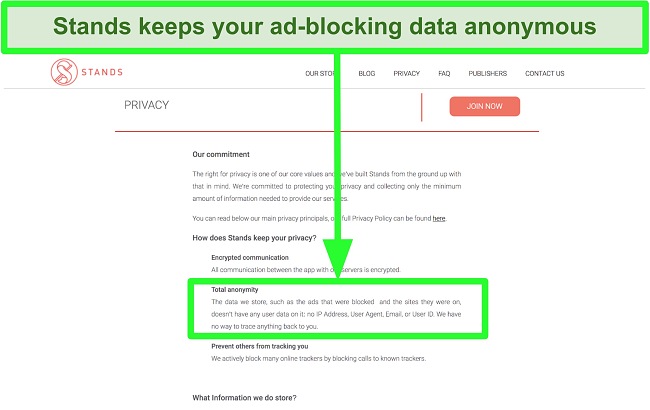 Key Features:
Stops a wide variety of static, pop-up, and video ads
Blocks website links with trackers and malware
Makes web pages load faster
Easy setup
Free Chrome browser extension
Stands Fair AdBlocker effectively removed all kinds of ads. I never encountered a single ad while using it with YouTube, Facebook, Forbes, Daily Mail, and other sites. It also protects you with extra security features like malware and tracker blocking.
Additionally, Stands Fair AdBlocker is one of the few programs I've found that doesn't track any of its users' online history. All the ads that it blocks are never linked to your IP address, email, or user ID. This reassured me that it wouldn't sell my data to advertisers, which is what many unethical ad blockers do.
Stands Fair AdBlocker also offers several useful customization options. For example, you can change the settings to allow some or all ads to be shown on specific websites. There is even an option for you to enable Facebook or search engine ads.
The major downside to this ad blocker is that it's only available on the Chrome browser. This wasn't a big issue for me because I use Chrome most of the time. However, if you want an ad blocker that works with any web browser and with apps, you can try AdBlock.
You can use Stands Fair AdBlocker for free on your Chrome browser, so there's no risk in testing it yourself. Simply add it as an extension and you can browse the web without the distraction of ads.
Stands Fair AdBlocker has stand-alone apps for: None yet.
Stands Fair AdBlocker extension available for: Chrome.
Avoid Using These DANGEROUS Ad Blockers
Be very careful when choosing an ad blocker — many are fake programs created by hackers to infect your devices with malware! They can be used to steal your personal data, financial information, and account logins or to spam you with even more ads.
Most free services are especially dangerous because many secretly collect your online data (like browsing history) to sell to unverified third-parties. Also, many free ad blockers don't have the advanced technology needed to protect you from aggressive pop-up ads. While there are many malicious programs on the market, here are a few I wanted to specifically warn you about:
Adblock Focus: Secretly collects user data without permission.
Adblock Pro: Receives payments from companies to unblock their ads.
AdRemover: Has hidden code that allows it to make changes to your web browser.
Ads Blocker: Contain a type of malware that spams you with ads.
uBlock: Modifies your cookies so that the developers can illegitimately profit from your online traffic when you visit certain websites.
The Basics: Why Adware is Dangerous and 5 Ways to Block It
Adware is any type of software that displays online ads and collects information about you. Aside from cluttering your screen, advertisements can be dangerous and negatively affect your device's performance. Keep in mind that ads:
Can expose your private data by installing trackers, cookies, beacons, or browser fingerprinting technology on your device without your permission. This lets third-parties collect and sell your personal information and browsing history.
Put your safety at risk by infecting your computer with dangerous malware.
Slow down your internet speed and consume your data even though you didn't request to see them.
5 Different Types of Ad Blockers
Don't get me wrong — all the options on this list will help eliminate ads. However, after 6+ years in cybersecurity, I'm convinced that using a VPN with an ad blocker is the best way to protect yourself from adware, hackers, and other threats. Regardless of the option you choose, make sure you're aware of the protection it provides and any limitations it has:
VPN with ad blocker: Blocks ads, malware, and cyberattacks on any browser and most devices. VPNs also provide you with additional security that other types of software don't (like privacy features to erase any trace of your browsing history).
Browser with built-in ad-blocking abilities: Blocks some advertisements, but many aggressive ads are still able to sneak through.
Ad blocker browser extension: Effective at blocking ads on the specific browser it's installed on, but won't protect you on apps or other browsers.
Stand-alone ad blocker app: Blocks ads on web browsers and other applications, but doesn't encrypt your information and keep it private (like a VPN does).
Ad blocking on your router: Gives you comprehensive ad blocking at a network level, but is difficult and time-consuming to set up.
FAQs on Ad Blockers
How do I install an ad blocker?
There are slight differences in the installation instructions for each of the top 8 ad blockers on this list. To install the best ad blocker in minutes, follow this quick guide:
Subscribe to an ad blocker. You can try AdBlock as it has the best ad-blocking abilities and also provides encryption to secure your data.
Connect to a server. Make sure you enable the ad blocker function in settings.
Start browsing the internet ad-free!
What features should I look for to find a safe ad blocker?
This is the list of the criteria I used during testing to create this list of 8 best ad blockers:
Successfully blocks a wide range of ads: I tested these programs on websites like DailyMail, Forbes, Lifehacker, YouTube, Twitch, and Crunchyroll to see if they could block banner ads, pop-ups, wallpaper, and video ads.
Compatible plug-ins or extensions for protecting multiple web browsers and devices.
Easy-to-use with simple setup steps.
Recently updated to detect the latest adware.
Totally free or offers a free trial.
Be very careful when downloading ad blockers — I found out that many programs (especially free ones) install malware on your device or sell your data to advertisers. I extensively tested the top 8 ad blockers on this list so you don't have to risk the security of your device to find a program that works. They're all safe, effectively remove a variety of ads, and prevent you from entering websites that contain malware.
What is the best ad blocker for Google Chrome, Firefox, Safari, and Microsoft Edge?
Each of the top 8 ad blockers on this list works with some combination of these popular browsers. However, the #1 ad blocker (AdBlock) works with all of them. It's even compatible with Android and iOS.
Which is the best ad blocker for YouTube, Twitch, and Crunchyroll?
Of the dozens of ad blockers I tested, I found that AdBlock was the most consistent at blocking streaming ads on YouTube, Twitch, and Crunchyroll. It also worked well to block all kinds of pop-ups and banner ads when I tried it on websites like Daily Mail and Lifehacker.
Stop Annoying Ads With an Ad Blocker Today!
You don't have to live with annoying online ads that slow down your web surfing. Any of the top 8 ad blockers mentioned in this article reliably remove ads. Furthermore, they're all high-quality services that also protect you from trackers and malicious websites.
If you're having difficulties deciding which service to choose, my tests showed that AdBlock is the best ad blocker available. It hides a variety of ads, and works with the most popular browsers and operating systems.
---
Summary: Best VPNs for Blocking Ads and Malware in 2022
Top Choice