What Is a VPN? Beginner's Guide, Explained by Experts (2020)
Last Updated by Chase Williams on June 01, 2020
You might be thinking: Do I REALLY need a VPN?
If you care about your online freedom and privacy, then it's actually essential to use a VPN. Short for Virtual Private Network, a VPN creates a secure connection between you and the internet. In short, a VPN can help you:
Remain anonymous online — Your real location will no longer be visible.
Prevent spying and cyberattacks — You can protect your personal data and device from hackers, malware, and even government surveillance.
Freely browse the internet — Unblock any site you want from anywhere, including streaming services like Netflix US, torrent clients, and more.
It might sound complicated but you definitely don't need to be a technical expert to use a VPN. Out of more than 20 VPNs I've tested, my top choice for beginners is NordVPN as it's fast, secure, and very easy to use. You can even try it risk-free for 30 days!
In this guide, I'll show you how services like NordVPN really work. Plus I'll share my tips and tricks for getting the most out of your VPN — even if you're a complete beginner.
1-Minute Video: What Is a VPN and How Does It Work?
A VPN is an essential security tool for protecting your online privacy. Without a VPN, your internet activity can be easily intercepted and viewed by other people. This includes your browsing history, downloaded files, online banking details, and passwords.
Even worse, everything can be traced back to your device through your Internet Protocol (IP) address. Your IP address reveals your physical location and can be used to track you down in real-life. It's like sending postcards through the mail — anyone can read the message and see your name and address.
But when you're connected to a VPN, your internet activity is encrypted and your real IP address is masked. No one can see who you are or what you're doing, not even Internet Service Providers (ISPs), governments, or hackers.
Instead of postcards, you're now sending an ultra-secure private message that only the intended recipient can read. There's no sender address or name. If someone else tries to peek, they'll just see a jumble of encrypted information.
Quick Summary: This Is How a VPN Works

You launch a VPN and connect to a server. I recommend a trustworthy service like NordVPN (you can try NordVPN for 30 days for free!).
Your internet traffic is now encrypted by the VPN — no one can spy on your online activities, including the government, advertisers, or hackers.
The encrypted traffic is sent to the VPN server you're connected to.
Your internet traffic will appear to originate from the VPN server itself. Essentially, you've hidden your true location and replaced it with the VPN server's location instead. This helps you avoid online censorship, surveillance, and firewalls in your own country.
No one will know you're using a VPN. The VPN's encryption process continues to secure your private data, so you can use the internet freely and anonymously.
VPN Pros: Benefits of Using a VPN
Now that you know what a VPN does and how it works, let's take a look at why people use VPNs:
1. Unblock Netflix, BBC iPlayer, Amazon Prime Video, Disney+, and More!
Don't miss out on the best TV shows and movies just because you're not in the right country. Streaming services like Netflix, BBC iPlayer, Hulu, Amazon Prime Video, and Disney+ will restrict its content to certain countries. For example, you can only watch Netflix US if you're in the US.
A VPN can bypass geographic restrictions and get you access to any streaming service around the world — so if you're living in or traveling to a country outside the US, you can still stream Netflix US with a VPN.
But not every VPN can do this. Popular streaming services, like Netflix and Disney+, can detect VPNs and will block you from viewing its content. That's why you need to choose a quality VPN that can outsmart the blocks.
Watch Netflix, Disney+ and more with a VPN!
2. Play Region-Blocked Games From Anywhere
Have you ever wanted to play an online game but found that it's blocked in your country? You're not alone. This frustrating issue is faced by many gamers worldwide.
With a VPN, you can change your location and access any online game — no matter what country you're in!
3. Torrent Files Safely and Anonymously
Torrenting is always risky. You can never be sure if your downloaded files are 100% safe. Plus you risk getting in trouble with authorities if you torrent something you shouldn't.
A VPN will keep you safe while torrenting with a suite of security and privacy features. Your online identity will remain anonymous so your Internet Service Provider (ISP) won't notice what you're doing.
Some VPNs, such as NordVPN and CyberGhost, even offer dedicated torrenting features to keep your download speeds fast and protect you from malware.
Torrent safely with NordVPN today!
4. Secure Your Online Privacy
Have you sent your bank details to friends online? Do you ever use public WiFi networks? If so, you've just risked exposing your personal information to hackers (especially if you were using a public WiFi hotspot!).
A quality VPN will use the most advanced encryption to secure your data. It'll also ensure that any websites receiving your private data can't trace your device, which keeps you as anonymous as possible.
5. Bypass Censorship and Firewalls
Many countries around the world censor the internet because certain content doesn't align with political or religious beliefs.
If you're living in or traveling to a country with internet restrictions, you'll need a VPN to freely and securely browse online — especially in heavily-censored countries like China. With a VPN, simple tasks like Googling or updating your status on Facebook are impossible.
A VPN helps you unblock these sites and keeps your online activity safe from any prying eyes, including the government. You can even use a VPN to get around firewalls in office or school networks.
6. Improve Your Internet Connection and Speeds
At times, your ISP may deliberately slow down your Internet connection. Why? It could be because it detects that you're torrenting, or because you've gone over a certain data limit. Some ISPs even use this strategy to try to get you to upgrade your connection. The practice is known as "throttling."
With a VPN, your activity remains private, and not even your ISP can see it. That means it can't throttle your bandwidth, so you may actually see an increase in speeds.
7. Save Money
Savvy online shoppers know that e-commerce platforms and online shops show different prices to people based on their location. This applies for booking flights, finding accommodation, shopping for clothes, and even getting a streaming service subscription.
Everyone loves a bargain — and a VPN can help you find the best deals online. With a VPN, you can pretend you're in a country where the prices are cheaper.
For example, if Netflix US subscription prices seem too expensive, you can change your online location to Turkey and pay a lower price. You can still access Netflix's entire global catalog — but at a significantly cheaper rate.
VPN Cons: Disadvantages of Using a VPN
Your internet connection might slow down. Your data has to be encrypted and routed through a VPN server, which could be a long way from your actual location. This inevitably slows things down, but you can significantly reduce these drops in speed by choosing an ultrafast service like ExpressVPN.
Not every VPN will work. Certain sites (like Netflix) have gotten really good at detecting when you're using a VPN and blocking you. However, the best VPNs on the market quickly replace any blocked servers, making it hard for these sites to keep up.
The best VPNs cost money. Free VPNs do exist, but they tend to have limited features and security risks.
Free or cheap VPNs might log your personal data. Since your data is going through the VPN provider's servers, there's always a risk they could be storing it. To minimize this risk, make sure your provider has a no-logs policy, and check it isn't based in a country where it's required to share data with the authorities. Always read the privacy policy to see how your data will be handled.
VPNs are illegal in some countries. You could risk getting in trouble with the authorities if you use a VPN in a country where it's illegal to do so. These countries include China, Turkey, and Iraq.
Low-quality VPNs have limited servers and IP addresses. There are multiple VPN users connected to each server, so your IP address will appear to be the same as other people's. This could be a problem if someone behaves inappropriately while using the VPN, as it could lead to that IP address being blacklisted by certain sites. Effectively, you could be punished for someone else's bad behavior. You can avoid this by choosing a VPN that offers dedicated IP addresses.
You can't download a VPN on every device. It may be difficult to find apps for older devices or those using more obscure operating systems.
Essential Features Every VPN Should Have
If you're thinking of getting a VPN subscription, there are a few things you'll need to look for:
Fast speeds
Strong encryption and high-quality security protocols
Trustworthy privacy policies
Ability to access global content
Multiple device and cross-platform compatibility
Great user experience
Reliable customer support
Value for money
1. Fast Speeds
Using a VPN can slow down your connection, as your data is being encrypted and routed through another server. With some VPNs, the difference is barely noticeable, whereas others can cause a considerable slowdown. Your VPN won't be much use if it slows your connection speed to a crawl, so make sure you pick a service with unlimited bandwidth and plenty of fast servers.
2. Strong Encryption and High-Quality Security Protocols
One of the main reasons for using a VPN is to make your connection as secure as possible, so don't skimp when it comes to security. Look for a service with 256-bit AES encryption — the industry standard — and ultra-secure protocols like OpenVPN and IKEv2.
3. Trustworthy Privacy Policies
It's really important to choose a provider with a strict no-logs policy. Otherwise, the company is storing your data and could potentially share it with third parties like governments. Make sure the provider is based outside the 5/9/14 Eyes alliances too (these are groups of countries which share surveillance data). If you're not sure where a provider stands, read the privacy policy.
4. Ability to Access Global Content
A big plus of VPNs is that they allow you to bypass censorship and geo-restrictions. But not all VPNs are created equal in this regard. If you want to use your VPN to access a specific site like Netflix, or use it to unblock a certain country's firewall, do your research and make sure the provider supports it before you buy. You can also make use of free trials and money-back guarantees to test out VPNs.
5. Multiple Device and Cross-Platform Compatibility
You'll want all your devices to be protected, so look for a provider that allows several simultaneous connections. And remember to check that the VPN is compatible with all your devices too.
6. Great User Experience
Don't waste money on a service that's slow, unreliable, or has a clunky user interface. Do your research and make sure the provider is highly-rated before committing. Reading reviews is a great way to do this.
7. Reliable Customer Support
If something goes wrong, you need to be confident that it will be sorted quickly. Look for a provider with 24/7 live chat support available, as well as email support. It's a bonus if you can phone in when there's a problem.
8. Value for Money
When you're paying for a service, you need to be confident you're getting your money's worth. That doesn't mean choosing the cheapest available option. Instead, look for a service with all the features mentioned above at a reasonable price.
Not sure which VPN to choose?
All this information may seem overwhelming, but don't panic! I've tested and reviewed leading VPN providers like
NordVPN
,
ExpressVPN
, and
Surfshark
to help you make your decision.
Get NordVPN for free for 30 days!
How to Choose the Best VPN — Tips for Beginners
So how do you choose the best VPN? Well, that depends on what you need a VPN for. Take a look at the scenarios below and see which one most closely matches what you're looking for, and I'll share tips on finding the best VPN for it:
If you want to find out whether a VPN has a specific feature (like a kill switch or an app for your smart TV), check the provider's website. There's usually a section listing all the features, and another listing all the apps which are available.
For Unblocking Global Content
If you want to access content that isn't available in your country (Netflix shows, for example), you'll need to use a VPN to change your location.
Speed: During my tests, I've found that speeds of 5 Mbps are generally good enough for streaming HD without buffering. You can check out different reviews to find the average speeds a VPN has, or simply test out a VPN with (proven) lightning-fast speeds to see if it works for you.
Ability to access global content: How do you find out which streaming sites a VPN can unblock? Well, you can read reviews of the best VPNs for popular content sites like Netflix, Hulu, and BBC iPlayer. Some top VPNs (like ExpressVPN) even publish the sites they unblock on their website so you can check if you'll be able to access your favorite content.
Server locations: If you want to watch anime on Japanese Netflix, you'll need a VPN that has servers in Japan. Likewise, you'll need a VPN with British servers to access BBC iPlayer. Make sure the VPN you choose has servers in all your desired locations. A list of server locations should be available on the provider's website.
Device compatibility: Check that the VPN has apps available for all your devices, including any smart TVs or streaming devices.
Tip: The best way to know if a VPN is best for you is to simply try it out.
You can
sign up for free trials to test out a VPN
and see if it has the features you want, and how well they work. Reviews are great — but nothing beats testing the product out for yourself!
For Privacy and Anonymity (Especially on Public Networks)
Public WiFi networks are notoriously insecure, and it's always best to use a VPN when accessing them to keep your data safe. This section is also relevant to you if you want to stay as anonymous as possible at all times.
Ultra-secure encryption: Your VPN should have military-grade 256-bit AES encryption, the most secure in the industry. This will keep your information safe from hackers.
Secure protocols: Make sure the VPN has either OpenVPN or IKEv2 available. These are the strongest available protocols and will make sure your data stays private.
DNS leak protection: Occasionally, software issues may lead to your IP address being visible even when you're using a VPN. That's not what you want when you're using a public network! So what can you do? Well, some VPNs (e.g. ExpressVPN) have built-in protection which stops this from happening.
Kill switch feature: This feature disconnects you from the Internet if the VPN connection fails. This is important as it ensures your data is never exposed to others on the same network. Not all VPNs have kill switches, so you want to make sure you choose one that does.
For Torrenting Safely
Torrenting can be risky. You're potentially exposing your device to malware, and could run into trouble with the authorities if you download something you shouldn't. A good VPN will protect you from both.
Ultra-secure encryption: You need a VPN with military-grade 256-bit AES encryption if you want your activity to stay as private as possible.
Speed: A fast connection is important when torrenting, so make sure the provider lists "Unlimited bandwidth" on its website and check reviews to see how fast its servers are.
P2P support: Some providers throttle your bandwidth if they detect that you're torrenting, so check their websites to see if they support P2P. Other providers, like NordVPN, are torrenting-friendly and even offer dedicated P2P servers.
Protection from malware: Certain VPNs offer extra features which protect you from malware, like NordVPN's CyberSec and Surfshark's CleanWeb.
Secure protocols: As above, make sure the VPN uses either OpenVPN or IKEv2. That way, no-one else will know what you're torrenting.
Kill switch feature: This feature disconnects you from the Internet if the VPN connection fails, so your activity is never exposed. If you're worried about getting into trouble with the authorities, it's a must.
For Bypassing Censorship
A VPN can help you bypass censorship at work, at university, or even in countries where Internet access is heavily restricted. Using a VPN is illegal in some countries, so be aware of the risks and don't compromise on security.
Ultra-secure encryption: Your VPN should have military-grade 256-bit AES encryption. This is particularly important if you're in a country where VPNs are illegal, as you want to make sure you don't get caught.
Ability to bypass censorship: Most services should have no trouble getting past the Internet restrictions at your workplace, but overcoming the Great Firewall of China may be a different matter. If you plan to travel to a censored country, choose a service like ExpressVPN which is proven to work there.
Secure protocols: Make sure the VPN uses either OpenVPN or IKEv2. Again, this is most relevant in countries where you could get in trouble for using a VPN.
Quick Guide: 5 Best VPNs for Beginners
Free VPNs vs. Paid VPNs: Do You Need to Spend the Money?
There are various free VPNs out there, and you may be tempted to use one if you're on a budget. However, only some free VPNs are secure enough to protect your privacy.
Be careful! You get what you pay for with free VPNs.
This includes slow speeds and data caps as low as 500MB per month — you won't be able to download files or stream videos.
Many free VPNs even use weak protocols (like PPTP), which expose your device to malware and other security risks. Even worse, you won't have access to customer support if things go wrong.
That's not all. Some free VPNs may use shady practices to fund their services, whether that's spamming you with annoying popup ads, tricking you into downloading malware, or even collecting and selling your data.
If you want peace of mind, I recommend getting a reliable premium VPN provider with a good reputation. Paid VPNs aren't a huge investment, and I've used great VPN services for as little as $3-5 a month (and if you find hidden deals and discounts you could save even more!). With most providers offering free trials or money-back guarantees, you can try out different VPNs risk-free before deciding to purchase.
5 Top-Rated VPNs for Beginners
A great all-round service. NordVPN has very respectable speeds, super-strong encryption, and lots of extra features like a kill switch and a malware blocker — all for a very reasonable price. When I tested it, it only took a few minutes to install and set up. And its super-simple user interface allows you to connect to the best available server with just one click. It offers a 30-day money-back guarantee too.
Try NordVPN for free for 30 days!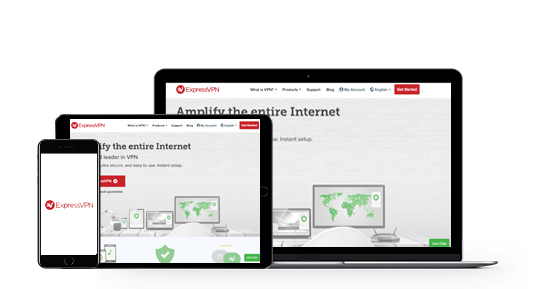 A premium service with superfast speeds. ExpressVPN can unblock almost anything, and it can even bypass censorship in China. You can set it up in just a few simple steps, and if you need help getting started, you can get instant support via its live chat service. The company also takes security very seriously. It uses the strongest available encryption, and none of your data is ever saved to a hard drive. The only minor drawback I could find was that it only allows 5 simultaneous connections — which is slightly less than what some of its rivals offer. Like NordVPN, it offers a 30-day money-back guarantee.
Get ExpressVPN for free for a month!
Whilst not the fastest VPN on the market, CyberGhost has over 5900 servers meaning you'll still get decent speeds. It has a strict no-logs policy, a kill switch feature, and even some self-managed servers based outside the 14-eyes countries. Some of its servers are optimized for various streaming services, so you can unblock Netflix and more with one click. The service is very affordable and allows you to connect up to 7 devices at a time. It has a 45-day money-back guarantee available, one of the most generous of any VPN provider. You can also try it out free — with no credit card required — for 24 hours.
Download CyberGhost for 30 days for free!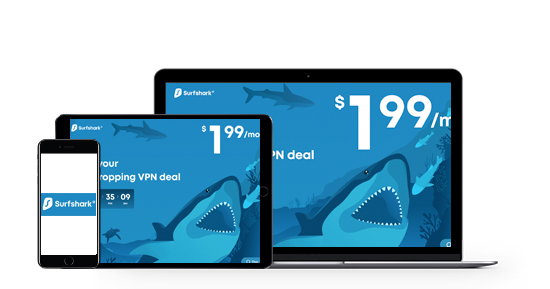 A newer company, Surfshark has quickly made a name for itself with its excellent security features and low prices. Its low server count may result in some limitations but from my experience testing this VPN, its speeds are consistent on servers worldwide and it has no problem unblocking content.
With a Surfshark subscription, you can use the VPN on an unlimited number of devices at once. If you're having trouble, you can use the live chat feature to talk to an expert. It also has a built-in malware blocker, and even the option to route your traffic via multiple servers for extra privacy. There's a 30-day money-back guarantee available too.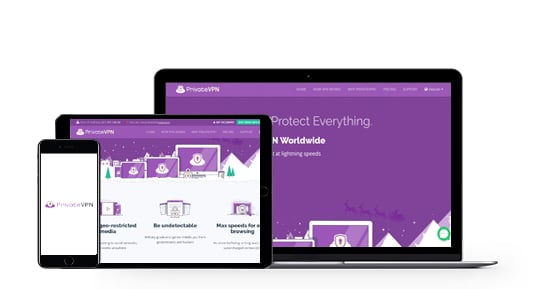 Private VPN is a good basic VPN to start out with for protecting your activities online. It offers extra-secure 2048-bit encryption and unlimited bandwidth. It's also extremely easy to use, with a one-click setup process which allows you to protect your devices in under a minute. With only 150+ servers, my tests confirm that PrivateVPN falls short in unblocking global content (specifically, Netflix). Its customer service is excellent, putting you directly in touch with the developers to solve your issue. There's also a 30-day money-back guarantee available so you can test it out risk-free.
Getting Started: How to Set Up a VPN on Different Devices (Step-by-Step Guides)
VPN providers generally make it very easy to get started, so don't worry about the installation process being too complicated! I've put together some simple step-by-step guides to get you all set up on your favorite devices.
Bear in mind that the steps involved may vary depending on which VPN and operating system you're using. If you're having problems, you can check out the guides on your VPN provider's website.
3 Easy Steps: Install a VPN on Windows, Mac, or Linux
Many VPNs offer native apps for Windows, macOS, and even Linux. The installation process is similar across all operating systems:
Download and install the VPN. I like NordVPN as it's fast, simple to use, and you can try it with a 30-day money-back guarantee.
When the installation finishes, launch the VPN client and connect to a server in the country of your choice.
That's it! Now you start freely and safely browsing the internet.
Quick Guide: Get a VPN on an Android Phone or iPhone
Nearly every VPN offers dedicated apps for Android and iOS devices. Here's how you install a VPN on your phone:
Download a VPN from the app store. I recommend NordVPN as the mobile app is fast and easy to use. Test it for 30 days on your phone!
Open the VPN app, log in, and tap on a server location to connect.
You're done! Your smartphone is now protected by a VPN.
Smart TVs
Most smart TVs on the market don't have native VPN apps available. If you want to use a VPN with them, you have to first install the VPN on your router (see instructions on how to do this below). Then, connect your smart TV to your router and it will automatically connect to the remote VPN server.
If you have a smart TV running on Android OS, ExpressVPN has a native Android TV app that might save you the hassle of connecting through a router.
Try ExpressVPN risk-free today
Routers
Most people use VPNs on individual devices such as laptops and smart TVs, but you can also install one on your router to protect any device that's connected to your Wi-Fi network. Once you've done this, you won't need to install a VPN on your individual devices unless you plan on using them outside your home.
Before buying a VPN subscription, make sure it's compatible with your router by visiting the manufacturer's website.
The installation process depends on the model of your router and which VPN you're using, but it typically looks something like this:
Assemble and connect your router.
Connect your router to a computer.
Access the router dashboard.
Create a username and password.
Click the Upgrade Firmware tab.
Upload the firmware you just downloaded for your VPN.
Enter the activation code from your VPN's setup page.
Click Activate.
Since methods can vary, it's best to check the steps outlined on your VPN provider's website.
Quick and Easy Setup Guides for Your VPN
Here are some quick download guides (for a variety of devices) to help you set up your VPN.
Common FAQs on VPNs
⚠️Are VPNs legal?
VPNs are completely legal in most cases, as long as you're not using it for illegal activities. However, some heavily censored countries (like China, Russia, and Iraq) do ban them. The penalty if caught can be significant, so bear this in mind if you're traveling.
🔒Are VPNs really secure?
It's hard to give a straight yes or no answer because no two services are identical in their security features. The security of a VPN depends on the technology and protocols the provider uses. Look for a provider with 256-bit AES encryption, use of OpenVPN or IKEv2 protocols, and extra features like DNS leak protection and a kill switch to maximize security.
The VPN provider's location and privacy policy will also affect its security. If you want to choose the most secure VPN, check that the provider isn't located in the 5/9/14 Eyes security alliances.
💻 Can I watch Netflix with a VPN?
It depends on the provider you choose. While Netflix is available in more than 100 countries across the world, shows and movies vary from one country to another due to licensing agreements. But a good VPN can help.
Netflix and other platforms like Hulu and BBC iPlayer block users based on their location, which they identify from your IP address. To avoid any blocks and watch a show on Netflix which is only available in a certain country, you just have to connect to a server in that location.
Netflix is getting better at blocking people who are using a VPN, but many of the best VPN services will be able to tell you which of their servers can unblock Netflix.
❓Do VPNs work on Android?
Yes, assuming your provider has a dedicated Android application. All the major providers, like ExpressVPN, NordVPN, and CyberGhost, have Android apps available. Be wary of free Android VPN services, as research suggests that many of these applications leak user information or include malware.
📲 Do VPNs work on iOS?
Yes. Before choosing a VPN, make sure the provider has a dedicated iOS application and that it's a reputable company. All the major VPN providers offer iOS apps.
🖥 Do VPNs work on Kodi?
Yes, a VPN can help you add a layer of privacy when streaming on Kodi. It can also help you access content that you wouldn't normally be able to because of your location, and safely stream from add-ons without having to worry about hackers and other third parties.
For best results, choose a VPN with P2P support, like ExpressVPN or CyberGhost. Also, make sure the provider has apps for all the devices you want to use Kodi on.
📺 Do VPNs work on smart TVs?
Yes. When choosing a VPN for your smart TV, make sure you go for one that has an application for your device. ExpressVPN has apps for almost all smart TVs, and NordVPN has one for AndroidTV. If you can't find an app that works, some VPN providers offer detailed instructions on how to set up the VPN manually on your smart TV.
Get 7 simultaneous connections with CyberGhost VPN
⚙️How do I use TOR with my VPN?
Using your VPN with the Tor network is the key to complete anonymity. All you have to do is:
Enable your VPN connection.
Open your Tor browser.
While you will have an additional layer of privacy with this setup, it may also make your Internet connection slower. If you're planning on downloading large files, you may have some trouble so this is only good for secure browsing, streaming, and gaming.
🔍When should I use a VPN?
Use a VPN whenever you need an extra layer of privacy, anonymity, and security online. Some of the key reasons for using a VPN include:
⚠️When shouldn't I use a VPN?
There's no reason why you shouldn't use a VPN at all times. It will keep you safe from governments, your ISP, advertisers, and even hackers.
🔐What's the difference between VPNs and proxy servers?
A proxy simply masks your IP address, whereas a VPN also encrypts your data. It's best to use a VPN as it's much more secure.
🔧Which VPN protocol should I use?
OpenVPN is the most favorable protocol because even its weakest configuration is impressive. It has various configuration options available, meaning you can customize it for extra speed or added security.
OpenVPN works on almost any port, including 443, which helps prevent blocking. In short, this is the best VPN protocol and you should use it whenever possible.
IKEv2 is also a robust VPN protocol when coupled with the right AES encryption.
❓Do VPNs make you anonymous online?
While many providers claim to offer you complete anonymity when browsing the web, the truth is that a VPN provides privacy, not anonymity. A VPN will assign you a new IP address from a server in a different location, but the VPN provider can still see your browsing data.
No VPN server can operate without keeping logs, otherwise it wouldn't be able to address DNS requests or troubleshoot connections. However, the key difference is that the best VPN providers don't keep logs of your personal data. This means that even if they receive a court order to hand over information about your online browsing activity, they can't. This is especially true if they're not part of any of the alliances mentioned above.
Despite not making you completely anonymous, having a VPN is still a great tool to increase privacy while browsing the web. If you want full anonymity, you should couple your VPN with Tor, an open network that doesn't collect any user information.
⚙️Will a VPN slow down my internet?
A VPN may slow down your Internet connection because your data has to travel via the VPN server. Not only that, the VPN is encrypting and decrypting your data, which takes longer.
However, different VPNs experience different speed reductions, so it's important to make comparisons. Despite slight drops in speed, ExpressVPN, NordVPN, and CyberGhost were consistently able to stream, torrent, game, and browse without delays.
Your Internet speed will vary depending on the server you choose. Generally, the further away the server is, the slower your Internet because it will take longer for your data to get there. If you connect to a server nearby, you'll barely notice a difference in Internet speed.
🖥 Do I need an ISP to use a VPN?
Your VPN won't replace the need for an ISP. Your ISP allows you to connect to the Internet, while your VPN simply protects your data as you carry out web-based activities.
✔️Can I use a VPN on more than one device?
Yes. Most VPN providers have dedicated applications for several types of device and operating systems.
If you want to use your VPN on more than one device, make sure the provider you choose allows simultaneous connections and has applications for all your preferred devices.
📲Which devices do VPNs work on?
It depends on the provider. Most premium VPNs work on Apple, Windows, and Android devices. Some even work on Linux, Kodi, smart TVs, and even routers.
Usually, free VPN services only work on specific devices. Make sure you check with your provider before signing up or buying a subscription to avoid any disappointments.
🔎Do VPNs keep logs?
Policies vary between providers. Providers may keep:
IP addresses
Browsing activity
Device usage
Payment details
Connection and disconnection logs
Any data your provider keeps reduces your anonymity, so it's crucial that you go for a service which keeps minimal logs. You can get more detail about this by looking at its privacy policy and reading the small print.
👌Are VPNs useful for torrenting? How so?
P2P sharing is best done with a VPN because you never know what these files contain or who they're coming from. Also, if you're sharing files you shouldn't be, your ISP won't be able to find out. This could allow you to avoid a warning, a fine, or even prison time.
But while the big names like ExpressVPN, NordVPN, and CyberGhost support P2P sharing, others don't. When choosing a VPN for torrenting, check that it has a no-logs policy and offers unlimited bandwidth, as well as fast download speeds.
Glossary of Common VPN Terms
5/9/14 Eyes Alliance: International security alliances that work together to collect and share mass surveillance data. Any provider based in a country that's part of one of these alliances could record and pass on your online activities. Here are the countries in each alliance:
5 Eyes
9 Eyes
14 Eyes

United States
Canada
New Zealand
United Kingdom
Australia

Norway

Denmark

France

The Netherlands

Plus members of 5 Eyes Alliance

Italy

Spain

Belgium

Germany

Sweden

Plus members of 9 Eyes Alliance
Encryption: Scrambling data with a code so it can be transmitted safely.
Global Content: Content which is blocked in some countries but can be accessed with a VPN.
IP Leaks: When your VPN fails to hide your IP address.
ISP: Stands for Internet Service Provider. Your ISP is the company you pay to provide you with Internet access.
Kill Switch: A VPN feature which automatically kills your Internet connection if it isn't secure. This makes sure your data is always encrypted and helps you avoid IP leaks.
Logs: Data your VPN provider keeps about you and your online activities.
Proxy Server: A server which acts as an intermediary between your device and the rest of the Internet. This increases your privacy as you aren't directly communicating with other servers, meaning your IP address isn't visible.
Router: A device that sends data between computer networks. Your ISP usually provides you with one to allow you to access the Internet.
TOR: A piece of software which allows you to communicate anonymously online. It sends your data through a volunteer-run worldwide network to make it very difficult for anyone to find out where it came from.
VPN Client: A program you install on your device which allows you to connect to a VPN server.
VPN Protocol: The set of processes used by VPN clients and servers to communicate securely with each other. Some protocols are more secure than others.
VPN Server: A computer managed by your VPN provider which you can connect to using your VPN client. Your data is routed through the server, hiding your true location and IP address.
VPN Service: A service that increases your security by encrypting your Internet traffic and masking your IP address. It also allows you to bypass censorship by appearing to be in a different location.