MacKeeper

Antivirus Review 2022: Safe or a Scam? (Updated)
MacKeeper Overview August 2022
MacKeeper didn't always have the best reputation in the industry — it was largely known for flagging fake problems in order to scare people to pay for the fix. However, MacKeeper has significantly rehauled its software since being acquired by cybersecurity firm Clario. Like many people, I wanted to find out whether MacKeeper has truly gotten any better or if it was still the same antivirus software with a new look.
After in-depth testing, my team and I can reassure you that MacKeeper no longer uses unethical sales tactics. I was especially impressed with MacKeeper's near-perfect malware detection rates and extensive suite of features like a VPN, ad blocker, and identity theft checker.
You don't have to take my word for it, though. You can download MacKeeper for free by taking advantage of the 14-day money-back guarantee. While shorter than the industry-standard 30 days, I find it's enough time to see whether MacKeeper is the right antivirus for your Mac. You can easily get your money back if you're not satisfied — I tested this myself and I got my money back in just 3 days.
In a Rush? Here's a 1-Minute Summary
Security - 8
In tests, MacKeeper detected the majority of malware and Potentially Unwanted Applications (PUAs). The company has clearly improved its performance since the last review — and I'm glad to say that MacKeeper's security performance is now on par with top-grade Mac antivirus software.
Virus Scanner — Impressive Malware Detection Rates (Except Rootkits)
MacKeeper's malware scanner detected every virus, Trojan, worm, and ransomware file released in the past 4 months. This result matches the benchmark set by Mac antivirus leader Intego.
Unfortunately, MacKeeper missed the sample rootkit files. To my disappointment, a chat agent confirmed to me that MacKeeper can't detect rootkits. Rootkits allow others to control your device remotely and are extremely difficult to detect. Competitor Intego can detect and remove rootkits, so it's the better option if you want maximum protection for your Mac.
There are only 2 scanning options: Full Scan or Custom Scan (no Quick Scan, which is usually available on antivirus programs). MacKeeper only took 30 minutes to complete a Full Scan, which is the same amount of time it took Intego to scan 1.7 million files. In comparison, Airo needed 3 hours to scan only 600,000 files.
To run the custom scan, all I had to do was select the file I wanted to inspect and start scanning. It took MacKeeper 2 minutes to go through 325MB in the Custom Scan and it easily found the infected sample I planted there.
However, I was disappointed to find that MacKeeper doesn't display the total number of files analyzed. This is usually standard data that other antivirus programs report and it's essential for me to understand if my system was thoroughly checked or not.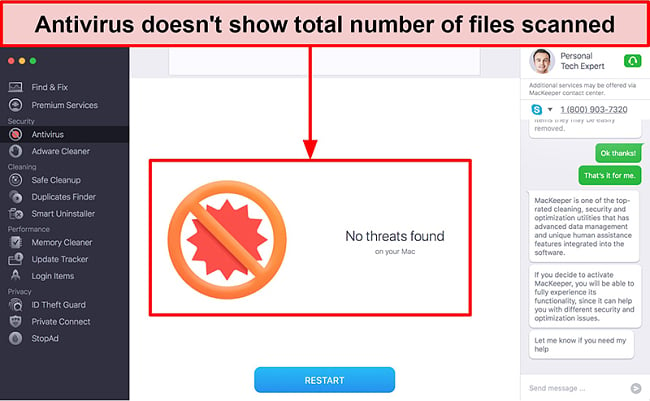 Real-Time Scanner — Checks New Files for Malware At All Times
The real-time antivirus scanner checks all new files entering your computer for malware. To see how it works, I downloaded a virus-infected file and MacKeeper immediately notified me through a push notification. I could either choose to quarantine it or restore it.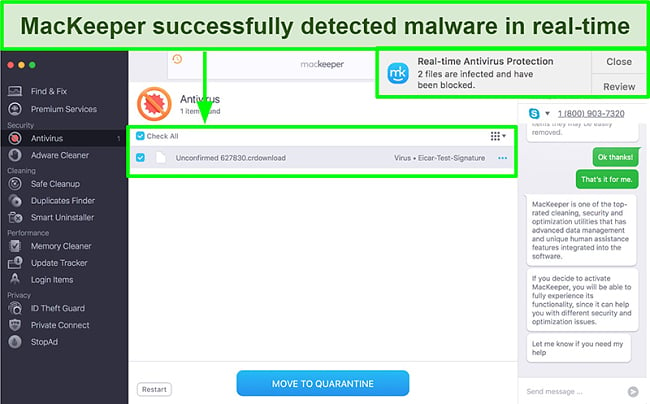 I find that the real-time scanner is very important in addition to full and customs scans because it gives you instant and automatic protection. This way, you don't have to wait for scheduled scans (or run one manually) to detect threats.
Adware Cleaner — Identifies and Flags Apps With Hidden Adware
This function analyzes the apps on your computer that could be secretly hiding adware (especially "free" software). While most aren't dangerous, they still greatly impact your user experience by spamming you with pop-ups and unwanted ads. Worse still, many could slow down your computer and take up precious resources.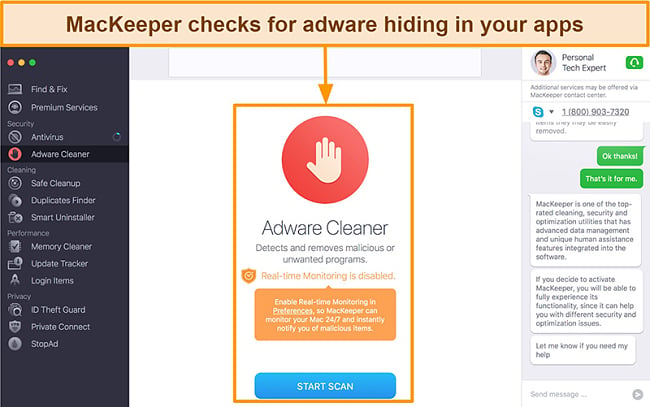 MacKeeper's adware cleaner was fast and took less than 5 minutes to analyze my system. None were found on my system, but I felt confident knowing there was an easy way to check for it. Conveniently, the Adware and Malware Scans run at the same time if you launch them from the "Find and Fix" tab.
Features - 8
MacKeeper offers a great assortment of useful features with tools for system cleaning, performance optimization, ID theft protection, and even a VPN. The feature selection is comparable to those boasted by the top antiviruses on the market.
However, there's a notable omission. MacKeeper doesn't offer any parental control features, so you can't use this antivirus to monitor your child's online activities. While it may seem unusual for an antivirus to include parental controls, it's become the norm with competitors like Intego, Norton, and McAfee all bundling it into their antivirus software.
VPN Private Connect — Great for Streaming With Unlimited Data
I'm impressed by VPN Private Connect, which is MacKeeper's built-in Mac VPN software. It offers access to 200+ servers in 50 countries, including popular locations like the US, UK, Canada, France, and Germany. Every server is protected by military-grade encryption.
I ran a leak test to check whether my Internet Protocol (IP) address was really hidden — and it was! Despite my physical location in Australia, the VPN successfully displayed my virtual location as the US.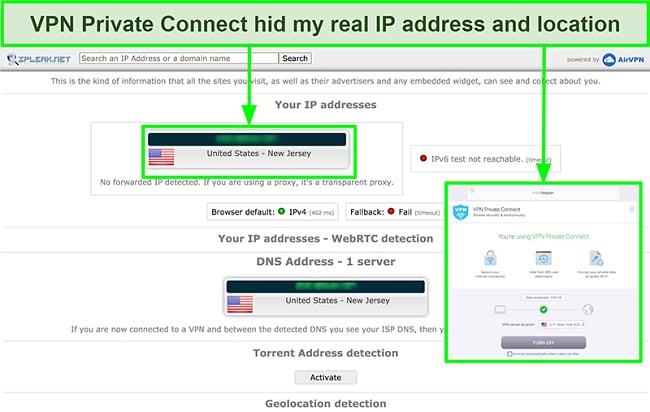 Unlike many antivirus competitors, MacKeeper's VPN even provides unlimited bandwidth. However, MacKeeper's VPN slowed my speeds down so much that I experienced endless buffering when watching Netflix. Even on the nearby servers in Australia — which are close enough to not slow my speeds down too much — I noticed a speed drop of 85%. When I ran a speed test on a faraway server in the US, my speeds plummeted 91%.
I find MacKeeper is sufficient for casual web browsing, but you might want to consider a standalone VPN if you enjoy streaming or torrenting. There are other antivirus brands with faster VPNs, but there's always a trade-off. For instance, Bitdefender's in-built VPN is fast but you need a premium subscription or you'll be stuck with just 200MB of data per day.
Stop Ads Browser Extension — Blocks the Majority of Ads and Trackers on Safari and Chrome
Stop Ads blocked ads about 80% of the time during my tests. After activating the Stop Ads extension in Safari and Chrome, I visited news sites The Independent and Daily Mail. The tool effectively blocked banner and video ads but couldn't stop the pop-up notification showing that an ad blocker had been detected.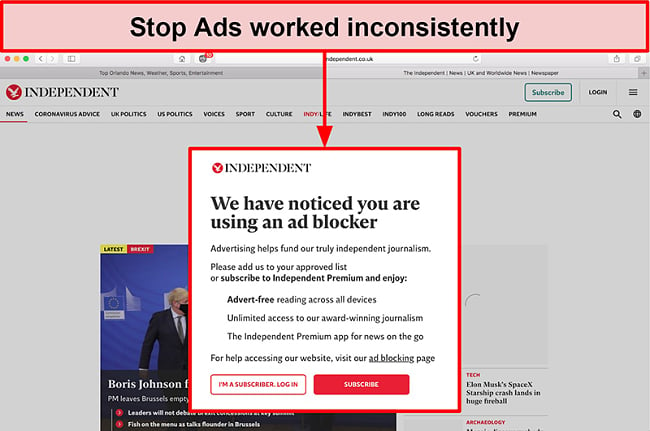 However, I was impressed that MacKeeper's ad blocker prevented YouTube video ads from playing by displaying a white screen for the duration instead. Even many dedicated ad blockers can't do this! Stop Ads is quite capable, but if you want something that is more consistent you check out the top ad blockers out there (free and paid).
ID Theft Guard — Monitor Emails and Passwords for Data Breaches
This is one of MacKeeper's most useful and unique features. In fact, you'll only find ID Theft Guard among a handful of antivirus providers on the market (like Norton and TotalAV).
When I tested this feature, I was shocked to find 1 email address had been compromised. MacKeeper showed me the passwords revealed in the breach and prompted me to change them. Fortunately, none of the passwords listed were still in use. However, it did give me a scare to think that my data could be so easily accessed online — but at least MacKeeper will alert me if my passwords have been breached in the future.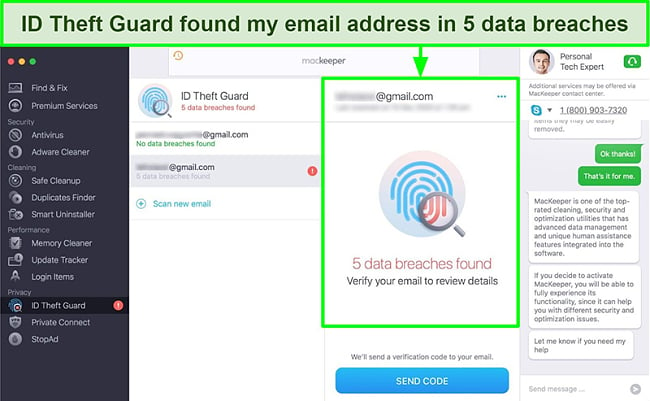 Cleaning Tools — Removes Unnecessary Files and Apps
These tools are a simple and effective way to wipe unnecessary files from your Mac and maximize storage for files you actually use. You can choose 3 options: Safe Cleanup, Duplicates Finder, and Smart Uninstaller.
Safe Cleanup — Clears Junk Files to Make Space
This feature identifies and removes useless files that are taking up precious space on your computer. It was very easy to operate with only 1 button to click. After a 1-2 minute scan, it showed me different junk files in different categories like logs, caches, trash, languages, and email attachments.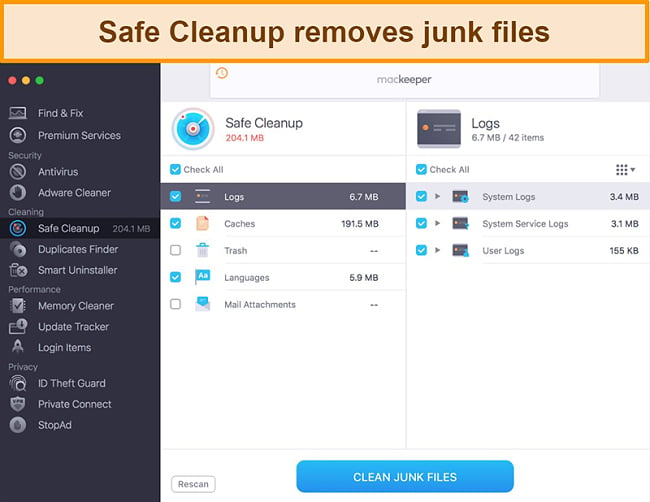 You can even individually inspect each file before clearing them just to make sure you're not deleting something you actually need. I only had about 200MB of data to clear, but if you've got a cluttered Mac, this will be a useful feature for you.
Duplicates Finder — Flags and Deletes Repeated Files
I freed over 7GB of data on my Mac when I tested this tool. I was shocked that it took an entire 30 minutes to complete — but it could've been because I had 154 duplicate files! Seeing how much space I recovered, I felt that it was still worth the wait.
I especially liked that I could inspect each file individually and select those I still wanted to keep before deleting the rest.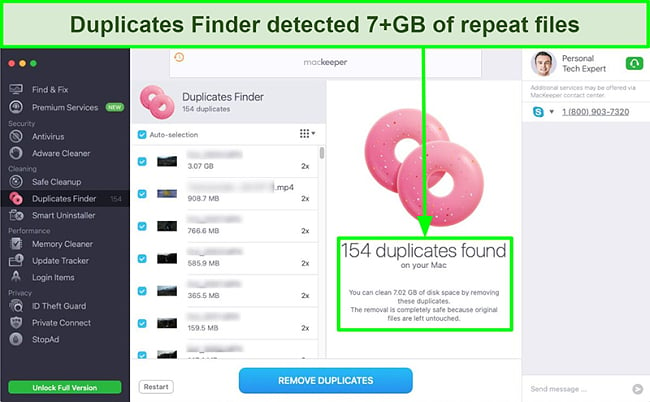 Smart Uninstaller — Identifies Unused Programs Taking Up Space
The Smart Uninstaller feature helped me find and remove apps, widgets, plugins, and browser extensions that I no longer used. Between all these programs, Smart Uninstaller freed up over 18GB of data on my Mac.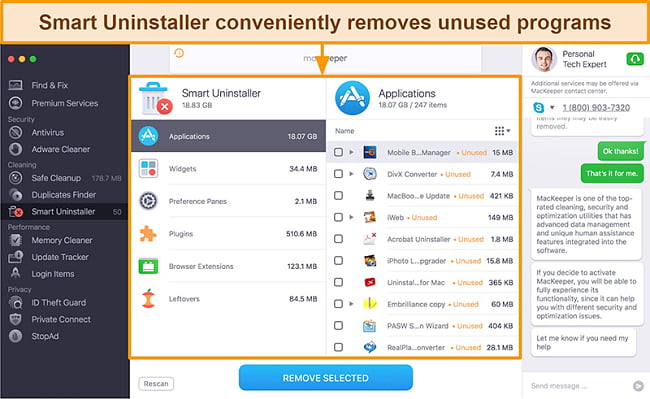 Currently, there is no way to auto-select all programs at once for removal, but that may be a good thing. I found quite a few in there that I still wanted (e.g. iPhotos was flagged as "unused") even though I haven't opened them in a while. So remember to look through each program before selecting it for deletion.
I could even configure the unused programs MacKeeper recommends for removal. For example, I set up Smart Uninstaller so I would be alerted only once selected programs took up a large portion of my Mac's storage.
Optimization Tools — Boosts Mac Performance for Faster Speeds
The Performance functions helped my Mac operate at the fastest speeds by keeping apps up to date and boosting RAM. These functions are split into 3 sections: Memory Cleaner, Update Tracker, and Login Items.
Memory Cleaner — Get Back More RAM By Closing Resource-Intensive Apps
From the Memory Cleaner function, you can see a live picture of how your RAM (Random Access Memory) is being utilized. During tests, my machine was using 7.5GB RAM and I only had about 463MB that was still available.
When I clicked "apps and processes", I could see how much memory was being occupied by different programs. I was shocked to see many programs working in the background that I wasn't aware of. From here, I could choose to close applications individually, or click on "clean memory" on the main tab and let MacKeeper decide which programs to close.
After the cleanup, I managed to get back an impressive 3GB of RAM! I never had any issues with the speed of my computer to begin with, so I couldn't notice any significant difference in performance. However, it was still a good way to free up some RAM without restarting my computer.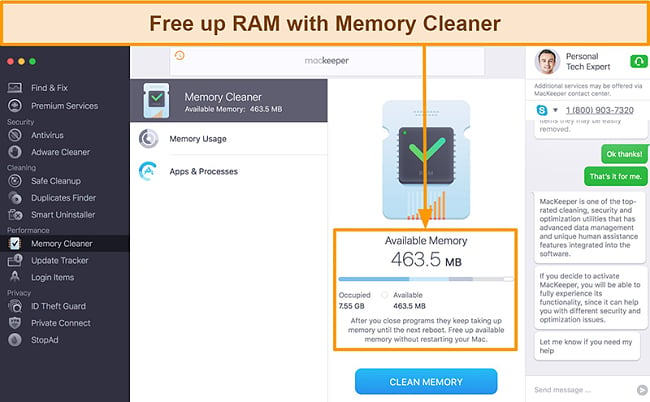 Update Tracker — Shows Which Apps Need Updating
The Update Tracker scans all the apps on your Mac for updates. This helps reduce your Mac's vulnerability to malware exploits. The analysis took about 30 seconds when I tested it.
I liked that the Update Tracker showed me programs downloaded outside the App Store — especially since some of these programs don't receive update notifications unless you open them. I could select all the programs together to have them updated simultaneously.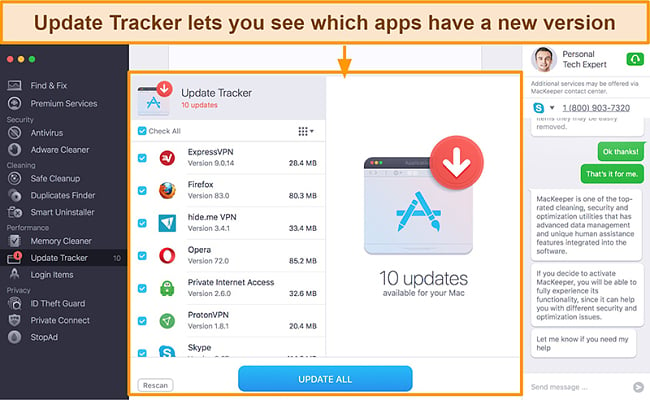 Login Items — Streamlines Mac Startup to Improve Efficiency
The Login Items feature shows you which programs are automatically enabled during startup. You can select which apps you want to disable so that booting your Mac becomes faster. However, I wished there was more guidance about which programs to remove. There were quite a few which I wasn't sure were important or not. Because of this, I didn't make any changes and I felt that this function wasn't very useful to me.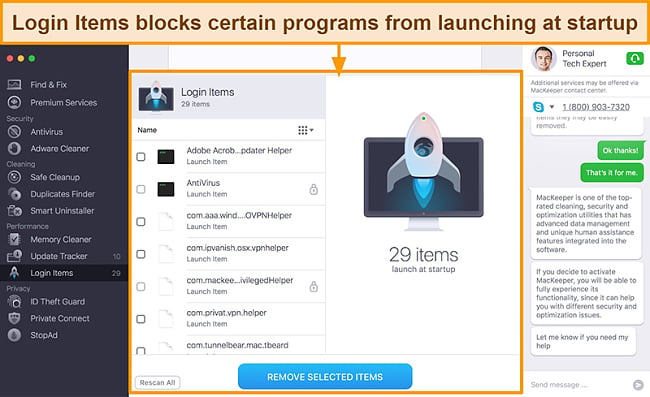 Ease Of Use - 10
MacKeeper is extremely well designed because of its minimalistic look and intuitive interface. I started the program and managed to figure out how to use it just by clicking around. As a bonus, it's available in 15 different languages which makes it convenient for non-English speakers.
I was disappointed that MacKeeper doesn't have an iOS app. But it's not really a major flaw — many antiviruses don't. That's because iOS sandboxes all third-party apps, meaning that a malicious process wouldn't have access to the rest of the programs on the device. While the effectiveness of iOS's security is up for debate, antivirus apps can help with ad and malware blocking on websites — a nice addition to have on your iPhone or iPad.
The name makes it rather obvious, but it's worth stating that MacKeeper doesn't work on Windows. If you want an antivirus that can work across both operating systems, you can try Intego risk-free with its 30-day money-back guarantee.
Mac App — Simple and Intuitive User Interface
When you first open the program, MacKeeper prompts you to do an overall check of your system. It then gives you its recommendations in the 4 main areas of security, privacy, cleaning, and performance. I liked that MacKeeper's overview gave me a visual snapshot of what optimizations could be made.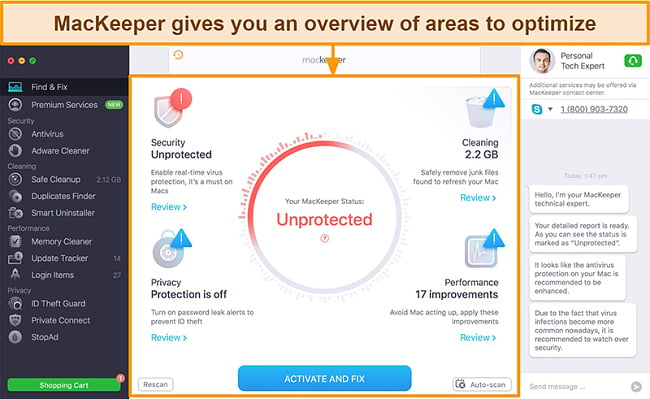 Using each function is also extremely simple. Most of the time, I only had to click 1 or 2 buttons to review or implement the suggested fixes. With this simplicity, I felt that I couldn't accidentally do something harmful to my MacBook. I almost never had to look at the online FAQ page to learn how to use MacKeeper.
I was concerned that uninstalling the program could be difficult as there were many reports of people having problems with the old version of MacKeeper. Fortunately, the updated MacKeeper is very easy to remove. All you need to do is drag and drop the application into the trash like any other program. The company has even added a simple FAQ to follow on its website if you need more guidance.
Support - 7
Your support options include live chat, phone, and email support in English and all available 24/7. There's also support for German and French-speaking users through all avenues between 9am to 5pm in both countries.
Unfortunately, in my experience, only phone and email support can help answer complex technical queries.
24/7 Live Chat — Fast and Friendly Customer Support
MacKeeper's live chat agents are friendly and quick to respond, but I found that they lack the expertise needed to answer most technical questions.
When I first opened the MacKeeper program, I was immediately impressed that the live chat feature is built into the app interface itself. This made it very convenient to start talking to someone whenever I needed assistance. The live chat support staff were also extremely responsive every single time I contacted them and eager to help — I never had to wait more than 10 seconds for a reply.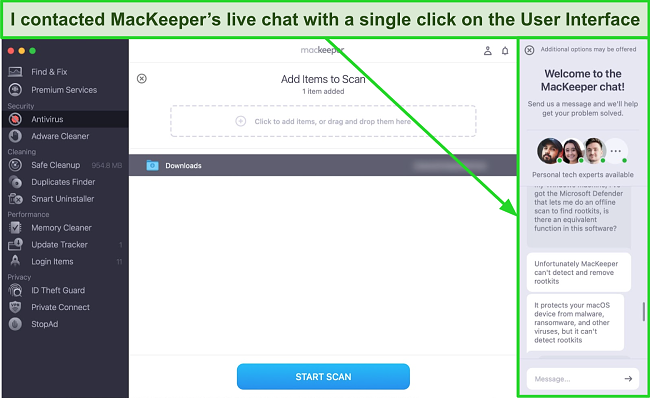 However, I was underwhelmed by the level of knowledge the agents had about their product. For example, one of the representatives had to ask me where I saw the "Daily Scan" button — even though it's clearly visible under the "Find & Fix" tab. When I inquired about a suspicious error message I found in MacKeeper's logs, the agent also asked me to take a screenshot and send it to the support email.
I feel that live chat support would be smoother if the chat window supported attachments, such as screenshots. On the upside, a chat representative instantly confirmed that MacKeeper can't detect rootkits. While this wasn't the answer I was hoping for, I was glad that the agent knew this limitation and didn't try to dodge the answer.
Email Support — Suitable When You Don't Have Time to Chat
MacKeeper's email support was fast, but the answers didn't fully resolve my queries.
I emailed MacKeeper about an error message that popped up during my tests — it took less than 1 day to receive a response. The support team's first reply gave a brief explanation, saying the message meant that a scan had failed. So I sent a follow up email asking if there was a threat on my device and whether the real-time protection was running.
In the next reply, MacKeeper didn't offer an explanation about the cause. I was simply told that this error message didn't imply there was a threat on my Mac or that real-time protection was malfunctioning. Since the scans seemed to be running well, I stopped worrying about the strange error messages.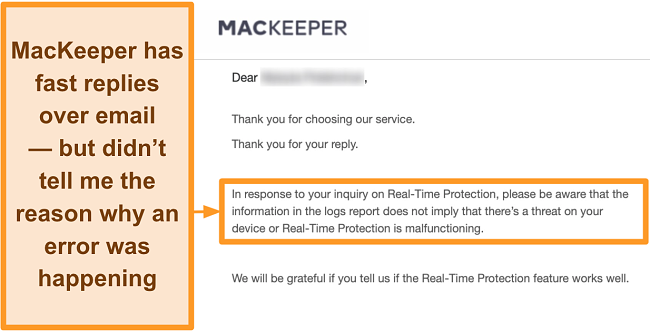 Overall, I was impressed with the response times and the support team's professionalism. However, I still wish that email support gave me a more concrete answer about the root cause of the error messages I found in the logs. I hope that in the future, MacKeeper's support will have the expertise to address complex technical questions.
Phone Support — Best for Technical Questions
Phone support is the fastest way to resolve technical issues. The person I spoke to was definitely more knowledgeable compared to the staff on live chat. She directly told me that there was no way to see the total number of files scanned on MacKeeper's antivirus. I would definitely recommend using phone support if you have more technical questions about MacKeeper.
You can use phone support in the US, UK, and Australia 24/7. Again, I was really impressed with how fast I was connected to someone — less than a 15-second wait.
Website — Quick Answers to Simple Troubleshooting Questions
The FAQ page is a good resource for basic questions. You can learn about how to operate each feature as it gives you step by step instructions. It's best to look here first if you have any questions about MacKeeper, and if you want more help you can either choose chat or phone support.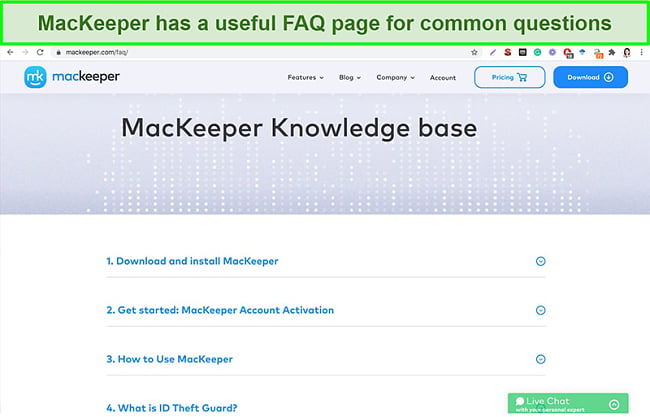 Price - 7
MacKeeper has the same features for each subscription. The only difference is whether you opt for the yearly or monthly plan, and the number of Macs you want to use it on. However, you'll get the best value when you sign up for a longer-term plan. All plans come with a 14-day money-back guarantee, so it's completely risk-free to try MacKeeper on your own Mac.
In comparison to the rest of the market, MacKeeper is pricier than leading Mac antivirus Intego but cheaper than top all-round antivirus brands like Norton.
Free Version — 1-Time Access to Key Features
The free trial lets you perform all the scans and fixes available on the paid plan, but just a single time. After that, you'll be prompted to upgrade to a paid subscription.
While testing the free version, I created an account by simply entering an email address — and got immediate access to the full suite of features. I ran a full system scan, which detected and blocked all my malware samples. I could also run all the clean-up, optimization, and privacy features once.
Overall, I felt that the free trial gives a basic understanding of how MacKeeper works, but may not be enough to help you make up your mind before committing to a subscription. The good news is that MacKeeper also offers a 14-day money-back guarantee, which you can use even if you've already used up the free trial.
14-Day Money-Back Guarantee
While shorter than the industry standard of 30 days, I found MacKeeper's 14-day money-back guarantee is enough time to test all its features. I tested the antivirus for 10 days and then proceeded to use the online Refund Request Form on the website to request my money back.
Annoyingly, I found that the refund request form asked for both a summary and a detailed explanation of my reasons for the request. I also had to provide my contact info and the reference number (which I eventually found on my invoice PDF).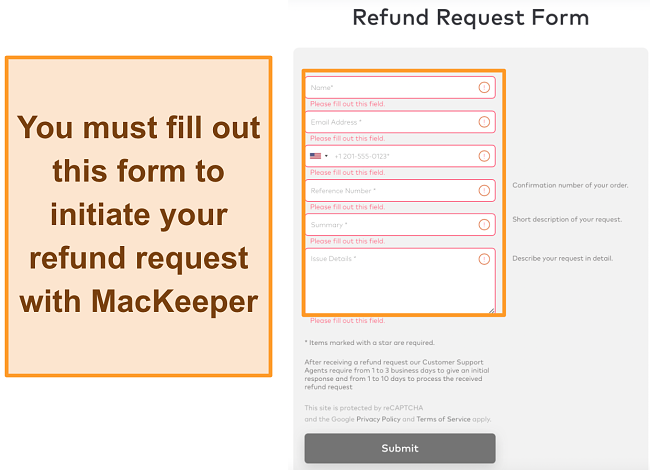 Only a few hours after submitting the refund request form, I got an email from MacKeeper's billing support. MacKeeper offered to sort out any technical issues over live chat and a free 3-month extension. As great as the deal was, I emailed back insisting on getting my money back — and I got a refund confirmation email the next day. The money returned to my account only 3 days later.
While I did get my money back quickly, I feel that the process was more challenging than it had to be. For instance, Intego processed my refund request in only 10 minutes over live chat without asking for my cancellation reason.
That said, MacKeeper's money-back guarantee does work, so you can download MacKeeper today and try all its features risk-free. If you find it doesn't meet your needs, you can get a refund hassle-free.