6 Best Anti-Malware Software for Removal + Protection (2023)
Last Updated by Lucca RF on February 01, 2023
New malware is released daily so it's highly likely that your device will suffer a nasty malware infection at least once. Even once is disastrous though. While most malware spies on you silently without you ever knowing, ransomware aggressively holds your private files hostage in exchange for money while viruses can infect every device on your home network.
I tested over 30 anti-malware programs but unfortunately, I found that most can't actually detect every strain of malware. Even if it can, it might not have the ability to remove it. That's why I shortlisted the best anti-malware options for 2023. Any of these options will protect you from all types of malware with comprehensive real-time scanning and removal tools.
If you want the quick answer, Norton has the most powerful anti-malware engine that detects and removes dangerous files as soon as they appear. It even comes with bonus features like a VPN and encrypted cloud backup. You don't have to take my word for it though — you can try Norton for free for 60 days with the money-back guarantee. I even signed up myself and I easily got my money back in 5 days.
Try Norton for free for 60 days!
Quick Guide: Best Anti-Malware Software in 2023
The Best Malware Removal and Protection Software (Tested February 2023)
Key Features:
Powerful real-time malware scanner and remover
Includes encrypted cloud backup, VPN, password manager, and more
Compatible with Windows, Mac, Android, and iOS
24/7 customer support over live chat
60-day money-back guarantee
Norton is the #1 anti-malware product on the market, with robust security backed by convenient additional features. It uses heuristic analysis to identify new types of malware before they can become a problem. Norton also uses a real-time scanner that actively monitors your online traffic and prevents you from downloading or interacting with malware. This is why it has a 100% protection rate against zero-day malware attacks and detected 100% of recent threats during a device scan. It ensures your device is kept safe from malware of all kinds, including ransomware, spyware, phishing, and more.
Over 200,000 new pieces of malware are created every day, so it's vital to stay up-to-date. Norton's malware database is updated daily, so you're always at the cutting edge of security, and new threats can't slip by your defenses. Coupled with its AI detection, this means Norton is well-equipped to deal with a wide range of threats. Norton's Safe Web extension uses a combination of AI and community feedback to warn you if websites are malware-infested or pose a phishing threat. During my testing, Norton Safe Web detected nearly 99% of threats compared to Chrome at 97%. This is just another layer of protection to keep you safer and more informed online.
You can choose between 3 different scan types, including a quick scan, full scan, or custom scan. These options allow you to perform an unobtrusive daily scan of your computer's most vulnerable parts, only specific sections, or the entire drive. I have a quick scan scheduled to run every morning and a full scan three times a week, so I keep my computer protected without performing any manual actions.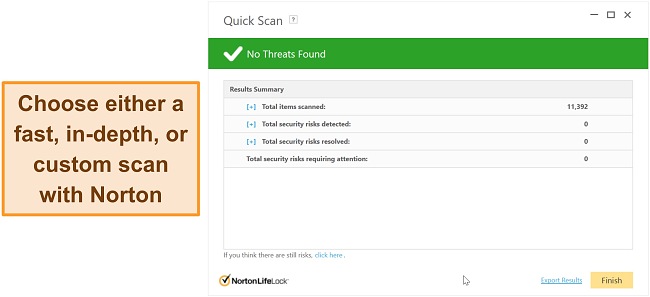 Norton also offers some useful additional security features to complement its core malware protection. My favorite is Norton's Cloud Backup feature, which gives you up to 75GB of cloud storage to secure your most sensitive data and protect it against ransomware. Another useful feature is the Secure VPN, so you can browse securely, access geo-blocked content, and torrent anonymously. Norton is also faster than the industry average in all tests besides launching websites and even then, it's only a marginal decrease. In fact, without monitoring these differences in loading times, I wouldn't notice them in the first place!
You can try Norton 360 for free for 60 days with its money-back guarantee to see for yourself. I even tested the money-back guarantee process myself by testing the features for a month before requesting a refund over 24/7 live chat. The process took under 5 minutes in total, and the agent approved my refund without any hassle. I had the money back in my account only 5 days later.
Try Norton for free for 60 days!
Key Features:
Excellent malware detection rates during scans and real-time
Comes with a VPN and password manager
Supports Windows, Mac, Android, and iOS
Customer support via live chat, phone, and email
30-day money-back guarantee
TotalAV defends your devices against a wide variety of malware, including phishing, ransomware, and spyware. I was impressed with its 100% detection rates during scans, although it only scored 99% in real-time protection tests. This places TotalAV last on this list, although it's still considerably more powerful than most competitors on the market.
By default, TotalAV quarantines all potential threats so you don't have to act immediately. When a threat is discovered, you're warned through a pop-up notification you can choose whether to delete, quarantine, or keep it. Once you're ready, you can examine the file more closely and remove it simply by clicking the "Fix all" button.
TotalAV's phishing protection comes in the form of its Safe Site browser extension (Chrome, Firefox and Edge), which is backed by a huge database of dangerous phishing URLs. It's a passive way to protect yourself from these phishing threats, and worked well in my testing
I found the biggest downside is the user interface. Although it allows plenty of configurability, the features aren't well-explained and confusing to use. I'd appreciate a more straightforward layout or at least a better support section to run through what each feature offers.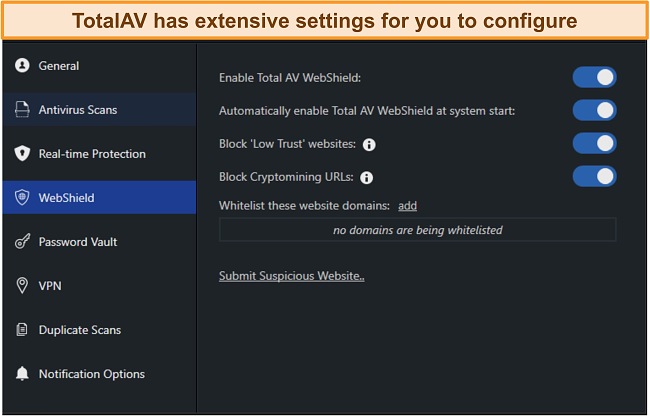 You can try TotalAV for free for 30 days with its money-back guarantee. I tested the policy by signing up for an annual subscription before contacting support by email. Unfortunately, it took 2 days just to receive a reply asking me to confirm that I wanted a refund. However, once I replied, I had the refund confirmed within 3 hours.
Try TotalAV for free for 30 days!
Key Features:
Easily detects and removes malware in tests
Includes a VPN, password manager, and file shredder
Works on Windows, Mac, Android, and iOS
Customer support available via phone
30-day money-back guarantee
McAfee is a highly-secure choice with a perfect malware detection score when tested against the latest cyberthreats. It even protects you against "fileless" malware. These are advanced threats that appear in your computer's memory (RAM) without actually being saved on your hard drive. Not all anti-malware programs can promise to protect against these, giving McAfee an edge and helping secure you against even these severe threats.
You can use 3 different scan types (quick scan, full scan, or custom scan) and regularly schedule them so there's no need for you to remember to run them. When I ran the quick scan, I was impressed that it only took under 5 minutes to scan over 10,000 items. The full scan was equally fast at just over 50 minutes for 590,000.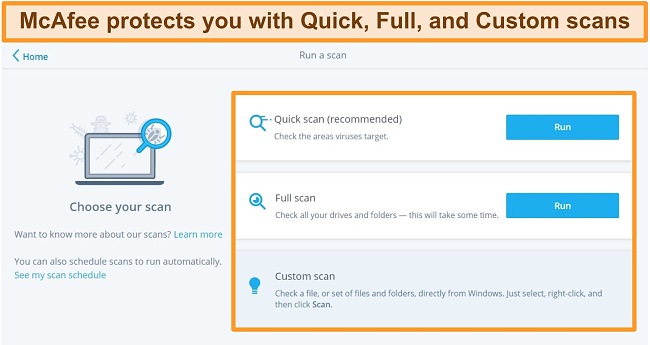 McAfee comes with a range of extra features to fully secure your device. I especially like McAfee's Ransom Guard tool, which constantly monitors your device to block any unauthorized changes to files or folders. Ransom Guard uses machine learning to constantly analyze the latest malware being released.
I'm also a fan of the file shredder and password manager. McAfee's file shredder securely wipes your data by overwriting it up to 10 times, so there's nothing left to salvage. The password manager encrypts all your passwords behind a master password and then auto-fills them on relevant websites. It's easy to navigate, fast, and works across Windows, Mac, Android, and iOS. The downside is that the free version included only stores up to 15 passwords.
It's risk-free to try McAfee's advanced anti-malware capabilities for free for 30 days with its money-back guarantee. Unfortunately, the only option to get a refund is to submit a form request and then call the number you're sent — there really should be a live chat or email option. Fortunately, it was an 0800 number (free in the UK), and the process only took around 10 minutes. I had the money back in my account just 1 day later.
Try McAfee for free for 30 days!
Key Features:
Superb malware protection rates in tests
Comes with Game Booster, ID Protection, and a separate VPN
Apps available for Windows, Mac, and Android
24/7 customer support via email
30-day money-back guarantee
BullGuard is the best choice for gamers due to its excellent malware scanner and standout Game Booster feature. In tests, it achieved 100% detection of recent malware threats during scans, making it great for malware removal. Fortunately, you also get 100% protection against zero-day malware exploits while browsing and opening infected materials. I was equally impressed that BullGuard detected all ransomware and phishing attacks during my tests.
What makes BullGuard a particularly great choice for gamers is its Game Booster feature. While it continues to protect your device from malware while you're gaming, it also moves other background processes off the CPU cores used by the game. This results in malware protection at all times and noticeably improved performance! System performance while running BullGuard was only 8-12% slower than standard, which is in line with other high-quality antiviruses. I also noticed minimal system impact while running any of the malware scans (quick scan, full scan, or custom scan) for an overall streamlined experience.
If you want to keep your online banking or e-commerce activity safe from spyware or keyloggers, BullGuard's Secure Browser verifies the website's certificate (to ensure it's legitimate) and encryption (so your traffic is secure). It even validates the site's reputation with its database. Crucially, it prevents your login credentials and card details from being read by attackers. I also like BullGuard's firewall — the automatic settings offer enough protection but you can also modify plenty of options to ensure it's tailored to your device and the programs you're running.
The integrated Home Network Scanner is another fantastic addition that I haven't seen in an anti-malware before. You can use it to see if any of the devices on your local network attempt to make suspicious connections to the outside. It will also warn you if any devices pose a particular security threat if they have open ports or other issues.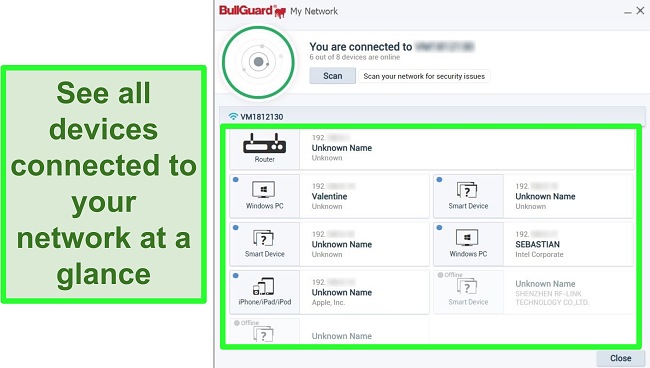 However, this is the final main feature available — overall, BullGuard has the leanest offering when it comes to features. I would've liked to see an integrated VPN (opposed to the current standalone offer), password manager, or cloud backup.
If you want to see first-hand how BullGuard combines premium protection with high-performance gaming, you can try it out for free for 30 days with its money-back guarantee. I verified this by signing up for a year, and after testing BullGuard for a few weeks, sent a refund request to its email support. Support confirmed the refund in under 9 hours, and I had the money back in 5 days.
Try BullGuard for free for 30 days!
Key Features:
Anti-malware engine protects you from ransomware, viruses, and more
Includes password manager, parental controls, and file shredder
Works on Windows, Mac, Android, and iOS
24/7 customer support available over live chat and email
30-day money-back guarantee
Bitdefender has a strong set of anti-malware features. You can choose between 3 scan types: quick scan, full scan, and custom scan. Between them, this allows you to analyze the most at-risk parts of your computer, the whole device, or only folders you suspect may contain threats.
In tests, Bitdefender correctly identified and blocked every malicious file during scans. Its real-time detection rates are marginally lower at 99.7%. This is still a great score and will help keep you safe online against a combination of zero-day malware exploits and older, more established attacks. When it comes to phishing attacks, Bitdefender uses AI techniques to analyze emails and websites and compare them to existing attacks to determine common characteristics.

Bitdefender's ransomware protection is equally powerful. In the event that your device gets infected, the ransomware recovery tool will decrypt your data without you having to pay a ransom to the attacker. In testing, it even prevented a ransomware encryption mid-way and then instantly recovered the affected files!
In addition to its anti-malware features, Bitdefender offers extra tools like a file shredder password manager, parental controls. It even has a VPN, although I was disappointed that it only offers 200MB of daily data on all plans except one.
You can see for yourself when you try Bitdefender for free for 30 days with its money-back guarantee. I signed up for an annual subscription and ran tests for a few weeks. I then sent an email to customer support and was slightly disappointed that it took 5 days to get an answer. However, they didn't require a follow-up, so I had the money back in my account within 5 days.
Try Bitdefender for free for 30 days!
Key Features:
Real-time protection caught and quarantined all malware
Includes a Web Shield to automatically block malicious URLs
Supports Windows and Mac
Customer support via live chat and email
30-day money-back guarantee
Intego caught and quarantined 100% of the malware on my testing PC and Mac. Its real-time protection found every piece of malware automatically, but it also never missed threats during either a quick or full system scan.
In addition to traditional malware that can be caught with known definitions, Intego protects you from threats that have just been released into the world. To do this it uses an advanced Prevention Engine, which is turned on by default. This system catches unconventional malware that typical scans will miss.
Intego's apps for Windows and Mac are lightweight and easy to use, performing scans without noticeably slowing down my system. In Windows, Intego only used 46-47MB of memory and 2% of my CPU.
You can try Intego risk-free with its 30-day money-back guarantee or test it out for a week using the free trial.
Quick Comparison Table: Best Anti-Malware Software in 2023
Malware
Protection & Removal
Firewall
VPN
Free
Version
Money-Back
Guarantee
1. Norton

✔

✔

✔

✘

60 days
2. TotalAV

✔

✔

✔

✔

30 days
3. McAfee

✔

✔

✔

✘

30 days
4. BullGuard

✔

✔

Add-on

✘

30 days
5. Bitdefender

✔

✔

✔

✔

30 days
6. Intego

✔

✘

Add-on

✘

30 days
None of These Anti-Malware Brands Are Good Enough
1. Avast and AVG
At the start of 2020, journalists and security researchers discovered that Avast had been aggregating and selling user data through a subsidiary company, Jumpshot. Although they claimed this data was fully anonymous, it included private data such as Google searches and website visits. With this information, security experts believe it would be possible to link to individual users in some cases. Jumpshot was since shut down; however, it's undeniable that Avast has lost the trust of many (including myself).
Unfortunately, AVG is owned by Avast and was involved in the data-selling scandal.
2. Microsoft Defender
It may be free and have good protection rates, but Microsoft Defender lacks the all-encompassing anti-malware protection that its competitors offer. This makes you more vulnerable to a number of online threats (like phishing or ransomware) and can result in data loss, account breaches, and more. You also have to account for the features that heavily complement online security, including VPNs, password managers, and file shredders that most of my picks include.
How I Ranked the Top Anti-Malware Programs
These are the criteria I use to choose the best anti-malware products on the market:
Security — Most important for any anti-malware software is that it has the highest possible malware detection and removal rates. By testing all of these programs I've ensured that they actually do what they claim.
Additional features — Anti-malware protection alone is great, but I appreciate it when a security suite adds other useful features (including a VPN or cloud backup) that complement my device's safety. I've used each of these features to confirm that they actually add value to the overall package.
High performance — Every option needs to offer superb performance on top of reliable protection, which I've tested by measuring speeds across multiple scenarios. Although there will always be a minor performance hit when running an anti-malware program, it should be as small as possible.
Simplicity — Navigating and using an anti-malware program's functions should be simple for both beginners and advanced users. I've examined all of the interfaces and menu options to ensure they're friendly for all users.
Value for money — The price has to match what the package offers overall. This includes the level of security, features, available support, and whether you can get your money back if you change your mind. I've compared each program's overall package against its price to judge whether it's worth the money.
Try Norton for free for 60 days!
FAQ: Malware Protection and Removal
What's the best free anti-malware program?
Bitdefender has one of the best free anti-malware products on the market. However, the free version is very limited when it comes to more advanced types of malware, including ransomware. If you need to ensure the safety of your local files and protect against all possible cyber threats, I suggest you check out the premium version and see if it fits your budget.
Which anti-malware app is the best in 2023?
Based on my tests, I found the best anti-malware is Norton. It scores consistently well in malware scans and real-time protection tests. You also get an unlimited data VPN that keeps you anonymous while browsing and torrenting and gives you access to Netflix US. Finally, it offers numerous features that complement your core security, from its Cloud Backup that assists against ransomware, password manager to keep your credentials secure, and Parental Control features to protect your children online.
You can try Norton for free for 60 days with its money-back guarantee. I easily got a refund after using it for a few weeks by contacting a support agent through the 24/7 live chat and had the refund approved within minutes. I had the money back in just 5 days.
What's the difference between a virus and malware? Or antivirus and anti-malware?
A virus is a type of malware. Malware includes many different types of cyberthreats, including viruses, ransomware, adware, phishing scams, trojans, worms, rootkits, spyware, adware, and more.
These days, the terms "antivirus" and "anti-malware" are used interchangeably. The best antivirus brands all include anti-malware features in their software. In the past, some anti-malware providers offered more specialized protection against specific types of malware (like ransomware). However, there's practically no difference anymore.
Download the best anti-malware software
Protect Your Device From Numerous Online Threats With a Quality Anti-Malware Program
Many people don't give credit to what a good anti-malware program can do for them — until it's too late. With the internet as jam-packed with malware threats as it is, you're taking a big risk every time you connect if you're not adequately protected. Fortunately, the top 5 above will keep your devices secure while giving you access to genuinely useful additional features like VPNs and password managers.
After extensive testing, I've found that the best anti-malware program is Norton. It leads the market with 100% malware detection rates while scanning, plus 100% protection against real-time malware threats. Combined with an unlimited data VPN, parental controls, and several more features, Norton is my #1 pick for malware protection. Even better, you can try Norton for free for 60 days with its money-back guarantee.
---
Summary — Best Anti-Malware Programs in 2023