TotalAV

Review 2021 — Too "Cheap" to Be Safe for PC, Mac & Mobile?
TotalAV Overview January 2021
A relative newcomer to the market, TotalAV markets itself as a globally trusted antivirus. And, at first glance, its security features rival top brands like Norton and McAfee—at much lower prices. But does TotalAV actually perform like an industry-leading antivirus, and will it give you value for your money?
Being a firm believer in getting what you pay for, I wanted to check if TotalAV's attractive prices really mean subpar performance. I put the program's free and premium versions through exhaustive testing on Windows, Mac, Android and iOS devices.
TotalAV impressed me with superb malware detection rates and robust real-time protection. Both the paid and the free versions also surprised me with a tremendous host of features, which include a VPN from the well-known provider Windscribe, an ad blocker, a password vault, and a breach detector. This far exceeds what other premium antivirus competitors offer at higher price points.
The only catch is that the low price is only available for 1 year. And, the free version expires in only 7 days. That said, all of TotalAV's paid plans offer a 30-day money-back guarantee — which I successfully tested — so you can try the antivirus risk-free!
Try TotalAV risk-free for 30 days!
In a Rush? Here's a 1-Minute Summary
Security - 10
My tests revealed that TotalAV's real-time protection, malware scans, and safe browsing tools outperform premium competitors such as McAfee, Bullguard, and Bitdefender. What's more, the TotalAV app has little effect on Windows, Mac, Android, and iOS devices' system speed and performance.
Virus Scan — 3 Scan Options to Detect and Block Malware
TotalAV's free and paid versions offer 3 virus scan options: the full malware scan, the Smart Scan, and the custom scan.
During tests, my team and I performed a full scan on a test computer by downloading malware no older than 4 weeks. During the 22-minute procedure, TotalAV identified 100% of viruses, spyware, ransomware, and other forms of malware, which is the industry average.
I also tested TotalAV's Smart Scan – a basic check of files in the Desktop, Startup, Browser, Folders, Cookies, and Cache. The scan examined over 55,000 files, and while no malware was detected, it found several items for me to optimize on my device. These included:
tracking cookies from the sites I visited, and search history
junk and duplicate files that clutter up my disk space
auto-run programs that slow down my system's boot time
Antivirus programs can slow down a device when they run in the background, so I paid particular attention to my computers' system speeds as I tested TotalAV. I found that the slowdown was negligible and didn't have any noticeable impact on my regular browsing.
However, I did experience minor delays when downloading and installing programs. Compared to its peers, TotalAV causes fewer system delays than most other antiviruses, except McAfee and Kaspersky. That said, TotalAV is still the better choice overall. Kaspersky's alleged collusion with state powers got it banned from US government agencies, while McAfee lacks TotalAV's range of features.
I also tracked how long each type of scan took and how many files it included during testing. The speeds were consistent between devices, and are similar to what Norton achieved in our testing.
On a Windows 64-bit PC, the full malware scan examined over 940,000 files in 22 minutes, while the Smart Scan covered 55,000 files in only 5 minutes. On my Mac, the Smart Scan took 22 minutes to examine +900,000 files, and the full malware scan lasted 28 minutes and checked 1,230,000 files.
Keep in mind that there are many variables affecting scanning speeds, such as file size, complexity of malware, age and type of hardware, and many more. So scanning speeds on your device can be vastly different than mine.
Real-Time Protection — Blocks 99% of All Cyberattacks
I needed to know how TotalAV performs in warding off real-time threats. So, I went back to the test computer, where TotalAV detected 99% of new malware discovered in the last 24 hours. That's impressive for malware only just released for less than a day. Only Norton achieved a perfect score of 100% in the same tests, while the industry average is 97%.
I always prefer a thorough scan, even if it labels a few harmless files as 'malware'. After all, missing a real threat is the more critical problem. My real-time testing of TotalAV revealed that 0.5% of identified threats were in fact legitimate files. Considering that competitors like Panda falsely flag twice as many harmless files, TotalAV's result is not a cause for concern.
Safe Site Browser Extension — Blocks Phishing Scams and Ads in Chrome, Firefox, Edge, and Opera
TotalAV's Safe Site extension includes several features that help you browse safely, privately, without annoying ads and site notifications.
The WebShield feature safeguards your device from ransomware attacks and phishing sites. In my testing, the WebShield flagged more known ransomware links and phishing sites than either of these browsers.
Before it'll work in the browser extension, you must set up the WebShield through your desktop and smartphone app: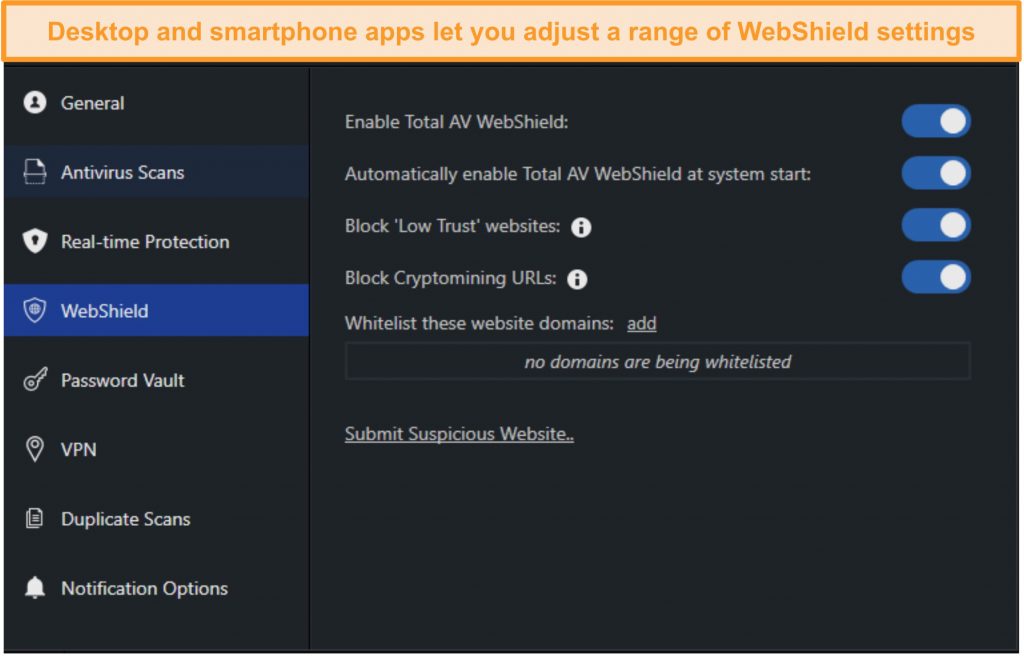 Once you've set up WebShield in the app, you can easily turn it on and off in your TotalAV Safe Site browser extension. I recommend you keep it on at all times to guard your browser and device against security and privacy threats.
As I tested WebShield, I tried to open known malicious sites with the feature on and it stopped me every single time.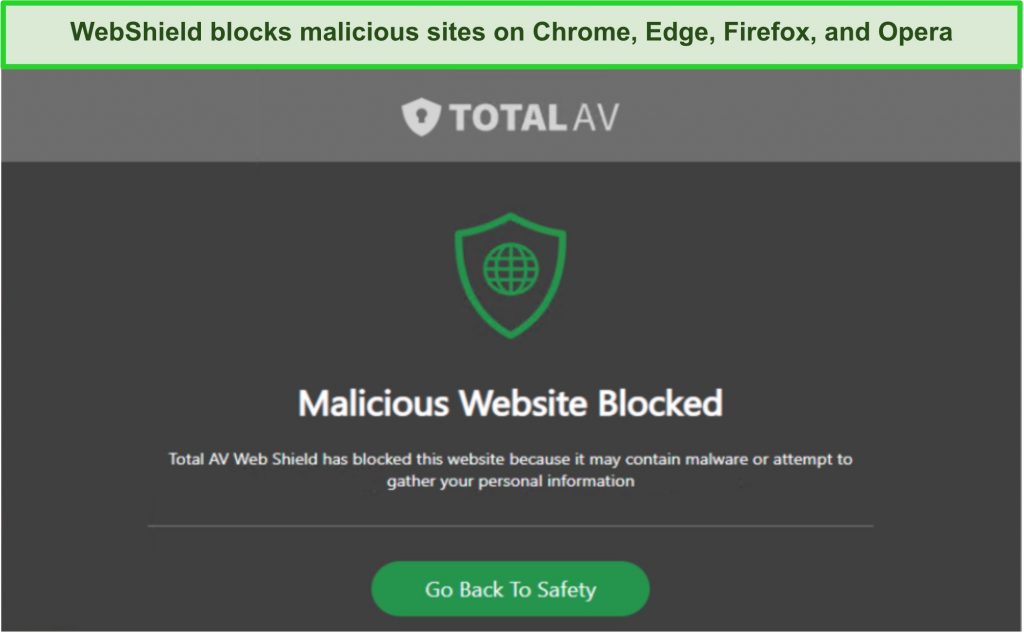 TotalAV's Ad Block Pro is also accessible through the app and the Safe Site extension. The feature lets you manage which websites can show you ads, and which cannot.
Features - 10
TotalAV provides a wide array of security features. Most antivirus services offer a VPN, a password vault, and an identity theft detector, which TotalAV includes alongside a rich suite of system tune-up features. I was incredibly impressed with the Startup Manager, which is powerful at blocking stubborn programs from starting with your device. I tested all these features, and I'm happy to report that each works perfectly.
System Tune-Up — Optimize Your Device and Browser's Speed and Performance From a Single App
I think it's very convenient that TotalAV's system tune-up features are linked to the Smart Scan. When you run your initial Smart Scan, TotalAV starts finding ways to enhance your system's performance and points you to these tune-up features. This is what I saw when my Smart Scan finished: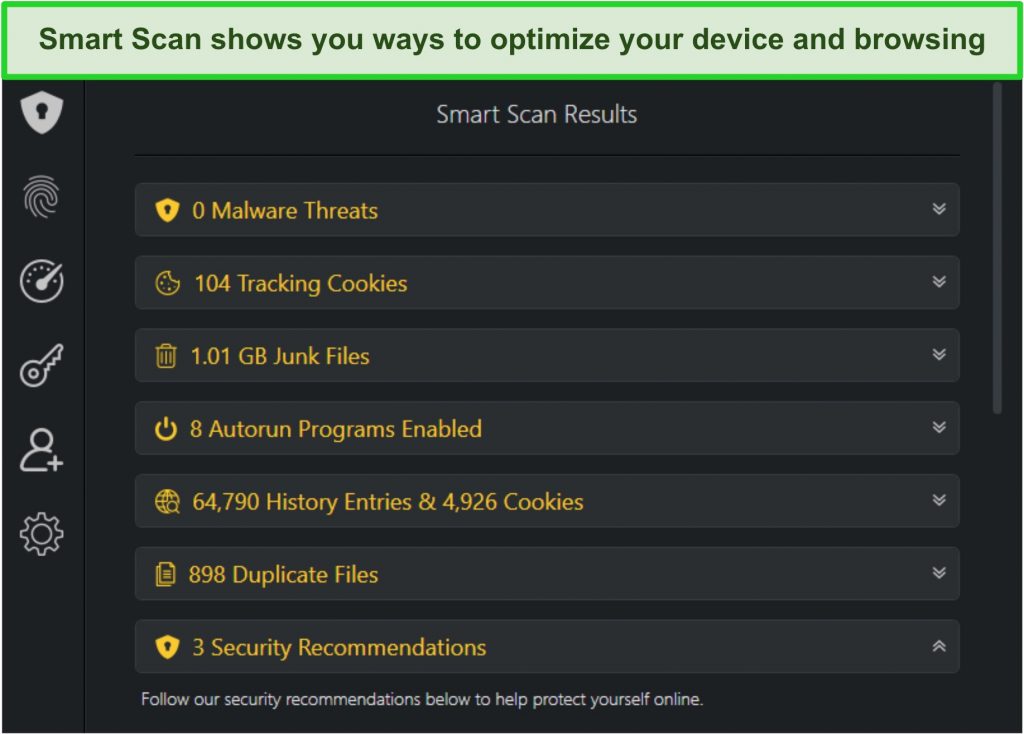 You can resolve these items from the same post-scan screen or the System Tune-up menu.
While Windows detected 444 MBs of such "junk files" on my device, TotalAV's Smart Scan found an impressive 1.01GB with the same search criteria, plus another 1.84GB of duplicate files on my disk. I found it helpful that TotalAV reveals your junk and duplicate files, so you can always see which files you're about to delete.
The system tune-up suite also contains a powerful App Uninstaller, and a Startup Manager, which lets you control which apps load at the same time as your operating system. Such apps usually delay your device's boot time, andTotalAV's Startup Manager surprised me with a long list of all the apps that do this on my computer. These included MS Word, Excel, PowerPoint, Skype, Firefox, and Chrome; with a simple toggle switch in the Startup Manager, I could disable them from auto-starting.
TotalAV's Browser Clean-Up feature clears your browser's cookies and browsing history. This helps you maximize your online privacy, as many websites and advertisers will track your internet activity through cookies. I especially like that TotalAV finds and deletes cookies across all your browsers. I use Firefox, Chrome, and the Edge, and this feature saved me the hassle of clearing each browser individually.
Password Vault Browser Extension— Safely Store Your Login Credentials
I was impressed that the Password Vault safely stores your credentials in one place and works on Firefox, Chrome, and the Edge. Once you've set up the Password Vault in your TotalAV app, you can download and activate the Password Vault Assistant extension in all of these 3 browsers. The extension will autofill all your credentials.
And while only Chrome, Firefox, and the Edge are supported, this shouldn't be an issue for most people given the browsers' popularity. That said, there's no Password Vault function in the Android or iOS apps.
Safe Browsing VPN — Browse Anonymously and Circumvent Geo-blocking With a Top-Tier VPN Add-on
Given TotalAV's generous pricing, I was surprised to see a VPN from the well-known provider Windscribe. Some premium antiviruses, like Norton and McAfee, offer a VPN, but at a higher price point, or only with an auto-renewal subscription. Using Windscribe's infrastructure under license, TotalAV lets you browse anonymously and take advantage of country-specific deals with little sacrifice to browsing speeds.
I ran multiple Ookla speed tests to see how well the VPN works, and I was thrilled with the result. With no VPN online, I typically get about 49 Mbps from my ISP. With TotalAV's VPN server connected to the US, the speeds dipped by 13%.

I wanted to find out how well TotalAV's VPN unblocks popular streaming services like Netflix US. Not only did I easily access the Netflix US library, but I got impeccable speeds and video quality.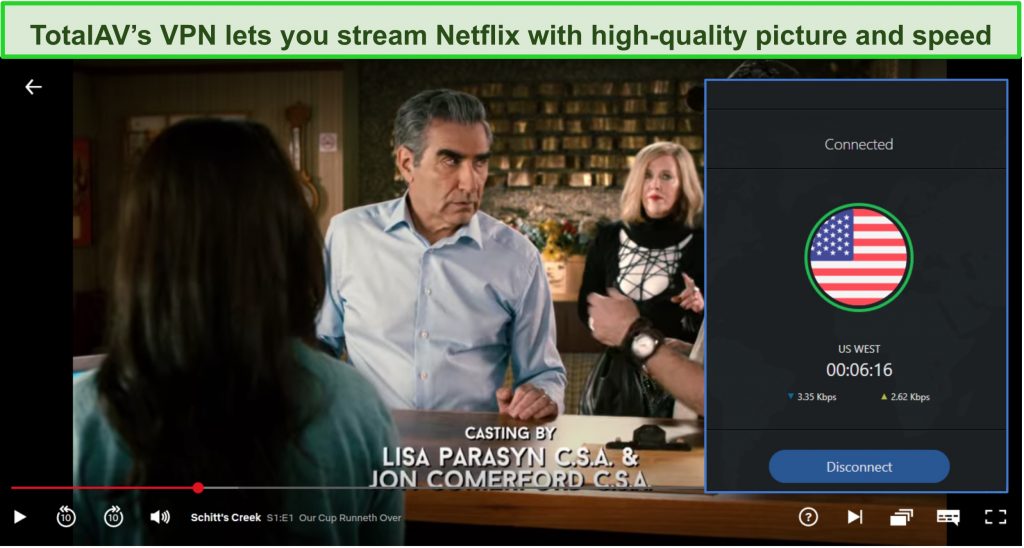 TotalAV's Safe Browsing VPN may lack the thousands of server locations of a provider like NordVPN, but it certainly lets you browse privately and get around geoblocking with little effect on network speed.
Data Breach Test — Check If You've Been a Victim of Online Identity Theft
TotalAV's Data Breach Test is a useful tool that tells you what hackers may know about your identity, much like Norton's Dark Web Monitoring. I entered my email and learned that it's been affected by 2 data breaches since 2007.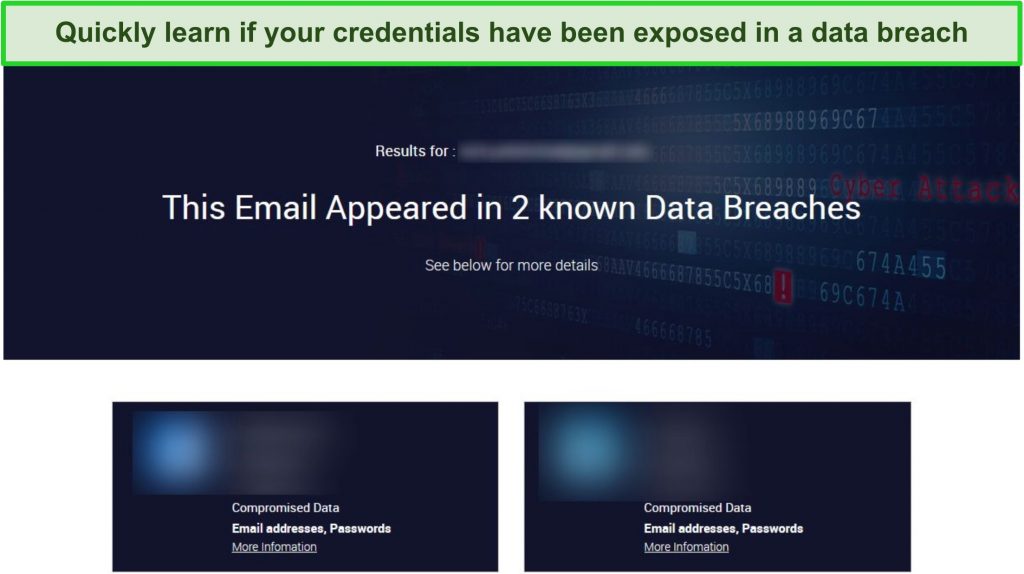 Ease Of Use - 10
TotalAV works on Windows XP,7, 8, and 10, Mac OS X 10.9 and higher, Android Oreo 8.1, and iOS 11.3 The respective apps are simple to install and navigate. Whether it's for a Windows computer or a Mac, you can download the app right after you pay. I doubt that 3 minutes elapsed between confirming my order to running my first scan.
Desktop App — Manage Your Windows and Mac Device Security From an Intuitive, User-Friendly Interface
If you use both a Mac and a Windows PC, you'll promptly note that the Apple and Windows apps look vastly different. That said, the Mac app lets you do precisely the same things as its Windows peer, and both are extremely easy to navigate, even with little computer know-how.
Once you open the app on your Windows, you'll see your real-time protection status and a prompt to run your first Smart Scan. After the initial scan, the page will show your Smart Scan results: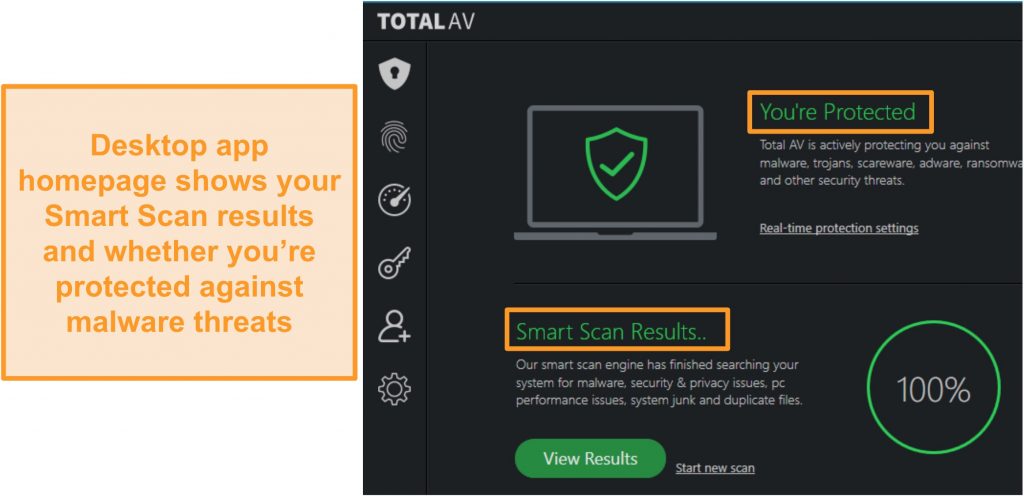 Here's the same scan results window on the Mac app: