Intego

Review 2022: Is the Best Mac Antivirus Really Worth It?
Intego Overview August 2022
Intego is widely known as the leading Mac antivirus — but I was suspicious about whether Intego is actually any good and why it's considered the best protection suite for Mac.
After testing dozens of antivirus products, I can confidently say that Intego is truly the #1 Mac antivirus for 2022. It's specifically designed for Macs, so you can be sure it'll protect you from dangerous macOS malware that other antivirus don't focus on. Intego even improved my Mac's performance by removing and organizing junk files.
If you're a Mac owner and you want to stay protected from cybercrimes and online threats, you can try Intego for free for 30 days with the money-back guarantee. It's easy and hassle-free to get a refund in case you change your mind (I tested it myself and got my money back in 10 days).
Try Intego for free for 30 days!
In a Rush? Here's a 1-Minute Summary
Security - 10
Intego's malware protection for Mac is the best on the market and outperformed all other brands during testing. Intego blocked all threats in testing, including phishing attacks, viruses, spyware, and other types of malware. It even comes with bonus features like network and web browsing protection, which maximizes the security of your Mac.
VirusBarrier — Malware Scanner Detects 100% of Cyberattacks
In testing, Intego's VirusBarrier detected 100% of over 300+ different malware. My team and I set up a testing computer and inserted new malicious files that were discovered in the last 4 weeks. Intego identified and quarantined every single threat. This really impressed me as other popular Mac AVs like Avira Antivirus Pro, F-Secure SAFE, and Fortinet FortiClient were not able to achieve a perfect score. In fact, the industry average is only 85%.
I was also glad to see that Intego did not have any false positives. Some antivirus software can be overly aggressive in its detection and may inaccurately identify normal files as harmful ones. However, Intego had no issue with this, which means you won't need to waste time manually looking through the flagged files to see if they're actually dangerous or not.
A great added bonus is that VirusBarrier is able to detect dormant Windows malware on Macs as well. Windows malware can't do any damage on a Mac itself but can be used as a host to spread to other PCs in the same network. If you transfer files frequently between your Mac and a PC, this is a serious threat. By scanning and getting rid of Windows malware on your Mac, you'll prevent these harmful files from ever reaching a system where it could do real damage.
Intego offers 2 scanning options: full scan and quick scan. The full scan will analyze every single file on your computer, while the quick scan only inspects the areas where malware is usually hidden. Doing a full scan is always ideal as soon as you install an antivirus, but after that, I recommend performing them once every 2 weeks. Because quick scans are a lot faster, you can schedule it to automatically run once every few days.
During my test, I performed a full scan of my Mac which took about 30 minutes to scan over 1.7 million files. This was a lot faster than other antiviruses — Avast, for example, took about an hour to do a complete scan. The quick scan was extremely fast and 50,000+ files were scanned in 2 minutes. From the "Logs" button at the top right corner, I could see details like how many files were scanned and what malware was detected.
The small downside is that the full scan made my computer run slightly slower than usual (which is common for antivirus programs). I tried playing a game while scanning and it did slow down the program slightly with less than a second of lag. However, it wasn't bad compared to other antiviruses which often caused a severe and noticeable 1-2 seconds of lag.
When VirusBarrier detects a malicious file, you can command it to trust, quarantine, or repair the file. All 3 functions worked well during my trial. When I clicked "repair", Intego easily repaired the test file and removed the malware on it, making it safe to use again. I especially like that the Quarantine mode blocked me from opening the file when I went to its original location and clicked on it.
Protect your devices with Intego now
Real-Time Scanner — Scans and Blocks Malware 24/7
Intego's real-time scanner constantly monitors any files or programs that come into contact with your device for malware. I found this very convenient as I didn't have to keep manually running scans whenever downloading new files.
Intego has 3 levels of protection — minimum, standard, and maximum. For the minimum level, your Mac will only be safe from macOS malware. The standard setting provides additional safety from Windows and Linux malware and scans your emails and attachments. With the maximum level, you get the best coverage with added features like iOS devices scans (while they're connected to your Mac). However, this level is also the most resource-intensive and can slow down your device.
I tested the real-time scanner using a malware test file. As soon as I attempted to download the file, Intego immediately detected it and sent me a warning pop-up. This reassured me that my computer is protected at all times, even if I accidentally try to download something dangerous.
I was worried that having a real-time scanner constantly running in the background would affect my Mac's performance significantly. However, I was pleasantly surprised by how little it slowed down my computer during several tests. My team and I calculated the average time it took to download, install, and launch 8 different programs with and without Intego running. We also assessed the average time it took to copy a 5GB file from my Mac to an external hard drive 7 times. Here are our results:
| | | |
| --- | --- | --- |
| | Intego slow-down | Industry average slow-down |
| Application download | 0% | 2% |
| Application installation | 1% | 2% |
| Application launch | 2% | 4% |
| File transfers from Mac to an external drive | 2% | 37% |
Intego beat the industry average in every category. It was especially fast when copying files from my Mac to an external hard drive. I never noticed any drop in my device's performance even while continuing to do processor-intensive activities like gaming.
Try Intego's real-time protection for free!
NetBarrier — 2-Way Network Firewall Stops Dangerous Traffic
NetBarrier is a 2-way network firewall that monitors both your incoming and outgoing web traffic for malicious activity. It's the first security barrier for detecting and stopping hackers from entering your computer while you're connected to the internet.
It automatically switches to different modes for protection on your home, work, or public WiFi network. If you're on a public connection, it will automatically block incoming online and local network connections. This gives you extra security from hackers who may be waiting on such networks to steal information from unsuspecting users. When you return to your home or office, it will automatically and conveniently switch settings to give you the appropriate level of protection for those networks.
What's unique about NetBarrier is its 2-way firewall which only some antivirus softwares have. I used to think only monitoring incoming traffic is important as this will prevent hackers from attacking my device. However, I realized protecting outgoing traffic is just as important after using NetBarrier. For example, a hacker may identify your credit card information at the incoming traffic phase. However, by stopping outgoing traffic, the firewall prevents the information from actually reaching the hacker. This gives you an additional layer of security.
There is also an extra "applications" function that monitors all 2-way online traffic on your apps. You can individually decide which apps are able to connect to the internet. For example, I could block a program from updating itself as soon as it had internet access, as I wanted to do it later. If I didn't have NetBarrier, it would have completed the process on its own without me knowing.
Protect your online activity with Intego
Safe Browsing — Protects You From Online Threats
The Safe Browsing feature allowed me to browse the internet safely by ensuring that my different browsers' anti-malware settings were enabled. Intego will display a warning if any of your browsers aren't in safe mode.
This prevents you from entering all kinds of harmful websites including phishing webpages that try to steal your information or those with ransomware that take hostage of your computer. When I tried it on a test malware site, my Chrome browser alerted me to the danger of entering the webpage. This reassured me that my Mac will be kept safe from online dangers.
Features - 10
Intego offers several additional features that give you extra protection and boost your Mac's performance. This includes parental control, Mac-optimization, and customized data backup capabilities.
Only a few other Mac-focused antiviruses provide all these functions. For example, Airo has decent malware detection but doesn't offer any extra features. Intego gives you much better value and convenience as all your computer safety and performance-improvement needs are packed in 1 software.
ContentBarrier — Allows Parents to Set Online Controls to Safeguard Kids
When children are allowed to explore the web without limitations, they are at risk of being exposed to adult content, cyberbullying, scams, and more. ContentBarrier helped me reduce these risks by allowing me to effectively monitor and control my child's online access to websites and programs. This program had a lot more features than the basic Mac parental controls and let me feel more at ease when my child was online.
ContentBarrier's functions included:
Website and chat software blocking: Bans access to certain webpages.
Chat monitoring and filtering: You can completely block chat programs or filter messages.
Scheduled use: Set limits on your child's screen time.
Recording activity function: Takes intermittent screenshots while your child is using the device so you can monitor what websites were visited.
What I found especially useful about ContentBarrier is its "Anti-Predator" function, which alerts you if your child is having any suspicious online chats. This feature detects and flags specific words and phrases commonly used by child predators. It's a great tool as most parents won't have the time to monitor your child's internet activity 24/7.
I set up ContentBarrier in 15 minutes, which was a little long but worth the effort. This was because I spent some time inputting specific phrases into the anti-predator feature and configuring the app to block specific website categories (e.g. porn and gambling sites). I was happy to sacrifice the time as I wanted to put as many limits in place as possible to ensure my child's online safety.
Protect your child online with Intego
Mac Washing Machine — Cleans Your Mac and Improves Its Performance
Mac Washing Machine makes your device run faster and more efficiently by removing junk files and reorganizing the ones you want to keep. When I tested it, it freed up 2.6 GB of space on my Mac! It offers 3 modes to help optimize your device: Reclaim, Duplicate, and Organize.
In the Reclaim mode, Mac Washing Machine checks your computer for unnecessary files. It took 2 minutes to scan all my data and present the potential files for deletion in a preview screen. I looked through the old files to see if there was anything I still wanted and clicked "clean" once I was done. By clearing these junk files, your device will run more efficiently without the useless data on its system. The Duplicate mode is similar to Reclaim but scans for duplicate files instead of unused ones.
I found the Organize mode helpful for organizing my desktop (which was full of random files) and dock. The app presented all my files on the screen and I easily dragged and dropped them into home subfolders, desktop folders, or trash. Although you could manually reorganize your files and apps, Intego presents everything together on its interface so that the process becomes simpler. With less clutter on your home screen, you'll be able to find things on your computer much faster.
The Smart Folder function under the Organize mode was useful for creating shortcuts for files I frequently used. When you create a smart folder, it will appear under the "Favorites" column on any Finder window for easy access. I created a "Recently Changed Documents" folder so I could quickly open my work documents which I access on a daily basis.
Try Intego's Mac-optimization functions
Personal Backup — Never Lose Your Important Files
Personal Backup is like your Mac's Time Machine but with more customizable options. It allowed me to select specific files to save into my external hard drive or server and even schedule regular backups.
This was perfect for me because I'm always worried I could lose all my personal and work files in a cyberattack. Many hackers use ransomware to lock you out of your files and demand a hefty ransom to let you access it again. If your files are backed up with Personal Backup, you won't have to worry about losing them if the hacker decides not to release the original files to you.
There's also a special Bootable Backup function that lets you make a copy of all your data (including the current operating system version) onto an external hard drive. This was very useful because I could restore everything on this hard drive to a new Mac without separately downloading the operating system software — which saved me a lot of time.
The Synchronization function allows you to mirror different devices so that any changes made on 1 device will be applied to the other. This is useful if you have a work file that needs to stay the same on both your Mac desktop and laptop as you quickly switch between them.
Never lose your data with Intego
Ease Of Use - 10
Intego works on Mac (OS X 10.8 and above). Key features are split into separate apps, so nothing is overly cluttered or difficult to find. I especially liked the VirusBarrier app, which you can navigate with 3 simple tabs at the top.
Desktop Apps — Works on Mac With External Scanning for iOS
Compared to many antivirus programs I've used, Intego's user interface is extremely simple and intuitive. Part of the reason why is because its functions are split into different programs. If you have the most comprehensive plan, the programs will be: ContentBarrier, NetBarrier, Personal Backup, VirusBarrier, and Washing Machine.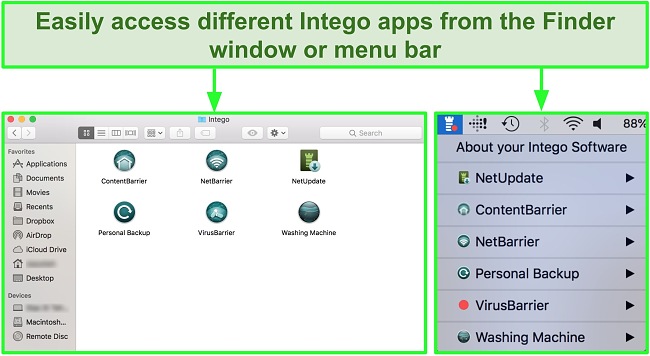 When I opened the various apps, the first thing I noticed was how little buttons there were cluttering the screen. This made it much easier to navigate compared to other antivirus apps that have so many buttons I didn't know where to start.
For example, if you look at the VirusBarrier app, you can see that there are 3 obvious tabs for the real-time scanning, scheduled scanning, and safe browsing functions. The most important information (like when the last scan was conducted, or if real-time scanning is enabled) is also clearly summarized on the home page. The only minor issue was that I took some time to find the full and quick scan options which can be enabled through the circle button next to the computer icon on the left side of the app.
Intego's software is available in English, French, German, Japanese, and Spanish. Although this is quite an extensive range, other antivirus software have translations in over 20 languages.
There's no iOS app, but you can connect your iPhone to your Mac to perform a malware scan. Your iPhone will be checked along with the rest of your data on your computer. If you're looking for an app for your iOS devices, check out these alternatives.
Support - 9
Intego offers its users plenty of support options through live chat, email, and an online knowledgebase. Even phone support is available in selected countries. I mainly used the first 3 options and found that support staff was always helpful and quick to respond.
Live Chat — Best Option for Fast and Friendly Help
I was really glad to see that Intego has live chat support because it's lacking for some other Mac antiviruses like Airo. It really helps when you want an immediate answer. When I tested it, I found that the replies were fast and helpful. I waited less than 5 seconds to chat with a representative and was provided detailed and accurate information to my query.
Bear in mind that the live chat isn't 24/7 and is only available between 8:30am and 5:30pm US central time. I was disappointed with this because I live in Australia and had to wait until night time to use this service.
Email Support — Good Alternative to Live Chat
I used the email support option when I wanted to ask a question when live chat was not available. The process was simple as I only needed to submit a few details including my name, question, and software version. The response was helpful and resolved the issue I was facing with malware repair.
I encountered the same issue as the live chat because email support is only available between Monday to Friday from 8:30am to 5:30pm (US central time) — and I'm based in Australia. When I emailed during the day, a representative only responded to my query when it was night time for me. However, the response time was fast when I sent a message during its working hours and I got a response within 3 hours.
If you don't have any urgent technical issues that need to be resolved, Intego's email support is sufficient for most queries. However, I recommend live chat if you want instant help with a problem.
Online Knowledge Base — Find Answers to Basic Questions
Intego's online knowledge base is a great resource and was the first place I checked whenever I had a question. It's a collection of articles written by Intego about the most common issues encountered by users. You'll find user manuals and instructions for a range of troubleshooting questions — for example, what to do if Intego's software update is not progressing.
The responses are simple and easy to understand and include photos of the apps that help you to follow along. I would always recommend you check the knowledge base first before contacting customer support as I almost always found answers to my questions there.
Phone Support — More Personal Customer Support Experience
For those who like to speak to someone in person, Intego offers English, French, and Japanese phone support. I was impressed with the range of languages it offers (other antivirus brands like Mackeeper only have phone support in English). Overall, I found Intego's phone support to be helpful, but I recommend live chat as it's much faster.
There are 3 phone numbers available for the US, Japan, and Europe and Africa. The support hours of each region varies, but you'll generally be able to contact Intego during business hours in each respective region. I called the US office and was happy with the speedy connection — I only had to wait for 1 minute. I asked the representative about how to see the total files scanned on VirusBarrier and received accurate instructions on how to do so.
Price - 9
Intego allows convenient payment through Visa, Mastercard, American Express, and Paypal. If you want the best value, the Mac Premium Bundle X9 is the best choice. You get all of the features listed in described in this review, and the monthly cost is about the price of a coffee. This is a small investment for complete security for your devices which contain all your sensitive personal information.
Mac Internet Security X9 — Basic Plan
This bundle comes with VirusBarrier and NetBarrier, and you can select to use it on 1, 3, or 5 devices. It's an ideal option if you only need core antivirus and network protection. However, you won't have any parental controls to keep your kids safe or Mac optimization features to make your device run faster.
Mac Premium Bundle X9 — Best Value Plan
After closely inspecting each plan, I discovered that the Mac Premium Bundle X9 offers the best value. You can protect up to 5 devices, and you'll have access to VirusBarrier, NetBarrier, Mac Washing Machine, Personal Backup, and ContentBarrier.
ContentBarrier X9 and Secure X9 — Best for Families With Kids
ContentBarrier X9 gives you access solely to the ContentBarrier app. You can use its parental control features to protect your child online on 1 or 3 devices. The ContentBarrier Secure X9 bundle includes VirusBarrier, NetBarrier, and ContentBarrier. This is a good option for those with small families as it allows you to protect up to 3 devices.
Mac Washing Machine X9 and SecureX9 — Best for Mac Optimization
You only need to make a one-off payment for Mac Washing Machine X9, and you can use it on 1 or 3 devices. This is a cost-effective choice for improving your Mac's performance but doesn't give you any security features.
The Mac Washing Machine Secure X9 package includes VirusBarrier, NetBarrier, and Mac Washing Machine. It's a good choice if you don't have kids (so ContentBarrier isn't useful to you) and not many Macs to secure. You can choose to use it on 1 or 3 devices.
30-Day Free Trial — Key Antivirus Features Are Missing
Intego offers a free 30-day trial but there's a catch. You won't have access to key antivirus features. For example, VirusBarrier will scan for malware but not remove them. Mac Washing Machine will scan for unused files, but won't delete anything for you.
If you want unlimited (and free!) access to every premium feature, I suggest using the 30-day money-back guarantee. You can simply ask for a full refund before the 30-day period is complete.
30-Day Money-Back Guarantee — Best Way to Try Intego Risk-Free
While the free trial is good, there's an even better way to use Intego with full functionality for free. Simply sign up for a subscription, and make use of its 30-day money-back guarantee to get a refund. This way, you get to test all its different features for free to see if they really work. I found that this gave me plenty of time to conduct virus scans (with malware removal functionality), clean my Mac, and try the parental control features.
If you're not 100% satisfied with its performance, simply contact a customer service representative to request a refund. I emailed Intego and my request was processed immediately with no questions asked. I got my money back within 10 days!