5 Best 100% FREE iPhone & iPad Antivirus Apps (Updated 2023)
You'll find plenty of free antivirus apps on the App Store making all sorts of claims. Many apps advertise virus scanners, but iPhones and iPads don't need this feature due to Apple's in-built protection.
I tested and ranked the best free iOS antivirus apps in 2023 and was impressed by a few great free apps that defend against phishing scams, unsafe WiFi networks, theft, and invasive third-party tracking.
But no free antivirus is perfect, and even the best have limitations. If you take your iOS data seriously, I recommend a low-cost premium antivirus like Norton Mobile Security. Unlike free apps, Norton provides full-coverage protection against online attacks in real-time with minimal battery drain. It has a 60-day money-back guarantee, so it's risk-free to try.
Try Norton Mobile Security for iOS
Quick Guide: Best Free Antivirus Apps for iPhone and iPad (All iOS Versions)
Update March 2023: Norton Mobile Security no longer has a free version, but it's still the best low-cost antivirus for iOS. It provides web protection, device security, and network scans — plus you can try Norton Security risk-free for 60 days with its money-back guarantee.
Try Norton for iOS risk-free for 60 days
The Best Free Antivirus Apps for iPhone and iPad (Tested March 2023)
Key Features:
Includes anti-theft tools, device security updater, and VPN
Privacy manager stops Siri conversations from being saved and analyzed
Works on iOS 12.0+ (iPhone, iPad, and iPod Touch)
Customer support only available on website
Avira Free Security is the top free iOS antivirus because of its solid privacy features including anti-theft tools, device updater, VPN, and Privacy Manager. I'm surprised by how many high-quality tools it offers for a completely free app.
I'm particularly impressed by Avira's privacy tools, which are notably lacking from Apple's in-built features. Avira Free Security comes with:
VPN
Privacy Manager
Network Scanner
Call Blocker
Anti-theft protection
Device analyzer
Photo storage manager
Contacts backup
iOS updater
During my tests, I found Avira's VPN easily hid my true location. It has a small daily data limit of 100MB, but I found this was enough to browse, shop, and bank online safely.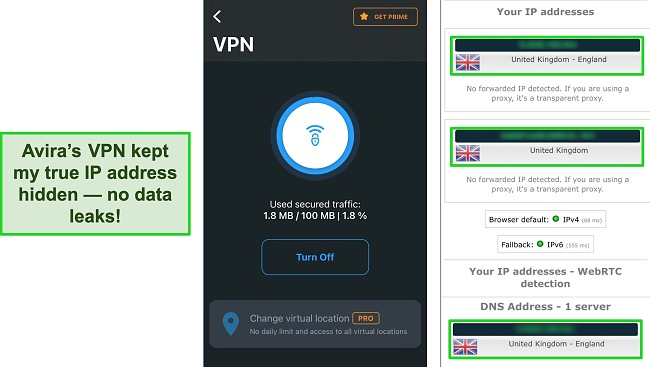 Avira's Network Scanner shows you which devices are in your network (public or private) and its Call Blocker stops annoying spam calls.
I particularly like the Privacy Manager, a feature I haven't seen on other iOS antiviruses. This stops your "Hey Siri" conversations from being recorded and sent for analysis. I think this is particularly important in case of accidental Siri activations that could lead to private information being shared with Apple. It takes seconds to download and I could rest assured my conversations would stay private.
You don't need to create an account to use Avira Free Security, just download it from the App Store and it's ready to go. I wasn't inundated with ads or constantly prompted to upgrade — and I could see which features were free as premium tools are locked with a small icon. This means I didn't keep clicking on inaccessible features which made using the app much easier.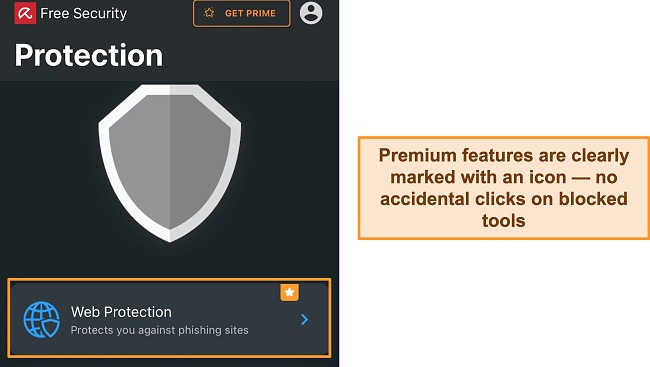 Avira's iOS app didn't ask for invasive permissions either. I had the option to give permission to access my photos and contacts if I wanted to use Avira's optimization tools or contact backup.
The key features Avira Free Security is missing are web and identity protection, so you won't be safeguarded against phishing scams, malicious websites, or email security breaches. These are some of the biggest threats to iOS security so you may want to upgrade to Avira Mobile Security Pro for full iPhone and iPad protection. However, its free app is enough to give you basic security, so I recommend you download Avira today to keep your iOS device safe.
Try Avira Free Security with iOS for free
Key Features:
Actively checks for security issues and iOS updates
Also features a data breach check, device locator, and photo manager
Supports iOS 9.0+ (iPhone, iPad, and iPod Touch)
Customer support available via email and website
TotalAV's free iOS app provides a great layer of extra security with a range of free tools. This includes:
System Security
Data Breach Check
Device Locator
Photo Manager
Battery Monitor
Secure Browser
Crucially, all of TotalAV's tools are easy to use and work well. The System Security tool checks that your software is the latest version and configures your device's password and face ID. I found it easy to set up a password and facial recognition using the TotalAV app — it's reassuring to know that TotalAV monitors my iPhone's security while online and offline.
The Data Breach Check is useful as you can enter different email addresses to find out if any accounts linked to them have been compromised. From there, you can click on the account to be taken straight to the site, which makes it easy to change your password.
TotalAV's Device Locator keeps track of your iPhone or iPad in case of loss or theft (you'll have to set up a free account to use this tool). I also found the Photo Cleaner helpful for clearing duplicate images and unnecessary screenshots from my iPhone — I saved over 1.2GB of space on my device!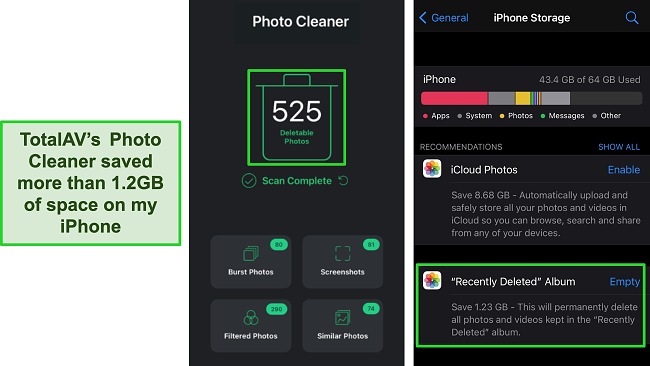 TotalAV's free version is missing a web protection feature, so you're still at risk from malicious links and shady websites. However, the device and account security features it offers are enough to give you a little protection. You can use TotalAV's secure web browser (powered by DuckDuckGo) to avoid web trackers, but the drawback is you have to use the dedicated web browser — it won't work with other browsers like Safari or Google Chrome.
If you want web protection and VPN encryption, you can easily upgrade to TotalAV's premium plan from the iOS app. However, I recommend you try TotalAV on your own iOS device for free first. I even didn't have to create an account to get started — although I recommend it to access additional features like the device locator.
Key Features:
Includes anti-theft tool and accurate GPS tracker
Comes with a 150MB daily VPN
Supports iOS 11.0+ (iPhone, iPad, and iPod Touch)
Email and phone support available
Panda Dome's free iOS app provides location tracking with its anti-theft tool. When active, you can find your iOS device by logging in to your Panda Dome account on any web browser. While I'd like to see Panda include some additional options (like an alarm or remote data wiping), I was impressed by how precise this tracking was. On the map interface, I could pinpoint my exact location.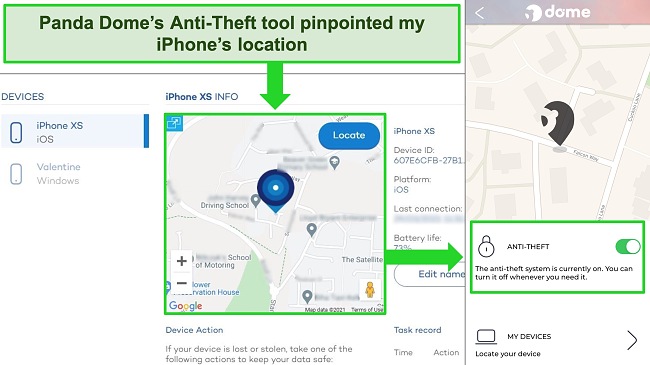 While this is primarily an anti-theft tool, it could be used as a GPS tracker for your children too. Not many free antivirus apps come with parental controls — but if you just want to know where your kids are, this feature is more than capable of locating them.
Panda Dome for iOS comes with a good VPN service, offering a single local server and a daily data cap of 150MB. I found this was suitable for browsing online and checking emails. The VPN is powered by top VPN provider Hotspot Shield, meaning you can rest assured your data is securely encrypted.
These are the only 2 features on Panda Dome's free app. While I'd like to see greater functionality, this does make it a lightweight and low-impact app — less than 33MB in size. If you want to upgrade to Panda Dome's premium subscription, you get features like an unlimited VPN, password generator, WiFi protection, and more.
For full access to the free app's features you will need to make an account. Luckily, Panda won't hassle you with ads or upgrades and only asks for permission to install the VPN configurations. You also don't need to provide any payment details, so you can be sure that Panda Dome is 100% free and risk-free to use.
Try Panda Dome with iOS for free
Key Features:
Monitors multiple online accounts for privacy issues
Also provides a VPN with 200MB of daily data and Web Protection
Dedicated app for iOS 12.0+ (iPhone, iPad, and iPod Touch)
Customer support over live chat, phone, and email
Bitdefender's Mobile Security iOS app lets you check whether your online accounts have been breached. This saved me time as it meant I didn't have to visit different websites to check my account security. When I entered an old email address, it brought up an account I'd completely forgotten about — in just a couple of minutes, I was able to change the password and mark the account as "Secured" on Bitdefender's app.
Bitdefender also monitors multiple email addresses and will alert you to new security issues, so you don't need to keep checking yourself.
This free antivirus also includes the following features:
Device security scan
VPN
WiFi warning (sends a notification when connecting to unsecured WiFi)
I also like that Bitdefender included a VPN with its iOS app. I found Bitdefender's VPN great for browsing securely online and logging into my bank account with an encrypted connection. Unfortunately, while its 200MB daily data allowance is more than most free apps, it's not great for streaming or data-heavy activity. It also only lets you connect to a local server so you can't access location-restricted content.
I was disappointed to find Bitdefender has removed Web Protection from its free app, as this was a standout feature that protected iOS devices from phishing links and scam websites. The only way to access Web Protection now is if you upgrade to Bitdefender's premium app — given that the iOS app is affordable, I recommend the upgrade for more comprehensive security.
You don't need to provide any billing information to download Bitdefender on iOS — although you do need to create an account. Fortunately, there aren't any ads and you won't see many annoying prompts to upgrade to the premium version.
Try Bitdefender with iOS for free
Key Features:
Scans WiFi connections and alerts you to potential risks
Also features a device security monitor, password manager, and QR scanner
Works on iOS 11.0+ (iPhone, iPad, and iPod Touch)
Customer support only available via website
Sophos' Intercept X for iOS has a strong Network Security tool that constantly monitors your WiFi connection for vulnerabilities or risky networks. Once the "Background Check" feature is active, Sophos will automatically perform safety checks whenever your network changes. I could take my iPhone and iPad out with me and not worry about connecting to public WiFi. Sophos sent me an alert warning me of an unsafe connection so I could switch to a secure network.
Other features on Sophos' Intercept X free iOS app include:
Device Security Monitor
Password Manager
QR Code Scanner
I like the addition of Sophos's QR code scanner as these codes can be used as links to phishing websites and other scams. This feature isn't something I've seen on other antivirus apps, and I found it very beneficial when using QR codes.
Some of these tools, like the password manager, require setup to work properly and it can be complicated if you're not tech-minded. However, Sophos provides step-by-step guides on its website.
Sophos doesn't ask you to create an account, and you don't have to enter payment details either — the app is always free to use, so you can try Sophos risk-free now. It's a solid choice for securing your network connections and keeping your device up-to-date, but I'd like to see some extra tools (like a VPN or phishing protection) to make it really worth downloading. Sophos does have a premium Endpoint subscription you can try, which includes some extra features, but it's a much pricier option.
Protects against online threats, phishing scams, and dubious public WiFi networks
Includes device security scan, ID theft protection, and unlimited VPN
Works on iOS 12.0+ (iPhone, iPad, and iPod Touch)
24/7 customer support with live chat, phone support, and community forums
Norton's Security for iOS isn't a free service, but it's recommended for users who need top-tier protection for iPhone and iPad. Norton's iOS app is one of the most comprehensive I've tested. It includes:
Web Protection
WiFi Security
Device Security
Identity Theft Protection
Parental Controls
Malicious SMS Filtering
Unlimited VPN
While it doesn't include an anti-theft feature (instead relying on Apple's in-built option), it provides full coverage security and privacy for every other aspect of your iOS device. Powered by Symantec's Security Technology and Response engine, Norton can predict and shield you from online threats like man-in-the-middle attacks.
In my tests Norton's Web Protection feature worked excellently, blocking malicious websites and links. This feature is enhanced by Dark Web Monitoring, which will notify you in the event your personal info is leaked. I was also impressed by Norton's WiFi Security as it automatically scans for security risks and connects to the VPN if the network is compromised.
As it's not a free service, you will need to sign up for one of Norton's premium plans to get its iOS apps. However, Norton is a reasonably priced option for such high-quality security. If you'd like to try it before you commit to a subscription, Norton gives you 60 days to test the service risk-free. If you change your mind, you can get a full refund with its money-back guarantee.
3 Easy Steps: How to Use a Free Antivirus with iOS
Get a reliable free antivirus for iOS. Avira Free Security is the top 100% free choice, with a comprehensive range of security and privacy features.
Download and install the app to your iPhone or iPad. You can find the app on the Apple App Store or get a link to download it from your antivirus website.
Open the app and run a device scan. Your antivirus app will let you know how to improve security and activate features on your iOS device.
Try Avira Free Security for iOS for free!
Using a Free Antivirus: The Pros and Cons
Using a free antivirus to protect your iOS devices is better than using no protection at all. Services like Avira, TotalAV, and Panda Dome provide top-tier features that protect you from unsecured WiFi networks, boost your device security, and even help you find your iPhone or iPad if it's lost or stolen.
However, free antivirus isn't going to give you comprehensive iOS security against the latest threats. Free antiviruses deliberately reserve the best features for paying customers — essential features like phishing protection and a VPN with unlimited data are only provided with premium subscriptions.
While iOS devices don't need the same high-level antivirus protection as other platforms, it's vital to maintain security against phishing scams, data breaches, and other attacks that target iOS users — and these often aren't covered by free services. Plus, free antiviruses usually only provide coverage for a single device, which isn't helpful if you want antivirus protection for your Windows PC, Android, and other devices.
Ultimately, you're only going to get complete protection for your iPhone and iPad (and other devices!) if you choose a premium antivirus. A service like Norton has real-time protection from online threats, identity theft protection, an unlimited VPN, device security features, and even more — all in a single subscription that covers multiple devices, so you don't have to download multiple apps or purchase more than 1 plan. Best of all, you can try Norton risk-free for 60 days and get a full refund if you change your mind about subscribing.
Comparison Table: 2023's Best Free iOS Antivirus Apps
Avira's Free Security takes the #1 spot as the best free iOS app for its unique privacy features and strong device security. However, it doesn't quite provide the top-tier security I want for my iPhone and iPad — the only antivirus to achieve that level of protection is Norton's Security for iOS.
| | | | | | | | |
| --- | --- | --- | --- | --- | --- | --- | --- |
| | 100% Free | Phishing Protection | Device Security | VPN | Network Security | Identity Protection | Anti-Theft Tool |
| Avira | ✔ | ✘ | ✔ | ✔ | ✔ | ✘ | ✔ |
| TotalAV | ✔ | ✘ | ✔ | ✘ | ✘ | ✔ | ✔ |
| Panda | ✔ | ✘ | ✘ | ✔ | ✘ | ✘ | ✔ |
| Bitdefender | ✔ | ✘ | ✘ | ✔ | ✘ | ✔ | ✘ |
| Sophos | ✔ | ✘ | ✔ | ✘ | ✔ | ✘ | ✘ |
| Bonus: Norton 360 | ✘ | ✔ | ✔ | ✔ | ✔ | ✔ | ✘ |
How I Tested & Ranked the Top Antivirus Apps for iPhone and iPad
No free app is going to provide the level of security you want for your iPhone or iPad — you're only going to get full-coverage protection from a premium app like Norton Mobile Security for iOS.
That being said, these recommended apps offer a level of protection that is far better than not having any at all. I thoroughly tested each antivirus against the following criteria so only the best made it on the list:
100% free — Every antivirus app on this list is completely free for life. While some require you to sign up for an account, you won't have to enter any payment details to use them. No credit cards, hidden fees, or misleading "free trials."
Good value with premium plans — I made sure to only include antivirus providers that have even better premium versions and affordable plans to choose from if you decide to upgrade.
Strong privacy policy — Some free antivirus apps will log and sell your data to make money, but none of the apps on this list will compromise your data security.
Dedicated iOS app — Your antivirus should work perfectly on your iOS device, so I avoided software with clunky interfaces or tricky-to-use features. I also looked at apps that improved Apple's security tools, like device location features that are faster than Apple's own Find My iPhone tool.
Performance — An antivirus needs to always be running in the background to provide constant protection. I looked for apps that had a low impact on my device's speed and battery life.
Multiple device connections — You need security for the other devices in your home too, so I made sure to include antivirus providers that offer coverage for Windows, Mac, and Android devices with a single account.
Avoid These Antivirus Brands!
If you search for free antiviruses on the App Store, you'll find these popular options that don't appear on this recommended list.
AVG and Avast
Avast and AVG are some of the top options on the App Store for iOS antiviruses, but I can't recommend them because of Avast's recent privacy scandal. The company was caught selling user data to third parties, which is a serious breach of privacy. I'm hesitant to trust them despite them claiming they no longer sell information.
Trend Micro
Trend Micro is a comprehensive iOS app that covers web-based security threats and monitors your privacy. However, when I tested Trend Micro on my iPhone I found that it only offers a free trial — it's not completely free. It also has a record of missing malicious trojans, and it often flags safe files as threats.
FAQ: Free Antivirus Apps for iPhone and iPad
Does my iPhone really need an antivirus?
Yes. Your iPhone is still vulnerable to web-based attacks, so you should get a top iOS antivirus app to protect you from phishing scams and unsecured WiFi networks.
Apple uses "sandboxing" to restrict apps from accessing the files stored by other apps or making changes to your device. So while a malicious app can't deploy a virus, a legitimate-looking phishing link can still trick you into entering your personal details — so you need the web-based protection an antivirus app provides.
Some free plans even come with extra features that go beyond basic security. Avira includes Anti-Theft tools that are a step up from Apple's built-in "Find My iPhone" feature, which is clunky and limited.
Is free antivirus safe to use on iPhone or iPad?
Yes. I tested the top free antiviruses on the Apple App Store to find the most trustworthy options. All of the recommended AVs are safe to use on your iOS devices.
It wasn't easy though — in my research, many free antivirus apps didn't work or falsely claimed to remove viruses. Some didn't even take their users' privacy seriously. For example, the Avast and AVG antivirus apps have 4+ star ratings, but historically logged and shared private user data without their permission.
Unfortunately, even the free antiviruses I recommended may not provide the level of coverage you want. If you're willing to invest in the protection of your iPhone or iPad, I suggest Norton Mobile Security for iOS. It's a low-cost, full-featured app without the limitations imposed by free services.
What's the best free antivirus for my iPhone and iPad?
Based on my tests, the best free antivirus for your iOS devices is Avira Free Security. Avira Free Security has anti-theft tools, a privacy manager, a VPN, and performance optimization tools — at no cost to you.
However, Avira doesn't have phishing protection so you're still at risk of malicious links in your emails or on websites. As phishing is one of the most dangerous threats to iOS users, you'll need an antivirus that defends against it if you want maximum protection.
An affordable alternative is Norton Mobile Security for iOS, which is a powerful app that defends against all types of online attacks in real time. Norton also has a 60-day money-back guarantee, so you can test out the features risk-free.
Will iPhone antivirus apps work on my iPad?
Usually, yes. The top iOS antiviruses work on multiple platforms, including your iPhone and iPad, plus Windows, Mac, and Android. It's always a good idea to check with your antivirus to make sure it's compatible with your device and operating system has the features you want — some free antiviruses have security features that are platform-specific.
What are the most important antivirus features for iPhone and iPad?
The most important features are phishing protection, WiFi security, anti-theft tools, and device security. Your iPhone and iPad aren't vulnerable to typical malware infections, but they can be attacked by shady links that want your personal information, hackers on unsecured WiFi, and out-of-date apps.
Unfortunately, none of the free antiviruses offer phishing protection, but you'll find some offer WiFi security checks, anti-theft tools that track your device location, and security tools that keep your apps up-to-date. The only way to get all the features your iOS device needs is with a premium antivirus like Norton Mobile Security.
Try Norton Mobile Security risk-free
Secure Your iPhone and iPad With a Free Antivirus App
Apple's built-in security features are pretty good, but they can't protect you from online threats — phishing links, unsecured WiFi networks, and privacy breaches all threaten your data. A free antivirus app for your iOS will protect you from cyberattacks.
Avira Free Security is the best free antivirus iOS app, with a VPN, WiFi scanner, and Privacy Manager at no cost to you. However, even this doesn't give you the best protection. While Avira is great for a free antivirus, it still doesn't stand up to the premium options out there.
To get comprehensive security with web protection, unlimited VPN encryption, and identity theft protection( and more!) you should take a look at Norton Security for iOS. It's an affordable alternative that doesn't compromise your data security — and you can try it risk free for 60 days with its money-back guarantee.
---
The Best Antivirus Apps for iPhone and iPad in 2022