Server Network — Impressive Server Network (But No Specialized Servers)
IPVanish has an impressive server network, with over 1,500 servers in more than 75 locations. Since IPVanish owns its servers rather than renting them from a third party, your data is more secure, as the VPN has much more control over how its servers are run and accessed. IPVanish also doesn't use virtual servers and all of its servers are where they're listed.
With the app's auto-connect feature, you can quickly pair with the fastest server in your country of choice, or click on the server map on the home screen. Only a few location markers appear when the map is zoomed out, this keeps the map from being covered up by tons of markers. Zoom in to make more location-specific servers appear and then double-click one of them to connect to the fastest server in that location.
You can select from 5 VPN protocols to prioritize factors like speed, security, and compatibility. The only downside is that it doesn't explain the pros and cons of each protocol, making the options confusing for VPN beginners who aren't sure how a VPN works. To briefly summarize the differences, OpenVPN is popular because it's open source and developers are always improving it. IKEv2 is great for fast speeds. L2TP is fast but not as secure. SSTP is better at bypassing geoblocks. PPTP is fast but has much weaker security than the others.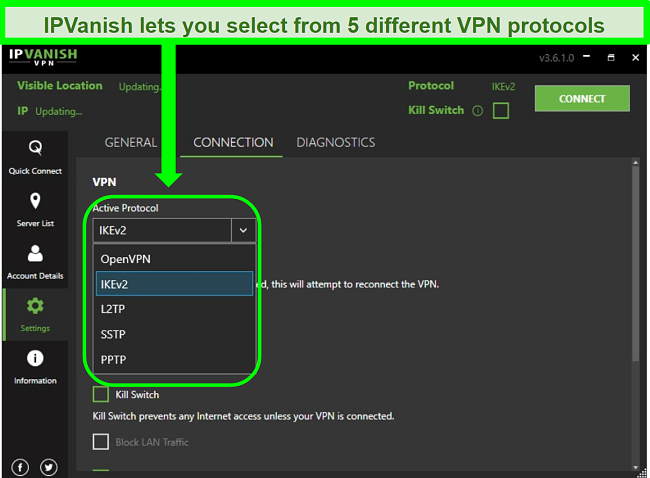 You can easily find an IPVanish server to use with the intuitive drop-down menus. The server menu lets you sort by ping, country, load (how crowded they are), or by servers you have starred as favorites. Even though there are no options for P2P, streaming, or other specialized server types, I was always able to connect in just 2-4 seconds without any issues.
Get reliable connections with IPVanish
Security — Solid Security, But Limited Advanced Features
IPVanish has a handy "Scramble" setting that helps me bypass geoblocked sites by hiding the fact that I'm using a VPN. It allowed me to access some restricted web content, but it still isn't powerful enough for IPVanish to work in China. There used to be more advanced security features like an automatic IP address switcher, but it has since reduced to just the basics like DNS and IPv6 leak protection. I decided to run a DNS leak test to see if it really hid my private data. The test only detected data being sent to the secure IPVanish server I was connected to. This means my IP address, location, and browsing activities stayed completely hidden with IPVanish.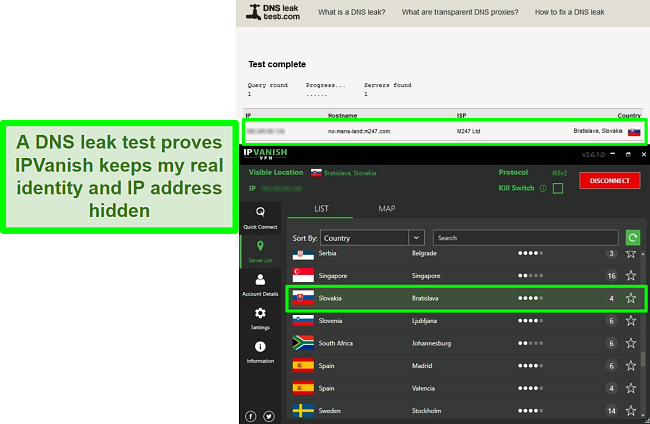 In rare cases, VPNs hide malware in their installers or clients to secretly collect data on you. Just to be certain that IPVanish wasn't one of them, I ran a malware scan on both the installer and the app itself, and am glad to say both came up completely clean. Still, I was a little disappointed that IPVanish doesn't have its own malware or ad blocker that you can find in more advanced VPNs. Since just one malware attack can permanently corrupt your device or steal your data, it's a shame that IPVanish doesn't protect you from it. It also only offers split tunneling (to whitelist certain apps from the VPN) in its Android app, but not in any other versions.
I ran tests on IPVanish's mobile apps and found they asked for some unnecessary permissions, which can expose you to security risks. I saw requests to access my phone's external SD card and install a couple of trackers. Thankfully, these trackers don't identify you and are used for general analytics and crash diagnostics. Many VPNs (even top providers like ExpressVPN) use similar permissions and trackers — so while not ideal, it isn't necessarily dangerous.
Stay secure and anonymous with ExpressVPN
Privacy — Strong Policy on Paper, But Not in Reality
To sign up for IPVanish, you have to provide an email address and payment information. The privacy policy states that these are only shared to the extent that it's necessary to process payments and provide email-based support.
IPVanish has an automatic kill switch to protect your privacy if you lose your VPN connection — and it works great. When I intentionally crashed the app by overloading my PC with background processes, my internet shut off instantly and none of my data was revealed. On Windows and Mac, the app gives me an automatic desktop notification to show the kill switch has been activated, but you'll need to turn it on manually as it isn't on by default. It also isn't included in the iOS version, which can become a major problem if you lose your VPN connection.
With 256-bit encryption (the same level used by the US government to protect state secrets) to hide your data, IPVanish does a great job of keeping your identity hidden while you use the web. Given its 2016 data logging scandal, I decided to dig deep into its privacy policy to see if I could find anything troublesome. There weren't any concerning details — it states "we do not log any traffic or usage of our VPN" without further details. Unfortunately, this means you won't be able to tell for sure if your browsing data is being logged or not without an independent auditor.
Worse yet: IPVanish got a request from the US government for user logs in 2016 as part of a criminal investigation. Despite claiming to be a zero-logs VPN, it surrendered data on the user in question, including his online activities. IPVanish claims it changed its policy since then (and is now owned by a completely different company), but the investigation proved it used to log some of its users' activities. This is one of the pitfalls of being based in the US — since it's based in a country within the Five Eyes Alliance, it participates in the global surveillance-sharing network and can force domestic companies to hand over data. That's why I prefer a VPN that has proven its zero-logs policy through a third-party security audit, like ExpressVPN.
Bigger VPN providers have had third-party audits of their no-logs policies, giving you more guaranteed privacy. They also give you better security with more advanced server features. To get the highest level of online security and privacy, you can try ExpressVPN risk-free. If you decide you don't need the extra privacy features, you can get your money back.
Preserve your online privacy with ExpressVPN
Torrenting — Supports Torrenting, But No Optimized Servers
You won't find any torrent-optimized servers since all of IPVanish's servers support torrenting. These servers are designed to protect your privacy and increase your download speed while downloading P2P — but only the top VPNs have them. Even without optimized servers, my speeds were still super-fast! I downloaded a 2-hour public domain documentary with only 5 peers total, and the torrent finished in less than 15 minutes. You just have to make sure DNS and IPv6 Leak Protection are both turned on in the Connection Settings menu to ensure your downloads and uploads stay anonymous.
If you'd rather use a VPN with torrent-optimized servers, you can try ExpressVPN risk-free. Its network is super-secure, with lots of servers optimized specifically for P2P file sharing on apps like BitTorrent.
Does IPVanish Work in China? (Not Likely)
Like most VPNs, IPVanish's servers have been blacklisted by the Chinese government — you won't be able to connect while inside the country. IPVanish's website is also blocked, so you aren't able to download it or log into your account while you're in China.
Only a few VPNs work in China that can bypass the government's advanced firewalls safely. I suggest trying ExpressVPN risk-free in China. Then you can cancel your subscription within 4 weeks when your trip is over.