Avast

Antivirus Review 2022: Don't Use It Before You Read This
Avast Overview May 2022
Millions of people rely on Avast to protect their devices, but the sad truth is that the majority have no idea about its privacy violations. It was recently revealed that Avast has long been selling the browsing history of its users to companies like Google and Microsoft. No one was safe — not even those who upgraded from Avast's free plan to the paid packages.
I've tested Avast's antivirus protection and rate it highly, but the company has lost my trust and I can no longer recommend it as a safe antivirus. While Avast claims to have changed its privacy policy since the scandal, I find this difficult to believe considering the company's clear lack of ethics.
I strongly suggest choosing reliable antivirus with a clean privacy track record instead. The best option for 2022 is Norton 360 as it offers powerful antivirus packages for an affordable price. TotalAV is another top-rated service that's relatively new, but has quickly risen through the ranks to become one of the best antiviruses available.
In a Rush? Here's a 1-Minute Summary
Security - 4
Recently, it was discovered that Avast was secretly selling the browsing data of its users through its subsidiary company Jumpshot. This included people's browsing history, Google searches, YouTube visits, and even visits to adult websites. All data was sold without users' permission and primarily gathered through Avast's browser extension, but also partially through the antivirus itself.
To make things worse, the data was not properly anonymized. If a company that bought this data already had a bit of knowledge about a user's activities online, they could link this previously anonymous user with a host of other actions. This is understandably a worry for anyone using software to keep themselves safe online.
Avast claims to have stopped this data collection practice and has since shut down Jumpshot. It also updated its privacy policy so that users have to opt-in to future data collection. Although these are steps in the right direction, the scandal was nonetheless extremely damaging for the brand. I recommend a trustworthy antivirus like Norton 360 or TotalAV, both of which store your personal data in secure facilities with restricted access to authorized staff only.
Virus Scans — In-Depth Scans Offer Strong Device Protection
In tests, Avast detected 99.8% of malware found in the 4 weeks before testing. My team and I rigged a test machine with malicious software and Avast picked up on almost everything — but not quite. If you're looking for an antivirus with 100% detection rates, Norton 360 is the best option.
I encountered 15 false positives in my testing — harmless files that your antivirus thinks is malware — which is roughly in line with the industry average. False positives can be time-consuming to deal with because you need to check each file individually to determine whether it's malware or not. Fortunately, Avast isn't overly aggressive (but also didn't stand out).
Avast gives you access to 6 scan types:
Full Scan: Check your whole system
Targeted Scan: Scan only files or folders specifically selected by you
Boot-Time Scan: Scans your computer before the operating systems loads to root out well-hidden threats
Quick Scan: Scans the most at-risk sections of your device
Smart Scan: Runs a quick virus scan and checks for outdated programs, dangerous browser extensions, performance issues, and more
Custom Scan: You choose which type of scan to run when to run it, and what to search
I ran the Full Scan in 23 minutes and scanned 980,000 files, while the Quick Scan took just 2 Minutes to scan 81,000 files.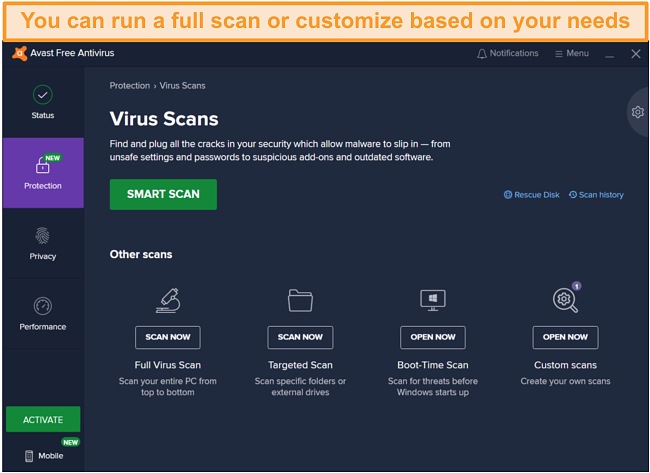 Real-Time Protection — Detects All Existing and New Online Threats
Detecting malicious files and programs is one thing, but stopping them from infecting your device in the first place is arguably more important. Avast had a 100% detection rate during my tests, compared to the 98% industry average rate. My team and I tested this by setting up a test machine and opening emails and web pages that we knew had malware infections. I was happy to see that Avast blocked all threats with only 6 false positives.
When Avast detects a malicious file or webpage it notifies you with a warning message. If the file has already made it onto your device, Avast will immediately quarantine the threat to keep you secure.
Phishing Protection — Constant AI Scanning Results in Good Detection Rates
Phishing attacks have fast become the #1 type of cybercrime, used to trick you into turning over login credentials, banking details, or other personal information. Avast uses AI to scan every webpage you visit, assessing data including domain popularity and age, web certificates, and suspicious URLs.
My team and I tested Avast's phishing detection ability by collating a recent list of known phishing URLs. We opened them with Avast turned on and tracked the percentage of blocked sites. Avast detected 86% of phishing domains, which isn't great — Bitdefender, for example, scored almost 95%.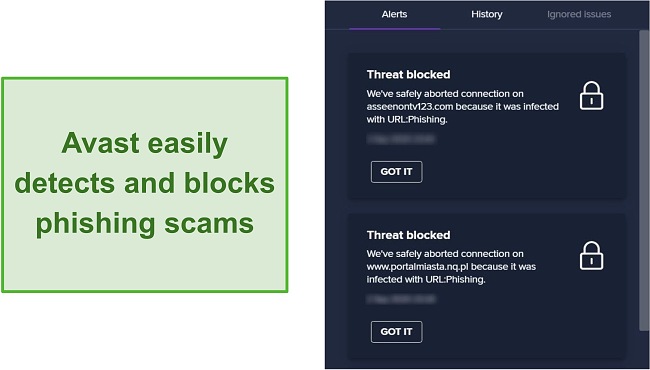 System Performance — Heavy System Impact Across Most Uses
Avast isn't the best choice if you're looking for peak system performance, as it utilizes more resources than the industry average (as measured by a major tech site). My team and I tested this by measuring the time to open 10 programs with and without Avast, how long it took to open the same websites 50 times, and then the time to transfer a 5GB file to an external drive 5 times. Below are the results:
| | | |
| --- | --- | --- |
| | Avast slow-down | Industry average slow-down |
| Launch installed software | 17% | 9% |
| Open websites | 22% | 11% |
| Transfer files from PC to external drive | 3% | 6% |
If you're looking for an antivirus that won't slow down your device so much, Norton 360 offers better performance than the industry average and is almost twice as fast as Avast.
Optimize your PC performance with Norton 360
Ransomware Shield — Protects Your Most Vulnerable Files and Folders
Avast's Ransomware Shield protects you from ransomware by automatically detecting the files and folders you frequently use. Ransomware is a type of cyberattack that encrypts your device's data and doesn't let you access it until you pay a ransom. If your device has personal or sensitive data, you could lose it forever.
You can set this up to run with minimal input in Smart Mode, or set it to Strict Mode to be warned whenever a new program tries to modify files in a protected folder. These prompts will likely become annoying, so I recommend you stick with Smart Mode.
This feature isn't available on the free version (only the paid plans).
Secure Firewall — Easy to Setup for Beginners and Advanced Users
Although it's only available through a paid plan, Avast's smart firewall offers robust protection with almost no input needed from users. Once installed, it protects you by auto-configuring the level of protection depending on whether you're on a private or public network. For private networks, Avast trusts programs more openly with local network connections, while public networks are treated as more vulnerable.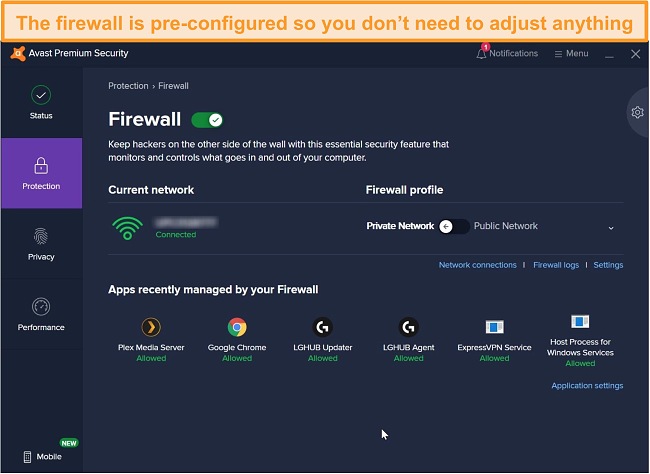 I was glad to see that if you're a user who prefers to have more control, there are also several configuration options. You can choose to block programs from connecting to the internet completely, connect to public networks in stealth mode (which prevents others on the network obtaining information on your device), block remote connections, and even get specific down to the port and protocols. This is great for advanced users who need to customize remote access, per-app access, or simply want to only permit a narrow selection of programs from going online.
Online Security Browser Extension — Flags Dangerous Sites and Blocks Trackers
Avast's Online Security browser extension is available for Chrome and Firefox and checks whether web pages you visit are safe to use or not. Dangerous sites are labeled in search engines to prevent you from clicking through to a site that could be hosting malware. It also prevents the site from loading at first, but you can choose to continue through to the site if you wish.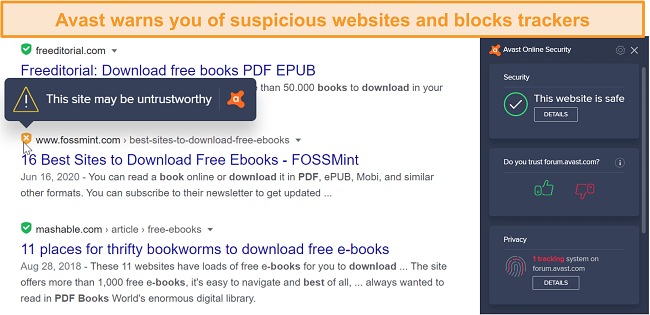 When you're on a webpage you can also click on the Avast icon in the top right of your browser. An overlay will open and you can click a thumbs up or down depending on whether you trust the site, which will be added to Avast's crowdsourced opinion database. I was happy to see that you're also shown which trackers are following you around the web in the same overlay. Avast gives you the option to block them, a feature I make frequent use of.
Keep in mind that Avast Online Security was the primary method through which Avast gathered the user data it sold. It was removed from browser app stores in early 2020 but has since been reinstated.
Sandbox — A Great Way to Safely Run Potentially Malicious Programs
Avast's Sandbox tool helps you download unknown applications that could potentially infect your device. It opens the app in a virtual "container" — if the app attempts to do anything malicious it won't affect your device, and Avast will promptly shut it down.
It's best you don't run suspicious apps in the first place, but Avast is one of the few AVs that offers this, and this is a welcome additional feature. Unfortunately, it's not available on the free version, so you'll need to upgrade to the paid plans if you want access.
Real Site — Prevents DNS Hijacking On Your Device
DNS hijacking is an attack that redirects you from a legitimate site to one that looks exactly like it but actually wants to steal your login credentials (similar to phishing). Avast Real Site provides you with an encrypted connection from your browser to Avast's own DNS servers, so hijacking can't take place. This is an important feature to have, and I like how this feature doesn't require any tweaking — simply turn it on and let Real Site do its thing.
Features - 4
Avast offers a few additional features outside of its core security offering, with the SecureLine VPN being my favorite. VPNs aren't always present in antivirus packages and complement a security suite well. However, Avast's Cleanup Premium strikes me as a costly standalone offering (also part of the Premium and Ultimate) that offers little in return.
It's worth noting that you can pick up several of Avast's features as completely standalone packages, including the VPN and Cleanup Premium.
SecureLine VPN — Good Speeds and Unblocks Streaming Platforms
Avast's SecureLine VPN can be bought separately or as part of Avast's Premium suite. It encrypts your browsing activity and protects you from prying eyes on public networks. It also has a few dedicated streaming servers in the UK, US, and Germany. With these, Avast can unblock Netflix and BBC iPlayer, HBO, Hulu, Disney+, ESPN, Channel 4, CBC Canada, ABC, and CW.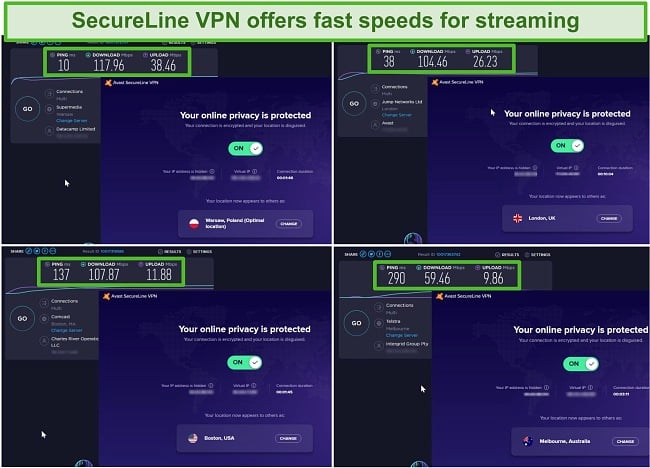 During my tests, Avast's VPN offered average speeds of 100Mbps between 4 global locations (with a high of 117Mbps with my local Poland server and a low of 59Mbps in Melbourne). These are good speeds, but I can't recommend it at the price Avast is selling SecureLine at for a standalone product.
Many of the top VPNs on the market offer much more for less, including higher speeds, better security, and reliable access to more streaming providers. However, if you're getting it as part of Avast's Premium suite, it's a useful additional feature that will at least give you added peace of mind online.
Cleanup Premium — Basic Features Aren't Worth the Cost
Avast Cleanup Premium claims that it can clean up your computer's registry, delete junk files, and clean out unneeded browser files such as cookies. If you do buy the Premium or Ultimate versions of Avast, the Cleanup features worth using are:
Bloatware removal: Gets rid of annoying preinstalled software.
Automatic updates: Keeps your software updated for better security.
Disk cleaner: Deletes temporary and other junk files to free up space.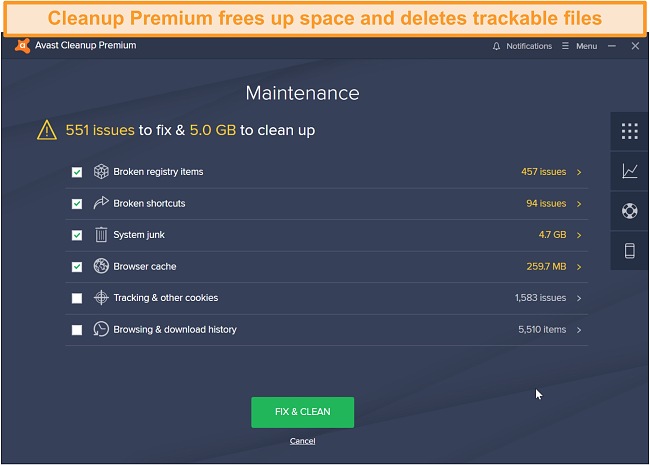 Although it can do all of this, for Avast to be charging as much as they do for this as a standalone product seems bold to me. For the most part, there's already great free software that can take care of all of the above, and modern operating systems generally don't even need most of this done.
Secure Browser — Decent Alternative to Google Chrome
Avast's Secure Browser is based on Chromium (Chrome's core infrastructure) and will be familiar to any Chrome user. Instead of Google's features, it's loaded with Avast extensions, including tracker blocking, ad blocking, and phishing blocking. These will help you stay more secure while browsing. It also has a useful integrated video downloader for sites like YouTube.
You can turn on Bank Mode for security while you're online shopping. This mode runs the browser in a separate virtual Windows desktop so there's a smaller chance of prying eyes or keyloggers and you can perform financial activities in private.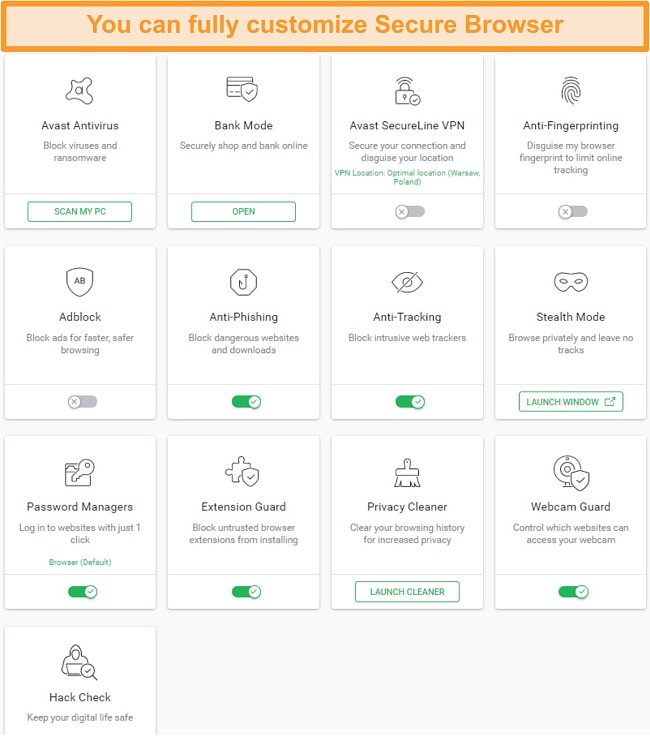 Although Secure Browser adds some good security features, I was uncomfortable that it imported all my Chrome bookmarks and logged me into Google without even asking for my consent. After launching it also attempted to make itself my default browser by opting me in by default.
Overall, Secure Browser has a secure pre-configured setup with good performance, but many of these features could be pieced together with Chrome extensions if you don't want to switch browsers. If you need the extra protection in certain situations (like banking), it's worth keeping as a secure additional browser.
In-Built Password Manager — Easily Store All Your Login Credentials
Weak passwords are one of the primary culprits behind account breaches, but complex passwords can be challenging to remember. Password managers have stepped in to fill this void by creating complex passwords for you and storing them in an encrypted vault. All you need to remember is a single master password that protects all the others. Avast Passwords stores your passwords for you and then auto-fills your credentials on the relevant sites when you visit them.
Avast does this well and gives you the option to securely store credit card information and secure notes. Unlike other top antivirus software that offer stand alone apps or browser extensions, the vault is opened from within Avast instead — if you ever decide to stop using Avast, you'll lose access to your vault.
Bonus Features — Data Shredder and Webcam Shield
With webcams becoming an increasing vulnerability in people's digital lives, I was glad to see that Avast includes a webcam blocking tool with its Premium and Ultimate plans. You can select which applications are allowed to access your webcam, and any others will be blacklisted unless you manually allow them to.
Since so many of us switch devices every few years, Data Shredder will also have more and more utility. If you have any sensitive files or folders on your hard drive you can get Avast to delete them in an unrecoverable way. If anyone ever accesses your drive in the future, they'll only see a jumble of 1s and 0s instead of your personal information.
Ease Of Use - 4
Avast is available on Windows, Mac, Android, and iOS, and the apps are incredibly user-friendly. I installed Avast in under 5 minutes on all devices! Some AVs (like BitDefender) have complicated and time-consuming installation processes, so I was pleasantly surprised with Avast's simplicity.
Desktop Apps — Windows Version is Slightly Superior to Mac
Avast's Windows app offers a pleasant interface that doesn't overwhelm you with technical options. The most crucial information is easily accessible at a glance in the main 3 menus, with the most essential security-related settings under the Protection tab.
More advanced options are hidden, presumably so beginner users don't turn something on or off that they shouldn't. However, if you're a more advanced user, there's a host of options for configuring Avast exactly to your liking, or simply turning unwanted features off. I was happy to see that several of the features have extremely prominent on/off toggles, so you don't need to dive too deep to turn off any features you don't need.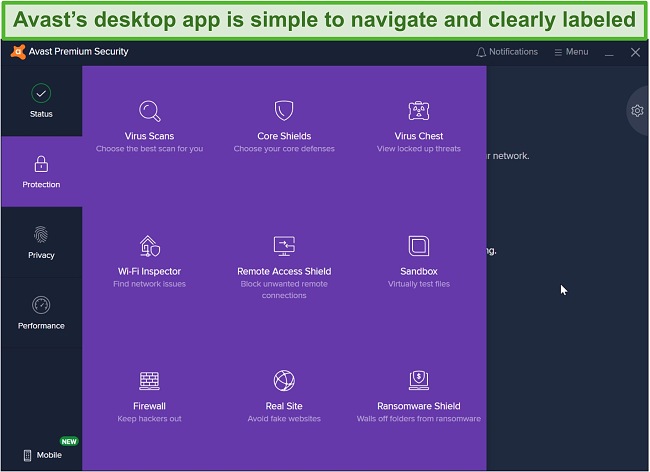 However, I'm not a fan of Avast's free upsells and use of deceptive patterns to push users towards a paid upgrade. For instance, you'll often find features locked with a small padlock icon. I wouldn't mind a small menu button asking me to upgrade, but I don't like constantly being presented with options that are unavailable to me. It also shows you a "Welcome Gift" which when you click to unwrap it is just a discount on the paid service.
Avast's Mac interface is almost the same as Windows, although it strips away a few top-level menus in favor of a more simplified design. The homepage focuses on virus scans, Core Shields, Virus Chest, and upsells for the WiFi Inspector and Ransomware Shield. It's simple to install and use and it will take care of itself with quickly scheduled scans and class-leading Mac virus protection.
There are a few things missing from the Mac version that are present on Windows. This includes a fully-fledged local network scanner that displays IP addresses and other details — which is useful for knowing who's connected to your local network. However, the Mac app also offers 100% protection against malware in tests, making it a great barrier for your whole network.
Mobile Security — Powerful Apps for Android and iOS
I'm happy to see that Avast's mobile apps offer as many features as the desktop versions. The free version shows ads, but I was already expecting this as it's fairly standard in the industry.
Avast Mobile Security comes with an anti-malware scanner, WiFi scanner, remote control access, encrypted photo vault, and device optimization tools. I especially like the remote control features, and I haven't seen an encrypted photo vault included in a mobile AV before.
Avast does offer some additional features that aren't strictly necessary, like battery enhancement and "Boost Ram" (removes idle background programs). Both are already available as in-built features in Android, iPhone and iPad.
Unfortunately, you'll need to pay extra for privacy protection (allows you to secure apps and files with a PIN code or fingerprint) and the SecureLine VPN. The VPN is also available as a standalone app if you prefer to use it without Avast Mobile Security installed.
Support - 4
Avast's support system is average and doesn't offer a truly premium experience. The live chat feature is tricky to find on the website and slow to connect. There isn't any phone or email support at all, which I find highly unusual in an antivirus provider.
24/7 Live Chat — Long Wait Times but Helpful Once Connected
Live chat is the best way to resolve issues but it's not easy to find. You need to find the right category in the knowledge base, select that you still want to contact support, choose the right category again, and fill out your personal details. Once I did initiate the connection, I was surprised that it took 5 minutes to connect to an agent, even though I was supposedly the first person in the queue.
Fortunately, the agent was friendly and knowledgeable. Since the Avast website has no information on the matter, I asked them which streaming platforms can be unblocked with the SecureLine VPN — you can see the answer below.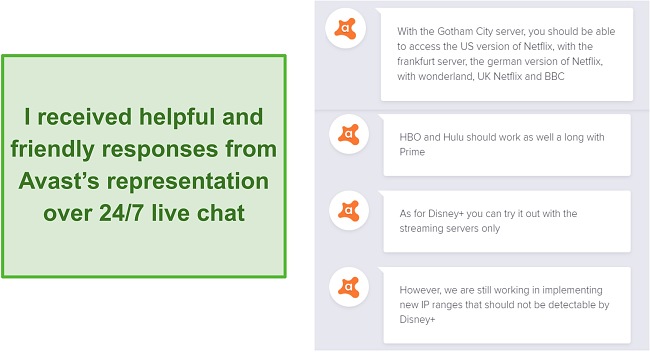 Online Forums — Best for Resolving Non-Urgent Issues
Avast's forums are split into several sections dedicated to different features. I was glad to see that the forums are well-maintained with fast responses from the community. This makes the Avast forum a good choice if you don't have the time to commit to a live chat, or if the issue simply isn't that urgent.
Price - 4
Avast's free version offers decent antivirus protection, but it's not worth having your private data collected and sold to unknown third parties. You'll face the same privacy risks even if you upgrade to the paid plans, which makes it difficult to justify the cost. You can easily find safer and more powerful options on the market. I recommend Norton 360 as it's an excellent antivirus product with a 100% detection rate and strict privacy policy.
Avast Free Antivirus — Good Protection At Zero Cost
Avast's free plan includes malware scanning, ransomware protection, and a WiFi Inspector. This is one of the few free antivirus services on the market and it offers a surprisingly decent performance.
Avast Premium Security — Best Value Plan ($89.99)
Premium includes all the features of the free plan, plus a firewall, coverage for 10 devices, and protection against ransomware, DNS hijacking, remote access, and phishing.
Avast's Premium option is primarily worth it for the inclusion of the firewall and Ransomware Shield, and the ability to install it on up to 10 devices. If you have no need for the VPN on the Ultimate plan, Premium is what I recommend you choose.
Avast Ultimate — Full Package ($113/Year)
Ultimate includes all the features of Premium, plus phishing protection, SecureLine VPN, Cleanup Premium, Passwords Premium, and coverage for 10 devices.
This is the package I signed up for, but I'd only recommend it if you need a VPN. The slight price difference between Ultimate and Premium makes the addition of a VPN a good deal, but if you won't use it then Cleanup and Passwords Premium alone aren't worth the extra money.
30-Day Money-Back Guarantee — Simplest Refund Policy I've Ever Tested
Avast offers a 30-day money-back guarantee with its Premium and Ultimate plans. This gives you plenty of time to try out the product and see if it's right for you. If you're not convinced, Avast makes it extremely easy to get a refund as the entire process is all online.
I even tested the money-back guarantee process myself — and I found it surprisingly easy. You simply fill in a form with your name, order ID, address, and reason for the refund from a predetermined list. Once I submitted the form, I received a refund confirmation email just 1 minute later! Better still, the money arrived back in my account within a week.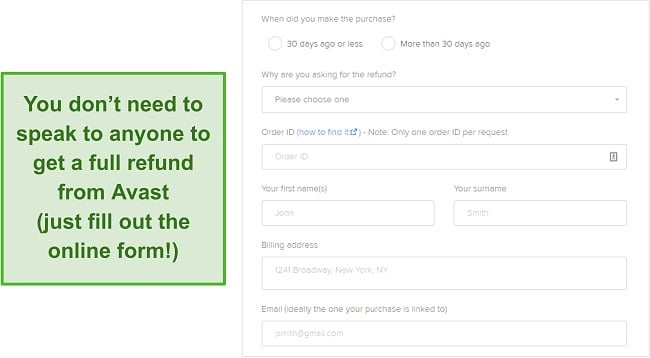 Final Verdict
Despite strong malware and real-time protection, I'm unconvinced that Avast's free or paid plans can compete with other antiviruses on the market. The extra amount you're paying for the premium plans aren't worth the additional features (especially since you probably only need the firewall and VPN). Both free and paid plans are even less appealing after Avast's huge privacy violations in the data-selling scandal.
I can't recommend any of Avast's services, particularly when I compare it to other top antivirus providers. For instance, Norton 360 achieved perfect malware detection scores in the same tests and it employs a strict privacy policy to protect your data. At a similar price point, Norton is a far better choice than Avast — but you don't have to take my word for it. You can try Norton 360 with the 60-day money-back guarantee and test out every feature for yourself risk-free.
Try Norton for free for 60 days!
FAQ: Avast Antivirus
? Is Avast antivirus free?
Yes, Avast Antivirus offers an entirely free version. It does this by upselling users on its premium versions and standalone products and selling enterprise versions to businesses.
? Is Avast safe?
Unfortunately not as the data-selling scandal has cost the company the trust of many users. Avast shut down its subsidiary company, Jumpshot, which was selling the repackaged data after the scandal broke, and appear to have performed a U-turn on their stance towards this type of data management. However, it's impossible to know how the company will treat similar issues going forward.
? Are Avast and AVG owned by the same company?
Yes, both Avast and AVG are part of the same company. Avast is owned by Avast Software B.V. and based in the Czech Republic. In 2016, Avast also acquired Czech-based antivirus AVG, allowing it to acquire a huge user base in the cybersecurity space.