Kaspersky

Antivirus Review 2022: Why It's NOT For Everyone
Kaspersky Overview May 2022
Kaspersky is a popular antivirus but the company's reputation has taken a hit in recent years due to its alleged links to the Russian government. I've always liked Kaspersky as it offers excellent malware protection, so I was concerned about whether there was any truth to these allegations.
After looking carefully into the facts, I couldn't find any hard evidence to support the negative rumors. I'm further reassured by the lengths Kaspersky has gone to prove that it's trustworthy. The company has moved all customer data to Switzerland and now allows users to opt out of data collection. While it's ultimately up to you to decide, I personally don't have any concerns and I believe Kaspersky's free antivirus program is one of the best out there. Unlike competitors, it doesn't lock key security features behind a paywall, so you have access to top-notch real-time and ransomware protection.
I'm less impressed by Kaspersky's paid packages, which offer poor value for money compared to rivals Norton, TotalAV, and McAfee (all of which are more affordable with better-performing features). However, if you only require basic yet powerful malware protection, Kaspersky's free plan remains a great option.
In a Rush? Here's a 1-Minute Summary
Security - 8
Virus Scans — 8 Types of Scans for Internal and External Devices
Kaspersky successfully detected 99.7% of malware discovered in the 4 weeks preceding the tests. This protection rate flagged only 3 false positives (safe files flagged as dangerous), which is far below the industry average. Files that are deleted or modified by Kaspersky are kept in a format that poses no threat to the system, ensuring you can recover any deleted false positives.
Kaspersky provides 8 scanning options:
Full Scan: Carries out a thorough scan of the entire device
Quick Scan: Rapidly checks files and folders where infected files are known to hide
Selective Scan: Scans a specific folder of your choosing
Scan from Context Menu: Allows you to search a separate hard drive or folder
External Device Scan: Examines devices you connect externally for threats
Idle Scan: Searches for infected files when you lock or leave your device
Vulnerability Scan: Looks for vulnerabilities in your applications
Rootkit Scan: Allows you to search areas for software that can hide malicious files and activities on your device
Unless you're an advanced user, you'll only really need to use Full Scan and Quick Scan to keep your devices safe.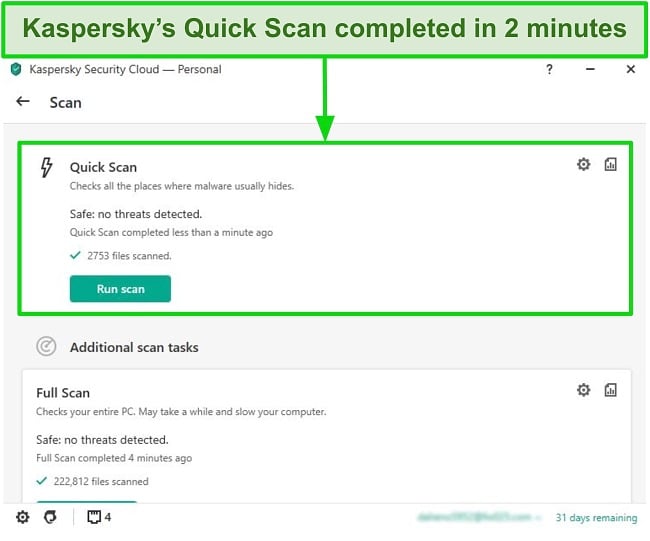 For the full scan, Kaspersky took 13 minutes and 20 seconds to complete and scanned 222,812 files. Though it appeared to have minimal impact on the system, I noticed the scanning speed was slower than other antivirus alternatives. In the same test, Norton 360 scanned much faster with 778,000 files in only 12 minutes.
While the scanning speed was slow, I was pleased to find that Kaspersky is great if you're an advanced user who wants to change and manually set the depth of your scans. I searched through the settings and found you can tweak and set scans to your preference. Options include Signature Analysis and Heuristic Analysis detection, as well as scanning files by format or extension. You can also scan for weak system settings on your device, bolstering the overall security.
Real-Time Protection — Powerful Detection Through Kaspersky Security Network
Kaspersky's real-time detection blocked 100% of threats in tests — an impressive result for any antivirus. To assess real-time protection, my team and I set up a computer running Windows 10 64-bit and accessed sites known to host malware. This excellent real-time protection is included with Kaspersky's free version of Security Cloud, making it one of the best free antivirus choices you can find.
The software uses the KSN (Kaspersky Security Network) infrastructure, which detects and stops potential threats. It does this by having AI and human experts analyze user data with science-based algorithms on a global scale. However, it's important to note that Kaspersky collects user data through its Security Network service, which raises privacy concerns. Thankfully, I found a way to switch data collection off so you don't have to worry about your data.
Throughout testing, I noticed that Kaspersky had little impact on system performance. It's normal for antivirus software to slow your device, but I found the difference to be minimal. To measure this, my team and I first ran our machine with the antivirus uninstalled. We then loaded up several applications and copied files to various folders (both local and network). I performed this several times to create an average before rerunning it with Kaspersky installed and active.
The findings confirmed a slowdown of 8.5% compared to normal, a superb result — nearly 3 times less than the industry average of 23%.
Ransomware Protection— High Detection Rates Through System Watcher
Kaspersky offers its powerful anti-ransomware tool System Watcher across all of its products, including the free version of Kaspersky Security Cloud. This makes one of the best choices if you're after a free antivirus — most free options like Bitdefender and Panda Security lock this feature behind a paywall.
Ransomware is a malicious file that encrypts and locks you out of your device until you meet the attacker's demands (often money). Strong detection like System Watcher significantly reduces the risk of ransomware by automatically detecting and acting on suspicious behavior.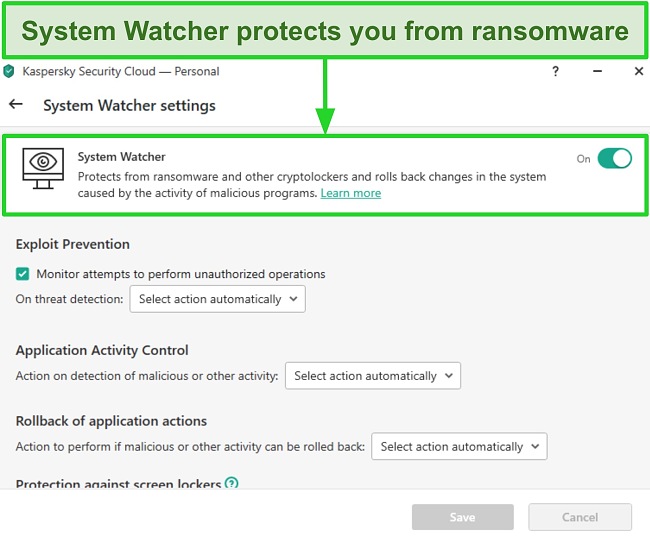 I found additional settings that let me choose a set of key combinations on my keyboard to override malicious lock screen attempts. This is a commonly used ransomware tactic, so I appreciated the extra level of device security this feature provides.
Cloud Protection — Advanced Security at the Cost of Privacy
Kaspersky's Cloud Protection provides excellent real-time protection using the KSN infrastructure. It receives complex cyber-data from users to offer the highest protection level but raises privacy concerns due to its global and systematic collection of user data.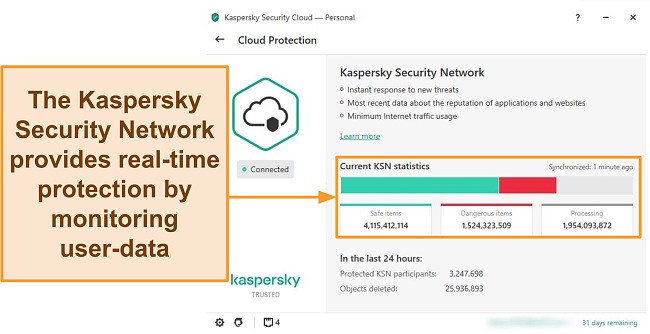 That being said, Kaspersky uses the information it collects to help recognize new threats and benefit its entire user base. For example, Kaspersky's strong anti-phishing technology is powered by KSN cloud services. It successfully scanned all of my emails for phishing and malicious links, while providing notifications when it encountered suspicious messages.
To ensure Kaspersky's data collection practices weren't putting my personal security at risk, I dug a little deeper into the Kaspersky Security Network user agreement. I found that the software collects information such as your device details, applications installed on your device, and all of the websites you visit.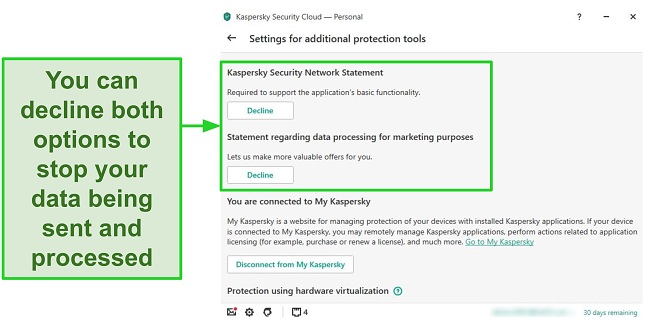 Fortunately, it's easy to deactivate Kaspersky's data collection. If you value your privacy like myself, you can deactivate this option on all desktop and mobile versions. For desktop, click the bottom left cog symbol and go to "Additional settings". Then select "Additional protection and management tools" and decline "Kaspersky Security Network Statement".
When you download the software on mobile it asks you to accept 4 tick boxes. If you don't tick the bottom 2 boxes, the app will still allow you to continue without agreeing to send your data.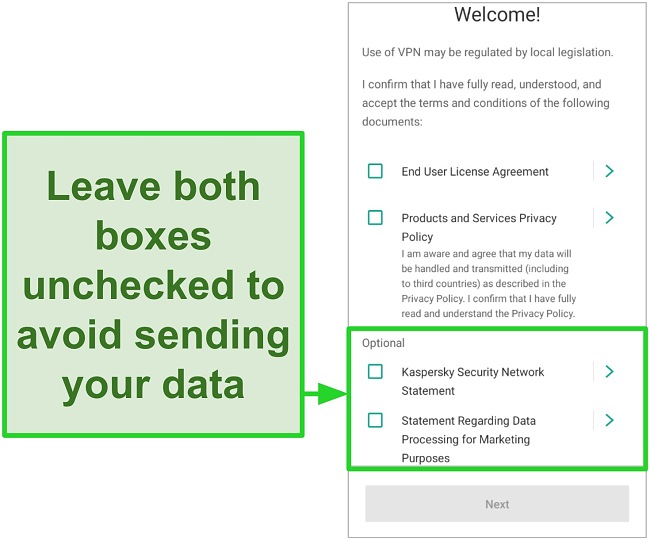 Kaspersky's data collection practices are unwelcome, especially with the recent news of the software being officially banned in the US. I found out this ban means US government agencies and contractors are no longer allowed to use or work with Kaspersky, but individual users and businesses still can. Sadly, this bad relationship with the US government comes from Kaspersky's alleged links to the Russian government and KGB members.
While these claims are unfounded, you might want to consider another top antivirus like Norton 360 if you still find them unsettling. Norton is a highly respected and globally-trusted antivirus company with a clean history.
Quarantine and Firewall — Smart Protection With No Configuration Required
Throughout testing, I had no issues with Kaspersky Firewall accepting and rejecting connections. I did discover that by default, it didn't notify me of network vulnerabilities and opted to push Kaspersky's VPN service instead. To fix this, I had to prevent Kaspersky Secure Connection (its VPN) from running on the system through Task Manager. I actually ended up uninstalling the software eventually, once I discovered how limiting the VPN was.
One particular feature I find unique to Kaspersky is that the firewall doesn't stop working until the operating system has shut down. It provides an added security layer if malicious files attempt to comprise the device while switching the system off. Any threats found are quickly quarantined and converted into a secure format if it seizes any false positives.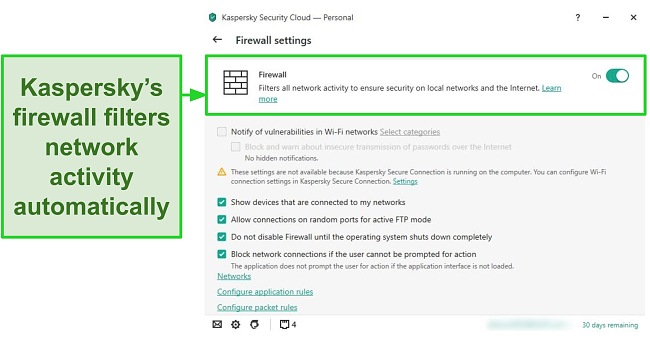 The firewall is customizable and easy to use, though I feel the options could be displayed better. Unlike other antivirus alternatives, the pages to configure application and packet rules for the firewall are huddled at the bottom of the page. It does give me the options to customize ports and network traffic as well.
Features - 6
Kaspersky has an enormous range of features, including a VPN, password manager, and parental controls. Unfortunately, there are significant restrictions for each feature if you use the free plan. This essentially forces you to upgrade into one of the paid packages.
Secure Connection VPN — Powered by Hotspot Shield but Comes With Many Restrictions
Kaspersky provides a Secure Connection VPN app that you'll need to download and install separately. Out of all the extra features, Kaspersky's bundled VPN has to be the biggest disappointment. While it's powered by Hotspot Shield, a trusted and high-performing VPN provider, Kaspersky's VPN is not worth upgrading your antivirus package. I've tested many antivirus suites and can confidently say that competitors offer more affordable packages with a better VPN included.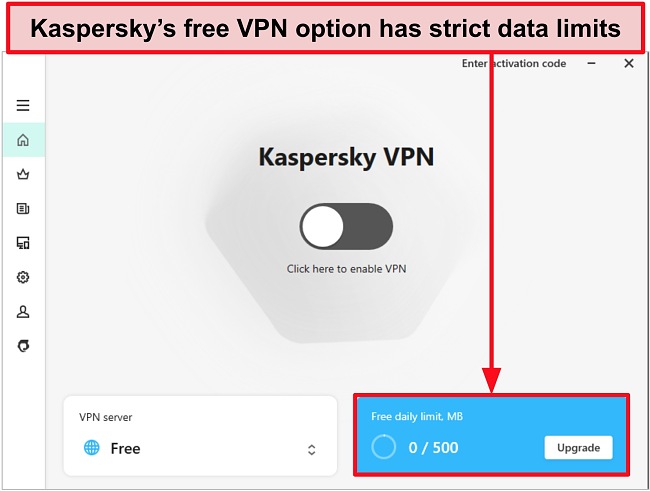 Secure Connection VPN offers a small 200MB daily allowance, which is bumped to 500MB if you connect your Security Cloud account — hardly enough for basic web browsing even with the extra 300MB.
Based on my experience with it, Kaspersky's VPN is fast but automatically chooses a server for you. This gives you no control, even if you've paid for the premium antivirus subscription service. Compared to Norton 360's uncapped VPN service (which is included in its antivirus subscription), Kaspersky's restricted service isn't worth the money.
Password Manager — Store Up to 15 Passwords on the Free Version
Kaspesrky's password manager stores more than just passwords. You can also store bank cards, important documents, and addresses as well. It keeps them securely encrypted and is only accessible with your Master Password, which you need before using the application.
I found the password manager simple and easy to use, but the free version is quite restricted. You only get a maximum of 15 different passwords to use, which simply isn't enough for the average user.
You can use the password manager as a separate app, or download the browser extension (available for Google Chrome, Mozilla Firefox, and Microsoft Edge).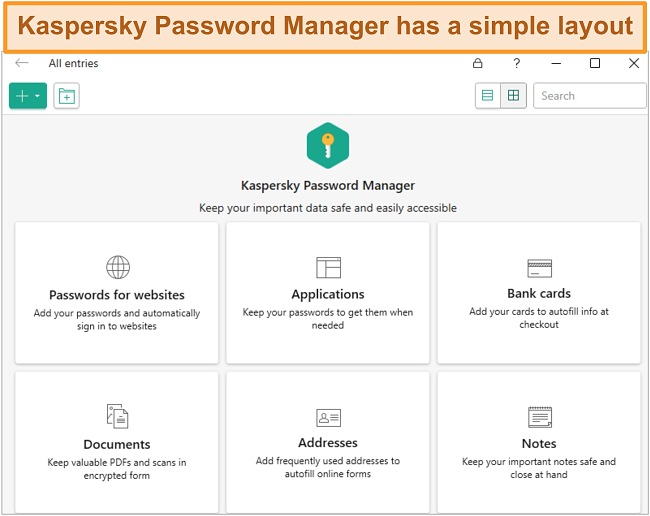 If you upgrade to the premium version, you can store unlimited passwords. However, I don't think it's a good enough reason to upgrade. Unlike Kaspersky, Norton offers a free password manager that doesn't limit how many passwords you can have! You can even try it as a standalone product or get it bundled in Norton 360's all-in-one antivirus package.
Privacy Protection — Includes Webcam Protection, Account Check, and Private Browsing Features
Kaspersky's Security Cloud and Internet Security plan introduces webcam protection, which allows you to see when any application uses your camera. I also discovered that you're able to temporarily ban access to your camera from all applications, even trusted ones. It's a small feature, but a welcome one that makes you feel more secure and unwatched when using your device.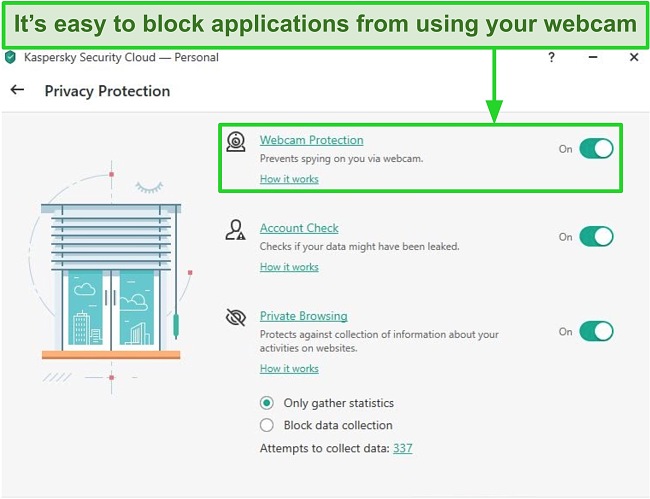 Within the same privacy tab, I found a feature named Account Check that allows you to enter your email address and determine if your data has been compromised in any leaks. It also checks any accounts you use when logging into websites, keeping you updated on any new leaks. While I found Account Check useful, the same information can be found for free online without the need for software tracking every account you use.
The last Privacy Protection tool is the browser extension, which helps to protect and monitor your web activity. This plugin gives you access to an onscreen keyboard, the ability to block ads, and stop all data collection from websites you visit.
Safe Kids Parental Controls — Monitors Device Activity and Schedules Screen Time
This parental control software is part of the Kaspersky suite, but it's also offered as a separate app. You need to install Safe Kids on both the parent and child's devices before it can work. Upon setup, it gives you advice from top child psychologists on how to keep your kids safe online. I genuinely thought this was a nice touch from Kaspersky, as it made me realize just how seriously the company takes its younger users' safety.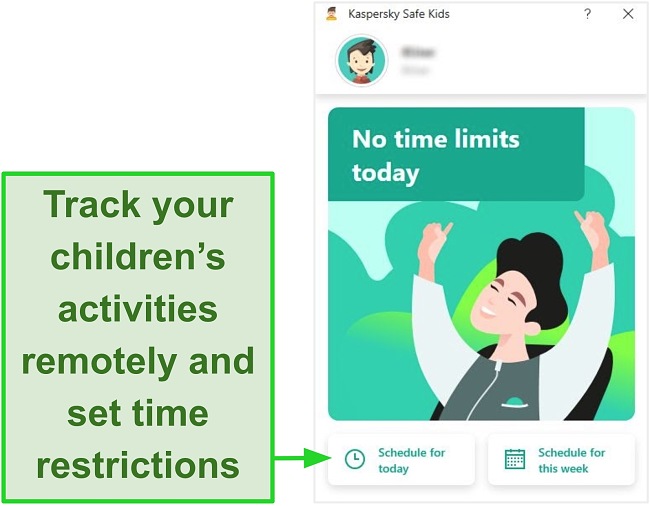 The free version filters out web content via Kaspersky Safe Browser and limits application usage alongside screen time. The premium version goes a step further and allows you to monitor your child's GPS location, Facebook activity, real-time alerts, and safe area settings (like home). It's only available if you buy Kaspersky Total Security and Kaspersky Security Cloud Family.
Though better-paid alternatives can be found, I happily recommend using the free version of Safe Kids. It allows you to use key features like filtering web content and limiting applications or screen time on your child's device, which makes upgrading to the paid version unnecessary.
Safe Money — Secure Your Payments and Configure Your Browser
Safe Money offers the ability to access websites in a secure browser, which is ideal if you often make payments or do banking online. Unfortunately, access to this feature is limited to the Kaspersky Security Cloud Personal, Family, and Total Security packages.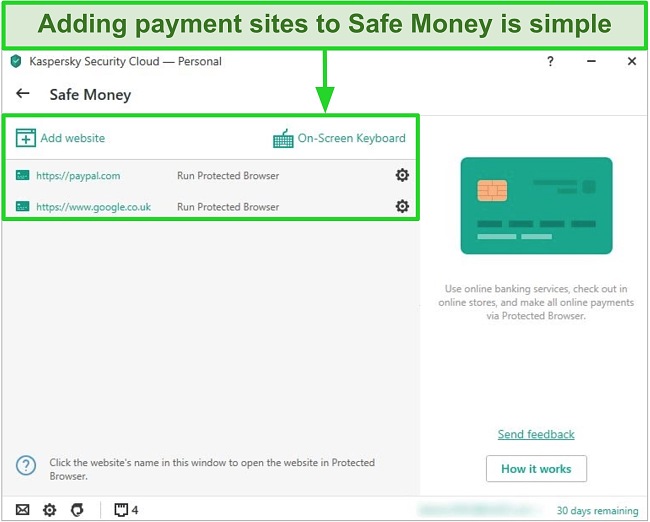 Safe Money is easy to set up. Once you have added the website URL, open up your browser and visit the page. The screen will then open up a new window and display a slight green glow along its frame to show that your connection and page are secure. It does this by blocking plugins and any synchronization within the browser, and also offers an on-screen keyboard for an extra layer of protection.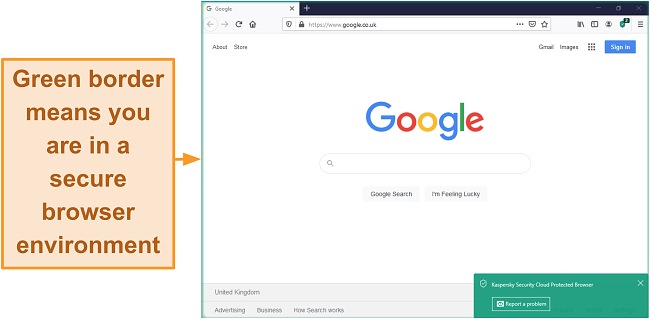 Another layer of protection while browsing is Browser Configuration. I found it when exploring the Kaspersky software and it's ideal to use with Safe Money. The tool automatically changes your browser settings to ensure it's not vulnerable and should be used each time your browser has an update.
With so much focus on a secure browsing experience, it's no wonder that Kaspersky is one of only 3 antivirus brands officially certified for online banking. The certificate is given by MRG (Malware Research Group) Effitas, a globally recognized company that runs rigorous and unforgiving tests on antivirus software. This ensures that only the best are certified.
Cloud Storage — Backup Important Data Onto Dropbox
The Backup and Restore feature allows you to backup all or selected data, which you can save to a local drive or via the cloud. Kaspersky's default cloud choice is Dropbox, which requires you to create an account and comes with 2GB of storage for free.
While having access to cloud storage is useful, Kaspersky's offering is limited compared to competitors. In contrast, Norton offers a minimum of 10GB with its 360 Standard plan, all the way up to 500 GB with an Ultimate Plus subscription.
File Shredder — Permanently Delete Sensitive Files
When you delete a file normally, it can quickly be recovered by anyone who gains access to your hard drive. File Shredder allows you to choose from several standards of algorithm-based deletion processes that permanently delete sensitive files. This means you can prevent any unwanted access from third parties.
Extra Optimization Tools — Unused Data Cleaner, Privacy Cleaner, and More
Kaspersky offers a handful of features that rely on software wizards to clean up your data:
Unused Data Cleaner: Deletes temporary and unused files
Privacy Cleaner: Clears traces of your activity
Microsoft Windows Troubleshooting: Removes traces of malicious objects in the system
I find tools like these are often undervalued. All of them can help you maintain a clean hard drive without unused files or applications slowing down your system, which could increase the length of time you keep the device.
Ease Of Use - 7
Kaspersky offers various applications on Windows (8 or above), Mac (OS X 10.12 Sierra or above), Android (4.4 or above), and iOS (12 or above), all providing a fluid experience that allows you to secure your device quickly.
In terms of adverts, there was a large red button on the free version that serves as a reminder for you to upgrade. Besides that, I experienced no adverts on Windows, mobile, or Mac. The only time Kaspersky nudged me in the direction of purchasing a premium plan was when I tried to use certain locked features within the application.
Desktop Interface — Wide (and Confusing) Range of Apps for Windows and Mac
I found the installation process simple on both Windows and Mac, with the software automatically setting itself up in just a few minutes. The only version that requires personal data upon installation is Kaspersky Security Cloud Free, which forces you to make an account before accessing it. In my opinion, this is a fair trade for a free but powerful software.
I tested several versions of Kaspersky's software on both Windows and Mac. All versions have similar layouts but offer a varying amount of features. Kaspersky Anti-Virus (the only version not on Mac), Kaspersky Internet Security, and Kaspersky Total Security are part of the original Kaspersky suite.
The newer line consists of Kaspersky Security Cloud Free, Kaspersky Security Cloud Personal, and Kaspersky Security Cloud Family, bringing more options when installing on desktop and mobile devices.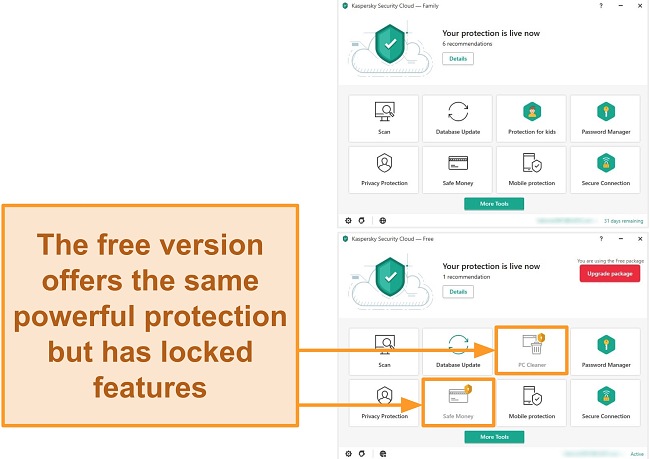 Looking over the different products, I feel that Kaspersky needs to consolidate what it offers. This selection is too confusing for the average user and could be halved with the obvious parallels between them. The exception is the free version of Kaspersky Security Cloud, which stands out for providing free protection without having any confusingly named and priced varieties.
Mobile Apps — Decent Security for Android but Basic Protection for iOS
My experience was smooth and quick when using Kaspersky's mobile apps. Kaspersky Security Cloud is offered free on Android and iOS, or bundled with one of Kaspersky's paid subscriptions. The installation process was simple on both operating systems, though iOS lacked an additional piece of software — Kaspersky Internet Security — found on Android.
Android users can access the free version of Internet Security within the Security Cloud app or download it separately. I noticed the app's main focus was on powerful protection against spyware, but it lacks real-time protection. Unlike other antiviruses for Android, to get this feature and actively monitor your mobile device, you have to sign up for the paid version.
I was unsure why this software is missing from iOS, so I decided to contact Kaspersky's phone support to find out. The representative assured me that the iOS platform is inherently secure with Apple's tight grip on the App store, which is the only place you can install files from. A malicious file on the device can't install or execute any commands because of this, so in Kaspersky's view, the Internet Security app isn't necessary.
Be sure to keep in mind that Kaspersky's 30-day money-back guarantee doesn't apply if you download from the Google Play or iOS App Store. You'll need to download the app directly from Kaspersky's website to be eligible for a refund.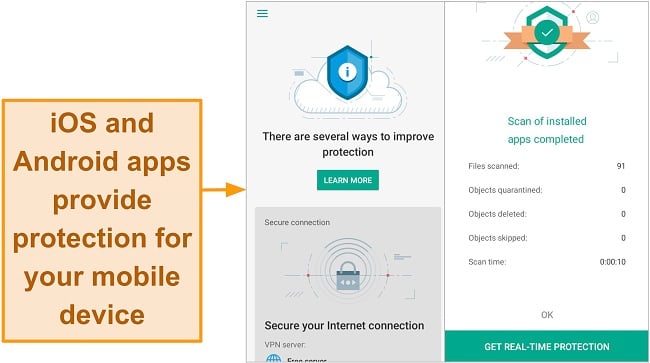 While I was impressed with Kaspersky's performance on Android, the iOS app didn't do much for me besides offer recommendations on changing device settings and the ability to prevent screenshots. If you're after a free iOS antivirus that offers more features, Avira provides device scans, identity protection, and other advanced features. However, given iOS already has robust security settings of its own, the lack of real-time protection on the Kaspersky app isn't a big issue.
Protect your devices with Kaspersky
Support - 6
Kaspersky offers support via live chat, calls, or form requests. The company's website claims its online chat is 24/7, but this is false. When I went to test it, I was quickly met with a notice saying they provided service between 8am to 5.30pm GMT — I visited between the stated open hours, and they were still unavailable! These hours are the same as the phone support, with only form requests being 24/7.
If you're only using Kaspersky's free plan, the support options aren't too bad. Competitors like Sophos and Bitdefender don't even provide in-person customer assistance unless you're a paying customer.
It's a different story if you're a premium customer — in that case, the overall service is disappointing compared to alternatives like Norton and TotalAV. These companies provide easily accessible and instant live chat, making it much easier to receive timely responses.
Live Chat — Falsely Advertised as 24/7
I was disappointed by the inconsistent availability and the falsely advertised 24/7 live chat. When I attempted to connect to live chat, the service was still offline even during its advertised open hours. I investigated further and found that its German, Italian, Dutch, Kurdish, and French chat worked and were available. However, the English, Portuguese, and Spanish versions appeared to remain offline.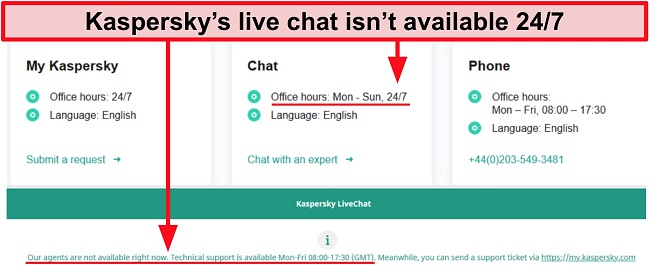 Phone Support — Short Wait Times With Friendly Advice
Unlike live chat, I found Kaspersky's phone support excellent and got through to a customer representative within 5 minutes.
As previously mentioned, I contacted a representative on the phone concerning the missing antivirus software on iOS, and they were confident and helpful in answering me. The rep allowed me to ask my question without running through a script and answered at once with a helpful in-depth reply. Before finishing the phone call, they asked me to write down a reference number for the call if I contacted them again about the same topic. This was a great and unexpected touch.
I've spoken to many support departments over the years, and I wish more would adopt this approach. Having a reference number can speed up wait times and help the support staff find you a solution faster.
Email Support — Fast Response Times but Phone is Better
If you're looking for a refund, the quickest method is to fill out a request form. Kaspersky states it responds within a day to your cancellation process, and I had a response to my request in just 6 hours. I also got detailed answers to general questions, though they weren't as thorough as the phone support I received.

Price - 6
Kaspersky offers a confusing array of different plans. Unfortunately, the information on the website is outdated as well, so it's not a reliable source. I'm not sure why Kaspersky has made it so complicated, but here's the lowdown based on my personal experience testing each plan.
Kaspersky Security Cloud Free — One of the Best Free Plans Available
I highly recommend Kaspersky's free plan as I believe it's the top choice among Kaspersky's product range. It includes:
Antivirus protection (including ransomware protection)
Cloud protection
VPN (200MB limit and bumped up to 500MB if you create a free Kaspersky account)
Password manager (maximum 15 passwords)
Safe Kids parental controls
The Kaspersky website doesn't mention this but you'll also have access to the below tools:
File shredder
Unused data cleaner
Privacy cleaner
Microsoft Windows troubleshooting
Kaspersky is one of the only free antiviruses that doesn't lock ransomware protection behind a paywall and is worth the download simply for this feature alone. You'll also have access to Cloud Protection, which is the same technology used across all paid versions.
Kaspersky Anti-Virus — Cheapest Plan (Windows Only)
This version of Kaspersky offers the same protection level found in the free version and is the cheapest out of its premium range. I found it provides an identical set of tools to Kaspersky Secure Cloud Free — just repurposed exclusively for Windows without the locked features on display. If you're looking for a basic option, stick with the free version of Kaspersky Security Cloud and save yourself the money.
Kaspersky Internet Security — Cheapest Plan (Mac Only)
This is the Mac equivalent of the Anti-Virus plan for Windows. It's the most affordable premium plan if you're a Mac user (and you only want Mac protection).
Kaspersky Internet Security — Best Value Plan
Kaspersky Internet Security offers the best value of the company's paid plans. Compatible with Windows, Mac, and Android, it gives you more privacy and security-focused features, such as:
Safe Money browser extension
Privacy Protection (includes Webcam Protection, Account Check, and Private Browsing)
VPN (unlimited data)
While Kaspersky Internet Security is a pretty good antivirus package, it's not the best value you can find on the market. For instance, Norton 360 Deluxe plan is cheaper than Kaspersky and includes valuable extras, like a VPN and PC cloud backup.
Kaspersky Total Security — Premium Package
This is the most expensive plan but I don't find it's worth the added cost. You only get a handful of new features like:
Safe Kids parental controls (unlimited)
Password manager (unlimited)
Cloud backup (2GB limit on Dropbox)
File protection
Kaspersky Security Cloud — All-in-One Bundle
This is the premium version of the Security Cloud Free plan, and it comes with Personal and Family subscription options.
The Personal option includes everything in the Internet Security plan — it's best for individual users as you can choose either 3 or 5 device licenses. The Family option covers every feature in the Total Security plan, and it's best for large households as it covers 10 devices.
The Security Cloud plans will cost you much more than any of Kaspersky's other offerings. However, it's also poor value for money compared to Norton 360, which offers a more affordable package and better features.
30-Day Free Trial — No Credit Card Required
Kaspersky has a 30-day free trial for Kaspersky Anti-Virus, Internet Security, Security Cloud Personal, Security Cloud Family, and Total Security. No signup or credit card is required to use the free trial, making it an excellent chance to test out any of the variations before you decide to buy.
30-Day Money-Back Guarantee
Kaspersky offers a 30-day money-back guarantee but it's only available if you purchase directly from the company's website. If you purchase via the Google Play or Apple App Store, you can't take advantage of this offer.
The simplest way to obtain a refund is to fill out a refund form and submit it directly. It may take more than 1 business day to get a response (it took a few hours for them to contact me), and the money arrived back in my bank account after 7 working days.
Final Verdict
Based on my tests, I'm a big fan of Kaspersky's free plan as you're getting the same quality antivirus protection as the premium packages. If the Russian scandal still puts you off, remember that you can easily switch off data collection and keep your information private.
While Kaspersky offers one of the best free antivirus products on the market, I can't recommend any of Kaspersky's paid plans. The overall performance of its extra features is fairly lacklustre. Simply put, the VPN, password manager, and parental controls just aren't worth the money. You're better off using a top-tier antivirus like Norton, which has a more comprehensive range of features that all work really well.
If you don't want to pay for maximum protection, Kaspersky's free plan is good enough to protect you from most cyberattacks. It certainly stands out in comparison to other free antivirus programs like Sophos and Avira, as it offers a host of features related to security and privacy. Even though all the features have limitations, it's nice that Kaspersky's free plan goes beyond simple malware protection.
FAQ: Kaspersky Antivirus
? Can I trust Kaspersky?
Yes, the scandal surrounding Russia has no substantive evidence. In an effort to create transparency and trust for users, Kaspersky has moved most of its network outside of Russia. My research did flag some issues surrounding the company's privacy policies, but Kaspersky assures users that it's only for analytical use.
? Why is Kaspersky banned in the US?
Due to claims that it works with Russian government agencies like the KGB, a temporary ban was set in 2018. A further permanent ban was imposed in 2020, stopping Kaspersky from being used by US government agencies and contractors. If the idea of Kaspersky collecting your data doesn't sit well with you, there is a simple and easy way to switch this setting off.
? Is the free version of Kaspersky safe?
Yes, it's safe. I actually recommend the free version out of the entire Kaspersky product line. It provides unmatched antivirus protection on par with premium alternatives and even includes ransomware protection — something you'll find missing in other free antivirus options. Though it lacks a few features, Kaspersky Security Cloud Free still offers data protection tools like File Shredder and Privacy Cleaner, which help keep you secure.
? Can Kaspersky protect me from phishing links, trojans, viruses, and spyware?
Yes, all versions offer the same powerful protection. In tests, it provided total security against any threats my team could throw at it. Even the free version of Kaspersky Security Cloud delivers the same excellent protection rates, making it one of the best free antivirus options available. It also includes ransomware protection, unlike other free alternatives that usually lock this important feature behind a paywall!