Visit OpenVPN Website!
OpenVPN

Review 2023: Before You Buy, Is It Worth It?
OpenVPN Overview 2023
OpenVPN is a widely-used industry-standard protocol for VPN connections. It is not a VPN service itself, but rather a protocol that is often offered by VPN providers. This article will provide an overview of OpenVPN, its functionality, comparisons to other VPN protocols, and instructions for setup.
OpenVPN achieves the perfect balance between security, functionality, reliability, and is unmatched when it comes to bypassing firewalls. However, it can slow down speed performance due to its high encryption levels. Setting up the software can be complicated and may not be the best option for those unfamiliar with VPNs.
OpenVPN is a free and open-source software package that allows for secure internet connection. It can also be used through a VPN service for a monthly fee. These services, often provided by premier providers, manage and configure the protocol for ease of use, saving the user from having to do it themselves.
Don't Have Time? Here's a 1-Minute Summary
OpenVPN Unblocks Netflix, Amazon Prime Video, Hulu, Disney+, HBO Max, and BBC iPlayer
OpenVPN is a powerful tool for accessing streaming services, but it does not come with any pre-installed servers. This means that you will need to connect to your own servers or use third-party options, such as those provided by the OpenVPN community or other VPN services.
One option is OpenVPN's own cloud-based VPN service, Cyber Shield, which has servers that may allow access to some streaming services. However, keep in mind that the servers provided by the community are not guaranteed to work and may come with privacy risks. Additionally, testing has shown that while some community servers may allow access to US Netflix and other streaming services, they may not have the necessary bandwidth for HD streaming.
Ultimately, your experience with OpenVPN will depend on the service you choose to use with it. Free community-made servers may be prone to overcrowding and limited bandwidth, which can negatively impact your streaming experience.
Decent Connection Speeds on Locals Servers
OpenVPN, although not the fastest VPN tunneling protocol available, still offers a sufficient connection speed for most casual VPN users. By testing a variety of free third-party servers from the Community Forum, located on different continents, it was determined that the connection quality is optimal when the server is in close proximity to the user. Long-distance servers did not perform as well in these tests, with many failing to connect or having a download speed too slow for practical use. It is possible that there may be dependable long-distance servers available, but none were identified that met the necessary standards for privacy during the testing process.
Speed Test Results
I conducted a test to evaluate the internet speeds when using the OpenVPN protocol with free servers. My base internet speed is 9.8mbps and I am located in the North-West region of the United States. To provide a comprehensive understanding, I ran the test using servers from three different continents including North America, Europe, and Australia.
When utilizing local servers, the speed decrease with OpenVPN connected was minimal with a mere 8% reduction in download speed and no significant change in ping. However, when I attempted to use OpenVPN with distant servers, I encountered high latency and much slower downloads.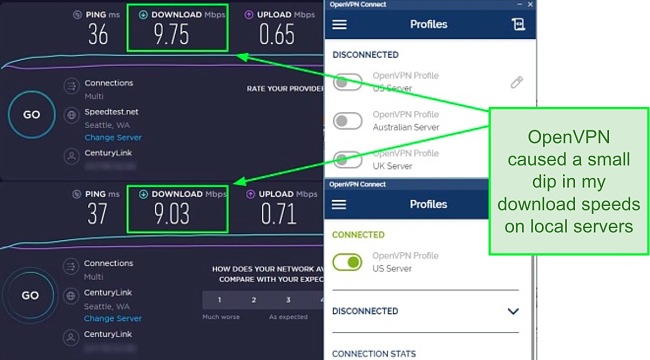 For instance, when utilizing a UK server that is approximately 4.5K miles away, I experienced an 18% drop in download speed. Additionally, there was a significant increase in my ping from 2ms to 499 ms. Although this was one of the fastest free servers I found for the UK, it unfortunately did not unblock most streaming services.
The best Australian server I found, which is approximately 8K miles away, was almost unusable for anything except basic web browsing with a 43% decrease in download speeds. The ping was slightly better than the UK server, but the speeds were not suitable for streaming or more intensive tasks such as online gaming.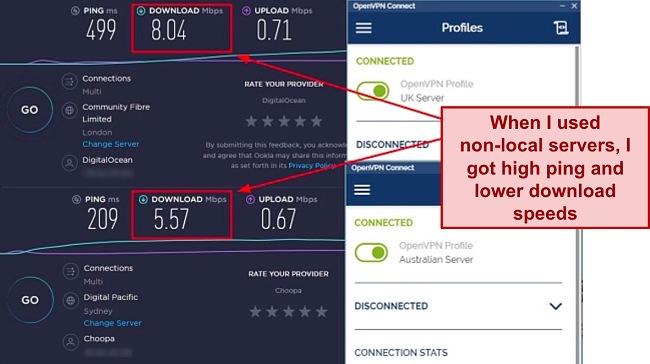 When it comes to utilizing OpenVPN, the speeds obtained may not align with personal expectations. However, it is important to consider this option when engaging in activities such as torrenting or streaming. If you're seeking increased speeds, ExpressVPN is a highly recommended alternative as it supports OpenVPN and consistently ranks among the fastest VPN services on the market.
Why Most Speed Tests are Pointless & How We Correctly Test VPN Speeds
Speed determines how fast content uploads, so if you're torrenting or streaming, you want the speed to be somewhat identical to your regular internet speed. Since a VPN encrypts your data, it usually takes a bit longer to send your data back and forth, which can slow down your connection. However, if your ISP deliberately slows down your connection (also known as throttling) a VPN might increase your internet speed. Testing a VPN is somewhat pointless because new servers pop up and affect speed. Your speed can also differ according to your location, so your speed test might not match ours. Having said that, we tested the speed in numerous locations to provide you with the average.
Server Network — Unofficial Servers Only
OpenVPN, as a protocol, does not offer any official servers for you to connect to. However, there are various third-party servers available that can be accessed through the protocol. These servers can be found in various online communities and discussion forums, such as the OpenVPN community, Macrumors, and Blackhatworld.
It is important to note that these third-party servers are not officially endorsed by OpenVPN as they may have different privacy policies, speeds, and abilities to unblock content, and may also come with potential risks. As an alternative, OpenVPN offers a premium cloud-based VPN service called Cyber Shield, which provides official servers for users to connect to. Another option to consider is Cyberghost, which is known for its large network of servers in 91 countries, with over 9,000 servers available.
Security — Top-of-the-Line Features
OpenVPN is a secure and reliable solution for protecting your data from unauthorized access. This is achieved through the use of advanced encryption techniques, such as asymmetrical cryptography, and regular updates to ensure maximum security. The encryption process utilizes a variety of ciphers, including AES, Camellia, 3DES, CAST-128, and Blowfish, which makes it extremely difficult for cybercriminals to access or steal your information.
Additionally, OpenVPN utilizes its own custom protocol, based on SSL and TLS, to secure the transfer of information between devices. This method, known as asymmetrical cryptography, uses a public key to encrypt data and a private key to decrypt it, ensuring that only authorized devices have access to the data.
In terms of data transfer, OpenVPN uses both UDP and TCP protocols. UDP is faster but sacrifices reliability, while TCP ensures accurate and reliable data transfer. The default protocol used by OpenVPN is UDP, but if the connection becomes unstable, it will automatically switch to TCP to maintain a stable connection without compromising security.
The open-source community regularly updates and patches the protocol, ensuring that any known vulnerabilities are fixed and the security of the protocol is continuously evaluated. This makes OpenVPN a reliable and secure option for protecting your data.
Privacy — User Discretion Advised
Although I had my doubts about using a free program like OpenVPN at first, I soon realized that I had nothing to worry about. Its data collection system is highly restrictive, and in fact, one could utilize the protocol with only the provision of an email address. No financial information or personal details are necessary. This feature is a clear indication of the software's commitment to user privacy.
The security of OpenVPN is a well-established fact, however, the problem arises when using third-party servers. OpenVPN does not take responsibility for how these servers handle user data and there are no restrictions on what server owners can do with it. It is important to be aware of this potential vulnerability and take appropriate measures, such as thoroughly researching the server before connecting to it.
To ensure the security of the protocol, QuarksLab and Cryptography Engineering conducted independent tests on OpenVPN from December 2016 to April 2017. Two minor security issues related to remote service delivery were identified, but were promptly resolved.
In conclusion, while OpenVPN is a safe option, it is important to carefully review the privacy policy of any VPN service you use to ensure the protection of your data. For a more comprehensive VPN solution that utilizes OpenVPN as one of its protocols and does not collect any data, I highly recommend ExpressVPN.
Torrenting — Depends On Server
When using OpenVPN for torrenting, the performance and security of your connection will depend on the VPN server you are connected to. However, OpenVPN is a strong option for those looking to safely share P2P files, as it offers both high speeds and advanced security features.
It is important to note that my team and I do not support illegal torrenting, and we advise all users to familiarize themselves with the laws and regulations regarding torrenting in their country. Additionally, it is crucial to ensure that any torrents you download are legally obtained and do not violate copyright laws for your own protection.
Does OpenVPN Work in China? Yes, When Used With the Right VPN Service!
One specific use case of OpenVPN is to access content that is restricted in China. By using OpenVPN to encrypt and send data through the TCP port, you can bypass Chinese internet censorship and access restricted content.
When using TCP, OpenVPN performs multiple verification checks to ensure a reliable connection. This is beneficial for situations where a consistent and secure connection is needed. However, if speed is a priority, UDP may be a better option as it transmits data without verifying if the receiving computer received it. This means that data can be sent and received faster, but with the trade-off of potentially less reliability..
It is worth mentioning that unapproved VPNs are considered illegal in China, but there haven't been any documented incidents of tourists facing penalties for utilizing them. The Chinese government mainly tackles VPNs by technological methods, like blocking them, instead of targeting the individuals who employ them.
User Experience
- 6.0
/ 10
Simultaneous Device Connections — Unlimited
OpenVPN's manual configuration offers a significant benefit in that it can be set up on an unlimited number of devices. However, the installation process can be lengthy and may require the use of various third-party plugins. This complexity can be challenging for individuals who are not well-versed in using such tools.
Device Compatibility — Run it on Almost Anything
OpenVPN is a versatile protocol that can be used on various operating systems such as Mac, Android, Windows, Linux, iOS, and more. This makes it an ideal option for individuals or organizations that need to run their VPN service on multiple devices.
However, it should be noted that OpenVPN does not support the use of proxy servers. This can pose a challenge for those who use OpenVPN on networks that employ proxy servers for security measures, such as schools and businesses. If you are looking for Windows-compatible VPNs, there are other options available for your consideration.
Ease of Setup & Installation — Technical Know-How Required
If you're new to VPNs, the idea of manually setting up an OpenVPN connection may seem daunting. Not only does it require technical expertise and a significant investment of time and effort, but there's also a risk of security issues arising from improper installation.
However, there's an alternative solution that's much simpler and user-friendly. By using OpenVPN through a VPN provider, the process of configuring the connection is greatly simplified. Many providers even offer comprehensive guides and support to assist users in this process, so for those who want to avoid the difficulties associated with manual setup, it's recommended to choose a VPN provider that utilizes the OpenVPN protocol. This will provide a more streamlined and secure experience.
How To Install OpenVPN Client on Mac:
Download OpenVPN Connect. To begin, obtain the official OpenVPN open source client, OpenVPN Connect, by downloading it from the official website.


Install OpenVPN Connect. After completing the download, proceed through the startup wizard by clicking on 'next' until reaching the 'finish' button, ensuring all necessary boxes are checked.


Configure Server Profiles. Once the installation process is completed, import server profiles to add VPN servers to the OpenVPN client. These profiles allow you to add VPN servers to OpenVPN client.


Establish a VPN Connection. Utilize the provided username and password from the VPN website to log in and then initiate the connection by clicking "Connect" on the connection interface.


Browse Securely. With the server successfully added, you can now securely browse the internet.
OpenVPN is an open-source protocol that does not provide traditional support options such as live chat or email. However, it offers a comprehensive Frequently Asked Questions (FAQ) section on its main page. This section includes step-by-step guides on how to set up OpenVPN to meet your specific needs.
For more personalized support or for issues not addressed in the guides, there is a large community of OpenVPN professionals who use the protocol regularly. They are available to offer support and assistance. Additionally, OpenVPN offers support through an online ticket system, but it is only accessible to members.
How We Test Customer Support and Why Should You Care
We personally test the customer support team of every VPN we review. This means asking technical question through the live chat feature (where applicable) and measuring the response time for email questions. Whether you need to connect to a specific server, change your security protocol, or configure a VPN on your router, finding a VPN with quality customer support should be important to you.
As open-source software, OpenVPN is freely available for anyone to use and modify. However, it's important to note that using OpenVPN does require some technical expertise and manual configuration. This can be a challenge for those who may not have the technical skills or time to set up the software.
If you are looking to improve your online experience by simplifying setup and maintenance, paid options such as OpenVPN Access Server and Cyber Shield VPN are available. OpenVPN Access Server is designed for businesses and Cyber Shield VPN is designed for individuals. Both options provide a user-friendly interface and minimal technical expertise is required for setup and maintenance.
Another option is to use OpenVPN through a separate VPN provider. These providers license the software and charge a fee for its use. This option may cost more, but it often comes with additional features such as a simpler user interface, multiple protocol options, and dedicated servers. Additionally, these providers often provide customer support and troubleshooting assistance.
It's important to keep in mind that while these providers are utilizing the OpenVPN protocol, they are not simply selling access to it. They are offering a service that includes the use of the software along with other added benefits.
OpenVPN offers the following plans
Final Verdict
OpenVPN is a great option for those who have technical expertise and are looking for an alternative to paid VPN services. This protocol is widely considered to be secure, reliable, and compatible with a variety of platforms. Security experts often recommend OpenVPN for all online activities due to its transparency.
One of the benefits of OpenVPN is that it is open-source software. This means it is actively maintained by a community of developers, independently audited, and owned by no single entity. This reduces the risk of malicious intentions and ensures that any issues that arise can be quickly resolved.
However, the high level of security provided by OpenVPN can result in slower connection speeds. Connecting to foreign servers may result in unusable speeds, a problem that is less likely to occur when using a dedicated VPN service. Additionally, the use of third-party servers may raise privacy concerns, but it is possible to find trustworthy server owners or set up your own.
To ensure a secure internet connection, it is recommended to use a consumer VPN service that utilizes the OpenVPN protocol. One reputable provider that utilizes this protocol is ExpressVPN. You can test ExpressVPN out for yourself and if you're not satisfied, you have up to 30 days to claim a refund.
FAQs About OpenVPN
Is OpenVPN good?
Yes! OpenVPN is a suitable choice if you are comfortable with networking and have a technical understanding.
If you are willing to invest time in finding and
maintaining a server
, OpenVPN can provide significant benefits. However, if you are new to VPNs or prioritize fast download speeds, OpenVPN may not be the best option for you.
Can I use OpenVPN for free?
Yes, OpenVPN is a free service that can be configured manually or using its client software. Although, it is also possible to use a VPN service that comes with OpenVPN pre-installed to avoid the hassle of setting up the client yourself.
You should opt for a paid VPN service with a money-back guarantee over free VPN services. By doing so, you can claim a refund if the company falls short of its promises. These are a few reliable free VPN options you can try if you're interested in testing out actual free VPNs.
Is OpenVPN really safe?
Yes. OpenVPN is considered one of the best VPN protocols out there right now. It has features such as 256-bit OpenSSL encryption process with authentication certificates, SSL/TLS encryption protocols, UDP and TCP information transfer protocols, and an auto-kill and auto-connect switch, making it one of the safest VPNs available.
The OpenVPN protocol was even subjected to two security audits back in 2017 – the first found only very minor security issues that did not threaten user data, and the second found just two bugs that were quickly fixed.