Is Popcorn Time Still Safe in 2021?
Last Updated by Chase Williams on October 16, 2021
The short answer: It depends. You can get into legal trouble for watching copyrighted content on Popcorn Time (and depending on the country, for accessing Popcorn Time itself).
A trustworthy VPN with a strict no-logs policy and military-grade encryption is capable of keeping your personal data safe if you ever need to access Popcorn Time. While my team and I don't condone participating in any illegal activities, it's important to understand how to safely use Popcorn Time — especially if you're a researcher or government personnel and you need to access it for work.
The best VPN for security and speed is ExpressVPN. It's backed by a 30-day money-back guarantee, so you can test it for yourself without any risk. If you don't like it, you can request a refund in 30 days with no questions asked.
Access Popcorn Time with ExpressVPN
Quick Guide: 4 Steps to Safely Use Popcorn Time With a VPN
Get a VPN. I recommend that you try ExpressVPN for it's excellent security features risk-free for 30 days.
Connect to a nearby VPN server for the fastest connection.
Download the latest Popcorn Time app from reddit.com/r/PopCornTime. Run the downloaded file and install Popcorn Time.


Open Popcorn Time and start streaming!
Stream Popcorn Time anonymously with ExpressVPN!
3 Best VPNs for Popcorn Time
Key Features:
3,000+ servers in 90+ countries
Automatically connect to the fastest streaming server
Torrent on up to 5 devices at once
30-day money-back guarantee
24/7 customer support
ExpressVPN is a great option for securely streaming Popcorn Time. Its built-in TrustedServer technology never stores your data and your data is wiped from the RAM servers after every restart. This allows you to avoid leaving a digital footprint when streaming or downloading content.
ExpressVPN encrypts your data, including your browsing history and IP address. It provides leak protection so your personal information is never accidentally exposed. I ran a test on ExpressVPN to check its leak protection and it successfully kept my information secure!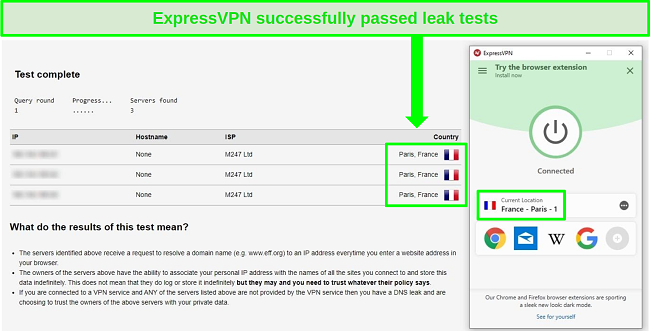 It's also one of few VPNs that can bypass censorship blocks in China! Keep in mind that the protection of a VPN doesn't give you license to commit illegal acts, so please exercise a basic level of caution when using a VPN in China.
I had incredibly fast speeds without lagging when I tested ExpressVPN's global servers for streaming. A subscription comes with unlimited bandwidth, so you'll have interrupted streams and downloads.
Try ExpressVPN's 30-day money-back guarantee for a free 30 day trial.
ExpressVPN also unblocks: Amazon Prime Video, Netflix, BBC iPlayer, Hulu, Vudu, SkyTV, HBO Go, HBO Now, Sky, SHOWTIME, ESPN, YouTube, and Kodi.
ExpressVPN works on: Windows, Mac OS, Android, iOS, Linux, Blackberry, PS4, Xbox, and Nintendo Switch.
Stream Popcorn Time in private with ExpressVPN!
Key Features:
5,500+ global servers in 90+ countries
Dedicated streaming and torrenting servers
Stream on up to 7 devices at once
45-day money-back guarantee
24/7 customer support
It's easy to find a fast server with CyberGhost's 5,500+ servers around the world. Its many servers give you a better chance of connecting to a less busy server, which can provide higher quality streaming and faster speeds.
CyberGhost provides NoSpy servers with data encryption, a reliable kill switch, and built-in leak protection to protect your online activity. You won't have to worry about exposing your online privacy while you stream.
When I tested servers in Poland, Germany, and France, I got fast enough speeds for high-quality streaming. Every server offers unlimited bandwidth, so you'll never have issues with streams stopping midway due to data caps.
CyberGhost even has optimized servers for streaming platforms like Netflix US, which is useful if you're traveling abroad and want to access content you rightfully paid for.
Try CyberGhost's 45-day money-back guarantee to test Popcorn Time for free with the longest refund policy on this list.
CyberGhost also unblocks: Amazon Prime Video, Netflix, BBC iPlayer, Vudu, SkyTV, HBO Go, HBO Now, SHOWTIME, ESPN, and Spotify.
CyberGhost works on: Windows, Mac OS, Android, iOS, Chromebook, Linux, PS4, Xbox One, and Nintendo Switch.
Watch Popcorn Time from anywhere with CyberGhost!
Key Features:
1,300+ global servers in 60 countries
Buffer-free streaming without data limits
Watch with up to 10 devices at once
30-day money-back guarantee
24/7 customer support
IPVanish encrypts your internet traffic and you can even stream Popcorn Time securely on public WiFi. It has a kill switch to stop data transfers, so you won't have to worry about your real IP address getting leaked if your connection drops. It provides a SOCKS5 proxy to hide your online identity without encryption to torrent faster.
It also has a simple user interface that's easy to use. Its "Quick Connect" option pairs you with the best available city and server in seconds. Just choose a country and click "Connect" to use the fastest server for streaming Popcorn Time.
I tested servers in Warsaw, New York, and Frankfurt, and I got consistently fast speeds. I was particularly impressed by New York's speed despite my far distance from the server. Your own speed may vary based on your location, but you should be able to browse or stream on Popcorn Time without any issues.
IPVanish offers a 7-day money-back guarantee that you can try risk-free for a week.
IPVanish also unblocks: Amazon Prime Video, Netflix, Hulu, HBO Go, SHOWTIME, DAZN, and ESPN.
IPVanish works on: Windows, Mac OS, Android, iOS, Linux, PS4, and Xbox One.
Get IPVanish to stream with Popcorn Time!
How to Choose the Best VPN for Popcorn Time
I looked for these features to find the best VPN for Popcorn Time:
High-speed servers for fast streams in high quality.
Leak protection to prevent your IP and DNS addresses from revealing your identity.
Integrated kill switch avoids data leaks if your VPN connection drops.
No-log policy to stop tracking your online activity.
Servers that can unblock streaming services like Netflix or Prime Video.
Encryption for secure browsing on unprotected WiFi networks.
How a VPN Works With Popcorn Time
A VPN can hide your real IP address and encrypt your online activity. This keeps your personal information private from any unwanted third-party spying (especially advertisers and hackers). Otherwise, anyone can see your real IP address, which can be used to trace your identity.
Keep in mind that while the Popcorn Time software is completely legal in some countries, it's against the law globally to watch copyright-protected content. In addition, if you torrent copyrighted material and a copyright holder discovers your IP address, you can get fines or even criminal charges.
Popcorn Time Not Working With Your VPN?
If Popcorn Time isn't streaming, try to:
1) Switch Your VPN Server
Close Popcorn Time. Disconnect from your VPN then reconnect to it. Start streaming Popcorn Time.
2) Reboot Popcorn Time and Your VPN
If your VPN adapter has network connectivity issues, try closing Popcorn Time and your VPN. Reopen your VPN first and Popcorn Time after. You can also try restarting your device.
3) Disable Third-Party Firewalls
It's possible that your firewall is blocking Popcorn Time from connecting to the internet. Open your firewall to see what's blocking the program. If you find the file "Popcorn-Time.exe" blocked, you can disable the firewall to stream Popcorn Time.
FAQs
Can I use a free VPN to watch Popcorn Time?
It's possible to use a free VPN, but they should be avoided. They're known to:
Have limited bandwidth and slow speeds, leading to interruptions and low-quality streams.
Be unreliable in unblocking streaming services.
Insert ads on your web pages.
Track and sell user data.
Sell your bandwidth to customers on premium plans.
Avoid these issues and stay safe online with a quality VPN! ExpressVPN can also stream from multiple streaming services, like Netflix, Hulu, and Disney+ with none of these drawbacks.
ExpressVPN also has a 30-day money-back guarantee that gives you a risk-free way to try the service. If you're not satisfied, you can ask for your money back from the customer support team within 30 days.
On which devices can I watch with Popcorn Time?
Popcorn Time has apps for:
Windows
macOS
Linux
Android
iOS
While the App Store doesn't have the official Popcorn Time app yet, you can still access the streaming service with the Popcorn Time iOS installer. You can also install the Popcorn Time iOS app if your device doesn't have download restrictions.
Just be sure to use a quality VPN to protect yourself from web trackers, malicious hackers, and other third parties while accessing Popcorn Time on your device.
How do I cast Popcorn Time with a VPN?
You can cast Popcorn Time by setting up a VPN on your router. This ensures that your Chromecast, DLNA, or Airplay device is protected.
How can I use a VPN with Popcorn Time's mobile app?
You can stream Popcorn Time with a VPN on your mobile device with the same instructions as on a computer. Just download the VPN's app, connect to a server, and start streaming Popcorn Time.
How secure is using a proxy for Popcorn Time?
While a proxy changes your IP address, it doesn't secure your connection. It's more secure to use a VPN as it encrypts your internet traffic. ExpressVPN uses military-grade encryption on all its global servers. It even has an automatic kill switch that blocks all traffic if the connection unexpectedly drops out.
Try ExpressVPN risk-free with Popcorn Time
Safely Watch Popcorn Time With a VPN
Use a quality VPN to hide your real IP address from any hackers or malicious third parties. Then, you can safely access Popcorn Time without getting in trouble.
Not sure which VPN is right for you? I recommend ExpressVPN for its reliable security features to protect your online identity. ExpressVPN also offers a 30-day money-back guarantee so you can try the service with zero risk. If you feel the VPN isn't right for you, you can ask for a full refund within 30 days (no questions asked).
Summary: These Are The Best VPNs for Popcorn Time in 2021
Top Choice