[SOLVED] Netflix Proxy Error Code m7111-5059 (Updated Fix)
Last Updated by Chase Williams on July 01, 2020
The last thing I want to see on Netflix is this frustrating proxy error message:

Pardon the interruption
You seem to be using an unblocker or proxy. Please turn off any of these services and try again. For more help, visit netflix.com/proxy.
Error Code: M7111-5059
This message appears when Netflix realizes you're using a VPN. Due to copyright reasons, Netflix blocks you from using a VPN to watch TV shows and movies outside your home country.
Don't worry though — I'll show you the easy workaround I used to bypass the Netflix proxy error. I tested over 45 providers to determine which VPNs still work with Netflix, and NordVPN is the best for avoiding the Netflix proxy error (try NordVPN risk-free for 30 days!)
Get NordVPN and bypass the Netflix proxy error!
July 2020 Update: NordVPN has dropped prices for a limited time to a crazy $3.49 per month for the 2-year plan (you can save up to 70%)! This is a limited offer so be sure to grab it now before it's gone. See more information on this offer here.
How to Solve the Netflix Proxy Streaming Error
The first thing you'll need to bypass the Netflix proxy is to get a VPN that works with Netflix. The only way to find the ones that can consistently beat the tough Netflix VPN block is to test and retest different VPNs.
To save you time and hassle, I've done the research and testing to shortlist two VPNs you can count on to solve the Netflix proxy error: NordVPN and ExpressVPN.
For my latest test, I wanted to see if I could watch Suits Season 9, which is only available on Netflix UK, and The Office (US) which is only on Netflix US. I used a Windows computer and an Android phone.
I came away from the ExpressVPN test impressed that it connected to a server that worked in just a few seconds. I could access both UK and US Netflix libraries easily, and there wasn't any lagging, buffering, or poor quality streams.
This video below shows how one of my colleagues also managed to bypass the Netflix proxy error with ExpressVPN and watch Netflix US.
1-Minute Video: How to Fix the Netflix Proxy Error with ExpressVPN
Similarly, tests with NordVPN also proved that this service works great for bypassing the Netflix proxy error. I didn't have any issues accessing Netflix with NordVPN on my computer and phone.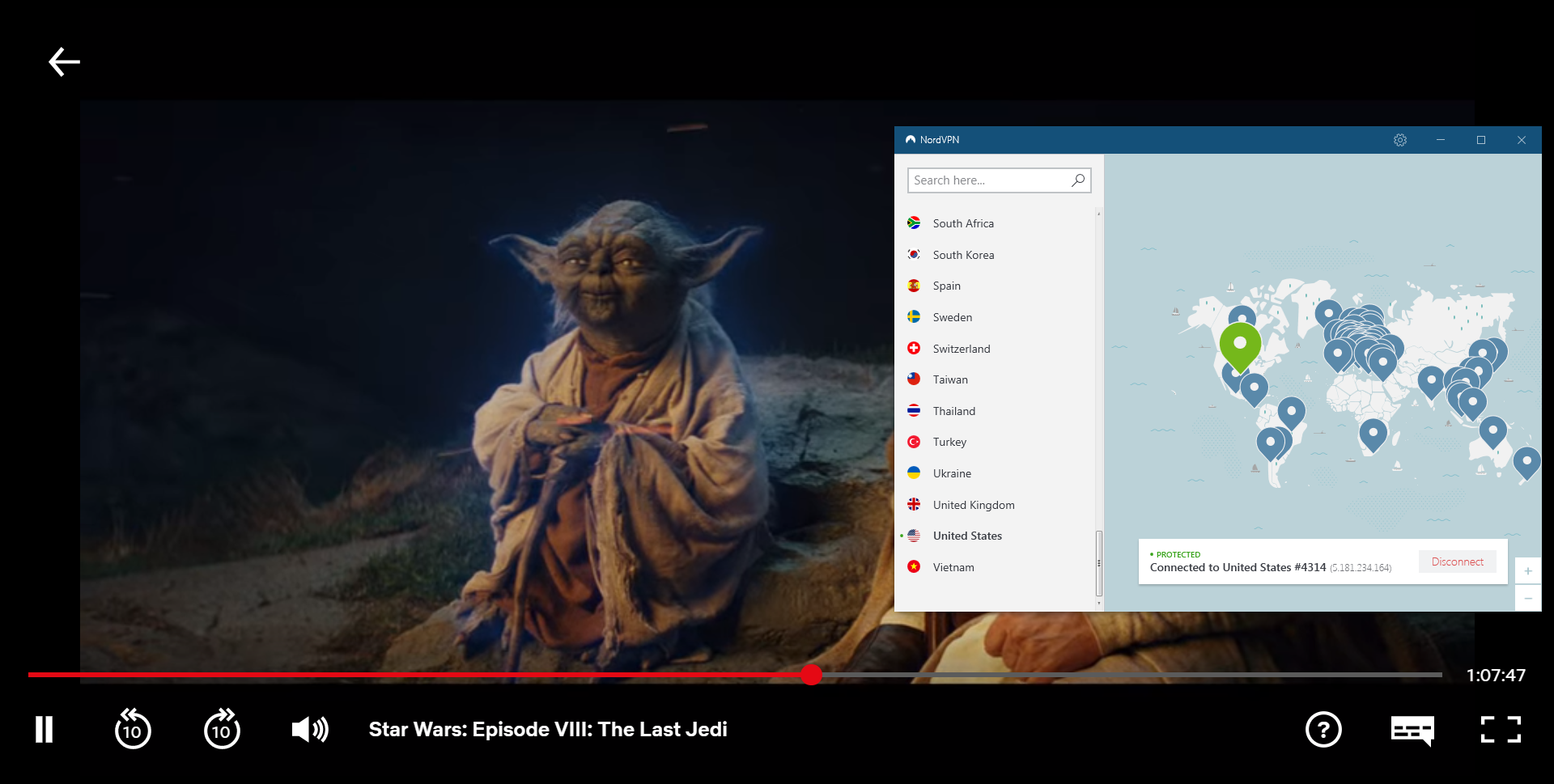 Not only do these two VPNs have excellent results for bypassing Netflix, they both offer deals and guarantees to help you get a premium VPN at a highly affordable price.
ExpressVPN has a special deals page for Netflix users and backs it up with a 30-day money-back guarantee. NordVPN also offers great deals that make streaming your favorite content even easier.
Still Getting the Netflix Proxy Error? Here's How to Fix It
Even if you have the best VPN available (like NordVPN), it might not work with Netflix all the time. This is because Netflix is now actively detecting and blacklisting servers that belong to VPNs.
To get around the Netflix error message, here are 3 simple and quick solutions:
Clear your cookies and cache — Clean your browser cache and delete cookies. Then close your browser, reopen Netflix, and try streaming again.
Select another VPN server — Connect to a different server located in your chosen country, and then refresh Netflix to see if the new server works. Here's a full list of updated Netflix servers for NordVPN, ExpressVPN, and more.
Contact customer service — Speak to a support agent and ask which servers currently work with Netflix. Both NordVPN and ExpressVPN have a 24/7 live chat option, so you can expect a response within minutes.
On the rare occasions when I can't access Netflix, I've tried all the above fixes and it's always worked for me.
Unfortunately, none of these solutions will work if you're using a free or low-quality VPN. Most of these providers don't have the resources to stay ahead of Netflix's VPN ban — or have given up entirely. If you're a big streaming fan, I recommend using NordVPN for fast and reliable access to Netflix instead.
Watch Netflix with NordVPN today!
Other VPNs That Work with Netflix
In addition to ExpressVPN and NordVPN, there are a few other VPNs that have proven to successfully bypass the Netflix proxy error.
CyberGhost has Netflix-optimized servers in the US, UK, Germany, and France. This means that CyberGhost is constantly working to ensure that those servers are working. During my CyberGhost-Netflix test we had no trouble with buffering or slow loading videos.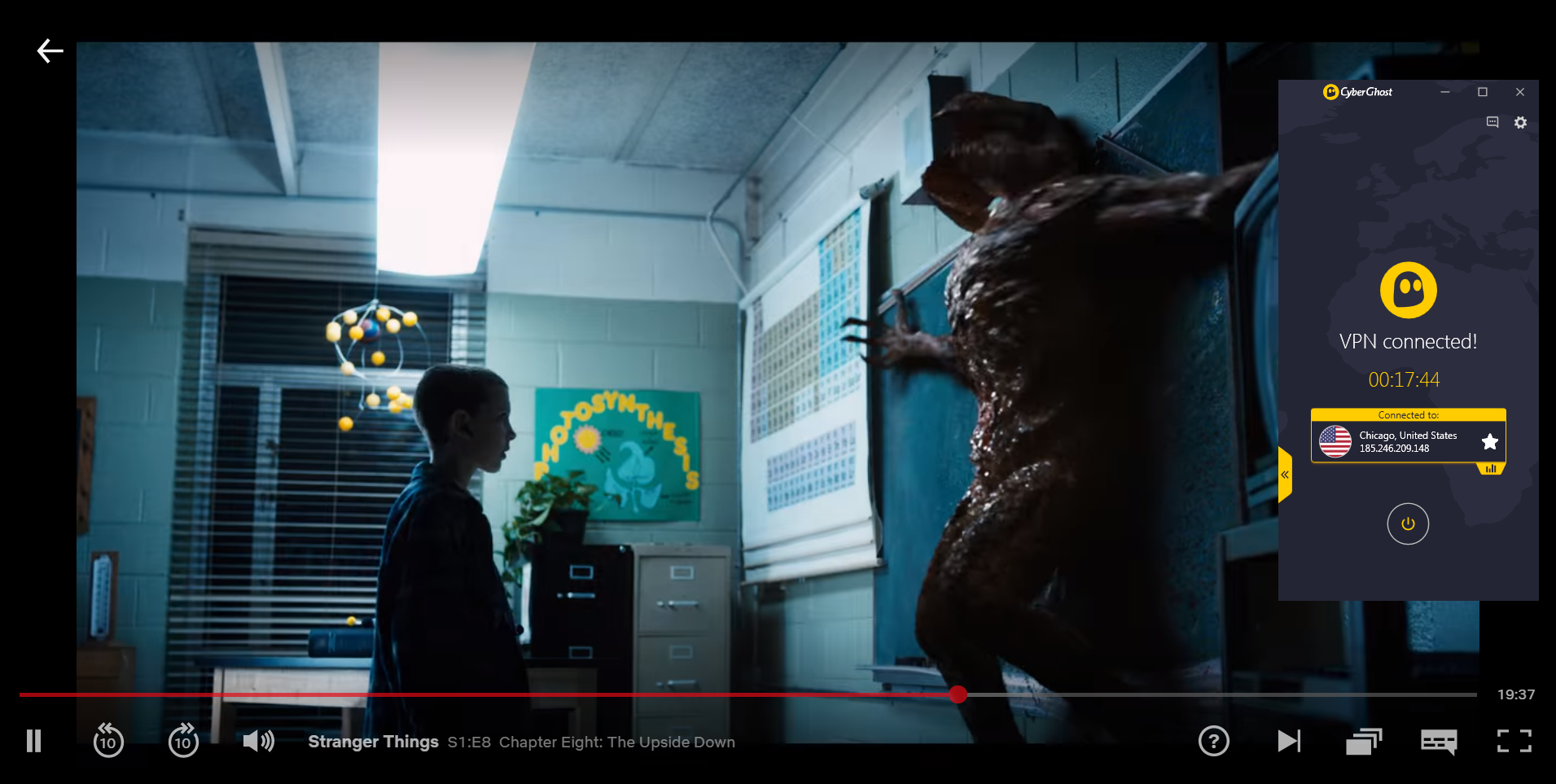 Get CyberGhost and watch Netflix now!
July 2020 Update: CyberGhost has dropped prices for a limited time to a crazy $2.75 per month + get an extra 2 months free with the 3-year plan! This is a limited offer so be sure to grab it now before it's gone. See more information on this offer here.
Surfshark claims to work with Netflix in 11 countries, including the US, UK, Germany, France, Japan, and the Netherlands. During my Surfshark review, I had no trouble watching high-quality streams on Netflix.
Get Surfshark to watch Netflix now!
Common FAQs on Netflix and VPNs
🔓 Why does Netflix block VPN traffic?
Film studios sell country-specific broadcasting rights to cable, satellite, and streaming service providers. Companies like Netflix must purchase the rights for every country it wants to provide programming to.
Cost and regulatory restrictions play a large part in consumer access to content. Netflix is headquartered in California. Therefore, it offers its US subscribers the largest selection of movies and shows. The content lineup across other countries can vary widely.
Consumers fight back by using VPNs to cloak their location, giving them access to content from anywhere in the world.
As VPNs circumvent geo-location blocks, copyright holders in the film industry have put more pressure on streaming services, like Netflix, to stop users from gaining access to content outside of their designated country.
Under pressure from the film industry, in 2016, Netflix announced that it would block users from viewing content through a VPN, even when watching in their home country.
Netflix's Terms of Use states:
"You may view Netflix content primarily within the country in which you have established your account and only in geographic locations where we offer our service and have licensed such content. The content that may be available to watch will vary by geographic location and will change from time to time."
You can still log in to your account but you'll get an error message as soon as you attempt streaming:
Pardon the interruption
You seem to be using an unblocker or proxy. Please turn off any of these services and try again. For more help, visit netflix.com/proxy.
Error Code: M7111-5059
You can get around this error message by using a quality VPN. When you use a premium provider like NordVPN, it's much harder for Netflix to identify and block all its 5,200 global servers.
Even if a server does get banned by Netflix, NordVPN will quickly replace it with a new server. It's a big reason why I find NordVPN so reliable when streaming Netflix.
Easily unblock Netflix with NordVPN!
💰 Do free VPNs work with Netflix?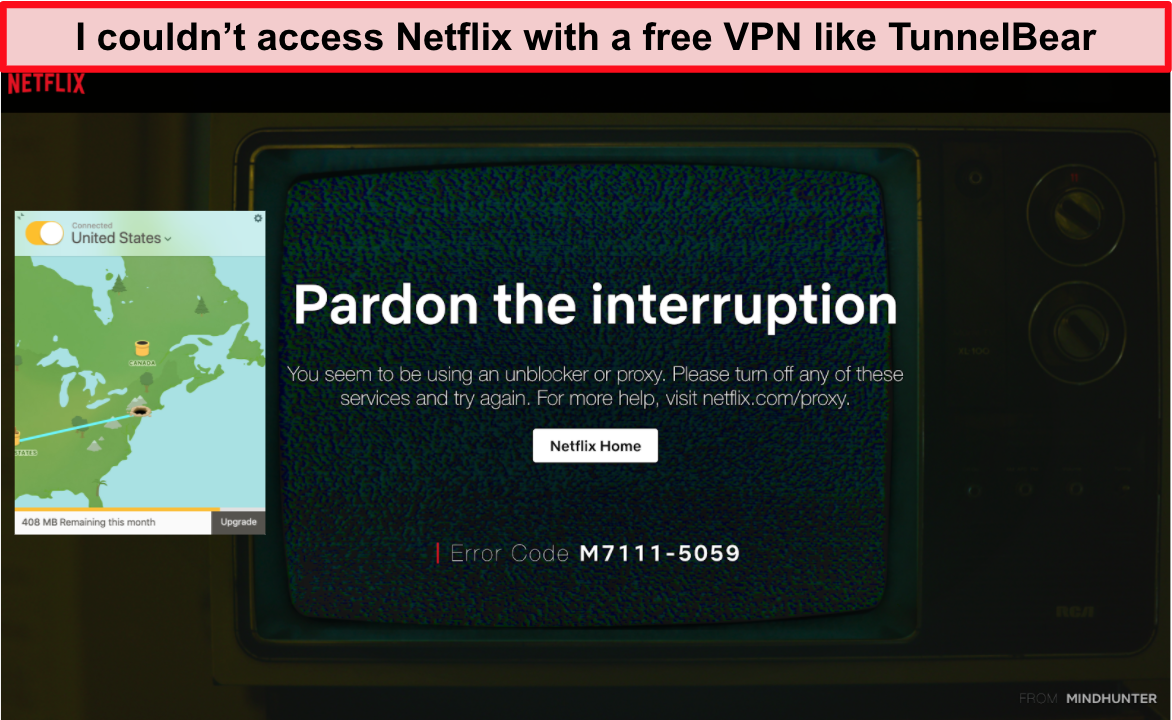 In short, no. I tested the best free VPNs on the market, such as Windscribe, Hotspot Shield, TunnelBear, and Hide.me. Unfortunately, most free VPNs couldn't even access Netflix. When I could access Netflix, I still had a frustrating streaming experience. This was due to:
Slow speeds and limited bandwidth: Free VPNs offer limited bandwidth and slower download speeds. This means you'll get a lot of annoying buffering — if you've even got enough bandwidth to finish the episode or movie.
Limited servers: Most free VPNs have a couple of servers as part of the free package. This is an attempt to get users to upgrade to the premium service.
Personally, I find the best free VPN for Netflix is a quality VPN with a money-back guarantee. All you have to do is request a refund within the money-back guarantee period and you can watch Netflix for free!
Get a quality VPN for free and watch Netflix now!
💡Why is Netflix better with a VPN?
Netflix offers different movies and TV shows in every country, but a VPN will give you access to every Netflix library no matter your location.
I've always found it incredibly frustrating when I can't watch some of the most popular programs on Netflix — simply because I don't live in the right country. Not only is my local Netflix Turkey library significantly smaller than Netflix US (the largest library worldwide), but I also don't have access to many new releases. Yet I'm paying for a full subscription, just like everyone else.
With a VPN, I can easily watch content that's exclusive to Netflix US, Canada, Germany, France, Australia, Japan, and more. I personally like NordVPN for Netflix as it's got fast speeds for HD streaming and a huge network of global servers. You can even test out NordVPN for yourself with its 30-day money-back guarantee.
🔍 Why does Netflix say "unblocker" and "proxy" but not VPN?
To the best of my knowledge, this is just a matter of semantics. If you take a look at the Netflix help menu, they do mention VPNs along with unblocker and proxy services.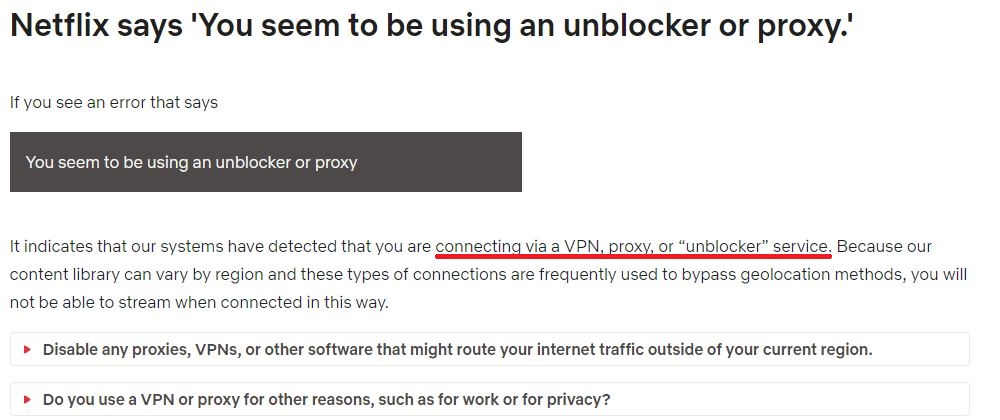 ❓Can I keep my VPN turned on and still watch local Netflix?
Yes, but only with a VPN that has a split tunneling or white-listing feature.
Some VPNs offer "split-tunneling" or "white-listing", which is a fancy way of saying that when you use certain websites or apps, the traffic won't be rerouted from your ISP. You can choose for Netflix to be exempt from being rerouted so that the Netflix app or website will function as if your VPN was off. All other sites that you access will still be rerouted and secured by the VPN.
ExpressVPN has a split-tunnel feature that allows you to choose certain apps or browsers to be kept from being rerouted. This way, you can keep Netflix from being rerouted so that you can watch local content. Surfshark and CyberGhost have a white-lister feature that allows you to create a list of URLs that won't go through the VPN tunnel, allowing you access to your local Netflix library.
Currently, NordVPN only offers a split tunneling feature on its native Android app. I tested this on my Samsung Galaxy S10 smartphone, and I could access my local online banking while connected to a server in the US for Netflix. You can turn split tunneling on by tapping the cog icon in the top-left corner of the app and accessing "My Account & Settings".
Get ExpressVPN with split tunneling
⚙️ Which proxy works with Netflix?
Netflix has done a good job of stopping proxy servers from bypassing its geo-block. Currently, there are no proxy servers that I know of that can bypass the Netflix proxy error.
🔧 How can I solve the Netflix proxy error on Fire Stick, Smart TVs, and Android/iPhone?
ExpressVPN and NordVPNare both excellent solutions for streaming Netflix across multiple platforms. They each have dedicated apps for the Amazon Fire Stick, and Android and iPhone.
Download the app for your specific device and connect to the server in the country of your choice. Once you're connected, you can find your favorite show and start watching.
For most Smart TVs and all Apple TVs you will need to install the VPN on your router. This will connect any device connected to the router to the VPN. There are some Android Smart TVs that allow you to download the VPN app directly, and in those cases you can operate it as you would on the computer or phone.
🔍 How can I watch Netflix in a hotel?
For some reason, many hotels use a firewall to block Netflix access for their guests. If you have a Smart TV in your room, you can use a Fire Stick with a VPN to bypass the firewall or create a virtual router and connect to the TV.
Fix the Netflix Proxy Error Now!
Never See the Netflix Proxy Streaming Error Again
As Netflix continues to actively block VPNs, most VPN services can't keep up anymore and simply allow users to see the proxy error. The only way around the error message is to use a VPN that works with Netflix.
I've tested dozens of VPNs with Netflix and I highly recommend NordVPN and ExpressVPN. Both VPNs offer a 30-day money-back guarantee, so you can even test the services with Netflix before making a final decision.
If you're not satisfied, you can easily get a refund — although I'm confident you'll soon be streaming your favorite shows on Netflix with either VPN.