[SOLVED] Netflix Proxy Streaming Error – Tested & Updated June 2019
If you got the Netflix Proxy Error, also known as the Streaming Error, while trying to watch Netflix with VPN, it can mean one of two things:
The VPN you are using is unable to bypass detection from Netflix.
You are using a Netflix VPN, but the server you are connected with is recognized by Netflix and has been blacklisted
With hundreds of VPNs and proxies out there and millions of potential IP addresses, it's not surprising that some are blocked. Don't just give up on watching US Netflix if you see the streaming error that says "You seem to be using an unblocker or proxy" check out the two quick solutions we have for you.
Solution #1 – Get A VPN That Works With Netflix
Not all VPNs have the same capabilities. Many premium VPNs that are great for privacy, torrenting, and changing your IP address may not be able to bypass the tough Netflix VPN block. We are constantly testing and retesting VPNs so that we can recommend the best VPNs for Netflix.
I wanted to watch The Nutcracker and the Four Realms movie which was just released on US Netflix at the beginning of June, so I can guarantee the VPNs listed here are working perfectly with Netflix.
ExpressVPN and NordVPN continue to rank #1 and #2 respectively for the seventh straight week. We had to bump HideMyAss off the list, as they have become very unreliable when it comes to Netflix.
Not all Premium VPNs can bypass the Netflix proxy or streaming error
But when we connected with ExpressVPN we have no trouble watching anything we wanted.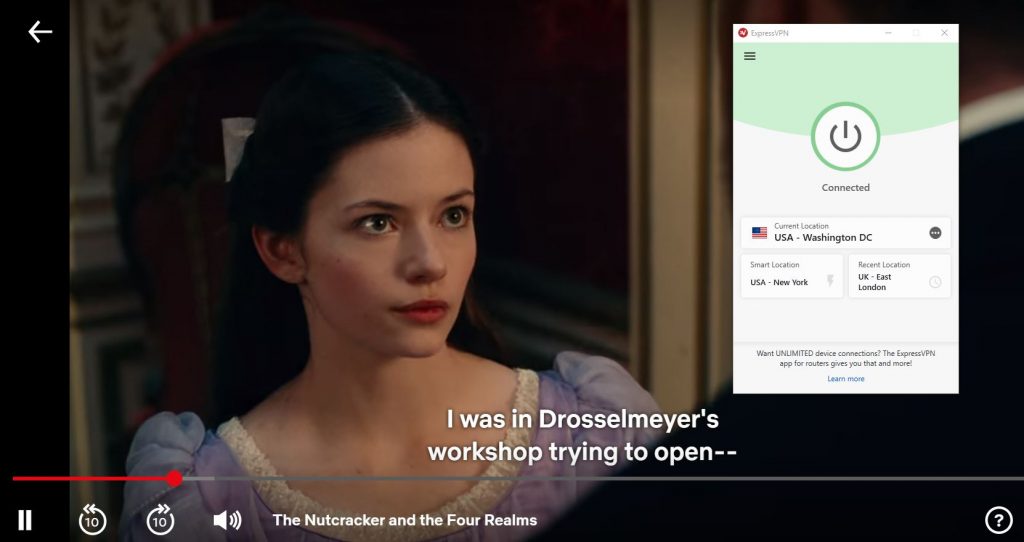 ExpressVPN is one the best VPNs to watch US Netflix
Solution #2 – Connect with a different server
It happens from time to time that even the VPNs that can access Netflix have a server or two that get flagged and blocked by Netflix. You can either use a trial-and-error method and just choose another server and refresh your Netflix page. Another solution is to speak with a customer service rep and find out which server to use.
During our recent test, we ran into a Streaming Error when trying to watch Netflix on ExpressVPN , while we were in the US and connected to a US server. We checked in with their 24/7 live chat help and they told us which servers to connect with from within the States.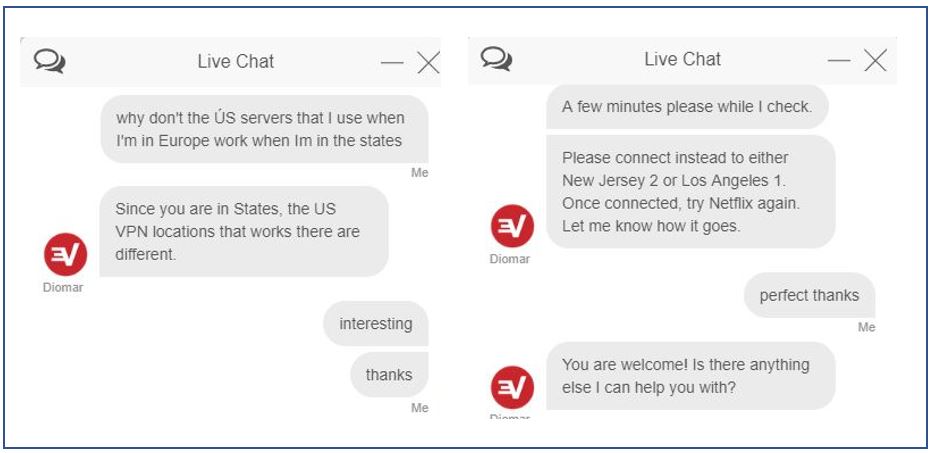 ExpressVPN customer service helped us find a working Netflix Server
Why Does Netflix Block VPN Traffic?
Film studios sell country-specific broadcasting rights to cable, satellite, and streaming service providers. Companies like Netflix must purchase the rights for every country it wants to provide programming.
Cost and regulatory restrictions play a large part in consumer access to content. Netflix, headquartered in California, offers its US subscribers the largest selection of movies and shows. The content lineup across other countries can vary widely.
Consumers fight back by using VPNs to cloak their location, giving them access to content from anywhere in the world.
In response to the growing use of VPNs to circumvent geo-location blocks, copyright holders in the film industry have put more pressure on streaming services, like Netflix, to stop users from gaining access to content outside of their designated country.
Under pressure from the film industry, in 2016, Netflix announced that it would block users from viewing content through a VPN, even when watching in their home country.
Netflix Terms of Use States:
You may view Netflix content primarily within the country in which you have established your account and only in geographic locations where we offer our service and have licensed such content. The content that may be available to watch will vary by geographic location and will change from time to time.
That being said, we have not heard of a case or received a message from any of readers, that Netflix has blocked someones account for using a VPN.
If Netflix identifies a VPN server, they will block access to its content. You can log-in to your account, but when you try to play the selected movie or show, you receive the following error message:

You can avoid this message by using a VPN, which circumvents the Netflix VPN blocks. We recommend the following services:
4 Best VPNs for Watching Netflix From Anywhere
1. ExpressVPN – 7th week in a row at #1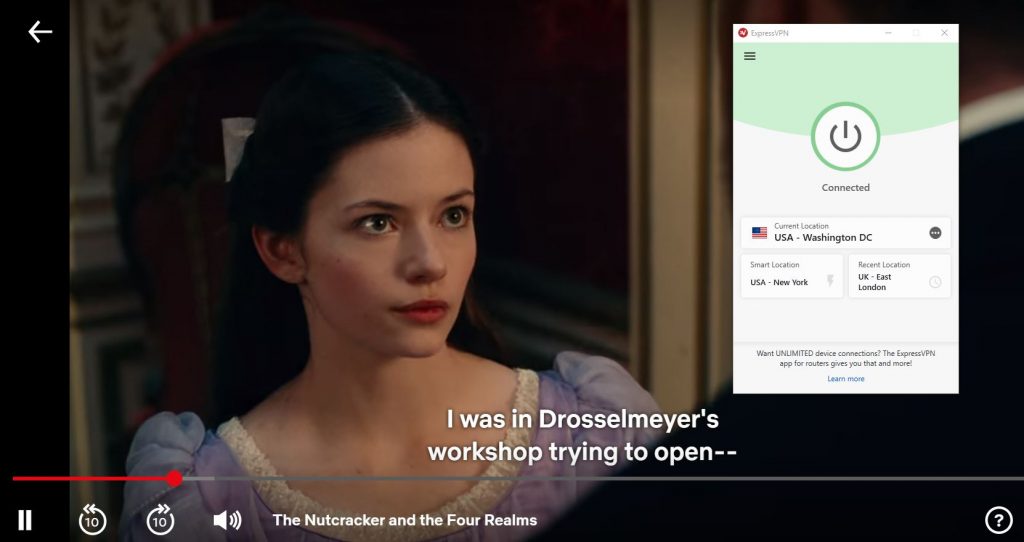 Fast connections with speed test
Over 3000 servers in 94 countries
Unlimited bandwidth with no throttling
24/7 customer support
ExpressVPN has a large server network to overcome geo-location blocks from companies like Netflix. The software automatically chooses the server with the fastest speeds, but you can manually run a speed test on your desired server location to ensure fast download and streaming speeds.
Should you experience the dreaded Netflix error, connect with 24/7 customer support through a live chat, and they can provide a list of servers that will bypass the geo-location block.
Add military-grade encryption, a no-log policy, and split tunneling, and ExpressVPN is our top choice.
2. NordVPN – Regularly Tests Servers Against Netflix Geo-Blocking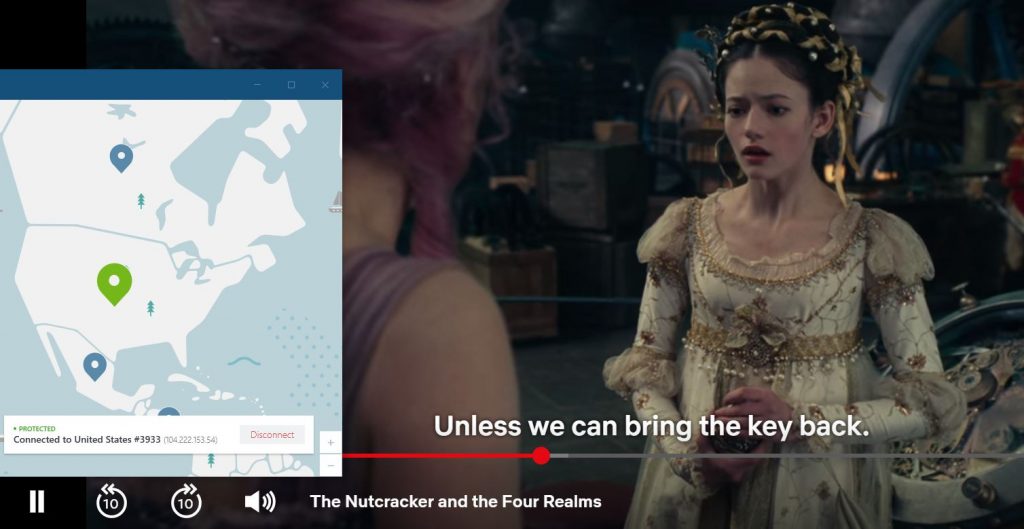 Double VPN protocol to ensure anonymity
Over 5,400 servers in 60+ countries
No log policy
24/7 customer support through live chat
NordVPN services the largest server network among premium VPN companies. SmartPlay technology optimizes connections speeds, combined with the unlimited bandwidth, making it an excellent choice for streaming Netflix. In addition to server access at the fastest speeds, the company also provides 256-bit encryption, ad blocking, and an auto kill switch to ensure a safe streaming experience.
Users can connect to six accounts simultaneously and have a 30-day money back satisfaction guarantee.
3. CyberGhost – Netflix optimized servers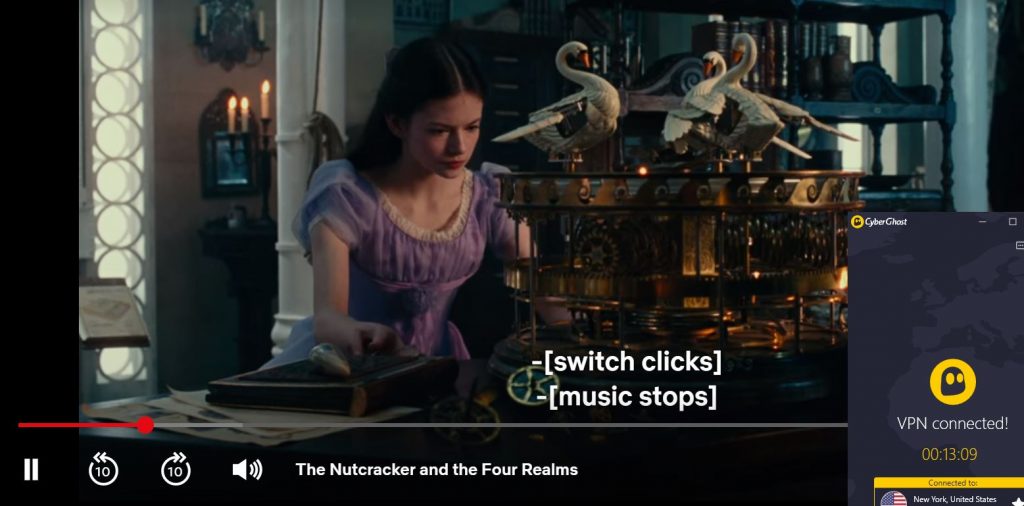 Unlimited bandwidth
256-bit AES encryption technology
No log policy
Sign on to 7 devices simultaneously
CyberGhost offers fast and reliable connections that bypass digital censorship and geo-restrictions common among streaming services like Netflix. They use the OpenVPN protocol to hide your IP address and cloak your location. The service provides ad blocking technology with no buffering or throttling for a better streaming experience.
The company has over 3,800 servers in 60 countries and offers 24/7 customer support and a 45-day money back guarantee if you have trouble with your connection.
4. Surfshark – Lowest price for a Netflix VPN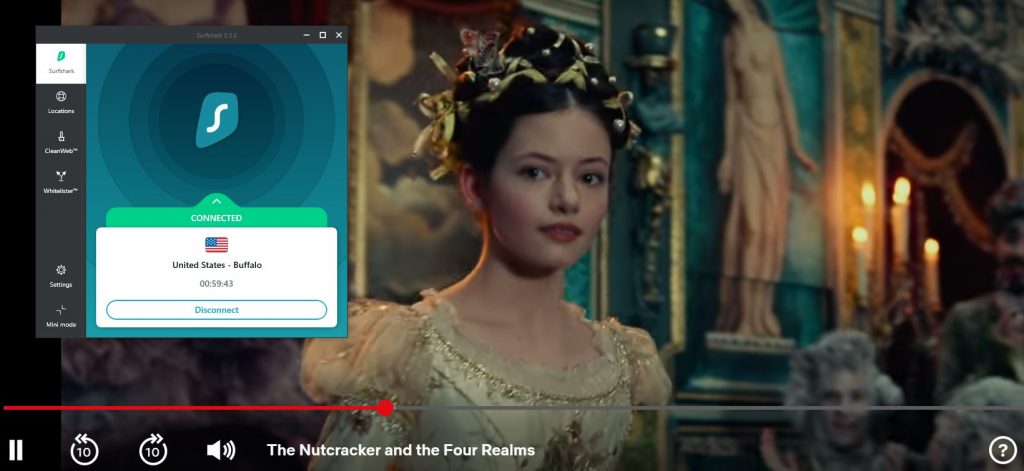 Camouflage mode to prevent the detection of the VPN
Clean Web blocks trackers, malware, and phishing
3rd Part security verification
30-day money back guarantee
SurfShark places a private DNS on each server and allows you to stream through multiple countries to strengthen your anonymity. The company has a strict no-log policy and a kill switch to ensure a private and safe connection.
The service allows you to connect with an unlimited number of devices without bandwidth restrictions. To get the lowest price, make sure to check out our Surfshark Coupon.
Do Free VPNs Work with Netflix?
Free VPNs have two major problems when it comes to streaming Netflix:
Slow speeds and limited bandwidth: Free VPNs tend to restrict both bandwidth and download speeds, which can lead to buffering, time outs, and interruptions when you want to stream a movie on Netflix.
Netflix continues to ban servers: VPN companies without an extensive server network will be unable to get around the Netflix VPN blocking software. VPN services must employ additional security and cloaking devices, have a large number of servers across the globe, and refrain from keeping activity logs, to avoid detection.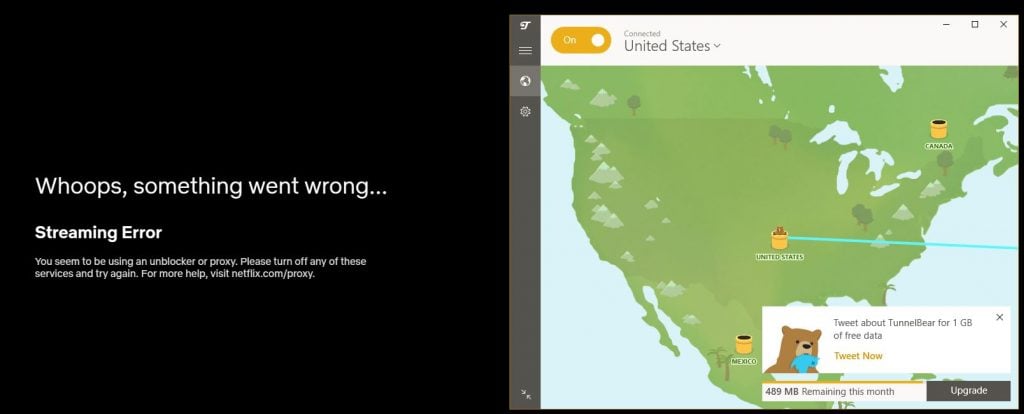 Free VPN services typically fund business costs by selling user browsing information to third parties, which means it must maintain activity logs. Companies also limit the number of servers you have access to, which makes it easier for Netflix to block.
Why Is Netflix Better with a VPN?
VPN Features that Matter When it Comes to Circumventing the Netflix VPN Block
Cloaking technology: Companies track online browsing and viewing activity through the use of cookies. Companies use this information to promote additional products and services or sell your information to other companies. They can create a profile based on what shows you watch and what websites you visit. Many websites will not grant access to content unless you accept the tracking policies.
Fast speeds: VPN connections add a layer of protection but can slow down streaming speeds. Optimization server connections and automatic speed tests can ensure you have the best connection.
No-Log Policies: The goal of a VPN is to cloak your location and hide your identity. VPN services with no log policies, delete the browsing history at disconnection, preventing companies from connecting you to your online history. You can browse, watch, and buy on the web without disclosing your identity.
Security: A premium VPN can protect your information as well as your location. Military grade security and 256-bit encryption not only mean you can safely stream but also protects you from hackers.
An abundance of servers: Choosing a server located near your true location will impact streaming speeds. When the VPN service offers thousands of servers, the traffic on each server is lower, and you can choose one closer to your true location, which can speed up streaming speeds.
Final Thoughts
Netflix actively blocks users from accessing their content through a VPN. Whether you are traveling, want to watch movies available in another country, or demand anonymity and identity protection while at home, watching Netflix through a VPN service will limit censorship and protect your privacy.
Use our recommended VPN services to avoid geo-blocked restrictions and watch American Netflix today.