[SOLVED] Netflix Proxy Error Code m7111-5059 (Updated Fix)
Last Updated by Kate Hawkins on September 19, 2020
Netflix shows this frustrating error message if it detects you're using a VPN.
Pardon the interruption
You seem to be using an unblocker or proxy. Please turn off any of these services and try again. For more help, visit netflix.com/proxy.
Error Code: M7111-5059
To save you time finding a service that beats the proxy error message, I tested 45 VPNs and found that NordVPN is the best at consistently unblocking Netflix. Don't take my word for it. You can watch Netflix with NordVPN for free for 30 days!
Stream Netflix with NordVPN for free for 30 days!
How to Solve the Netflix m7111-5059 Error in 3 Easy Steps
Get a VPN. I recommend NordVPN as it consistently bypasses the Netflix proxy error with its top-tier encryption and huge global server network. You can even try it risk-free for 30 days and get a full refund if you're not satisfied.
Connect to a server. Choose a server in the country of the Netflix library you want to access.
Start streaming Netflix! Sign into your account and start watching your favorite region-locked content.
Access Netflix with NordVPN risk-free
Quick Guide: VPNs That Still Fix the Proxy Error in September 2020
Best VPNs to Bypass the Netflix Proxy Error in 2020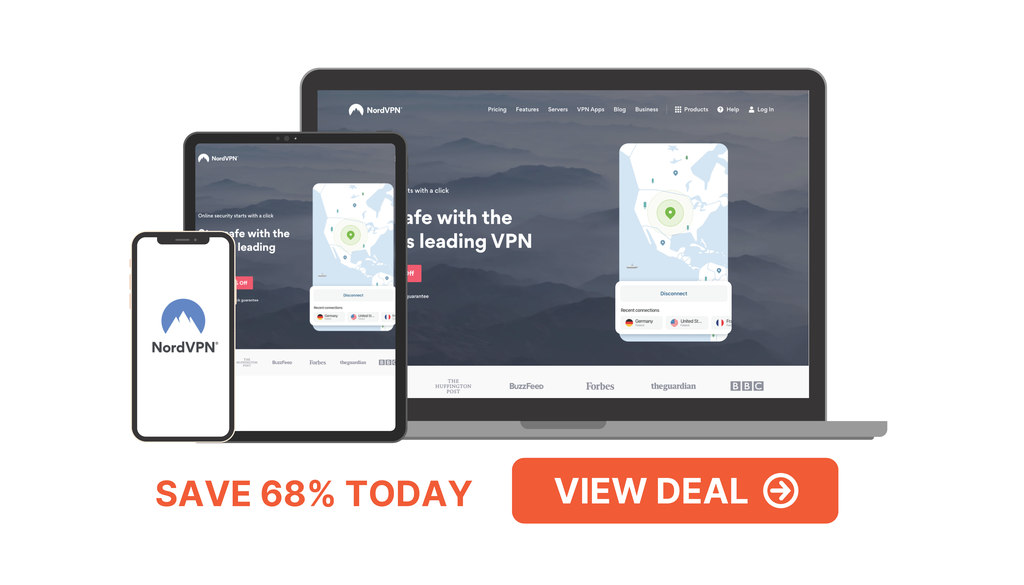 Key Features:
Military-grade encryption connects you to Netflix in over 10 countries
5,100+ servers in 59 countries so you can connect to Netflix libraries wherever they're available
Unlimited bandwidth for streaming Netflix in UltraHD with no lag
24/7 customer service with live chat and email support to get you streaming Netflix as soon as possible
30-day money-back guarantee
NordVPN takes the top spot for its ability to unblock Netflix quickly and easily. Its unique SmartPlay feature automatically connects you to the best server for streaming in the country you choose. That means that you don't have to waste time manually changing location settings or searching for a working server so you can bypass the proxy error — NordVPN does all the hard work for you.
Once SmartPlay finds the best server, it protects your connection with military-grade encryption so prying eyes can't identify your true location. This encryption is so strong that not even Netflix's tough anti-VPN technology can break it. I was impressed that Netflix never realized I was using a VPN, no matter how many times I changed countries.
With a huge global server network in 59+ countries, I wanted to see how well NordVPN could open popular Netflix libraries in locations that are difficult to access. To put it to the test, I connected to servers in the US, UK, Australia, Japan, and other regions. I was relieved that I was able to connect to 10 different Netflix libraries with no proxy error messages in sight.
Aside from its ability to bypass geoblocks, I was thrilled with NordVPN's high-quality streaming. No matter what Netflix library I connected to, I was able to stream in UltraHD with no buffering and fast load times — even when I connected to libraries over 14,000km away! With streaming quality like this, I felt like I wasn't even connected to a VPN.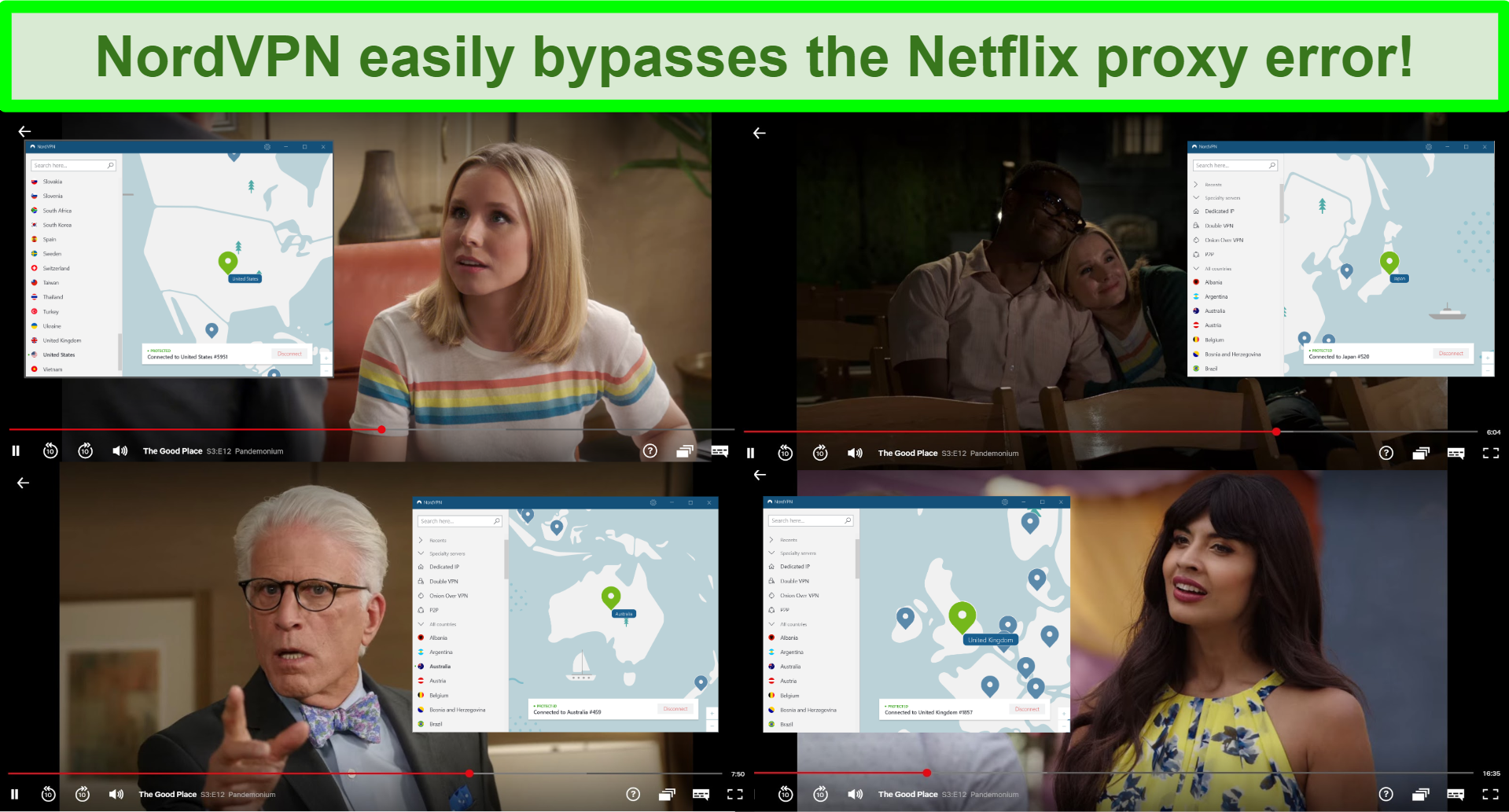 Although it can bypass Netflix restrictions from almost anywhere, my team found one limitation with NordVPN — it can't connect to Netflix if you're in China. This is due to China's strict prohibition of VPNs that haven't been approved by the government. To me, this wasn't a big issue since it could access Netflix everywhere else I tested it. But if you're traveling to China, you'll need a VPN that can get around the Great Firewall.
I've used NordVPN for over a year and never had an issue connecting to Netflix — but I'd recommend testing it yourself to make sure it's right for you. You can take advantage of NordVPN's 30-day money-back guarantee to try it.
I tested its refund policy to make sure it really works, and I was surprised by how simple the process was. I opened a new NordVPN account for testing and after 29 days I asked customer service for my money back through the live chat. The representative asked me to reconsider and offered to help troubleshoot, but after confirming that I wanted a refund they processed it. The whole conversation took less than 2 minutes and they returned my subscription fee in 4 days — it was fast and easy!
NordVPN can unblock: Netflix, Disney+, Hulu, Amazon Prime, Sling TV, fuboTV, Crunchyroll, BBC iPlayer, HBO Now, ShowTime, YouTube TV, Kodi, and more.
NordVPN works with the following platforms: Windows, Android, macOS, iOS, Android TV, Smart TVs, Apple TV, Linux, Chrome, Firefox, and routers.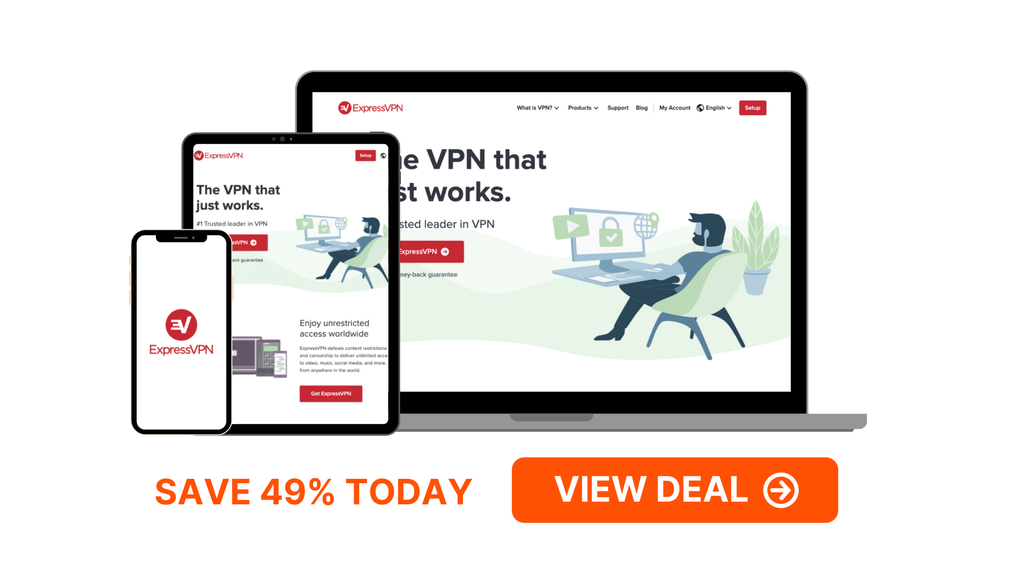 Key Features:
Best-in-class encryption unblocks Netflix in 12+ countries
3,000+ servers in 94 countries so you can beat the proxy error easily
No bandwidth throttling so you can stream Netflix in UltraHD quality anywhere in the world
24/7 customer service with live chat and email support is prompt and helpful
30-day money-back guarantee
ExpressVPN is one of the best VPNs to unblock restricted websites and platforms from anywhere. Its best-in-class encryption and leak protection ensure that your VPN connection to Netflix goes undetected so you can access libraries from the US, Japan, Australia, the UK, and other regions. During testing, I was impressed that I was able to connect to Netflix libraries in a total of 15 different countries — and never encountered the Netflix proxy error.
Thanks to its large server network, my team and I also found it easy to connect to Netflix from anywhere with ExpressVPN. It can even get around harsh restrictions in countries like China and the UAE — meaning you can rest assured that you'll be able to unblock Netflix no matter where you travel. Just make sure that you have the app downloaded before you travel, as you may find the ExpressVPN website itself is inaccessible due to censorship.
During testing, I also found it gave me blazing-fast speeds for streaming. ExpressVPN always let me start streaming on Netflix immediately and I never experienced any buffering or lag. I ran speed tests using Ookla and discovered that my speed never dropped below 30Mbps, even when the server was over 14,000km away.
In addition to blazing-fast speeds and great streaming, ExpressVPN has helpful customer service that's available to help you almost instantly 24/7 via live chat and email. I was impressed with the representative's helpfulness — when I asked the representative how to find the fastest server, she didn't send me a link to an instruction guide. Rather, she walked me through the configuration process step-by-step until I was able to start streaming my favorite content. ExpressVPN really lives up to the level of service it promises!
The only downside is that ExpressVPN is slightly more expensive than other premium VPNs. That's why I recommend you test it before committing to a long subscription. You can take advantage of ExpressVPN's 30-day money-back guarantee so you can try it at no risk to you. Just make sure you request a refund before the 30 days are up and you'll get your money back — no questions asked! I tested the guarantee and was relieved how easy the process was. I connected with the live chat in less than a minute and they returned my money in 5 days.
ExpressVPN can unblock: Netflix, Disney+, Hulu, Amazon Prime, Sling TV, fuboTV, BBC iPlayer, HBO Now, YouTube TV, Kodi, and more.
ExpressVPN works with the following platforms: Windows, Android, macOS, iOS, Android TV, Smart TVs, Apple TV, Amazon Fire TV, game consoles, Linux, Chrome, Firefox, and routers.
Try ExpressVPN free for 30 days
September 2020 Update: ExpressVPN has dropped prices so you can save up to 49%! This is a limited offer so be sure to grab it now before it's gone. See more deal information here.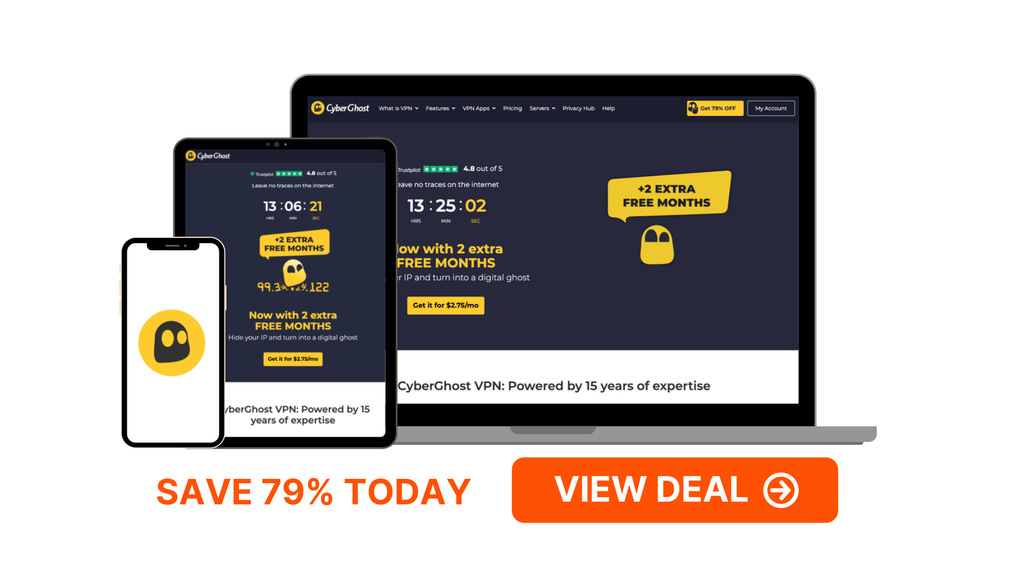 Key Features:
Top-tier encryption lets you connect to optimized Netflix servers in 5 locations
6,400+ servers in 89 countries provide a huge global network for easy connections
Fast speeds to stream Netflix with minimal buffering or load time
24/7 customer service with live chat and email support
45-day money-back guarantee
CyberGhost's optimized servers guarantee that you'll be able to get around the Netflix proxy error every time you connect. They're regularly tested and updated by the CyberGhost team to ensure those particular servers (and IP addresses) haven't been detected and blacklisted by Netflix. I tested them myself by connecting to the optimized Netflix server in all 5 locations — and I was never blocked by the proxy error message.
Since I'd never tried its Netflix optimized servers before, I thought they would be difficult to use — but I was wrong. You can simply look through the "For streaming" server list or type "Netflix" into the search bar and let CyberGhost find them. I also like that CyberGhost offers specifically optimized servers for Fire Stick. Plus, you can even download CyberGhost directly to Fire Stick. This made it really easy to take my Fire Stick on vacation with me so I could stream Netflix from my hotel room!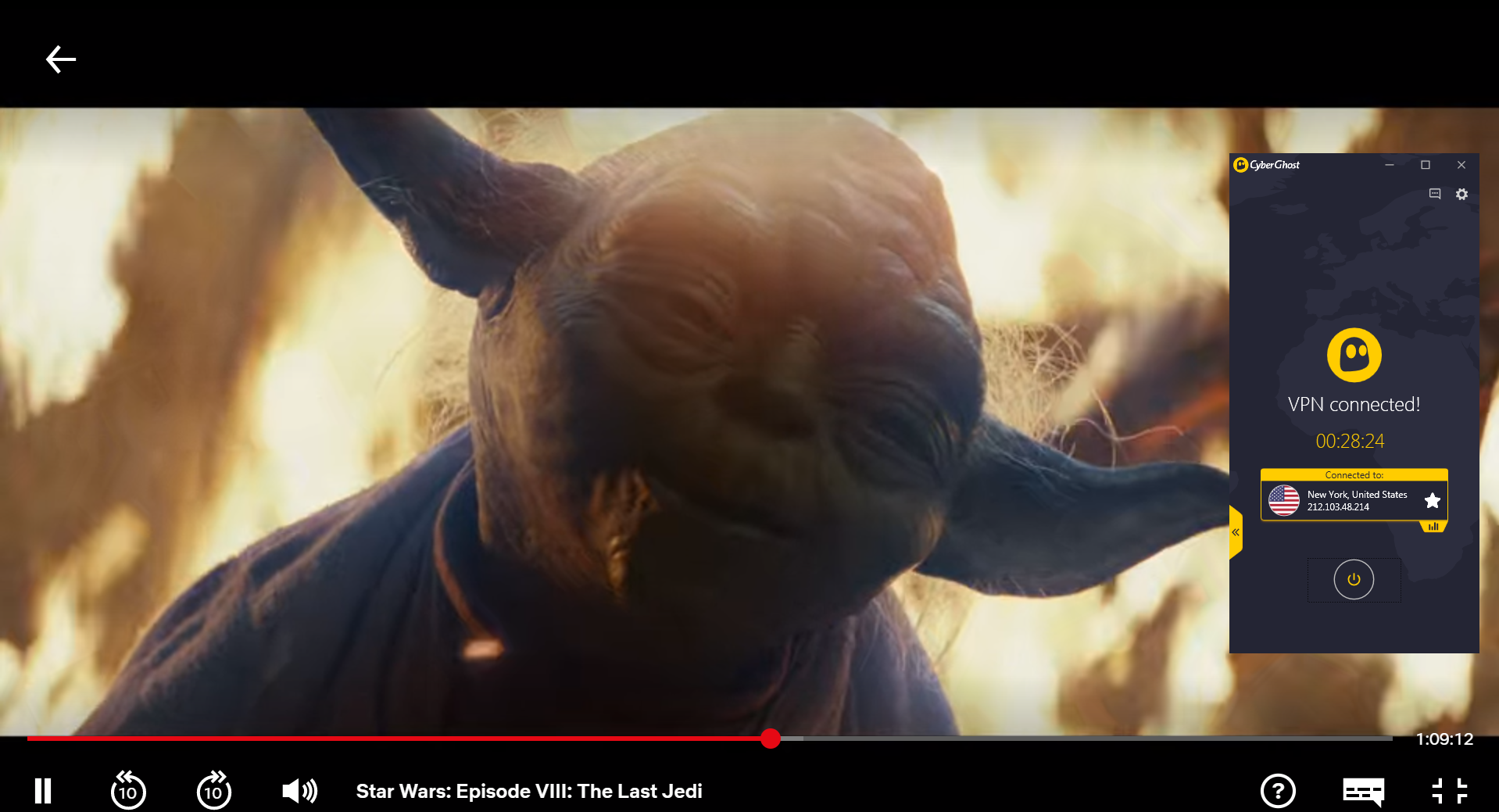 When I tested CyberGhost, I found it was more than fast enough to stream Netflix in HD. Although its speeds weren't quite as good as other VPN services on this list, I was still able to load content and watch it with minimal buffering.
Although CyberGhost has the largest number of servers on this list, it only offers optimized servers in a few locations. This was frustrating because I couldn't always connect to Netflix in other countries with standard servers. When I contacted customer service, they recommended trying a different server in the same location. It didn't take long for me to find a working server — but it would have saved me time if there were more optimized servers available.
CyberGhost is a great service to get around the Netflix proxy error, but I still think the best way to see if it works for you is to try it yourself. I recommend you test it using its 45-day money-back guarantee (that's the longest policy available of any VPN on this list!). You can get your money back at any time if you decide you don't want to commit to a plan. I got a refund by contacting customer service through the live chat — the agent was helpful and I had the money back in my account in 7 days.
CyberGhost can unblock: Netflix, Disney+, Hulu, Amazon Prime, Sling TV, fuboTV, BBC iPlayer, HBO Now, YouTube TV, and more.
CyberGhost works with the following platforms: Windows, Android, macOS, iOS, Android TV, Smart TVs, Amazon Fire TV, Linux, Chrome, Firefox, and routers.
Try CyberGhost free for 45 days
CyberGhost's Latest Deal September 2020: Get an 18-month subscription for the price of the 12-month plan — which means you get 6 months completely free! Prices start at only $2.75/month. See more information on this offer here.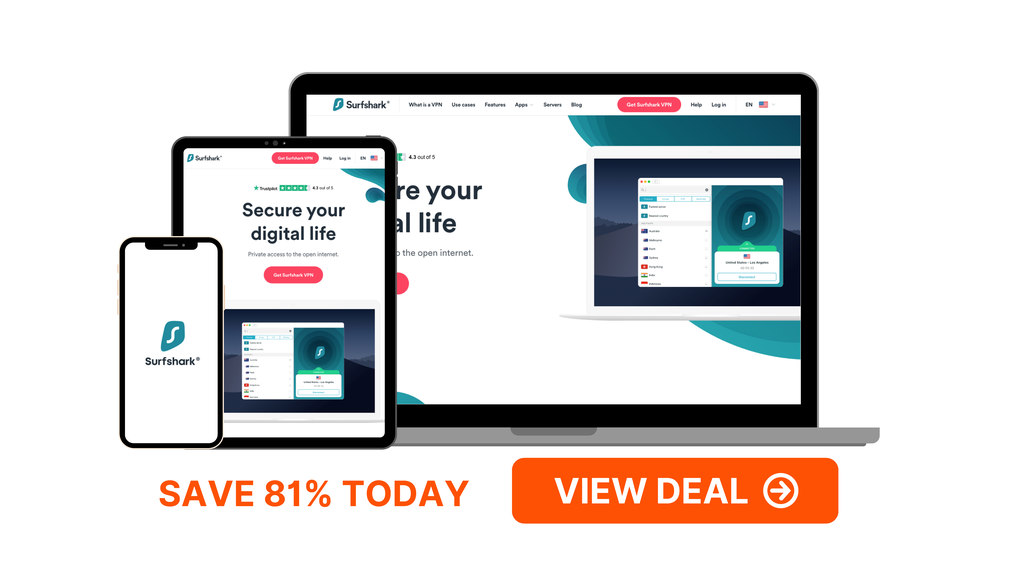 Key Features:
AES-256-bit encryption bypasses the Netflix proxy error in 10+ countries
1,700+ servers in 63 countries to connect to servers around the world
No speed throttling so you can stream without buffering
24/7 customer service with live chat and email support
30-day money-back guarantee
Surfshark is the only VPN on this list that protects an unlimited number of simultaneous device connections for less than the price of a cup of coffee. If you have a big family with a lot of devices (like I do!) it's a relief to know I don't have to wait for someone to disconnect from the VPN so I can start streaming Netflix — everyone gets to connect securely at the same time.
I tested Surfshark's ability to get around the Netflix proxy error and found I could easily access Netflix libraries from the US, UK, Australia, Japan, Italy, and other countries. During my tests, I was always able to connect to the platform on the first try. Surfshark's military-grade encryption and leak protection hid my true location, so I was able to beat Netflix's tough detection technology on every server I connected to.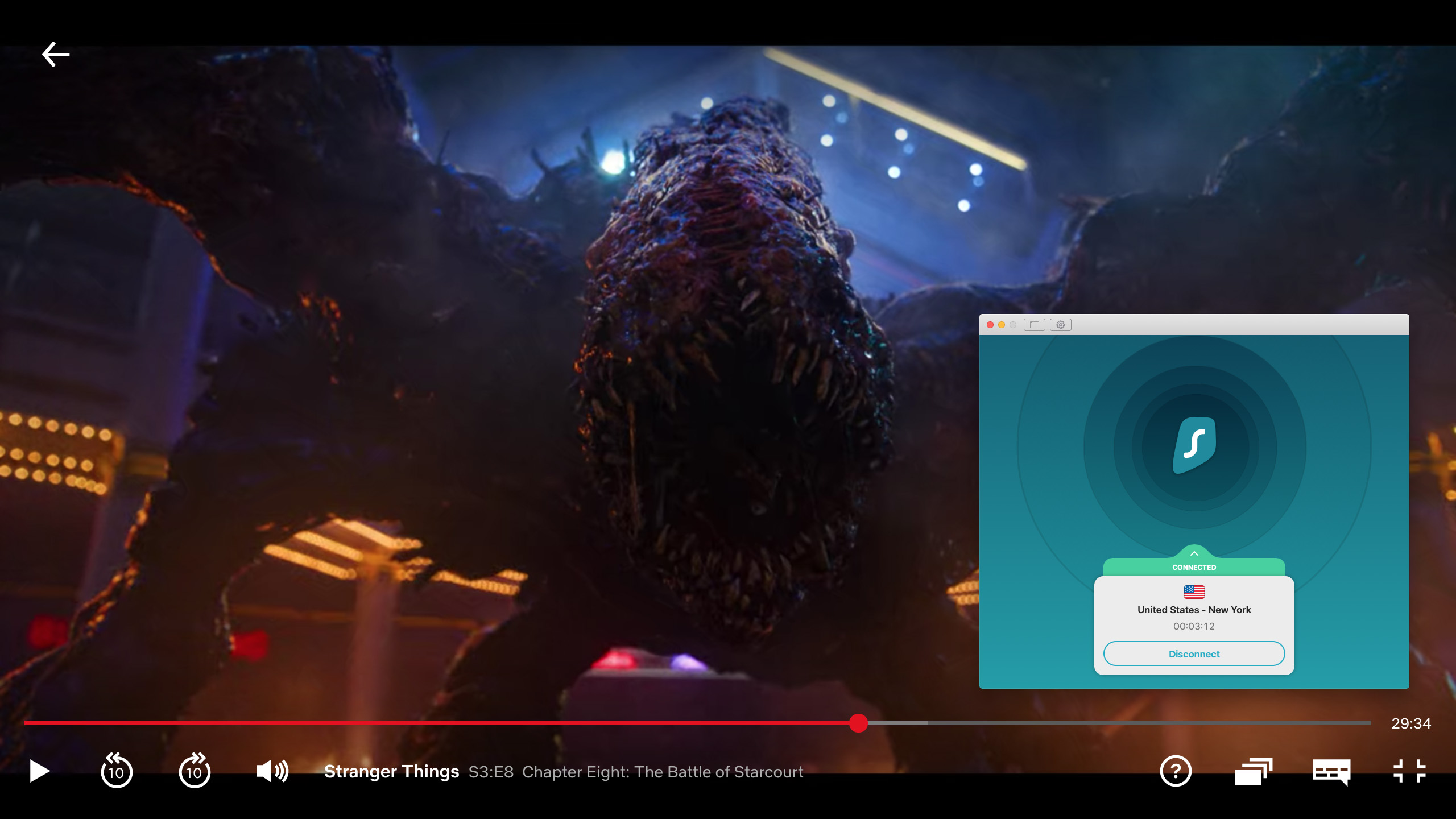 Unfortunately, I did experience slightly slower speeds with Surfshark. I found that it was still fast enough to stream Netflix with reasonably fast load times, but I had to change my video quality from UltraHD to SD in order to prevent buffering. This wasn't a huge problem, but the slower speeds did impact my streaming quality. Plus, this might be a bigger issue for you if you start with slower baseline speeds than I did.
To try the service for yourself, you can take advantage of Surfshark's 30-day money-back guarantee. Stream global Netflix libraries easily for a month with your entire family and get your money returned if you're not totally satisfied. Simply contact customer support and request a refund. When I went through the process I had my money back in a week.
Surfshark can unblock: Netflix, Disney+, Hulu, Amazon Prime, Sling TV, BBC iPlayer, HBO Now, YouTube TV, Kodi, and more.
Surfshark works with the following platforms: Windows, Android, macOS, iOS, Apple TV, Smart TVs, Amazon Fire TV, Linux, Chrome, Firefox, game consoles, and routers.
Try Surfshark free for 30 days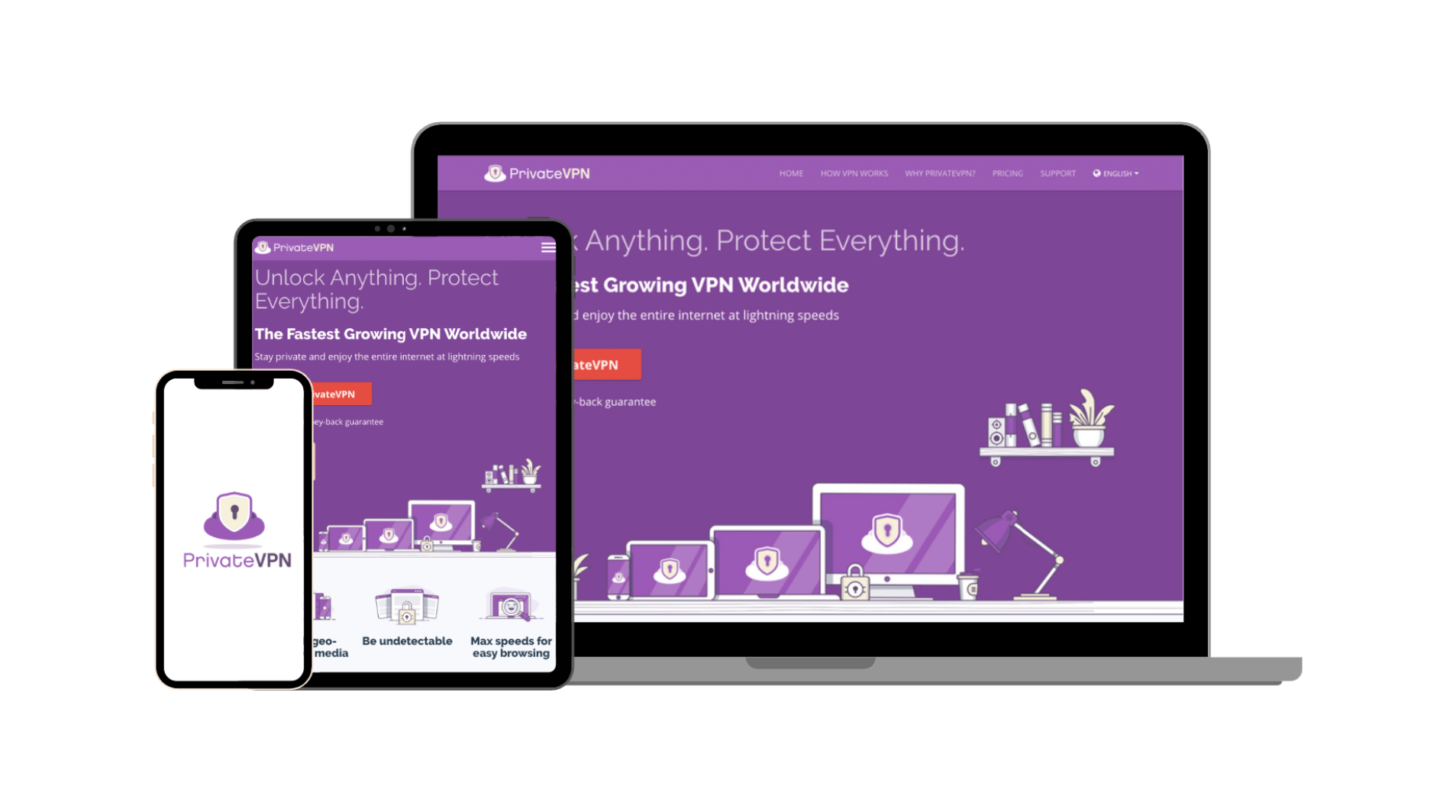 Key Features:
Unbreakable encryption unblocks 19+ Netflix libraries
150+ server locations in 60+ countries
Unlimited bandwidth and moderate speeds
24/7 customer service with live chat and email support
30-day money-back guarantee
PrivateVPN has a huge list of 45+ optimized servers that work with Netflix, which surprised me since its overall network of about 150 servers is pretty small. The optimized server list was also easy to navigate and helped me find the fastest option quickly.
I tested more than half of PrivateVPN's optimized server options and found all of them bypassed the proxy error every time I connected. That means that PrivateVPN's top-tier encryption kept my location 100% hidden and easily beat the platform's anti-VPN technology.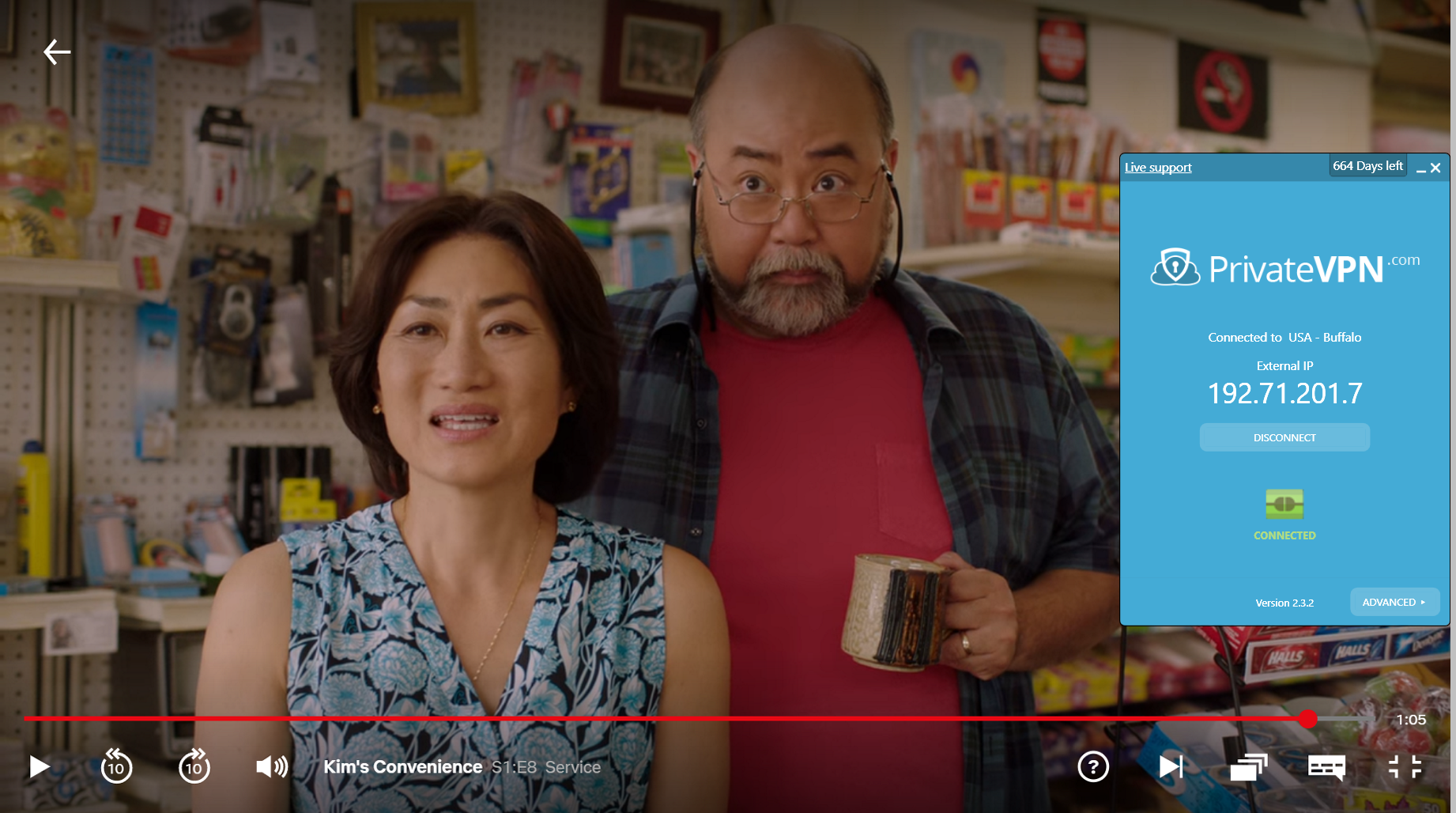 That said, I did experience an odd connection issue. PrivateVPN didn't always connect me with Netflix in the same location as the server I connected to. For example, when I connected to the Bangalore, India server and opened Netflix, I was rerouted to the Spanish Netflix site. While this was a bit inconvenient, it turned out not to be a big deal. Customer service recommended changing to an alternative server in the same location and clearing my browser cache and cookies — this let me start streaming immediately.
Unfortunately, I also found my connection was slower than with other VPNs. This was especially true during peak times like evenings and weekends. My average speed was 11Mbps, which was still fast enough to stream Netflix in SD quality. However, the initial loading time took longer and I experienced more buffering than with other services.
If you want to try PrivateVPN yourself, you can use its 30-day money-back guarantee to test it with Netflix risk-free. If you don't like it, you can contact customer service to get your money back — when I canceled, my refund was returned in 5 business days.
PrivateVPN can unblock: Netflix, Disney+, Hulu, Amazon Prime, BBC iPlayer, HBO Now, YouTube TV, Kodi, and more.
PrivateVPN works with the following platforms: Windows, Android, macOS, and iOS.
Try PrivateVPN free for 30 days
Still Getting the Error Even With a VPN? Try These Easy Fixes
If you're using a VPN that isn't on this list, it probably doesn't have strong enough technology to beat Netflix's detection. Simply swap your old VPN for a top provider like NordVPN or ExpressVPN to bypass blocks. But even if you use the best VPN available you may still get the proxy error sometimes. Here are simple solutions you can try if that happens:
Disconnect and reconnect with the VPN — Turning the service off and back on is often enough to fix the issue.
Clear your cache and cookies — Location data is sometimes stored in your browser cache and Netflix can see that information. In your browser settings, clear your cache and cookies. Then you can reopen Netflix while connected to the VPN server and try again.
Choose a different VPN server — Try connecting to a different VPN server in the same country. Refresh Netflix and see if you can now bypass the proxy error.
Make sure your VPN software is up to date — Download and install any available updates, reconnect to the VPN server, and try accessing Netflix.
Check to see if your location data is leaking — Your VPN should hide your IP address with its encrypted connection, but sometimes data can leak in other ways. Run a leak test and make sure that the only location detected is that of your VPN server.
Contact customer service — Speak to a support agent and ask which servers currently work with Netflix. NordVPN has 24/7 live chat (as do other premium VPNs like ExpressVPN and CyberGhost) so you can expect a fast response.
FAQs: Netflix Proxy Error and VPNs
🤓 Why does Netflix block VPNs?
If you're caught trying to change your Netflix location using a VPN, the proxy error message will prevent you from streaming content that's not licensed in your location.
Netflix's Terms of Use states that content availability varies between regions. That's because it has to purchase the rights to shows and movies for every country where it wants to provide programming. Film industry copyright holders have pressured services like Netflix to stop subscribers from using "unblockers" to get content outside their designated country because it violates these agreements.
In 2016, Netflix announced it would block VPNs and proxies:
"Some members use proxies or 'unblockers' to access titles available outside their territory. To address this, we employ the same or similar measures other firms do. This technology continues to evolve and we are evolving with it. That means in coming weeks, those using proxies and unblockers will only be able to access the service in the country where they currently are."
The good news is that the best VPNs can still get around these blocks. That's because premium providers like NordVPN have 5,100+ servers around the world and top-tier encryption to help you avoid detection. Even if a particular server gets banned by Netflix, you can switch to one of NordVPN's other options to connect. These features mean that you'll always be able to establish a reliable connection to stream Netflix with NordVPN.
🤑 Can I use a free VPN to get around the Netflix proxy error?
While many free VPNs say they can unlock Netflix, the truth is that most have such weak technology that they can't let you stream or keep you safe.
I tested the best free services on the market like Windscribe, Hotspot Shield, TunnelBear, and Hide.me and found that most can't even access the Netflix website. In the few cases that I could access Netflix, these services gave me a terrible streaming experience. This was due to:
Slow speeds and limited bandwidth: Free services offer limited bandwidth and slow downloads. This means you'll experience a lot of annoying buffering — that is, if it even gives you enough bandwidth to watch a complete movie. Many free services only give you 500MB of data per day, which is only 15 minutes of streaming in HD (not even enough for a single TV show episode!)
Limited servers: Most free VPNs limit the servers available to free users in order to get them to upgrade. But since Netflix constantly seeks to identify and blacklist IP addresses belonging to "unblockers", this restriction means you probably won't be able to beat the proxy error.
Aside from poor performance, my biggest concern when using a free VPN is security. Free VPN providers have been known to log and sell user data to advertisers and other unknown third-parties, putting your privacy at risk. They may also expose you to other threats like malware and fraud.
If you want to access Netflix using a VPN for free for an entire month, take advantage of a premium service's refund policy. I recommend you try NordVPN using its 30-day money-back guarantee. Simply request a refund within this period and you can catch up on all your favorite shows without paying a cent!
How can I solve the Netflix proxy error on my Fire Stick, Smart TV, iPhone, or Android?
Bypassing the proxy error on these devices is easier than it sounds — although the process varies depending on your operating system.
Regardless of the type of device you have, you'll first need a VPN with proven ability to solve the proxy error. According to my extensive testing, the best service for unblocking Netflix is NordVPN for its advanced technology and broad device compatibility. I recommend you get the app directly from the vendor website — if you get it from an app store, you'll have to deal with third-party vendors and delays if you want a refund later.
Your next steps depend on the type of device you have. NordVPN offers easy-to-install native apps for iPhone, Android, Fire Stick, some Android Smart TVs, and other devices. After you've followed the installation prompts, connect to a server in a country with access to the content you want. Then, find your show and start watching immediately!
For most Smart TVs, you need to install the VPN on your router. This provides VPN encryption for every device you connect to your WiFi. To get Netflix on your Apple TV, you can also use Smart DNS to route your TV through a DNS server. This lets you unblock US and UK Netflix. If you want other libraries, router installation will give you more options.
If you have questions about a specific device, you can always contact NordVPN's customer service via the website's live chat. They usually respond in less than a minute and have always helped me resolve any questions quickly!
How does the Netflix proxy error work?
Netflix constantly updates its technology to blacklist VPN servers so it can enforce copyright agreements, but it's not totally clear how it works. Like other platforms, it probably uses a combination of IP address blacklisting and DNS filtering to block proxy connections.
Your IP address is a series of numbers assigned to your device that tell websites where it's located. VPNs use encryption and redirection to mask your true location with an IP address from a VPN server. Normally, this fools websites about where you are.
However, some streaming platforms use advanced technology that may recognize that VPN-assigned IP addresses come from data centers, not private residences. Netflix often blacklists large ranges of non-residential IP addresses. That's why you need a VPN with a large server network so that you have lots of IP address options to beat these blocks.
Netflix also uses DNS filtering to find out if your DNS server location and IP address come from the same location. When you connect to Netflix, your browser sends a DNS request to the server, which sends the IP address for the show or movie you want to watch to your device. If the VPN or proxy you use doesn't reroute your DNS requests, Netflix can see that they don't match your VPN-assigned IP address — and will block your access.
To outsmart Netflix's detection technology, make sure to choose a high-quality VPN that masks your DNS request and IP address.
Why does Netflix say "unblocker" and "proxy" but not VPN?
Although Netflix doesn't explain why they don't include "VPN" in the error message, it's probably because VPNs aren't just for getting around content blocks. They're designed primarily to provide you with privacy and security. On the other hand, proxy servers and unblocker services are mainly used to bypass restrictions.
When I searched on Netflix's help pages for the proxy error, I found that the use of VPNs is addressed on a help section page:
"If you see an error that says 'You seem to be using an unblocker or proxy' it means that our systems have detected that you are connecting via a VPN, proxy, or 'unblocker' service. Because our content library can vary by region and these services hide your region, you may not be able to stream some movies and TV shows when connected in this way."
Fortunately, services like NordVPN can still beat Netflix's strong detection technology. This is because it uses the same level of encryption as military organizations and has DNS and IP leak protection to stop Netflix from seeing your location, DNS requests, and other private data.
Watch Netflix with NordVPN today
Netflix says I'm using a proxy, but I'm not — what should I do?
If Netflix is blocking you for using a VPN or proxy but you're not connected to one, there are a couple of ways you can resolve the proxy error.
First, try connecting to Netflix on a different device while using the same WiFi network. If you can access Netflix without seeing the proxy error, the issue is with your original device. You can try restarting it and reinstalling the Netflix app.
If Netflix still doesn't work on a different device, you may have a problem with your IP address. One of the main causes for this error is malware. Try using trusted antivirus software to see if you can locate and remove the malicious files. Once deleted, you can restart your device and try to access Netflix again.
If there's no malware on your device, Netflix may have blocked your IP address incorrectly. You can get in touch with your ISP and ask them to contact Netflix to see if your IP address has been whitelisted. Unfortunately, this could take a long time to resolve — if you don't want to wait, you can use a quality VPN to get around Netflix's blocks. A service like NordVPN will mask your blocked IP address so you can start streaming Netflix fast.
Why is Netflix better with a VPN?
Netflix offers different movies and TV shows in every country — the best VPNs will give you access to the Netflix content you want no matter where you are.
It's frustrating when I can't watch some of the most popular programs on Netflix just because I don't live in the right country. My local UK Netflix library isn't bad, but it's significantly smaller than US Netflix. I also like to access new releases right away rather than waiting. I think it's really unfair that I pay for a full subscription but I don't get access to all the same content at the same time because of where I live.
With a VPN, you can easily watch content that's exclusive to Netflix libraries in the US, Canada, Germany, France, Australia, Japan, and other countries. I recommend you try NordVPN for its blazing-fast streaming speeds and a huge network of global servers. Plus, you can even try it risk-free using its 30-day money-back guarantee.
Watch Netflix with NordVPN today
Can I use a proxy with Netflix?
Netflix is extremely good at detecting and blocking proxies. I've tested dozens of providers and even the best proxy servers can't get around its detection.
While a proxy masks your IP address and reroutes your connection through a different server, it doesn't encrypt your connection like a VPN does. Without encryption, it's much easier for Netflix to see that the connection is a proxy and block it.
A VPN's encryption and other security features make it much harder for Netflix to detect. Plus, a VPN's secure connection will protect you from other prying eyes and dangers on the internet too!
Can I connect to a VPN and still watch my local Netflix?
Yes, but only with a VPN that has a split tunneling or white-listing feature.
The top VPNs on this list offer these features. These configurations allow you to pick what websites or apps are routed through your VPN connection and which aren't. For example, you can choose Netflix to be exempt from VPN coverage so the app or website will work as if your VPN were off. This gives you access to your local Netflix library but can let you access all other sites through the VPN.
NordVPN offers a split tunneling feature on its native Android app. I tested it on my Samsung Galaxy S10 smartphone and I was able to watch Netflix UK while connecting to a US server. You can turn on split tunneling by tapping the gear icon in the top-left corner of the app and accessing "My Account & Settings".
ExpressVPN also has a split-tunnel feature on its desktop app for Windows and macOS — similarly, this lets you decide which apps or browsers are rerouted through the VPN. Surfshark and CyberGhost have a white-lister feature on their desktop apps that allows you to create a list of URLs to prevent them from passing through the VPN connection.
How can I watch Netflix in a hotel or when I'm traveling?
It's easy to watch Netflix when you're abroad — just make sure you download a high-quality VPN to your devices before you travel. If you wait until you're in a country with tough censorship or surveillance, VPN vendor websites might be blocked.
I'd recommend NordVPN because it's one of the best VPNs for Windows devices, MacBooks, Android smartphones, iPhones, and other portable devices. If you have a Smart TV where you're going, you can also use a Fire Stick with NordVPN to access the Netflix content you want.
Never See the Netflix Proxy Error Again With a Reliable VPN
Most services can't bypass the constantly improving anti-VPN technology streaming platforms use. The only way around the error message is to use a VPN that has been proven to work with Netflix.
After testing over 45 VPNs, I found that NordVPN is the best at outsmarting the proxy error. Plus, you can even try NordVPN using its 30-day money-back guarantee. That means you can stream your Netflix favorites for a full month without having to commit to a long subscription plan. If you don't need the VPN after that, you'll be able to get a full refund like I did — I got mine in just 4 days.