[SOLVED] Netflix Proxy Streaming Error (Tested & Updated April 2020)
Last Updated by Chase Williams on April 01, 2020
"Whoops, something went wrong… Streaming error. You seem to be using an unblocker or proxy. Please turn off any of these services and try again."
If the dreaded Netflix Proxy Error (also known as the "Streaming Error" or "error m7111-5059") appears while you're trying to watch Netflix with a VPN, it can mean one of two things:
The VPN you are using is unable to bypass detection from Netflix.
You are using a Netflix VPN, but the server you are connected with is recognized by Netflix and has been blacklisted.
Netflix has been stepping up its game in detecting viewers that use a VPN and blocking their access. However, even if you see the streaming error, there's no need to give up on watching Netflix just yet.
All you need is to get a VPN that has been proven to work against Netflix's powerful detection — and I've got a few for you.
Get a VPN and fix the Netflix proxy error!
How to Solve the Netflix Proxy Streaming Error
The first thing you'll need to bypass the Netflix proxy is to get a VPN that works with Netflix. The only way to find the ones that can consistently beat the tough Netflix VPN block is to test and retest different VPNs.
To save you time and hassle, I've done the research and testing to shortlist two VPNs you can count on to solve the Netflix proxy error: NordVPN and ExpressVPN.
For my latest test, I wanted to see if I could watch Suits Season 9, which is only available on Netflix UK, and The Office (US) which is only on Netflix US. I used a Windows computer and an Android phone.
I came away from the ExpressVPN test impressed that it connected to a server that worked in just a few seconds. I could access both UK and US Netflix libraries easily, and there wasn't any lagging, buffering, or poor quality streams.
This video below shows how one of my colleagues also managed to bypass the Netflix proxy error with ExpressVPN and watch Netflix US.
1-Minute Video: How to Fix the Netflix Proxy Error with ExpressVPN
Similarly, tests with NordVPN also proved that this service works great for bypassing the Netflix proxy error. I didn't have any issues accessing Netflix with NordVPN on my computer and phone.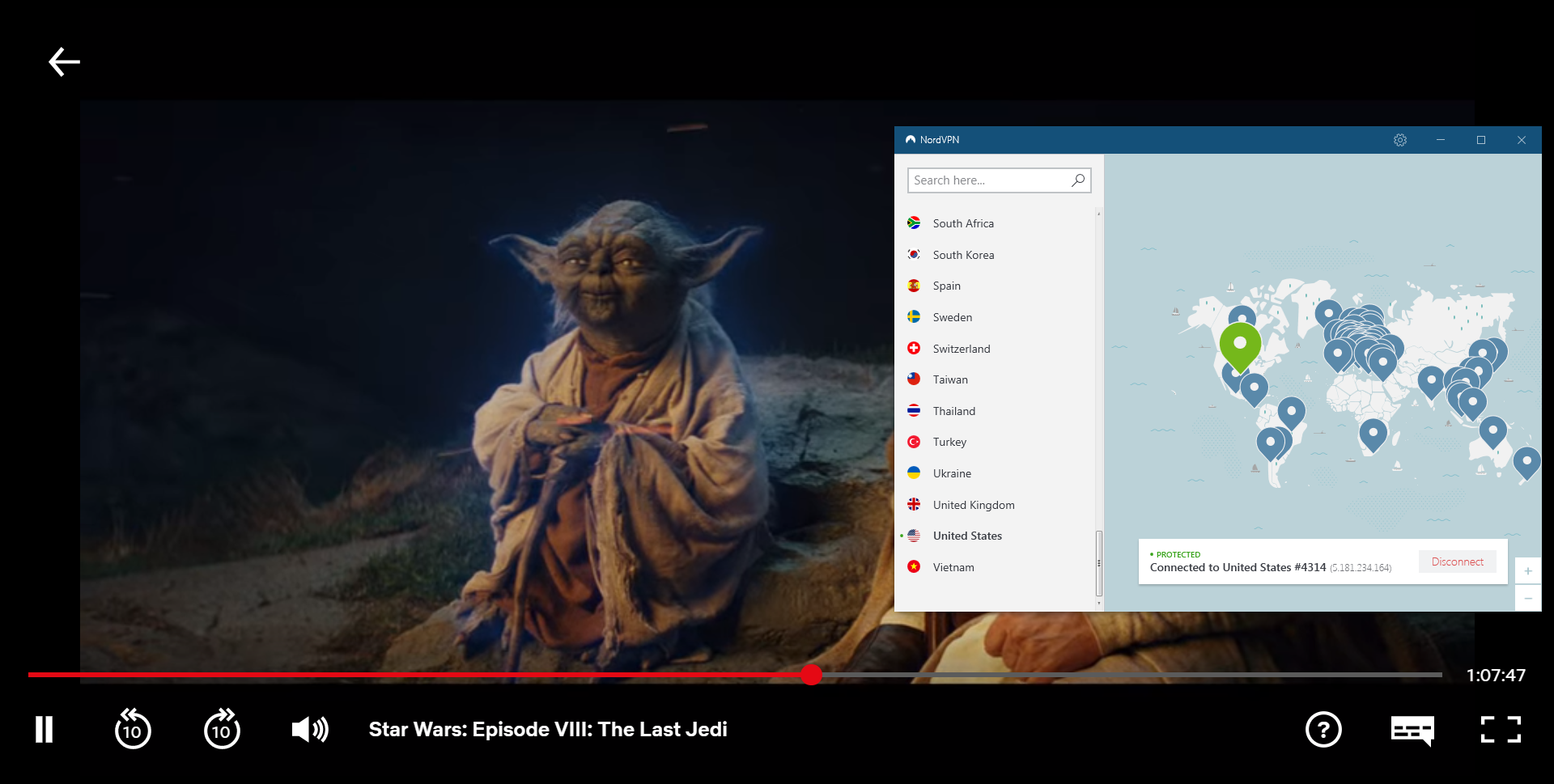 Not only do these two VPNs have excellent results for bypassing Netflix, they both offer deals and guarantees to help you get a premium VPN at a highly affordable price.
ExpressVPN has a special deals page for Netflix users and backs it up with a 30-day money-back guarantee. NordVPN also offers great deals that make streaming your favorite content even easier.
Still Getting the Proxy Error With ExpressVPN or NordVPN?
Every now and then, you may encounter servers that don't work with Netflix. This happens to even the best VPNs as Netflix's team is constantly flagging and blocking VPN servers.
So what can you do about it? You can select another server on your VPN, refresh your Netflix page, and see if that server works. You can also contact a customer service representative, who can give you the latest list of servers with access to Netflix.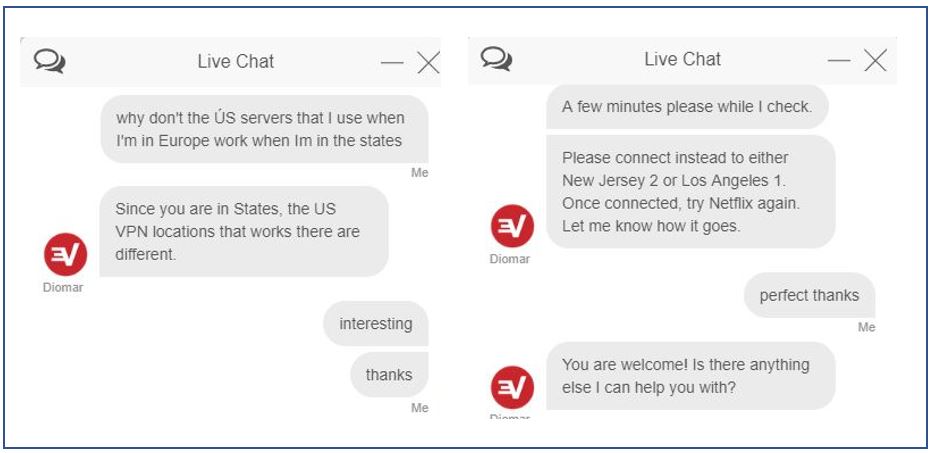 During a recent review of ExpressVPN , I ran into a streaming error when I tried to watch Netflix in the US whilst connected to a US server (I always have my VPN connected for privacy reasons, not just to watch Netflix from other regions). I checked in with the ExpressVPN 24/7 live chat and they told me which US servers to try. After connecting to their recommended server, I could watch "Money Heist" without any problems.
ExpressVPN's consistent success with accessing global Netflix content, plus their efficient customer service team, makes it one of the best VPNs to use for Netflix.
Fix the Netflix proxy error now!
Other VPNs That Work with Netflix
In addition to ExpressVPN and NordVPN, there are a few other VPNs that have proven to successfully bypass the Netflix proxy error.
1. CyberGhost — Offers Servers Dedicated to Netflix
CyberGhost has Netflix-optimized servers in the US, UK, Germany, and France. This means that CyberGhost is constantly working to ensure that those servers are working. During my CyberGhost-Netflix test we had no trouble with buffering or slow loading videos.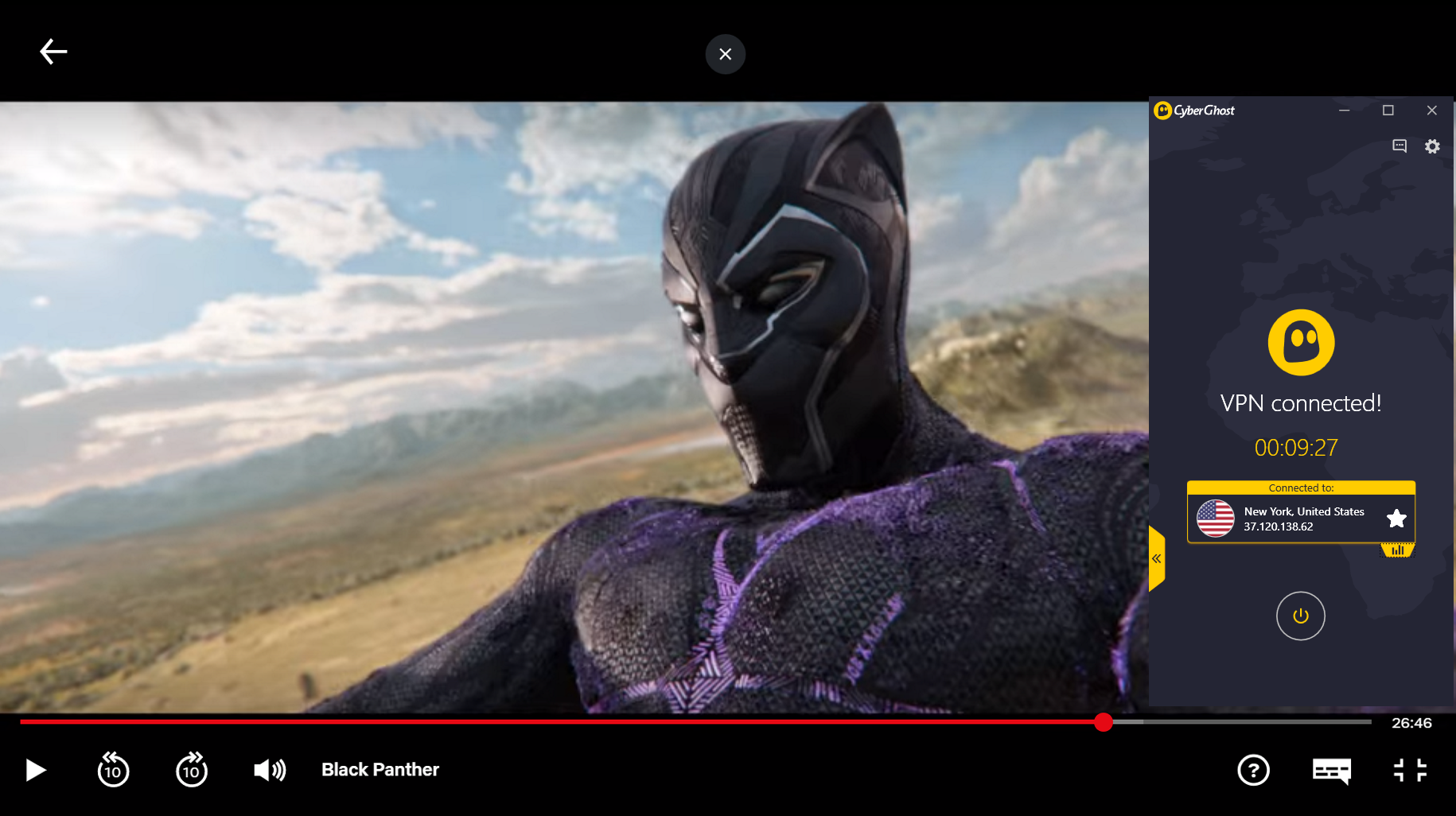 Coronavirus Stay-At-Home Update 2020: If you're on lockdown and want access to more online streaming platforms (e.g. US Netflix, BBC iPlayer, Disney+ etc.), a reliable VPN can help you get around geo-blocks. CyberGhost is now offering reduced prices that are really worth considering — it would allow you to enjoy your lockdown time streaming your favorite shows at home with no stress.
Get CyberGhost and watch Netflix now!
2. Surfshark — Stream Netflix on an Unlimited Number of Devices
Surfshark claims to work with Netflix in 11 countries, including the US, UK, Germany, France, Japan, and the Netherlands. During my Surfshark review , I had no trouble watching high-quality streams on Netflix.
Get Surfshark to watch Netflix now!
Common FAQs on Netflix and VPNs
🔓

Why does Netflix block VPN traffic?

Film studios sell country-specific broadcasting rights to cable, satellite, and streaming service providers. Companies like Netflix must purchase the rights for every country it wants to provide programming to.

Cost and regulatory restrictions play a large part in consumer access to content. Netflix is headquartered in California. Therefore, it offers its US subscribers the largest selection of movies and shows. The content lineup across other countries can vary widely.

Consumers fight back by using VPNs to cloak their location, giving them access to content from anywhere in the world.

As VPNs circumvent geo-location blocks, copyright holders in the film industry have put more pressure on streaming services, like Netflix, to stop users from gaining access to content outside of their designated country.

Under pressure from the film industry, in 2016, Netflix announced that it would block users from viewing content through a VPN, even when watching in their home country.

Netflix's Terms of Use states:
"You may view Netflix content primarily within the country in which you have established your account and only in geographic locations where we offer our service and have licensed such content. The content that may be available to watch will vary by geographic location and will change from time to time."
That being said, I have not heard of a case from any readers that Netflix has blocked someone's account for using a VPN.
If Netflix identifies a VPN server, they will block access to its content. You can log-in to your account, but when you try to play the selected movie or show, you receive the following error message:

You can avoid this streaming error message by using a VPN to get around the Netflix VPN blocks.
💰

Do free VPNs work with Netflix?

In short, no. I tested the best free VPNs on the market, such as Windscribe, Hotspot Shield, TunnelBear, and Hide.me. Unfortunately, most free VPNs couldn't even access Netflix.

When I could access Netflix, I still had a frustrating streaming experience. This was due to:
Slow speeds and limited bandwidth: Free VPNs offer limited bandwidth and slower download speeds. This means you'll get a lot of annoying buffering — if you've even got enough bandwidth to finish the episode or movie.
Limited servers: Most free VPNs have a couple of servers as part of the free package. This is an attempt to get users to upgrade to the premium service.
Personally, I find the best free VPN for Netflix is a quality VPN with a money-back guarantee. All you have to do is request a refund within the money-back guarantee period and you can watch Netflix for free!
Get a quality VPN for free and watch Netflix now!
💡

Why is Netflix better with a VPN?

Every country has its Netflix own library. This means that a Netflix user in the US can't necessarily watch the same shows as someone in Canada, Australia, Japan, or the UK and vice versa.

A VPN will break down these geographic restrictions and allow Netflix subscribers to watch any Netflix show from anywhere in the world.
🔍

Why does Netflix say "unblocker" and "proxy" but not VPN?

To the best of my knowledge, this is just a matter of semantics. If you take a look at the Netflix help menu, they do mention VPNs along with unblocker and proxy services.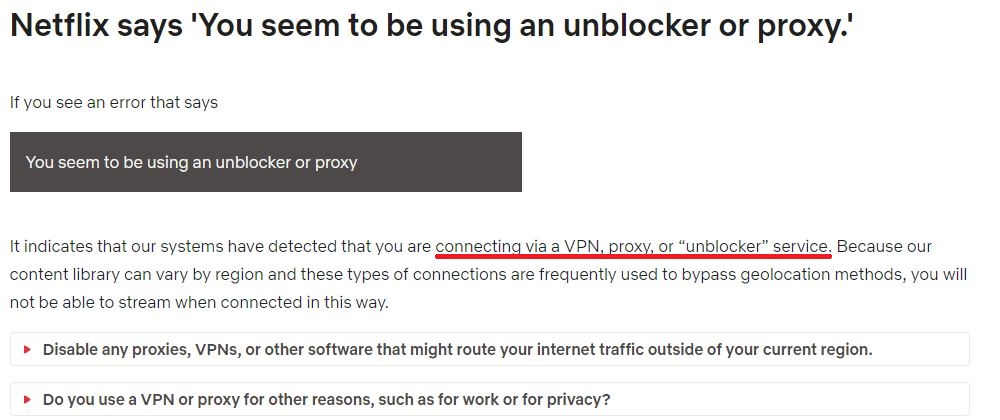 ❓

Can I keep my VPN turned on and still watch local Netflix?

Yes, but only with a VPN that has a split tunneling or white-listing feature.

Some VPNs offer "split-tunneling" or "white-listing", which is a fancy way of saying that when you use certain websites or apps, the traffic won't be rerouted from your ISP. You can choose for Netflix to be exempt from being rerouted so that the Netflix app or website will function as if your VPN was off. All other sites that you access will still be rerouted and secured by the VPN.

ExpressVPN has a split-tunnel feature that allows you to choose certain apps or browsers to be kept from being rerouted. This way, you can keep Netflix from being rerouted so that you can watch local content. Surfshark and CyberGhost have a white-lister feature that allows you to create a list of URLs that won't go through the VPN tunnel, allowing you access to your local Netflix library.

NordVPN doesn't have either of these capabilities at this time, so if you're connected with a foreign router, you won't be able to watch local Netflix. But with a few clicks, you can turn off the VPN and gain access to the local content library.

Get ExpressVPN with split tunneling
❔Which proxy works with Netflix?
Netflix has done a good job of stopping proxy servers from bypassing its geo-block. Currently, there are no proxy servers that I know of that can bypass the Netflix proxy error.
🔧

How can I solve the Netflix proxy error on Fire Stick, Smart TVs, and Android/iPhone?

ExpressVPN and NordVPN are both excellent solutions for streaming Netflix across multiple platforms. They each have dedicated apps for the Amazon Fire Stick, and Android and iPhone.

Download the app for your specific device and connect to the server in the country of your choice. Once you're connected, you can find your favorite show and start watching.

For most Smart TVs and all Apple TVs you will need to install the VPN on your router. This will connect any device connected to the router to the VPN. There are some Android Smart TVs that allow you to download the VPN app directly, and in those cases you can operate it as you would on the computer or phone.
⚙️

How can I watch Netflix in a hotel?

For some reason, many hotels use a firewall to block Netflix access for their guests. If you have a Smart TV in your room, you can use a Fire Stick with a VPN to bypass the firewall or create a virtual router and connect to the TV.

Fix the Netflix Proxy Error Now!
Final Thoughts
While Netflix continues to try and block users from accessing their content through a VPN, some VPNs have also improved their servers to avoid being flagged. I expect this battle to continue for the foreseeable future, and the only way around it is to use Netflix VPNs that work. For a quick and reliable fix, get ExpressVPN or NordVPN — these two VPNs will have you watching Netflix in no time.