9 Best (100% FREE) Proxy Sites for Private Browsing in 2023
Last Updated by Kate Hawkins on March 01, 2023
Free proxy sites are tempting when you need to get around firewalls, but it's hard to tell which proxy is actually safe and works. To save you time, I tested 20+ free proxies and ranked the 9 best options.
While free proxies still need to make money, I was concerned to find even some of the best free proxy sites log your activities and sell it to advertisers. For this reason, I don't recommend using a free proxy for sensitive activities like torrenting, banking, or watching adult content — there's a high chance that you're being secretly watched.
If you want online anonymity and security, you may want to consider a VPN. A premium provider like ExpressVPN offers anonymity, fast speeds, and military-grade security that no free proxy can match. ExpressVPN is backed by a 30-day money-back guarantee so it's easy to get a refund if you're not satisfied with its performance.
Quick Guide: The Best Free Proxies (Tested 2023)
Privacy Tip: If you need to browse the web without worrying about your activity being logged, jump to see the best free VPNs. The best services use military-grade encryption and even have an audited no-logs policy.
The Best Free Proxy Sites and Servers in March 2023
1. CyberGhost Free Proxy Plugin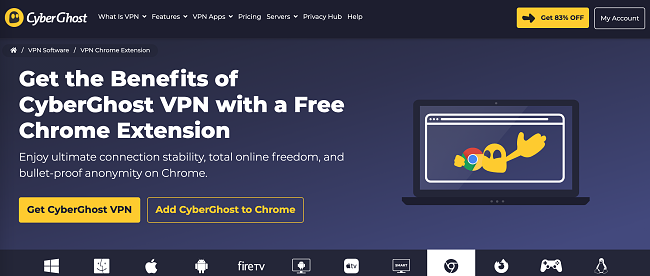 CyberGhost has a free proxy extension that requires no signup. The proxy plugin is currently available for Chrome and Firefox, and allows access to 8 servers in 4 countries (Germany, Romania, Netherlands, and the US).
I only had to click the Power button, and CyberGhost instantly connected me to its server. I was able to select a server location of my choice and change my IP address within seconds. I was especially impressed when I had no trouble watching movies on Netflix and didn't encounter any buffering during my streams.
I performed several DNS leak tests with the CyberGhost proxy plugin enabled, and it passed every time, meaning my IP address didn't become exposed during DNS requests. CyberGhost offers a VPN service in addition to its proxy plugin.
2. ZenMate Free Proxy Extension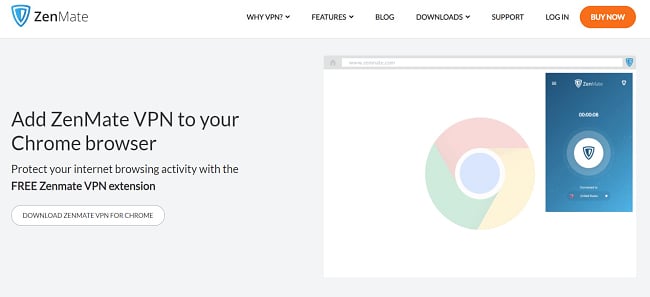 ZenMate has a free proxy that comes as an extension for Chrome, Firefox, Edge, and Opera. There are 4 servers in Germany, Romania, Singapore, and the US.
You're protected by AES 128-bit encryption — while it's not as powerful as the AES 256-bit offered by ZenMate's VPN service, AES 128 does have faster speeds and strong security. The extension also has a built-in WebRTC Protect and Malware/Tracking Blocker features, which further helps you stay anonymous when browsing online.
Unfortunately, ZenMate restricts the maximum speed to 2 MB/s, so it's not the best choice for data-intensive activities like downloading or streaming. Unlimited bandwidth is reserved for VPN users — the ZenMate VPN has optimized servers for streaming and torrenting.
3. Hotspot Shield Free Proxy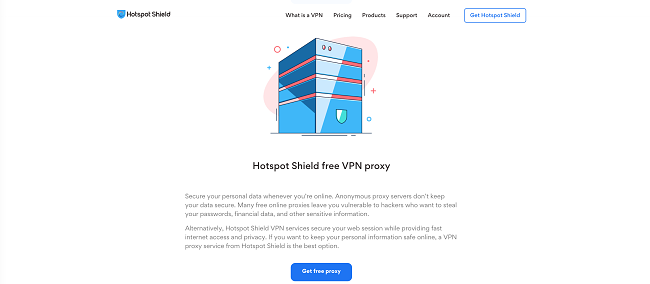 Hotspot Shield is known as a free VPN service, but it also has a free proxy. You can connect to 4 servers — Canada, Germany, the Netherlands, or the Russian Federation. While this is a little limited compared to some other free proxies, the servers are fast and truly anonymous. After just 1 click, I could open Netflix Germany and start streaming! I didn't even need to register for an account.
Its free proxy browser extension has a comprehensive set of security settings including a malware blocker, ad blocker, and cookie blocker. I found all of these features easily in the "Configuration" menu at the top right of the extension. Disappointingly, during my tests the ad blocker couldn't stop annoying YouTube ads from playing.
4. Hide.me Free Proxy Browser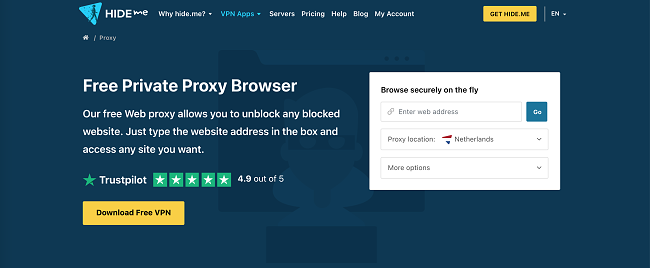 Hide.me only has proxy servers in 3 countries (Germany, the Netherlands, and Canada) but it gives you several customization options. You have the option of disabling cookies, scripts, and objects (like images and plug-ins) while you're browsing. I wanted as much privacy as possible, so I encrypted the URL of the page I was browsing on. It's super easy — just click "More options" and choose "Encrypt URL" from the menu.
The webform proxy server is fast at connecting you to your chosen web address. You can also download a browser extension for Chrome or Firefox to protect every page you visit. Best of all, Hide.me's free proxy server doesn't keep logs of IP addresses or online activity at all.
Remember that only your browser traffic is protected. If you want your entire internet connection to be encrypted, you can try Hide.me's free VPN service.
5. Hidester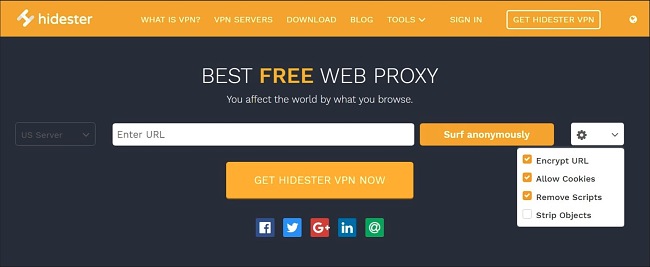 Hidester is an impressive free web proxy (with servers in the US and Europe) that gives you more security options than most. You can easily choose to encrypt your URL, block cookies, and remove scripts to block annoying ads. There's no account signup necessary and Hidester keeps zero logs — no IP addresses, user browsing activity, or any identifying information is stored. This really impressed me as most free web proxies keep at least some logs for a period of time.
Alongside its free web proxy, Hidester offers several other tools I found helpful for maintaining good online security. I especially like the secure password generator, which recommends passwords proven to be difficult to crack.
As impressive as Hidester is, its basic encryption doesn't measure up with the AES 256-bit encryption used by premium VPNs. Plus, a VPN will protect your whole device rather than just a single webpage.
6. KProxy
KProxy has a proxy webform, as well as a Chrome and Firefox extension. I like the Chrome extension as it gave me 2 precise locations to choose from — Canada and France, which both connected to websites quickly. On the webform, you get 10 different servers to choose from, but you can't see the location of the servers so browsing and unblocking sites is less precise.
Unfortunately, KProxy limits your browsing in a single session to either 3 hours or when you've hit the 300MB data cap. At this point, you'll be prompted to upgrade the service or wait 30 minutes to resume using the proxy. While it's not a huge problem, I found it annoying to have to wait to start using the service again.
Most importantly, KProxy keeps some user data (notably, IP addresses) and will give it to the authorities if you abuse the system or engage in illegal activities — including torrenting.
7. VPNBook
VPNBook is another VPN service that also provides a free web proxy. It's straightforward and simple to use if you need quick access to a blocked website. You can choose from 4 different servers (2 in Europe, 2 in North America) or VPNBook will assign you a proxy server randomly. While I prefer to choose a server that's close to me (for faster connections), I found that the random proxy server was fast (around 25Mbps on average) when browsing and streaming.
VPNBook is the only web proxy with 256-bit SSL-encryption — a level of encryption that you usually only get from premium VPNs. This means you can be sure that no matter which server you use, your connection is secure and protected from prying eyes.
Despite its high-level encryption and security, VPNBook keeps logs. Although these logs are deleted after a week and are only used to report illegal activity, I'm disappointed that my activity isn't totally anonymous.
8. 4everproxy
4everproxy gives you 11 servers and 24 IP locations to choose from when you use its free web proxy. I chose the closest server (UK – London) for the fastest speed and an IP address in another country. You don't have to select a server and IP from the same location, so you can maximize your anonymity!
I tested 4everproxy's claims that every server is super fast (with 1Gbps connections) and was impressed by the speed. I streamed YouTube with just a couple of seconds of buffering, although I did also get an ad for 4everproxy before my video started.
There are no sign ups or logins required — I typed in my web address and connected in less than 5 seconds. There are also no use limits, as long as you aren't using the proxy for illegal activity like excessive downloads. The service does log some user data (but it's deleted after 7 days).
9. ProxySite
ProxySite has 17 US servers and 18 EU servers to make your connection. Server locations aren't specific, but choosing a server in a nearby region will provide a faster experience. I connected to several EU and US servers — it took me several seconds longer to connect to sites through the US servers.
ProxySite does log your data to monitor for abuse of the service (like excessive downloading or collecting data from other sites) but deletes the logs after 14 days. If you'd rather avoid leaving your private information in the hands of third parties, I recommend you download a VPN instead.
Are Proxy Sites Actually Safe?
The reality is that proxy sites only provide a basic level of protection. Most proxies don't use advanced encryption protocols, but even those that do only secure the browser connection — not the entire network. This means that proxies won't protect other apps on your device, like those you use for banking, social media, and messaging.
Most free proxies also cap your data and have a limited number of IP addresses, which usually get blocked by streaming sites once they're identified as proxies. Some of the worst free proxies can even log your traffic and steal your bandwidth.
I only recommend proxies for specific activities, like browsing the internet. If you need to do anything else, it's much safer to check out the best VPN services in 2023. Quality VPNs encrypt every connection using the AES 256-bit cipher, which is the same standard used by militaries and governments worldwide. Better yet, you have access to unlimited bandwidth and servers around the world.
How to Choose the Best Free Proxy Sites
Reputation — If a proxy site has been operating for years, it's likely a safe option for you. See if you can check its user reputation by looking for a comments section or social media page.
Fast servers — A proxy site with a larger number of servers means the risk of you disconnecting is lower. If the proxy has servers close to your geographic location, you'll also experience faster connection speeds.
Servers locations — Some free proxies don't give you any server details. You might not even be able to choose a server, which could be dangerous if you don't know the local internet laws.
Privacy policies — Some free proxy sites save your connection details, like your IP address or browsing activity. Some even encrypt URLs and page content, block scripts to lower the risk of malware, and stop annoying ads.
Webform or browser extension — Most free proxies offer extensions for browsers or apps that support major operating systems.
If you want the best protection for your whole device (not just your browser), a safer alternative is a VPN. Unlike free proxies, a VPN doesn't log any of your activities — what you do online remains your business. For example, ExpressVPN applies military-grade encryption to every connection, from web searches to streaming and online banking.
Stay anonymous online with a VPN
The Best VPN Alternatives to Proxy Sites (3 Are FREE)
Key Features:
Over 3000 servers in 94+ countries
AES 256-bit military-grade encryption and Network Lock kill switch hides your location at all times
5 simultaneous device connections
24/7 customer support with live chat
30-day money-back guarantee
While it's not free upfront, ExpressVPN has a 30-day money-back guarantee you can use to try every feature before committing to a subscription. You can get a full refund if you're not satisfied with the performance — it's a "no questions asked" refund policy. This is a great way to see how well a premium VPN compares to a free proxy server at keeping your data and online activity secure.
ExpressVPN is one of the best services available for getting around content blocks. During tests, I easily streamed Netflix without a single instance of buffering, lag, or pixelation. I could even access Amazon Prime Video, Disney+, Hulu, and DAZN.
Unlike most free proxies with shady privacy practices, ExpressVPN has an audited no-logs policy that was even confirmed in a real-life case. In addition, the company is based in the British Virgin Islands, which has strong privacy and data protection laws.
You can try ExpressVPN's full range of features risk-free as it's backed by a money-back guarantee for 30 days. I tested ExpressVPN for 25 days before asking for a refund through live chat. The agent didn't ask why I was canceling and processed my request in less than 5 minutes. My money returned to my account after only 4 business days.
March 2023 Update! ExpressVPN has dropped prices for a limited time to a crazy $6.67 per month for the 1-year plan (you can save up to 49%) + 3 months free! This is a limited offer so be sure to grab it now before it's gone. See more information on this offer here.
Key Features:
9736+ servers in over 91 countries, including optimized servers for most major streaming sites
Top-tier encryption and NoSpy servers keep you safe and anonymous online
7 simultaneous device connections
24/7 customer support with live chat
45-day money-back guarantee
CyberGhost no longer has a free plan, but you can use it for 45 days and get your money back, no questions asked. That's plenty of time to take full advantage of CyberGhost's optimized streaming servers and watch shows and movies on all your favorite platforms. While testing the VPN, it took me 2 seconds to connect to the BBC iPlayer server and watch an entire season of Peaky Blinders beginning to end without lag or pixelation.
You can even connect to a selection of highly secure NoSpy servers. These servers are all located in Romania, a country that doesn't engage in online surveillance and isn't party to the 5/9/14 Eyes intelligence-sharing alliances. Furthermore, CyberGhost manages its NoSpy servers exclusively, without any third-party interference, so you can rest assured that no one will tamper with your private information.
Best of all, you can try CyberGhost for free for 45 days by taking advantage of the money-back guarantee — ideal if you only need a VPN for a few weeks. I asked for my refund over live chat and had my money back in the account only 4 days later.
March 2023 Update! You can subscribe to CyberGhost for as low as $2.11 per month + get extra 3 months free with the 2-year plan (save up to 83%)! This is a limited offer so grab it now before it's gone. See more information on this offer here.
Key Features:
3200+ servers available in over 73 countries
Military-grade encryption
5 simultaneous device connections
24/7 live support via chat
45-day money-back guarantee on all paid plans
Hotspot Shield has free and paid plans. The free plan works similar to the Hotspot Shield proxy but provides the added security of a VPN. You have 500MB of free data per day (total of 1.5GB each month). You also have access to only 1 server in the US, which usually offers lower speeds than the premium version due to high server traffic.
Its 1 US server even works with YouTube, Netflix, and Amazon Prime Video. I could watch content seamlessly with Hotspot Shield's proprietary Catapult Hydra — a tunneling protocol optimized for high speed and low latency.
You can try Hotspot Shield for free and see if it meets your needs.
Key Features:
Servers located in 47+ countries, including the UK, USA, and Canada
AES 256-bit encryption secures your entire internet connection
500MB data limit with the free plan
Up to unlimited device connections at the same time
Email support
TunnelBear is a fast, secure free VPN with a low data limit. At only 500MB of data allowance per month, it isn't suited to streaming or torrenting. However, with server locations in over 20 countries, I found that TunnelBear is excellent at getting around content restrictions with just 1 click. TunnelBear connects quickly, too, taking less than 5 seconds to connect to a server when I tested it. These speedy connections make it a great choice if you want to unblock a website or service quickly.
It's owned by McAfee (the security giant) and uses AES 256-bit encryption to keep your data protected. It also uses a Vigilant Mode that blocks unsecured traffic in case your VPN connection gets disrupted. There's even a free ad blocker — I was impressed to find that it blocked all ads when I streamed YouTube.
You can try these features out and download TunnelBear for free. You don't even need to create an account to get started.
Key Features:
5 servers in 5 countries with the free plan
Industry-standard, AES 256-bit encryption cipher
10GB monthly data cap with the free subscription, but no bandwidth limits
1 device connection per each free account
Customer support is available to free users
Hide.me offers an impressive free VPN with no ads or speed limits — you get the same speeds as paid users. The service also offers strong security features that ensure safe browsing and streaming, and a zero-logs policy. You can connect to 5 servers in the Netherlands, Canada, Germany, US East, and US West. Hide.me uses AES 256-bit encryption and offers a kill switch and DNS leak protection. It only keeps non-persistent logs and erases them every few hours.
Unfortunately, you're limited to only 10GB per month. Once you exceed the maximum data usage limit, you will need to upgrade to the premium Hide.me plan to continue using the service.
It's easy to try Hide.Me for free — you don't even have to provide your email address or create an account.
FAQs: Proxy Servers vs VPNs
What's better: a VPN or proxy?
A proxy server offers a basic level of security by masking your IP address, but only the best proxy sites have advanced privacy features. However, you should use a VPN instead of a proxy when you're:
Browsing the internet through apps instead of a browser.
Connected to public WiFi and want to protect your data.
Performing a personal task online (like banking)
Downloading and seeding torrents
Living in or visiting a country with strict internet restrictions.
If you're looking for total security and privacy, a free proxy server isn't the best choice. It will only protect your information for the websites you visit using it — outside of your browser, other apps (like banking, social media, and messaging) won't be protected. Proxy servers also send all of your data requests as plain text. Anyone watching can see your usernames, passwords, and other sensitive information transported to the site — which is great for hackers and cybercriminals, but not for your data security.
Using a quality VPN means you don't have to worry about your data or browsing security. It encrypts every connection so no one can access your information or web activity.
Can I use a free VPN instead of a proxy?
Both free proxy servers and free VPNs have pros and cons — but the most significant difference is how much security they provide while you're connected. I tested the best free VPNs in 2023 and free proxies to see how they compare to each other. On average, here are the results:
Free Proxy Sites
Free VPNs
Hides IP Address

✔

✔

Encrypts Connection

✔

Browser only

✔

No-Logs Policy
Depends

✔

No Email Required
Depends
Depends
Unblocks Content
Depends

✔

Extra Security Features
Depends

✔
If you want more security but aren't sure about the cost, you should try a premium VPN with a money-back guarantee. For example, CyberGhost offers a 45-day money-back guarantee, so you have up to 45 days to try CyberGhost risk-free. If you're not happy, you can get a full refund — no questions asked.
Do proxy sites work on any device?
You can access the best free proxy sites via a browser. The majority of free proxies are available on Chrome, although many also work on Firefox, Opera, Edge, and Safari.
However, keep in mind that a proxy only encrypts the browser's web traffic. The rest of your device won't be protected — so if you regularly use apps or programs outside the browser, you might want to consider a VPN. The best VPNs have dedicated apps for Windows, Mac, Android, iOS, Apple TV, Android TV, Amazon Fire Stick, and even Linux.
What are the best proxy sites for video streaming?
It's tricky to find a a good proxy site for streaming. Unfortunately, most free proxies limit your data usage, so you won't be able to watch videos in high-quality definition.
It's even more difficult if you want to access subscription-based services like Netflix. As soon as you try to access these sites using a free proxy, it doesn't take the streaming platform long to figure out that you're spoofing your real IP address. In my experience, only the best VPNs have the technology and resources to unblock streaming sites (like Netflix US).
What are the different types of proxy servers?
There are several different kinds of proxy servers and they can operate using different protocols. Proxy server protocols consist of:
HTTP — This proxy uses a remote server to "grab" a webpage when you make a request and send it to you through an unencrypted connection. It's almost like interacting directly with the webpage, but the owner of the server can change the data you receive. They could add pop-up ads or even malware to the data.
HTTPS/SSL — This proxy is a secure extension of the HTTP proxy. It works in the same way, only it's encrypted with TLS encryption. Your ISP or anyone else looking at your activity can see the domains you access but not specific URLs.
SOCKS/SOCKS5 — These proxies are considerably more flexible and secure, able to send and receive data through different sources. They're often used for torrenting and can be set up to need username and password authentication. You can find random SOCKS5 proxies online, but IPVanish has a free and fast SOCKS5 proxy included with its VPN service.
Transparent — These proxies tell the website you're visiting that it is a proxy server and it will forward your true IP address to the site. Transparent proxies are mostly used to filter content from networks (like in schools or government buildings) and monitor activity.
Different proxy configurations include:
Private proxy — This kind of proxy can be used by only one person at a time and is designed to hide your personal IP address. A dedicated private proxy has a static IP address (it doesn't change) and are usually paid services.
Shared/public proxy — Shared proxies consist of multiple IP addresses that can be used by a group of paying members. Public proxies are free to use for anyone who accesses them. These are the riskiest options as you don't know what other users are doing (like downloading illegal material) and the proxy owner could potentially mishandle your data.
Web proxy — This is a proxy like Hidester, which is great for getting around a content block through a web page or browser extension.
Residential/data center proxy — A residential proxy is one that is supplied by your ISP and behaves just like a regular IP address. Websites won't know you're using a proxy. Data center proxies come from a third-party supplier and are easier to get. Many of the IP addresses are very similar so they're prone to being blocked by sites and services as it can be obvious that they are proxy connections.
What should I do if the proxy site stops responding?
If the web proxy you're using stops responding or freezes, you can refresh your browser page or close it. Then, open a new tab and head back to the proxy site. This usually fixes the issue and you can resume your anonymous browsing.
For a proxy browser extension, you have a few more options to try:
Restart your device and make sure you're connected to the internet before turning on the extension.
Make sure your firewall isn't preventing the server connection — if you can, pause your firewall while you try to connect.
Remove and re-add the extension to your browser.
Unfortunately, most free proxy servers don't have a support site or live chat to help resolve any problems you may encounter. I recommend you use a quality VPN service like CyberGhost, which offers troubleshooting guides, a comprehensive support site, and a 24/7 live chat option to resolve your issues. It has a free proxy plugin, but you can try CyberGhost VPN for free for 45 days with the money-back guarantee.
Protect Your Location Data and Browsing History
A free web proxy provides a basic level of online security and gives you freedom to enjoy content you can't normally see — but it comes with limitations. For the best possible security, with encrypted connections, zero logs, and absolute privacy, you should use a VPN.
Even a free VPN would do a better job than one of these proxies. However, if you're not willing to waste your time and risk your privacy, I recommend you use a trusted name like ExpressVPN instead. It uses military-grade encryption and TrustedServer technology to protect your data. It also offers unlimited data, lightning-fast speeds and has a proven zero-log policy. You can try ExpressVPN on any device. If you're not satisfied, you have up to 30 days to claim a refund.
---
Top VPNs That Work Better Than Proxy Sites in 2023