Visit TunnelBear VPN Website!
TunnelBear VPN

Review 2023: Before You Buy, Is It Worth It?
TunnelBear VPN Overview 2023
TunnelBear's marketing team certainly knows how to create a memorable brand, but I wanted to find out if the VPN itself stands up to the hype. With the help of my colleagues worldwide, I ran a series of vigorous tests to see just how secure and private TunnelBear is — and I was surprised by the results.
Every TunnelBear server is protected by the same top-tier encryption and leak protection as its premium competitors. It's lightweight, adorable apps make it intuitive and fun to use — a good choice for first-time VPN users. I was also pleased to discover TunnelBear undergoes regular independent audits, so you can rest assured your online activity is anonymous.
Nevertheless, there are a few drawbacks associated with TunnelBear. The limited size of its server network poses challenges in bypassing stringent restrictions, particularly in China where it tends to be unreliable. Additionally, TunnelBear does not provide access to all popular streaming services, limiting your options in that regard. Another limitation is the absence of a live chat feature, resulting in a potentially lengthy waiting period of up to 48 hours to receive a response from their email support.
On the plus side, TunnelBear has a completely free version you can use — just sign up for a free TunnelBear account and get access to every server and feature. Data is limited, but it's a great way to test the service risk-free before signing up for a subscription, especially as TunnelBear doesn't routinely offer a money-back guarantee.
Try TunnelBear risk-free today
Don't Have Time? Here's a 1-Minute Summary
TunnelBear Unblocks Netflix, Amazon Prime Video, HBO Max, and More (but Can't Access Hulu or Disney+)
TunnelBear doesn't advertise itself as a VPN designed for streaming, so I was pleasantly surprised that I could access my streaming accounts on multiple platforms. However, it's not always a case of a 1-click connection — I often had to disconnect and reconnect to find a working server that wasn't blocked by the streaming service.
Once I'd made a connection, my stream quality was good — HD quality or better — and I didn't experience lags or interruptions beyond a few seconds of initial buffering.
I'd like to see TunnelBear give users the option to choose specific servers in every country, as my colleagues in the US found this helped them access their streaming accounts. For example, TunnelBear's automatic US server selection couldn't access Netflix, but the New York server could. Having precise server locations would make it easier to determine which servers reliably make connections and would save you from having to disconnect and reconnect to the same general location.
Netflix: Unblocked
During tests, my colleagues and I found that TunnelBear could access Netflix in the US, UK, Canada, and Europe. However, not every server worked reliably with the service.  New York, Miami, and Washington DC were reliable options in the US, and, in other countries, it was often necessary to reconnect to a location several times before connecting to Netflix.
TunnelBear's connection only took a few seconds to buffer the latest episode of Stranger Things before streaming in HD-quality video. After the initial buffering, I didn't experience any lags or interruptions — TunnelBear's connection remained reliably smooth throughout.
Amazon Prime Video: Unblocked
TunnelBear was able to access Amazon Prime Video in the UK, the US, and Europe, so my team and I could stream on our local accounts without issue. I didn't have to disconnect multiple times either — the first server connection let me sign in to my Amazon account and start streaming straight away.
While TunnelBear's connection started streaming The Boys almost immediately, I had to wait around 15 seconds before my stream quality improved. My colleagues abroad noticed the same issue and found they could stream in HD quality after waiting a few seconds.
HBO Max: Unblocked
My teammate connected to each of TunnelBear's US server options and found they could access HBO Max with Atlanta, Dallas, Los Angeles, New York, Seattle, and Washington DC.
The video stream often started out being pixelated and poor quality for several seconds. However, after the initial buffering and loading, my colleague could stream Game of Thrones in HD quality without further interruptions.
BBC iPlayer: Unblocked
I was surprised to find TunnelBear could access BBC iPlayer, as it's notoriously difficult to watch while connected to a VPN. I was even more impressed that the first UK server I connected to worked with BBC iPlayer — I didn't have to reconnect several times to get access.
My stream quality was excellent from the first second of streaming, and I didn't have any buffering or interruptions while watching my show.
Hulu and Disney+: Blocked
Unfortunately, during tests TunnelBear couldn't access Hulu or Disney+. When attempting to connect to Disney+ on multiple servers, I was simply met with a black screen — no login menu or account signup options were available. I tried using the app, browser extension, and both Chrome and Firefox to visit the site, and got the same black screen every time.
My colleague in the US was able to log in to their Hulu account but they encountered a VPN error message when trying to stream: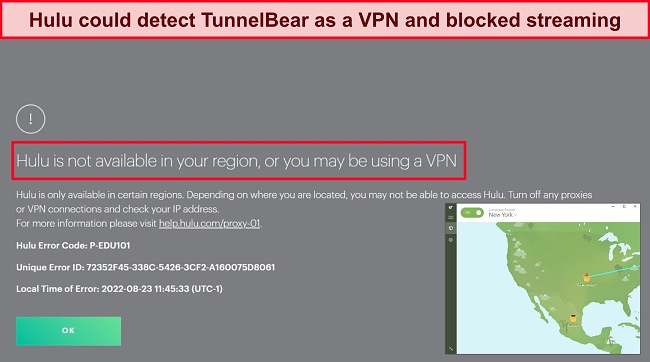 Usually, I would recommend contacting customer service for advice on how to access Hulu and Disney+, but support will only recommend waiting a couple of days and trying again. TunnelBear is designed primarily as a way to maintain privacy online, so its focus is not on accessing streaming services.
Speed — TunnelBear is Fast, But Slows Down Over Long Distances
TunnelBear's speeds on local servers are very fast, with connections providing similar speeds to my regular ISP. You can use TunnelBear's "Fastest" server option, which will automatically connect you to a nearby server and give you the best possible speeds. However, like many VPNs, TunnelBear can struggle with maintaining fast speeds over long distances.
If you find your connection is a little unstable (even without using a VPN), you can try turning on the TCP override in TunnelBear's settings, which can improve the stability of your connection. I found that this worked well for a smoother, more reliable connection, but it didn't always improve my speed.
Speed Test Results
With the help of my colleagues, I ran multiple speed tests connected to TunnelBear servers. Overall, my speeds with TunnelBear were consistently fast on most servers. I could easily stream, torrent, and browse online without any noticeable lag or interruptions.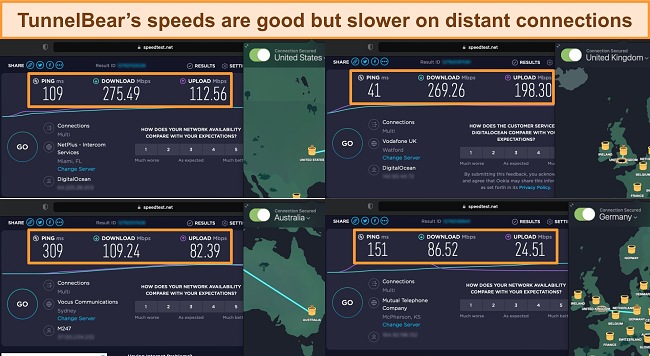 The biggest impact on TunnelBear's connections was distance. My speeds dropped by more than 50% when connecting to Australia, over 17,000 km from my location. As my internet speeds are already fast, this slowdown didn't cause much of an issue. However, if your existing internet speeds are slower, you could notice a more significant impact no your streaming and browsing experience.
I also noticed some inconsistency between servers — for example, a connection in Germany (900 km away) was dramatically slower than other servers much further away. When I got in touch with TunnelBear's customer service, they suggested the slowdown could be due to user congestion. This means you could experience slower speeds on local servers when traffic is high. I recommend running a quick speed test after you connect to check that your server speeds meet your needs.
You should also make sure you're using the right protocol to ensure fast speeds. In a recent update, TunnelBear added the option to choose your protocol on Windows and iOS devices. You can connect with WireGuard or IKEv2 on Windows and iOS, or OpenVPN on all supported platforms.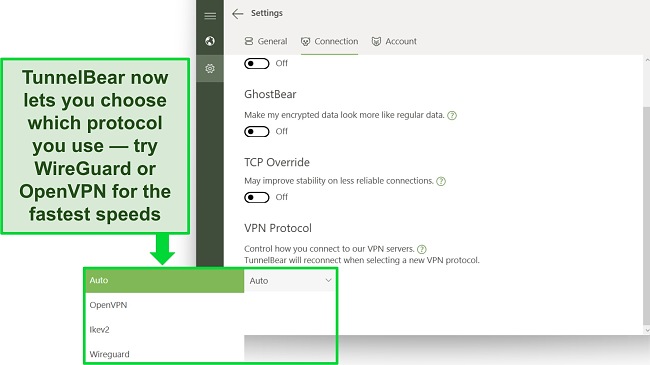 If you can, I suggest using WireGuard as it's a protocol designed for top speeds and security. Otherwise, OpenVPN is the best option. For macOS and Android devices, your connection will automatically use the OpenVPN protocol.
Gaming Speed — Okay Locally, But High Ping Causes Lag on Some Servers
TunnelBear's local servers are more than fast enough for smooth, lag-free gaming. During my tests, I connected to multiple servers in the UK and consistently had high speeds and low ping — just 41ms of latency on average (anything below 50ms is ideal for fast-paced online gaming). I could connect to local game servers for Call of Duty: Warzone and Valorant and play with fast response times and minimal lag.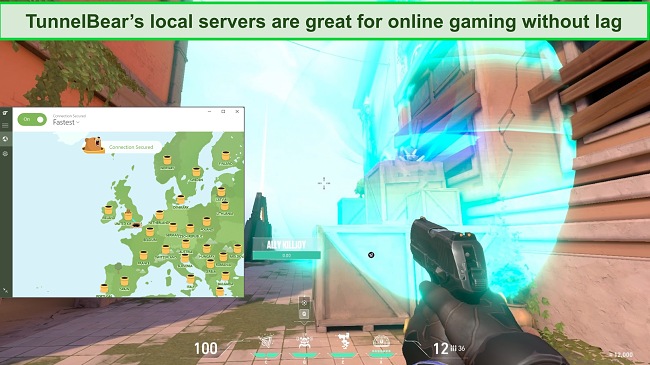 Unfortunately, if you want to game with friends in other countries, you could experience lag issues with TunnelBear. My ping frequently rose above 100ms, even as much as 300ms when connected to Australia, despite my speeds still being fast. This made gameplay basically impossible, with extreme lag and difficulty connecting to different servers. As such, I can't recommend using TunnelBear's servers for gaming unless you connect to the closest option to your physical location.
Why Most Speed Tests are Pointless & How We Correctly Test VPN Speeds
Speed determines how fast content uploads, so if you're torrenting or streaming, you want the speed to be somewhat identical to your regular internet speed. Since a VPN encrypts your data, it usually takes a bit longer to send your data back and forth, which can slow down your connection. However, if your ISP deliberately slows down your connection (also known as throttling) a VPN might increase your internet speed. Testing a VPN is somewhat pointless because new servers pop up and affect speed. Your speed can also differ according to your location, so your speed test might not match ours. Having said that, we tested the speed in numerous locations to provide you with the average.
Server Network — Small but Reliable Global Network of Servers
TunnelBear has more than 45 locations, giving it good global coverage for access to connections worldwide. I was surprised to find that on both its free and premium plans, TunnelBear lets you connect to any available server. This is unusual for a free service, as they usually only offer 1 or 2 connections and save the rest for paid users. It's a good way to test which servers will work best for you before you commit to a subscription.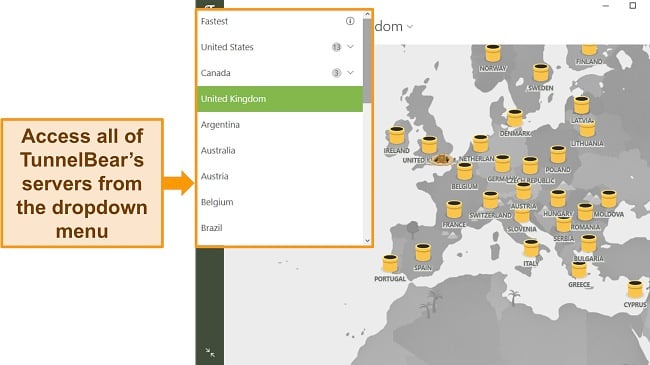 It's not the biggest server network for a VPN, which does mean some user congestion at high traffic times. I experienced this occasionally when I used local servers during the evening and at weekends — it would take up to 30 seconds to establish a connection, and my speeds would be slower than usual. However, I found disconnecting and reconnecting often solved the issue, and this was as simple as toggling the "on-off" server connection switch on the app.
I was impressed to find that TunnelBear owns all of the servers in its network rather than renting them from another company, which reduces the chances of third-party interference. Having a third party able to access the servers poses a security risk, so TunnelBear has taken an extra step to keep your data safe. TunnelBear also uses physical servers rather than virtual, meaning the servers are physically where you expect them to be — your data won't be routed through potentially less-secure countries to reach its intended destination.
Unlike other VPNs, TunnelBear doesn't have any dedicated or optimized servers for specific online activities. This is because TunnelBear is ultimately designed as a privacy tool, not for torrenting, streaming, or online gaming. While you can certainly use TunnelBear to improve your security for these activities, you won't find optimized server selections. If you'd rather use dedicated servers, CyberGhost has optimized servers for multiple activities to boost your online performance.
Torrenting — P2P-File Sharing Allowed on All Servers
TunnelBear doesn't explicitly promote torrenting as part of its VPN service but instead states on its support site that "you should be able to share files while TunnelBear is connected." While there are no dedicated torrenting servers, TunnelBear recommends connecting to Canada, US, UK, Romania, Netherlands, Germany, or Sweden for the best experience.
I tested TunnelBear with uTorrent and downloaded a 5GB public domain file while connected to a UK server. It took just under 12 minutes to complete the download, and I had no issues with the connection, download, or compatibility with the torrent platform.
With TunnelBear's regular independent privacy audits, I felt reassured that my torrent activity was secure and anonymous. I also ensured that VigilantBear (TunnelBear's version of a kill switch) was active during my download, so my activity wouldn't be exposed if the connection was interrupted.
Note: The anonymity of a VPN doesn't give you the right to commit illegal activities, like torrenting and sharing copyrighted content. My team and I don't condone any illegal behavior, so make sure you're aware of your local laws and regulations before using a VPN to torrent.
Does TunnelBear Work in China? No.
Unfortunately, TunnelBear does not work in China. During testing, my team and I tried multiple options to make a connection, including enabling the GhostBear feature and changing tunneling protocols. When I reached out to customer support, I was directed to a troubleshooting page that says, "some networks may be more restrictive than others and block your ability to connect to the VPN."
If you're looking for a reliable service, I recommend ExpressVPN as it consistently works in China thanks to its obfuscated servers — these mask your VPN traffic, making it look like regular traffic, to help avoid VPN detection technology.
Security — Top-Tier Security Features
In terms of security, TunnelBear offers top-tier features that effectively protect your data and keep your online activity anonymous. Despite not being packed with extras, the features that TunnelBear does include are high quality and work well. Toggling different features on and off is also very simple, activated in a single click so you can personalize your connection experience.
Military-Grade Encryption — Top-Tier Encryption Protects Your Data
Every TunnelBear connection is secured with AES-256-bit encryption, the same kind used by the US military and financial institutions worldwide. This kind of encryption is impossible to crack. No prying eyes, hackers, or even your ISP can see what you're doing or where you're located. A brute force attack on this level of encryption would take millions of years to succeed, so you can rest assured your traffic and activity are safe.
Data Leak Protection — Zero Data Leaks During Tests
In both its native apps and browser extensions, TunnelBear protects against DNS and IP address leaks. TunnelBear has its own secure DNS servers that handle DNS requests, ensuring all your data is tunneled through the encrypted connection. I ran several leak tests while connected to TunnelBear servers worldwide and my data was always secure — zero leaks.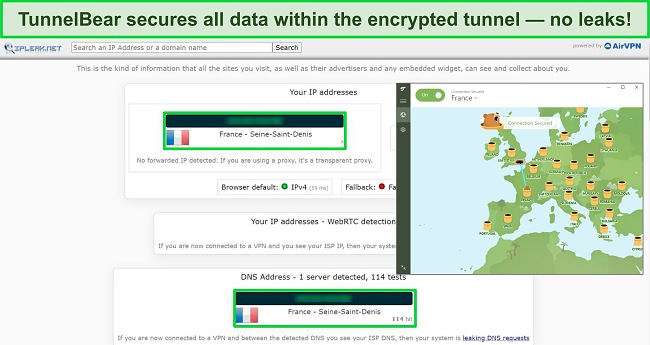 My true location and IP address (in the UK) were consistently hidden when connected to TunnelBear, ensuring my data was masked from anyone watching — hackers, prying third parties, or even government bodies. This confirmed to me that TunnelBear's in-built leak protection is effective at securing sensitive data.
VigilantBear — TunnelBear's Kill Switch Function
Another way TunnelBear protects against data leaks is with its VigilantBear feature, which works like a kill switch. VigilantBear cuts all access to the internet if the VPN connection is unexpectedly interrupted, stopping your data from being exposed without VPN encryption. VigilantBear will automatically reconnect you to a TunnelBear server as soon as possible.
However, VigilantBear is only available on Windows, Android, and macOS — there's no kill switch functionality on iOS devices. This is disappointing but surprisingly common for VPNs, which often don't include the same security features for iOS. If you'd like the option of a kill switch for your iPhone or iPad, CyberGhost has a kill switch option available on every app.
GhostBear — Server Obfuscation Hides Your VPN Traffic
GhostBear is TunnelBear's "stealth mode" feature, designed to mask your VPN traffic as regular internet traffic. This helps you avoid VPN detection technology from government bodies, streaming services, or networks that otherwise block proxy connections.
This feature will slow your connection speed a bit, due to the extra "scrambling" your traffic has to undergo to hide it. TunnelBear recommends only using GhostBear if you can't connect regularly but I found it's also useful for sending sensitive data (like logging into my bank account) with an extra layer of protection. Even with the slightly slower speeds, it reassured me that my details were secure.
It's important to note that you're still protected by military-grade encryption without GhostBear being switched on. Currently, it's available on Windows, Android, and macOS, but not on iOS due to restrictions with iOS's design.
SplitBear — Split Tunneling Feature (Android and iOS Only)
TunnelBear's split tunneling feature, called SplitBear which gives you greater control over which apps and websites are protected by the VPN connection. Currently, you can access SplitBear on Android and iOS, but not on Windows or macOS — I'd like to see TunnelBear expand its SplitBear feature to all platforms.
The way SplitBear functions on Android and iOS is different, depending on the app. For Android, you can choose which apps are excluded from the VPN connection, while on iOS you can choose websites and subdomains to bypass the VPN encryption. This can be a little fiddly to input on iOS devices, but having some apps or websites unencrypted can improve connection speeds and reduce the amount of mobile data you use.
TCP Override — Improves Connection Stability
TCP Override is a feature designed to improve the stability of your connection on Windows and macOS. If you notice your connection is "choppy," your content streaming is lagging, or you get website connection errors then it could be due to an issue with OpenVPN UDP. This is the protocol typically used as it's a faster option, but it's also more likely to experience throttling or blocking due to its popularity.
By switching on TCP Override, TunnelBear will instead use OpenVPN TCP. This is a slower protocol, but it's much more reliable and includes a greater amount of data to ensure your traffic reaches its destination, reducing data packet loss. This means you'll be able to access services and websites that were previously giving you error messages — it'll just take a bit longer to connect fully.
VPN Protocols — Multiple Protocols Available
In its most recent update, TunnelBear allows you to choose between several connection protocols on Windows and iOS. Previously, you could only change from OpenVPN UDP to TCP using the TCP Override feature — now, you can select between WireGuard, OpenVPN, and IKEv2. On Android and macOS, only OpenVPN is available.
Like all of TunnelBear's features, choosing between protocols is easy. The VPN protocol dropdown menu is available in the "Connection" option in "Settings." I found I could change settings in just a couple of clicks, and that WireGuard was the best option for fast speeds and secure, stable connections. I like the addition of IKEv2 for iOS as well, as this protocol is excellent at establishing server connections quickly — important on mobile devices that are often moving between networks.
Free Ad-Block Extension — Available for Chrome Browser Only
TunnelBear's free ad blocker for Chrome is one of the best I've tested. While it's only available for Chrome, it works exceptionally well to stop intrusive banners and pop-ups when you're browsing the web. During my tests, I found it completely removed ads from many websites I visited — not just potentially malicious ads like other VPN ad blockers, which still display safe ads.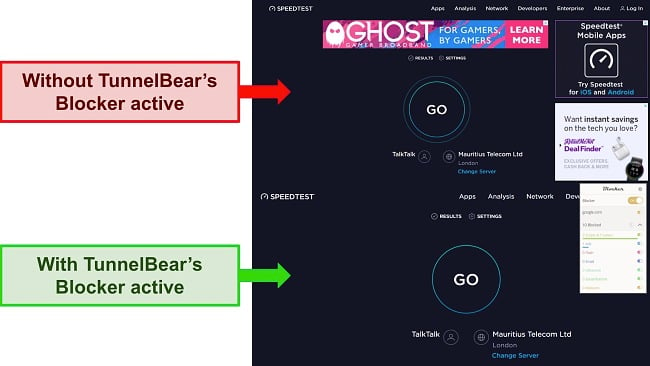 Not only did this make websites appear much less cluttered, but I also found TunnelBear's Blocker helped improve the site loading speed. I could visit websites and start searching, streaming, and browsing much more quickly. The Blocker app also has some customizable features, including blocking access to your microphone, disabling WebRTC (to avoid data leaks), and malware protection. I recommend keeping these features switched on to maximize your online security.
Privacy — Strong Privacy Policy Keeps User Data Secure
I'm impressed by TunnelBear's strict privacy policy, despite being initially skeptical of its Canadian jurisdiction. The service is rigorously audited and promptly resolves any issues that arise, reassuring me that it takes its users' privacy and anonymity seriously.
No-Logs Policy — Strict Zero-Log Policy Ensures Anonymity When Connected
I carefully examined TunnelBear's privacy policy and found the service never logs or stores user data when connected to servers. This means your original IP address and online activity are anonymous when you're using TunnelBear.

Like most VPNs, TunnelBear does store some user data — information when you create your account (like your email address), operational data, financial data if you pay for the service, and some cookies and trackers related to marketing and analytics. However, none of this data can be linked directly to your VPN use.
Company Jurisdiction — Based in Canada, Part of the Eyes Alliance
TunnelBear's headquarters are in Toronto, Canada, which is not a great location for a VPN. Canada is part of the Eyes Alliance group, a set of countries that voluntarily log and share data for security reasons. This was a cause for concern for me, as I had my doubts that TunnelBear really could maintain user privacy under Canadian regulations.
Fortunately, TunnelBear's strict no-log policy and independent audits confirm that all user data is anonymous when connected to its servers. TunnelBear will comply with Canadian law when necessary but cannot provide any data linking to individual users as it simply doesn't exist.
Independent Audit — Yearly Independent Audit Verifies No-Log Policy
TunnelBear voluntarily undergoes a third-party audit every year, which not only confirms its no-log policy but also pinpoints any potential vulnerabilities so TunnelBear can address them quickly. The audit results are published in a report that is free for everyone to read.
Given TunnelBear's headquarters in Canada, it's even more important and impressive that users have this high level of transparency. The audit results and resolution of issues by TunnelBear give me peace of mind that my data is always anonymous and secure when connected to its servers.
User Experience
- 7.0
/ 10
During my tests, I found TunnelBear's apps are easy to use and very similar across platforms, making it simple to navigate between devices. You won't be overloaded with configurable settings or complex menus — servers are easy to connect to, and extra security features like VigilantBear can be toggled on and off with a single click.
I'd like to see greater app compatibility from TunnelBear, particularly an easy way to install the VPN on a compatible router. However, TunnelBear will work on the most popular platforms, and its intuitive interface makes it a top choice for beginner VPN users.
Simultaneous Device Connections — Protects up to unlimited Devices
TunnelBear offers connections on up to unlimited devices, so you can be connected to servers on all your devices simultaneously. I downloaded and tested TunnelBear on my Windows PC, iPhone XS, and Android smartphone. I didn't have any issues with connections, and I didn't notice any slowdown with multiple devices connected at the same time.
Device Compatibility — Native Apps for Popular Platforms
TunnelBear has a native VPN app for Windows, Mac, iOS, and Android. These apps work well on their respective platforms, and are virtually identical — making it easy to navigate between different devices.
However, TunnelBear's compatibility is quite limited. You won't find native apps for Linux, your smart TV, or your router. There are ways to sideload TunnelBear onto your Android TV or configure it with your Amazon Fire TV Stick, but it's not easy — and these aren't supported by TunnelBear itself, so you won't be able to contact support for help. If you need a VPN for your smart TV, game console, or router, I recommend taking a look at ExpressVPN instead.
Ease of Set-Up & Installation — Ready to Connect in Less than 5 Minutes
TunnelBear is so easy to use and ideal for first-time VPN users. The download is quick, easy, and adorable (not many VPNs can claim that last one). The graphics for connection are charming, and the bear will roar on the mobile app once it has connected to the server.
The interface is set up like a map of the world, from which you can click and choose your server location or you can select a server from the dropdown menu. The menu items in the interface are generally very easy to understand and where they might be a little more complex, TunnelBear has provided links to explain the feature.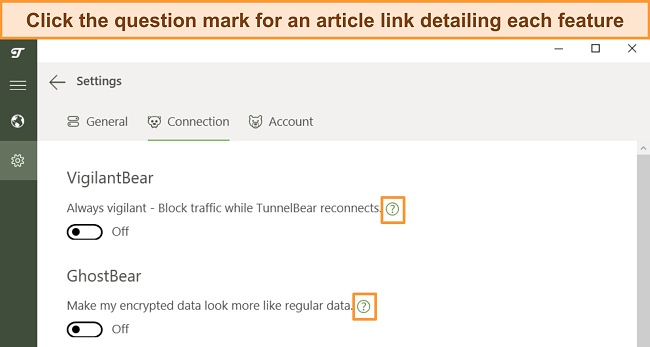 Installing and setting up TunnelBear takes less than 5 minutes. I downloaded all of my apps directly from TunnelBear's website, and after signing in with my account details, I was ready to connect.
There are some differences between TunnelBear's apps, which you can see in the table below:
| | | | | |
| --- | --- | --- | --- | --- |
| | Windows | macOS | Android | iOS |
| WireGuard | ✔ | ✘ | ✘ | ✔ |
| OpenVPN | ✔ | ✔ | ✔ | ✔ |
| IKEv2 | ✔ | ✘ | ✘ | ✔ |
| VigilantBear | ✔ | ✔ | ✔ | ✘ |
| GhostBear | ✔ | ✔ | ✔ | ✘ |
| SplitBear | ✘ | ✘ | ✔ | ✔ |
| TCP Override | ✔ | ✔ | ✘ | ✘ |
Browser Extensions — Available for Chrome and Firefox
TunnelBear's browser extensions for Chrome and Firefox are easy to use, just like the standard apps. After adding it to your browser, you'll need to sign into your account to access TunnelBear's server menu. Then, you can connect to any of TunnelBear's available servers to stream, browse, and shop securely online.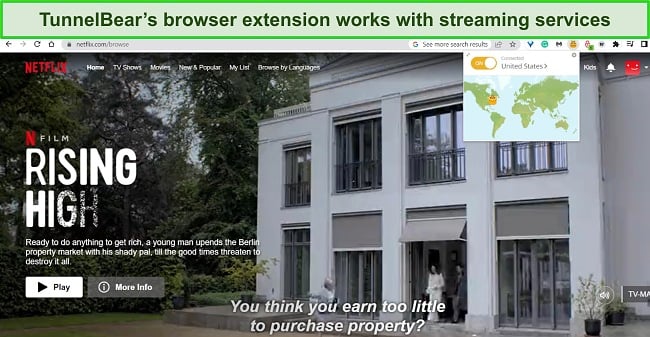 TunnelBear's extension has no additional security features like a kill switch, VigilantBear, or GhostBear. The browser extension only secures your browser traffic — any other connections, like torrent traffic or online gaming, won't be encrypted by the VPN. However, I found it a useful way to quickly connect and secure my traffic without having to load the whole app.
TunnelBear's customer support is pretty good overall, with prompt responses to email queries and a solid support site.
However, TunnelBear doesn't have any kind of live chat, which is disappointing — most premium VPNs have live chat, and it's usually the quickest way to ask questions or get help. I'd like to see live chat implemented to bring TunnelBear's customer support up to the same level as services like ExpressVPN and CyberGhost.
Email Ticketing — Prompt, Detailed Replies But Could Be Rote Responses
Email ticketing is the only way to get a direct response from TunnelBear, and this is only available if you have an account — you need to sign in to access the contact form. I tested the email support by asking a question about connecting to BBC iPlayer specifically. I was surprised to find that a detailed response back in less than 2 hours (TunnelBear promises to respond within 48 hours).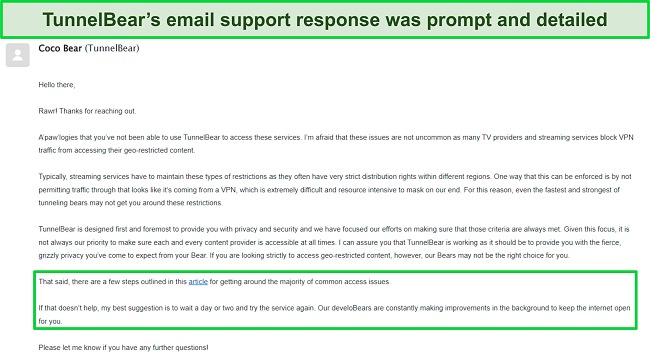 However, I did notice that the response didn't mention BBC iPlayer, but rather gave a generic response to "accessing a service" — the email seems like a template to copy-paste rather than an individual response. It included a useful link to a troubleshooting article and a suggestion to simply wait a day or two before trying the service again.
While I would prefer a more personal email response, I was pleased with how quickly I got an email back and the level of detail included, which helped to solve my connection issue.
Support Website — Informative FAQs, Troubleshooting, and Setup Guides
I'm impressed by TunnelBear's support website as it provides easy-to-find answers to most questions. Searching for single words like "privacy" or "Netflix" generates useful articles that are quick to read and easy to understand. If you have the time, you can also search through different TunnelBear topics related to setting up the service, troubleshooting issues, and account information.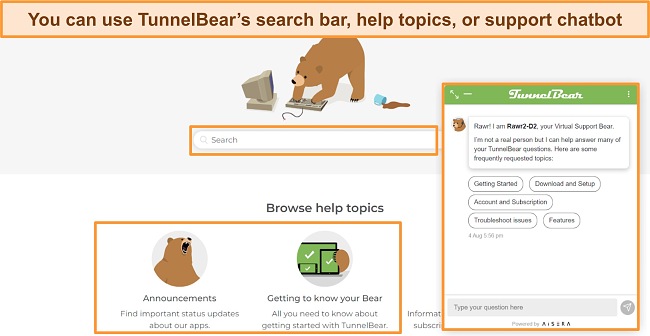 In place of live chat, you'll notice a "Virtual Support Bear" called Rawr2-D2. This chatbot is surprisingly helpful, displaying full article results in the chat box for you to look at. However, you won't get put through to live support if you can't find the right answer — you'll have to send an email ticket and wait for a response.
How We Test Customer Support and Why Should You Care
We personally test the customer support team of every VPN we review. This means asking technical question through the live chat feature (where applicable) and measuring the response time for email questions. Whether you need to connect to a specific server, change your security protocol, or configure a VPN on your router, finding a VPN with quality customer support should be important to you.
Important! TunnelBear doesn't offer new users a money-back guarantee like other VPNs. The company may offer refunds on a case-by-case basis, but you're unlikely to get a full refund — most likely, you'll get a prorated amount, depending on how long you've been using the service.
TunnelBear has 2 plan options for individual users — Free and Unlimited. If you need more than unlimited device connections, you can also look into the Teams option, recommended for businesses.
Free Version — Ideal for Testing TunnelBear's Features
TunnelBear's free service is one of the best free VPNs available, but it's also extremely limited. You only get 500MB of data per month, which is tiny — not enough for much beyond a speed test, checking your emails, and some casual browsing. However, you can get an extra 1GB data boost by sending a Tweet advertising TunnelBear. I found this a quick and easy way to get some extra data, and you can get the boost every month as long as you send a Tweet.
However, TunnelBear Free gives you full access to all available servers and features. This is a great opportunity to test every option and make sure TunnelBear works for you, especially considering the service doesn't routinely offer a money-back guarantee. You can test server connections for speed and stability, run leak tests, and explore the interface. If you decide it's right for you, you can then subscribe to the service.
Unlimited Version — Unlimited Data at an Affordable Price
With TunnelBear Unlimited, you have access to all the same features as the free version — the only difference is that you have unlimited monthly data for all the streaming, torrenting, online gaming, and browsing you want. You don't have to worry about how much data you have left, and you can even leave TunnelBear connected to maintain constant protection for your devices.
There are 3 payment plans for the Unlimited subscription, of which TunnelBear's monthly option is the most expensive — there are more affordable monthly VPNs available if you want a short-term solution. I recommend choosing its 2-year plan, which gives you a discount of 58% at just $4.17 per month.
TunnelBear only accepts credit or debit card payments. You can't pay through PayPal or with any anonymous methods like Bitcoin or other cryptocurrencies. This is a little disappointing, as most premium VPNs offer several payment options. However, all payments are encrypted and secure, and none of your online activity with TunnelBear can be linked back to you.
TunnelBear VPN offers the following plans
Final Verdict
TunnelBear is a top VPN in 2023, primarily designed for online privacy and security — and it really will protect your data when you're connected to its servers. Its security features, like the VigilantBear kill switch and data leak protection, work well to keep your online activity hidden. Plus, the reassurance of regular privacy audits confirms your data is safe when you use TunnelBear.
However, TunnelBear's focus on security and privacy means it's not optimized for specific online activities — you won't find servers dedicated to streaming, torrenting, or gaming. If you can't access a particular website or service, TunnelBear's advice is simply "wait a few days and try again." This can be frustrating when you want immediate access, so if you need a VPN for streaming, torrenting, or gaming, TunnelBear might not be the right choice for you.
As TunnelBear doesn't provide a money-back guarantee, I recommend you try the free version to see if it's right for you. This way, you can test all of TunnelBear's servers and features risk-free, and then sign up for a subscription if you're happy with the service.
Secure your data with TunnelBear
FAQs About TunnelBear
Is TunnelBear good?
Yes, TunnelBear is a good, reliable VPN. It uses the best possible encryption and leak protection to secure your data, and its yearly audit confirms your online activity is anonymous. Plus, TunnelBear's apps are easy to install and intuitive to use, making it a good choice for new VPN users.
However, it's not the fastest VPN on the market, and its lack of live customer support is an issue — most premium providers offer 24/7 live chat for quick fixes to urgent issues. TunnelBear also doesn't offer a money-back guarantee like most other VPNs. However, it does have a free option you can use to test the service before signing up for a subscription.
Can I use TunnelBear for free?
Yes, TunnelBear has a completely free service — you just need to sign up for a free account to log in. With the free service, you can connect to any of TunnelBear's 40+ servers, which is unusual for a free VPN. You can also adjust the VPN settings and enable features like GhostBear, as the free service has the same functionality as the premium option.
The key difference is that TunnelBear's free plan heavily restricts your data to just 500MB per month. This is a tiny amount — not enough for streaming, and barely enough to check emails and browse the internet. However, it's just enough to test the service for yourself and see if it's right for you, so you can then decide if you want to upgrade to a paid plan.
Is TunnelBear really safe?
Yes, TunnelBear is a safe and secure VPN. It voluntarily undergoes yearly independent audits to confirm it won't log or store user data, plus it has security features — GhostBear and VigilantBear — that provide additional protection when you're connected.
During tests, TunnelBear showed no signs of data leaks and secured every connection with military-grade encryption. You can also use its kill switch capabilities (available on every platform) to keep your data safe if the VPN connection is interrupted.
We rank vendors based on rigorous testing and research, but also take into account your feedback and our commercial agreements with providers. This page contains affiliate links.