Setting up a VPN Router: The Ultimate Guide
Protect yourself online by connecting your router to a Virtual Private Network (VPN).
In today's technologically advanced age, internet security and privacy have become areas of concern. The number of cybercrimes has increased exponentially and ransomware attacks are commonplace.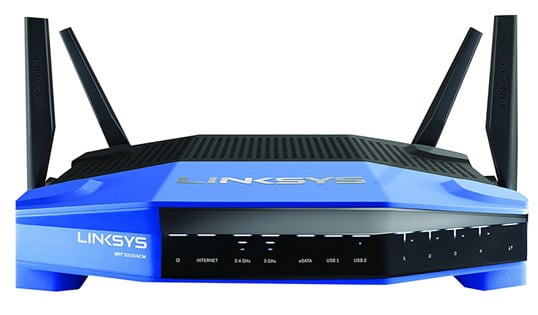 Connecting to the internet can expose you and your device to potential cyber threats, allowing your ISP, government, and other potential snoopers to see your online activities. It is highly recommended that you use a Virtual Private Network (VPN) to combat these threats.
Not only will a VPN give you added security and anonymity online, but it will also allow you to bypass geo-restrictions.
VPNs are the best shot you have at securing your data online and restoring internet privacy. However, protecting the whole family is not so easy, and for that, it would be best to use your VPN at the router level.
Discover how you can safeguard not just yourself but your entire family from cyber threats by setting up a VPN on your router.
Quick navigation:
1 How to Set Up VPN on a Router
For this tutorial, we are going to use ExpressVPN, which is the best VPN for router and the easiest to install.
There are guides provided on the website to help you get started with the VPN whether you need a pre-flashed router, a VPN compatible router, or a DD-WRT/ Tomato router.
Step 1: Download ExpressVPN firmware
The first thing you need to do is create an account.
When you log in to the control panel, click "See all devices"
On the setup page, click "Router"
Now, copy and paste your Activation Code somewhere or just open another tab and select your router model on the right
You can then click "Download Firmware"
Step 2: Connect your router
With your router and the ExpressVPN firmware, we now need to connect and get it working. Generally, your set up will vary depending on your router model.
However, most VPN routers usually work together with your ISP modem. The basic set up therefore involves connecting your primary router with the secondary router through an Ethernet cable. You also need to enable "VPN passthrough" on your primary router.
Here are the steps:
Connect the LAN port of your primary router to the WAN ("Internet") port of the secondary router through a LAN cable
Plug another Ethernet cable into your primary router and connect it to your computer's LAN port
Alternatively, if you are using a wireless connection, make sure that your primary router has internet access.
Step 3: Flash your router
This is the last step, and you will need a step-by-step guide for your specific router. For this VPN router guide, we'll cover Asus and Netgear, which are two of the more popular brands for a VPN router.
It's important to note that ExpressVPN lists a number of routers it supports with their router applet:
Asus RT-AC56(U/R/S)
Asus RT-AC68U
Asus RT-AC87U
Linksys EA6200
Linksys WRT1200AC
Linksys WRT1900AC(S)
Linksys WRT3200ACM
Netgear R6300
Netgear Nighthawk R7000
Others can be configured manually:
Asus (other models)
D-Link
DD-WRT
Netduma
Sabai
Tomato
TP-Link
Xiaomi
2 Why connect a VPN to a router?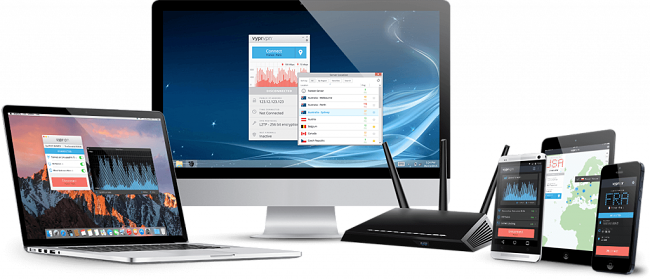 Configuring your VPN at the router level rather than on an individual device offers many benefits:
It keeps VPN services running
While using a VPN router, you won't have to keep connecting your individual devices to a VPN service. As long as you use the Wi-Fi service that is connected to the VPN then you should have full protection. This is a great plus seeing as it can be easy to forget to connect the VPN on your own device, something that will leave you exposed. The same thing can also happen when your VPN client disconnects without your knowledge, which is a potential data threat.
What's more, not everybody who should be protected by a VPN is diligent enough to keep theirs on, and therefore a VPN router is a better security and privacy option.
Enables connection of multiple devices
The best VPNs have a limit on the number of devices you can connect, with most of them ranging from 2-5 devices. Installing your VPN at the router level acts as just one single connection, and you'll be able to use the VPN connection on as many devices as possible.
Your family and everyone else who visits will be protected, and you won't have to saddle them with the burden of having to connect to a VPN whenever they go online.
Provides more security for all devices
VPN clients typically have connection issues once in a while, but VPN routers are more reliable. What's more, there are many devices that do not support the installation of VPN services. There are devices like some Smart TVs, gaming consoles, etc., which block individual VPN providers.
Additionally, with the growth of IoT, you don't want to come home and find that your cloud-enabled home security system has been breached, and your house has been robbed.
3 How to Choose a Router to Connect Your VPN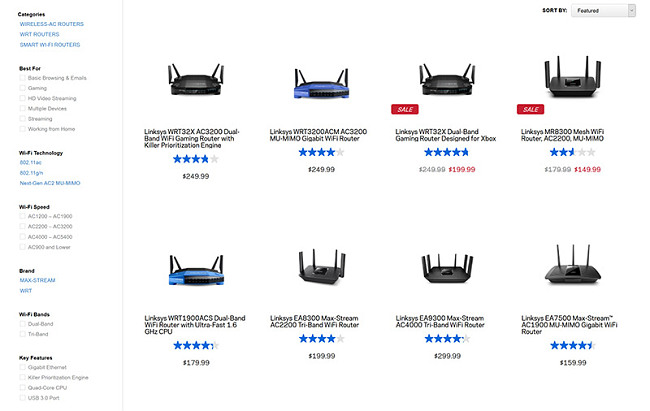 Selecting your VPN router properly is very important. First of all, not every router supports VPN functionality. Secondly, different routers have different specifications, and here are a few things that you should consider before getting yourself a VPN router.
1

Performance Specifications

This is one of the most important factors to consider when choosing a VPN router. This is because a VPN's encryption can add a lot of strain on the router since it's also doing the general processing. This can have a huge impact on your network if your router is not strong enough to handle these tasks.

This means that you should pick a router with high processing speeds. In terms of cores, avoid single-core routers. Dual-core routers can offer better performance, but their quad-core counterparts will be the best VPN routers. Also, you should note that third-party firmware like DD-WRT have certain requirements that need to be met before installation. For example, you need a router that has a minimum of 8 MB of flash to flash DD-WRT.
2

Network Speed

Network speed is an important consideration when choosing a VPN router, as it determines the speeds and range you get. Some routers have slow Ethernet or Wi-Fi, and when this is coupled with the speed drops brought about by a VPN, it can have a huge impact on your Network.

Most modern routers have Gigabit Ethernet connects, but you also need to ensure its Wi-Fi performance is up to the task. 8o2.11 ac is the recommended standard for a VPN router, and newer devices will receive much faster connections with such a router. Routers running 802.11n are six times slower.
3

Router (Wireless) Bands

A good VPN router should have at least a dual-band mode. This means that the router cab support devices on the 2.4 GHz band as well as the 5 GHz band. This can easily be seen as dual-band routers usually have 2 antennae.

If you want to use the VPN router for heavy tasks such as gaming and heavy 4K streaming, then getting a tri-band router which has two 5 GHz modes is a plus.
4

Guest Network Support

The guest network feature on a VPN router can be a very useful tool for your home network security. With the feature, a router can provide a second Wi-Fi hotspot with a different name.

Visitors can then connect to this network for internet access, but they won't be able to access connected computers, devices and other local network resources. Most routers that support DD-WRT flashing also support guest networks.
4 Getting a VPN Router
In most cases, routers supplied by the ISP do not support VPN installation. If you still use your ISP router, you will need to get an additional VPN compatible router, which you will connect to the modem router.
However, most routers you'll find on store shelves don't come already running a VPN, so you will need to know how to run one.
Here are three ways in which you can acquire a VPN router.
Pre-flashed routers
Buying a pre-configured router is the easiest way of getting a VPN router. This is because you won't have to go through the complicated process of flashing your router with DD-WRT or Tomato firmware, a process that changes with the type of router you buy. Although there are not many places you can get a pre-flashed router, flashrouters.com has a decent selection of flash routers on sale.
Several VPN services have a partnership with FlashRouters, so you can buy a VPN that is already set up with your VPN subscription. Here are the VPNs that have partnerships with FlashRouters:
However, though quite convenient, going with FlashRouters will cost you significantly more that you can spend on the router in a store.
Out-of-the-box VPN-compatible routers
This option is easier and safer than the third option, and cheaper than the first. There are VPN compatible routers that are available in stores. These routers do not have a VPN pre-installed, but their firmware supports VPN configuration.
They usually provide the OpenVPN protocol which is used by many VPNs, and so you can configure a wide range of VPNs.
The configuration process usually depends on the manufacturer, but it is generally easy, and you can find a guide on the official VPN website.
Flash router with new VPN firmware
This is the third option of acquiring a VPN router, and it's the most complicated. Basically, it involves installing a new operating system (firmware) onto your router, something commonly referred to as "flashing." This firmware gives a router VPN capability, and you won't have to pay as the firmware is free and open source.
The two most common and established router firmware are DD-WRT and Tomato. They are both free and available online for various router models, but each has its strengths and weaknesses.
What they have in common is that they can be used to:
Regulate your bandwidth length
Extend wireless range access to multiple VPN protocols
Improve security
Disable manufacturer backdoors, among others
DD-WRT is, however, more popular than Tomato, and its available for a wider range of devices. Its exclusive features include:
Adjusting signal strength
Prioritize certain types of traffic
Managing quality of service settings
Remote access to the home network
Tomato, on the other hand, has a more user-friendly interface and is, therefore, the best for novice users. What's more, the firmware offers better bandwidth monitoring options, permits up to two VPN servers to run at the same time, and connects better to VPN services.
Before you go ahead and buy a router so that you can flash it, you need to know the firmware you want to flash, and then check out the database of compatible routers.
5 How to Choose a VPN Provider for Router
Since the VPN you choose will be used for the whole network, you should consider a few things first:
Speed
Bandwidth
Server network
P2P capability
Unblocks streaming services like Netflix, Hulu, iPlayer etc.
Security and privacy levels
Features offered
This is because you need a VPN that can handle heavy tasks and since all connected devices will be using the same server connection, it has to be up to the task.
The best VPN for routers is ExpressVPN. Apart from offering an overall decent service, ExpressVPN has a huge focus on VPN routers. On their site, they give many VPN router suggestions and offer tutorials for setting up the VPN on various brand models.
This is also one of the few VPNs with dedicated applets for installing on a router. The applet gives advanced features like split tunnelling, a tool that allows you to exclude some connected devices from the VPN connection.
This feature is very useful as it will let you access local resources on certain devices. You can also exclude your Smart TV from the VPN encryption since ExpressVPN has a media streamer service that allows you access services like Netflix on non-VPN compatible devices without the added encryption.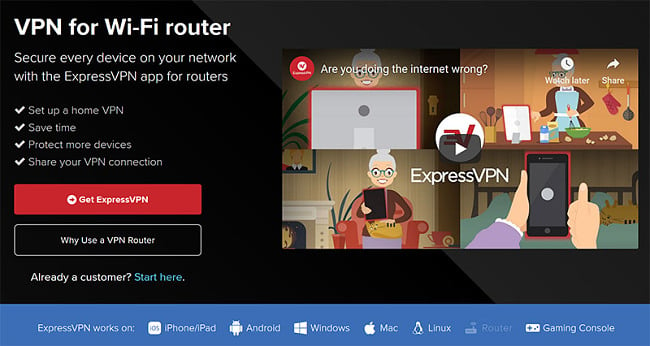 ExpressVPN has a huge server network made up of 2,000+ servers in 148 locations across 92 countries. This means that you can connect to almost any region and not worry about many users being clogged on the same server.
You also won't have to worry about privacy and security anymore as ExpressVPN keeps zero logs and uses AES 256-bit encryption. For any plan you decide to go for, you'll get a 30-day money-back guarantee.
Try ExpressVPN Now – Risk Free
6 How to flash an Asus router
Asus has a large family of routers, and the instructions provided below work with Asus RT-AC68U, RT-AC56R, RT-AC87U, and RT-AC56U.
While your router is turned on, connect it to your computer via an Ethernet cable
Access the Asus router dashboard by typing the IP address or opening http://router.asus.com/
If you haven't accessed the dashboard before, enter the username "admin" and a temporary password
Next, create a password for your SSID (Service Set Identifier). Click "Apply" and then "Complete"
You will now be redirected to the router admin dashboard
Click on "Administration"
Now, open the Firmware Upgrade tab. Here, select the firmware you have downloaded. Its name should match your router model name; otherwise, you'll just get a "firmware file is invalid" notification
Click "Upload"
You should see a message reading, "Router update is completed"
After the process is complete, replug your Ethernet on the router's LAN port
Now, open expressvpnrouter.com and log in using admin for both username and password fields
Enter the activation code from your ExpressVPN Set Up page and click "activate"
7 How to flash a Netgear router
The instructions provided below work with Netgear R6300v2 and Nighthawk R7000 routers.
Visit net to open the Netgear router dashboard
For the prompt to set your Wi-Fi name and SSID password, click "Skip" for now. The credentials will be reset later when you flash the ExpressVPN firmware
Enter admin for your default login and password
You will be directed to the router admin dashboard
Once there, click "Advanced"
Select "Administration" and then "Router Update" on the sidebar
Click "Browse" and select the firmware file you downloaded that corresponds to your router model. It should read: expressvpn-Netgear-rxxxxx-vxxxx.chk
Click "Upload" to flash your router
Now, go to expressvpnrouter.com and login using admin for both username and password fields
Enter the activation code from your ExpressVPN Set Up page and click "activate"
You should now be connected!
8 Additional steps
There are some steps that you need to know, you will need them frequently. Here are a few of the most common processes.
Change default SSID password
Find ExpressVPN Help & Support
Click the buttons Wi-Fi Name, Wi-Fi Password, and Router Dashboard Credentials
Manage devices
In the control panel, look for "VPN Options" under the VPN tab
Scroll to "Recently connected devices"
You will now be able to manage your devices and select the device you want/don't want to be protected by the VPN
Change server location
Disconnect your VPN
Click "Select another location"
Choose a server in the country or location you want. ExpressVPN should now reconnect
With your secure VPN tunnel established, it's always a good idea to check your connection status after changing a server. To do this easily, you just need to search "my IP" on google and see if it has changed.
9 Final thoughts
While using a VPN on a particular device is a great privacy security measure, installing it onto a VPN router is much more secure, convenient, and easy to use. Although the set up can be quite complicated, our advice and detailed guides on your specific router should help you crack it in no time.
After adding a reliable VPN to your router, you will no longer have to worry about internet privacy or security at home, as well as geo-restrictions and censorship.