Roku & VPN – The Best to Use & How to Easily Install in 2020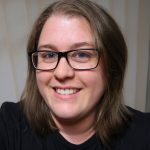 Last Updated by Thalia Oosthuizen on October 01, 2020
Ever since its launch in 2012, Roku has gained great popularity and success in the streaming media player sphere. You can access it in various forms, such as set-top boxes, portable streaming sticks, and smart televisions. All of the hardware that is available does the same thing: it lets you access on-demand and streaming content through remote control enabled channels.
Thanks to Roku's partnerships with the main streaming services, including Hulu, Amazon, and Netflix, users are spoiled for choice when it comes to great content – and all with the push of a button. Unfortunately, there is certain content and channels that you can't access based on your location. Because of this, you need to use a VPN to sidestep these blocks so you can view any content you want, regardless of geo-restrictions.
Installing a VPN Program on Roku
We need to start by clarifying that technically Roku devices don't support VPNs, which means that you have to install the VPN to your router if you want to use it for Roku. While this does mean the process requires some set up, once you have the VPN installed, it is smooth sailing. Plus, you should install a VPN to your router anyway to protect your security and privacy.
Setting up a VPN on your router allows any device that connects to your router to benefit from the features of the VPN service. Another option that you may find simpler is to create a virtual router for the VPN. We will look at both of these options below.
Setting up a VPN on a Router
If you have experience working with routers and VPNs, you may want to manually configure the VPN on the router. You will first need to check that your router can have a VPN installed to it as not every router is VPN enabled. Plus, installing a VPN on a router differs from one router to another, so you may find that one method works for one router but not for another.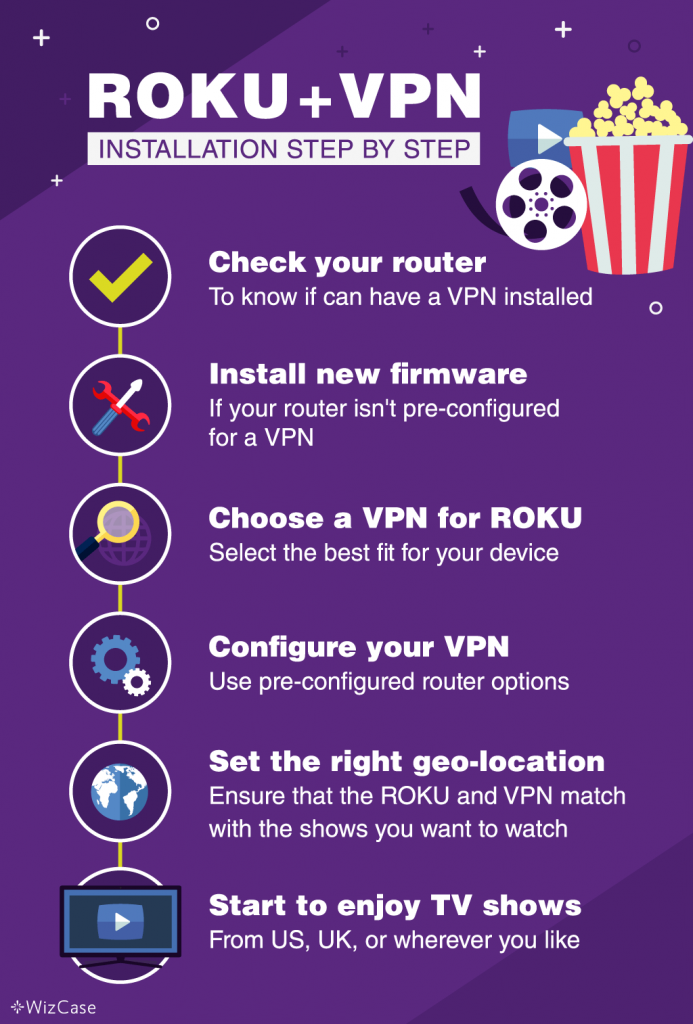 If your router is not VPN enabled, start by installing new firmware that flashes it. The best way to do so is installing an open source firmware to make your router VPN-able. Tomato or DD-WRT are the recommended firmware options.
IMPORTANT: if you do not install the firmware properly, you can permanently damage the router, so be sure to read the installation guide before starting the process.
Newbies or those who are not worried about configuring the VPN manually should rather select a VPN with pre-configured router options. Reconfiguring your router can be tricky and cause permanent damage if you don't know what you are doing.
Another option is to install a virtual router. This is a much easier process and it limits the potential for things to go wrong. All you need for this is a Windows or Mac device, a VPN connection, and a Wi-Fi hotspot.
Using Roku with VPNs
Naturally, choosing a great VPN is important, but how you set up the VPN for your Roku device is equally important. Even if you select the best Roku devices, like the ones we discuss a bit further on, you still can create a VPN connection using the Roku hardware.
Because of this, you need to enable the VPN connection on an external device. There are two ways that you can go about doing so: you can either create a VPN connection on your router, or you can share the VPN and internet connection on your device with your Roku device. No matter which of these options you choose, the VPN is vital for unblocking censored and geo-restricted content.
Once your VPN has been connected, you can enjoy all the best TV shows and movies through your Roku device. But you need to ensure that the Roku and VPN have the same location. This means that when creating your Roku account, you must enter in a US mailing address (of course, if you want UK shows you will need to enter a UK address). Next you will need to connect your VPN to the same region and then you can stream content from that region.
The Top 3 VPNs for Roku
Not every VPN is a good fit for Roku, you'll need unlimited bandwidth, fast speeds to avoid buffering, multiple servers in the location you wish to connect to and bypass the Roku VPN blocks. Along with having the best Roku streamer, you need to have the best VPN to use with it. Here are the top 3 VPNs to use for Roku.

If you are looking for a VPN that is excellent at unblocking Hulu, Netflix, and most other content streaming services, NordVPN never fails to impress. Their servers are located in 50 countries and are all protected using top-quality encryption systems. You can use 6 devices simultaneously on this VPN, making it ideal for homes and flat mates.
You have access to NordVPN's encrypted DNS proxy servers, SmartPlay, which allows you to bypass any geo-restrictions on streamed content. NordVPN also sells pre-flashed routers if you don't want to configure it yourself.

This VPN is probably our favorite option for use with Roku, and for a few very good reasons. It has over 1500 servers located in 94 countries, each of which is optimized for reliability and speed. ExpressVPN can unblock BBC iPlayer, Hulu, Netflix, and HBO Now. All you have to do is live chat on the 24/7 customer support to find out which servers are available for streaming your specific channel. It also has the top security available, including a 256-bit AES encryption system.
If your router does not support VPNs, you can switch the default DNS address to the included MediaStreamer DNS address with ease. This doesn't provide same encryption as the VPN, but it unblocks the geo-restricted content. ExpressVPN sells pre-flashed custom routers that allow you to route Roku through the VPN servers with ease.

This VPN gives you access to 850 servers in over 60 countries. IPVanish also has its own server network which ensures reliable, fast service. It is not as proficient at unblocking some of the more popular streaming services, such as Hulu and Netflix, but it can bypass geo-restrictions on Sling TV and BBC iPlayer, so if these are your streaming services, this VPN is great for you.
IPVanish's default protocol is OpenVPN, and they use military grade encryption to ensure that your streaming activity is kept secure and private. They also operate their own DNS servers and leak protection. They do not have their own custom firmware, but you can purchase pre-configured routers if you don't want to set up one yourself.
Final Thoughts
Streaming media and TV players like Roku are a convenient, simple way to gain access to any content you want from services like Hulu, BBC iPlayer, and Netflix on your device. Although, similarly to when these services are individually used, they have geo-restriction to protect their content, so only certain countries can access it. To bypass these blocks, all you have to do is use a VPN service that is compatible with your Roku device. After following the steps above and trying out some of the recommended Roku and VPN services, you can enjoy your favorite content, anytime, anywhere.