4 Best FREE VPNs for China 2022 (Works With iPhone, Android + More)
Last Updated by Ari Denial on July 01, 2022
While looking for a free VPN to keep me safe online while in China, I found that hundreds of recommended VPNs online are actually premium plans that you have to pay for. After I tested the few services that were free, most of them didn't actually work (despite claiming they did)!
You won't be able to download a VPN from China, so choosing the wrong provider can expose your personal data and leave you locked out from your online accounts and the internet while you're in the country.
To save you time and trouble, I shortlisted the only 4 VPNs that are free — and work in China. They're all compatible with iPhone, Android, Windows, and Mac so you can use them on any of your devices.
It's important to note that non-government approved VPNs are illegal in China, but there have been no public cases of tourists being penalized by the Chinese government. The protection of a VPN doesn't give you license to commit illegal acts, so please exercise a basic level of caution when using a VPN in China.
Quick Guide: Best Free VPNs for China That Work With iPhone, Android, Windows, and Mac
4 Best Free VPNs for China – Updated July 2022
Key Features:
Unlimited bandwidth for endless browsing, streaming, and torrenting
3000+ global servers in 94+ countries to access your favorite content from China
Never stores data so records can't be shared with local authorities
Unblock restricted sites on up to 5 devices at the same time
24/7 live chat and email support to help as soon as possible
Although ExpressVPN is a premium VPN, you can use it for free for 30 days using its money-back guarantee – perfect for short-term travel. During my 2-week trip to China, I felt assured knowing I had ExpressVPN's military-grade security to protect me and geo-unblocking abilities to access all the foreign sites I needed. ExpressVPN also offers unlimited data so you can browse, stream, and torrent as much as you want.
You can connect and load web pages in a few seconds with ExpressVPN's 30+ servers in the Asia Pacific. It has the most regional servers on this list that allows you to avoid overcrowding and slow speeds that you'd experience with other free VPNs. I had the fastest speeds while testing ExpressVPN's servers in Hong Kong, which were closest to China. I never had to wait more than 5 seconds for Google, Instagram, or Facebook to load. I could also watch YouTube videos with no buffering.
I found that ExpressVPN is the only VPN that can consistently unblock my local streaming accounts like Netflix, Hulu, Disney+, and HBO NOW. With over 3000 servers in 94+ countries, you'll always find a working server to access shows on the platforms you have accounts with like Netflix US or UK's BBC iPlayer. Although speeds were slightly slower than with the servers in Asia (due to being further away from China), I could still stream shows like Stranger Things in HD without lag.

Since China has some of the strictest censorship laws in the world, I was nervous about prying eyes monitoring my cyber activity – but ExpressVPN put me at ease. Its TrustedServer Technology erases all data, which means your browsing history can't ever be traced back to you. In case your network is disrupted, the automatic kill switch stops sending your unencrypted information until your VPN is safely reconnected.
I also ran a DNS leak test to check how well ExpressVPN protected my privacy. I was pleased that my true location was never exposed – the results showed that I was in New York (which was the server I was connected to) when I was actually in China. Additionally, ExpressVPN runs its own DNS instead of outsourcing to other services so your IP address won't accidentally be leaked to third parties.
You can connect ExpressVPN on up to 5 devices at the same time. It's one of the most secure VPNs for Windows, Mac, iPhone, and Android. It only takes a few minutes to set up the app, then you can easily access global content in China.
Don't just take my word for it – you can try ExpressVPN for free for 30 days with its money-back guarantee. After I used its service for my 2 weeks in China, I asked for a refund through the 24/7 live chat and my request was immediately approved – no questions asked. The process was completely stress-free and I got my money back in my account within a few days.
ExpressVPN works on: iPhone, Android, Windows, macOS, Linux, Chromebook, Chrome, Firefox, Safari, PlayStation, Xbox, Nintendo Switch, routers, Apple TV, Roku, Chromecast, Amazon Fire TV/Stick, Kodi, and more.
Key Features:
Up to 10GB data per month to stream Netflix, HBO NOW, and YouTube
5 servers to unblock content in Canada, Germany, the Netherlands, and the US
Strict no-logs won't store or share info with local authorities
Protects 1 device
Live chat and email support available around the clock
I was impressed that hide.me offered so many advanced security features for a free VPN. Since local laws do not require the Malaysia-based service to retain data, it maintains a strict zero-log policy to protect your online privacy. Hide.me doesn't even have records to share when requested by law enforcement, so your personal information won't get into the hands of the Chinese authorities.
Hide.me's Stealth Guard allows you to choose specific apps to work only when you're using a VPN. Additionally, the automatic kill switch stops accidental data leaks from exposing your unencrypted cyber activity to your Chinese internet service provider. This keeps you safe by blocking your online traffic until you're securely reconnected.
Since I was a bit stressed about internet surveillance, I felt more at ease after I ran a privacy check by clicking "Details" on the hide.me app. If your IP address is outside of China, this means the VPN is successfully protecting your data. When I tested for DNS leaks, I was glad to see my location was successfully hidden in New York.
Since hide.me doesn't have regional servers in Asia, you may have slower speeds farther away from China. Luckily while visiting China, I was able to access my streaming accounts — Netflix, HBO NOW, Disney+, and YouTube — with only a bit of buffering (more during peak hours) when I was connected to a US server. Hulu was the only streaming service that detected my VPN and blocked my access.
While some free VPNs require your email to sign up, you can just download the app and try hide.me without paying a cent. If you have questions, hide.me is one of few free providers that provides 24/7 support through live chat or email.
Hide.me works on: iPhone, Android, Windows, macOS, Linux, Chromebook, Chrome, Firefox, routers, Android Smart TV, Amazon Fire TV/Stick, and Kodi.
Key Features:
1.5GB of free data every month to browse and shop online
20+ country server locations that can bypass Chinese internet blocks
GhostBear encrypts your data to get around censorship
Unblock restricted websites in China on 5 devices all at once
Support via chatbot and email
For the best possibility of accessing the free internet in China, I recommend that you enable GhostBear to encrypt your online traffic before connecting to a TunnelBear server. This improves your chance of avoiding blocks since your Chinese internet service provider won't be able to tell you're using a VPN.
TunnelBear offers a surprising amount of servers for a free VPN. Although I waited several minutes to pair with the US, Canada, Singapore, Japan, and Hong Kong servers, I was able to browse and shop online at fast speeds (and without ads!), which made up for the delay. Unfortunately, you won't be able to stream or torrent. But your data allowance automatically renews every month, so you don't need to keep extending it.
I was excited that I could get an extra 1GB by sending a tweet to TunnelBear each month. After requesting more free data through "1GB Twitter Promo" in the provider's app, I instantly received an email confirming the increase to my account.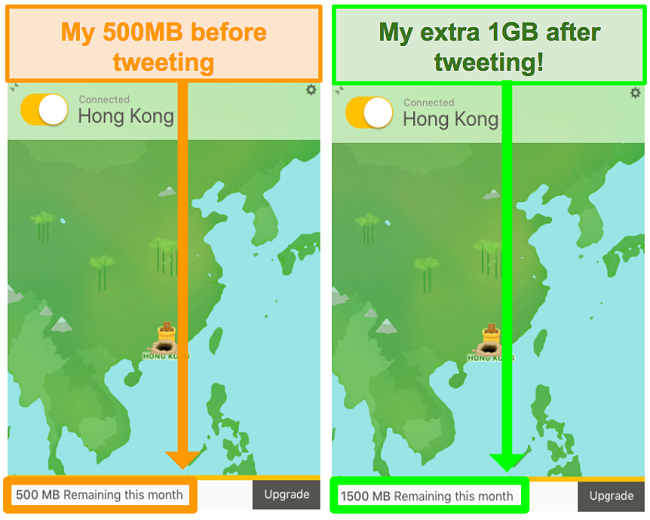 TunnelBear stores minimal user information, including your email address, Twitter ID, and device type. Fortunately, you can review, edit, and delete your information linked to your account. I was able to immediately receive my limited data via email and remove my records by deactivating my account.
If you're ready to try it out for yourself, all you need is an email and password to get a free TunnelBear account. When I signed up, it took less than 5 minutes from start to finish.
TunnelBear works on: iPhone, Android, Windows, macOS, Linux, Chromebook, Chrome, Firefox, Opera, Roku, and Kodi.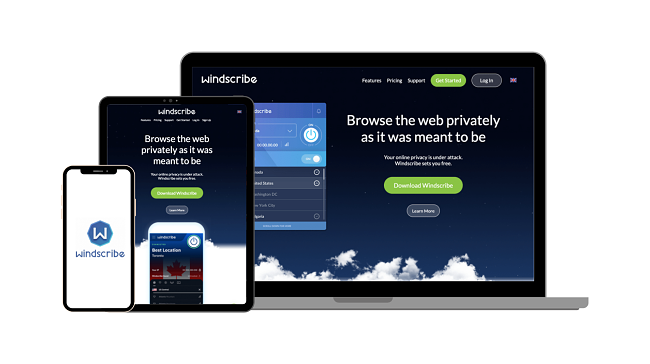 Key Features:
10GB of free data per month for browsing (+ bonus free data available)
10 server locations to unblock content in Canada, France, Germany, Hong Kong, the Netherlands, Norway, Romania, Switzerland, the UK, and the US
R.O.B.E.R.T. protects your information from Chinese government surveillance
Connect unlimited devices simultaneously to access your favorite content from China
Support via chatbot or email
Windscribe offers you 2GB of free data as soon as you create an account. But I also found that there are quick ways to get MORE free monthly data. Here's how to get your extra GBs:
| | |
| --- | --- |
| GB per month | How to Get Permanent Additional Data |
| 8 | Confirm your email address |
| 5 | Tweet @windscribecom and ask for more data |
| 1 | Refer a friend or family member (you get 1GB per month per new user) |
I could get up to 15GB of free data per month really easily. I also referred a colleague to see if I would get credited with an additional 1GB – and I did – which brought my monthly total to 16GB. Compared to other free VPNs, this is a very generous allowance!
While most free VPNs only allow 1 device connection, you can unblock your favorite content on all of your devices simultaneously with one Windscribe account. This means that you can watch Netflix on your computer and browse Twitter on your phone at the same time.
Since there are only 10 free servers, I was worried that my connection would be slow from too many users sharing the same bandwidth. Instead, Windscribe's speeds were mostly fast, though a bit slower during peak hours. When I chose the "Best Location", I was connected to the closest server to me (Hong Kong) and all the websites loaded quickly. If you switch to a US server, you can stream Netflix, Hulu, and Disney+ with minimal buffering or lag.
Windscribe's R.O.B.E.R.T. feature blocks trackers, ads, and malware, which also helps reduce your data use. Since I didn't want the Chinese government to find out I was using a VPN, the firewall stopped my unencrypted information from transferring in case I lost my connection. This means your browsing history and IP address will be kept safe even if your VPN unexpectedly disconnected.
You should know that Windscribe keeps records of your bandwidth usage and when you last used the VPN. Since the Chinese government is known to monitor cyber activity, you need to delete your internet logs from your Windscribe account to protect your privacy. Not many free VPNs allow you to do this, so I double-checked that I could easily remove any saved data in just 2 clicks.
The best way to decide if Windscribe is right for you is by testing it out yourself – it only takes a few minutes to download the app and start browsing.
Windscribe works on: iPhone, Android, Windows, macOS, Linux, Blackberry, Chrome, Firefox, Opera, routers, Amazon Fire TV/Stick, and Kodi.
How to Unblock Foreign Sites in China With 3 Easy Steps
How to Choose the Best Free VPN for China
With so many free VPNs on the market, I've listed the key features you should look for:
Unblocking ability – It needs to be able to bypass geoblocks and get around Chinese censorship to unblock global websites.
Global server network – More international servers provide access to additional global content in China. Connecting to a closer server can improve your speed.
Reliable security – Strong encryption, a kill switch, and a strict no-logging policy are necessary for hiding your online activity from the Chinese government.
Generous data allowance – Get as much data as possible so you don't have to restrict what you do online when you stream, torrent, or play online games.
Fast speeds – To avoid interruptions or long loading times when you browse, stream, download, shop, use social media, or send emails in China.
Responsive customer support – Make sure you're able to reach a customer support agent if you have any issues with China's firewall.
Warning: Avoid These Free VPNs in China!
Besides the recommendations on this list, there are very few free VPNs that are safe to use. Not many free VPNs have servers that can actually bypass China's censorship blocks. Even if you're able to find one that works, it can be crowded and slow.
The majority of free VPNs don't have strict no-log policies so your online security can be in danger. Most free services profit by selling your sensitive data to third parties like advertising agencies and law enforcement. You're not only vulnerable to malware and annoying ads, but you also risk getting fined by the government.
These are the worst free VPNs for China that you need to avoid in no particular order:
Hotspot Shield
Many other sites recommend Hotspot Shield – but don't be fooled! While I previously recommended this provider, I found so many issues during my recent tests that I had to remove it from this best VPNs list.
You might not be able to connect to Hotspot Shield to begin with. After downloading the app, I was very frustrated that its free server didn't work with my Mac. It still failed after I restarted my computer and tried reinstalling the service 3 times. Finally, I looked up troubleshooting instructions and manually configured my network settings before it finally connected.
All of that trouble wasn't worth it since you can only connect to 1 US server on Hotspot Shield's free plan. This means you won't be able to unblock content from China easily. In addition, there's not much I could do with the 500MB daily limit besides browsing, checking social media, and watching a few YouTube videos. It can also slow your speeds if the only server is crowded with users, so you might face long page loading times. After you reach the bandwidth cap, you'll be blocked from using the VPN until the next day.
If you need help (like I did), you might not get a useful answer or any response at all from customer support. After I sent an email asking if its server could unblock Facebook and Netflix in China, I received a generic response pushing me to upgrade to Hotspot Shield's premium plan. I sent follow up emails, but I never received a response.
If those reasons aren't bad enough, Hotspot Shield was under investigation by US authorities in 2017. It was accused of lying about its "anonymous browsing" by redirecting web traffic to its advertising partners. Additionally, an independent privacy group found evidence of the VPN logging user connections – including your IP address, location, and browsing history – as well as injecting third-party adware trackers.
Betternet
Your security is in serious danger with Betternet. It was found to be one of the worst providers for giving you malware and adware, and they're known to earn money by promoting free third-party apps to you.
Under the AnchorFree corporation, Betternet's terms state that you might get viruses or other harmful components while using its service. Even worse – it doesn't promise to fix any security issues!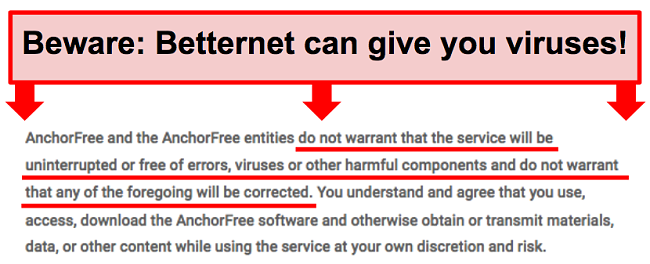 I would not recommend downloading any VPN that openly puts you at risk – especially in a strict surveillance country like China.
CrossVPN
I found CrossVPN's security issues to be just as bad as Betternet's. It ranks as the 5th worst service for taking advantage of user data. It injects computer virus infections including trojan viruses and malware, putting your online privacy at high risk. While you need a VPN to avoid internet surveillance in China, I would steer clear of CrossVPN or you'd cause more harm to your cyber safety.
Hola
Your data isn't private or anonymous when you use this provider. In fact, Hola has been caught stealing free user bandwidth and reselling it through its sister company Luminati. By using the free service, you're allowing premium users to use your IP address linked to your device, which can be used to identify you. This means that you're responsible for any illegal activity that other users get involved in and could lead to serious legal trouble in China.
Hola operates on a peer-to-peer service without encryption, so your data isn't secure. Your internet browsing history, personal contact, and billing information are logged – which can be easily accessed by the government and marketing companies. Without any security measures, hackers can spy on your online traffic and track the websites you visit.
Stay safe in China with ExpressVPN
FAQs
Can I use a free VPN to watch Netflix in China?
Technically, yes – but not all free VPNs work in China, and even fewer can unblock Netflix from within the country. There are only a few VPNs I've found that can successfully unlock Netflix from China. All you need to do is connect to a server that can unblock the streaming service then start watching. I used a US server to access my US streaming subscriptions. During my tests, ExpressVPN's 25 US server locations had the most reliable connection while streaming Netflix US from China. You can test ExpressVPN out for yourself risk-free. If you don't feel it's right for you, you can get a full refund within the 30-day money-back guarantee period.
Is it legal to use a free VPN in China?
It's not illegal to use a free VPN in China, though all VPNs are heavily regulated by national law. I can't guarantee they'll all keep you out of trouble, but I used these 4 free VPNs in China and never faced issues.
International companies are allowed to use government-approved VPNs to do business and transmit information from China to the rest of the world. However, the authorities monitor their incoming and outgoing data, so communication is not actually secure or private.
All other VPNs are blocked to prevent internet users from getting around censorship. The only way to maintain your cyber freedom in China is by downloading your provider before you arrive in the country.
When you're in China, you should also be careful while using a VPN. Chinese citizens have been fined and received prison sentences for creating and selling unapproved VPNs to bypass the country's censorship. As long as you avoid using the internet for illicit purposes, the government won't be alerted about your online activity.
Why are there only 4 free VPNs for China?
China's strong firewalls prevent most free VPNs from working there (even premium VPNs have a hard time getting around the country's strict censorship). After extensive testing, I found only 4 free VPNs that are able to bypass the firewall consistently with decent speeds.
How do I use a free VPN to bypass censorship in China?
A VPN encrypts and routes your online traffic through a server network. When you connect to a server, your IP address in China is replaced with a foreign IP address. Since you'll appear to be located overseas, your identity and online activity will remain anonymous to your internet service provider and the government.
Then, you can bypass censorship in China to access your favorite websites. While the local authorities frequently update their restrictions, be aware that web pages can become blocked when you arrive in China. Don't panic – these top 4 free VPNs have no problem unblocking websites in China.
Useful Tip: Be sure to save your VPN's support email for troubleshooting in case you're blocked from the provider's website in China.
Browse securely in China with ExpressVPN
Unblock Content in China With a Reliable VPN
China enforces one of the strictest internet censorships in the world and prohibits access to popular web pages. Since many VPNs don't work in China, it's challenging to find a free provider that can safely grant you access to the world wide web. Additionally, most free services limit your data, fail to access your favorite online content, or compromise your privacy. You can even get fined if you're caught using a shady VPN that reports your cyber activity to the authorities.
Don't risk getting in trouble with the Chinese government. ExpressVPN is the best VPN to reliably access popular websites in China while keeping your online activity safe. The best part is ExpressVPN is backed by a 30-day money-back guarantee, so you can buy in confidence.
---
Other Top VPNs That Work in China
Top Choice