5 Best FREE VPNs for China (Tested — 100% Working in 2023)
Finding a great free Virtual Private Network (VPN) to protect me while using the internet in China wasn't an easy task. Many of the recommended VPNs for China are either premium plans you have to pay for or free VPNs that don't work well.
Most free VPNs have lots of restrictions, hide their security practices, and have privacy-invasive business models. China is not a place where you can afford to risk exposing your online activity, so you should still consider a premium VPN.
ExpressVPN is a great choice because it provides security, speeds, reliability, and support that a free VPN simply can't match. It's also backed by a 30-day money-back guarantee, so you can buy ExpressVPN for China in confidence. That said, I also tried dozens of completely free VPNs and found the very best choices for China.
Quick Guide: Best Free VPNs for China That Really Work in 2023
The Best Free VPNs for China – Updated 2023
Key Features:
A massive selection of 3,000 servers in 94 countries to give you access from China
Browse safely and privately from China with private DNS on every server
You can protect up to 5 simultaneously for best protection
Strongest AES-256 encryption, so your traffic is impossible to intercept
24/7 customer support to answer your questions immediately
You can try it risk-free for 30 days with its money-back guarantee
Yes, this is a premium VPN, but you should still consider ExpressVPN if you're looking to be protected in China because it has features that a completely free VPN simply cannot match. For example, ExpressVPN has Private DNS embedded in each of its servers for you to connect privately everywhere. This is one of the best ways to keep your information hidden, since nobody except ExpressVPN knows where you connect to, and it won't share the data with third parties. Its TrustedServer technology and RAM disk servers means any information is wiped each day, so you can rest assured your data is inaccessible by third parties in China.
Our tests proved that ExpressVPN has a strong suite of security features that means neither hackers nor China can track your online activities. Among these features you can find:
Military-grade 256-bit encryption, so your data cannot be accessed by unauthorized parties
IPv6 leak protection, so your real IP stays behind the VPN and cannot be found by a potential attacker
An automatic kill switch that cuts your internet in case the VPN ever disconnects, for maximum security.
With 3,000 servers in 94] countries, you will always find the location you need when connecting from China. Its connections are quick and reliable, and the large network means you're unlikely to experience congestion. If you don't need a specific country outside China, Smart Location automatically calculates which server suits your current location for the best performance every time.
ExpressVPN will also help you access your favorite streaming platforms. Amongst others, it allowed my team and I to access:
| | | | | | |
| --- | --- | --- | --- | --- | --- |
| Netflix | Disney+ | Hulu | HBO Max | Amazon Prime Video | Paramount+ |
| Peacock | Discovery+ | Showtime | BBC iPlayer | BritBox | Starz |
Even though ExpressVPN isn't free, nor is it the cheapest of the VPNs recommended for China, it's completely worth it for its premium features. You can also save money with its 49% discount on a 1-year + 3 months plan, which is only $6.67/month.
Test ExpressVPN out for yourself risk-free. If you don't feel it's right for you, you can get a full refund within the 30-day money-back guarantee period. I requested a refund on the final day of the offer using the live chat. The rep was friendly and didn't press me to keep my subscription. My refund was issued that day and I had my money back 3 days later.
2023 Update! ExpressVPN has dropped prices for a limited time to a crazy $6.67 per month for the 1-year plan (you can save up to 49%) + 3 months free! This is a limited offer so be sure to grab it now before it's gone. See more information on this offer here.
Key Features:
200 servers in 63 countries, with instant access from China
A strict no-logs policy, so your activity stays private
One subscription is enough to protect 10 at once
Plenty of protocols to choose from so you can easily balance speed and security
Knowledgeable live chat support for fast assistance
Try it for free with its 30-day money-back guarantee
PrivateVPN has a rock-solid privacy policy, which means that it doesn't save any logs of your sessions or where you connect to, so everything you do online stays private. This is particularly important when you browse from China due to the country's strict censorship regulations. You can browse freely without worry that the Chinese authorities will penalize you for accessing restricted sites.
Additionally, PrivateVPN has a very capable suite of security features that will keep you protected in China. Among these you can find:
An automatic kill switch, so that you're disconnected from the internet if the VPN connection drops
256-bit military-grade encryption, to keep your data out of reach of potential intruders
IPv6 leak protection so your true IP stays private
Each subscription gives you unlimited bandwidth and traffic. You won't encounter any caps, so your online activity can be routed through the VPN with confidence that you'll still be able to connect whenever you need. This means you don't have to worry about suddenly being unable to use your VPN, leaving you restricted to the available sites in China.
Even though PrivateVPN doesn't have as many servers as ExpressVPN, this isn't a big problem, because the ones it has allows you to connect to most websites easily from China. You'll have access to streaming services such as:
| | | | | | |
| --- | --- | --- | --- | --- | --- |
| ITV Hub | Netflix | Hulu | Disney+ | Amazon Prime Video | Paramount+ |
| Peacock | BBC iPlayer | Hotstar | RTE | fuboTV | Discovery+ |
PrivateVPN is a very capable VPN that will let you browse privately anywhere, including China. You can try it for free with its 30-day money-back guarantee. I tested this out personally and contacted its customer support. The agent was super friendly and processed the refund immediately, so you can be confident that the guarantee works.
2023 Update! PrivateVPN has dropped prices for a limited time to a crazy $2.00 per month with the 3-year plan (you can save up to 85%)! This is a limited offer so be sure to grab it now before it's gone. See more information on this offer here.
Key Features:
500+ servers located in 69 countries for premium users, or 10 server locations for free
Perfect Forward Secrecy so, even if your encryption is compromised, you'll be safe in China
A paid subscription will protect an unlimited amount of devices
Solid no-logs policy, so your online activity stays private
You can try it risk-free for 3 days, provided you don't exceed 10GB of data
Windscribe offers both premium and free tiers, with the former offering the most features, of course. Still, Windscribe's free tier is pretty generous, giving you unlimited connections with the possibility to access servers in up to 10+ countries. It works in China, so you can confidently use Windscribe to access restricted content by connecting to another location.
Windscribe has up-to-date privacy features and a strict no-logs policy to retain your privacy while you browse in China. You can also benefit from top-tier security features that are rare for a free VPN, such as:
Military-grade AES-256 encryption so your data stays private no matter what
Perfect Forward Secrecy feature, that changes your encryption key so often that's virtually impossible to intercept
R.O.B.E.R.T ad and malware blocker, to stop trackers from infecting your devices.
If you choose Windscribe's free tier, the only limitation is that you're only allowed to transmit 10GB of data per month, so not as much as other VPNs. But that's the only restriction – you're even able to torrent using its free servers. This VPN also gives you access to multiple online streaming platforms, such as:
| | | | | | |
| --- | --- | --- | --- | --- | --- |
| BBC iPlayer | Netflix | Hulu | SkyTV | HBO Max | Paramount+ |
| Peacock | DAZN | Hotstar | RTE | ESPN | Discovery+ |
It's impressive that Windscribe offers so much for free users in China, but if you do choose to opt for a paid tier you can get its yearly plan for around 6 dollars per month. There is a money back guarantee, so you can test out Windscribe's paid service in China for up to 3 days and get a full refund provided you haven't used over 10GB of data.
Key Features:
A good selection of 3,200 servers in 73 countries for premium users in China
Proprietary Catapult Hydra protocol for great speed without compromise on security
A premium subscription is good for up to 5 devices simultaneously
Top-tier encryption for all protected devices, including the free tier
Premium plans are backed by a money-back guarantee of 45 days
This VPN offers premium and free tiers, with the premium plan giving you access to 100 virtual locations, 5 device connections, and faster speeds. Hotspot Shield's free plan allows you 1 connection to a server in the US, but it does work reliably from China. There is a speed limit of 2 Mbps, and you can only stream in SD quality. So if you're looking for a VPN to access streaming platforms from China then you may wish to look at a different option.
If privacy and security is your main concern, Hotspot Shield could be a good choice for you. You can download and connect to the free plan without even creating an account, which means you'll be able to instantly encrypt your data and browse with complete freedom while in China. Hotspot Shield's free tier has premium security features, among which you can find:
AES 256-bit military-grade encryption, so your data is kept out of reach of prying eyes
Proprietary Catapult Hydra protocol that maximizes speed without compromising security
Anti-phishing protection to keep your personal information and browsing data away from third parties.
The free plan gives you unlimited data limits, so you can use Hotspot Shield in China without worrying about it suddenly stopping. Although the paid plans offer streaming and gaming optimized servers, Hotspot Shield is a great free choice for those who primarily want to use it to browse web pages from China without prying eyes.
One small issue with Hotspot Shield is that its privacy policy isn't as clear as those of other vendors on this list, such as ExpressVPN or PrivateVPN. I looked into its privacy plan and found that this isn't too concerning. Rather than retaining logs of your activities, Hotspot Shield only keeps basic data about paid plan users, such as your email address and username. It costs $7.99/month for the 3-year plan, which is quite expensive compared to the very best services.
You can use the free tier without restrictions as you don't actually subscribe, but if you want to try the entire set of features that Hotspot Shield offers beyond the free tier, you can do so risk-free for a generous 45 days. I checked how reliable the money back guarantee was and sent an email to the help desk. The rep quickly approved my request, and I had my money back within a week.
Key Features:
Premium subscribers can use 2,100 servers located in 78 countries while free users get 5 locations to access from China
Its Stealth Guard feature keeps you safe from data leaks, even with the free plan
Having a premium subscription lets you connect 10 devices simultaneously
Gives you a new IP address so you can't be tracked online
You can easily try all its premium features risk-free with its 30-day money-back guarantee
hide.me's free plan allows you to use up to 10GB of data each month, gives you 5 server locations to connect to, and one device connection. As you'd expect with a free VPN, it does have limitations — for example, the free plan unblocks US Netflix but no other streaming platform. However, it does work from China and has solid security, which is why it's made it to my list.
This is another VPN that has great security features that will come in handy when you're using the internet in China. As well as hide.me's no-log policy confirming none of your data is stored, you'll find:
Stealth Guard, that disconnects you from the internet if for any reason the VPN malfunctions, so you and your IP remain hidden from anyone trying to find it
Military-grade AES 256-bit encryption, so your online activity is hidden
With the premium plans you'll also have access to Dynamic Port Forwarding, that lets you use any network securely without risking data leaks.
One downside is that hide.me's speeds on distant servers were pretty poor, so you won't get the same level of uninterrupted quality as you'll find with the VPNs higher up on this list. But, it's well worth giving it a try since you've got nothing to lose. If you do choose to give the premium plan a try, you can get a great deal on its 2-year + 2 months plan at just $3.45/month.
The premium subscription comes with a 30-day money-back guarantee so you can give hide.me a test-run without any risk. I asked to cancel on the last day of the offer and, although I had to wait a couple of days for my request to be acknowledged, the money was returned to me within 7 days.
How I Tested and Ranked the Best Free VPNs for China
With so many free VPNs to choose from, it can be pretty confusing to choose the right one. That's why here you'll find the most important features a good free VPN should have when browsing from China:
Ability to circumvent censorship – The VPN needs to be able to bypass geoblocks and get around Chinese censorship for you to browse freely.
Sizeable server network – More global servers provide access to unrestricted international content from China.
Reliable security – Strong encryption, a kill switch, and a strict no-log policy are all necessary for keeping your data away from the Chinese government.
Generous data allowance – The best free VPNs offer plenty of data so you don't have to restrict what you do online for fear of using up your allowance.
Fast speeds – Fast speeds help you stream without lag, and stop you from experiencing interruptions while you're online in China.
Responsive customer support – It's essential that you can reach a customer support agent if you have any issues with China's firewall.
VPN Comparison Table — 2023's Best Free VPNs for China
Here are the top features of the best free VPNs for China:
Browse freely in China with ExpressVPN
Things You Need to Know About VPNs in China
As you know by now, it's not that easy to choose a free VPN that will work in China. You have probably heard the term "Great Firewall of China." This refers to a series of systems and laws that China has in place to regulate how the internet works within its borders.
In more simple terms, it's a Government-sanctioned censorship scheme. The Great Firewall of China's effects include blocking access to many websites you may be used to, certain mobile apps, streaming sites, etc. In order to block access to them, they have to know where you're trying to connect to, so they monitor all traffic and literally block connections to any website that's not in their whitelist.
Since a good VPN encrypts your traffic, it bypasses China's surveillance tactics, because nobody can really know what data you're transmitting or where. This is why China tries to block VPNs because they render their Great Firewall useless when one works.
Tip: Download any VPN you wish to use before going to China. Since you won't be able to connect to every website when you're in China, you should have your VPN up and running before you go. Top VPNs like ExpressVPN will help you access the internet freely from anywhere. Try out ExpressVPN's premium features completely risk-free.
3 Easy Steps: Protect Your Online Activities in China With a Free VPN
Get a VPN – You can try ExpressVPN risk-free. It comes with a 30-day money-back guarantee so you can buy in confidence.
Install and open the VPN's app. Connect to a server in the country you want. Be sure to install the VPN before you travel to China.
You're now protected online in China. Enjoy websites and videos with full peace of mind!
Warning! Avoid These Free VPNs in China!
There are many things to consider when trying to choose a good VPN. In addition to the recommendations above, there are very few free VPNs that are strong enough for China. Not all VPNs allow you to browse without restrictions in China, and even if you find one that works, it may not be worth it.
The reason is that most free VPNs don't have no-logs policies, so they can keep some of your data. This is mainly done to sell that information to third parties like advertising agencies, data brokers, and governments. With that, you'll not only be vulnerable to malware and annoying ads that track you, but you can also get sanctioned for your activity if the government deems it inappropriate.
Here are a few of the VPNs you should avoid:
Betternet
Your security may be at serious risk with Betternet. A while ago, it was found to be one of the worst providers, exposing you to malware and adware while also being known to earn money by promoting third-party apps to its customers.
A brand of the AnchorFree Corporation, Betternet's terms state that you might get viruses or other harmful software while using it. On top of that, its terms state that it can't be held liable for security issues it causes, and it won't help you to fix them.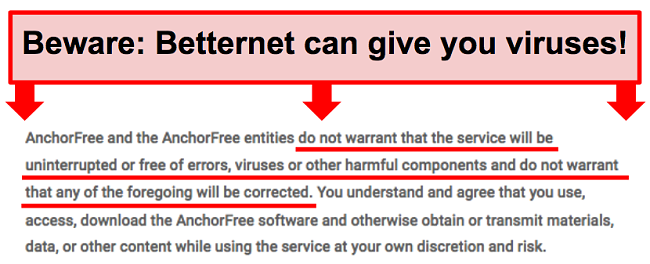 Therefore, it's impossible to recommend a VPN that openly states that it will do nothing to protect you or improve its service, especially for connections in a country with strict censorship laws like China.
CrossVPN
I found that CrossVPN's security issues may get as serious as Betternet's. It ranks as the 5th worst service because it takes advantage of its user's data. It injects computer viruses, trojans, and other malware, putting your online privacy at serious risk. Even though you need a VPN to steer clear of censorship in China, I would avoid CrossVPN at all costs.
Hola
Your data — and even worse, your personal IP address — is neither private nor anonymous when you use Hola. It's been caught stealing free user bandwidth and reselling it through its subsidiary company Luminati. Using its free service allows premium users to connect through your own personal IP address, which can be used to identify you. This means that you may be responsible for any illegal activity other users may get involved in because it was carried out from your IP.
On top of that, Hola operates on a peer-to-peer basis without encryption, so your data isn't secure. Your internet browsing history, contact information, and/or billing details are registered and could be easily accessible by governments and advertising agencies. Without any security measures, hackers can spy on your online traffic and websites you visit.
Stay safe in China with ExpressVPN
FAQs on Free VPNs for China
Stay Safe While in China With a Reliable Free VPN
China has one of the strictest internet censorship schemes, disabling access to many of the websites that are usually considered normal elsewhere. Since many VPNs don't work in China, it can be challenging to find a free provider that can safely grant you access to the websites you need.
Additionally, most free services have limits on data, which aren't always that clear and can compromise your privacy. If you're caught using a shady VPN that sells your data to the authorities, you may receive a fine.
Don't take any risks with the Chinese government and get a premium VPN such as ExpressVPN, which is the best for connecting from China while keeping your data safe. The best part is that it is backed by a 30-day money-back guarantee so you can try ExpressVPN without any risks.
Stay safe in China with ExpressVPN
---
Summary: Here Are the Best VPNs for China in 2023