4 Best VPNs With Ad Blockers (Updated February 2023)
Last Updated by Eric Raue on February 01, 2023
You can't trust app store reviews when selecting ad blocker VPNs. Recently, Google quietly removed a ton of ad blockers from the Chrome Store as it was discovered that these apps were filled with ad trackers and spyware. Worse still, these apps were selling people's private data to marketers and anyone else willing to pay for it.
Even after the ad blocker purge, there are still plenty of unsafe ad blocker VPNs that can expose you to identity theft and even financial fraud. To keep you safe, I tested and ranked the best ad blocker VPNs in 2023 so you don't have to.
If you need an effective service fast, I recommend you try Private Internet Access and its ad blocker risk-free with the 30-day money-back guarantee. It ranked #1 in tests as it effectively blocks adware and even encrypts your traffic with military-grade security.
Block ads with Private Internet Access
Quick Guide: Best VPNs for Blocking Ads in 2023
Block ads with Private Internet Access
The Best Ad Blocker VPNs — Tested in February 2023
Key Features:
Blocks ads, malware, and phishing attempts with MACE
Top-tier AES 256-bit encryption to help you stay secure online
Protects up to 10 devices simultaneously
Lets you enjoy ad-free browsing on all of its 35000+ servers in 84 countries
30-day money-back guarantee so you can try it risk-free
Private Internet Access (PIA) is a secure VPN with its proprietary MACE blocker against ads, malware, and trackers. You don't need to download a separate app or browser extension — just switch on the MACE feature inside the VPN app.
During testing, I found PIA successfully stopped all third-party ads and banners. The only thing it didn't block was the website's own ads, which was fine with me as it's not noticeable or distracting.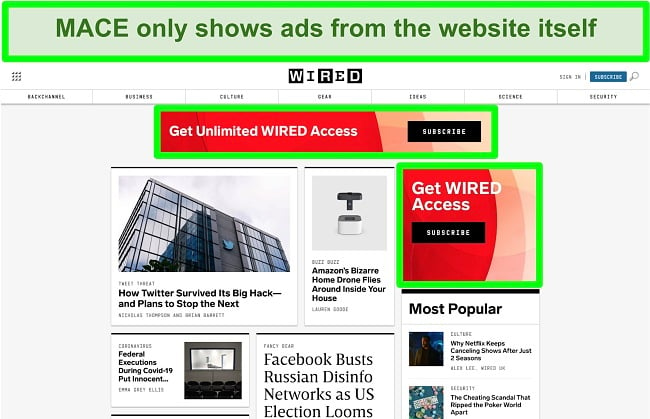 I still rank PIA as #1 because MACE is very effective against malware and phishing scams. MACE maintains a database of known dangerous domains and when it encounters a website with potentially harmful scripts, MACE blocks it and prevents the page from loading. Aside from keeping me safe, I liked that MACE also improves loading times and helped me use less data (especially useful for saving money on my mobile plan).
You can download the VPN app and activate MACE on Windows, Mac, and Android. Don't worry if you're an iPhone or iPad user — while there's no MACE, you'll be protected with the Safari Content Blocker feature instead. You don't even need to be connected to the PIA VPN for Safari Content Blocker to work.
You can try Private Internet Access's ad blocker risk-free with its 30-day money-back guarantee. As long as you cancel within 30 days of purchase, you'll receive a full refund. When I tested this process myself, I got my money in 4 business days.
Private Internet Access works on: Windows, Mac, Android, iOS, Linux, Chromebook, Chrome, Firefox, Opera, routers, and more.
Block ads with Private Internet Access
Key Features:
Blocks malicious ads and websites so they can't harm your devices
Strong security with AES 256-bit encryption, leak-proof apps, and no-logs policy
Protects up to 7 devices simultaneously
9736+ servers in 91+ countries
45-day money-back guarantee so you can try it risk-free
CyberGhost has a built-in blocker against ads containing malware, so your device will be kept safe from any phishing links, spyware, or adware. However, it won't block harmless ads — I spoke to the customer support team and CyberGhost believes these are necessary revenue-generating tools for many websites (like news sites or blogs) to continue operating.
That said, the blocker is very effective against cyberthreats. In tests, CyberGhost blocked malware-containing URLs at the source, preventing dangerous links from opening when I clicked on a series of shady ads. This is especially useful if you regularly browse torrent sites, which are often packed with questionable pop-ups and banners.
The blocker is available on Windows, Mac, and Android — just activate it in the settings menu.

Unfortunately, I was disappointed to find the ad blocker is ineffective on HTTPS domains. Most websites now use HTTPS and these connections are encrypted — making it difficult for CyberGhost to modify requests to these domains and prevent ads from showing.
If you're investing in an ad blocker VPN for safety reasons, then CyberGhost is ideal for you. You'll still see harmless ads when browsing, but there's no risk of clicking on dangerous ads or malware. You can try CyberGhost's ad blocker risk-free for even longer than most VPNs with its 45-day money-back guarantee. I easily requested a refund after using CyberGhost for over a month and had my money back within 5 business days.
CyberGhost works on: Windows, Mac, Android, iOS, Chrome, Firefox, Safari, Linux, Chromebook, routers, and more.
February 2023 Update! You can subscribe to CyberGhost for as low as $2.19 per month + get extra 2 months free with the 2-year plan (save up to 83%)! This is a limited offer so grab it now before it's gone. See more information on this offer here.
Key Features:
Even blocks advanced tracking tech, like ultrasonic and fingerprinting scripts
Keeps your browsing activities and other data hidden with top-level 256-bit encryption
Block ads up on up to unlimited devices with one account
Servers in 47+ countries
Refunds are offered on a case-by-case basis
TunnelBear has an integrated ad blocker that even blocks advanced types of online threats, including fingerprinting, email trackers, and ultrasonic trackers. By blocking scripts and trackers that run in the background, TunnelBear doesn't just protect your privacy — it also speeds up your browser.
The app blocks fingerprinting by assigning you a generic fingerprint, so websites can't see what other sites you've visited based on your device's unique "fingerprint" ID. Your microphone is disabled by default and TunnelBear will also ask for your permission whenever websites request it to be turned on.
This not only blocks third parties from listening to your conversations, but it even prevents the use of ultrasonic trackers (an advanced tracker that use your microphone to detect soundwaves and pinpoint your location and other personal data). Even your email activity is protected — many email newsletters track your clicks and open rates, but TunnelBear blocks this data.
You can try TunnelBear's ad blocker by signing up for an account. There's no money-back guarantee, but there is a free version. You only have 500MB of free data every month, but that should be enough to test the features for yourself.
TunnelBear works on: Windows, Mac OS, Linux, Chromebook, Android, iOS, Chrome, and much more.
Key Features:
NetShield blocks malware, bots, and ads automatically
Hide your data behind military-grade 256-bit encryption
Protects up to 10 devices from trackers and malware with the Pro plan
Connect to over 1700 servers in 60+ countries
30-day money-back guarantee so you can try it risk-free
Proton VPN's integrated NetShield offers 2 levels of protection: 1) Block malware and 2) Block malware, ads, and trackers. The first tier uses a crowdsourced database of millions of malicious URLs, and cross-references it with every website you visit. As soon a dangerous URL is detected, any communication with your device is blocked — even if you click a link. The second tier blocks known bots and scripts, stopping them from following you around the web.
The ad blocker works on Windows, Mac, Android, iOS, and even Linux. I like that I can get the same protection from malware and trackers no matter what device I'm using.
The free version of Proton VPN doesn't block ads or malware. However, all of Proton VPN's paid plans include the NetShield functionality. It's risk-free to try Proton VPN's ad blocker with the 30-day money-back guarantee. If you decide it isn't the right fit, you can get a full refund. I used the online support form to ask for my money back, and my request was improved within a day. I had my full subscription fee back in my bank account a few days later.
Proton VPN works on: Windows, Mac, Android, iOS, Linux, Chromebook, and more.
Warning! None of These VPNs Have Ad Blockers
ExpressVPN
Based on rigorous testing, ExpressVPN easily outperforms the competition as the best VPN on the market, but it unfortunately doesn't come with an ad blocker. When I checked with its customer support team about whether an ad blocker could be expected in the future, I was advised that ExpressVPN has chosen to focus its resources and technology on delivering a premium VPN service (and not in blocking ads).
IPVanish
IPVanish is another great VPN with strong security features and fast speeds, but it doesn't have an ad blocker either. However, it's one of the rare VPNs that offers an unlimited number of device connections. If you've got a large household, IPVanish could be ideal as you can connect as many devices as you like on 1 subscription.
How to Choose the Best VPN With an Ad Blocker
Not every VPN comes with an ad blocker (some of the best VPNs in 2023 don't include an ad blocker at all). That's why I checked every top ad blocker VPN agains the below criteria in my tests.
Includes an ad blocker — Make sure your VPN either has a built-in ad blocker, an extension, or additional app for it.
Stops malware — Dangerous ads can install malware on your computer, so you'll want a service with protection against these cyber threats. Some even block URLs with phishing scams and other threats from loading in the first place.
Multi-device compatibility — You'll want to stop all ads across your desktop, laptop, tablet, phone, and any other device.
Strict no-logs policy — The safest ad blocker VPNs will have clear and transparent privacy policies, so none of your private browsing history or information is collected, sold, or shared with third parties.
Money-back guarantee — In case you're not satisfied, a money-back guarantee allows you to get a full refund (usually within the first 30 or 45 days).
Block ads with Private Internet Access
FAQ: Ad Blocker VPNs
Do I really need an ad blocker and a VPN?
It's ideal from a privacy and safety standpoint. An ad blocker removes ads but a VPN hides your real IP address and encrypts your internet connection from spying third parties, including hackers, advertisers, and even your Internet Service Provider (ISP). If you don't want to download an ad blocker and VPN separately, you can check out the best ad blocker VPNs in 2023. You'll be able to enjoy both forms of protection in a single app.
What's the best ad blocker VPN?
After extensive testing, I found that Private Internet Access is the best ad blocker VPN. It uses its proprietary MACE blocker on Windows, Mac, and Android, and a Safari Content Blocker on iOS devices. Not only will you be protected from annoying ads while browsing online, but you'll also be protected from many strains of malware (like adware and spyware) and web trackers.
I thought ad blocking extensions specifically designed for browsers like Firefox and Opera might work better than an ad blocker VPN — but I was wrong. Not only did a VPN like Private Internet Access block more ads than the extensions, but it also provided encrypted my entire internet connection. You can even download its dedicated browser extensions for Chrome and Firefox.
Can I use a free VPN with an ad blocker?
Yes, my team and I shortlisted the best free VPNs and some have built-in ad blockers. However, it costs money to run an effective VPN and ad blocking service, so you'll have to deal with some restrictions. For instance, TunnelBear is a free VPN with an integrated ad blocker, but you only have a 500MB allowance each month. This isn't much — just enough to check emails and run a few Google searches.
If you've found a free VPN without any limitations, I'd be cautious about downloading it. Many shady free VPNs log and sell your private data. This is exactly the violation of privacy I want to avoid by installing an ad blocker.
To avoid any privacy risks, you're better off using an ad blocker VPN's money-back guarantee. For instance, you can try CyberGhost for free for 45 days by taking advantage of its money-back guarantee (the longest on the market). You can get a refund as long as its within 45 days.
What VPN blocks ads on streaming platforms (like Hulu)?
Unfortunately, even the strongest VPN can't disable Hulu's ads. While it can be annoying to sit through commercials, I believe it's more important to find a VPN that can consistently unblock streaming platforms. For example, only premium VPNs work with Netflix US, Hulu, Disney+, and Amazon Prime Video, so don't waste your time or money on an unproven VPN.
Why do ads track you?
Contrary to popular belief, ads themselves don't track you. It's adware that tracks you — a type of software that uses tracker code to collect your data and send you targeted ads. I'm conscious about my privacy, so I like to use an ad blocker VPN to remove adware from my device and prevent tracking.
Adware is a huge invasion of privacy because it lets unknown third parties watch everything you do online. Some advertisers might even try to make a profit by selling your browsing history and personal information. Adware uses the following methods to spy on you:
Cookies — These small data packets are stored in your browser to help websites identify you.
Fingerprinting — This technique looks at your device information to pinpoint your digital "fingerprint" and follow you as you browse.
Beacons — Also known as "tracking pixels," these transparent images load when you see an ad.
Are ad blockers safe to use?
Yes, as long as you know how to choose a safe ad blocker. You'll find that each type of ad blocker has pros and cons related to security and ease-of-use.
Ad blocker VPN — This is the safest method to protect you from ads, malware, cyberattacks, and third-party spying. Premium VPNs even work on all major operating systems, like Windows, Mac, Android, iOS, Linux, smart TVs, and more. After installing the VPN, you can connect and engage the blocker in under 10 seconds.
Ad blocker apps — Works on all browsers but doesn't offer encryption or a no-logs policy to keep your data secure.
Browser extensions and plugins — Easy to set up but protection is limited as you're vulnerable on other apps and programs.
Router configuration — You can configure ad blocking on your router to block most ads, but this process is technically complex and doesn't encrypt your internet connection like a VPN does.
Block ads with Private Internet Access
Block Ads on Desktop and Mobile With a VPN
A VPN with an ad blocker is the best way to protect yourself from advertisers who want to invade your privacy. All the ad blocker VPNs on this list are proven to protect you from a variety of ads, malware, and more. Unlike many free ad blockers, these VPNs also follow strict no-log policies so you can be sure your private data won't be collected or sold.
If you're not sure which VPN to choose, PIA's ad blocker is highly effective and you can even try Private Internet Access and its ad blocker risk-free with its 30-day money-back guarantee. If you're not satisfied, you can get a full refund — I got mine in only 4 business days.
---
Summary — Best Ad Blocker VPNs in 2023