NordPass

Review 2023: Is It Safe Enough For Your Passwords?
Compatible with:
windows-phone
apple
linux
android
ios
What do we look at?
NordPass Overview 2023
NordPass is a relatively new password manager, but it's built a strong reputation. It's secure, trustworthy, and provides helpful features for added convenience. However, I wanted to see if it was as good as the best password managers, so I tested NordPass extensively.
During tests, I was very impressed with NordPass. It uses unbreakable XChaCha20 encryption, a zero-knowledge architecture, and has useful tools like auto-save, auto-fill, passkeys, online storage, and more. However, it's not as good as top choices like Dashlane, which also has a built-in VPN, a more intuitive interface, and a vault that holds more information.
Thankfully, you can try NordPass risk-free, as it's backed by a 30-day money-back guarantee and has a 30-day long free trial. So, you'll get lots of time to check whether NordPass suits your needs or if a top alternative like Dashlane is better.
Try NordPass risk-free for 30 days
Don't Have Time? Here's a 1-Minute Summary
NordPass guarantees password security by using airtight encryption to safeguard your stored data. Plus, it has various safety features and comes from a privacy-focused company, so I'm confident it's a secure way to store and use my credentials.
Top-Grade Encryption
NordPass protects your data using unbreakable XChaCha20 encryption, a safe and future-proof encryption standard. Encryption are handled locally, meaning your data is already encrypted and safe from prying eyes, when it's communicated to NordPass' servers.
The only way to decrypt and access your vault is via your master password, so it's crucial to remember it. However, NordPass provides a recovery code to access your vault if you forget your password. The recovery code is available in the app's settings menu.
Multi-Factor Authentication
Multi-factor authentication adds an extra layer of security besides your master password, and NordPass offers several multi-factor authentication options. This feature is available in both free and plaid plans, but you must set it up via the web portal instead of the apps or extensions.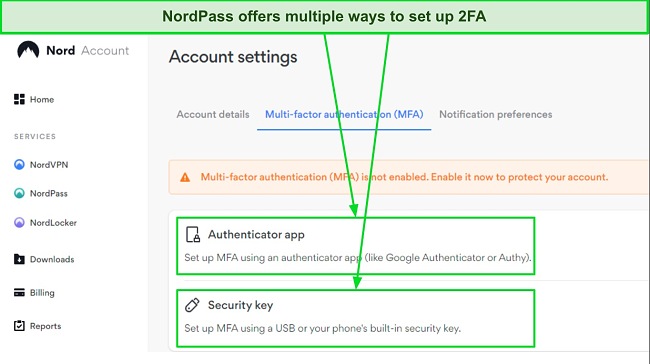 Currently, NordPass supports 2FA via authenticator apps and security keys. You can use various authenticator apps, including Google Authenticator, Microsoft Authenticator, Authy, and more. 2FA via security keys supports USB keys that meet the FIDO U2F standard, such as iePass FIDO k44, YubiKey 5 series, and others.
Biometric Support
NordPass lets you use biometrics instead of your master password to access your vault, which is much more convenient. You can use this feature on Windows by enabling "Unlock with Windows Hello" in the Security tab in the settings menu. Note that this feature will default to using your PIN code or Windows account password if you don't have a fingerprint reader.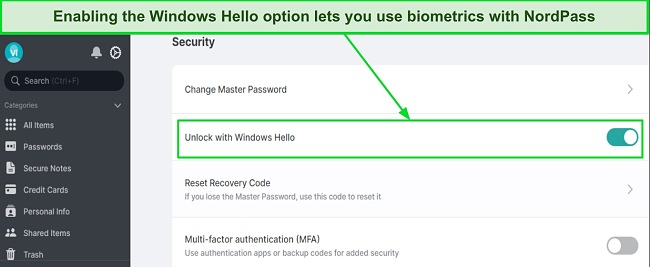 Also, NordPass automatically asks to enable biometrics when you first set up its mobile app. This lets you use your fingerprints on Android devices, or Face ID on iOS devices to access the vault. If you don't enable biometrics initially, you can turn them on via the mobile app's settings menu.
Data Breach Scanner
NordPass' Data Breach Scanner informs you about leaked credentials by scanning the data in your vault. This tool is available in most top password managers, but NordPass stands out, as its scanner also highlights leaked credit cards. In my tests, the scanner found 7 breached accounts linked to my email, and I changed their passwords immediately.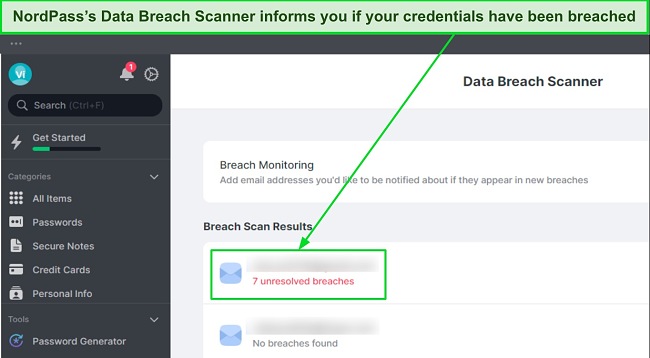 NordPass' Data Breach Scanner isn't limited to the email you sign up with. It checks all the emails and credit cards you've stored in your vault, and you can manually add more emails to monitor. Plus, it offers real-time monitoring to instantly inform you if a saved password is breached.
You should note that this feature is only available in the paid plans, so you can't use NordPass' Data Breach Scanner on the free plan.
Besides the above features, NordPass has auto-locking to prevent others from accessing your vault and automatically clears copied items from the clipboard. Overall, NordPass delivers effective security with its unbreakable encryption and various safety features.
Privacy — Cleared Multiple Independent Audits and Has a Zero-Knowledge Architecture
NordPass is a trustworthy and privacy-focused app with zero-knowledge architecture. This means you're the only one who can access your data, as it's always encrypted before being sent to NordPass servers. The only way to decrypt your vault is with your master password, which no one except you should have.

NordPass has also cleared independent audits, including Cure53 and SOC 2 Type 1. Also, it's ISO 27001 certified, meaning it uses the best industry practices to manage your data. Besides this, NordPass is GDPR and CCPA-compliant. These are both strict privacy regulations, giving me added confidence in NordPass' trustworthiness.

Of course, the app collects some information, like usage statistics and diagnostic information, to help improve its app and user experience. However, NordPass never collects any sensitive data.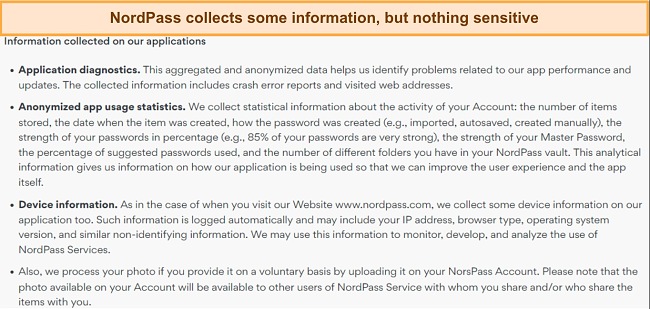 With all this in mind, I can fully trust NordPass. It's cleared multiple audits, has a zero-knowledge architecture, complies with privacy regulations, and never keeps sensitive data.
Multiple Tools for Safe and Efficient Password Management
NordPass includes several features for added convenience and safety while managing your passwords. It has a beginner-friendly vault, auto-save and fill, passkeys, and more.
Vault
NordPass has a highly intuitive vault for saving credentials. It stores passwords, credit cards, notes, passkeys, and other sensitive information. It's not as comprehensive as the vaults in other top apps, which also save databases, SSH keys, and other items. However, NordPass' vault is still impressive and will suit most people's needs.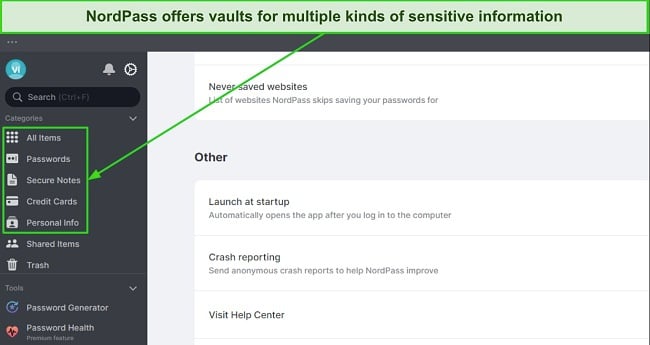 NordPass also lets you create multiple folders, each containing whatever passwords and data you choose. This feature is quite useful, and I used it to separate work and personal accounts, making them much easier to manage and track.
Import and Export
It's easy to export and import passwords with NordPass, and you'll find both features in the app's settings menu. To import passwords, click the Import items button in the settings menu, and you'll get a list of browsers and password managers to import from, including Dashlane, 1Password, and more. You can also import from generic CSV files.
Clicking a browser shows all the passwords saved in that browser, so you can choose what to import. On the other hand, when you click a password manager, NordPass will ask you to export a CSV file using that password manager, which you can then import.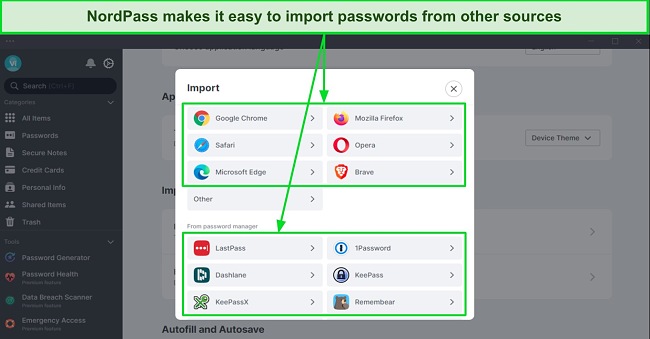 I also found it easy to export passwords with NordPass. Click the Export items button in the settings menu, input your master password, and NordPass will export a CSV file with all your data. You can import this file into any other password manager to instantly get access to your credentials.
Sharing
You can use NordPass to share your data safely, but only on premium plans. To share with others, tap/click the item in your vault, select the share button, and enter the recipient's email. While sharing, you can give the recipient full or limited rights to the item. Full rights mean they can edit and view the shared item, while limited rights only let them use it.
Note that you can only share items with other NordPass users. So, ensure your recipient has downloaded and set up a NordPass account before you share an item from your vault, or they won't receive it. Also, the sharing link expires within 24 hours, meaning it's important for the recipient to open it quickly.
Online Storage
NordPass lets you store files in the app by adding them as attachments to your vault items. This feature isn't available in the free plan, so you can only use it with NordPass' Premium or Family plans. It isn't available in NordPass' Business or Enterprise plans either.
To store files, open any item in your vault, click the Attach File option, and select the file you want to save in your encrypted NordPass vault.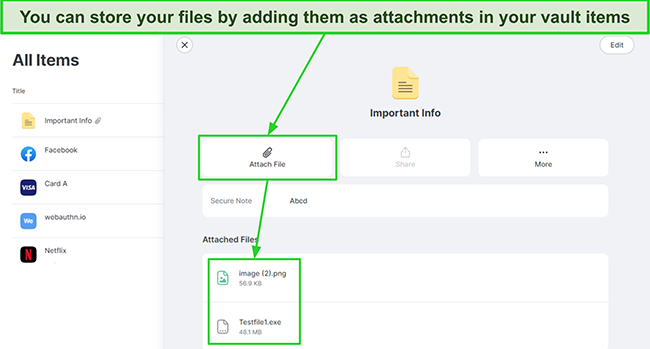 You can store any type of file in NordPass' vault. Also, it lets you open and browse any images you save within the app. To access other files, you must download them to your system beforehand.
You should note that each Premium user gets up to 3GB of file storage, and each file can have a maximum size of 50MB. Also, you can't attach more than 50 files to 1 item. This feature also restricts sharing, as you can't attach files to previously shared items, and items with attached files can't be shared with others.
Passkeys
All top password managers are implementing passkeys in their apps, and I was pleased to see that NordPass also has this feature.
Passkeys are a form of passwordless authentication and work by creating a public and private key during account registration. Your device stores the private key, while the website/application stores the public key.
When you log into a website, these keys are paired, and you're allowed access if your private key pairs successfully with the stored public key. Only a few websites currently support it, but NordPass always asks you to create passkeys when you try to sign up on a website that supports this feature.

Like all other data in your vault, NordPass lets you share passkeys with others. This feature is currently available on Google, Amazon, GitHub, Nvidia, and some other websites. However, it will likely get more popular with time due to its added safety compared to password-based authentication.
Emergency Access
With NordPass, you can give people emergency access to your vault. To add trusted contacts for this feature, click the Emergency Access feature, click Give Access, enter the recipient's email, and click the Give Access button again.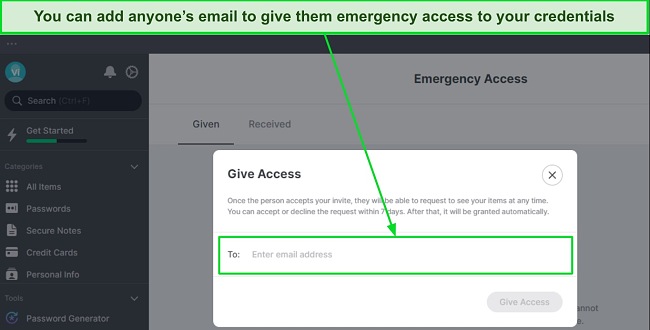 Contacts you share emergency access with can request access to your vault, which you must approve or deny within 7 days, or it's approved automatically. Note that the email you share access with needs a NordPass account, or the attempt will fail.
Password Generator
NordPass provides a solid password generator to create safe passwords for all your accounts. You can use it to generate 8 to 60-character-long passwords. Plus, it lets you customize passwords by including digits, upper/lowercase letters, and symbols.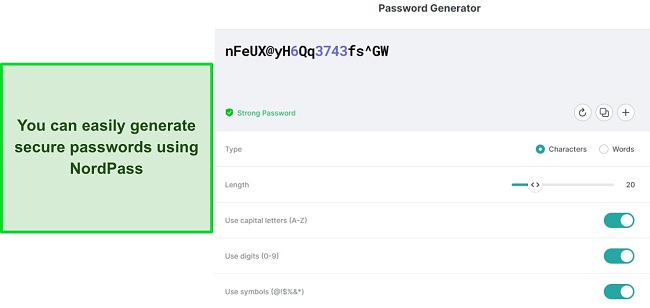 This feature also lets you generate passphrases for websites that require them. Plus, NordPass' password generator automatically suggests new passwords when you sign up on new websites, thus making it perfect for securing new accounts.
Auto-Save and Fill
Auto-save and fill features help save time on web forms, and NordPass has reliable auto-save and fill tools. Note that you'll need the NordPass browser extension to use these features on desktops. Also, the mobile apps only include the auto-fill feature, not the auto-save.
In my tests, NordPass' auto-save instantly captured my login details whenever I logged into a website. I always got a prompt asking whether I wanted to save the credentials I used. Plus, the prompt lets you choose whether to save the login in a specific folder, which helps with organization.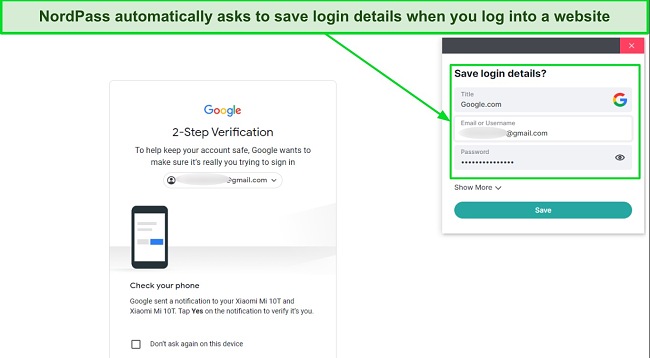 I also found that NordPass' auto-fill is equally reliable, as it worked well every time I tested it. I accessed several websites I previously saved credentials for, and NordPass displayed an icon in the login form that let me auto-fill my saved data.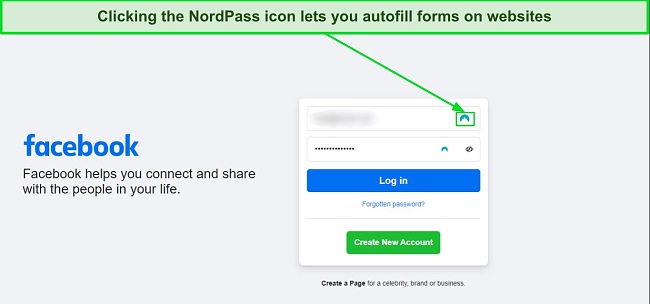 If you have multiple logins, the NordPass icon will show a drop-down menu that lets you choose the one you want to use. Another thing I like is that you can add custom fields in all your NordPass vault items. This feature is especially helpful when using auto-fill to log into a website that requires more than just a username and password.
Password Health
Password Health is NordPass' auditing feature, which helps track your overall password safety. It informs you about weak, duplicate, and old passwords, thus letting you know which passwords you need to update to improve your security.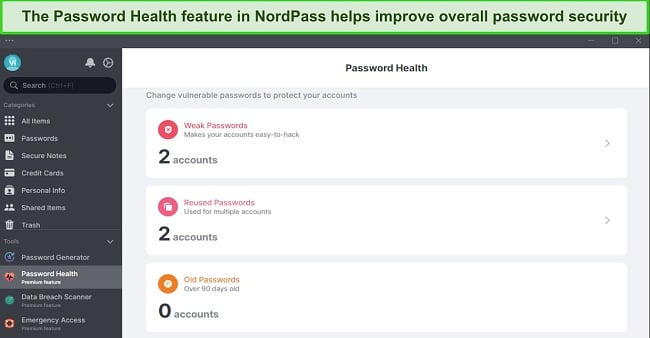 Besides showing you password safety issues, Password Health also redirects to websites, letting you quickly log in and change weak passwords. The only thing I don't like is that NordPass' Password Health feature doesn't provide a safety score, which you'll find in top apps like 1Password. So, it's not the best auditing tool available.
Overall, there are issues like only being able to share passwords with other NordPass users, the lack of a security score, and a somewhat limited vault. However, NordPass provides a good set of features to ensure you can safely and conveniently manage passwords on all your devices.
Highly Intuitive Apps and Extensions
You can easily install NordPass in a few minutes. Sign up on the website, download the setup, and follow the on-screen steps to begin using it on your desktop. For mobile, it's even easier to download the app from your device's app store and set it up.
One downside to NordPass' desktop setup is that it doesn't prompt you to install its browser extensions while installing the app, unlike other top password managers. You can still get these extensions via the app's settings menu, but having this option during the setup would've been more convenient.
After installing NordPass, you'll see a helpful welcome menu that'll teach you about the app and how to set up its various features.
At the moment, you can use NordPass simultaneously on 6 devices. If you log into another device after the 6th, the one you've used least recently gets logged out.
Desktop Apps and Browser Extensions
NordPass offers well-designed desktop apps for Windows (10 and up), Linux (any snap 64-bit supporting system), and macOS (11 and up). Plus, it has extensions for all mainstream browsers, which include Chrome, Firefox, Edge, Brave, Opera, and Safari. You can also use it on ChromeOS, but it only supports the web vault.
I found NordPass' desktop app especially impressive in my tests. It has a simple design that makes it easy to use the app's features and navigate the various menus. I could easily add new passwords, edit existing ones, use the Password Health tool, change my settings, and do anything else with just a few clicks.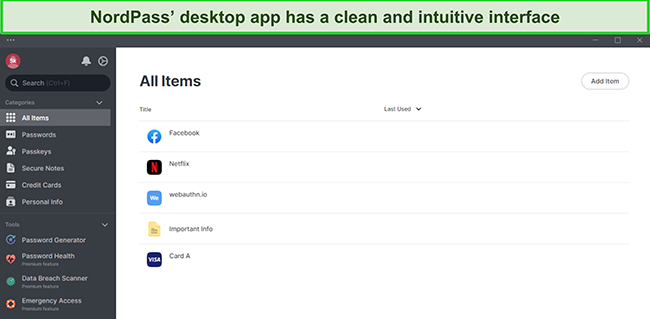 There are even visual customization options, like choosing between dark and light modes. The app was much easier on my eyes when I switched to the dark mode.
Mobile Apps
Besides being just as intuitive, NordPass' mobile apps have all the desktop app's features. You can easily navigate your vaults, add new entries, use the password generation tool, check the Data Breach Scanner, and more. Plus, it's simple to enable biometrics on the mobile app, thus letting you easily log in with your fingerprint or Face ID.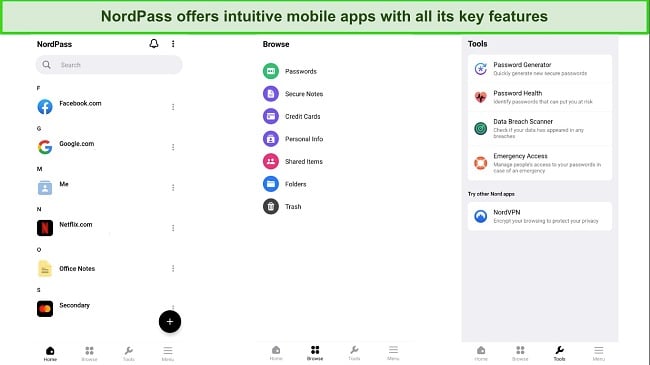 Note that you'll need Android 9 and up or iOS 15 and up to use NordPass, as the app isn't supported on older versions of these platforms.
Setting up NordPass on Windows
Get the free trial. Access NordPass' website and click the Start Free Trial button to get your 30-day trial.

Enter your email. Start the free trial by entering your email and clicking the Continue button.

Install the app. Download NordPass' setup, run it, and follow all the steps to install the app on your system.

Create your account. Create your NordPass account with the email you signed up for the trial.

Set a master password. Set a secure master password that you can remember.

Use NordPass to protect your credentials. Start using NordPass' various features to safely and conveniently manage your passwords.

Overall, NordPass is easy to install and use. Even people who aren't tech-savvy can use its beginner-friendly apps and extensions to safeguard their credentials and conveniently manage passwords.
Multiple Ways to Get Help
NordPass provides reliable customer support via its live chat, email support, and Help Center. You can quickly get help with any query via the live chat, and the email support is good for asking detailed questions. Plus, the Help Center is a valuable resource with basic troubleshooting tips and how-to guides about the app.
Live Chat
NordPass' live chat is available 24/7 and is one of the best ways to get help whenever needed. During tests, I contacted live chat support multiple times and connected to an agent within a minute. Plus, every agent I talked to was highly knowledgeable and gave useful answers to my questions.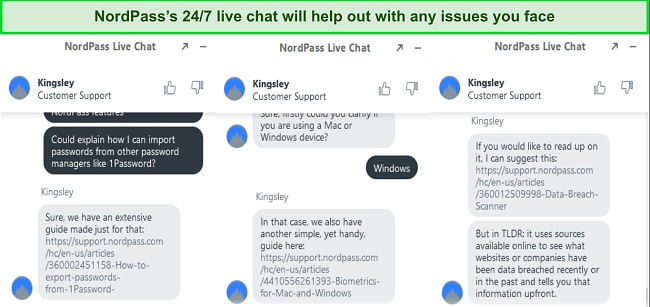 I asked several questions, like how to set up biometrics, import passwords, and more. Live chat support provided useful answers and links to detailed guides about using these features each time.
Email Support
While it isn't as fast as the live chat, NordPass' email support is solid. In my tests, I asked email support the same questions I asked during live chats, and they gave thorough responses to every question.
You should note that answering my email took NordPass support 10 hours. So, this isn't the best support channel if you need help instantly.
Informative Help Center
NordPass' Help Center is a thorough knowledge base with information about setting up the app, using the various features, billing assistance, and more. This knowledge base will most likely have the information you need to fix basic issues and set up the app's features. Plus, there's a search function that helps quickly find the topic you're looking for.
Overall, I'm quite pleased with NordPass' customer support. It has responsive 24/7 live chat for quick assistance, helpful email support, and a detailed knowledge base to help with common issues.
Various Plans to Suit Your Needs
NordPass offers free and paid plans, and the paid plans include personal and business-focused options.
The impressive free plan has unlimited password storage, auto-save and fill, 2FA support, and NordPass' reliable security. However, you can't use it on multiple devices simultaneously, and it's missing tools like the Password Health feature.
The following table shows the key differences between NordPass' free and paid plans:
| | | |
| --- | --- | --- |
| | NordPass Free | NordPass Premium |
| Simultaneous Devices | 1 | 6 |
| Auto-save and Autofill | ✔ | ✔ |
| Password Storage | ✔ | ✔ |
| Import/Export | ✔ | ✔ |
| Password Generator | ✔ | ✔ |
| Automatic Sync | ✔ | ✔ |
| Multi-factor Authentication | ✔ | ✔ |
| Password Sharing | ✘ | ✔ |
| Emergency Access | ✘ | ✔ |
| Password Health | ✘ | ✔ |
| Data Breach Scanner | ✘ | ✔ |
Regarding its paid plans, I found that NordPass is among the more affordable password managers available. It offers separate plans for individuals and families, and each plan provides excellent value for money. There are also well-priced plans for businesses.
I also like that NordPass offers many payment options, including credit cards, Amazon Pay, Google Pay, and even cryptocurrency. Of course, the payment options vary depending on your location, but I was still pleased to see such an impressive variety.
Personal Plans
NordPass offers Premium and Family plans for personal use, both available as 1-year or 2-year subscriptions. Both plans include all the app's key features, with the only difference being that NordPass' Family plan allows up to 6 premium accounts. So, NordPass' 2-year Family plan is the best overall value, especially if you have people at home who need a password manager.
Business Plans
NordPass offers similar 1-year and 2-year subscription options for businesses, with the 2-year subscription offering better value. The plans include the Business and Enterprise options, which include added tools like company-wide settings, a security dashboard, Google Workspace SSO, and more.
NordPass' Business plan allows up to 250 users. On the other hand, the Enterprise plan allows unlimited users, but you'll have to contact NordPass' Sales team to get a quote for it, as there's no fixed price on the website.
Both business-focused plans are mostly similar, but NordPass Enterprise also offers user provisioning and shared folders. Plus, it allows SSO through other platforms like Azure AD, MS ADFS, and Okta.
The business facing NordPass plans also include a 1-year NordLocker license, which is Nord Security's secure online file storage platform.
30-Day Free Trial and Money-Back Guarantee
NordPass provides 30-day free trials for the Premium and Business plans. Also, the free trials don't require a credit card, meaning you can just sign up with your email and get a month to test this app's premium features.
Of course, NordPass also has a 30-day money-back guarantee. So, even if you purchase NordPass, you have 30 additional days to try it risk-free. If you're unsatisfied with your experience, simply submit a ticket asking for a refund, which will quickly be processed.
NordPass offers the following plans
Bottom Line
Overall, NordPass provides safe, affordable, and convenient password management. It combines its unbreakable XChaCha20 encryption with a zero-knowledge architecture to ensure airtight vault safety. Plus, it's SOC 2 Type 1, GDPR, and CCPA-compliant, meaning it's a privacy-focused app.
NordPass isn't perfect, however, its vaults support limited data types compared to the best password managers available. Also, its sharing feature only works with other NordPass users, and the password auditing feature doesn't give a safety score.
Despite some flaws, NordPass is a reliable overall choice. Plus, it has a 30-day money-back guarantee and an equally long free trial, meaning you can try NordPass risk-free to see if it's right for you.
Try NordPass risk-free for 30 days
FAQs About NordPass
We rank vendors based on rigorous testing and research, but also take into account your feedback and our commercial agreements with providers. This page contains affiliate links.