PC Matic

Antivirus Review 2022: What's True & What's Hype?
PC Matic Overview July 2022
PC Matic stands out on the market with its unique "SuperShield" whitelisting system. This system detects malware by running it past an internal database and the user's personal whitelist. I wanted to see it it's worth the hype, so I tested PC Matic's performance against numerous malware types (like viruses, ransomware, and phishing scams).
I discovered that PC Matic is good — but it's not as powerful as leading brands like Norton 360 or TotalAV. While PC Matic did successfully block all existing malware in scans, I was disappointed that "SuperShield" didn't manage to detect 100% of recently released cyberthreats. In addition, PC Matic lacks a lot of features that I often see in other antivirus programs, like password managers, VPNs, firewalls, and parental controls.
If you're looking for a lightweight antivirus where you have full control, you might want to try PC Matic with the 30-day money-back guarantee. It's a completely risk-free way to test out the antivirus. I tested the money-back guarantee myself, and the money returned to my account within 5 days.
Try PC Matic risk-free for 30 days!
In a Rush? Here's a 1-Minute Summary
Security - 8
PC Matic has a unique approach to security — it uses whitelisting as the basis for its real-time protection. This means the antivirus detects malware based on PC Matic's internal database, as well as your own personal whitelist. However, my testing showed mixed results between scan results and real-time safety. This leads me to conclude that you're better off with more advanced antivirus programs such as Norton 360 or Bitdefender.
Virus Scan — Powerful Detection and Several Scan Types
In tests, PC Matic detected 100% of existing malware discovered over the past 4 weeks. This is an impressive result, consistent with the best antiviruses on the market. Before you start a scan you can choose between:
Quick scan — Checks the most vulnerable files and folders on your hard drive and memory.
Full scan — Analyzes your entire system for malware.
Selective scan — You can choose specifically which folders to focus a scan on.
Keep in mind that malware, vulnerable apps, outdated drivers, junk files, and numerous additional problems are analyzed, unlike most other antiviruses that focus purely on malware threats. Besides the malware it found, PC Matic removed almost 1 GB of junk files, warned me of some outdated drivers, and prevented some programs from running at startup that were causing a slowdown. This is all quite useful, but if you prefer to just focus your scan on malware only, you can easily change this in the settings.
The quick scan took just 7 minutes, which is a great result. The full scan needed 27 minutes to scan the entire system (nearly 200,000 files) — which is really slow compared to Norton 260, which can scan almost 800,000 files in 18 minutes. The slow speeds were in part due to PC Matic's optimization feature, which additionally scanned for junk or outdated files. There were 4 false positives (harmless files mistakenly identified as malware), but this is less than the industry average and shouldn't be considered an issue.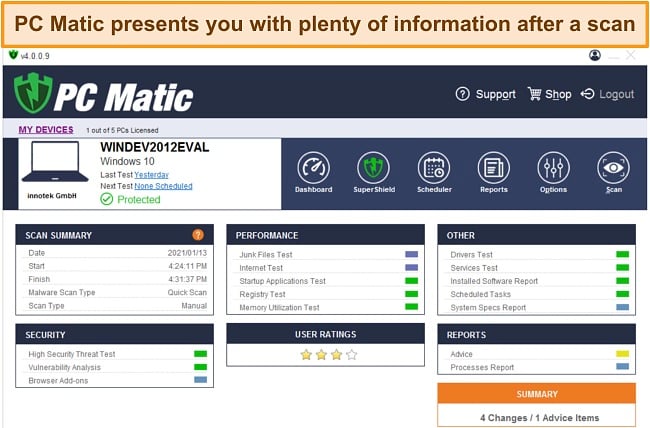 I was able to enjoy a more hands-off experience since I could use PC Matic's scan scheduler to set up repeated scans on a daily, weekly, or monthly basis. You can choose which type of scan should run and if any additional optimizations should take place, and even have the results sent to you by email. This is fairly standard for antiviruses, but I like how easy PC Matic has made it — and the email update is a nice touch that I haven't seen elsewhere.
SuperShield — Real-Time Protection Based on Whitelist Approach
Unfortunately, I was less impressed with PC Matic's real-time protection results. PC Matic uses a whitelist method called "SuperShield", which requires you to input your own apps in a list to deem it safe for the antivirus. You have to do this every time you want to download a new app to use it (unless it's already on PC Matic's internal whitelist).
In theory, this should lead to a more secure system, since nothing that isn't explicitly deemed safe is seen as a threat. However, PC Matic's whitelist method only blocked 86% of threats. In contrast, Norton uses a more traditional antivirus method and it blocks 100% of all malware in tests.
If you forget to add an app to the whitelist, it's easy to resolve. You can right-click the PC Matic icon in your taskbar and change the whitelist to a dynamic one. This means that when you launch a non-whitelisted program or a piece of malware attempts to interact with your device, PC Matic ask you whether you want certain programs added to the whitelist.

I downloaded several programs to my Windows 10 PC, from popular apps like Spotify to more abstract GitHub projects like Audio Router. None of the non-malicious programs I tested triggered a block, indicating that the global whitelist is doing a good job. I read about people having issues with programs being blocked, but this appears to be linked to users who use uncommon programs. It's also an easy fix, although I had to first consult the user guide to understand how this process works.
Fileless Script Block — Advanced Security Against Invisible Threats
Fileless Script Blocking is a security feature that can recognize malware that runs without a .exe and instead binds itself to legitimate software. This makes it very hard to detect and is what was used in a cyberattack against the DNC in the US and as part of the Equifax data breach. In fact, estimates state that these types of attacks are almost 10 times more likely to succeed than regular malware.
Since PC Matic's whitelist alone is incapable of blocking these kinds of attacks, I was glad to see that it added this. I've only seen McAfee offer this type of advanced feature.
Features - 3
While some of the top antivirus suites include a range of useful features, PC Matic opts for a slim selection of features. The PC Optimization options offer some useful improvements for your device, overall there's not much here that would convince me to purchase PC Matic over one of my top alternatives. Crucially, it's missing multiple features that I look for in an antivirus, such as an integrated VPN or parental controls.
If you're looking for an antivirus suite that's secure as well as feature-packed, you're better off with another antivirus altogether. For example, BullGuard has PC optimization features and a Gamer Mode to keep your PC fast and safe while gaming.
PC Optimization — A Solid Selection To Keep Your Device Running Smoothly
When you run a scan with PC Matic, it doesn't just search for malware (which you can skip entirely) but performs a number of optimizations, including:
Driver updates — Updates outdated drivers.
Registry cleaning — Removes registry entries from uninstalled programs.
Updating vulnerable apps — Makes sure up to 30 of your apps are kept auto-updated to fix security vulnerabilities.
Optimized system restore points — Ensures system restores aren't taking up too much space.
Clean junk files — Deletes files from the junk and recycle bin folders.
Optimize internet settings — Edits the registry to speed up your connection.
Benchmarks — Checks your CPU, RAM, and disk speed.
Startup services edit — Turns off auto-starting of unnecessary programs.
I especially liked the system optimization software. After running these scans for a few days during testing I noticed that it caught a number of issues that I likely would have missed. This included removing countless registry entries from programs I'd uninstalled, clearing out the recycle bin (freeing up plenty of space), and even catching some outdated drivers for hardware components. It's an easy way to make sure your device is kept up-to-date and running at peak efficiency. Especially if you have an older device this is likely to benefit you.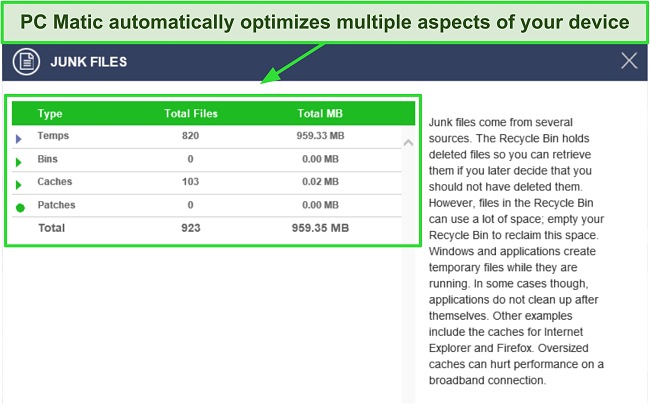 Ad Blocker — Based on Popular Free Alternative uBlock Origin
Once you install PC Matic it will automatically prompt you to install its ad blocker after the next restart. It works in Chrome, Firefox, and Edge, and overall I'm pleasantly surprised with it. However, there's a catch. Even though it's only available as part of a paid product, it's based on and looks almost identical to uBlock Origin, a free and open-source ad blocker (which I normally use). This isn't a bad thing since uBlock is a fantastic extension, but it just means you're paying for something you'd usually be able to get for free.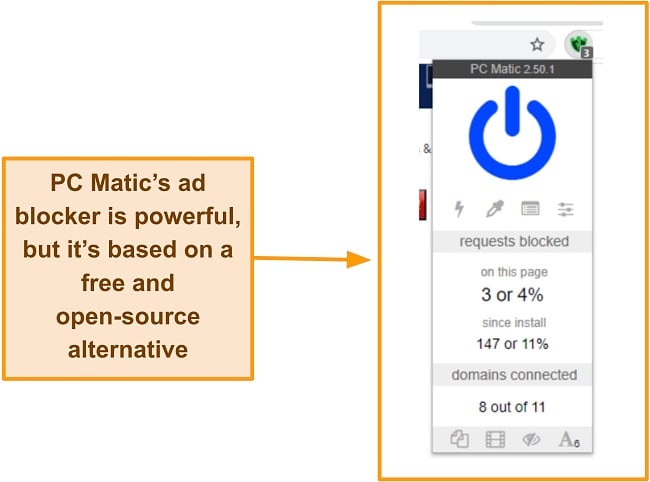 Ease Of Use - 9
PC Matic doesn't have the most modern of interfaces, but it's simple to use and a good choice for beginners. Some other antiviruses I've tested have a complex selection of options, but PC Matic opts for a slim and user-friendly setup.
You can install PC Matic on Windows (10, 8, 7, Vista, and XP), Mac (10.12 and up), and Android (4.4 and higher).
Desktop App — Easy to Use but an Outdated Interface
Installing PC Matic on my desktop was simple. After purchasing, I was taken to a download page where I just had to choose my platform and hit download. The installation only took a couple of minutes, and then I just had to log in to complete the initial setup.
Given the limited features, there aren't many settings to configure, with the whitelist and scan options being the 2 primary areas requiring attention. However, both of these are simple processes and will be easy for both beginner or advanced users. If I wasn't actively testing the program, I likely wouldn't need to interact with the app more than a couple of times per month.
The main downside of the PC Matic's desktop interface is its design, which hasn't been noticeably updated in a few years. You'll see a stark difference among other reputable antiviruses, like TotalAV's interface is sleek and easy-to-navigate on both the Mac and Windows apps.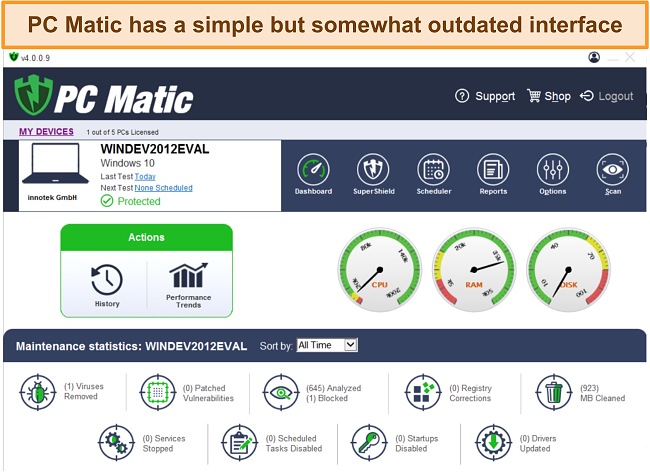 Mobile App — Simple Android-Only Scanner App
PC Matic's Android app doesn't offer much, its main focus is on scanning your apps and files for malware and vulnerabilities. I ran tests for both of these on my Android device and both the app and file scans were complete in 10-20 seconds — a great time.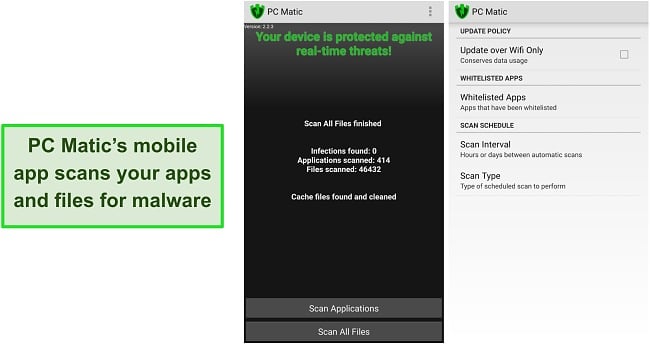 Although attention to security is great, the lack of features was unfortunate to see. The settings are also bare-bones — you can schedule a regular scan, choose what to scan, whitelist apps, or allow the app to only update over WiFi to save data. This mostly makes using the app a simple, hands-off experience, ideal for most users.
If you prefer a streamlined Android antivirus, PC Matic is a good choice, offering a lightweight app that focuses purely on security. If you prefer an app with additional features like anti-theft or app locks, Norton 360 and Bitdefender are great choices.
Support - 6.5
PC Matic's support options aren't bad, but they're a little below what I expect from an antivirus. You can only directly contact support by submitting a ticket and communicating with support via email. I was also able to access the knowledge base or community forum when I needed an answer right away.
Email Support — Fast but Generic Response
I was easily able to contact PC Matic support and get an email response by submitting a ticket. I did this by navigating to the support section of the website and selecting the general category I was having an issue with.
It only took a day to receive an answer from an agent, which is pretty slow when compared to other antiviruses. During our conversation, I asked them about differences between specific versions of PC Matic on different operating systems, and their answers were not clear. Strangely, they gave me a generic answer about the Optimize feature. I put this down to a misunderstanding or mistake, but it was disappointing to see, considering I'd have to wait another day to clarify the issue and get another response.
Knowledge Base and Forums — Inactive Forum but Helpful Guides
For those moments when you either don't need instant help or don't have time, forums and knowledge bases are brilliant. I was glad to see that PC Matic offers both, although my opinion on the forum is mixed.
The forum has a good backlog of information, but besides a post from 15 hours before I checked (which wasn't replied to yet), the post prior to that was made a week ago. I'm not surprised, since PC Matic is far more of a niche antivirus than my top picks. If you're seeking assistance you may have to wait a while to get it here. Nonetheless, it's good to have the option.
Fortunately, the knowledge base has plenty of technical FAQs and even a number of setup video guides that will help you with getting started. There's even a detailed PDF guide that goes into all the options in PC Matic, which I consulted a few times while learning about the program.
Price - 7.5
PC Matic doesn't offer the most feature-rich antivirus on the market, but it's an affordable option. While I can't recommend its free version, I believe its Windows and macOS versions have a place for users looking for an extra layer of protection. However, I'd still choose to go with one of the top antiviruses for a hands-off experience with useful additional features.
PC Matic Home Security Free — Not Worth Using Over Alternatives
PC Matic's free version is a good introduction to its whitelist-based security, but in truth there are far superior free antiviruses available. It includes:
SuperShield Whitelist
Scheduler
Device licenses for 3 computers
The main issue is that you can scan your device but not perform any actions to remedy a threat unless you upgrade to premium. You're better off using one of the best free antiviruses on the market. Avira is a great antivirus that comes with a range of free features.
PC Matic Home Security — Basic but Powerful Antivirus for Windows and Mac
PC Matic's premium version offers good value for money if you can live without the additional features that you'd get with other premium antiviruses.
Keep in mind this plan is available separately for Windows or Mac — 1 subscription doesn't cover both operating systems. It includes:
Malware scanning and remediation
SuperShield Whitelist
Fileless script blocking
Scheduler
Ad blocker
Optimization scan and fixes
Up to 5 devices
This is best for users who want an affordable and streamlined antivirus package, and don't mind occasionally fiddling with the whitelist to ensure all apps are running as they should. Since it is continuing to support Windows XP and other premium antiviruses are starting to drop support, it's also a good pick for users running this older software.
My opinion on macOS is similar — if you don't need a feature-packed antivirus or have more modest hardware to work with, PC Matic is well worth considering.
If you're interested in PC Matic you should also consider the lifetime option. You break even compared to the annual plan in just 3 years, so if you're confident this is the right long-term choice for you, you can save yourself some money.
30-Day Money-Back Guarantee
PC Matic has a 30-day money-back guarantee with any subscription. To make sure this was true, I subscribed for an annual plan and then contacted support by email to request a refund. I received confirmation of the refund just a few hours later and I had the money back in my bank account within 5 business days.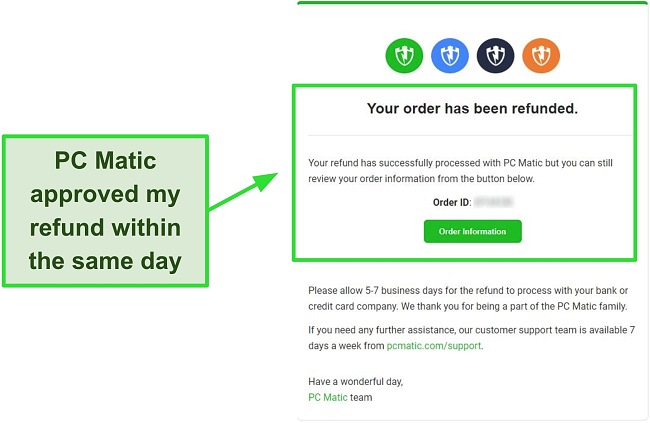 PC Matic Home
$50.00 per year
You Save inf%
Final Verdict
After thorough testing, I can say that PC Matic is a good antivirus program — but only for specific users. With its strong malware scan detection it can keep your PC secure, but still has some vulnerability with its less-than-stellar real-time protection rates. I was overall disappointed in its feature set. Its PC optimization settings may occasionally be useful, but not often enough, and its ad blocker is based on a free and open-source alternative. This means my verdict is based almost entirely on its security features.
If you're looking for a basic antivirus that provides decent security and a low-impact on your PC, PC Matic is a good choice. It doesn't compare in value when it comes to other antiviruses like Norton 360 or Bitdefender though, which provide better real-time protection rates and a full list of features to keep you safe. You can see for yourself though since you can try PC Matic risk-free for 30 days. This way you can see if it's the perfect extra layer of protection that you need or if it doesn't meet your standard.
FAQ: PC Matic Antivirus
Is PC Matic any good?
Based on my tests, PC Matic is good but it doesn't have all the features I normally expect from an antivirus. It has powerful malware detection and real-time protection — but not much else. In addition, its real-time protection relies on a whitelist of programs it deems to be safe (which you can add to), unlike other antiviruses that use signatures, heuristics, and more. If you're happy with an affordable antivirus that focuses on core security instead of flashy features, you can try PC Matic risk-free for 30 days with its money-back guarantee.
Can I use PC Matic for free?
PC Matic has a free version but I wasn't too impressed in my tests. It has very limited features and you can't use it to remove any threats that it detects. This can be useful to see if you're looking to see if you have any malware on your device — but nothing more. You're easily better off with a more powerful (and still free) antivirus like Avira.
Which devices are compatible with PC Matic?
PC Matic supports Windows, Mac, and Android. Unfortunately, it doesn't work on iPhone or iPad (iOS).
Top Choice
💰

Money-back guarantee
30 Days

⛔

Firewall
No

📱

Number of devices
5

🏳️

Free trial
No

🏷️

Pricing Plan
$50

🛡️

VPN included
No
Visit PC Matic