Updated
Microsoft Defender

Review 2022: Free Has a Cost!
Microsoft Defender Overview July 2022
Microsoft Defender comes pre-installed for free on all Windows 10 and 11 systems. It has a good reputation and provides decent protection against most malware. However, I wanted to see if it was good enough to protect your PC against every possible threat on its own. I put it through rigorous rounds of tests to find out.
In my tests, I learned that Microsoft Defender could protect you against over 99% of threats while giving very few false positives. I also found it very easy to use and was pleased with its helpful support. Unfortunately, its protection isn't as reliable as the best antiviruses currently available. Also, it falls behind in terms of features and doesn't come with a VPN or a password manager like other top antiviruses.
Overall, Microsoft Defender is good enough to provide basic protection, but I wouldn't rely on it to safeguard my system against every threat. If you want a truly capable antivirus that can defend your system against all threats on its own, I recommend checking out Norton instead. It has a 100% malware detection rate and even comes with a 60-day money-back guarantee that'll let you test it risk-free.
In a Rush? Here's a 1-Minute Summary
Security - 7
I learned in my tests that Microsoft Defender's security isn't the best, but it's good enough for a free antivirus that comes pre-installed on your system. To see how good its security is, I tested its real-time virus detection, virus scans, phishing protection, and ransomware protection.
Microsoft Defender wasn't the best in its category in any of my tests, but it wasn't bad by any means either. It's an adequate line of defense against most threats, even though it can't guarantee 100% safety from all kinds of viruses and malware.
Virus Scan — 4 Kinds of Scans With Impressive Detection Rates
Microsoft excels at detecting most kinds of viruses, trojans, ransomware, and malware. It offers 4 different scans that you can pick from. The quick scan is really fast and took just over 2 minutes to scan 38,151 files on my system and successfully eliminate most threats. On the other hand, the full scan took 1 hour and 14 minutes to scan over 3,166,221 files and eliminated every single threat. Plus, it only gave 1 false positive after the whole scan.
If your PC still has viruses after the quick and full scans, you can always secure it through the Microsoft Defender Offline scan. This scan restarts your system and runs before your operating system, thus improving its chances of finding any stubborn malware. Finally, there's a custom scan you can use to detect viruses in certain areas of your system if you're sure you know where they are.
Real-Time Protection — Reliable Real-Time Protection With Few False Positives
Microsoft Defender provides adequate real-time protection for a completely free antivirus. It detected just over 99% of threats in real-time with a few false positives, which is decent but not at the standard of premium antiviruses.
If you want the best possible protection, you're better off with Norton. It has a 100% real-time protection score in all our tests and never comes up with false positives. This makes it one of the best ways to get impenetrable security on your system.
Phishing Protection — Effective Phishing Protection on Chrome and Edge
Microsoft Defender is quite effective at protecting against phishing. This feature is built into Microsoft Edge, and you can install it via an extension on Google Chrome. In my tests on both browsers, it successfully flagged every known phishing website I visited and advised me not to continue.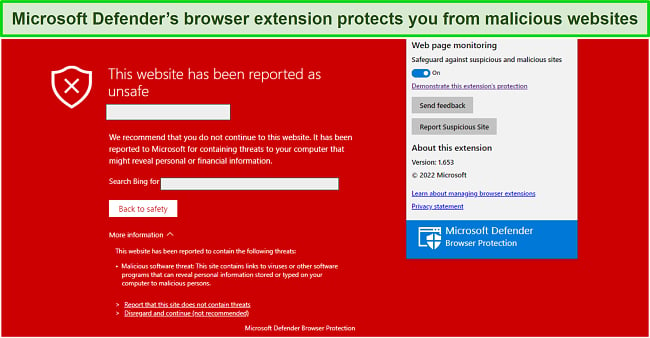 Unfortunately, Microsoft Defender's phishing protection is only available on Edge and Chrome. If you use other browsers like Firefox or Opera, you won't have access to this feature and will have to watch out for suspicious sites on your own if Microsoft Defender is your only form of antivirus.
Firewall — Customizable Firewall to Keep You Safe Online
Microsoft Defender has a built-in firewall to keep your network safe. The great thing about this firewall is that it's user-friendly, and you can configure it on your domain, private, and public networks with a single click.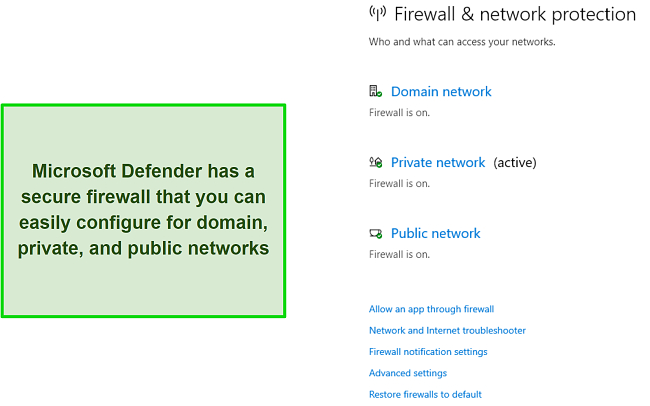 I want to highlight, though, that Microsoft Defender has advanced settings that you can access and configure according to your liking. These settings let you specify rules for both inbound and outbound connections. Unfortunately, it's a little difficult to get the hang of these advanced settings, so I only recommend adjusting them if you're an expert as it is possible to leave your PC susceptible to threats with incorrect configurations.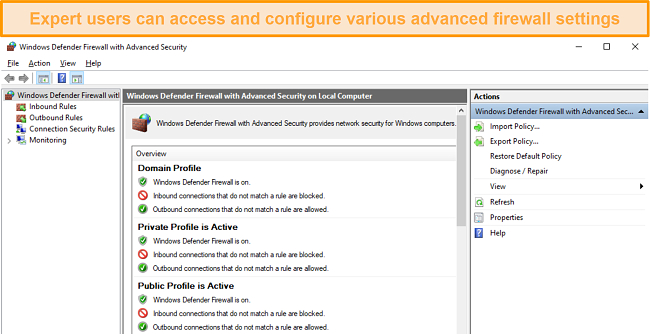 Microsoft Defender's firewall may not be the best out there, but it's certainly effective and gets the job done. However, if you want the best possible firewall with advanced settings that anyone can configure, a premium antivirus like McAfee is a much better choice.
Ransomware Protection — Lets You Protect Files and Folders From Any Unauthorized Changes
I was pleased to learn that Microsoft Defender offers reasonable protection against ransomware. It has a Controlled folder access feature that'll let you specify certain folders so unauthorized apps can't make any changes to them. I contacted customer support about this, and they assured me that these specified folders would remain safe, even if your system gets infected by ransomware.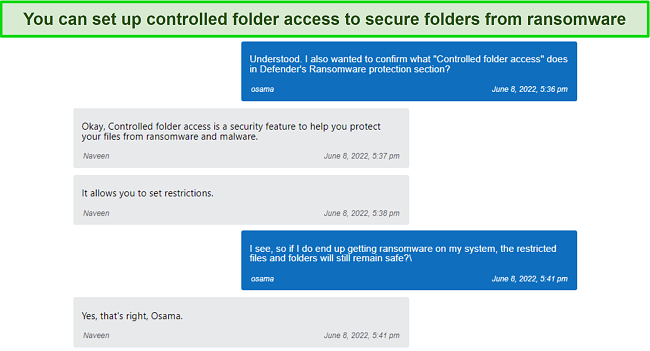 Setting up ransomware protection is very easy in Microsoft Defender. Simply navigate to "Ransomware Protection," enable the "Controlled Folder" access toggle, and add the folders you specifically want to protect from ransomware.

Overall, Microsoft Defender offers fair protection for a completely free antivirus. It isn't a one-stop solution to safeguard you against all threats, though. I recommend checking out these top antiviruses if you want complete protection against every possible threat.
Features - 2
Microsoft Defender just isn't that good when it comes to extra features. Aside from cloud backup and some parental controls, it doesn't have much else to offer. Other top Windows antiviruses provide a much larger array of features including a VPN and password manager while also offering top-tier security.
Cloud Backup and Recovery — Backs up Your Files on OneDrive Cloud in Case of Ransomware Attacks
Alongside having Controlled folder access to protect from ransomware, Microsoft Defender also backs up important files to OneDrive cloud. You just have to set up OneDrive and specify which of your files and folders it should back up.
In case of a ransomware attack, this cloud backup and recovery feature can be a lifesaver as it'll let you immediately restore your important files.
Parental Controls — Provides Multiple Ways to Safeguard and Manage Your Children's Online Activity
I was glad to learn that Microsoft Defender comes with several useful parental controls. You can use these to control many things like your children's screen time, their online activity, what apps they can buy, and more.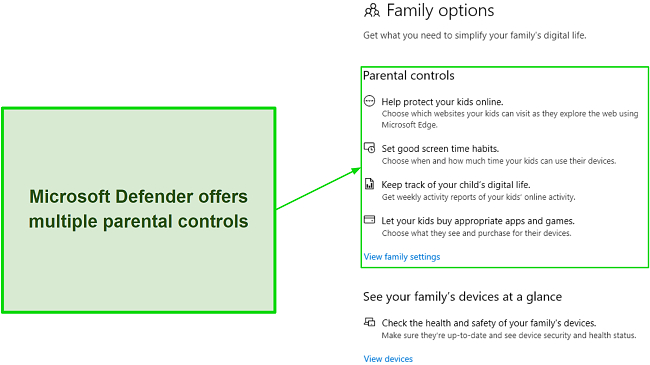 You can easily set up these parental controls by clicking on "View Family" settings in the "Family Options" tab. This opens a browser tab where you can easily customize and set up these tools. One issue here, though, is that everyone needs a Microsoft account for these controls to work. So, you can't use these great features if your family members are on other operating systems and devices.
Ease Of Use - 6
I found Microsoft Defender to be one of the most user-friendly antiviruses available. Besides the slightly complicated advanced firewall settings, its menus are easy to navigate. Plus, almost every menu has a "Get Help" button that you can use to get assistance at any time.
One of Microsoft Defender's major drawbacks is that it's only for Windows devices. Unlike other high-end antiviruses that offer apps for many different platforms, you can only use Microsoft Defender on your Windows PC.
Desktop App — Easy to Use and Comes Pre-Installed With Windows
Microsoft Defender's desktop app comes pre-installed on all Windows 10 and 11 systems. What I like about it the most is that it's really easy to get the hang of, even if you aren't familiar with antiviruses. All its features are easily accessible and configurable via a toggle, so you can easily fine-tune it to your liking.
The only drawback here is, of course, the fact that it's Windows only. You can't use Microsoft Defender on Linux, macOS, and other operating systems. I want to mention, though, that Microsoft Defender has a paid business plan that protects Android, iOS, macOS, and Windows devices, but that is, essentially, a whole different product that comes with a suite of different features.
While it isn't the best antivirus in terms of protection, features, and device compatibility, Microsoft Defender's ease of use impressed me greatly for a completely free option.
Support - 8
Microsoft Defender's support is one of its biggest strengths. Its live chat gave me all the help I needed in mere minutes. Plus, it has a very useful knowledge base, how-to videos, and even phone support if needed.
Responsive and Helpful Live Chat
Microsoft Defender offers responsive live chat support that's easy to get in touch with. To talk to an agent, click on "Get Help" in one of Microsoft Defender's menus, type your issue, press enter, and click "Contact Support." This will open a browser tab and put you in a queue to talk to a live chat agent.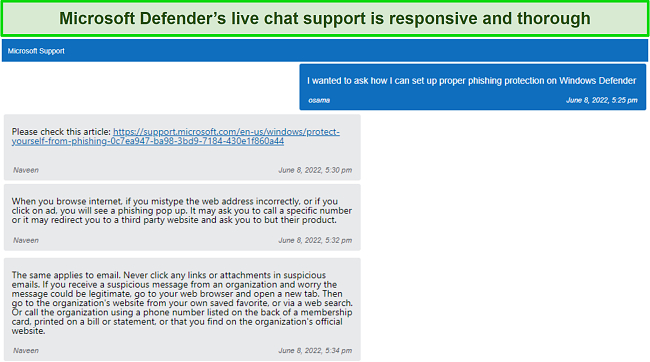 I was quite satisfied with Microsoft Defender's live chat support. It connected me to an agent within 2 or 3 minutes, and they provided prompt and useful answers to all my questions. Also, the agent gave me links to helpful knowledge base resources that covered my issues in great detail.
Phone Support Is Available if Needed
One thing that impressed me a lot about Microsoft Defender's support is that the live chat agent asked me to provide my phone number at first. I asked what this was for and was told it was to get in touch with me in case the chat gets disconnected.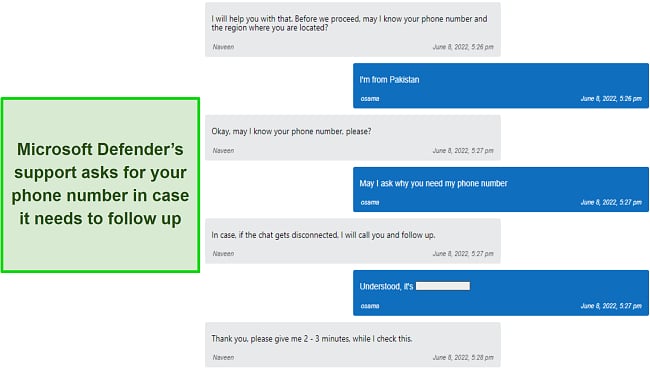 All my live chat sessions went smoothly without any disconnections, so there wasn't any need to follow up with me via a phone call. Nonetheless, I appreciate that support takes this extra step so that they can reach out to you in case the live chat session doesn't work out.
Online Resources & FAQs — Lots of Useful Information to Help You Out
Microsoft Defender has one of the best knowledge bases I've come across. Simply press the "Get Help" button on any of its menus, and you can type in your query to see if the knowledge base has information about it.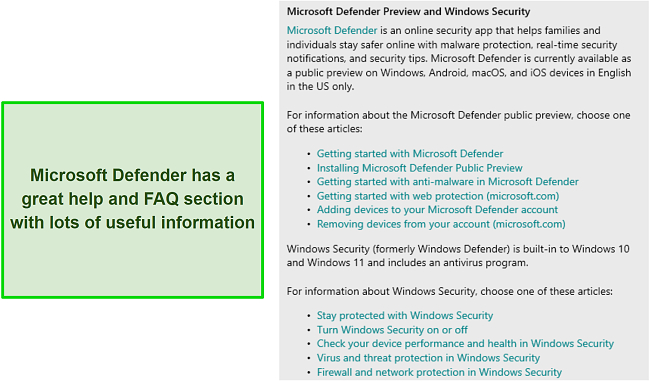 You'll see multiple results after typing in your query. Just click on the one closest to your question, and you'll find tons of information on that subject. Also, it's great that all this is done within the desktop app, and there's no need to open up the knowledge base in your browser.
It's worth noting that Microsoft doesn't take any responsibility in case your system gets infected, which reduces my confidence in Microsoft Defender. Other top antiviruses like McAfee and Norton come with a Virus Protection Promise/Pledge, thus guaranteeing complete protection against threats.
Overall, I'm pleased with how reliable Microsoft Defender's support is. The knowledge base has information on just about every single thing you need to know. However, even if the knowledge base doesn't have the information you want, you can easily talk to an agent via live chat to get assistance.
Price - 10
Microsoft Defender is completely free, and, as mentioned earlier, it comes pre-installed on Windows 10 and 11 devices. There aren't any premium plans that'll let you access innovative new features, so what you see is what you get with this antivirus. I do wish it had some other features, such as a VPN like other top antiviruses. Unfortunately, this isn't the case, so you'll have to settle for its relatively basic level of protection.
Final Verdict
After extensive testing, I've concluded that Microsoft Defender is a reliable antivirus but isn't capable of fully protecting your system by itself. It offers great support, detects most malware, and provides multiple types of scans but gets outperformed by the best antiviruses currently available.
Microsoft Defender is also limited when it comes to features. Aside from some parental controls and cloud backup, there aren't many other features you can use to enhance your security. Plus, it's only available on Windows devices, so you can't use it anywhere else.
All things considered, even though Microsoft Defender offers decent protection, I just can't rely on it to protect my system on its own. It's a great second line of defense, but I'd prefer to use a complete security solution like Norton as my primary antivirus. Not only does it offer better protection through its 100% detection rate, but it also provides other useful features that you won't find in Microsoft Defender.
FAQ
Is Microsoft Defender Good Enough on Its Own?
No, even though Microsoft Defender has improved a lot over the years, it isn't good enough to fully protect you on its own. It has an impressive detection rate, but other top-tier antiviruses outperform it. So, while Microsoft Defender provides adequate protection for some uses and is definitely among the better fully free antiviruses available, it simply isn't a top-tier complete security suite like, say, McAfee is.
How Do I Turn off Microsoft Defender?
Open Microsoft Defender on your Windows 10 or 11 PC, navigate to Virus & threat protection, click on Virus & threat protection settings, and toggle off Real-time protection, Cloud-delivered protection, Tamper protection, and Automatic sample submission.
Top Choice
💰

Money-back guarantee
—

⛔

Firewall
Yes

📱

Number of devices
—

🏳️

Free trial
—

🏷️

Pricing Plan
Free

🛡️

VPN included
No
Visit Microsoft Defender