Download the free, open-source FileZilla FTP client to transfer files from your computer to your website seamlessly. The program is very easy to use and supports FTP, SFTP, and FTPS protocols. The intuitive user interface has folder trees for both the host computer and the destination location, making it easy to find the files you want to transfer and ensure they are placed in the correct location.
Follow the instructions below, and I'll show you how to download FileZilla for free.
How to Download FileZilla for Free on PC
Click on the Download button on the sidebar, and a new page will open in WizCase. Click on the Start Downloading button on this page, and a new tab will open, taking you directly to the FileZilla download page.
Click on the Download FileZilla Client button, and a pop-up window will open with your download options.

For the free version of FileZilla, choose the basic FileZilla option and press the Download button, and the EXE file will automatically download to your computer.

When the file download is complete, open it to begin the installation process.
The setup wizard will appear. Agree to the License Agreement.
Select whether you want to give permission to anyone using the computer to access the software or only you. Then click Next.
Click Next two times to include all the necessary components in the installation.
Click Install, and the FTP client will install on your computer.
After the installation is complete, click the Finish button, and FileZilla will automatically open.
How to Uninstall FileZilla
If FileZilla isn't the right FTP client for you, or you've already finished building your website and don't need it anymore, you can uninstall it in a few simple steps.
Type Add or Remove Programs in the Windows search bar and click the Enter key.

Find FileZilla in the list of installed programs, and click the Uninstall button.

The Windows setup wizard will delete FileZilla and all its components from your computer.
If you're still looking for a free FTP client, check out some free alternatives below.
FileZilla Overview
FileZilla is one of the leading FTP clients, making it easy to transfer files and build your website. It also includes some essential features, such as site manager, bandwidth controller, bookmarks, and remote editing, that will make life easier for any webmaster.
Everything is run through an easy-to-use interface that appears as if it came straight from an older version of Windows. Connect FileZilla to your website by logging in with your Host, Username, Password, and Port – this information is typically found in the Control Panel (CP) of your website. Once connected, you can copy files that are on your computer and upload them through the FTP portal to your website.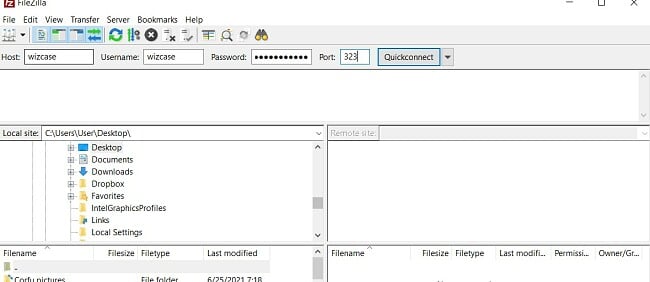 FileZilla Features
Well-designed, user-friendly interface: If you've never managed a website, transferring files through an FTP can sound like a daunting task. However, with FileZilla, the process has been simplified, making it accessible for anyone. As you can see in the image above, there are two windows; on the left side is the folder tree of your computer, and on the right side is where the folders for your website are located. With this setup, it's easy to track what is on the site and what still needs to be moved over.
High-speed connection to host site: While many other FTP clients have complicated login that can take up your valuable time, FileZilla streamlines the process with the QuickConnect feature. Additionally, once you log in, it will save your information, allowing you to connect in the future instantly.
Keep Alive file uploads: Nothing is more frustrating for a webmaster than the internet connection dropping or being kicked off due to an overcrowded server while a large file is uploading. FileZilla solves this problem with its Keep Alive function, which will save the upload progress instead of aborting the transfer. While the upload is on hold, it will still be secured with SSL.
Manage your bandwidth use: If your internet connection has a bandwidth limit, you can set a "speed limit" on the FileZilla upload. This will prevent the file upload from going too fast and putting you over your limit. At the same time, you'll still be able to work on the web without having to worry about your bandwidth.
Free Alternatives to FileZilla
Cyberduck: Although it's packed with features, Cyberduck is not a difficult program to learn. The app uses a straightforward approach to uploading files through the FTP portal. In addition to FTP, it features SFTP, WebDav, Google Cloud Storage, and other crucial web development tools.
CuteFTP: Quickly upload pictures, videos, software, and large files with the CuteFTP client. It comes packed with features like a transfer queue, firewall, proxy controls, an HTML editor, and path bookmarks.
FAQ
Is FileZilla free?
There are three versions of FileZilla. The basic plan is 100% free and includes the features you need to upload files through the FTP client. Follow the instructions above to see how you can download the free version. If you see that you need added features, such as compatibility with cloud-based storage programs, you can always upgrade when needed.
Is FileZilla safe?
I tested the FileZilla file, and it was clean from viruses and malware. As long as you download the file from the official site, you shouldn't have any unwanted software included in the installation.
Is FileZilla secure?
FileZilla uses SSL to secure file transfers. There have been reports of vulnerabilities during the upload process, but it appears these have been patched and fixed with the latest release.
Visit FileZilla Website