Best Cheap VPNs That Cost Less than $3.00 a Month (Updated 2020)
Last Updated by Thalia Oosthuizen on June 01, 2020
When searching for a good quality VPN you don't have to worry about breaking the bank to get your hands on a great service.
In fact, there are several premium VPNs available on the market that cost less than $3.00 a month to upkeep.
That's less than grabbing a cup of coffee.

While there are some incredible products out there that will only cost you a few bucks, it's important to understand that there are just as many, if not more, that will be detrimental to your privacy and security.
We've tested hundreds of providers and have come up with a list of the best VPN services available that will cost you next to nothing.
Quick Guide: 10 Best Cheap VPNs
Top 10 Cheap VPN Services
Here's our recommendation for the best cheap VPN providers out there. We've done the hard part for you and got rid of the providers that aren't worth it.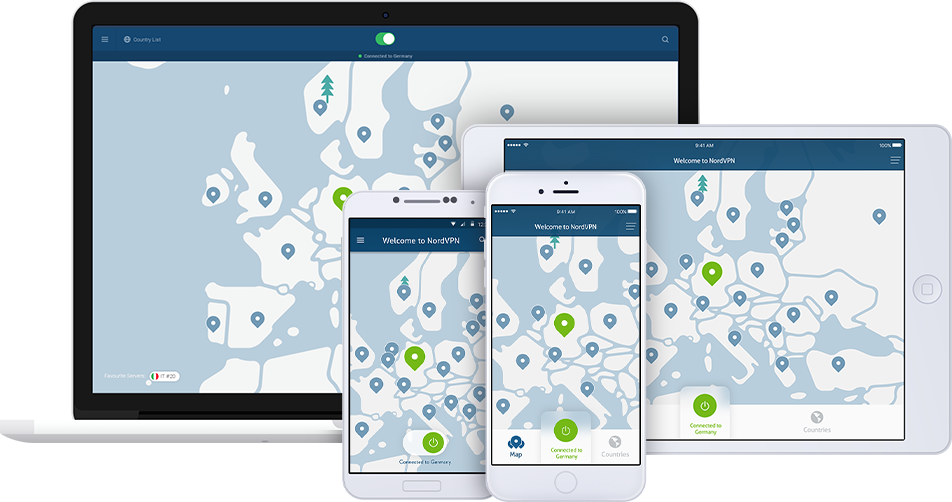 Over 5,000 servers in more than 60 countries
Military-grade encryption protocols
30-day money-back guarantee
We can't make a list about quality VPNs with a low price tag, without having NordVPN at the top of our list. Not only does this VPN cost next to nothing, but it constantly comes out as one of the best VPNs on the market for its amazing features.
With military-grade 256-bit AES encryption protocols, double VPN tunnelling, DNS/IP leak protection, and an automatic kill switch, you're data will be kept incredibly safe and secure. NordVPN provides users with CyberSec, an advanced security solution that detects and deletes any accidentally downloaded malware. NordVPN also has a strict no logs policy and is located outside of the 5/9/14 Eyes Alliance, so you can rest assured that your privacy can never be compromised.
One of NordVPNs most exciting features, is that they are able to bypass the geo-restrictions of many streaming services like Netflix and Hulu, so you'll be able to watch your favorite tv shows and movies from anywhere. They offer users a full 30-day money-back guarantee as well, so you're able to try it out before committing.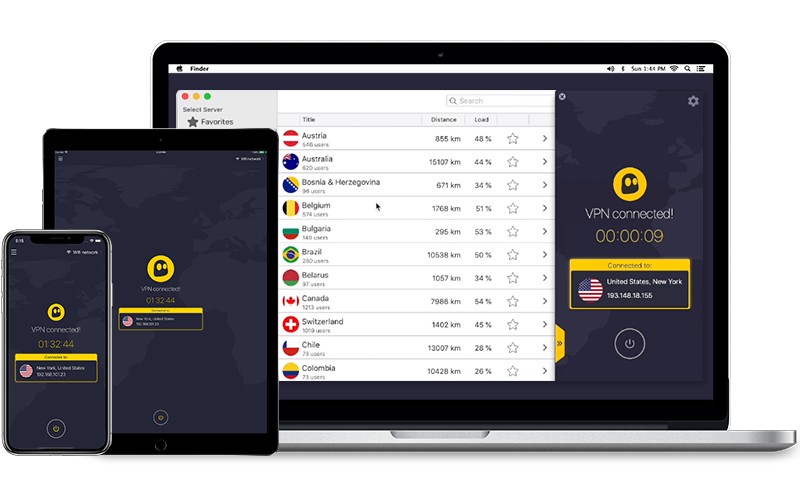 45-day money-back guarantee
24/7 customer support
3,000 servers in over 60 countries
CyberGhost VPN is one of the leading services on the market and you can have it for less than $3.00 a month. They're a user favorite due to their 24/7 customer support, intuitive and easy to use interface, and simple set up.
If you worry about your security, CyberGhost will have you covered with 256-bit AES encryption, default OpenVPN protocol, L2TP-IPSec and PPTP protocols, and an automatic kill switch. CyberGhost also promises users unlimited bandwidth and traffic, which when paired with its amazing speeds means you won't ever need to worry about buffering or unnecessary loading screens.
This VPN is a great provider for families as it allows up to seven devices to be connected simultaneously and it has dedicated apps for most operating systems including Windows, Mac, Android, iOS, and Linux. With the 45-day money-back guarantee that they offer, it doesn't hurt to give CyberGhost a go.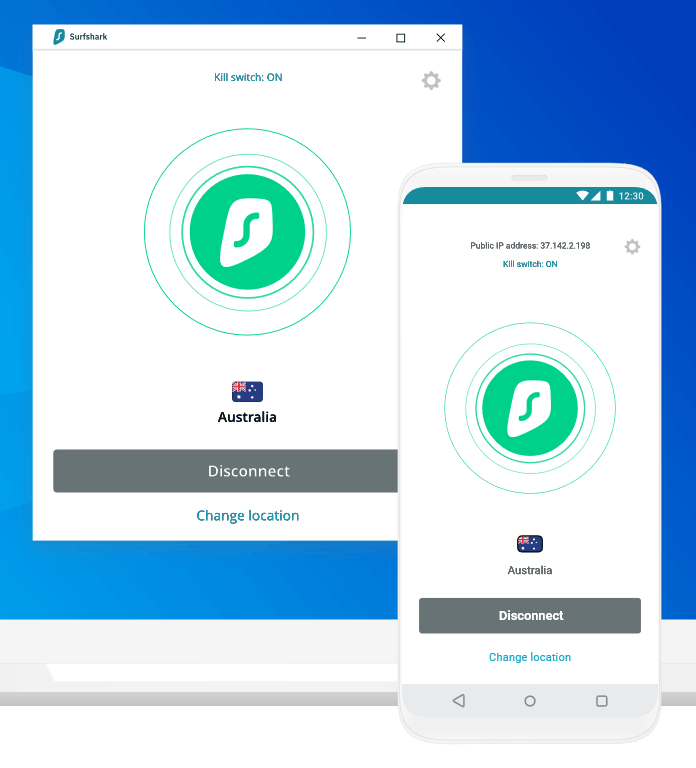 Double VPN tunnelling
Unlimited devices
Round the clock support team
SurfShark VPN is a VPN that has only recently arrived on the scene, but it's already making waves in the industry. It has a sleek and simple design that was specifically created to be intuitive and easy to use.
For such a new service you'd expect there to be some hiccups, but we've failed to find any. With this provider you'll be able to unblock tons of sites including US Netflix, Hulu, ABC, NBC, CBS, and ESPN. They also allow you to connect an unlimited number of devices, so you can get your whole family hooked on their awesome features.
They boast some pretty impressive security protocols and lightning fast speeds, which you'd expect from a service with over 500 servers in more than 50 of the world's largest countries. We were also pleasantly surprised by their CleanWeb application, which is an innovative ad blocking technology that will keep you protected from malware and trackers and stop pop up ads from flooding your screen. They also cover all the basics with 256-bit AES encryption protocols, MultiHop double VPN chain, automatic kill switch, and zero-knowledge DNS.
We love the honesty that they have at Surfshark as well, which is shown through their voluntary hire of renowned cybersecurity firm, Cure53, to test out and verify the security of their systems. If you think Surfshark might just be too good to be true, then give their 30-day money-back guarantee a run and see for yourself.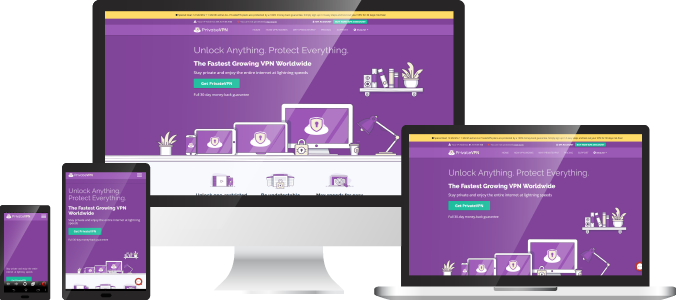 Available on Mac, iOS, Android, Windows, and Linux
Fantastic server speeds
Unlimited bandwidth
PrivateVPN is a great choice if you're looking for an affordable VPN that can still keep your identity anonymous and your data secure. They offer you freedom from monitoring and follow a no logs policy.
You won't need any tech skills to install or operate this VPN as its interface is extremely easy to get the hang of and has been designed so that even the most novice of Internet users are able to navigate its features with ease.
PrivateVPN has more than 80 servers in roughly 59 countries, meaning you'll receive some of the fastest speeds around. They also have a wonderful team of customer service representatives who are contactable at any time via chat or email.
This VPN really wants you to believe in their product before you buy, which is why they've extended the courtesy of a free trial and a 30-day money-back guarantee for anyone interested in trying them out.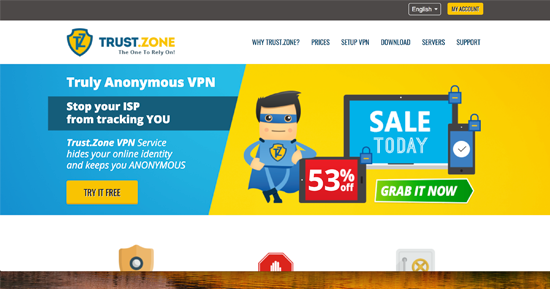 3-day free trial
Zero logs policy
164 servers in 34 countries
When it comes to this VPN, we have a long list of pros to discuss. Trust.Zone VPN uses highly developed VPN protocols such as OpenVPN and 256-bit AES encryption to make sure that you stay hidden at all times.
They promise not to track their customers and have a zero logs policy, which will guarantee your anonymity. Trust.zone protects their users' IP addresses and stops the prying eyes of ISPs, government agencies, hackers, and cybercriminals from seeing your data connections and private information. Trust.zone is also available on many devices such as Mac, iOS, Windows, Android, and Linux.
Not only does Trust.zone have one of the cheapest price tags available, they also offer uses a 3-day free trial of their services which we highly recommend trying out. If you decide that Trust.zone is the right VPN for you, you can use our special promo code "SUPERSALE" to get the Wizcase reader's discount on their already super low prices.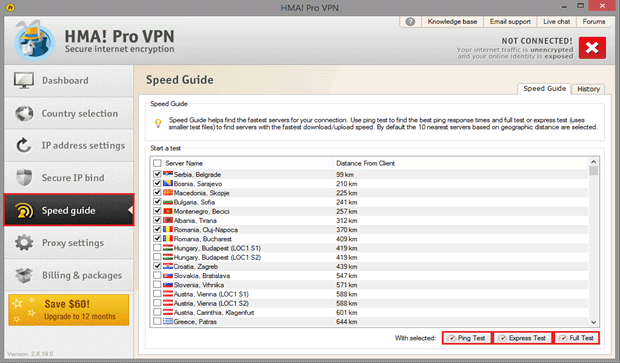 Servers in 280 locations
Compatible with P2P and streaming services
Protects up to 5 devices simultaneously
HMA VPN gives its users full peace of mind with their military grade encryption that will keep even your most personal information safe and secure. We highly recommend using them in every situation, but they do specialise in P2P and streaming services and even have their own dedicated servers for the job.
One great feature of HMA is that it can be installed on any device and that includes your router, meaning that even when you watch shows through Chromecast or Apple TV you'll be able to keep yourself protected. HMA has also been known to unblock the American Netflix when using particular servers which you can ask for via their live chat feature.
With HMA you'll no longer have to worry about snoops when connecting to public Wi-Fi networks, and you'll regain the freedom to use these public connections when you need do some urgent banking. As they have 24/7 customer support and a 30-day money-back guarantee, we don't see where you could go wrong with this VPN.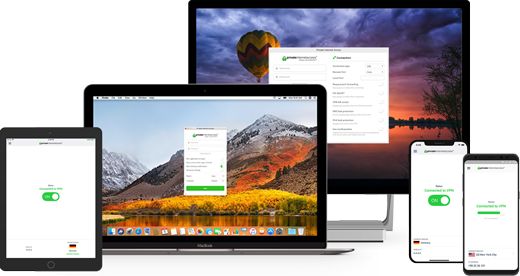 7-day money-back guarantee
PPTP, OpenVPN, L2TP-IPSec protocols
Multiple VPN gateways
Private Internet Access VPN or PIA is one of the most trusted VPNs on the market. They're easy to use and have a simple set up, making them a very appealing choice for beginners.
Not only does PIA give you access to over 3,200 servers in 33 countries, they provide you with unlimited bandwidth and unrestricted access to your favorite sites, so you can stream your TV shows uninterrupted.
A major negative for PIA is that they are based in the USA, so while even though they claim to have a no logs policy and we are yet to find any leaks when using their system, it's still risky. If the American government somehow gains access to PIA servers and information, then all of your data will be shared with other government agencies around the world. They also do track some of your data, such as your email address, you payment information when purchasing the service, and any clients who use the control panel will receive a temporary cookie.
This VPN is powered by a tier 1 multi-gigabit private network, so your privacy is always kept confidential. While their 7-day money-back guarantee isn't as extensive as some, it should give you enough time to realise if PIA is the VPN service for you.
Easy setup and user friendly
Works with most operating systems and browsers
24hr money-back guarantee
VPN99 is available to download via the Apple Store, Google Play Store, and the website itself for your convenience. It's also compatible with all major devices including Mac, iOS, Windows, Android, Linux, Chrome, Firefox, and even some routers.
They are one of the cheapest VPN options available that still provide a decent service and their price is comparable to spare change.
You're guaranteed confidentiality with VPN99, however be wary with this promise as they are a company based in the EU and are therefore governed by those privacy laws. One benefit of VPN99 is that they assure you that no logs of your data are stored, yet some users have commented that they take more data than strictly necessary.
Another downside of this provider is their lack of a kill switch, yet they do offer 2 simultaneous connections, so you can protect both your mobile device and your computer at the same time.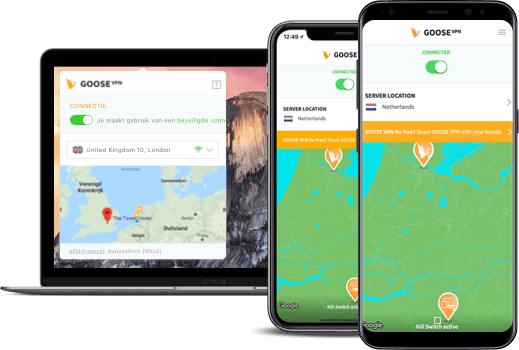 Unlimited devices
P2P compatible
30-day free trial
Goose VPN is great if you have countless devices as they have no limit on the number of connections you can make simultaneously. Yet, their most appealing feature is that they offer a free 30-day trial for all new users.
Their server network is spread out over 28 countries, giving users a wide range to choose from, however not all of these servers are P2P and streaming compatible, so make sure you look at the guide provided if this is your main use for the VPN. Once you've found their specialized servers you'll be able to stream all of your favourite Netflix shows and connect to online gaming sites with ease.
While Goose VPN do have a large array of custom clients including Windows, Mac, iOS, Android, and Linux, we found their Windows client to be very basic. Goose also provides users with a great round the clock customer support via both chat and email, if you happen to run into any trouble while using their service.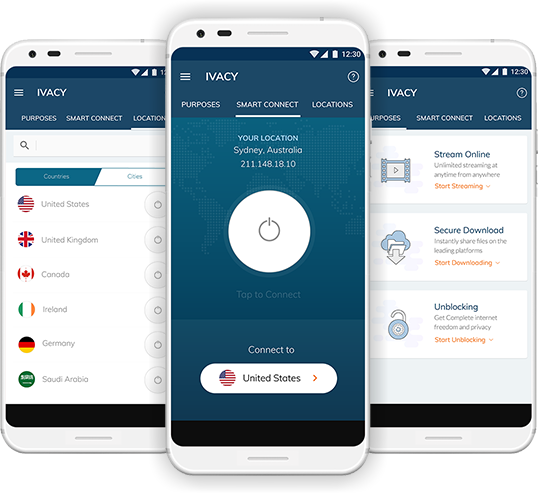 Over 1,000 in more than 100 countries
Unlimited server switching
5 simultaneous connections
Ivacy is a VPN that can hold its ground against some of the biggest players in the VPN world. This is due to its fast download speeds, that are very surprising for its price range.
One thing we did note however, is that its Asian servers are subpar at best, and we were unfortunately unable to complete a speed test when using a server located in an Asian country.
A massive bonus to using Ivacy is there zero logs policy, which stands true as they genuinely keeps no logs on your durations, bandwidth, or traffic, ensuring your complete privacy and anonymity.
While there are a lot of benefits to using Ivacy, we also found a few negatives to match, which include no TOR compatibility, a suspicious money-back guarantee, and an inability to stream on Netflix when connected. Ivacy is also located in one of the 5/9/14 Eyes countries, meaning although they have strong security protocols, you'll never truly know if or when the government could gain access to your data connections and share with other agencies.
2
Why You Need A VPN
VPNs are extremely important in our tech-reliant world as the last thing you want is to have a hacker or cybercriminal gaining access to your sensitive information just because you were careless enough to jump online without protection.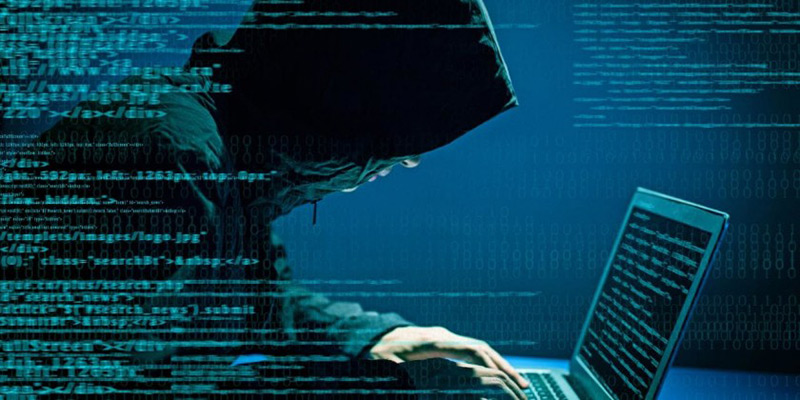 A VPN's main purpose is to
encrypt your online traffic and personal information and hide it from prying eyes
such as government agencies, Internet Service Providers (ISPs), hackers, and cyber criminals.
3
The Features You Need To Have
There are many cheap VPNs available on the market, so it's important that you aren't being scammed out of your money and receiving a less than acceptable service. You can evaluate this by the features offered by certain VPN companies and how open they are about their company values and processes.
Unblock Internet Restrictions
You'll want a VPN that is able to bypass geo-blocks and give you access to any content that you desire. The most common use of this is gaining access to certain regions on Netflix or other streaming services that open up a whole new world of movies and television shows for you to binge watch.
Overall Security
Look closely at what these cheap VPNs offer in the terms of security and encryption. Keep on the lookout for words like 256-bit AES encryption, automatic kill switch, double VPN or split tunneling, OpenVPN, PPTP, L2TP-IPSec, and a strict no logs policy. You'll also want the VPN to be located outside of the 5/9/14 Eyes Alliance so that they aren't forced to comply with laws that invade your privacy.
Speed and Servers
These two features go hand in hand because more often than not the number of servers and server locations a VPN can give you access to correlates to the download speeds it can provide. You'll also need a number of servers in a lot of locations to access content from particular countries, for example, if your VPN doesn't have access to a server located in the UK than you won't have access to any content only available for download in that area.
4
Your Protection, Your Investment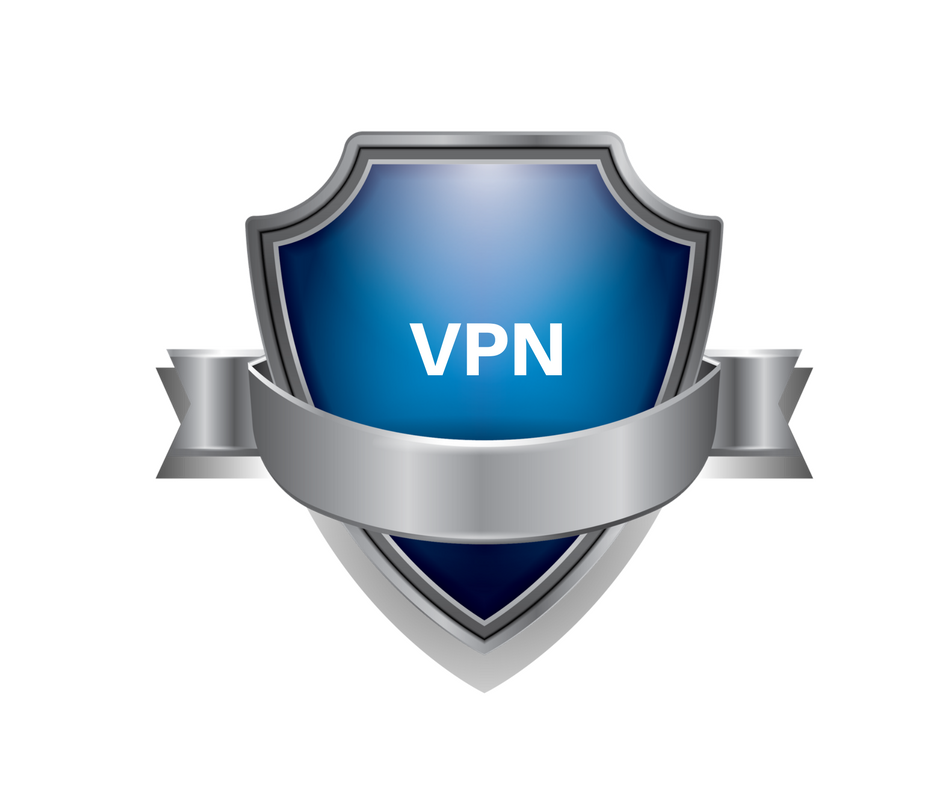 Here are a few helpful pointers when it comes to making sure you're not investing in a VPN that isn't worth the price tag.
There are several things you may want to consider before committing to any VPN and while we don't have all the solutions, we've compiled some answers to the concerns users ask most frequently when looking to purchase a VPN.
1

Subscription Length

By rule of thumb, the longer the subscription the cheaper it will be.

For example, if you are only paying the monthly price as you go, you can find that by the time one or two years go by you've spent more than double the amount that was necessary as most VPN providers offer users a massive discount on annual or even bi-annual subscriptions.

In saying that, we recommend that you avoid the "lifetime subscriptions" because the company will lack the motivation to upgrade servers, improve the product, or value you as a customer once they already have all the money they'll get from you.
2

Are Cheap VPNs Safe?

The short answer to this question is yes, they can be. But be wary as there are just as many cheap providers out there looking to harm you rather than protect you.

Be vigilant in your research and go over multiple user reviews of the services before committing. You'll also get a feel of how safe you are when utilizing the free trial and money-back guarantees offered by most VPNs.

There are two important factors to look into when determining whether a VPN is really secure.
Jurisdiction
Where is the VPN company located? There are a group of countries that have formed an alliance to share surveillance information. These are known as the Five Eyes. Ideally, you'll want to use a VPN located in a security friendly location that is not a part of this alliance.
Logging
There are several different kinds of logs that can be kept by your VPN. Some are standard and required in order to provide users with a good experience. However, there are some VPNs that will store usage logs, that is, what you're doing while using the VPN. These can be subpoenaed and used against you. Therefore, it's always important to find a VPN that has no-log policy.
Cheap VPNs are in fact a much safer option than free VPNs, because if you are paying for the service, the VPN is less likely to be searching for another source of income. We've heard horror stories about free VPNs selling users bandwidth and speeds to paying customers and even worse, selling user data and information onto third parties. They tend to flood your computer with advertisements and have no issue handing over your logs to the government if required.
With the cheap VPNs on this list, you won't need to worry about your online safety as they have all been thoroughly tested.
3

Are Cheap VPNs Fast?

A lot of the options we've presented in our list of top recommendations have speeds that are comparable to those of premium quality providers such as ExpressVPN.

In particular, we recommend NordVPN, CyberGhost VPN, and SurfShark VPN, for speeds that can keep up with the leading services on the market. Don't take our word for it either, you can test out the speeds for yourself by making use of the money-back guarantees that these cheaper providers offer.
4

Can You Use a Cheap VPN to Stream Netflix

This one is a little tricky because Netflix does a good job blocking VPNs from accessing out of region shows. You may have tried before and received the Proxy error message: "You seem to be using an Unblocker or Proxy. Please turn off these services and try again."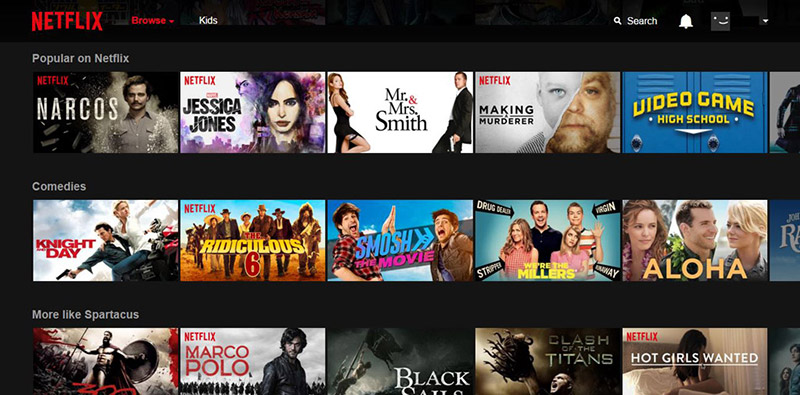 That being said,
the top three VPNs on our list, NordVPN, CyberGhost VPN, and SurfShark VPN have proven to be reliable at unblocking US and UK Netflix
.
5

Is It Safe to Torrent with a Cheap VPN

While many VPNs have dedicated servers that are optimized for torrenting, there are some that straight out ban it, under the penalty of having your subscription terminated.

For the most part, the VPNs on our list are OK with torrenting, although HMA VPN and VPN99 do frown on the practice.

Just because a VPN allows for torrenting and P2P on their servers isn't a guarantee that it is a good idea. Two tips that will help you avoid getting a copyright infringement letter are:
Only use a VPN that has a strict no log policy
Connect to servers that are located in torrent friendly countries, or at the very least, outside the US.
5
The Bottom Line
In our opinion, you won't be sacrificing anything by choosing one of the VPNs on our list. Even when opting for one of these cheaper options, you can still receive the same high quality service that you would with a premium provider such as ExpressVPN.


If you're looking for a product that can go above and beyond the normal requirements of a VPN, then you won't be go wrong with NordVPN, CyberGhost VPN, or SurfShark VPN. All three are on par with some of the leading services on the market and we truly believe that they can surpass some of the best.
Whatever you decide to go with, we hope you can keep yourself protected when jumping online with a VPN that won't go breaking your bank.