Tor browser is a 100% free software designed specifically to enable users to anonymously make searches through different search engines and use the Dark Web. Along with searching anonymously, users are also able to share files or make communications through different platforms without being tracked by any network surveillance systems. Tor browser also has the capacity to hide a user's actual location, keeping them anonymous through the software's overlay network.
This software is designed for organizations, journalists, and anyone who desires to keep their internet activity private whilst being able to communicate with others with the utmost confidentiality. This software has a number of features and one of them is blockage of trackers, defending you against surveillance and resistance fingerprinting which is based on the browser and devices you are using.
Tor browser is available for desktop and mobile devices powered by Microsoft Windows, macOS, Linux, and Android making the software accessible to everyone.
Follow the steps below and I'll show you to download the Tor Browser for free.
How to Download and Install Tor Browser for Free
Click the Download button on the sidebar and the official Tor Browser download page will open in a new tab.
Tor has download options for Windows, Mac, Linux, and Android. Choose the one for your operating system and the exe file will automatically download.

When the file download is complete, double click on it to begin the installation process.
Choose your preferred language and click OK.
Select the destination folder you want the program installed on, or just use the default option. Then click Install, and the browser will be installed on your computer.
When the installation is complete, press the Finish button and the browser will open automatically.
How to Uninstall Tor Browser
If you find that the Tor Browser isn't fast enough or you don't need all the privacy features, you can uninstall it from your computer in a few steps. Perhaps due to privacy reasons, the Tor app isn't located in the Control Panel or listed with all installed programs. To uninstall it, you will need to delete the source folder. Follow the steps below to guide you through this easy process.
If you don't remember the destination folder from the installation process, you can type TOR into the windows search bar.
The top result should be Start Tor Browser. Right-click on the mouse to open the menu options and select Open File Location.

The destination folder will open and you can highlight the Tor folder and delete it.

Open the Recycle Bin on your computer and delete the files, which will permanently remove it from your computer. Most computers automatically empty the Recycle Bin folder every 30 days, so if you don't do this, it's not a big deal.
If you're still looking for a secure browser, check out the free Tor alternatives below.
Tor Browser Overview
The Tro Browser is powered by the same infrastructure that runs Mozilla Firefox. In addition to the regular browser features, such as tabbed browsing, shortcuts, and the ability to display websites with video and audio components, the TOR browser keeps your online activities anonymous.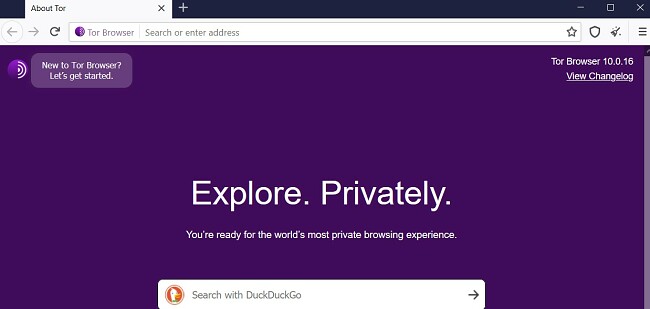 It blocks all trackers, hides your IP address, and can access the Dark Web. While it has many of the same benefits as a VPN, the two are actually quite different and, if you truly want to stay anonymous and safe online, you should use both a VPN and Tor. For more information on how to best use Tor, check out the Ultimate Guide to Using Tor.
Tor Browser Features
Hides your IP address: The computer's IP address can reveal a lot of information about a user, such as their location, computer type, ISP, and more. With the Tor Browser, all the information is blocked, allowing you to browse anonymously.
Access to restricted websites: There are many reasons that a website is blocked, usually it has to do with firewalls or based on specific geo-locations. Since Tor is blocking your IP address, you'll be able to access websites that would otherwise block you.
Access to the Dark Web: There are plenty of legitimate reasons to visit the Dark Web, but you can't access it with a regular browser like Chrome or Firefox. Tor was built for fast, secure, and anonymous browsing on all Dark Web sites.
Strong encryption protocols: When using the Tor Browser, your data is secured with top-level encryption to prevent cybercriminals and hackers from stealing your data or infecting your system with malware.
Free Alternatives to Tor Browser
Tor Browser is great but there are other alternatives just in case you want to further explore these kinds of software on the market.
Freenet: Freenet is a great way to connect with friends in a peer-to-peer kind of interface. It's great because it allows a user to segregate between the levels at which they will share certain information with others on the network.
Tails: Tails stands out from the options with its portability, a user can literally load the software on a portable media such as a USB drive OR DVD enables one to enjoy anonymity as they use the internet through in-built functions of the software such as a web-browser and office suite.
I2P: 2P derived from Invisible Internet Protocol is another software that will keep you anonymous on the internet. I2P is enabled for censorship-resistant communication and as you make your communications back and forth you can trust that your information is encrypted on both ends of the communication.
FAQ
Is Tor Browser free?
Yes! Follow the instructions above to download the official Tor Browser 100% free. If you see a website that is selling a Tor subscription package, you should avoid that site completely, as there is no cost to use the browser.
Is Tor Browser secure?
Tor Browser is completely secure using multiple levels of encryption and IP address cloaking to protect your privacy and prevent any cyber-attacks.
Will I be able to delete Tor Browser from my phone when I feel I no longer need it?
Yes. Deleting/uninstalling Tor Browser is straightforward. Check out the steps for deleting Tor from your computer.
Visit Tor Browser Website