Free Sound Recorder is a great tool for recording sound from a microphone, an external LP, cassette, CD/DVD player, AM/FM/Satellite radio, etc. It has features that allow users to record internet broadcasts, stream audio, or local audio files generated by other programs like RealPlayer, Windows Media Player, iTunes, etc.
With Free Sound Recorder, you can also record Voice over IP (VoIP) calls or Internet-telephony conversations when using programs like Skype, Google Talk, etc. once installed and set, the program captures every audio that passes through your computer's sound card, recording the audio directly into popular formats, such as MP3, WMA, WAV, and OGG.
You don't have to pay anything to enjoy all these features. Follow the steps outlined below to download Free Sound Recorder on your PC.
How to Download and Install Free Sound Recorder on Your PC
Click the Download button on the sidebar, and the Free Sound Recorder download page will open in a new tab.
Click on 'Download Now' to download the setup file to your computer. Note that the software is only available for Windows users. If you use a different OS, check out the free alternatives below.

Run the setup file by double-clicking on it. Follow the on-screen instructions to finish the installation.
Be sure to click "Decline or Skip All" if the message below appears. That's an optional offer prompting you to download another software.

Finish the installation of Free Sound Recorder and launch the app using the shortcut icon on your desktop.

How to Uninstall Free Sound Recorder
If Free Sound Recorder doesn't offer what you need, you may check out these free alternatives below.
You can completely remove Free Sound Recorder from your computer by following these simple steps:
Go to your search button and type "Add or Remove Program."
Click on the System settings icon that appears, then scroll down to select "Free Sound Recorder."

Click uninstall to delete the program from your PC.
Free Sound Recorder Overview
Free Sound Recorder is a software program designed for recording sounds on Windows computers. Users can record voice notes, music, broadcasts, and any sound going into their computer's sound card. The software immediately stores or saves the recorded sound in MP3, WMA, OGG, and WAV files.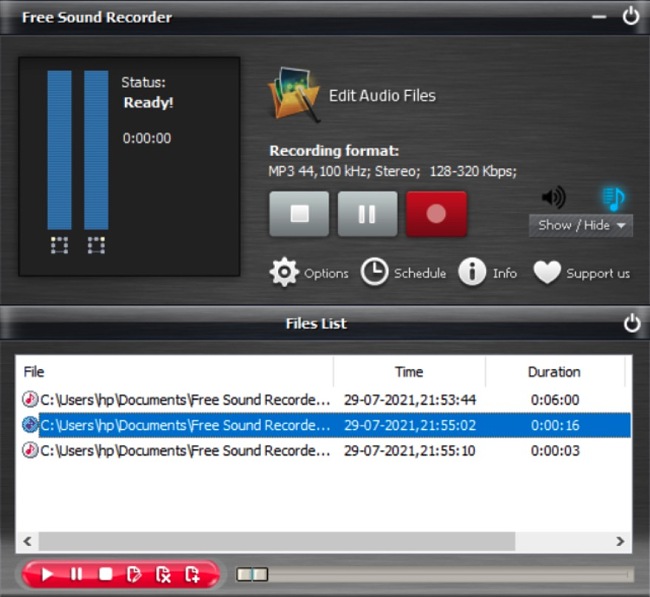 In case you've been on the lookout for software with which you can create clean audio recordings of your voice, meetings, or any other sound, such as music going through your sound card, Free Sound Recorder is one app you should try.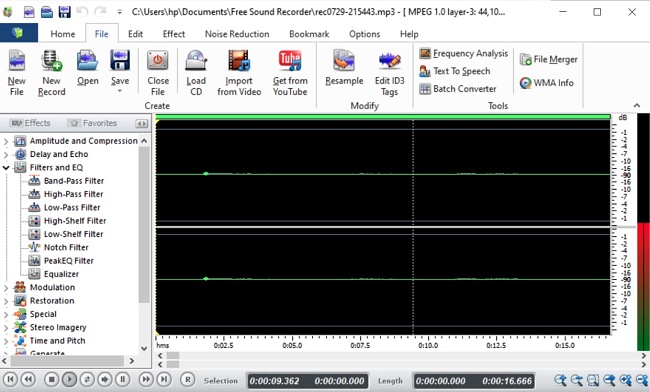 Users can also stream audio on the internet and record sound from connected microphones, phone lines, and other programs, such as Windows media player and VLC player.
Features of Free Sound Recorder
Capture any sound passing through your sound card and export MP3, WMA, WAV, or OGG files in decent quality.
Create a schedule to record sound from a selected source at a predefined time and end it after a desired time duration.
Enhance your recordings and audio files using the free digital audio editor in the app.
With only 3 steps, users can record any sound directly to audio files. It is straightforward, even for new users.
Supports multiple audio formats and direct audio recording into MP3, WMA, WAV, or OGG.
Record music from any online music site, including YouTube.
Free Alternatives to Free Sound Recorder
Audacity: Audacity is free, open-source software for recording and editing sounds. You can connect audacity to an external microphone, music mixer/console, or any sound source. It is an excellent tool for recording live audio, converting tapes, editing sound files, changing and tweaking the speed or pitch of a recording. You can even use it to merge audio files.
Audio Recorder: Audio Recorder is another great and free tool for recording near-to-perfect sound on your PC. Basically, it captures output audio from your soundcard, microphone, browser, and other apps, such as Skype, then saves the audio files.
MP3myMP3 Free Sound Recorder: Like Free Sound Recorder, MP3myMP3 Recorder saves any audio you play or hear on your computer directly to MP3 or WAV format. This also includes sounds from multiplayer games, online radio, and music streams. Finally, you can rip recorded audio files to CDs, batch rename them, create playlists, and much more.
FAQs
Is Free Sound Recorder free?
Yes, absolutely! Go to the step-by-step guide above, and I'll show you how to download it for free.
Is Free Sound Recorder safe?
As long as you download the software from the official website, you won't have to worry about malware and viruses. Use this guide to download Free Sound Recorder risk-free to your PC.
Can I Adjust Sound Properties With Free Sound Recorder?
Free Sound Recorder has Automatic Gain Control (AGC) for adjusting the volume of your recordings. It balances the intensity when it's low or too high. It also comes with Voice Active System (VAS) for clear identification of voices and automatic.
Visit Free Sound Recorder Website