ConvertXToDVD is an excellent interpretation of video converting or video editing software. The excellence lies in its ease of use, notably making it easy to use by both a professional and an amateur, but it doesn't stop there. This application exhibits: quick conversions, the ability to edit as well as merging videos, an image enhancer wizard which (when done properly), can truly elevate and enhance the quality of your videos and I could go on and on. However, a top feature that I noticed is the ability to convert to PAL or NTSC making it a useful and relevant tool to have worldwide.
Follow the instructions below and I'll show you how you can download it for free for 7 days.
How to Download and Install ConvertXToDVD for Free
Click on the Download button on the sidebar, and the official ConvertXToDVD website will open in a new tab.
Click on the "Free Download" button.

Once it's finished you will have to open the downloaded file and begin the installation process. Take Note: since it is being downloaded from the internet and not from the Microsoft Store, you may see a warning. However, I assure you this application is trustworthy and carries no threat to your device, as long as you've used the links provided in this article.
Afterward, you should see the window below:

From here you'll have to accept the agreement to terms of use to move forward, select where you want the file to be stored on your computer.
You then select whether you want to convert to NTSC, PAL, or automatic. However, this can be changed at any time in the settings if you realize that your conversion is of the wrong type.
The installation will begin shortly thereafter, and it only takes a few minutes from there until the application is ready for you to use.
How to Uninstall ConvertXToDVD
If you decide that this application isn't right for you, uninstallation is just as easy:
Type "Add or Remove Programs" in the windows search bar and press the enter key.

Scroll through the list of installed programs until you find VSO ConvertXToDVD and click on the Uninstall button.

Confirm your decision to uninstall the app.
While the app is being uninstalled, you will be sent to a webpage with a survey to be filled out. If you don't want to, then you can simply close the window and go about your day.
If you find that this application didn't work out for you, but you still need a video converting software, check out these free alternatives below.
ConvertXToDVD Overview
Simple, easy to use, and very accessible are the words I would use to describe this application. It really is able to be used by anyone interested in converting that video on their laptop to DVD.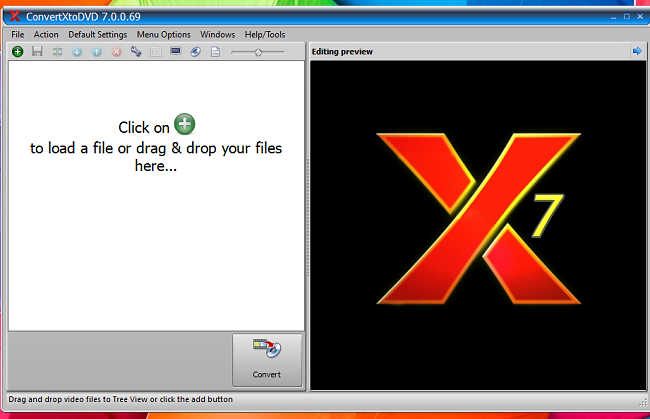 This is what you'll see as you open the application. Click convert and your files will be brought up and you can browse and choose what you want to edit. It took around 2 minutes for my 48-second video to be completely processed, which isn't by itself overly impressive, BUT it is faster than a lot of other services I have used before. Additionally, the video I uploaded was over 500MB, so that is also something to consider.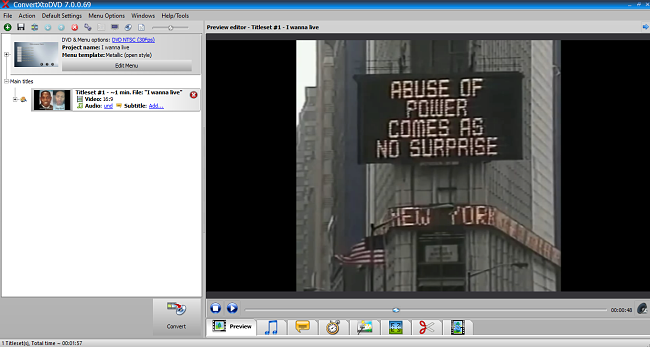 Now if you look at the bottom-left corner, you can see the true time the conversion took. Also, notice all the features that are able to be implemented on the video. That part is very impressive as it ranges from subtitles to the audio to the image setting and even merging too.
As a tool for video conversion, I would say it does its job well and very well at that. Enough so that I would definitely recommend it to anyone who wants to convert a video to DVD because of the features available and the ease of use.
Free Alternatives to ConvertXToDVD
Zamzar: this is a free online converting tool. It works well and is easily accessible, but there is a maximum conversion of 50MB which won't work for everyone.
Wondershare DVD Creator: this is marketed as an easy and powerful DVD conversion tool and being an app, there is that added benefit of being able to use it at all times.
FAQ
Is ConvertXToDVD free?
There is no completely free version of ConvertXToDVD but if you follow the instructions above, I'll show you how to get a free 7-day trial. This should be enough time for you to convert the files you need to DVD.
What happens at the end of the free 7-day trial?
At the end of the free trial, you will no longer be able to use the application without the purchase of the software.
Is ConvertXToDVD safe?
It really is, as long as you download the official software and stay away from pirated or cracked versions, that might be infected with malware and viruses.
Visit ConvertXToDVD Website