With well over 200 million downloads worldwide, AVG Free Antivirus is one of the most popular antivirus programs for Windows, Mac, and Android devices. It was bought by Avast technologies back in 2016, and while it maintains a separate application, the two antivirus programs share a virus and malware database.
Not only is AVG very easy to use, but it also has a nearly 100% virus detection rate. Run the Smart Scan and it will not only scan your files for viruses and malware but run a scan on your browsers as well.
How to Download AVG Free Antivirus
Click on the Download button on the sidebar and you'll be redirected to the official AVG Free Antivirus download page.
Click on the FREE Download button.

Once the file is downloaded to your computer, open the file and run the installer.
PAY ATTENTION: AVG packages its own browser in the download file. If you don't want to install this extra software you will have to uncheck the two boxes on the Installer.


You can choose to customize the installation, which gives you control over which components to install. If you want the complete AVG program, just click on the Install button.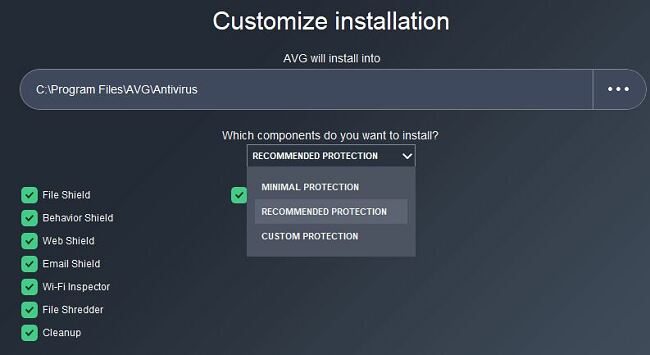 How to Uninstall AVG Free Antivirus from Windows
If AVG isn't right for you or you feel like it's slowing down your computer, check out the free alternatives to AVG below. In the meantime, follow the instructions below and remove AVG from your computer.
Type Add or Remove Programs in the Windows search bar.

Scroll down to AVG and click Uninstall.

A pop-up from AVG will ask you to confirm that you want to delete the software and that this isn't the act of some malware.

AVG makes a final attempt to dissuade you from uninstalling the antivirus by asking if you want to repair the program or change the settings. Just click Uninstall and it will be removed.
Restart your computer to complete the uninstallation process.
AVG Overview
AVG Antivirus is one of the most popular free antivirus programs, but is it the best?
AVG provides you with multiple layers of protection; most notably the computer itself and email and website protection.
Computer Protection: AVG has a powerful virus scanner that will protect your computer in real-time from nearly all viruses, malware, spyware, and trojans. Using a combination of AI learning and frequent updates, AVG is able to protect your computer from the latest cyber threats attacking computers around the world.
Email and Web Browser Protection: AVG will scan all links, files before they can be downloaded to your computer, and all email attachments to make sure that there are no malicious elements attempting to steal your data or implant a virus on your device.
AVG uses its real-time learning machine to update its threat database. Once it has the latest threat, it will analyze the virus or malware and add in a cure to the software. It will then release a new update so that users worldwide can stay protected.
My biggest issue with the free version of AVG is how it constantly pushes one of its subscription plans. After each scan, it shows the vulnerabilities it found on my system, but I'll need to purchase a subscription to fix them. There are a few features that are blocked behind a paywall, but when it comes to real-time protection and virus scanning, the AVG Free antivirus is definitely among the best free antivirus options available.
Free Alternatives to AVG
Panda Dome: One of the leading free antivirus programs, Panda Dome is available across all major platforms. According to independent lab testing, it has a 100% virus and malware detection rate. It has a flexible scheduling feature and scans all USB ports to make sure that no malware or viruses is being installed when you plug something into the USB port.
BitDefender: With an extremely easy-to-use interface, the free version of BitDefender has a single button. Pressing it will start the powerful virus and malware scan. All questionable or infected files are placed in quarantine for deeper inspection and automatic removal if necessary. The biggest downside with the free BitDefender is there is no scheduling option.
FAQ
?Is AVG AntiVirus really free?
There are two versions of AVG, one is 100% free with limited features and the other can be purchased with a yearly subscription. AVG will constantly push the paid version by finding issues and vulnerabilities that can only be fixed with the full-featured AVG.
The free version of AVG will scan your system and browsers for any viruses and malware and then remove or quarantine them.
?Is AVG trustworthy?
AVG has come under fire recently after Avast (AVG's parent company) was exposed for collecting and selling user data through its browser plugins. The browser plugins have been removed and Avast updated its privacy settings.
?Is the AVG Secure Browser any good?
Based on the Avast data collection scandal, I would recommend that you avoid the AVG Secure browser. If you're looking for a secure browser, download Opera; it comes with a free unlimited VPN and has several great features.
Visit AVG Website