Freemake Video Converter is a free tool for anyone looking to convert video into all possible outputs. It commissions a wide roster of video formats that include AVI, MP4, WMV, MKV, FLV, 3GP, MPEG, DVD, Blu-ray, and more than 500 other data formats.
Among the many things Freemake can do, a notable feature is how it can pull video content from streaming platforms such as Youtube, Dailymotion, and even Facebook. The audio can be extracted from these clips and then converted into all workable formats.
Follow the instructions below and I'll show you how you can download it to your PC for free.
How to Download and Install Freemake Video Converter for Free
Click on the Download button on the sidebar, and the official Freemake website will open in a new tab.
Click the green "Free Download" button and the exe file will download to your computer.

When the download is complete, open the file and the installation wizard will open.
Choose your preferred language and click Next.
It's recommended that you choose the Full Installation option unless you want to remove certain components. However, this should only be done if you're familiar with the software, otherwise, you might remove a crucial part. Then click Next.

Click the Finish button and the Freemake Video Converter will automatically launch.
How to Uninstall Freemake Video Converter
To uninstall Freemake, nothing really needs to be done from the software's end. Since it's free, no subscription plan needs to be canceled. You can simply uninstall from your desktop by following these steps:
Type "Add or Remove Programs" in the Windows search bar and press the Enter key.

Scroll through the list of software until you find Freemake Video Converter. Click the Uninstall button.

The Windows uninstallation wizard will completely remove the software from your computer.
If you're still looking for a free program to convert your video files, check out the list of alternatives below.
Freemake Video Converter Overview
Freemake can convert videos between more than 500 formats and gadgets for free. Powered by a quick installation process that does not require any registration, the process of converting videos in Freemake is really simple: you upload the video you want to convert, select the format of the output, and click on "Convert".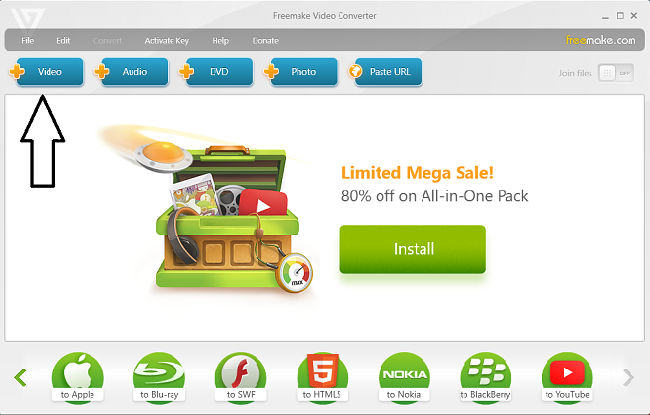 Once the video is uploaded, it will appear in the dashboard for you to take the action you need: cut, convert or edit.
It also comes with a built-in video editing workstation. You can adjust the length of videos, clip the starting time, rotate the screen, and cut the video.
Freemake Video Converter Features
Works with over 500 formats: Freemake video converter can transform just about any file to MP4. This includes format settings for iOS devices, Android, PlayStation, XBOX, Nokia, Huawei, and smartwatches.
Easy editing: You can cut, edit together or rotate clips. The Freemake Video Cutter gives you three buttons: a left button to mark the beginning of the video you want to remove, and a right one to mark the end of the sequence. Once you click the middle button, the part you want to edit out is removed.
Embed your videos: Freemake will give you the code needed to embed on any website. The embed code is compatible with Flash FLV, SWF or HTML5. It also comes with a web player that will play the video, so you won't have to add any additional plugins or video players on your site.
Easy uploading to YouTube: Save your YouTube login information on your Freemake account, and you can seamlessly upload your videos. This is a nice time saver that helps you share your content faster.
Free Alternatives to Freemake Video Converter
Any Video Converter: As the name indicates, this software converts any type of video. A nice feature of this software is offline conversions, allowing videos to be managed and manipulated without Internet access. Any Video Converter shares a lot of the premium functionalities boasted by Freemake – video editing, Youtube extraction, and DVD burning and ripping.
Handbrake: Handbrake is a free and open-source converter that also works on multiple platforms. While it's mostly renowned as a video encoding tool and may not have the most intuitive interface, the quality of the video conversions makes it worth the potential learning curve.
FAQ
Is Freemake Video Converter free?
Freemake is freemium software. The basic features are all 100% free for life. Follow the instructions above and I'll show you how to download the free version. If you feel that you need the additional features, such as Downloading videos from a URL and adding subtitles, you'll need to upgrade to the premium option.
Can I edit videos on Freemake Video Converter?
Yes, Freemake Video Converter has built-in editing tools. Though it may be primarily marketed as a video converting software, it stands alone as a comprehensive video editing platform as well.
Is tech support provided?
Online support is only provided to the premium package users. However, it bears repeating that the software is stunningly easy and intuitive. Mostly all functionalities are completed in a series of three to five steps without fuss or hassle.
Are the converted videos watermarked?
No, the final video outputs are never watermarked. This applies to both the free and paid versions of Freemake Video Converter.
Visit Freemake Video Converter Website