Are you struggling to keep up with the demands of managing all your social media channels? Buffer is an all-in-one solution you should try. Buffer is a software application designed to help you manage your social media accounts. It simply provides a means for you to schedule posts to social networks: Twitter, Facebook, Instagram, Pinterest, and LinkedIn. But that's not all.
Buffer also allows you to gain insights from the performance of your posts through in-app campaign analysis. By and large, Buffer saves you hours. It is one of the most intuitive and easy-to-manage platforms for reaching more people on social media.
The program is available for free, but it is limited to 3 social media accounts, which is ideal for individuals and small businesses. You can also access basic publishing tools and a landing page builder.
Follow the instructions below to get Buffer for free.
How to Download and Install Buffer Latest Version on Your PC for Free
Note: Buffer is only available for iOS, Android, and as a web app or browser extension. You'll need your web browser to use Buffer on your PC.
Click on the Download button on the sidebar to go to the official Buffer download page.
Click on "Start my free plan" as shown below.

Fill out the registration form with your email and password.

On the next page, go ahead and connect your social media accounts.

Once you connect your social media accounts, you can start using Buffer to create, schedule, monitor, and analyze your posts.
How to Uninstall Buffer
If you're no longer interested in using Buffer to manage your social media accounts, you can quickly uninstall it from your computer by following the simple steps below.
Go to your profile and click on Account.

Your email will automatically populate in the email field, so just enter your password below and click on "Delete My Buffer Account" to end your subscription.

If you prefer to use other programs, feel free to check the free alternatives below.
Overview of Buffer
Buffer is an intuitive software designed to help individuals and businesses (of any size) manage their engagement on social network sites. With Buffer, you can create, schedule, and post social content as far into the future as you want. You can link all your social accounts, such as Twitter, Facebook, Instagram, Pinterest, and LinkedIn to Buffer and manage all of them from there.
Buffer also allows you to gain insights from the performance of your social posts through in-app analysis. You can see the results of your posts and engage with your followers right from the application. Buffer can save you hours that you'd otherwise spend working individually on each account. One of the best things about Buffer is the ability it gives you to schedule your posts for months.
Features of Buffer
Schedule Posts for all Social Networks
Buffer allows you to keep everything consolidated by connecting to all your social media accounts. From one place, you can send out scheduled posts to as many social accounts as you want. Keep in mind that the free plan allows you to connect a maximum of 3 accounts.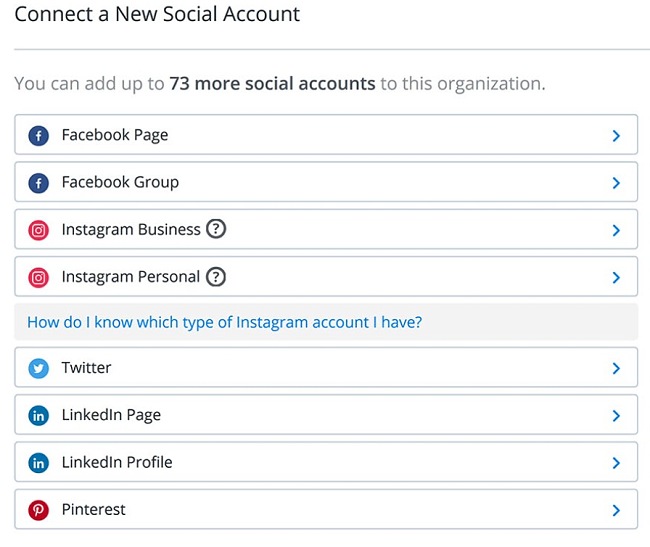 Customize Your Posts for Each Channel
Ideally, you should optimize your posts for each different social network, as users across other platforms engage differently with your posts, even if the content is the same. For best results, Buffer allows you to add minor tweaks that work best for the different platforms you're posting to.
Everyone Can Participate Using "Teams"
The Teams feature in Buffer adds some flexibility to the mix. You can have your team members contribute to your social media posts by sending them invites to join. You can set admin-level access for each person, one by one, so that you have close control over who posts what and which accounts they have access to.
This is also ideal for marketing agencies that manage social accounts for other companies. With this feature, you can have your clients throw in their contributions whenever they want to.
Share Your Updates at the Perfect time
With Buffer, you can schedule and share your posts in four different ways. You can share immediately after creating them, add them to the top or bottom of your queue, or schedule the posts for different times.
Monitor and Recycle Your Top-Performing Posts
Beyond giving you a centralized platform for scheduling and sending out your posts, Buffer also allows you to view, track, and reshare your top-performing posts with ease. You can monitor the engagement of your campaigns and use the insights gained to improve your social media marketing strategy.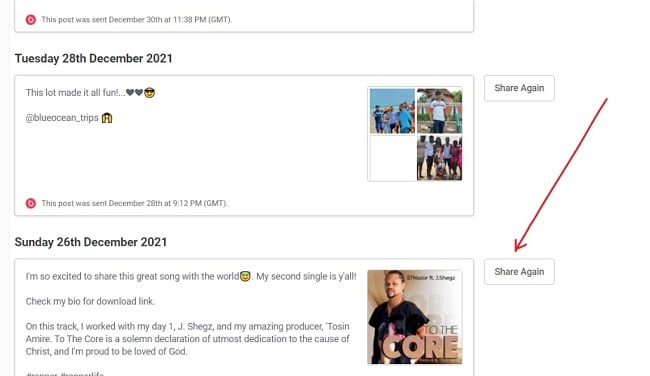 Build Custom Landing Pages for Your Campaigns
Another interesting feature in Buffer is the Landing Page Builder. It is easy to use and allows you to gain more customers, build awareness, and generate more revenues. You can use this tool to build as many custom landing pages for your products or services as possible and link the page to the social media accounts.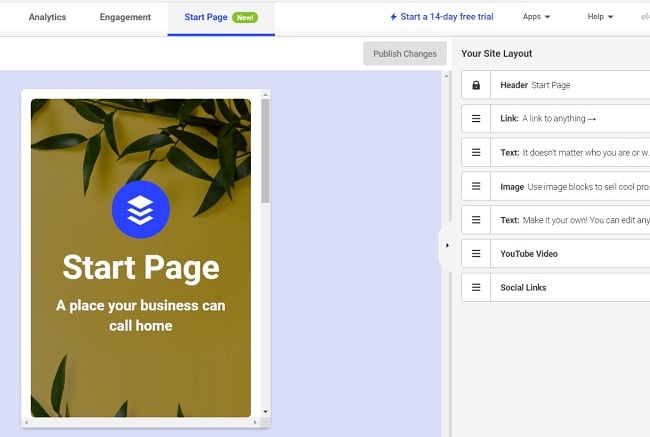 Save Your Favorite Hashtags For Easy Reuse
If you possess knowledge in overseeing and controlling social media interaction, you can observe the significance of hashtags, particularly when aiming to present your posts to the appropriate audience. Buffer provides a feature that allows you to save your favorite hashtags so that you can reuse them rapidly when next you need them.
Calendar View
The queue and calendar view lays out everything on your social content schedule, so you can take a step back to get a bird-eye's view of things on your schedule. You can look at your post schedule on a daily, weekly, or monthly basis.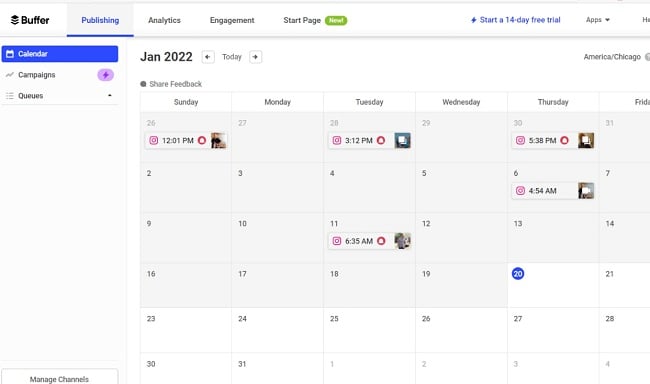 Free Alternatives to Buffer
Hootsuite: Hootsuite is a good tool for managing your social media activities, especially if you run a brand that's very active on social media. The Hootsuite system user interface looks similar to that of Buffer. It also supports a vast number of social networks, such as Twitter, Facebook, LinkedIn, Google+, Foursquare, MySpace, WordPress, and Mixi.
SocialBee: SocialBee is one of the best social media scheduling tools for both individuals and businesses. SocialBee features easy-to-navigate content libraries, where you can track and post your content to keep things organized and save time. It equally integrates easily with many social media networks, including Google My Business and Pinterest.
ContentCal: ContentCal is a social media scheduling tool that allows you to plan and schedule your social content easily. The tool is well suited to content marketing teams. The calendar feature in ContentCal will enable you to schedule multi-platform social media campaigns, including press releases, blog content, and more. You can also share access with your team or your clients to allow everybody to contribute and also keep them up to speed.
FAQs
Can I use other content management applications with Buffer?
Yes. Aside from social media, Buffer allows you to access other integrations like Dropbox, Google Drive, and One Drive, right within Buffer.
Read More