Android Studio is the official replacement for the Eclipse Android Development Tools (E-ADT) as the primary integrated development environment (IDE) for native Android application development. As the name implies, the application is solely designed for Google's Android operating system app development.
Built on the JetBrains' IntelliJ IDEA software, Android Studio provides you with some of the fastest tools for building apps for every type of Android device. Certainly, as long as android apps are still being developed, support for this software development kit (SDK) will continue. Many developers around the world have used Android Studio to develop modern UIs for android applications. Besides, it offers a robust user interface.
Follow the instructions below and I'll show you how to download and use Android Studio for free.
How to Download and Install Android Studio on Your PC for Free
Click on the Download button on the sidebar to go directly to the official Android Studio download page.
Click on the "Download Android Studio" button to download the software.

Next, go to your download folder and double-click on the setup file you downloaded to start the installation.

Follow the on-screen guide to finish the installation. Click next to complete the installation process.
Android Studio will be installed with the most common settings and options. Alternatively, you can customize the installation settings and components to your preference.

Now, you can start creating applications in the IDE. If you need to import existing applications or projects, Android Studio allows you to do that, and you can continue from where you left off.
How to Uninstall Android Studio
If Android Studio doesn't meet your expectations, you can remove it from your computer in a few easy steps:
Type Add or Remove Programs in the Windows search bar and click the Enter key.

Scroll and locate Android Studio in the list of installed programs, then click the Uninstall button.

Once the uninstallation wizard opens, confirm that you want to remove the software, and it will be uninstalled from your computer.
If you prefer to try other applications, you can check out the free alternatives below.
Overview of Android Studio
Android Studio is Google's software development kit for android development. It is a free and popularly used IDE for building and testing Android apps before they are published on Google Play Store. The software offers developers a unique array of developer tools that enhance productivity when building apps. Android Studio incorporates IntelliJ IDEA's powerful code editor and developer tools.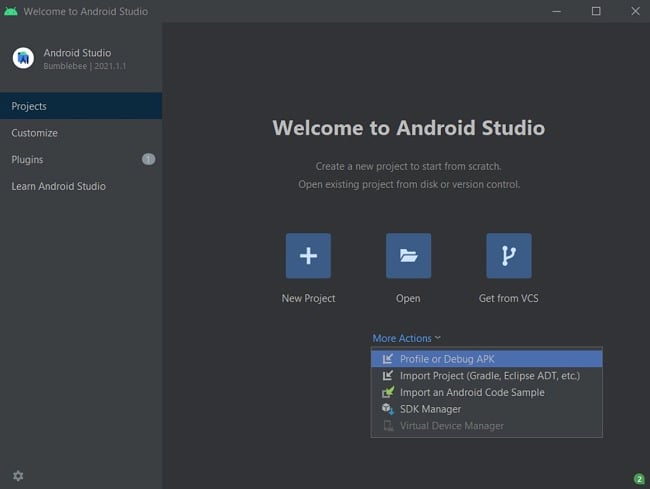 Another interesting feature of Android Studio is the built-in support for Google Cloud Platform. This means that you can easily integrate Google Cloud Messaging and App Engine. The project structure in Android Studio includes three different modules: Android app modules, Library modules, Google App Engine modules. The modules help organize the Android project view, providing you quick access to your project's key source files.
Android Studio is free, but you might have to pay when publishing your app on the Play Store.
Features of Android Studio
Android Studio is a perfect choice for developing a flexible Gradle-based build system. It is a unified environment, where you can develop apps for all Android devices, and it features support for C++ and NDK. Also, you can access helpful code templates and use the built-in GitHub integration to build common app features and import sample code. Also included in the IDE are extensive testing tools and frameworks, and all the below:
Robust User Interface
The Android Studio main window contains several logical areas. There's a toolbar for performing a wide range of actions, an editor window for creating and modifying codes, and much more.
Intuitive Tool windows
This is one of the most impressive features in Android Studio. While working, the app follows the context of your work and automatically brings up tools relevant to your work. By default, the tool windows you use the most are pinned to the tool window bar, just beside the application window.
Finding Sample Codes
There's a smart tool called "Code Sample Browser" in Android Studio that helps you find high-quality, Google-provided Android code samples. These suggestions are typically based on the currently highlighted symbol in your project.
Code completion
Android Studio has three types of code completion – all of which you can access using keyboard shortcuts as shown below:
Basic Completion (Control+Space (Windows & Linux) and Control+Space (Mac)).
Smart Completion (Control+Shift+Space (Windows & Linux), and Control+Shift+Space (Mac)).
Statement Completion (Control+Shift+Enter) and Shift+Command+Enter (Mac)).
Easy Navigation
The interface of the software looks rather complex, with many areas and tools for executing different commands. The good thing is that Android Studio also includes several navigating shortcuts to make moving around the app's interface very easy.
Annotations in Android Studio
Android Studio includes annotations for variables, parameters, and return values. This is very useful for catching bugs, such as null pointer exceptions and resource type conflicts.
Includes Debugging and Profiling Tools
You can carry out debugging in Android Studio to improve the performance of your code. This includes inline debugging and an array of performance analysis tools. The software also includes performance profilers, which among other things, allows you to easily track your app's memory and CPU usage, locate memory leaks, and analyze network requests.
Gradle Build System
Android Studio incorporates Gradle as the foundation of the build system. This, combined with more Android-specific capabilities accessible from the Android plugin for Gradle, allows you to do the following:
Customize, configure, and extend the build process.
Reuse code and resources across source sets.
Create multiple APKs for your app, with different features using the same project and modules.
Free Alternatives to Android Studio
Eclipse: Eclipse is an open-source IDE for android development and is most commonly used after Android Studio. It is used for Java desktop apps. It supports multiple languages and operating systems, features extensive customization abilities and integration with Git, Maven, and many other popular development tools.
Visual Studio Code: Visual Studio Code is a source code editor developed by Microsoft for Windows, Linux, and macOS. You can use the application for debugging, syntax highlighting, intelligent code completion, snippets, code refactoring, and embedded Git. Visual Studio Code is optimized for building and debugging modern web and cloud applications.
IntelliJ IDEA: IntelliJ IDEA is an IDE written in Java for developing computer software, and other JVM languages like Kotlin, and Scala. The software is available as an Apache 2 Licensed community edition, and in a proprietary commercial edition – both of which you can use for commercial development. You can extend IntelliJ IDEA with free plugins from JetBrains. This allows you to work with other programming languages, such as Go, Python, SQL, Ruby, and PHP.
FAQ
Is Android Studio free?
Android Studio is not only free, but it also provides you with several free plugins to improve your productivity and make the most of the application. Follow the steps above, and I'll show you how to get Android Studio for free.
Is Android Studio secure?
Yes, it is safe to download and install Android Studio. As long as you download the software from the official Android Studio site, you won't have any issues with viruses, malware, or spyware. Stay away from unofficial download sites, as these are often infected with different malware trackers.
What is the Android Open Source Project?
The Android Open Source Project (AOSP) refers to the people, processes, and source code that make up Android. The people oversee the project and develop the source code, while the processes are the tools and procedures that Google uses to manage the development of the software. The net result is the source code, which developers can use on mobile phones and other devices.
Visit Android Studio Website