35 Free (MUST HAVE) Apps and Games for Android in 2022
Last Updated by Shauli Zacks on July 01, 2022
Many of the apps listed in the Play Store as the "Most Popular" are there due to advertising, bogus reviews, or has a useless free version that is nothing but a tease.
But I was curious to find the REAL best apps, those that will ease my life or improve my productivity without any cost. In the past few months, I tested more than 350 free popular apps in order to find the 35 apps each android phone must have.
The apps you'll find on my list are here only because they have real value and I found them to be useful on a daily basis. The reason they were above the rest is that they can increase the functionality of your phone, improve your health, help you relax with some games and music, and take your productivity to the next level — and they're all free.
App Categories
Best Free Apps to Improve Your Android's Security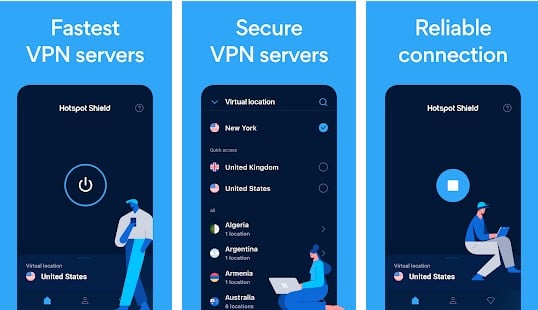 I'm a big believer in online privacy, and so it's no surprise that I'm starting this list with a reliable 100% free VPN (a rare combination). Hotspot Shield protects my phone with military-grade encryption, doesn't slow down my internet connection, and gives me unlimited data. The program is extremely easy to use, just tap the connect button, and the VPN will connect with the fastest available server.
In addition to security from hackers, the prying eyes of the government, and avoiding speed throttling from my ISP, I can visit geo-blocked websites, and find cheaper prices on some items.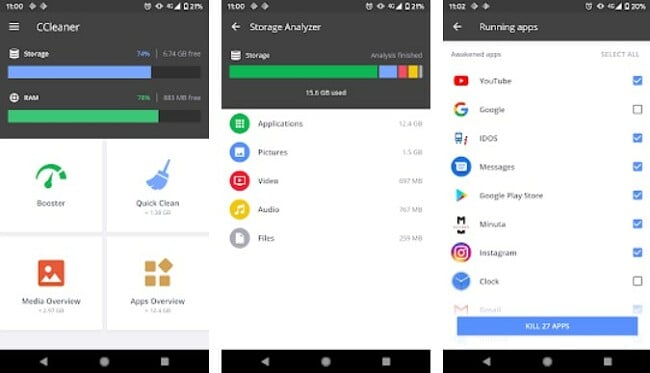 I was surprised at how much better my phone worked after installing CCleaner. My favorite feature is the app analyzer which showed me which apps take up the most resources and drain the battery. It has a built-in app killer, which prevents unnecessary apps from running in the background and puts them to sleep until you open them.
CCleaner for Android will run a deep scan of your device and delete unnecessary files, clean your cache, get rid of unwanted files and folders, and more. This will free up precious space and help your phone run at its peak performance.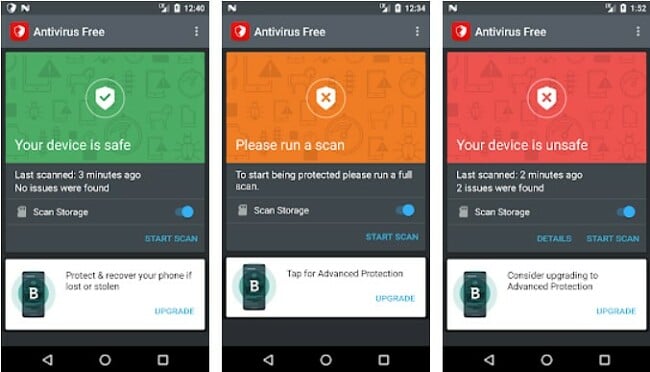 Having a reliable antivirus program is a necessity for Android devices, and BitDefender is the best free antivirus program I've had on my phone. It provides 24/7 protection from malware, spyware, viruses, and ransomware. You can run a manual scan if you want or just rely on the autopilot feature, which is always on the lookout for malicious files. Even though it's always running, the app is lightweight and didn't drain my battery.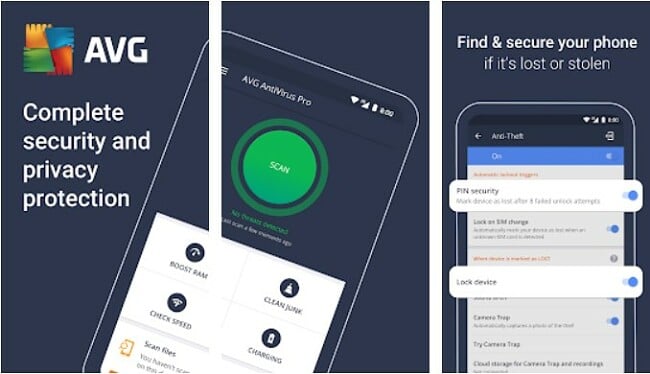 AVG is more than just an antivirus app; it has a VPN, an app killer, anti-theft tools, it removes old or unnecessary files, and more. It scans every app before it can be installed on your device, and it runs a scan when you try to connect to public wifi. All of these tools will help improve your speed, free up space, and make sure that your private data is protected from cyberattacks.
The one issue I have with it is the number of ads trying to convince me to upgrade to the premium package.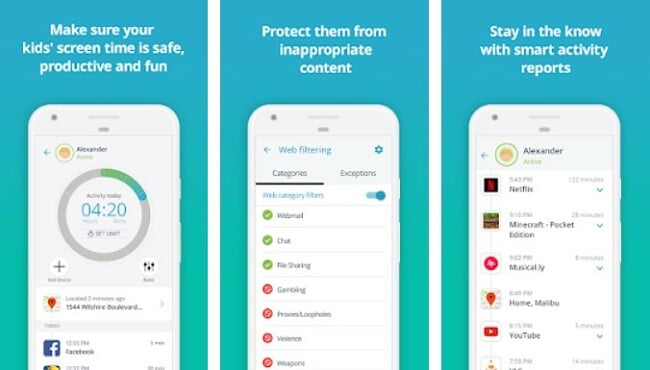 As a father of 5 kids, setting time limits and web filters is a necessity. Qustodio is the best parental control app I've tested for Android. Even the free version, which doesn't have as many features as the premium app, does a great job of protecting my kids and enforcing screen limits. Set a daily limit or a daily schedule and customize the web filter to your standards, and relax as your kids spend time on the phone.
The Best Free Productivity Apps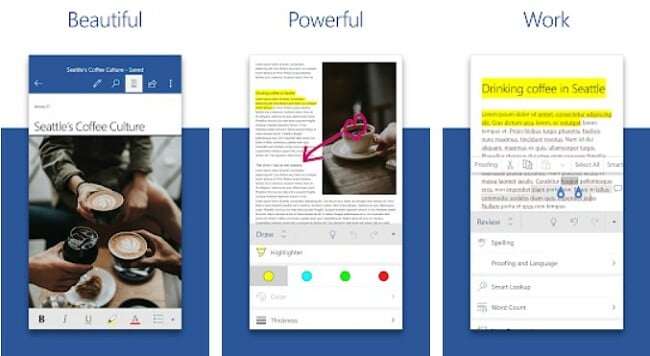 There is no better word processing app than Microsoft Word. Unlike its Windows or Mac-based counterpart, Word for Android is 100% free and can be downloaded as a stand-alone app instead of requiring that I download the entire Office 365 suite.
In addition to the templates, editing features, and formatting styles that Word is known for, it also includes a built-in PDF Reader. It will easily allow you to convert PDFs to Word documents so you can edit them and then save it back to a PDF.
With Word for Android, you can easily share your document with team members or classmates for joint projects, receive edits in real-time, and see and edit version history.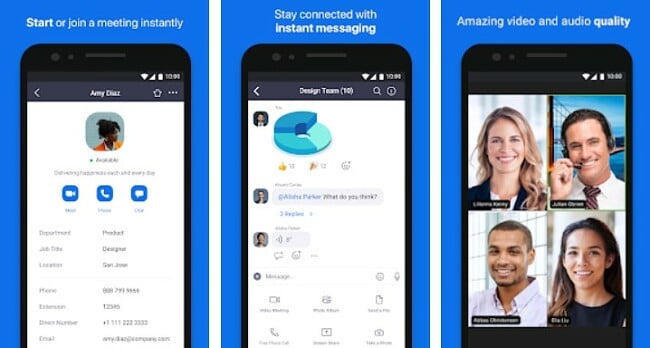 This video conferencing app was a real life-changer for my family and me. It allowed me to travel without missing any important business meetings, and my kids were able to see their grandparents, friends, and (to their disappointment) school. The free version has no time limit on one-on-one meetings and a 40 minute limit on group meetings. Zoom has many great features that are accessible to free users. These include recording meetings, muting any or all participants, sharing your screen with all participants, and even splitting the meeting into smaller private groups.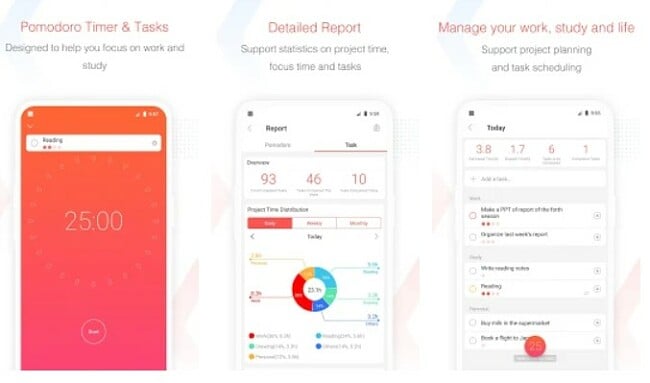 This is more than a simple To-Do list, and it's exactly what a chronic procrastinator like me needs. It uses the Pomodoro Technique, a time management technique that was developed in the 1980s that uses a timer to help you organize your day so that you can get through all your tasks stress-free. The idea behind the app is to set a timer for each task, and when it's done, you take a short break before you start to cross off the next item on your list.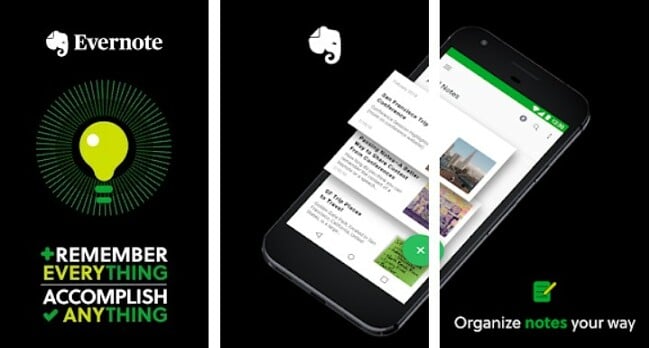 Evernote has evolved into one of the best note-taking, organizational apps I've used. The notes can be written as text, include images and audio clips, and then they are stored in a notebook. There is also an excellent scanning feature that can recognize handwritten notes. Evernote's powerful search tool can quickly help you locate a note, and what's even more impressive is that it recognizes handwriting in 11 languages. All notes are saved in the cloud, so you can leave as many notes as you want without worrying about using up space on your phone, and access them from any device.
5. Hootsuite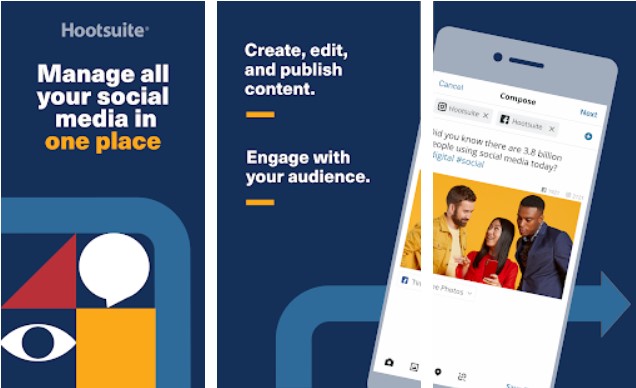 When I need to post the same update on several social media platforms, Hootsuite is my go-to app. It also has a scheduling feature, which is great for when I want to roll out some articles on my networks slowly or if I get tagged in a Facebook challenge to post 10 pictures in 10 days. I simply create all the content in one day and let Hootsuite take care of posting them.
Best Free Games and Music Apps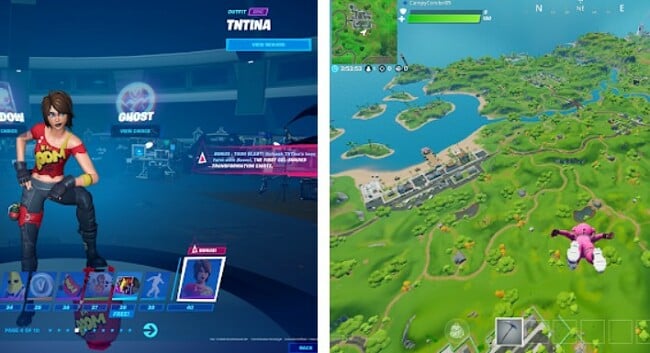 Perhaps the most popular first-person shooter game in the world, Fortnite is available for free on Android. Enter the Battle Royale and try and stay alive the longest as the safe zone gets smaller. You can build structures to help hide your character or create an advantage to get some easy kills. Of course, no game of Fortnite would be complete without a dance or two celebrating a nice kill shot.
2. Clash Royale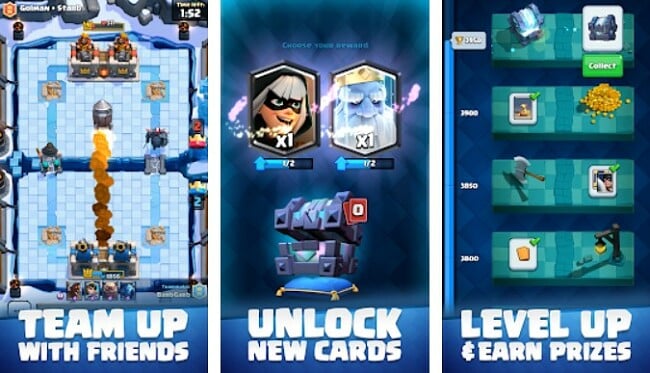 If you're looking for a fun, interactive game to kill some time, Clash Royale is a great choice. The goal is to remove the king and princess from their towers and collect trophies. Build your army and defense by collecting defense and magic spell cards. You can improve your odds by joining a clan and sharing resources and attacking enemies. The biggest complaint I have with Clash Royale is that while the game is free, sometimes it feels like you need to purchase upgrades to compete.
3. Scrabble Go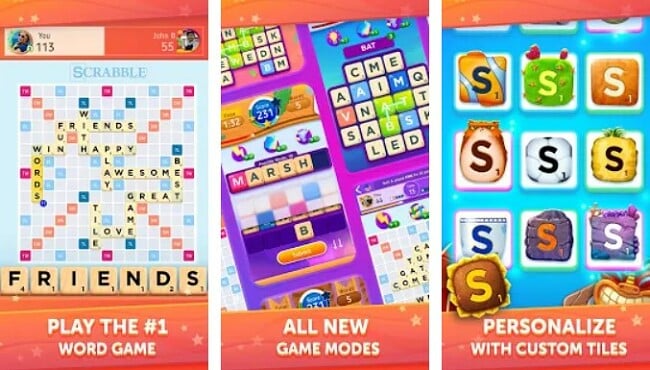 The classic word game has a new and improved app, and it's added a new level of excitement to Scrabble. Connect with friends or challenge random players to a game. Scrabble Go has four mini-games that can help improve your skills, several boost features, and a stat tracker. If you're feeling confident, join the Scrabble Go League and go up against the best players in the world.
4. Call of Duty: Mobile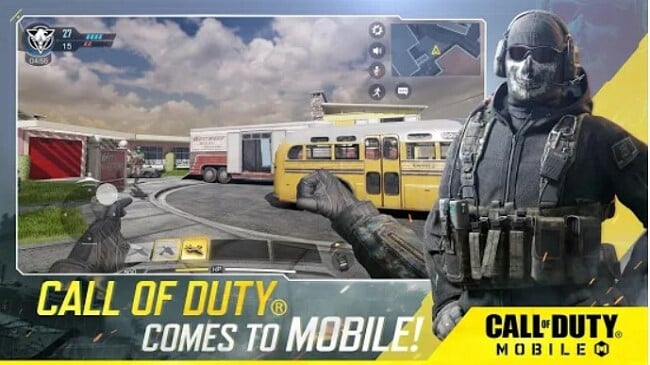 I was a big fan of Call of Duty on my XBOX, and so naturally, I was thrilled when a free version of the game was released for Android. It comes with maps from Black Ops and Modern Warfare, and I was able to play in a Battle Royale style game of survival. I liked the ranked play, although I quickly discovered that I wasn't nearly as good as I thought I was.
Best Free Music and Podcast Apps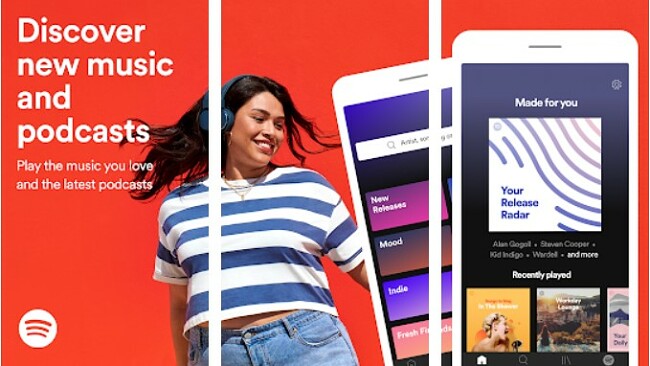 If you enjoy listening to music, there is no reason not to download Spotify. It has the most extensive collection of legal music streams. Create your own playlist, check out your friend's favorite songs, discover new songs based on your musical tastes, or subscribe to the latest podcasts.
The free version of Spotify has some minor inconveniences, such as commercials and a limit on the number of songs you can skip each hour. More importantly, there are no limits on the number of playlists or songs per playlist with the free version.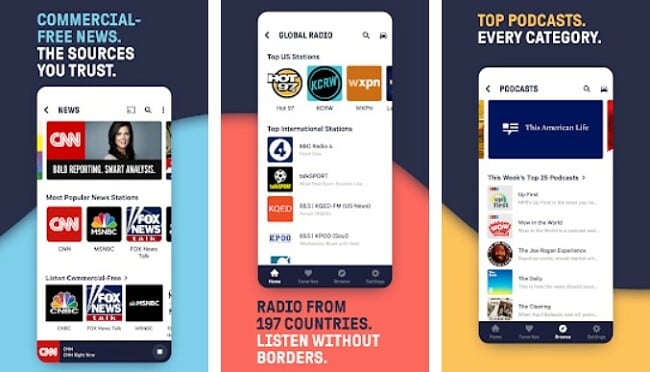 I'm not embarrassed to admit it, I love TuneIn radio. I mainly use it to listen to the sports radio shows from my hometown since I can't hear them where I currently live. TuneIn has live streams from thousands of radio stations worldwide. You can run a search by genre or location to find the station that you want. It also has a large podcast library, featuring the biggest names online.
3. Anchor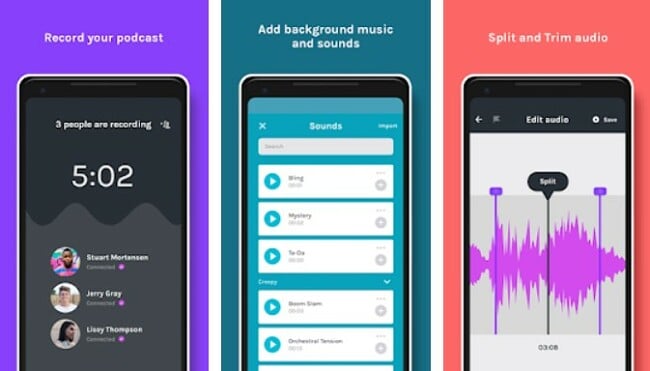 If you're a podcast creator, check out Anchor. It has the editing tools you need to keep your show tight, a library of free music tracks that can be used to create smooth transitions, and a hosting platform so that you can publish your podcast immediately. The program is perfect for beginners who are just starting out in the world of podcasting.
Best Free Dating Apps
1. Tinder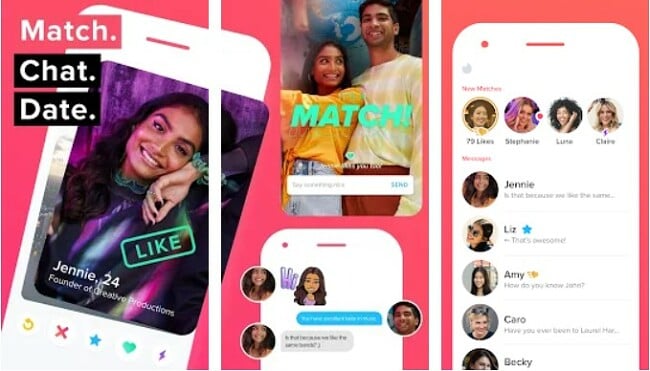 Swiping right or left has become the new normal when trying to find a date. Tinder will match you with other singles, and if you like what you see, swipe right. If your match also swipes right, you can connect with each other. What was initially considered a "hook-up "app, Tinder has matured into a reliable place to find whatever you want, from a friend to a serious long term relationship.
2. OK Cupid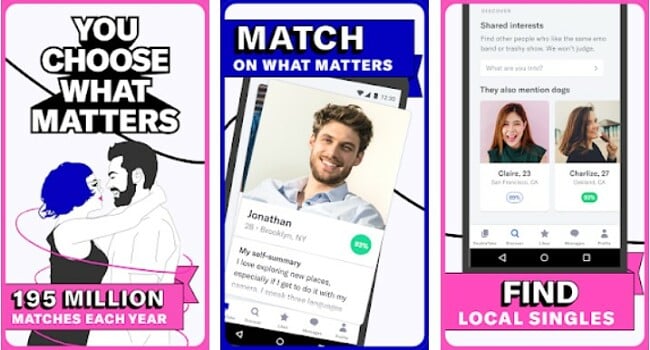 If Tinder is all about the first impression and judging a book by its cover, OKCupid is where you actually read the book. Create a detailed profile, answer hundreds of questions about your personality, likes, dislikes, what kind of relationship you want, sexual preferences, and more. Then, the OkCupid algorithm will connect you with matches in your geographical region.
3. Bumble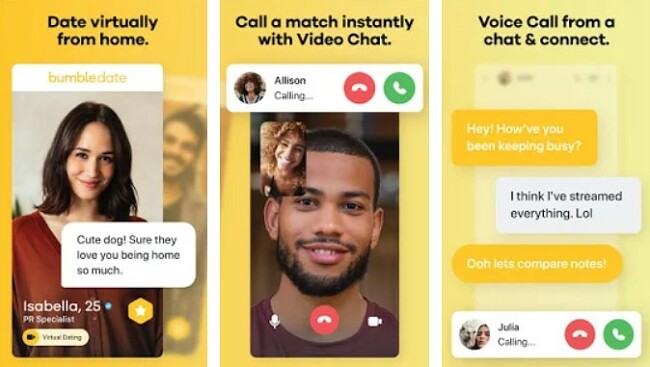 Bumble is a great way to try and meet that special someone or find a new BFF. The app uses the swipe-right or swipe-left method that was popularized by Tinder, to help match potential couples. However, only women can initiate the first contact through the app. Once that message has been sent, either person can continue the conversation.
Best Free Health and Fitness Apps
1. Couch to 5K by RunDouble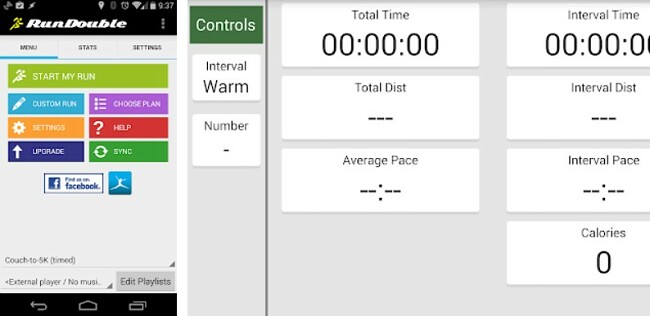 I was skeptical when I first downloaded Couch to 5K. I had never run a 5K before and didn't think I had it in me to start now. However, I stuck with the plan, starting out with mostly walking, and slowly increasing the running time as the program progressed. If I was able to run the 5K, then you can as well. The app uses your phone's GPS to track your running and show your route. It's easy to share to Facebook and let your friends know exactly how well you're doing.
2. Fitbit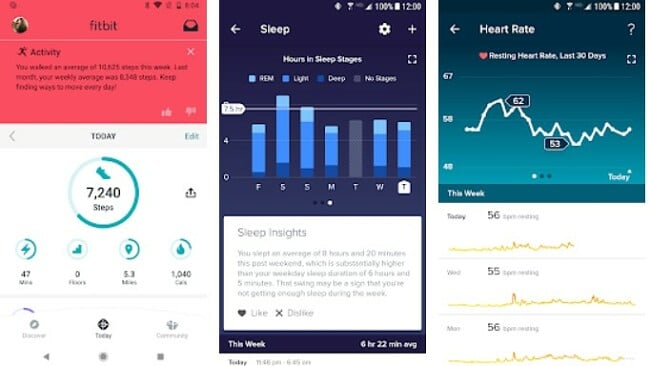 When most people hear about a Fitbit, their first thought is the smartwatch. But did you know that you can use the app without the watch to track your steps and mark your progress? It also has over 200 home workouts that you can do, with no trainer or equipment. I haven't done them all, but I enjoyed the few that I sampled. The free Fitbit app also has nutrition tips to help you start eating better as well.
3. Adidas Running by Runtastic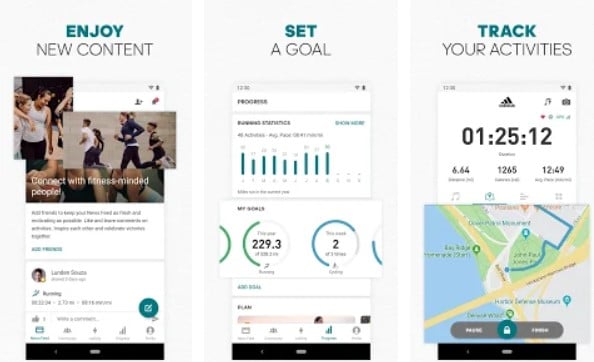 Don't be fooled by the name; Runtastic is much more than just a running app. It will connect you with a fitness coach and a worldwide community who can answer your questions and give you support when you need it. I was able to customize a running routine that fit my schedule and helped me achieve my personal goals.
4. FitOn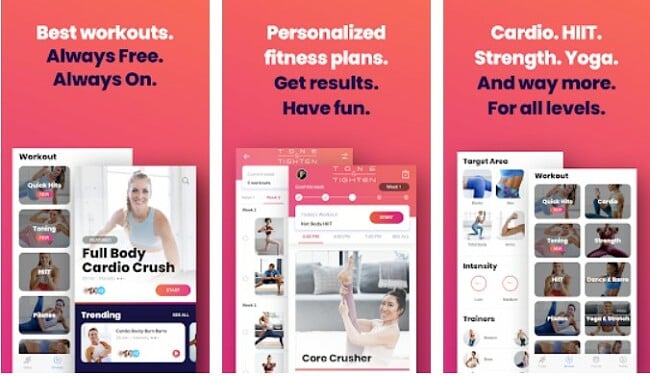 Who has time to go to the gym these days? Get a quick workout in from some of the top trainers through the free FitOn app. I enjoyed setting my goals and finding a collection of exercises that I enjoyed. There are 100s of classes and several different types, including cardio, strength, and high-intensity drills. FitOn has social media compatibility, which allows you to work out with friends, brag on Facebook, and stay motivated.
Best Free Apps for Traveling
1. Waze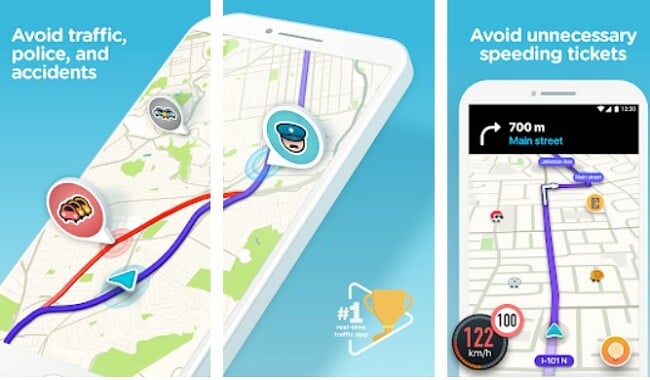 Whether you're commuting to work, going on a road trip, or traveling to another country, Waze will make sure that not only will you not get lost, but find the best route for you. It uses real-time data to help you avoid accidents, police, and traffic backups.
Waze Carpool is a great feature if you want to make some money during your commute or if you're looking for a ride. Just enter your destination, and Waze will find you a match and facilitate the payment. I've been both a driver and passenger, each time I felt I was getting a good deal, and the payment system is easy to use.
2. Moovit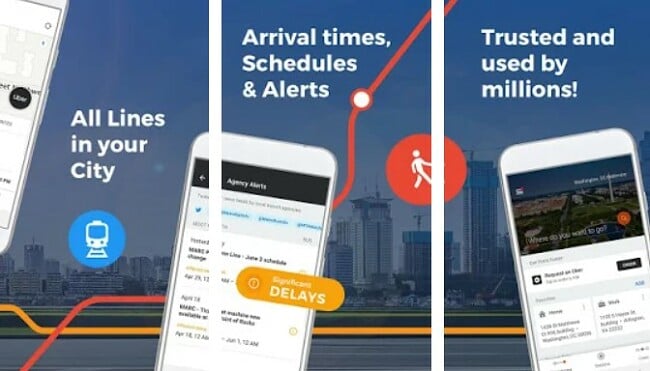 If you use public transportation in your daily commute or you're trying to navigate to your destination on vacation, Moovit is the best app for you. Using real-time data, it will show you the best bus routes to take, when the busses will arrive, and let you know when to get off the bus and where to go if you have to transfer in the middle of your trip. Moovit will also show you alerts related to your itinerary, whether its traffic backups, route changes, or construction.
3. Skyscanner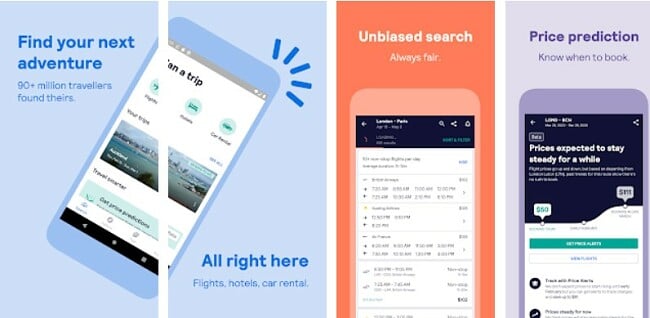 This app was really helpful when I was planning a family vacation. Not only does it search all the major airlines for the best deals, but it will help find cheap hotels and car rentals as well. It's beneficial if you don't know you want to travel, but don't have a specific destination in mind. Just enter your preferred flight dates and select "Anywhere" in the destination field. Skyscanner will show you prices for every potential destination, saving you hours of research time.
Best Free Messaging Apps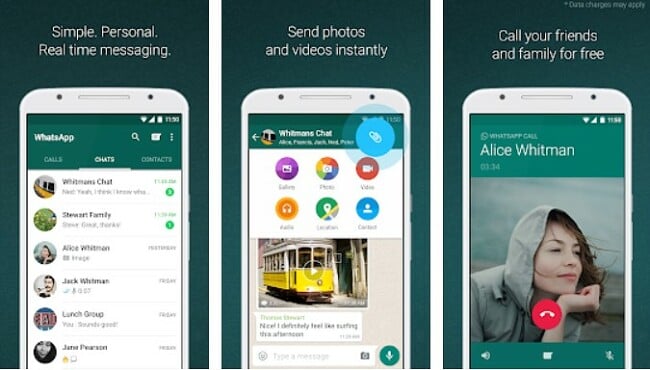 One of the first apps I download, whenever I get a new phone, is WhatsApp. It makes keeping in touch with friends and family easier than ever. It's much more than a chat/SMS app. I make free international calls with voice and video calling features. I have WhatsApp groups for work, family, my kids' classes, and my friends. It can get overwhelming at times, but there is an option to mute a group, so my phone isn't continually beeping. Perhaps my favorite feature is the ability to send someone my live location. It's great when I'm trying to meet up with a friend. Our names are added to a Google Map, making it easy to find each other.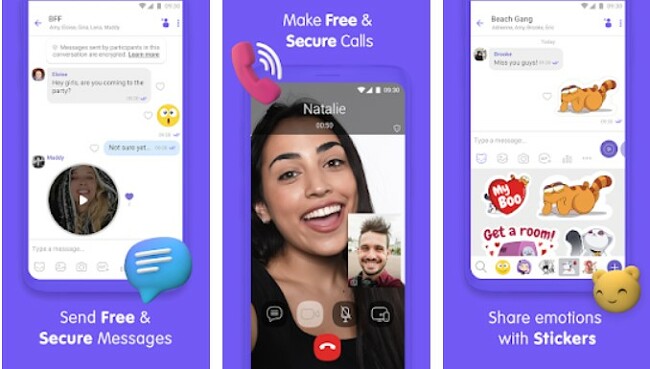 For me, Viber is a close second behind Whatsapp. It has a better desktop platform, with the ability to not only make calls but to transfer them to your phone as well. Viber has free international voice and video calls to other Viber users, or you can get cheap rates and call non-Viber phones as well. There are some great features that I didn't see with other messenger apps, like starting a community, designing stickers, and self-destructing messages, that are deleted after being read.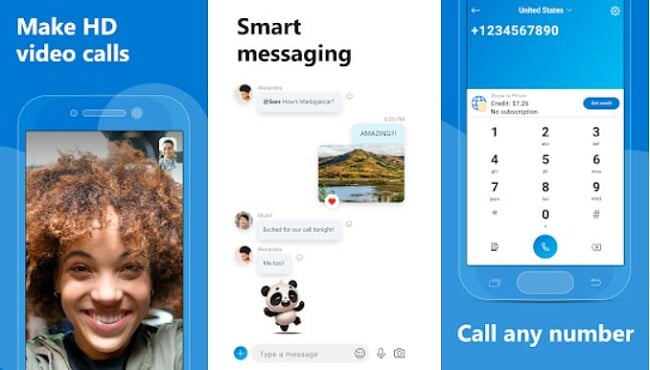 Before Whatsapp, Skype was my go-to app for video calling family and friends. These days, I use it exclusively for business, as the Meet Now group chat is a great way to run a meeting, even though our staff is located all over the world. Similar to WhatsApp and Viber, international calls to other Skype users are free, or you can purchase credits to make inexpensive calls to cell phones or landlines.
Best Free Educational Apps
1. Khan Academy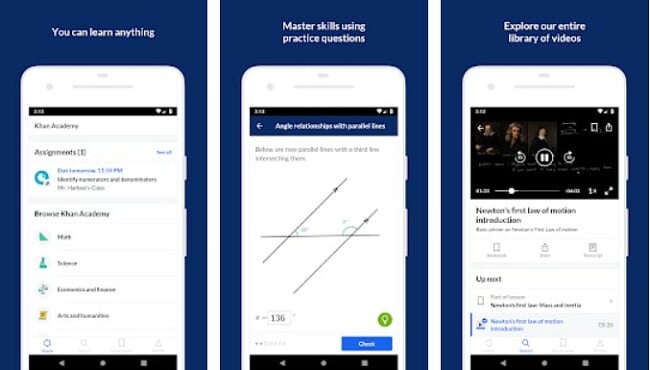 The Khan Academy makes it easy to learn a variety of topics from some of the best minds in the world. The classes are given through pre-recorded videos with a virtual blackboard that the professor uses to explain the course material.
You can use Khan Academy to get ready for big tests such as the SAT, MCAT, LSAT, and other standardized tests.
2. edX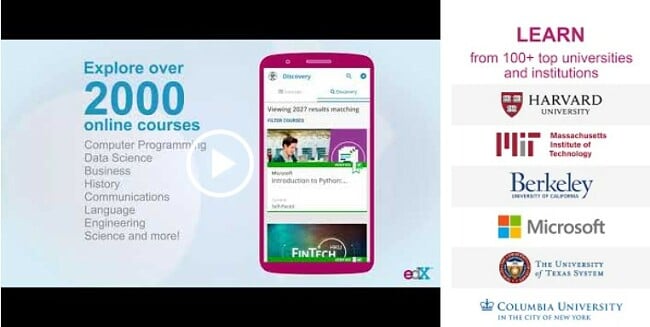 You don't need to get accepted to an Ivy League school to get an (almost) Ivy League education. edX has over 2,000 video courses from the top universities in the world. The classes are free, you'll only have to pay if you want to get university credits and professional certifications.
3. Udemy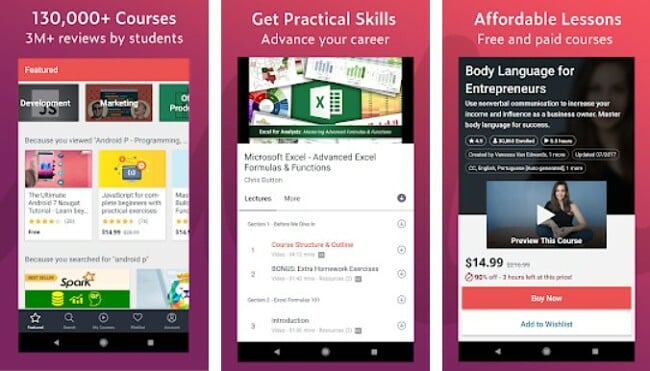 One of the most popular educational apps, Udemy has over 100,000 video courses that range from the arts to marketing to computer science and everything in between.
Udemy is more than just video tutorials. If you have questions about the course materials you can always ask the professor or other students to help clear something up. While there are some courses that require a monthly subscription, you'll find plenty of free courses as well.
Best Free Photography & Editing Apps
1. Instagram
Instagram may be known as a social media platform with fun filters pictures, but it's so much more than that. I like the advanced editing tools such as image sharpness, contrast, cropping, saturation, and of course, professional-looking filters.
You don't need a background in graphic design or even basic photoshop knowledge. The beauty of Instagram is that anyone can edit their photographs and make it look like it was taken by a professional photographer.
2. Snapseed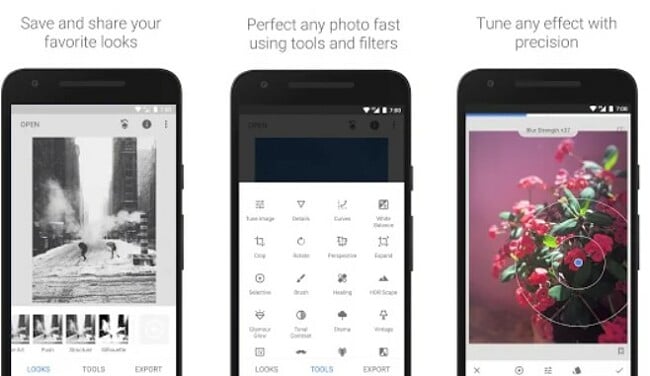 I enjoyed the variety of editing tools from Snapseed. I was able to do the basics, such as remove red-eye and adjust the color and size of the images and more advanced techniques like adjusting curves and levels. I was able to create blurs in specific locations on the pictures and set several different areas on each picture and make adjustments or enhances each specific area.
Not only does it work with JPEGs but you can edit RAW files as well, which is great if you use a DSLR camera and want to edit its pictures.
Criteria for Adding Software to this List
There are millions of apps in the Google Play store and other sites that have APK downloads. Not surprisingly, most of them aren't worth the free download and will end up damaging your phone, compromising your security, or just taking up valuable space on your phone.
My goal in creating this list is to help people load up their Android devices with secure apps that will actually get used. To help me narrow down the colossal list of apps, I used the following criteria to limit the number of apps I tested.
The app must be free. I didn't mind if the app had some features behind a paywall as long as you don't have to make any purchases to get value from the app.
The developers must update the app. If I see that an app hasn't had an update in a few months, I'm instantly suspicious of its security and relevance. Cybercriminals are always looking for vulnerabilities in apps and it's up to the app developers to stay one step ahead and release updates that patch any vulnerabilities.
I read hundreds of app reviews. While it's true that an app is more likely to receive negative reviews than a positive review, I think it's important to see what other users are saying about the app.
Avoid apps that have too many ads. I understand that when dealing with free apps, they will usually include ads, because that's how the developers make a living. However, if the ads were too intrusive or kept popping up and making it difficult to use the app properly, I didn't include it on my list.
Most of the apps I downloaded came from the Play Store, but I did download APKs from other sites well. I used both my Android tablet and Phone, and depending on the app, sometimes both. The apps lost points if they drained the battery, slowed down or crashed the Android device, or didn't work as advertised
FAQ
?Where is the best place to find free Android apps?
Google Play is the best place to download official Android apps. There are several million apps that you can download directly to your phone or tablet, and all the apps have to conform to the Google terms of service to be included in the Play Store.
That doesn't mean that the Play Store is the only place to download free apps. One of the advantages of using an Android is you can download the file (called an APK) from a website and install it on your phone.
Some of the top sites are:
Amazon Store
APKpure
AppsAPK
GetJar
There are several reasons why you might want to download an APK instead of getting the complete file from Play. It could be that the app isn't available in your area, like if you want to download Hulu but aren't in the US, or the app developer doesn't want to submit their app to Google's terms. One good example of this is a parental control app called Qustodio. While it offers a version of the app in the Play Store, if you want the complete version that gives parents more access to the kids' phone, it's only available by downloading the APK from the Qustodio website and uploading it to the phone.
❓ Are free apps safe?
It's impossible to say that all free apps are safe and at the same time, I can't say that all free apps are dangerous. If you're going to download an app that you're not familiar with, take a minute and read the reviews to see what other users are saying, not just on the official review site or website, since those are easy to fake.
Downloading free apps from a trusted site is important. Cybercriminals are skilled at infecting a file with a virus or spyware and just waiting for you to download it to your phone. You can avoid this by only using trusted sites and downloading reputable apps.
⛔️Are there any free apps that I should avoid?
There are hundreds of thousands of free apps to avoid. Some aren't worth the free download and others can actually harm your phone. Avoid apps that don't really have a name – like Free VPN or Free Antivirus. These guys are too lazy to come up with a name, and just want to rank high for those searches. Using small or unknown browsers is rarely a good idea. The best-case scenario is they are overrun with ads and the worst-case scenario is they don't have the security tools needed to protect your data.

Always read the reviews to see what experiences other users have, and be wary of overly positive ones. They often come from the developers or their friends.
⚙️How do I delete the free apps that come with my Android device
One of the biggest complaints I have with Android is there are too many free apps that come built-in on my phone. The apps have always varied, depending on the brand of phone I'm using, but the one constant is that it's not easy to remove them.
To get rid of these apps you will need to root your Android phone, which isn't simple and voids the warranty. If you plan on doing this, make sure you either know what you're doing or find a friend or professional that can root it for you and delete the software.