Quit your procrastinating and download the free Focus To-Do: Pomodoro program to organize your day. Unlike most To-Do apps that I reviewed, Focus To-Do is more of a task manager than a simple list maker. You can set priorities, sub-tasks, reminders, recurring events, and more. The secret to its success is the use of the Pomodoro technique that's designed to help you focus and complete tasks in a timely manner.
How to Download Focus To-Do: Pomodoro for Free
I tried downloading the program from the Focus To-Do website, but there were problems with the file, and it was unable to install. Next, I tried to download it from the Microsoft Store, and that worked without any issues.
Click on the Download button on the sidebar to go directly to the Focus To-Do download page in the Microsoft Store.
Click on the Get button and then on the Open Microsoft Store.

The Microsoft Store will automatically open and begin downloading and installing the Focus To-Do program.
I was surprised that there wasn't an icon on my desktop, and instead, I had to locate the program in the Windows menu and create a desktop shortcut for easy access.
How to Uninstall Focus To-Do: Pomodoro
Type Add or Remove Programs in the windows search bar.

Scroll down and find Focus To-Do in the list of software programs and click uninstall.

The program will be completely removed from your computer.
Focus To-Do: Pomodoro Overview
To-do lists that use the Pomodoro technique (see explanation below) have become quite popular lately, and Focus To-Do is the most complete program that I've tested.
This technique assigns each task a set time and then gives you a break before starting on the next task on your list. Focus To-Do allows you to set the time for each task and the break in between. The default times are 25 minutes for a task and a 5-minute break. After you complete 4 tasks, you'll earn a longer break.
It's available for Windows, Mac, Android, and iOS devices and with a single free account, I was able to sync my task lists with all my devices.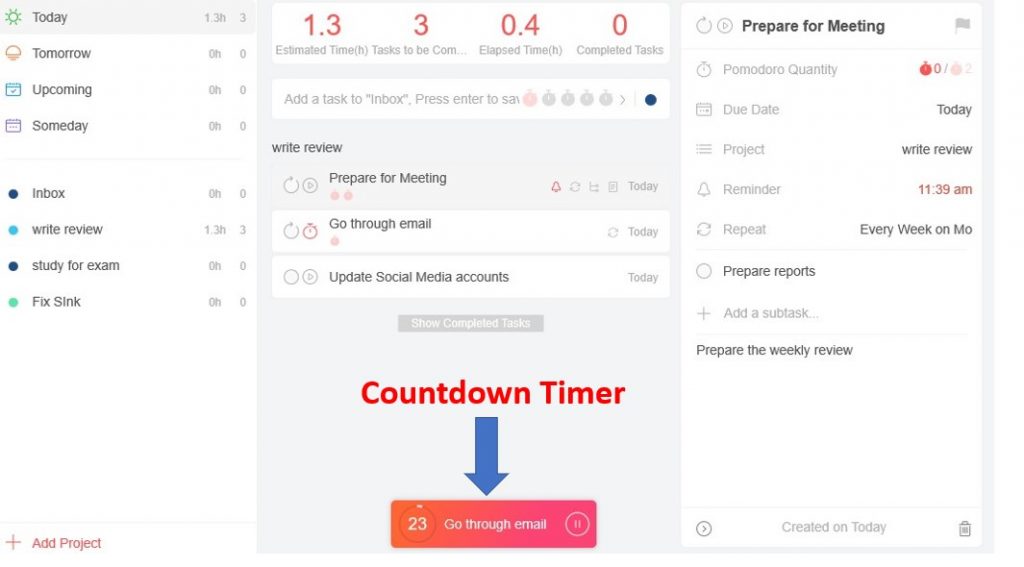 How to Create Tasks with Focus To-Do
Focus To-Do is more than just a to-do list, it's a complete task manager. Create your task and decide how many Pomorono cycles it will need, or if one is enough to get the job done. You can create multiple categories, and add subtasks, priorities, notes, and reminders to each one.
Task Management
The tools you'll get with the Focus To-Do program will help you organize your life, in a way that other apps and programs just can't do.
I like that you can divide your tasks into different categories, such as personal, school, work, fun, etc. and focus on accomplishing all your daily goals. Set a priority with each task so you can focus on getting the important things done first, and not pushing it off in favor of an easier, low priority task.
If you have tasks that have to be completed on a regular basis, you can set up recurring events, by specifying a day of the week, or month for it to appear on your calendar. You'll have the option to set a reminder, so you don't forget what time or which days to get the task done.
Detailed Reports
You'll get a sense of accomplishment with Focus To-Do, not just from actually completing tasks, but from the colorful, detailed reports. It will show you exactly how many tasks you're completing each day, week, and month, and how much time you spent working, in comparison to your total breaks.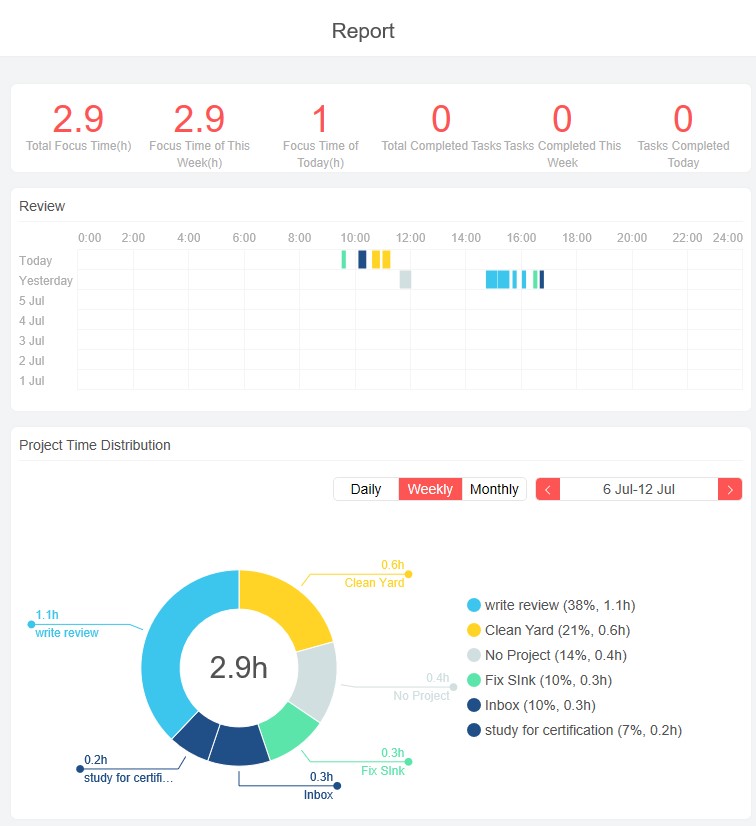 Free Alternatives to Focus To-Do: Pomodoro
Todoist: Earn "Karma points" as you complete different tasks and compare your progress to your family, peers, and coworkers. Todoist is an easy to use to-do list builder, with checklists, priorities, and recurring tasks.
Evernote: While Evernote is much more than a To-Do list app, the popular note-taking app can also fill this need for you. Create checklists, set reminders, and take advantage of the complete formatting features to design your to-do list to look perfect.
FAQ
🤑Is Focus To-Do: Pomodoro free?
While there is a premium version of Focus To-Do that has some extra features, everything listed in the overview above is included in the free version for all platforms.
😇Is Focus To-Do: Pomodoro secure?
I tested the Focus To-Do software and found no known viruses or spyware included in the download file.
All data transmitted on the app is protected with SSL encryption, to make sure that hackers can't gain access to your private data. Furthermore, in the Focus To-Do privacy policy, they guarantee that the company will not transfer or sell any of your data to a third party marketer without your permission.
🤓Can I change the length of each Pomodoro task?
If you go to the settings on your to-do list, you will see the option to change the length from 25 minutes to a shorter span, but that will become the new default for all tasks. There isn't an option to make one task 5 minutes and another task 10 minutes. If you have a task that will take more than the allotted time, you can add multiple Pomodoro segments.
Visit Focus To-Do: Pomodoro Website