6 Best 100% FREE Android Antivirus Apps in 2022 (Mobile & More)
Last Updated by Eric Raue on August 01, 2022
With hackers constantly figuring out new ways to steal your information, it's essential to keep your Android devices safe. That's why I was alarmed to find that most free Android antivirus apps are completely useless at protecting you from cyberattacks. Many couldn't even identify and block malware, while others drained my battery so much that it wasn't worth using.
I spent weeks testing the most popular antiviruses on the Google Play store. To save you time, I shortlisted the top 6 free antivirus apps for Android smartphone, tablet, and more. However, I was disappointed to find that even the best free apps aren't strong enough. For maximum protection, I recommend a low-cost (yet powerful) app like Norton Mobile Security (you can try Norton free for 14 days).
If you're only looking for a decent level of security, Avira Mobile Security is the #1 free Android antivirus app. Avira's virus scanner easily blocked common types of malware, and it even comes with a free VPN and rootkit detector.
Try Avira on Android for free!
Quick Guide: The Best Android Antivirus App in 2022
Update August 2022: Norton Mobile Security isn't a free antivirus for Android, but I've found that its advanced scanner detects all malware targeting Android. You can use Norton's free trial for 14 days to see if it's right for you.
6 Best 100% FREE Android Antivirus Apps (Tested August 2022)
Key Features:
Free Android scanner detects all cyberthreats
Includes rootkit protection and a VPN with its free app
No ads or intrusive app permissions
Works on Android version 6.0 and up
Customer support available via phone and email
Avira Mobile Security has an impressive free antivirus app for Android, especially since it comes with advanced features like a rootkit detector, VPN, and App Permissions Manager tool. This easily makes it the best free antivirus on the market for Android smartphones, tablets, and more.
Avira's virus scanner took under 1 minute to look at almost 4,000 files, and it found several issues affecting app privacy and device speed. Each issue Avira found was accompanied by a button I could tap to fix it almost instantly, either by changing settings on my phone or by turning on certain features of the app.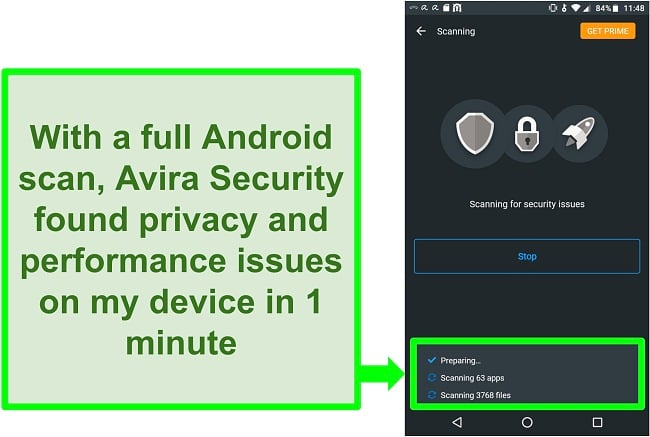 As a bonus, Avira comes with a VPN with 1,400 servers that gives you up to 500MB of data. It connects to the fastest server location automatically (for me it chose Washington, DC), and gives your data an encrypted tunnel that hides it from third parties. The VPN did slow down my Android phone — I noticed websites took longer to load. However, this slowdown was on par with other antivirus VPNs I've tested. Just keep in mind that 500MB isn't much data, so it's only useful for checking emails or simple web browsing.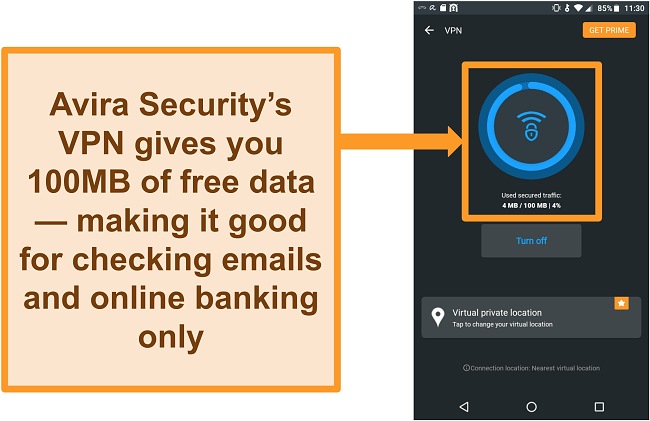 I really don't like it when an app asks for unnecessary permissions (like your camera or microphone). However, Avira never does this — I was only asked for access to my files when I ran the virus scanner. Avira even has a free Permissions Manager tool that shows you which apps are currently requesting intrusive levels of access. It was also great that Avira Mobile Security's free version had no annoying ads, which slow down your Android.
You can protect any of your Android devices with Avira Mobile Security as long as you are running version 6 or higher. You don't even need to create an account or provide any billing information.
Key Features:
Protects against all Android malware with AI technology
Extra features include theft protection and an Android VPN
No ads or personal information required to sign up
Works on Android version 4.1 onwards
24/7 live chat, email, and phone support on the free plan
Panda Dome's free Android antivirus app uses advanced artificial intelligence (AI) to constantly improve its virus definitions. This enables it to defend your Android against malware that's just been released online.
During testing, I was impressed with Panda Dome's detection rate. Scans only took a couple of minutes and had hardly any false positives. I ran the Panda Dome app in the background and didn't notice any slowdown while I used my phone.
I also liked Panda Dome's free Android theft protection. This tool allows you to remotely locate, lock and wipe your Android if it gets lost. However, you need to provide Panda with your email address and administration access to activate the feature.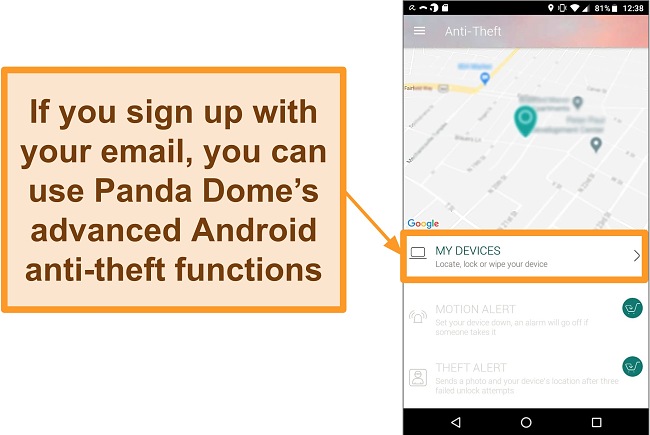 The free Panda Dome app includes a VPN, which provides you with access to a single local server run by the well-known VPN service Hotspot Shield. You'll have 150 MB of free data every day. While this is enough to send emails and visit some websites, you won't be able to stream videos, play games, or download files. I suggest you check our review of Hotspot Shield's free standalone VPN instead — you'll have to download a separate app but you'll have 500MB of free data daily.
The only major downside with Panda Dome's free Android app are the marketing emails. I was pestered daily after providing my email address. However, giving your email is optional and the free features are still available if you don't.
Panda Dome is compatible with all Android devices, so you just need to be running version 4.1 or later. You can download Panda Dome for free on Android and run a full scan as soon as you launch the app.
Try Panda Dome on Android for free
Key Features:
Successfully blocks and removes malware infections on Android
Features include an Android WiFi analysis tool, WebShield, and device tune-up
No ads or invasive app permissions required
Works on any Android device running 5.0 or above
24/7 live chat, email, and phone support
TotalAV's free Antivirus & VPN app for Android includes a WiFi analysis tool, which ensures your Android only connects to secure networks. With the tap of a button, its analysis told me that my connection was safe. This is something I'd like to see in more antivirus apps, as constantly using public WiFi networks can put you at risk.
To get started, I only had to provide my name and email to make an account. Thankfully this only took a minute, and I only get an email from TotalAV about once every 2 weeks. While real-time protection and VPN access requires a premium subscription, TotalAV caught all of the threats on my Android during scans.
Features like its data breach check, WebShield, and device tune-up are completely free. I used the data breach check to find several logins that were compromised, and when I tested the Android tune-up feature I freed up enough space to download an additional app in only a minute.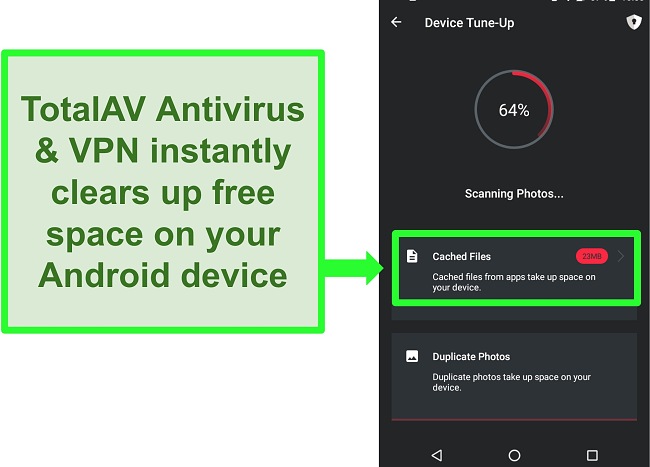 With such effective virus scanning and impressive bonus features like device tune-up, you should try TotalAV for free on your Android and get it running like new. TotalAV makes it easy to avoid the annoying "running out of space" errors, which oftens happen to me when I have too much cached data built up.
Try TotalAV on Android for free
Key Features:
Finds all malware hidden on your Android device
Premium version offers web protection, VPN, anti-theft, and more
Free Android antivirus with no ads or intrusive app permissions
Works on any device running Android 5.0 and up
Offers 24/7 live chat, phone, and email support
Bitdefender's free antivirus automatically scans new apps to check for any hidden malware. You don't have to run a full system scan every time you download a new Android app. All you have to do is let Bitdefender run in the background (I didn't notice any significant battery drain).
When I installed malware test files on Android, Bitdefender scored a perfect detection rate and gave me the option to remove all malware immediately. In addition, I was pleased that my scans completed in about 1 minute and didn't slow down the Android smartphone at all.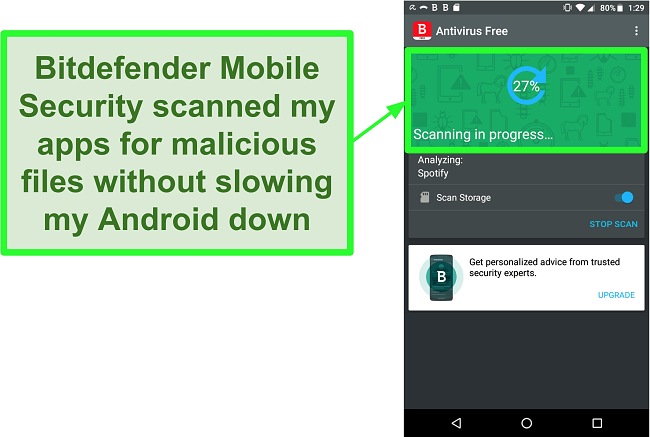 I really liked that Bitdefender Mobile Security is ad-free, with no annoying pop-ups that get in the way when I'm using other apps on Android. It also doesn't ask for unnecessary permissions that could open you up to attacks — all it needs is file access to scan all your apps, photos, and files.
With no need to make an account or enter your payment information, you can try Bitdefender Mobile Security for free right away. I downloaded the app and I was running a free virus scan in less than 2 minutes.
Try Bitdefender on Android for free
Key Features:
Virus scanner protects your Android from all malware
Includes link scanning, root status checker, and WiFi security
Free Android app with no ads, no intrusive permissions, and no account required
Works on Android devices running 5.0 and up
Only email support available
Sophos Intercept X automatically scans links and protects you from phishing scams and malicious websites for free. The Android app identifies and blocks these harmful links by relying on its own detection technology and crowdsourcing publicly-available reputation scores. Given how common malicious links are on Android, I find it a huge relief that Sophos provides specialized protection in this area.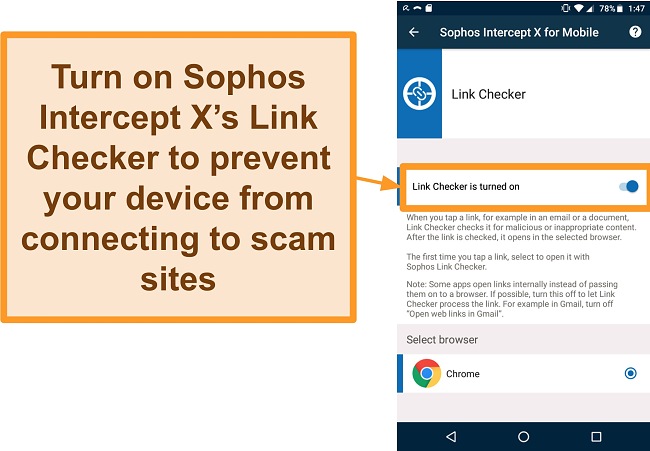 The free Sophos Intercept X app also comes with other security features. Its Root Status checker finds out if a hacker has already secretly taken over your device. There's also a WiFi security feature that warns you if you've connected to an unsafe network on your Android.
Sophos didn't slow down my Android phone at all, even when a scan was in progress. On top of its fast performance, Sophos has an accurate detection rate that will keep your device safe from the newest types of Android malware.
I suggest you try Sophos for free on your Android device. Since it doesn't affect my device performance and I get a lot of suspicious emails, I like to keep it running in the background so I don't accidentally open any harmful links.
Try Sophos on Android for free
Key Features:
Detects almost all malware on your Android
Call filter for Android phones to cut down on annoying spam calls
No ads or personal information is required to sign up
Works on Android devices running 4.3 or higher
Provides 24/7 live chat, email, and phone support
Kaspersky Internet Security for Android has some useful free features to secure your device. I liked the call filter, which allows you to block certain numbers and receive notifications whenever a blocked number attempts to call. Another useful feature is the anti-theft tool — it can even trigger an alarm and take a picture of the perpetrator with your Android's camera.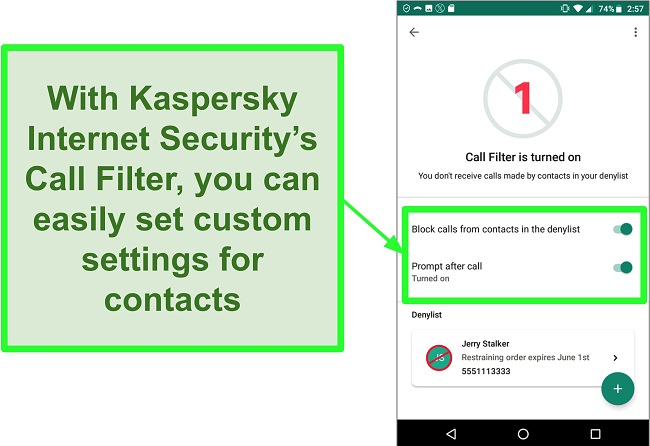 Unfortunately, Kaspersky's free plan doesn't include real-time virus protection. This leaves your Android device vulnerable to recently-released malware. However, the app can successfully detect existing forms of malware. In tests, Kaspersky's virus scanner achieved an impressive detection rate.
I recommend you try Kaspersky for free on Android and test out its features on your own device. It's very quick and simple to get started — you don't even have to create an account to download and use the app.
Try Kaspersky on Android for free
Key Features:
Detects all malware threats on your Android device
Includes WiFi security, safety check-up, app scanning, and malicious link detection
24/7 live chat, email, and phone support
Ad-free and no unnecessary app permissions required
Works on Android phones and tablets (6.0 or later)
Even though it's not free, Norton is the best antivirus I've tested for Android — and you can use its free trial for 14 days! Along with a perfect virus detection rate, Norton has some of the most advanced bonus features I've seen in any Android antivirus.
I especially like the App Advisor feature, which scans Android apps and gives you a safety score. This is perfect for someone like me, who enjoys downloading the latest gaming apps onto my Android smartphone. The App Advisor tool makes it much safer for me to download unknown apps and protect my personal data.
When I conducted a full system scan, Norton even showed me potential privacy risks and highlighted the apps draining my Android's battery life. The full scan took under 2 minutes and didn't slow down my smartphone while I used it.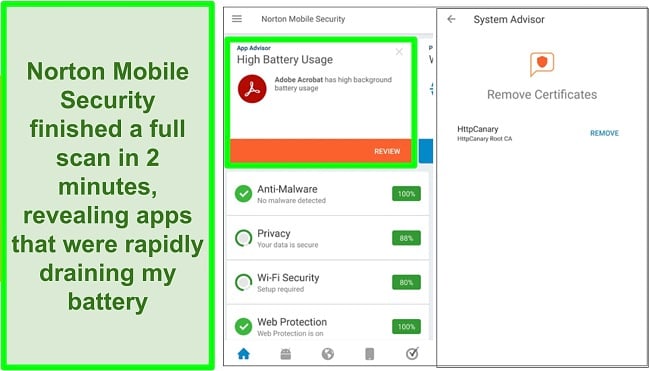 There's also additional features like WiFi security (which protects you from unsafe public WiFi networks) and a safety check-up tool that identifies security vulnerabilities on Android.
You can try Norton Mobile Security for free for 14 days. To activate the free trial, all I had to do was download the app and sign up. I canceled my account after 10 days and I was never charged. It's a great way to see how powerful Norton is for yourself.
Comparison Table: 2022's Best Free Android Antivirus Apps to Download
Free Antivirus Apps That Didn't Make the List
1. Avast and AVG
Even though they have 4+ ratings on the Google Play store, I can't recommend AVG or its parent company Avast. Unfortunately, Avast was caught collecting and selling user data without their permission, which is a huge breach of ethics and trust. On top of this, the free AVG and Avast apps are full of ads, which slowed down my Android smartphone (especially while using the web browser).
Many other free antivirus brands have never sold your data and are totally ad-free — so there's no point in risking your personal information with AVG or Avast.
2. Trend Micro
In tests, Trend Micro couldn't detect Trojans and flagged more false positives than the free Android antivirus apps on this list. Since Trojans are programs that imitate legitimate software, they're one of the biggest threats to Android. I recommend you try an Android antivirus like Norton, which can keep you safe from all types of malware.
3. Google Play Protect
Google Play Protect is the official Android security app and it's completely free. Unfortunately, it's proven to be ineffective against real-time cyberthreats. Independent testing lab AV-Test found that Google Play Protect couldn't reliably detect 2 out of 3 malware attacks. Out of 1,260 apps, it also mistakenly flagged 24 apps that were actually legitimate software (the industry average is only 2). While Google Play Protect does offer some protection from the occasional piece of malware, you can't rely on it as a full-fledged antivirus.
How I Tested and Ranked the Best Antivirus for Android in 2022
I ran all my tests on a Motorola Moto E5 Play (Android version 8.0.0). Below are the criteria I used when testing the top antivirus apps for Android.
Virus and malware scanner — I ran malware simulators and looked for antivirus programs that kept my Android secure with accurate scanning and real-time protection.
Performance — The last thing you want is an antivirus that slows down your Android or uses too much battery. While each antivirus app was running, I checked for battery drain and measured how fast my other apps responded.
Extra features — The best free apps come with online security and privacy features, such as a VPN and WiFi network scanners.
Business model — Many free antivirus apps secretly make a profit from the private data stored on your Android device. I thoroughly vetted each antivirus company to ensure none of your private data is being sold or shared.
Safety Tip: Only download an antivirus app from a trusted source. Unfortunately, the Google Play store isn't one of them as it's flooded with knock-offs and scam apps. I strongly recommend you download an antivirus directly from the company's official website (and all the links in this article will take you straight there).
Try Norton for free for 14 days
FAQ: Free Antivirus App on Android Phone and Other Devices
Do I really need an Android antivirus?
Yes. While the Google Play store has its own protective filters, the truth is that it simply can't keep up with all the fake and malware-ridden apps. Hundreds of apps are released onto the Google Play store every day, and it only takes 1 wrong download to infect your Android. The consequences can be minor — the app might simply not work. However, you also run the risk of downloading adware, spyware, or even rootkits, which could seriously damage your Android or give hackers access to your banking apps.
A free antivirus will provide you with a basic level of protection for your Android, which is the absolute minimum I recommend. If you're extra security conscious, I'd recommend using an affordable premium solution like Norton Mobile Security. You can even use Norton's 14-day free trial to make sure your device isn't already infected and do a security check-up.
What's the best free antivirus app for Android?
Based on my tests, I found that Avira Mobile Security is the best free antivirus. It even includes features usually reserved for premium antiviruses, like a VPN, rootkit detector, and app permissions manager.
However, Avira Mobile Security isn't enough to rely on by itself. For maximum protection from all types of online threats, you're better off with a low-cost Android antivirus app like Norton Mobile Security. Norton can even check apps before you download it onto your Android device, which prevents you from accidentally installing malware. Norton has a free trial for 14 days — if you try it and don't like it, you can always download Avira's free version and get basic Android protection.
Is it safe to use a free antivirus app on Android?
It depends. To save you time and risk, I tested all the top free Android antivirus apps in the Google Play store — and I found there are some free apps that are safe and effective. However, I found plenty with 4+ ratings that don't work well (or are actually fake apps and malware in disguise!). Others were legitimate, but hardly ever got updated and couldn't keep up with new cyberthreats in my tests. You should always be extremely careful when downloading an app from the Google Play store.
Can I use an Android antivirus app on Chromebook, tablet, Android TV, or Amazon Fire Stick?
Yes. I tested all the most popular Android antivirus programs, and I found 6 decent free apps for all Android devices. You can download them in just a couple of taps on your Chromebook, tablet, Android TV, Amazon Fire Stick, and other Android-based devices.
However, if you want premium protection for Android that goes beyond the basics, I suggest you try Norton Mobile Security with the 14-day free trial.
Try Norton for free for 14 days
Protect Your Android Devices With a Free Antivirus
I was alarmed by how many Android antivirus apps were useless, fake, and even dangerous. I did manage to find some decent free options though. I was especially impressed by Avira Mobile Security, which also comes with a limited VPN.
A free antivirus does offer a basic layer of protection (and it's certainly better than nothing!). However, I was disappointed to find that even the best isn't strong enough to protect your Android from advanced cyberthreats like phishing scams, identity theft, and malicious links.
If you have sensitive or personal information stored on your Android device, I strongly recommend a low-cost antivirus. Norton Mobile Security is an affordable premium Android antivirus that catches even sophisticated threats. It includes valuable tools like a malicious link filter and a device security checker that finds every major vulnerability you have on your Android. Best of all, you can download Norton on Android for free for 14 days.
---
Summary — Best Free Antiviruses for Android in 2022