Trend Micro

Antivirus Review 2022: Too Good to Be True?
Trend Micro Overview July 2022
Trend Micro claims that its innovative, machine-learning technology will keep your device free from malware, protect your sensitive data, and keep your children safe. I wanted to know if all these features justify the above-average price point, so I put the program through extensive testing.
The results surprised me — the antivirus excels at warding off all types of malware safeguarding your online privacy. That said, Trend Micro's affordable plans lack many essential features, offer few licenses, and don't cover all device types. To secure your family's PC, Mac, Android, and iOS devices with Trend Micro, you'll need to splurge on one of its pricier plans, such as Maximum or Premium Security. To see if these plans are worth it, you can even try Trend Micro with the 30-day money-back guarantee.
Try Trend Micro risk-free for 30 days!
In a Rush? Here's a 1-Minute Summary
Security - 10
Relying on machine learning technology, Trend Micro excels at finding, removing, and blocking various malware forms, including brand-new, unknown threats. And if that's not enough, the program has an immense assortment of functions that help safeguard your privacy, identity, financial data, and online activities from cybercrime.
Virus Protection — Block All Malware With Robust Virus Scans and AI-Learning Threat Protection
Trend Micro surprised me with its thorough virus scanning and impeccable real-time protection. I ran the program's two sole scanning options, the Quick Scan and Full Scan, and both detected every malware sample I stored on my test machine. Overall, Trend Micro successfully detected 100% of malware.
The Quick Scan took 6 minutes to cover 1,276 files, including host files, browser settings, currently open executable files, and programs that automatically load when the computer starts. For this type of limited scan, 6 minutes is a standard processing time among most antiviruses.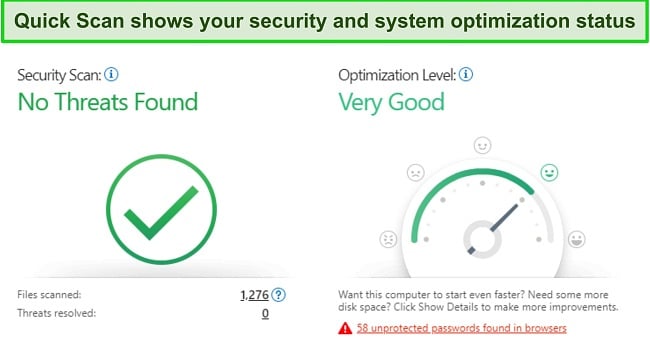 Next, I ran the Full Scan, which examined every single file on my test computer and flagged each infected sample. My first Full Scan went through 422,947 files in 18 minutes — roughly as much time as industry-leading antiviruses, such as Norton, need to perform a full scan.
The second Full Scan I ran, however, only assessed 8,180 files and lasted 11 minutes. It's what Trend Micro calls a "Journal Scan" — a second or any subsequent Full Scans performed within 24 hours of each other, which only cover files that changed the scans. I thought this was a great time-saving feature, as it omits recently examined files that had no changes in the last 24 hours.
To see how well Trend Micro detects new, unknown threats, I opened several sample emails and web pages with newly-discovered Trojans, worms, and other malware types. Trend Micro blocked each sample and did not falsely flag any of my harmless files. This is an outstanding result that matches market-leader Norton's.
Browsing Protection — Stay Away From Malicious Sites and Email Scams
Trend Micro boasts a vast selection of useful tools that help you browse the net safely. You can find most of these in the Trend Micro desktop app or the browser extensions that the program will automatically prompt you to download once you activate your license and open a browser window.
You can configure the program to warn you when you connect to a potentially dangerous WiFi network or hotspot — a convenient feature when you're forced to rely on networks you don't know. I tried connecting to an unsecured hotspot, and Trend Micro warned me right away that this connection could give a stranger access to my computer.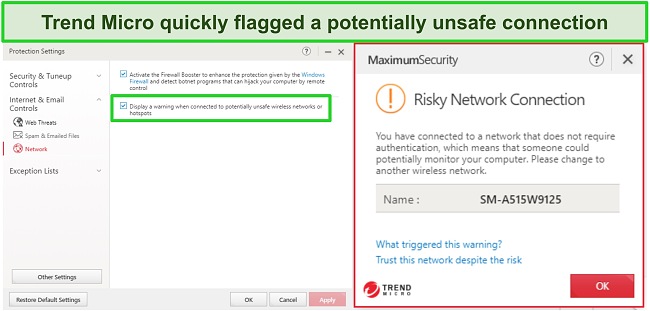 I'm happy to report that Trend Micro also effectively blocks dangerous sites and stops your browser from running malicious scripts. Trend Micro stopped my attempts every time I tried to open a known harmful website during my tests.
Trend Micro's Fraud Buster shields your Gmail and Outlook from phishing attempts, scams, and suspicious emails. When I activated this feature in the browser extension, it generated reports for every email that I opened. This way, I could rest assured that any links I click on within a message do not contain a threat.

Unlike Norton 360, Trend Micro doesn't have its own firewall. That said, the program comes with a Firewall Booster — a feature that strengthens the Windows Firewall and prevents botnet attacks that could hijack your device. With the Firewall Booster turned on, I felt assured that my sensitive data wouldn't be compromised, and my machine wouldn't be used to distribute spam.
Privacy Protection — Shield Your Private Data From Strangers on Social Media
Trend Micro's convenient privacy protection console lets you control your privacy settings across various social media apps from a single interface.
With the Privacy Scanner feature, I was able to configure my settings on Facebook, LinkedIn, and Twitter, without having to do it in each app individually. The Scanner also showed me which settings left my personal information exposed to strangers.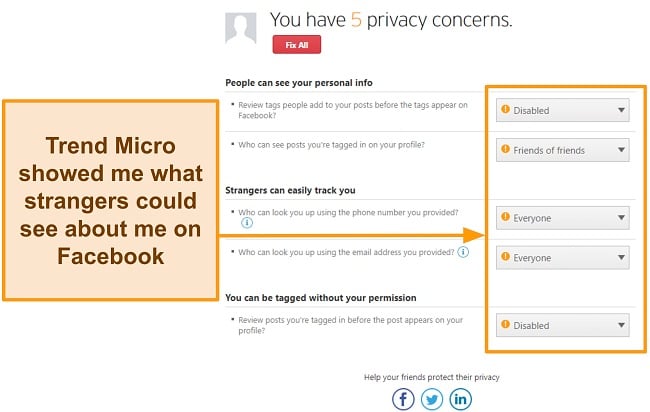 Also part of the Privacy Protection interface, the Social Networking Protection keeps you safe on Facebook, LinkedIn, Mixi, MySpace, Pinterest, Twitter, and Weibo. I opened my LinkedIn page with this feature on, and Trend Micro showed me which links are safe to click on. Social Networking Protection works when you access these social media apps through the Edge, Chrome, and Firefox.
I found the Pay Guard function to be another useful privacy tool. The feature gives you a dedicated browser window through which you can bank securely. It uses your default browser, but adds another layer of protection against browser injections that can put your personal and financial data at risk. The Pay Guard feature conveniently comes with its own desktop shortcut, so you don't need to waste time looking for it in the Trend Micro console.
The Data Theft Protection function concludes the list of Trend Micro's privacy features with a simple way to shield your important information from theft. To use it, all I had to do was enter bits of my sensitive data, such as 4 digits of my credit card, or a few letters from my home address. Then, Trend Micro started blocking all communications containing my personal information.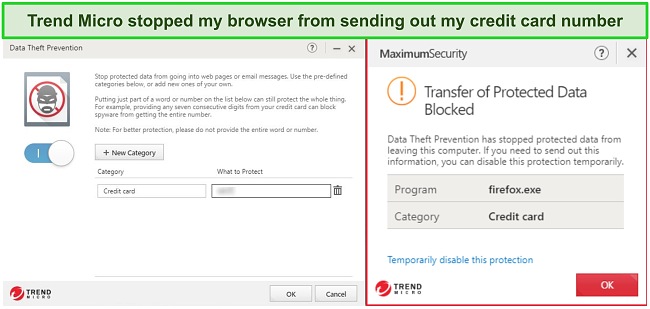 Data Protection — Safeguard Your Sensitive Files and Folders From Hackers and Unauthorized Access
Trend Micro has plenty of helpful features that can safeguard important files on your computer. These are available with all the more expensive, comprehensive plans Trend Micro offers.
To keep your files safe from ransomware attacks, you can place them into the Folder Shield. The Shield prevents all processes — apart from those which you exempt — from accessing the files it protects. During my testing, the Folder Shield blocked every bit of sample malware from trying to encrypt these files.
Deleting a file doesn't erase the actual data, so I was happy that Trend Micro included a Secure Erase feature into its assortment of data protection tools. With this feature, Trend Micro overwrites the file you want to delete with random data, making its retrieval impossible for anyone. For added security, you can get Secure Erase to overwrite your unwanted file 7 times.
I was a fan of the Vault feature, too, as it provides a quick, simple way to lock away your files if your device falls into the wrong hands. Just place your most sensitive files into the Vault, and take note of the link the app provides as that's the only way to get your files back. If you lose your computer, follow the link from any other device, and the Vault will be secured.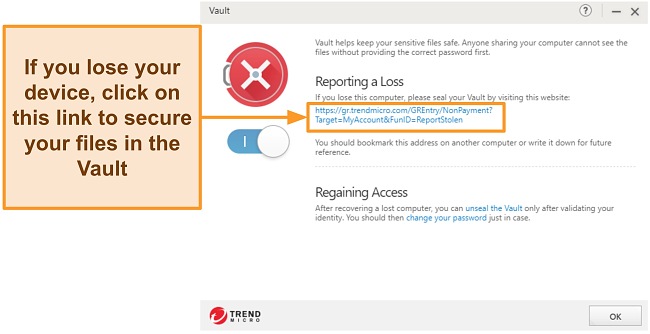 Performance — It's Feature-Heavy But Lightweight, So Your Device Performance Won't Suffer
I was pleasantly surprised that Trend Micro had little effect on system performance. While I tested the antivirus, I paid particular attention to how fast my regular processes are executed with Trend Micro running in the background. The only time I felt a slow-down was when I tried launching applications. These results are typical across the antivirus market, although some premium contenders, such as TotalAV and McAfee, did not cause any negative effects on system performance during my team's tests.
Try Trend Micro risk-free for 30 days
Features - 8
Trend Micro may have fewer features than antivirus competitors, but every feature performs very well. The program's set of Parental Controls rivals that of industry-leading Norton, while its device optimization tools cover a range of ways to clean up and speed up your computer. I liked that all these features are intuitively organized and are simple enough to configure.
Parental Controls — Manage, Monitor, and Catch Bad Habits Early
While I tested Trend Micro, I found a comprehensive suite of features that can help manage a child's online presence.
Through a simple console, you can place limits on the software and websites your children can use, and configure the browser to block inappropriate results.
There's also an easy way to schedule when your child can go online, and block specific programs from running at set times. This way, you can rest assured that your machine won't distract your children from homework or other essential activities.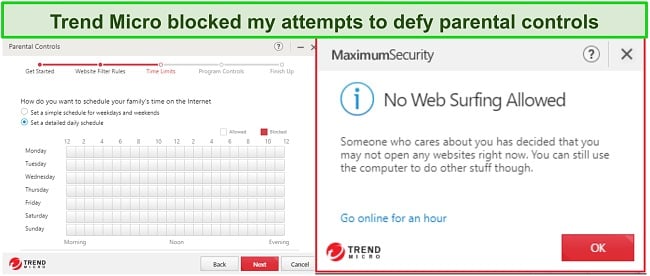 Crucially, Trend Micro lets you monitor which sites your children visit, and what apps they use. With detailed reports of these activities, you can identify dangerous habits and deal with them before they progress.
System Optimization — Clean Your Device and Boost Its Performance
Trend Micro has several useful, though fairly standard, system optimization tools. Conveniently, the antivirus starts looking for ways to boost your device's performance during the initial Quick Scan.
You can also launch these optimization tools anytime from the Health Checkup feature in the Trend Micro app. Here, I could find and uninstall programs that conflict with Trend Micro, speed up my computer's boot time by disabling programs that launch with the OS, and wipe my drive off junk files. I loved the convenience of having these controls in one, single console.
Password Manager — Use a Single Password to Store All Your Login Credentials in One Place
Trend Micro's Password Manager provides an easy way to manage your passwords and autofill settings in Chrome, Firefox, Edge, and Internet Explorer. You'll need the Password Manager extension for these browsers, but Trend Micro will automatically prompt you to install it after you activate the feature in the desktop app.
Once I had the extension installed, I had to set up a master password. Then, Trend Micro let me easily store my login credentials for all my online accounts. I was also able to add my personal and contact information, along with my payment methods, into the Password Manager's autofill function.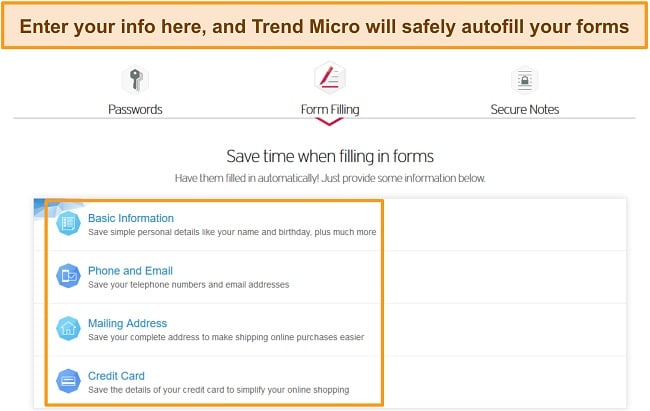 Mute Mode — Work and Play Uninterrupted
The Mute Mode is a useful feature when you need to focus on a specific task, be it work or gaming. Trend Micro frequently notifies you about blocked threats as it runs in the background, but with Mute Mode on, you can work quietly or play games uninterrupted. You can activate the Mute Mode to stop all notifications for up to 24 hours, at which point you'll have to reset it.
WiFi Protection VPN — Browse Privately on Public Networks
Trend Micro's VPN feature — referred to as "WiFi Protection" by the company — gives you a degree of privacy but lacks many standard features of a real VPN service.
You can purchase the WiFi protection feature on its own, or get it with your Premium Security bundle as I did. Keep in mind though, it's a standalone app that you have to download separately, whether or not it's bundled with the antivirus.
Unlike premium VPNs that give you access to a global network of servers, Trend Micro's VPN offers few ways to configure your secure connection. It relies on Amazon Web Services' servers to channel your data, all of which are based in the US. During my tests, I was not able to switch between these servers — I could only turn the VPN on or off. In contrast, Norton 360 offers 30 global server locations with its VPN, so you can actually use it to access geo-blocked content if you're traveling overseas or experiencing technical issues with your local IP address.
My other major complaint is that the WiFi protection feature significantly slowed my internet connection. However, this is typical of VPN services that you'll find bundled into an antivirus.
Despite the VPN's faults, I was able to configure the service to activate any time I was using a public WiFi network — this way, my identity, location, and activities always had a layer of protection. To see how secure Trend Micro's VPN connection is, I ran a DNS leak test, and I'm glad to say there were no leaks that could leave my data exposed. To me, these results are sufficient to feel comfortable about my online privacy and security.
Try Trend Micro risk-free for 30 days
Ease Of Use - 8
Overall, both the desktop and mobile apps are straightforward enough to let a user without tech knowledge to get by without issues. I was a bit confused when downloading the desktop app, as some features come with their own apps and shortcuts that I had to download separately. After installing these, I was able to use the app without any problems. The mobile app was simple to download, install, and use.
Trend Micro supports a decent variety of common devices. You can use the antivirus on Windows 10/8/7, Mac High Sierra +, iOS 9.0 +, and Android 4.1+.
Trend Micro warns about other antiviruses affecting performance, but I didn't experience problems when running Trend Macro and TotalAV at the same time, both on my desktop, Android, and iOS smartphones.
Desktop App — Access Every Feature From 4 Convenient Tabs
Installing the desktop app can be overwhelming, but it's simple enough to use once you've set it up.
When you install the Trend Micro app after paying, you'll see several new desktop shortcuts appear. These include the Maximum Security app (a bit confusing if you paid for the Premium Security Suite), the Pay Guard, and the Vault. You can access these last 2 features from their respective apps, or from the Maximum Security console. Either way, you'll need to sign in, either with your Trend Micro web account credentials, or the license key you get right after payment.
Strangely enough, the VPN app — or WiFi Protection — does not download automatically like the Pay Guard and the Vault. You must log into your web account and install it separately, then sign in with your Trend Micro username and password, or the license key.
After I installed and activated the apps, I had no trouble using them. The Maximum Security console sorts all the functions under four, straightforward tabs — Device, Privacy, Data, and Family.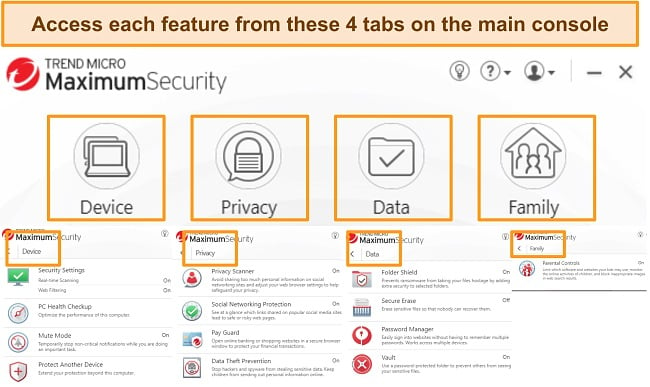 I was also a big fan of the quick introductions that Trend Micro gives for every feature that you open (you can turn these off if you like).
Mobile App — Strike a Balance Between Security and Function
Both the Android and iOS take seconds to install and set up, both share the same, user-friendly interface.
Like the desktop app, Trend Micro Mobile Security showed me the security, privacy, and system optimization tools in one, convenient location.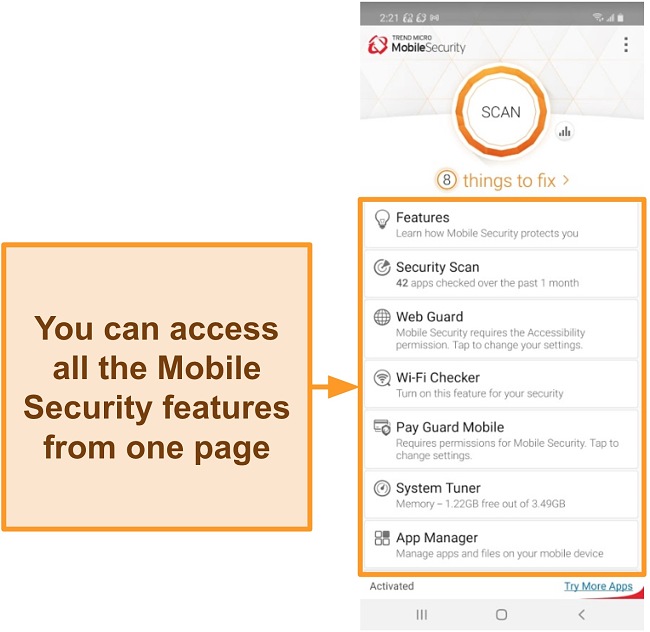 That said, I found that some functions appear under a different name. For instance, the VPN, or WiFi Protection in the desktop app, is called Web Guard in Mobile Security. There's also a separate WiFi Scanner, which checks whether the network you're connected to is safe.
Apart from the straightforward user interface, I was pleased to find that Mobile Security lets you adjust your smartphone's protection strength levels between low, normal, and high. I tried all 3 levels, and found that 'high' was needlessly restrictive, unless you're storing ultra-sensitive data on your device. For instance, under the 'high' protection level, Mobile Security recommended that I delete several harmless apps, just because they have access to my location and camera. The 'normal' level, on the other hand, strikes a better balance between device security, functionality, and performance.
Support - 9
Whether you have a technical or billing query, Trend Micro's support center has a range of effective means for you to resolve your issue promptly. I tested all the support options, and found the live agents knowledgeable and thorough.
Live chat and phone support are both fantastic options for immediate assistance, though 24/7 phone lines are only available to Premium customers. Trend Micro also has an extensive library of troubleshooting guides and FAQs, with a convenient search bar that expedites your quest for answers.
Online Resources — Find Answers Quickly From a Convenient Search Bar
I was highly impressed with Trend Micro's well-curated library of support articles. There are thorough, simple guides for a range of issues with each of the company's products.
While testing the antivirus, I had trouble activating the Password Manager extension in my Firefox browser. I quickly found a solution by looking up the error message in the Help Center's search bar. The troubleshooting guide clearly explained how to install the extension's root certificate, and I had the program working in under 5 minutes.
Email Support — Prompt Replies and Follow-up Emails
Email support offers another speedy way to resolve your queries. I emailed Trend Micro when I couldn't find the VPN feature in my Windows app. I had a response in roughly 7 hours, and the solution helped me find the VPN app (officially called WiFi Protection), and download it quickly.
I was a fan of the quick response, and the subsequent follow-up emails that asked me if my issue was resolved.
Phone Support — 24/7 Help for Premium Customers
Trend Micro's level of phone support varies depending on your subscription.
For standard users (up to Maximum Security), phone support is available during business hours from Monday to Friday. In the Americas, you can phone for help between 5AM and 5PM Pacific Standard Time, whereas in Europe, Africa, and the Middle East, phone lines are open from 8AM to 5:30PM Greenwich Mean Time. In Asia-Pacific countries, the phone operators are available at different times, but typically during the business day. I found this information on Trend Micro's contact page. Premium members benefit from 24/7 live support.
I called support to ask why I got so many individual desktop shortcuts after installing the Premium Security suite. The agent was polite and knowledgeable, and promptly explained that features like the Pay Guard and the Vault have their own shortcut, as well as controls in the antivirus app.
Live Chat — The Quickest Way to Get Help
The live chat responses take a bit longer than those of other antiviruses, but the agents are patient, knowledgeable, and helpful. I was impressed that the live chat was available in 29 languages.
I used the live chat to ask for my money back after testing Trend Micro, and before I got to speak with an agent, I had to fill in a quick form. After submitting it, I waited less than 1 minute before an agent came online to assist me; he was quick and pleasant, and processed my query without significant delays.
Price - 6
Despite its stellar malware protection and wealth of useful features, Trend Micro seems a bit overpriced. Only one of its plans — Maximum Security — offers real value for your money, and can easily compete with market-leading Norton 360. The slightly cheaper plans offer less protection and cover fewer devices than similarly priced plans from Norton.
30-Day Free Trial — Don't Pay Up Front Before You Try
You can try these Trend Micro plans for free, without paying anything first:
Maximum Security
Internet Security
Antivirus + Security
You get access to all the features that come with these plans, and have the option of canceling or signing up for a paid subscription once your trial period expires. You can modify your plan before you make your payment.
Antivirus + Security — Overpriced and Lean on Features
This basic plan is overpriced compared to other premium antiviruses. Antivirus + Security only gets you Trend Micro's antivirus scans and real-time protection, and guards your device ransomware attacks and email scams. You can only protect a single, Windows, device with this plan.
In contrast, Norton 360 Deluxe costs the same but gives you a better security suite. This includes a VPN, a password manager, parental controls, 50GB of cloud backup, the Safe Cam feature, and a firewall — all for 5 PCs, Macs, smartphones, or tablets.
Antivirus for Mac — Too Expensive for a Single License
This plan is identical to Antivirus + Security in price and features, and covers only one device. The only exception is, that it's tailor-made for complementing the MacOS security system. Considering that Norton 360 Deluxe gives you much more functionality for the same price, and covers up to 5 devices, Trend Micro's Antivirus for Mac offers little value for your money.
Internet Security — The Plan They Don't Want You to Get
For 30% more, Internet Security covers 3 devices (only Windows computers, inexplicably), and includes parental controls, social media privacy tools, and device optimization features. While you're getting a better deal than with Antivirus + Security, Internet Security still doesn't measure up to Norton Deluxe. With Norton 360 Deluxe, you can cover 5 devices — Windows, MacOS, and smartphones and tablets — for a lower price.
Maximum Security — Get the Most Value for Your Money
Maximum Security is the best value deal. This plan costs exactly as much as Internet Security, but you get coverage for 5 devices that may include Windows, MacOS, Android, iOS, and Chromebook. You also get the convenient Password Manager with this plan.
Premium Security Suite — Feature-Rich Plan, 24/7 Phone Support
While it's almost double the price of Maximum Security, the Premium Security Suite can protect up to 10 devices, and adds the Data Theft Protection, and WiFi Protection. It also comes with 24/7 phone support for technical queries. I'd recommend the Premium Security Suite if you want to cover all your family's devices, and prefer immediate access to a live agent over the phone.
Premium Service Bundle — Expert Remote Help, but Only Once
This bundle will leave you reassured that you'll get prompt, professional assistance if your device ever suffers a cyberattack that the antivirus can't handle; however, Norton still gives you more for less. All of Norton's paid plans include the Virus Protection Promise — a feature that entitles you to a Norton expert's help in removing malware that got past Norton's defenses.
The Premium Service Bundle includes all the features of Maximum Security and covers 5 devices, plus a one-time virus and spyware removal, and a one-time PC security checkup.
Ultimate Service Bundle — Unlimited Expert Remote Assistance
The Ultimate Service Bundle is a much fairer deal. It costs slightly more than the Premium, but provides unlimited professional malware removal and PC security checkups. The plan also offers the same features as Maximum Security.
30-Day Money-Back Guarantee
Like most premium antivirus services, Trend Micro lets you try all its paid plans with a 30-day money-back guarantee. After extensive testing, I wanted to see if this guarantee actually works, so I contacted Trend Micro's support over their live chat.
The entire process took roughly 20 minutes, which was a bit unusual for me — most other antiviruses that I tested, including industry-leading TotalAV, process refunds in 5 minutes or less. The agent asked for my license number and reason for canceling, and when I told him that Trend Micro didn't support my 10-year-old Mac, he actually found an installer for me. I was pleasantly surprised but still insisted on the refund, so the representative offered to extend my license for 3 months beyond the initial year for free.
When I declined, the agent processed my request. I received a confirmation email 2 days later and the money returned to my account within 7 business days.