Sophos

Review 2022: Why You Shouldn't Pay for This Antivirus
Sophos Overview July 2022
Sophos has been developing antivirus software for decades, so I was curious to know if it was still any good in 2022. I especially wanted to compare its free version with the paid packages, and find out whether it's worth the upgrade.
My team and I ran Sophos through a series of tests on Windows, Mac, Android, and iOS. In short, Sophos has excellent malware detection rates on both free and paid plans. I'm pleasantly surprised by the free version. While it does lack advanced ransomware protection and a few other security features, it provides fairly good protection against most types of cyberthreats at zero cost.
The paid Sophos packages were okay, but I don't think the prices justify the extra cost. You can easily find much better value for money from industry-leading antivirus brands. For instance, even Norton 360's cheapest plan has a 60-day money-back guarantee, password manager, parental controls, and VPN. That being said, you might not want (or need) maximum security for your devices. If so, you'll find the Sophos free plan is good enough for basic malware protection.
In a Rush? Here's a 1-Minute Summary
Security - 8
Sophos impressed me with its high-quality security, particularly as most of its anti-malware features are available on its free plan. While it did have a significant impact on system performance, I was thrilled with its fast virus scan and effective real-time protection. I was also pleased with its success rate at blocking harmful downloads and scam websites, with test scores similar to what you'll find in top-rated security services like Norton. That said, new malware threats are released every day. While Sophos performed well in tests, my results may differ from yours.
Virus Scan — Scans Are Fast but Have Limited Options
Unlike other antivirus packages, Sophos only has a single scan option — there's no fast scan and zero customization options (even on the central Dashboard). This left me wondering exactly what Sophos had inspected on my Windows PC, especially considering the initial scan took a little over 10 minutes to complete. In comparison to Norton's 12 minute full-system scan, this is pretty fast.
Details were very limited, with no information on how many files were scanned. The only information I was given was that Sophos discovered 99 tracking cookies on my computer. No other malware or threats were found on my device and subsequent scans were fast, taking as little as 5 minutes to complete.
However, when I clicked "Delete All," I was disappointed to find that all but 3 cookies failed to delete. There was no reason given for the failure, even on the Sophos Dashboard. Fortunately, this turned out to not be a big deal — Sophos successfully deleted all tracking cookies after I ran a second scan. I'm not sure why Sophos failed to delete the cookies the first time, but after running multiple test scans I didn't have any more issues.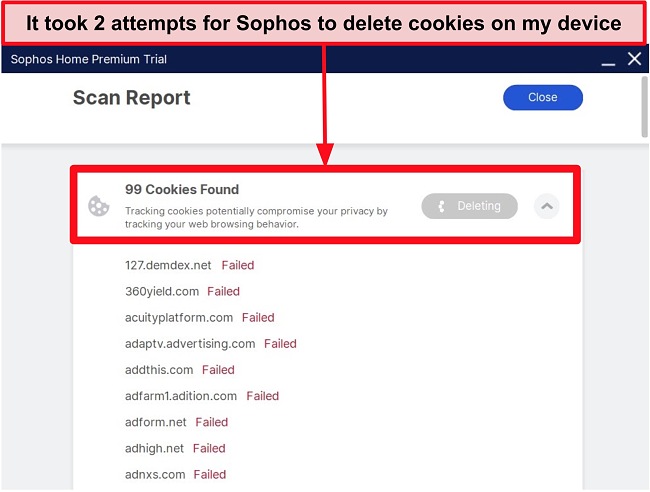 On the plus side, Sophos didn't flag any files or apps as malicious when they're not — for reference, the industry average is 16 false reports. This saved me time, as it meant I didn't have to manually sort through any alerts or quarantined items that are safe.
Curiously, the "Scan" button is one of the only items on the desktop app that functions without needing to access the central Dashboard. If you want to schedule a scan rather than manually start one when you boot your computer, you can do so through the Dashboard. I found arranging scans to happen automatically on a daily basis really useful as I knew Sophos was consistently checking for malicious files.
Real-Time Protection — Effective Defense Through Artificial Intelligence Threat Detection
In tests, Sophos detected 100% of malware discovered in the previous 4 weeks. This proves to me that Sophos stays updated with the latest cyberthreats — although it's important to remember that new malware is released daily, so my test results may differ from your own.
Sophos' real-time protection is supported by its Artificial Intelligence Threat Detection. This technology is constantly learning and growing its database of online threats to stay up-to-date with the latest malware. By continuously evaluating threat signatures, Sophos' AI is able to accurately predict and detect the newest malware. This means Sophos can protect your devices from zero-day attacks — and this AI technology is even available on the free plan!
Web Protection — Blocks Dangerous Downloads, Websites, and Phishing Links
Phishing scams and malicious downloads are some of the easiest ways to infect your device with viruses. That's why I'm happy to report that Sophos is extremely effective at detecting online threats. Better still, this protection is available on both free and paid plans.
During my tests, I attempted to download files known to contain malware. Sophos blocked every file before the download even started, so nothing harmful was saved to my device.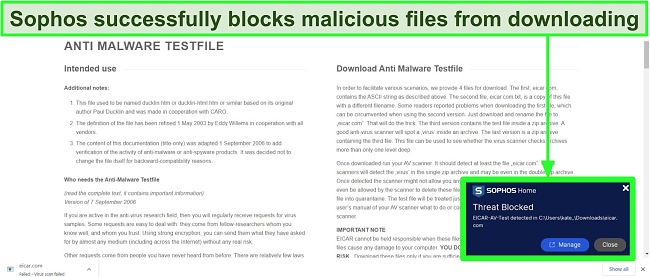 When I visited a website known to host malware, I was blocked from accessing it every time. In fact, I couldn't enter any of the dangerous sites.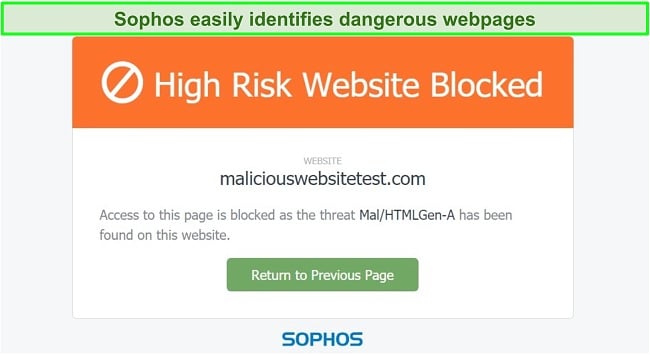 Ransomware Protection — Restores Device if Ransomware Locks You Out
With ransomware becoming more sophisticated, some antivirus programs can't detect the different threat signatures linked to emerging attacks. These attacks lock you out of your files and devices, demanding that you pay to have access restored — but even if you pay the ransom, there's no guarantee you'll get your personal information back.
To protect you from ransomware, Sophos continually checks the processes that interact with your files and devices. This vigilance means that if a suspicious interaction occurs between a process and your valuable data, the process is immediately blocked. Should the process start to encrypt your data to lock you out, Sophos stops the attack and rolls back your device to a previous safe state before the encryption took place. This means you retain access to your data.
While this technology is impressive, I'm disappointed that ransomware protection is only available if you upgrade to Sophos' premium packages. However, this isn't unusual — free plans from Panda and Bitdefender don't include ransomware protection either.
System Performance — Significantly Slows Down Desktop Devices
Sophos is cloud-based so I expected very little impact on my device. Unfortunately, this proved to be the opposite case. I noticed an immediate slowdown of my whole computer after downloading Sophos. Webpages took upwards of 30 seconds to load (if they loaded at all), while starting up and logging in to my device was sluggish.
Sophos doesn't have any tools for system optimization or performance boosting either. This is disappointing as free options from services like Panda have features designed to optimize device performance. The Sophos file is also larger than I expected despite mostly being hosted in the cloud. You'll need at least 1GB RAM and 1GB of free disk space to download and run Sophos.
Features - 6
Based on my tests, Sophos' extra security features provide good protection — especially for a free antivirus service. I'm most impressed with its Web Protection feature, as it consistently secured my device against attacks from malicious sites. I would've liked to see a greater range of options like those offered by Norton or TotalAV. For instance, a password manager or VPN would provide Sophos with more well-rounded security.
Remote Management — Protect Your Devices From a Single Central Dashboard
Sophos is designed to be used remotely so that you can monitor and secure your mobile and desktop devices from anywhere. This is why settings and features can't be configured from the app — everything is controlled through the central Dashboard, which you can access on any web browser (as long as you have your login details available).

I found the Remote Management useful for keeping my laptop security up-to-date without having to sit at my computer. As Sophos' scans aren't automatically scheduled, I was able to configure the settings and arrange scheduled scans for my computer from my iPhone browser. This meant I knew the next time I booted up my laptop, Sophos would run a scan without me having to open the desktop app.
Having all settings in a central dashboard is convenient, especially when you have multiple devices to monitor. This does make the desktop apps pretty redundant, however — they have very little functionality due to Sophos' remotely-controlled design.
Banking Protection — Secures Against Keyloggers and Unsafe Browsers
Everyone banks and shops online, so it's vital to protect our sensitive financial information. Sophos helps you keep your financial details private by blocking keylogging malware and ensuring the browser you use is secure.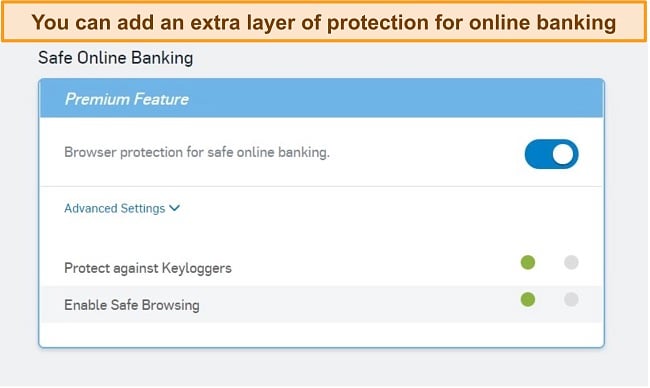 Keylogging malware is designed to record everything you type on your computer, including banking passwords and your credit card number when you make purchases. Sophos detects keylogger malware and blocks it before it can record your keystrokes. Working together with its Safe Browsing feature, Sophos checks websites for hosted malware and exploits that could leave your devices vulnerable (even on secure browsers like Chrome).
I'd recommend leaving this setting on if you have a Premium subscription — unfortunately, banking protection isn't available on the free plan. However, the free plan does protect your device against spyware and keyloggers are most often deployed as part of larger spyware attacks.
That being said, I wouldn't recommend using the free plan as your only protection if you're frequently banking and shopping online. It's better to upgrade to a more comprehensive antivirus solution. You can even use top brands like Norton 360 or McAfee for free for a limited amount of time if you're a first-time customer.
Parental Controls — Blocks Inappropriate Web Content for Kids
Kids are increasingly tech-savvy and it only takes a wrong click or two for them to land on an inappropriate website. Sophos lets parents take control back by making it easy to choose exactly what content their children can access.
I found the parental controls in the Web Filtering setting on the Dashboard. The set-up is simple with different content-censoring options, like adult websites and social media.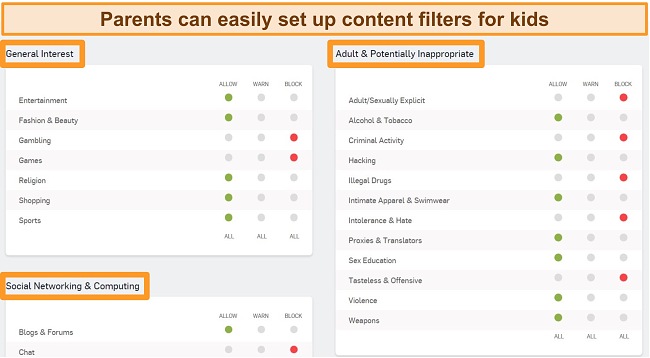 I chose a few different settings for Sophos to block as a part of my tests. I'm pleased to report that when I tried to access websites with gambling or gaming content, Sophos blocked them all. I tried this with several different websites and browsers, and had more luck with some than others. Gambling sites were effectively blocked on Google Chrome, Firefox, and Safari — but some adult content (like violence and pornography) passed through the filter on Chrome.
I recommend using Sophos' Web Filtering alongside the Windows or Mac parental controls to ensure total coverage.
Webcam Protection — Alerts You to Unwanted Webcam Access
Sophos' Webcam Protection feature sends you a notification every time your webcam is accessed by an outside source. This could be a video chat app, website, or potential malware designed to let hackers spy on you without your knowledge or consent.
When I switched this on and visited a website that let me take pictures using my webcam, I was alerted by Sophos that the site was accessing my webcam. However, the site and webcam access weren't blocked. This is a concern, as even with the feature active unauthorized users could potentially access my webcam.
While alerts don't disappear until they're clicked, I feel they could be easily overlooked. Compared to Norton 360's Safecam and its ability to fully block unauthorized access, Sophos' webcam protection could be improved for better security.
Whitelist Feature — Allow Specific Websites to Bypass Sophos
If you have the Parental Control settings on high, Sophos' Website Exceptions feature is a great way to allow access to certain sites that may fall under a restricted category. For example, when I had the "Gaming" restriction active, zero gaming websites could be accessed (even child-friendly sites!). After adding specific sites to Sophos' whitelist, my kids could visit those sites without accessing any inappropriate games.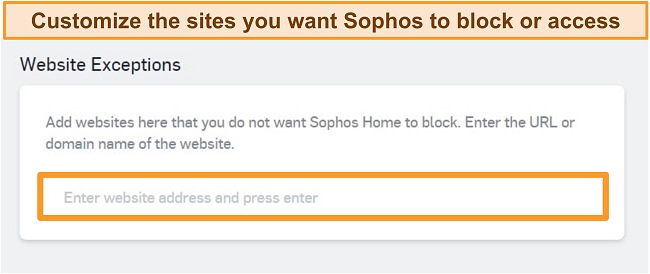 You can find Website Exceptions on multiple different settings, including Web Protection and Web Filtering.
Alerts Log — View Alerts, Threats, and More From the Central Dashboard
If you have several different devices on your Sophos plan, you can keep up-to-date with alerts, potential threats, and other activity using the Alerts Log feature. I particularly like that I can filter activity depending on what I want to check — there are options for threats, website alerts, and quarantined items.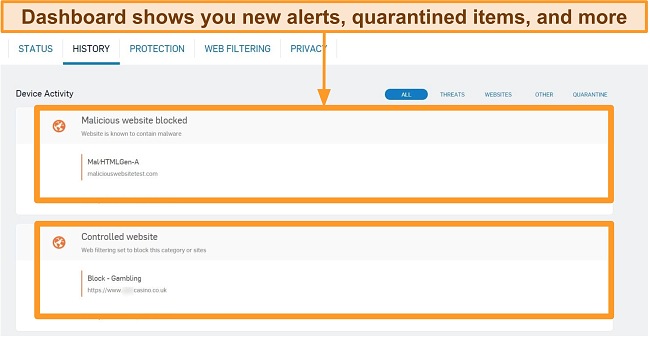 I found this especially useful for keeping an eye on what my other devices were accessing. As Sophos is designed for remote control, everything is visible from the dashboard. Many antivirus plans can be used on multiple devices but lack a centralized dashboard. This is a feature unique to Sophos and very useful if you have more than 1 device to protect and monitor.
Ease Of Use - 7
Sophos Home is compatible with Windows (7, 8, 8.1, and 10), and Mac (10.12, 10.13, 10.14, and 10.15), Android, and iOS. I found Sophos very easy to set up as it did all the work for me — I just clicked the "Free Download" button and followed the prompts to install it on my devices. It took less than 5 minutes to complete the installation, although the on-screen prompt suggested it could take up to 10 minutes.
I also discovered that Sophos is incompatible with almost every other antivirus program on the market today. After installation, Sophos detected that I had other antivirus programs on my PC and suggested uninstalling it, claiming that it could "reduce my overall security."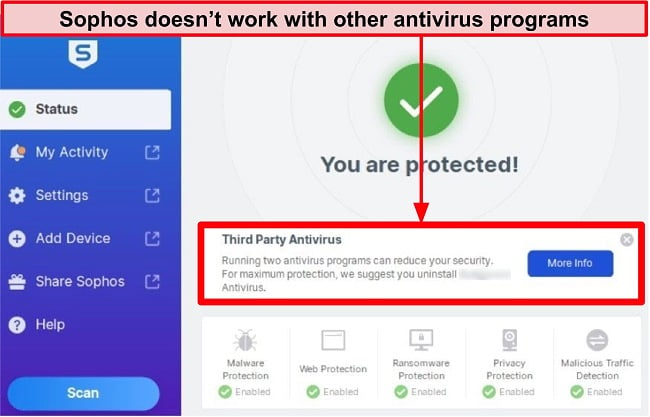 Unfortunately, the free version doesn't provide enough protection on its own. There's no malware removal, ransomware protection, or advanced web security. You need to pair the free version of Sophos with another comprehensive antivirus, or you'll be exposing your device to security risks.
Desktop Apps — Windows and Mac Apps are Simple but Redundant
As soon as I downloaded Sophos to my Windows laptop, I had to run a scan on my device — there was no option to cancel or reschedule the scan. This isn't a huge issue, but I'd prefer to choose when I run a scan rather than being forced to (although you can cancel the scan after it's started).
I soon discovered the desktop app is largely unnecessary. It's nearly impossible to configure any settings, check recent activity, or add a device in the Sophos app. Every clickable button redirected me to the Sophos Dashboard in my web browser. The only exceptions are purchasing Premium, running a scan, or accessing the help section.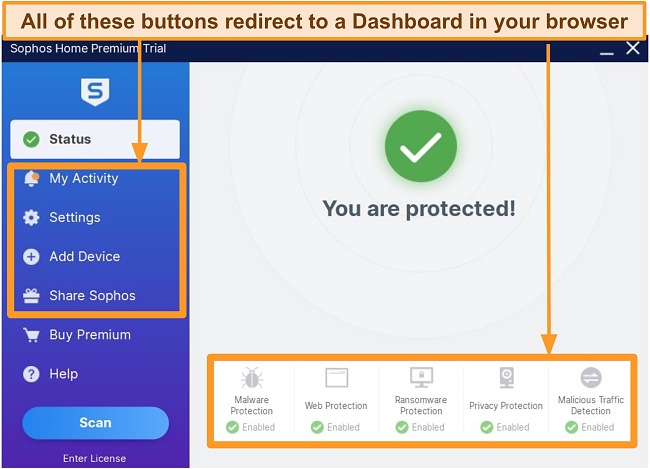 The reason for this is that Sophos is mainly designed for remote use, so the central web-based dashboard is the only place you can control every option. I found this pretty frustrating, especially as it sometimes took more than 30 seconds for the webpage to load. If you want to change a setting while sitting at your computer, you may find it slow and tedious. I'd rather see the dashboard in-app than have it open in a separate window.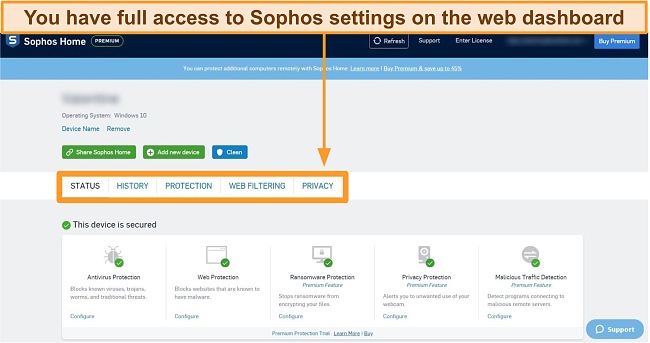 That being said, Sophos' Dashboard is well laid out and very intuitive to use. All of the options are clearly labeled and easy to customize, even if you're a beginner user. There aren't any overly complex settings or menus to navigate through — you can make sure your devices are secure, check your recent activity, and edit Web Filtering and general protection settings.
Protect your devices with Sophos
Mobile Apps — Strong Android Offering, but Lacking Features on iOS
Sophos has a mobile app called Intercept X. This app offers some basic security, like a password safe and Wi-Fi security checks. It's available for Android (5 or higher) and iOS (11.0 or later).
At first glance, both Android and iOS apps are very similar in appearance. But while Sophos has more thorough Android protection, it's lacking in features for iOS users.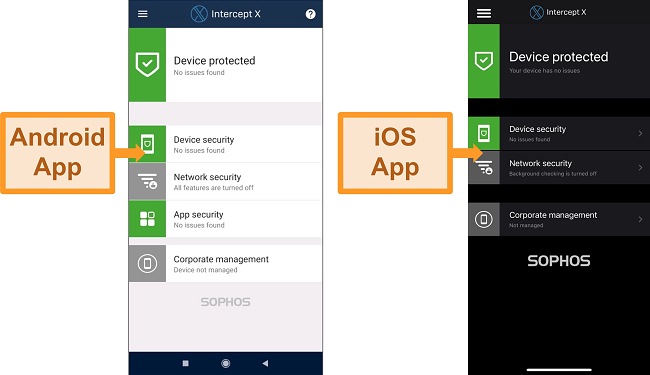 For Android users, Sophos has the following features:
Authenticator — This feature generates time-based and/or one-time passwords for accounts that use multi-factor authentication, giving you a safe way to authenticate your account log-ins
Password Safe — Like a password manager, Sophos' Password Safe securely stores all of your passwords so you can log in to accounts quickly using a single master password
QR Code Scanner — Allows you to access information from QR codes including web addresses, WiFi configurations, and new contacts
App Protection — Secures apps that you want to remain private by asking for a password every time you open the app
Privacy Advisor — Clearly details which mobile apps have access to your mic, camera, personal details, and more
The mobile app also protects your Android device with Web Filtering, which blocks malicious links in non-browser apps, checks WiFi security, and scans your device for existing malware. While I'd like to see parental control options and a spam call blocker like Norton, I found the Sophos Android app provides good coverage and plenty of features.
On iOS, Sophos lacks App Protection, the Privacy Advisor, and malware detection. This is fairly standard for iOS apps as they tend to be "sandboxed," meaning one app cannot access critical information about others. However, Web Filtering is still included so Intercept X will block suspicious links and websites. The app also checks device security — as soon as I downloaded it to my iPhone, I was alerted to a new system update and prompted to update as soon as possible.
I like that the iOS app is easy to use and monitors my device and network for suspicious activity — but like the Android app, it could use some extra features to make it really stand out against the competition.
While Sophos' mobile protection is adequate if you're just using the free version, I'd recommend using Norton 360 for advanced security on Android and iOS. In addition to powerful malware scanning and real-time protection, it also includes full-featured versions of Norton's password manager, VPN, and parental controls. You can test these features for free with Norton's 60-day money-back guarantee.
Support - 6
Sophos' customer support is good but it could be better. Live chat and email are available but only for Premium subscribers — if you're using the free plan, you're restricted to the support site. However, Sophos' support site is comprehensive, with many troubleshooting and installation guides as well as FAQs available. Most of the questions you have can be answered by checking the site.
Unfortunately, live chat and email options aren't 24/7. Instead, support agents are available from Monday to Friday, 8 a.m. to 8 p.m. EST. This is frustrating as it means if I have an issue on the weekend, I have to wait to get help. Making matters worse, there's no phone support available for more urgent problems and service is only available in English.
Live Chat — The Best Way to Contact Sophos
I was impressed by Sophos' live chat, which connected me to an agent in less than 2 minutes. I asked a question about accessing information through the app rather than on its Dashboard, as it opens in a new browser window. The agent who helped me was quick to respond, detailed in their answers, and made sure that I was fully satisfied before ending the chat.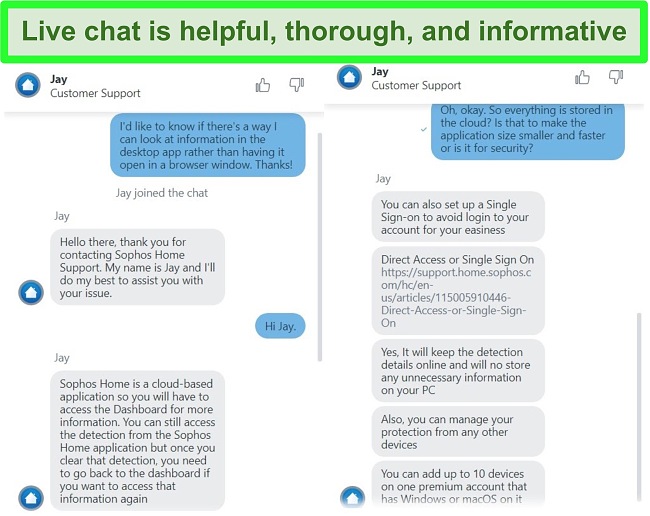 After I finished my live chat, a copy of the transcript was sent to my email address. This is a useful feature, especially if you have a very technical question and want to refer back to the answer at a later date. Unfortunately, Sophos' live chat support is only available to Premium subscribers — if you're using the free version, you'll have to check the support website for help instead.
Website — Comprehensive FAQ and Troubleshooting Sections
Sophos' support site has a lot of articles covering topics like installation, troubleshooting, and how to manage your account. For basic questions (like how to change the language of your desktop app), I'd recommend visiting the support site. It's easy to navigate and has clear sections detailing the included articles. There's also a search bar so that you can type a few keywords and find the help you're looking for.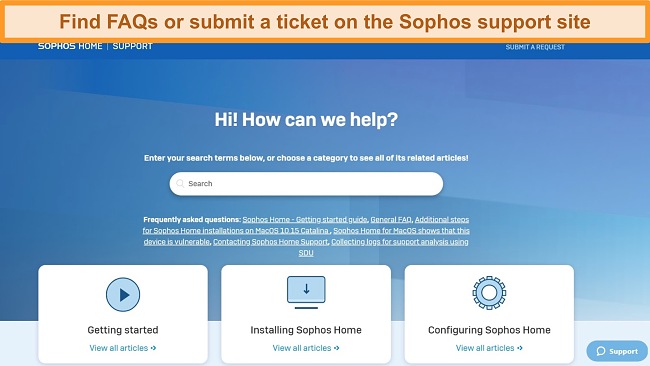 If you can't find the information you need or want to request a feature, you have the option to submit a ticket request. I tested it to see how long it took to get a response and asked again about configuring settings from the desktop app rather than the Dashboard. I was pleased to find that I had a reply to my question through email in less than 3 hours. Like live chat, email support is only available for Premium subscribers.
Social Media — Free Advice and Prompt Responses on Twitter
Sophos has an active social media presence, especially on Twitter. The team is regularly available during standard hours (Monday to Friday, 8 a.m. to 8 p.m. EST) and answers questions through Direct Messages (DMs). Responses come quickly but questions aren't always totally resolved. I had a response to my DM on Twitter in less than 10 minutes but was directed to a page on the Sophos' support site rather than being given the answer.
Price - 7
Here's a tip: Sophos' free plan comes with a 30-day trial of its premium subscription — and you can get another 30 days of risk-free use by using the money-back guarantee Sophos offers every customer!
Similar to other free antivirus providers like Avira and Panda, some of Sophos' features are only available when you subscribe to its premium plan. The free version isn't the most comprehensive option on the market (even the premium plan is light on features) but Sophos makes up for its shortcomings with ease of use and excellent real-time virus protection.
That said, I wouldn't recommend paying for the premium plan — it's light on features, especially compared to other paid antivirus providers. For example, Norton, McAfee, and TotalAV all have a larger set of features and even better performance at a similar price (or lower!).
Sophos Home (Free) — Best for Basic Coverage
You can use Sophos Home for free for an unlimited amount of time. You don't even need to provide any payment details or create an account if you don't want to. With this option, you get real-time antivirus protection, parental controls, web security, and remote management for up to 3 devices.
This plan excludes ransomware protection, malware removal tools, or extra features like banking and webcam protection. However, its cloud-based protection provides strong security against the most common threats. Unlike other free antivirus competitors, there were no endless pop-ups asking me to subscribe to a premium plan either.
When you sign up for the free plan, you'll automatically enrol into a 30-day free trial of the premium plan. After the 30 days are up, you're automatically reverted back to the free plan. This makes a change from the experience I usually have with antivirus free trials, which try to upsell a subscription or stop working once the trial ends.
Sophos Home (Paid) — Powerful Malware Protection but Light on Extra Features
With Sophos' paid plan, you have the option of protecting up to 10 devices with the following features:
Malware Remover
Real-Time Antivirus
Ransomware Protection
Banking Protection
Privacy Protection
Web Security
Parental Web Filtering
Remote Management
The paid subscription provides more comprehensive coverage, as it includes features that the free plan is missing like privacy, banking, and ransomware protection. Compared to similar plans from other providers, Sophos is reasonably priced.
However, Sophos Home (Paid) doesn't offer the same level of robust protection as a service like Norton 360. Norton's package outperformed Sophos in real-time protection tests and has premium features that aren't available on Sophos (like Cloud Backup and a VPN). Best of all, you can try Norton 360 risk-free for up to 60 days.
Sophos Endpoint Protection — Business Solution for Total Antivirus Security (Price Available by Quote)
For business users, Sophos offers Endpoint Protection to cover multiple devices through a centralized dashboard. Called Intercept X Endpoint, this service provides comprehensive malware, ransomware, and spyware protection as well as exploit defenses and a managed threat response. This is designed to secure your business against online threats from every angle, utilizing Artificial Intelligence to mitigate malware risks.
As part of Endpoint Protection, Sophos offers cloud protection called Cloud Optix. This is designed to provide up-to-date analysis and data for your business for real-time security. You can see at a glance if there are any issues and tackle them immediately so your data isn't compromised.
Intercept X Endpoint has a free trial for business users and prices are available on request.
Sophos Mobile Security — Intercept X Apps Always Free for Android and iOS
Much like its Home Free plan, Sophos' mobile apps are always free. There's no charge to use any of the included features and no need to set up an account — you can download them to as many Android or iOS devices as you want. Just make sure you download them through links from the Sophos website, as there have been reports of malicious files posing as legitimate software.
30-Day Money-Back Guarantee — Simple Refund Process
Sophos offers a 30-day money-back guarantee with every paid subscription plan. This is fairly typical, with companies like McAfee and TotalAV offering similar trial periods. This guarantee means you can test Sophos' premium antivirus plans for up to 30 days and get a full refund.
To make sure the money-back guarantee is authentic, I tested it for myself by subscribing to the Sophos Home Premium plan. After using Sophos for several weeks and running tests, I contacted customer support to request a refund. After submitting my order details, I received a response in less than an hour. The support rep confirmed my request and that my refund was being processed, I had my money back in my account in 9 days.
30-Day Free Trial — Try Sophos Premium Risk-Free
Sophos offers a 30-day free trial of its premium plan with every free download. This gave me plenty of time to try the software without having to enter any personal or payment details. This free trial is designed to entice you to upgrade once you've seen how much "better" the premium plan is. However, the free plan offers good antivirus coverage for no cost at all. If you're looking for a basic, no-frills plan with simple configuration, Sophos' free service is worth trying.