If you are a small business owner, social media marketer, or blogger, and you're looking for a free, easy-to-use graphic design software to enable you to design and create stunning images, Stencil would be an excellent option for you to try.
No prior design background is needed, and you can easily learn how to use Stencil, even if you're a beginner. You can create infographics, blog post images, content marketing visuals, ad graphics, email images, and many more. It comes with multiple templates and tools that allow you to bring your own creative skills to reality.
You can try out the free version for hobbyists (with limited functionalities) or sign up for the Pro version and get a 30-day free trial. Follow the instructions below, and I'll guide you on how to get started with Stencil for free.
How to Download and Install Stencil on Your PC for Free
Note that Stencil is a cloud-based tool, so you won't need to download it. Rather, you only need to create a free user account.
Click on the Download button on the sidebar to go directly to the official Stencil sign-up page.
Click on "Start creating images" to sign up.

Stencil is powered by Namecheap, so, on the next page, you can sign in with your Namecheap login details. You can also create an account and log in from here.

On the next page, select the Free option to proceed.

Fill out the information required in the form to create a user account, and you'll be ready to start creating professional-looking images for your business.
How to Uninstall Stencil from your PC
If you're not happy using Stencil for image creation and editing, you can easily cancel your free subscription by following these easy steps:
All Stencil subscriptions are powered by Namecheap.

If you are on the 30-day free trial version or still within the 7-day refund window (if you recently subscribed) and want to cancel your account immediately, you'll need to contact the Stencil team directly to cancel.
Alternatively, you can choose to stop using the application altogether.
If you'd like to try other online graphic design tools, check out the free alternatives below.
Overview of Stencil
Stencil is an incredible online graphic design tool for both pros and beginner graphic designers. Stencil contains lightweight features and an easy-to-navigate interface that allows you to create beautiful visual content. Keep in mind that Stencil is a cloud-based tool, so you need a stable internet connection to use the tool at any time.
Stencil has numerous free templates that you can start with, but the free version is limited to only 10 background images every month (even though there are more than 5 million of these photos). Also, while templates are for the Pro and Unlimited users, you can only access up to 3 templates from the free version.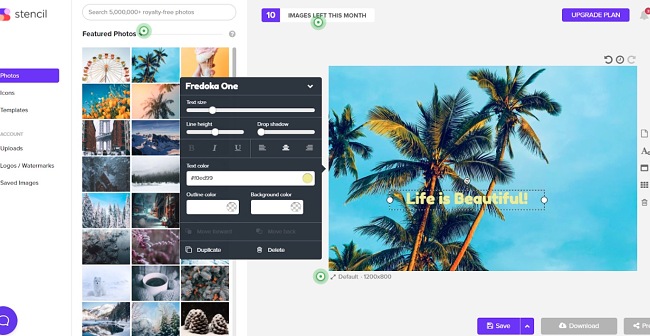 With Stencil, you have multiple options for creating different kinds of images. For instance, there is already a preset template or format for creating images for Instagram posts, blog posts, and even up to 36 other standard presets for ads, social posts, and more. The software is compatible with Chrome, Firefox, Safari, and Internet Explorer.
Features of Stencil
Fast and easy to use: You can easily create stunning images. The software is lightweight and very simple to use.
Unlimited free images: Choose from more than 5 million royalty-free stock photos that are ready to use.
Save all your favorite photos: You can keep all the photos you love in one place so you can easily pull them out each time you need them.
140+ Common presets: This means that you have the perfect size and dimensions for any kind of image you want to create.
Preview and share your images: Before posting your designs, you can preview them and then finally share across other platforms like Pinterest, LinkedIn, Facebook, Instagram, Buffer, etc.
Create images and schedule posts in Buffer: Buffer is a social network scheduling platform, which has been integrated with Stencil so that you can plan your posts in advance.
Over 3 million free icons: You can choose from more than 3 million premium icons provided by world-class designers.
Over 1,000 templates: Create beautiful images using different premium editable templates.
Browser Extensions: Stencil is available as Chrome and Firefox extensions. It contains easy-to-use add-ons for Chrome and Firefox.
Free Alternatives to Stencil
Canva: Canva serves as a great free alternative to Stencil. It stands out as the leading cloud-based design tool, widely favored and utilized. While Canva offers free access, the functionality is somewhat limited compared to the paid version. Specific templates and photos are unavailable in the free option. Canva is ideal for marketers, bloggers, businesses, organizations, and individual professionals who need a tool for creating quality graphic designs.
Pixlr: Pixlr is a family of web-based and native mobile photo-editing applications. Built using Flash, the software requires the plug-in to work, and is currently free to use. Pixlr offers you an editing app with mobility and powerful tools. This means that you access stunning features for creating and editing beautiful images wherever you are and regardless of which device you're using at the time.
Adobe Muse CC: This web design platform is designed for professional designers. It is popularly used for building responsive websites without any coding skills. Web designers can use this program to create new websites by first setting up a master page, where you can define the principal elements and parts of your design that will be used throughout the website. The software allows you to share your web designs for review or publish them live.
FAQ
Are all the images and icons royalty-free?
Read More