If you're using your web browser to stream Netflix from your computer or laptop, you're missing out on some of Netflix's best features. The app is not only a convenient way to stream your favorite shows and movies, but it offers some features that are not available through your browsers. The only way to legally download Netflix shows to your computer and view them when you aren't connected to the internet is via the app.
Follow the instructions below, and I'll show you how to download the official Netflix app for free for your PC.
How to Download the Netflix App for PC for Free
Press the Download button on the sidebar, and a new tab will open to the Netflix download page in the Microsoft Store.
Press the Get in Store App button, and a popup window from the Microsoft Store will open. 
Press the Open Microsoft Store button, and the Microsoft Store app will open to the Netflix download page.
Press the Install button, and the Netflix app will automatically download and install on your computer. When it's done, press the Open button to launch the app.
If you already have a Netflix account, you can sign in. If not, press the Get Started button to create your Netflix account.
How to Uninstall Netflix from your PC
If you prefer watching Netflix through your browser or you no longer have an account, you can completely delete the app from your computer in a few easy steps.
Type Add or Remove Programs in the Windows search bar and press the Enter key.

Locate Netflix in the list of installed programs and press the Uninstall button.

Confirm that you want to delete Netflix. This won't delete your Netflix account, just the app from your computer.
Check out the free Netflix alternatives below if you're still looking for streaming services.
Netflix Overview
Netflix is one of the most popular streaming services in the world. It revolutionized the concept of cutting the cord from cable and streaming TV shows and movies on demand from any device. While the app is free to download for all mobile devices and computers, you will need to subscribe to Netflix to enjoy all the ad-free content.
With Netflix, you get a wide range of TV shows, movies, documentaries, and reality TV. The video library has a mix of pretty much everything imaginable for all ages. You can jump from a Netflix Original show to a classic rerun of your favorite TV shows to a foreign TV show and end the day with a Hollywood movie.
Netflix Features
One of my favorite things about Netflix is that I can create separate user accounts for everyone in my family. This way, its algorithm can suggest movies and TV shows based on the things I watch, instead of recommending I watch the shows my 5-year-old watches. Netflix allows the account holder to set limitations on child accounts so they don't see anything that isn't appropriate for their age.
The Netflix interface looks similar on all devices. It highlights a new release or a show that you might like, based on your preferences. Then, it divided the content into categories, such as Feel-Good Movies, Sitcoms, Netflix Originals, Top Movies in Your Country, Hollywood Blockbuster, Independent Films, and the list goes on.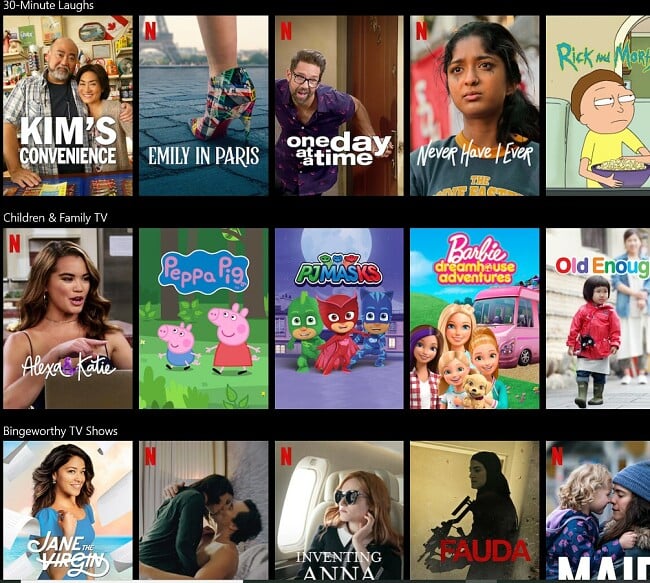 If you have a movie or show that you like but have already seen, you can search for something similar. Netflix also automatically plays trailers for shows and movies when you put your mouse over it.
Download Your Shows and Movies
One of the biggest advantages of downloading the desktop app, as opposed to watching on your browser, is that you can download some shows and movies to watch offline. Not all shows are available for download, so you have to check if it has a download arrow next to it.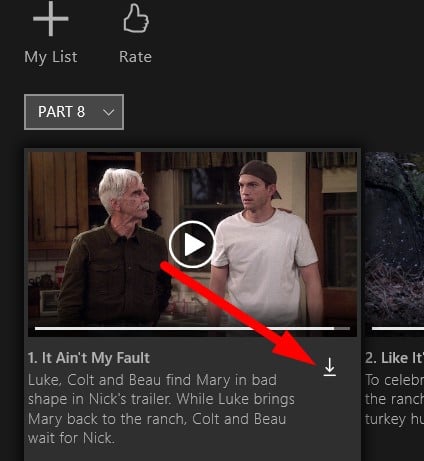 I discovered that Netflix offers a convenient feature called 'Smart Download.' With this option, once you finish watching a downloaded episode, it automatically removes it from your device and proceeds to download the next episode in the series. To enable this time-saving feature, head to your account settings and navigate to the Download section.
Stream Anywhere
Just because you download the Netflix app on your computer or phone doesn't mean you have to watch it on that device. Netflix is compatible with most streaming TV services. You can send it from your computer or phone to the TV with a Google Chromecast, Roku, Apple TV, and other similar services.
Syncs Across All Devices
Your Netflix account is hosted in the cloud. This means that you can sign in to your account and continue watching the same series or episode from where you left off on the previous device. The one exception is if you go to a different country since Netflix has different content for each country. Therefore, a show that you're watching or even downloaded might not be available until you return to your original country.
Free Alternatives to Netflix
Prime Video: Stream thousands of TV shows and movies, including popular original content. The content varies based on your location, but there's always something to watch. You can get a free 30-day trial when you sign up for Amazon Prime.
Popcorn Time: Download Popcorn Time for free and get access to hundreds of thousands of TV shows and movies. The app divides the content into categories, such as TV, Movies, Anime, and Trending. You can also search for what you want by name.
FAQ
Is the Netflix app free?
Yes! Follow the instructions above, and I'll show you
how to download the Netflix app for PC for free
. Similarly, you can download a free app for Mac, Android, iOS, Fire TV, Apple TV, Kindle, etc. However, you do need to purchase a subscription to stream Netflix, and sadly, they stopped offering a 30-day free trial for new subscribers.
Can I use a VPN when streaming Netflix?
Due to its licensing agreements with media providers, Netflix doesn't allow you to use a VPN. It has a highly sophisticated system that detects most VPNs, and while they won't ban your account, they will prevent you from watching until you turn off the VPN. However,
we've tested hundreds of VPNs and found some that can reliably bypass this restriction
, so you can stream content that isn't available in your country without being detected. 
What is the benefit of downloading the Netflix app over streaming in the browser?
While the app and browser have the same shows, layout, and video quality options, there is one significant advantage of streaming with the app.
Only the app will let you download shows for viewing when you're offline
. Netflix in a browser is only available if you're online. For example, if you want to watch Netflix on an airplane, you better download the app and download some episodes or movies to entertain you.
Read More