Microsoft Visio is one of the best programs for designing professional-looking diagrams, flowcharts, and charts. Using drag-and-drop functionality and plenty of templates, Visio is an extremely easy program to use.
I have a little hack that will allow you to download this premium software for free. Just follow the steps below to get started.
How to Download and Install Microsoft Visio for Free
Click on the Download button on the sidebar, and you will be redirected to the Microsoft Evaluation page.
Click on the + icon to open the Visio options and select "Visio Plan 2" and click Continue. You can learn more about the different plans here.

A new tab will open, and you will have to create your account. Enter your email address, and if it's not connected to a Microsoft account, you will need to set up a new account. There are a few ways to verify your account, including getting a verification code emailed or sent to you via SMS. After you've verified your account, click Next.
Visio is designed for professional use, and therefore it requires a business identity with a custom domain. If you don't have one, Microsoft will let you create one using its "onmicrosoft.com domain. Then click Next.

Click on the Download button, and it will open an Office website with another Download button for you to click.
The Office file will download to your computer. Double click it and get a free 30-day trial of Visio.
How to Uninstall Microsoft Visio
When your free trial is over, you can easily uninstall the software from your device in a few simple steps. If you're still looking for a free program that can help you design beautiful charts, diagrams, and diagrams check out the free alternatives below.
Type Add or Remove Programs in your Windows search bar.

Scroll through your installed programs until you find Microsoft Visio and click Uninstall.

The Microsoft wizard will open up and uninstall Visio. When the uninstallation is complete, it will recommend that you restart your computer so it can "tidy up a few remaining files." You don't have to restart your computer right away, but the sooner you do it, the better.
Microsoft Visio Overview
Microsoft Visio has taken diagram and flowchart designing to the next level. Instead of trying to find the right images in PowerPoint or add charts and graphs to your Word document, Visio streamlines the entire process. It has the tools you need to arrange complex data, numbers, and turning them into easy to read flow charts, floor plans, and much more. It accomplishes this with a wide range of templates and icons that you can use to create a visual explanation that will be easy for your audience to understand.
Microsoft Visio Interface
The brilliance and simplicity of Visio, are the shapes. It has shapes for flowcharts, diagrams, maps, floor plans, engineering plans, organizational charts, and more.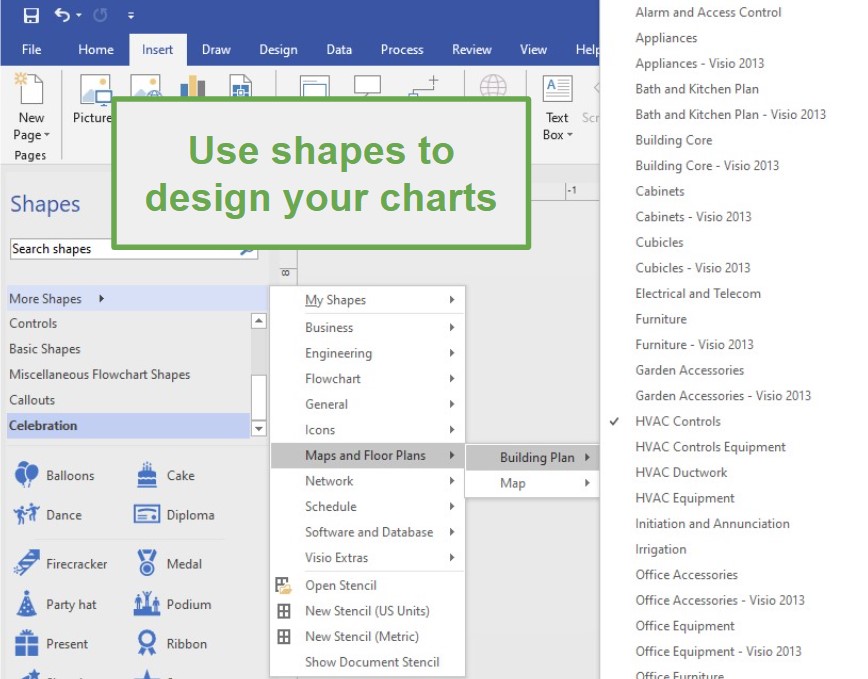 Once you find the shapes that you want to use, you can drag them onto the editing board and arrange them how you want. Visio lets you change the angle or views in the presentation. You can also add multiple layers and control what parts can be seen, and at what stage of the presentation it can be seen. This is great if you want to hide some irrelevant or sensitive information during the presentation.
If you don't want to use the shapes, Microsoft Visio has a feature that allows you to customize shapes and use your own designs.
Visio Has Some Excellent Features
Visio comes with an impressive range of native features that back its reputation as an industry-leading diagramming and flowcharting program.
Professional templates: If creating and designing charts, diagrams, and floor plans isn't your strong point, you can choose from hundreds of templates that are included with the Microsoft Visio free trial. The templates are divided by genre, and also have a search function making it easy to find the template for your specific project.
Collaboration tools: Whether you're creating a chart for school or work, Visio has excellent collaboration tools that allow you to work as a team and share your work with others. You can share your work with specific users and give them either editing or viewing permission. With editing permission, they can make changes in real-time, add notes and annotations, and suggest changes. It is compatible with Microsoft Teams, which is great for keeping the conversation in one place and reducing the need to use multiple messaging apps.
Connect with Real-Time Data Sources: One of the best features of Visio is that it works with multiple real-time data sources. What this means is that you can sync your charts with SQL, Server databases, Access Databases, and Excel documents and receive automatic updates whenever the data is updated.
Access your Work From Anywhere: In addition a downloadable software, you can access Visio with a web app. This gives you the flexibility to work from anywhere without needing to bring your computer or laptop with you. The web app doesn't have all the advanced features, but it's great for creating your charts, accessing most of the shapes, editing, and presenting your work.
Microsoft 365 integrations: As a Microsoft program, Visio not only uses the same ribbon-style layout as Word, Excel, and PowerPoint, but it's fully integrated with these programs as well. You can connect to Excel and use the Data Visualizer to include map data into Visio diagrams and automatically upload your Visio charts and graphs to a Word document.
Free Alternatives to Microsoft Visio
LucidChart: With a drag-and-drop interface that allows you to create any diagram, LucidChart is an excellent diagramming tool. It includes a collaborative feature which gives multiple users access to build, design, and edit your charts in real-time. LucidChart is compatible with Visio files, which is great if you want to continue working on a file after your Visio trial is over.
Gliffy: With a basic free plan, this cloud-based diagramming program works with Google Drive, JIRA, Confluence and other project management tools to make it easy to combine your resources and create your diagrams. Similar to Visio and LucidChart, Gliffy uses drag-and-drop usability and has a browser version for added convenience.
FAQ
🤑Is Microsoft Visio free?
Microsoft Visio is a premium software program, with several different subscription-based plans. However, if you follow the steps above, you can download a free trial version through the Microsoft Evaluation Center.
🤓What is the difference between Visio Plan 1 and Visio Plan 2?
There are two Visio plans in the Microsoft Evaluation Center; Plan 1 and Plan 2.
Plan 1: Access to the limited browser-based version of Visio and 2GB of storage on OneDrive for Business.
Plan 2: In addition to browser-based Visio, you can download the complete Visio program to your computer. You will also get great features, such as connecting your work to real-time data and collaborating with others.
😅Is Visio included in Office 365?
If you're looking through your Office 365 apps thinking of downloading Office 365, you won't find Visio. While it is a Microsoft application, it isn't part of the core Office 365 package, but rather a plug-in that has to be added separately.
The good news is that unlike Word, Excel, and PowerPoint, which come as a bundled software, Visio is a standalone program, so you won't have to get all the Office apps if you don't need them.
😇What's the difference between PowerPoint and Visio?
While they seem similar, two Microsoft products that have presentation capabilities, there are few similarities between the two programs. PowerPoint is great for designing presentations and has many helpful templates to help design a professional slideshow or proposal. While you can make a basic diagram or chart with PowerPowint, if you want access to the professional templates, and the tools to design a detailed chart, diagram, or floor plan, Visio is a far superior program.
🙂Is Visio compatible with Mac?
Yes and no. The Visio download isn't compatible with Macs, but if you have either Plan 1 or Plan 2 you can access Visio on a browser on a Mac.
Visit Microsoft Visio Website