I was unable to find a completely free version of Publisher to download. I went to multiple sites promising free downloads, but what I found were links that didn't work, pirated versions, and a lot of malware.
However, I did manage to find a way to get access to the desktop publishing app for free. When I created a Microsoft account, I activated a 30-day free trial and this gave me enough time to design and publish some brochures, web pages, newsletters, and other publications using the professional templates that come with Publisher. It's important to note that while Microsoft does offer Publisher as a standalone app, the only way to get it free is by registering for a Microsoft 365 account.
Follow the step-by-step guide below, and I'll show you how to download and install Microsoft Publisher on your PC for free.
Try Publisher Free for 30 Days!
How to Download and Install Microsoft Publisher on Your PC for Free
Go directly to the official Microsoft Publisher download page.
Click the Try Now button and a menu will open. Select For Business, and the Microsoft 365 for Business page will open.

Click the Try Free for One Month link to start the registration process.

Start creating your subscription by selecting how many users will be included in your account. While there is a price listed in the order summary, you won't be charged during the trial (that's only if you keep your account after the 30 day free trial). You can see that the payment due today is $0.00. After setting the number of users, click Next.

Enter your email address. If you don't have a Microsoft account connected to your email, click the Setup Account button.
Enter the required information in the appropriate fields and click Next.
Microsoft will send a verification code via SMS or an automated phone call to the phone number you provide. When you get the code, enter it in the appropriate field and click Verify.

Once the account is verified, you will need to create a username, domain name, and password, and click Next.

While the first 30 days are free, you will still need to add a credit card to your account to activate the free trial. You will not be charged until the end of the free trial period. Enter your credit card number and billing address and press the Save button.
When the payment method is confirmed, press the Continue button.
Click the Download the Desktop Apps button, and your Microsoft dashboard will open in a new tab.
Click the Install Office button, and the OfficeSetup file will download to your computer.
You can open the file when the download is complete, and Microsoft 365, including Publisher, will automatically begin installing on your computer.
Download Publisher Free for 30 Days!
Microsoft Publisher Overview
Microsoft Publisher is a versatile desktop publishing software that empowers users to create professional-looking publications with ease.
Its user-friendly interface, extensive template library, precise layout and design tools, typography options, and image handling capabilities make it a top choice for creating a wide range of professional publications.
Publisher integrates with other Microsoft 365 apps in a number of ways. For example, you can insert data from Excel spreadsheets, link to Word documents, save your Publisher projects to OneDrive or SharePoint, so that you can access them from anywhere.
Microsoft Publisher Features
Publisher is a user-friendly software that has the necessary tools for designing and publishing different types of online and offline content. It specializes in crafting promotional content like flyers, menus, book cover designs, brochures, banners, and more. Here are some of the features that make it so easy to use:
Drag-and-drop functionality so you can quickly get your desired output.
Ruler and guides so everything lines up perfectly.
Save high-resolution image files with common image formats.
Automatically saves work to OneDrive, so you can access your files from anywhere and you never have to worry about losing any work.
Wide Selection of Templates
Publisher templates are pre-designed layouts that you can use to create your own publications. They include all of the basic elements that you need, such as text boxes, images, and shapes. You can simply add your own content and customize the template to create a unique and professional-looking publication.
The templates are available for a wide variety of different styles, such as brochures, flyers, newsletters, greeting cards, certificates, menus, price lists, catalogs, labels, invitations, posters, and calendars.
There are two main types of Publisher templates:
Built-in templates: They are a good choice for users who are new to Publisher or who need to create a simple publication quickly.
Online templates: You can search for them through the Publisher interface or download and import online templates from third-party websites. They offer a wider variety of choices than built-in templates, and they are often more complex and visually appealing.

To use a Publisher template, simply open Publisher and click the New button. In the Template Gallery, select the type of publication that you want to create and then select a template. You can then customize the template to create your own publication.
Use Objects to Manipulate and Move Elements
Objects can be anything that you can add to a page, such as text boxes, images, shapes, tables, and charts. Once you have added an object to a page, you can move, resize, rotate, and layer it. You can also group objects together so you can move or resize them together.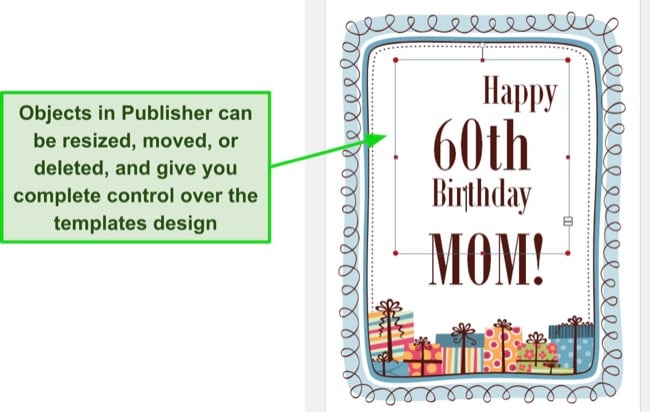 To move an object, click on it to select it and then drag it to the desired location. To resize an object, click and drag one of the selection handles. To rotate an object, click and drag the rotation handle. To layer objects, click on the object that you want to move to the back and then select Format > Arrange > Send to Back.
You can also align and distribute objects. Just select the ones you want to align and then select Format > Arrange > Align. To distribute objects, select the objects that you want to distribute and then select Format > Arrange > Distribute.
Building Blocks Will Save You Time Working With Reusable Objects
Building blocks are reusable pieces of content that you can save and insert into your publications. They can include text, images, shapes, and other elements. Building blocks can be as simple as a company logo or as complex as a multi-page newsletter template.
To create a building block, select the content that you want to save and then click the Insert tab > Page Parts button > Add Selection to Page Parts Gallery. The Building Block dialog box will open, and you can give your building block a name and description and choose the gallery where you want to save it.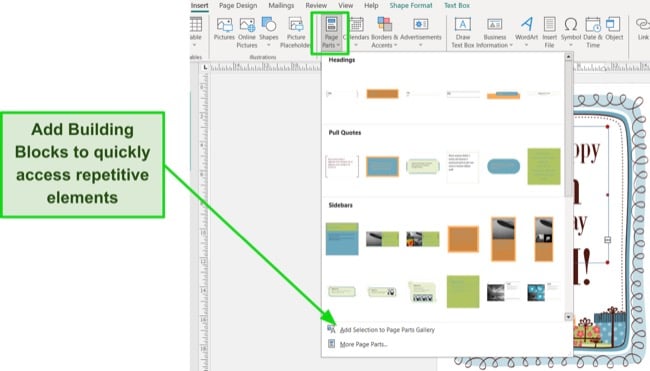 To insert a building block into a publication, click the Insert tab > Page Parts button and then select the building block that you want to insert. You can also browse and insert building blocks from the Building Block Library dialog box.
Building blocks can be a great way to save time and effort when creating publications. By saving and reusing building blocks, you can create consistent and professional-looking publications quickly and easily.
A Wide Range of Export Options
The export options in Publisher allow you to save your publication in a variety of file formats, so that you can share it with others or publish it to the web.
To export your publication, click the File tab > Export button. In the Export dialog box, select the file format that you want to export your publication to and then click the Publish button.
The following file formats are available for export in Publisher:
| | | | |
| --- | --- | --- | --- |
| PDF | XPS | HTML | JPG |
| PNG | TIFF | GIF | BMP |
In addition to the above file formats, you can also export your publication to a Word document, a PowerPoint presentation, or an Excel spreadsheet.
In addition to export formats, you can also customize how you want to export files. For example, you can choose to export your publication as a single page or as multiple pages. You can also choose to export your publication with or without fonts.
Additional Microsoft 365 Apps
Apart from its core productivity software, Microsoft 365 provides all users with 1 TB of cloud storage through OneDrive. This feature offers you the convenience of accessing your files from any location, facilitating file sharing with team members, and enabling seamless collaboration. Here are a few of the highly sought-after applications that are included in Microsoft 365.
Word: A premier word processing tool, Word has everything you might need when creating text-based documents. In addition to a wide selection of templates, fonts, layout, and proofing options, Word also has a collection of tables and graphs to help organize your content in an easy-to-digest manner.
Excel: Widely considered the best spreadsheet tool for commercial use, Excel comes with a myriad of features, formulas, functions, and more. You can automate your data entry from several different business tools to help streamline your process and quickly organize the data in an organized style.
PowerPoint: If you need to make a presentation for any reason, PowerPoint is the easiest and best software to use. It comes with beautifully designed templates, a great selection of fonts, colors, transitions in between slides, and you can animate each object on the slide. There are also a host of tools to help you while presenting your slideshow.
FAQ
Is Microsoft Publisher free?
What is the difference between Publisher and Word?
Publisher is a desktop publishing application for creating professional-looking publications, such as brochures, newsletters, and magazines. Word is a word processing application for creating and editing text documents, such as letters, reports, and resumes.
Publisher has more features and flexibility than Word
, but it is also more complex to use. Word is easier to use, but it is not as well-suited for creating complex publications.
Can I export my Publisher project as a PDF?
Yes, you can export Publisher to many different file formats including PDF. In fact, PDF is one of the most popular export formats for Publisher publications. This is because PDF files are universally readable and can be opened on any device with a PDF reader.
To export your Publisher publication to a PDF, follow these steps: Open your Publisher publication > Click the File tab > Click the Export command > In the Export dialog box, select PDF as the file format > Click the Publish button.
Read More