Genshin Impact is an anime-themed, open-world action role-playing game known for its action-combat system. As a player, you will be able to control one of four interchangeable characters. You may also switch from one character to another and upgrade your weapons as you earn in-game.
If you're looking for an immersive ride into the Genshin Impact open world, you might as well be prepared to fight like your life depends on it. You also want to be sure of the character you choose because your survival depends on the character's "attack" skills and "abilities".
Genshin Impact is free-to-play. It is available on PS4, iOS, Android, and PC. Follow the guide below and I'll show you how to download and install Genshin Impact on your computer for free.
How to Download and Install Genshin Impact on Your PC for Free
Click on the download button on the sidebar to go directly to the Genshin Impact download page.
Go to your download folder and double-click the setup file to run the setup wizard. Accept the Terms of Service and Privacy Policy, then click Install Now to proceed.

Go ahead and run the game after the installation of the launcher. Click "GET GAME" to proceed. This will install the game on your computer. Create a free account and start playing.

Note that while the game setup file is only 118 MB, you need at least 100 GB of storage space on your drive to successfully install the game.
How to uninstall Genshin Impact from your PC
If you are no longer interested in playing Genshin Impact, follow the guide below to remove the game from your PC:
Once the uninstallation wizard opens, confirm that you want to uninstall Genshin Impact and the software will be removed from your computer.
If you would like to try other similar games, check out the free alternatives below.
Overview of Genshin Impact
Genshin Impact is an open-world, anime-style RPG set in the fantasy world of Teyvat, which is home to seven nations namely: Mondstadt, Liyue, Inazuma, Sumeru, Fontaine, Natlan, and Snezhnaya. Each of these nations is ruled by a different god. The story follows you, the Traveler, as you journey across many worlds with your twin sibling and get separated in Teyvat. You are trapped underground in the ruins of the nation of Khaenri'ah. But you must find your twin sibling before leaving the Teyvat.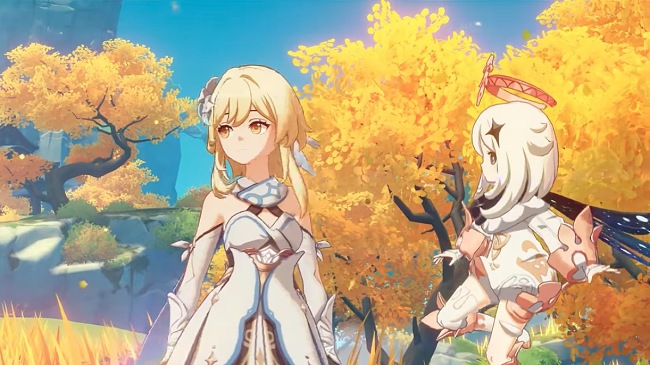 The storyline is rich and exciting. You can choose either a male or female character and the name you want to be referred to. As you are joined by a companion, Paimon, you have to travel through Teyvat in search of your lost sibling. The gameplay focuses on controlling one of four interchangeable characters in a party. You can switch characters quickly in-between gameplay and strengthen your character as you earn more artifacts and weapons.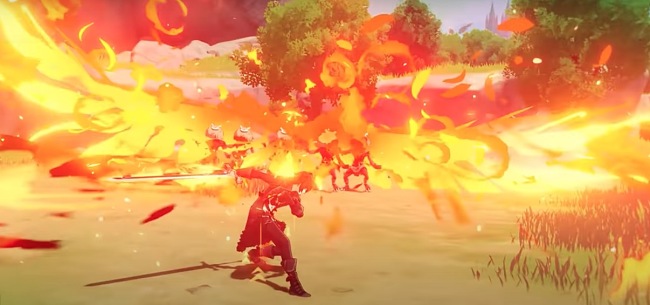 In your quest for survival, you will have to perform different actions, such as attack, run, climb, swim, and glide. In addition to your quest, you can also participate in different challenges for rewards, which will better your chances. As you dive into each world, watch out for the World Level, as it is a measure of the strength of the enemies within the world. And as you increase your adventure rank, you earn more rewards.
Features of Genshin Impact
Epic Fantasy Adventure
Your sole purpose is to reunite with your long-lost sibling and unravel the mysteries of Teyvat. But a breathtaking adventure awaits you ahead. Experience the immersive single-player fantasy as you travel from one world to another.
Discover Different Worlds
Discover the expansive open realm, glide through clear azure waters, and ascend towering peaks. Revel in the landscapes as you uncover every concealed enigma and marvel enshrined within Genshin Impact.
Battle Alone or Join a Team
Invite friends and team up with them to charge into battles, or fly solo into the vast battleground to fight dangerous monsters.
Leverage the Seven Elements
One of your greatest hacks to victory in the game is mastering the seven elements. Not just another mindless hack and slash. But you can only control one of these elements per time: Cryo, Dendro, Pyro, Hydro, Anemo, Electro, and Geo. These mean ice, plants, fire, water, wind, electricity, and rock, respectively. Master these and you can defeat powerful enemies and solve challenging puzzles.
Build Your Team
You can choose who goes into battle with you. You can build your party from over 20+ characters, each with unique abilities, personalities, and combat styles.
Choose Your Character
The characters fall into four categories — Mondstadt, Liyue, Inazuma, and Sumeru. From each of these categories, you have at least 14 different characters to choose from, except Sumeru, which only includes 6 characters.
Free Alternatives to Genshin Impact
Ni no Kuni: Cross Worlds: This is a perfect adventure game, where you will play as a beta tester for an upcoming fictional virtual reality game called "Soul Divers", which transports you to the world of Ni no Kuni. Ni no Kuni: Cross Worlds takes through several breathtaking episodes, landscapes, and encounters.
Tower of Fantasy: This game is similar to Genshin Impact, considering its anime style, exciting characters, gacha system, many adventures, and a stack of weapons for battle. Tower of Fantasy is a free-to-play MMORPG that you will enjoy.
The Legend of Zelda: Breath of the Wild: This is a game of adventure, exploration, and wild discoveries. The game was published by Nintendo for the Nintendo Switch and Wii U consoles. Breath of the Wild is an installment of The Legend of Zelda and promises a fun experience.
FAQs
Is Genshin Impact secure?
What is the minimum system requirement for installing Geshin Impact on your PC?
Your Windows OS should be at least Windows 7 SP1 64-bit or later with a Core i5 processor or equivalent, 8 GB RAM, and 100 GB of reserved space. An NVIDIA GeForce GT 1030 graphics card or better is recommended for a smooth gameplay experience.
Read More