Tested: How to Watch Sling TV From Anywhere in November 2019
Last Updated by Bethany Chester on October 29, 2019
Sling TV is a great service to use for catching up on your favorite US TV shows. But if you try to access it from outside the US, you'll see the following error message: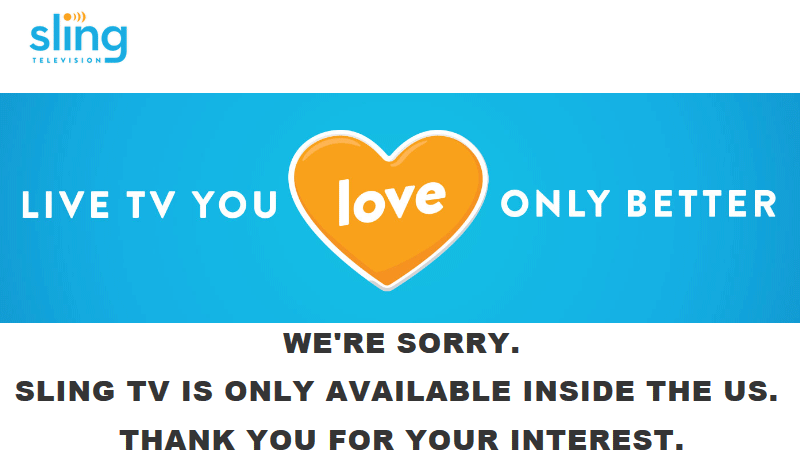 "WE'RE SORRY. SLING TV IS ONLY AVAILABLE INSIDE THE US. THANK YOU FOR YOUR INTEREST."
Maybe you're a US resident who wants to access Sling TV while traveling. Or maybe you live outside the States but don't want to miss out on your favorite American shows. Either way, you can use a VPN to bypass the geo-blocks and watch Sling TV from anywhere. Read on to find out how it works.
Quick Guide: 3 Steps to Watching Sling TV From Anywhere
Get a VPN — I recommend ExpressVPN. During my ExpressVPN review, I tested it with Sling TV and found it was able to bypass the geo-blocks every time.
Connect to a US server and make a Sling TV account.
Enjoy streaming your favorite content.
Watch Sling TV now with ExpressVPN!
How to Create a Sling TV Account from Outside the US
If you're outside the US, you'll need to use a VPN (virtual private network) to make a Sling TV account. A VPN works by sending your traffic through a US server, thereby changing your IP address to make it seem like you're in the US.
To get started:
Buy a subscription to a VPN service. ExpressVPN is a great choice because it's compatible with almost all devices.
Download the VPN app onto your device and log in with the credentials you used when you signed up.
Connect to a US server. Most VPN apps have a list of countries, so all you have to do is select the US and you'll be connected to the best available server. Some apps also allow you to choose a city in the US. You'll get the best speeds by choosing the city closest to you. For example, if you're in Eastern Canada then it's best to choose a city in the Northeastern US.
Once you're connected, head over to the Sling TV website and sign up for an account. You can pick between two packages — Sling Orange and Sling Blue. Both cost the same, but they have different channels available. You'll get a discount if you subscribe to both, and there are also add-ons such as Sports Extra and Lifestyle Extra available.
Don't Get Your Account Shut Down!
Sling TV may cancel your account if it discovers you aren't based in the US. For that reason, it's best to use an American credit card or PayPal account to pay for your subscription. Don't have one? No problem. I found an easy hack to get around using a US credit card to create my account. All you need to do is pay with a Sling TV gift card, which you can easily buy online. You may also want to use a US address when you sign up, just to be safe.
Now that you've created your account, you're free to start streaming. Just make sure you always connect to a US server before accessing Sling TV — otherwise, you'll see an error message and may run the risk of having your account suspended.
What Devices Are Compatible with Sling TV?
You can watch Sling TV on various smart TVs and streaming devices. These include:
Android TV (Kit Kat 4.4 and above)
LG TVs (WebOS 3.0 and above)
Apple TV (4th generation and above)
Chromecast
Amazon Fire TV
Roku (Roku LT and higher, plus Roku TVs from Hisense and TCL)
Samsung (some TVs manufactured in 2016 or later)
Amazon Fire Stick
Sling TV is also compatible with:
Android phones and tablets (Kit Kat 4.4 and above)
Amazon Fire tablets (Android 4.4.2 and above)
iOS devices (iOS 11 and above, plus iPhone XS and XS Max devices)
Windows 10
XBOX (One, One S, and One X)
Some Chromebook devices
Google Chrome and Microsoft Edge (most recent versions)
Oculus Go (3.54 or higher)
Xfinity X1 (certain models, only for international and some Latino services)
Read on for setup instructions for the Amazon Fire Stick, Android TV, and Chromecast. These guides assume you've already bought a VPN subscription and made a Sling TV account using the instructions above.
How to Set Up Sling and a VPN on the Amazon Fire Stick
On the Fire Stick home screen, select the search icon in the top-left corner.
Search for your desired VPN app. ExpressVPN is one of the only VPNs with an app for the Amazon Fire Stick, which makes it a great choice.
In the search results, select your VPN app and click Download.
When the app has finished downloading and installing, click Open. Log in with your VPN username and password, then connect to a US server.
Leaving the VPN connected, search for and install the Sling TV app in the same way you installed your VPN app.
Log in to Sling TV and enjoy!
How to Set Up Sling and a VPN on Android TV
On the Android TV home screen, click on the Google Play icon.
Search for your VPN. ExpressVPN, NordVPN, and CyberGhost all offer apps for AndroidTV.
Click Install to download and install the app. Then click Open.
Enter your VPN login details and connect to a US server.
Leaving the VPN connected, go back to Google Play. Search for and install the Sling TV app.
Log in to Sling TV to start watching your favorite shows.
How to Set Up Sling and a VPN on Chromecast
Unblocking Sling TV on Chromecast is a little trickier. This is because Chromecast doesn't have any native VPN apps. However, I did find three ways to use a VPN with Chromecast:
Cast your tab or desktop instead of the show.
Install a VPN on your router.
Set up a virtual router with a VPN connection.
See this detailed guide for more information about setting up Sling TV on Chromecast.
3 Best VPNs for Unblocking Sling TV
Not sure which VPN to choose? Here are my top 3 recommendations.
1. ExpressVPN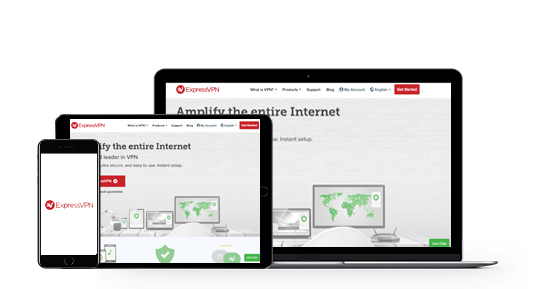 Key Features
No bandwidth throttling
Connect up to 5 devices at once
30-day money-back guarantee
Apps for almost all devices
Ultra-fast US servers in 20 cities
Military-grade encryption
I tested ExpressVPN and was extremely impressed with how it handled streaming. It allowed for fast speeds that easily outperform lower-end services. Its huge range of apps makes it easy to watch Sling TV on any of your devices. Even better, it allows 5 simultaneous connections, so your whole household can watch at once. The service also offers unlimited bandwidth and never throttles your speed.
Watch Sling TV now with ExpressVPN!
2. NordVPN
Key Features
No bandwidth throttling
Connect up to 6 devices at once
30-day money-back guarantee
SmartPlay feature allows secure access to streaming sites
Dedicated Android TV app
I ran extensive tests with NordVPN and saw that it is a great choice for Android TV users, as it has a dedicated app available. It has over 1800 servers in the US alone, so there will always be one available that meets your needs. Unique features like SmartPlay are designed to make streaming simple. And at just a few dollars a month, it's one of the most affordable services out there. Download NordVPN now.
Watch Sling TV now with NordVPN!
3. CyberGhost
Key Features
No bandwidth throttling
Connect up to 7 devices at once
45-day money-back guarantee
Has servers optimized for various streaming services
Apps for Android TV and Amazon Fire Stick
Blocks tracking and malicious content
CyberGhost has several US-based servers optimized specifically for watching Sling TV. With your subscription, you get unlimited bandwidth and access to the fastest available servers. The company doesn't skimp on security either — it owns and manages many of its own servers to prevent interference, and uses strong industry-standard encryption. Try CyberGhost risk-free for 45 days.
Watch Sling TV now with CyberGhost!
Can I Use a Free VPN to Access Sling TV?
There are several reputable free VPN services out there, and you may be tempted to try using one to unblock Sling TV. Unfortunately, free VPNs typically can't access Sling TV. This is because they only have a limited number of servers available. When Sling TV notices that a lot of people are using the same IP addresses, it knows they're using a VPN and blocks those addresses. Paid services, on the other hand, have many more servers and can quickly get blocked ones working again.
Using a free VPN can also put your privacy at risk. Some free services claim to be protecting your data, but in reality, they're collecting and selling it. Others make money by showing you intrusive ads.
If you're concerned about committing to a paid subscription, remember that many services offer a money-back guarantee. You can try one out and get a refund if it doesn't work as expected, so there's no risk involved. Enjoy!